Children Beginner Astronomical Refracting Telescope 70mm Aperture 400mm Focal Length Travel Telescope with Carrying Bag, Adjustable Tripod
Free shipping to eligible country
Children's beginner's 70mm aperture 400mm focal length astronomical refracting telescope-with carrying bag, adjustable tripod travel telescope

KF33.020

SKU:

KF33.020

105.99

https://www.kentfaith.com/GW01.0233_children-s-beginner-s-70mm-aperture-400mm-focal-length-astronomical-refracting-telescope-with-carrying-bag-adjustable-tripod-travel-telescope
Description
* 400mm (f/5.7) focal length and 70mm aperture, fully coated optical glass lens, with high transmission coating, can create stunning images and protect your eyes. The perfect telescope for astronomers to explore the stars and moon.
* Equipped with two replaceable eyepieces, eyepiece 1:25mm and eyepiece 2:10mm. The 5x24 finder can locate objects easily and quickly.
* Equipped with an adjustable aluminum tripod and carrying case, the telescope and tripod can be put in the bag for convenient travel and storage.
* The assembly is simple, the lens is easy to replace, the wide-angle and the latest generation of eyepieces make viewing objects more comfortable without causing eye fatigue and dizziness.
Shipping
Free shipping to eligible country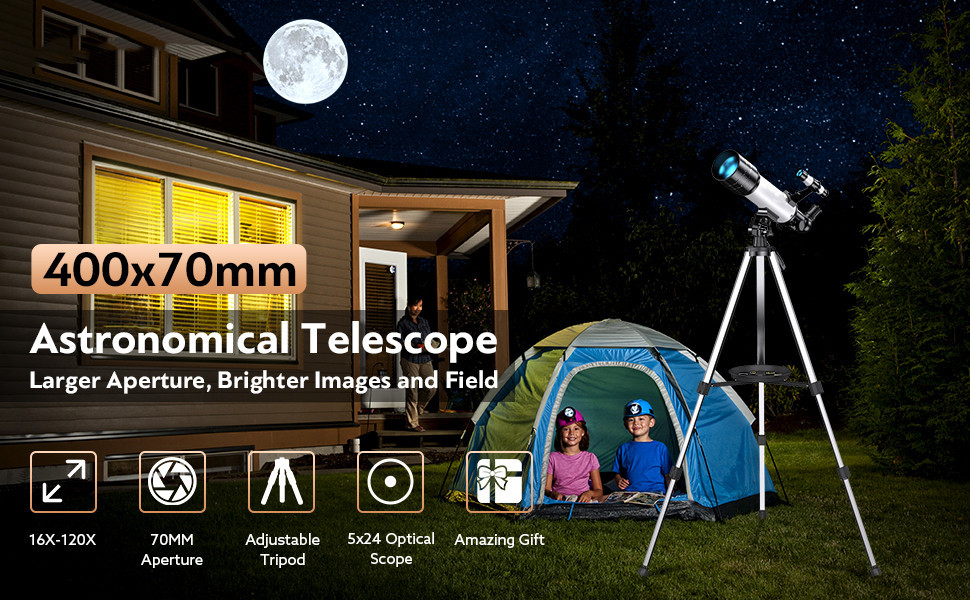 Are you looking for a gift for family members? You must be very curious about the moon? Refractor Telescope, as an primary astronomical telescope, which is affordable but with exquisite packaging and high quality. You may be impressive by following features.
---70MM large aperture of the objective lens, which can creates stunning images with increased brightness and clarity.. The larger the aperture diameter, the more of the light entering the telescope, and the more bright images.
---Come with 400 focal length and two replaceable eyepieces(25MM, 10MM) and one 3x Barlow lens. You can magnify the moon to 150x with your child, and see the lunar craters.
---Easy to assemble with detail introduction, it comes with customized instructions, will introduce how to install step by step. Can exercise kids assembly ability alone.
---The visual resolution and optical capabilities are top tier for the low-end affordable.
Warning: Don't point the lens of the telescope at the sun. Observing the sun can cause irreversible damage to your eyes!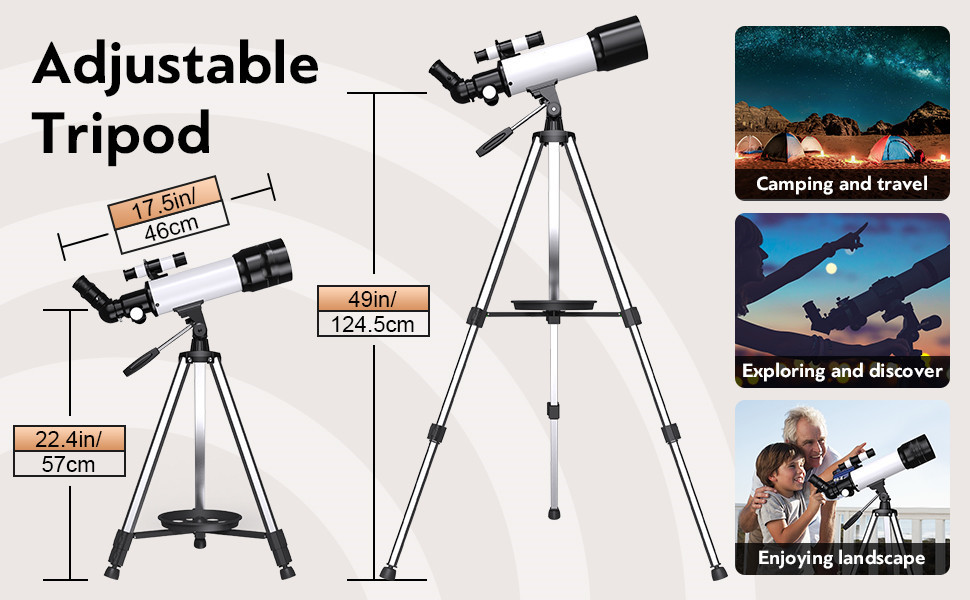 Equipped with a high-quality tripod. The tripod can be adjusted from 22.4in/57cm to49in/124.5cm. If it is for a child, it is very suitable with the tripod height. If you are an adult, please kindly be advised sit on a stool or half squat to watch.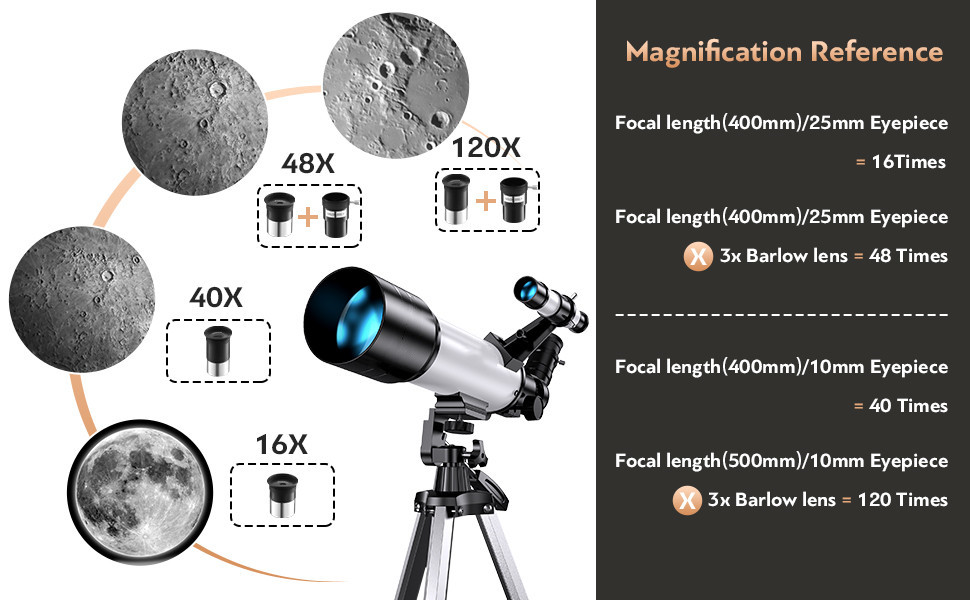 Using the high power eyepiece, perfect for observing the Moon and planets or bringing distant wildlife in close for detailed views.
Magnification to 40x with 10mm eyepiece
Magnification to 120x with 10mm eyepiece and 3X Barlow lens
Magnification to 16x with 25mm eyepiece
Magnification to 48 with 10mmeyepiece and 3X Barlow lens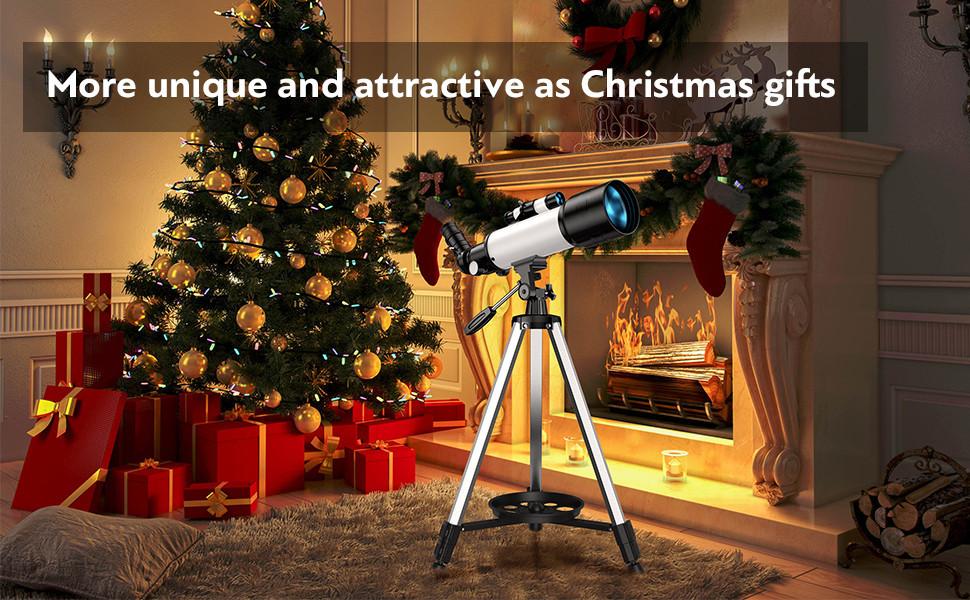 | | |
| --- | --- |
| model | AS06 |
| Objective lens aperture | 70mm (2.75 inch) |
| focal length | 400 mm(f/5.7 ) |
| Exit pupil distance | 18mm |
| Lens material | BAK7 |
| eyepiece | 10mm,25mm |
| Maximum magnification | 120 times |
| Finder | 5 × 24 |
| tripod | 65 cm-120 cm height adjustable aluminum tripod |
| Product Size | 63×12.5×21cm |
| Package dimensions | 63×12.5×21cm |
| product weight | 2000G |
| Package weight | 2500g |
| packing list | |
Very easy to assemble
This telescope works great. Very easy to assemble and use. The best thing about this is that it comes with a phone mount to get awesome pictures has 2 different viewing lenses with also a spotting scope if you like to take cool pictures this is definitely something I recommend for kids and adults. It also comes with an adjustable tripod to get the right angles. Very well built. And easy to assemble.
05/09/2021
Great for beginners
This is my first time trying a telescope and this one was perfect to carry on. My kids are excited when I open the box.Only take less than 10min to assemble. The instruction was pretty easy to follow. And then adjust the lens for clear view. It's like the project is right in front of your eyes but it's actually hundreds feet away. Looks like I can take it for a trip with my kids soon.

17/08/2021
professional
Wanting to please my nephew who is passionate about astronomy, I bought this model of portable telescope. Good quality it looks like professional.He is really exicted ! The telescope is not at all "toy" and allows you to see the moon and even the rings of saturn!It also comes with smartphone and bagpack.It works perfectly.My nephew never leaves his telescope !
18/01/2020
a nice gift
I got this for my young son who has recently started expressing an interest in planets, the moon, stars and patterns in the sky. It's very easy to setup, even has a holder for cell ph for taking pics etc. This telescope is very nice as a Christmas gift as well, very happy with this purchase.
26/11/2019
inexpensive
Bought this telescope for my 6 yrs son. we used it a couple of times. I did not expect much considering how inexpensive it was but it works well. Will recommend.
18/11/2019
Bought this for my husband who is a amateur astrononmer
My father is a amateur astrononmer. I bought this telescope for him as a gift, and he absolutely loved this telescope! I had spent some unforgettable summers with him. The telescope comes complete with a backpack, so it is convenient for you to take the telescope outdoors. The aluminium tripod is fully adjustable to your height, and it is able to rotate 360°. This is a great value for a fully functional telescope. I fully recommend this product.
15/10/2019
Quality
purchased for a 6 yo - more of a toy than clear focus - 3 yo grand enjoyed and got more use - able to focus and see objects but would have to upgrade soon as they grow
08/09/2019
amazing
It's really sturdy and solid, good optical quality, I love the design
13/08/2019
an educational gift to a adult.
A great gift to anyone looking to gaze into the night sky or just as an educational gift to a adult.
07/08/2019
excellent telescope
1.shipping from Amazon was fast.2.not hard to assemble3.light weightIt's an excellent telescope for beginner.
12/07/2019
There are no faqs for this product.