TM2534T Professional Camera Tripod Aluminium Portable Travel Tripod 76"/1.9m 22lbs/10kg Load with 360° Ball Head Quick Release Plate for DSLR
Buy 99$-15$, 199$-30$, 299$-50$, 599$-120$(Black Friday Price)
Free shipping worldwide
Free Shipping Worldwide. 30 Day No Reason Return. K&F Concept Camera Tripod features Transverse Center Column, Stable, Compact, Flexible with Metal Ball Head and Detachable Monopod.

KF09.015

SKU:

KF09.015

113.99

https://www.kentfaith.com/USKF09.015_tm2534t-professional-tripod-monopod-72-inch-aluminium-4-section-360-degree-ball-head-quick-release-plate-load-capacity-8kg
Buy 99$-15$, 199$-30$, 299$-50$, 599$-120$(Black Friday Price)
Description
* 【Strong Stability】 - K&F Concept camera tripod has a 25mm large diameter aluminum alloy tube, the load capacity can reach 22.04lbs (10kg), provide security and stability support for your DSLR camera.
* 【Heavy Duty & No Rusting】- The sturdy camera tripod is made of aluminum alloy, which makes the tripod no rusting, especially used as a travel tripod. The tripod is a perfect travel companion for professional photographers and passionate hobbyists alike.
* 【360° Shooting Angle】- The camera tripod is designed with a metal ball head and a transverse center column so it enables 360° shooting angle and realizes panorama shooting and macro photography.
* 【Detachable Monopod】- K&F Concept camera tripod can be turned into a monopod or walking stick alone to make your photography more diverse. (Note: For a camera with a telephoto zoom lens, you need to buy a tripod mount ring additionally or a telephoto lens bracket for better balance).
* 【Wide Height Ranges】- 4 sections leg can adjust the height from 25'' to 76''; the N. weight with ball head is 4.36lbs; can be 180°reflexed, which is super portable with tripod carrying bag.
Shipping
Free shipping worldwide
Sale
Buy 99$-15$, 199$-30$, 299$-50$, 599$-120$(Black Friday Price)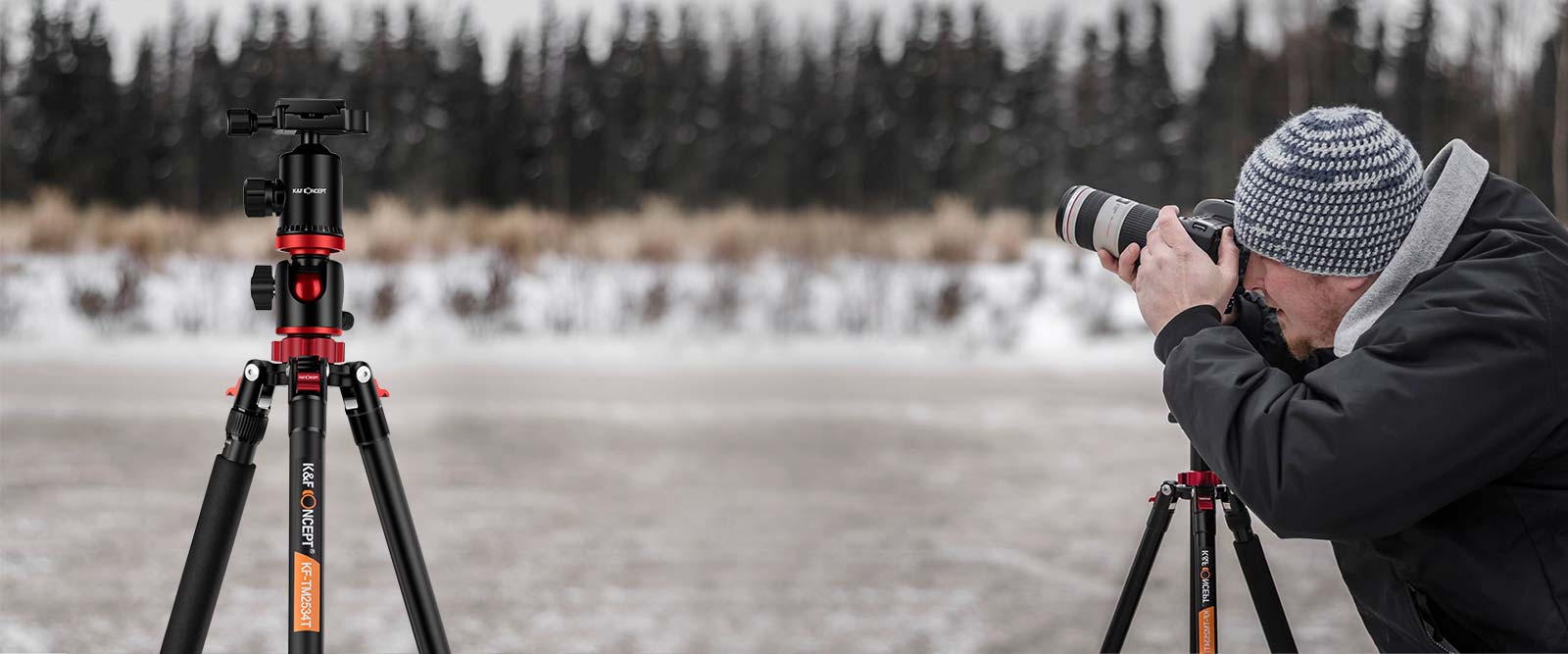 KF-TM2534T
Portable and Multi-Purpose Tripod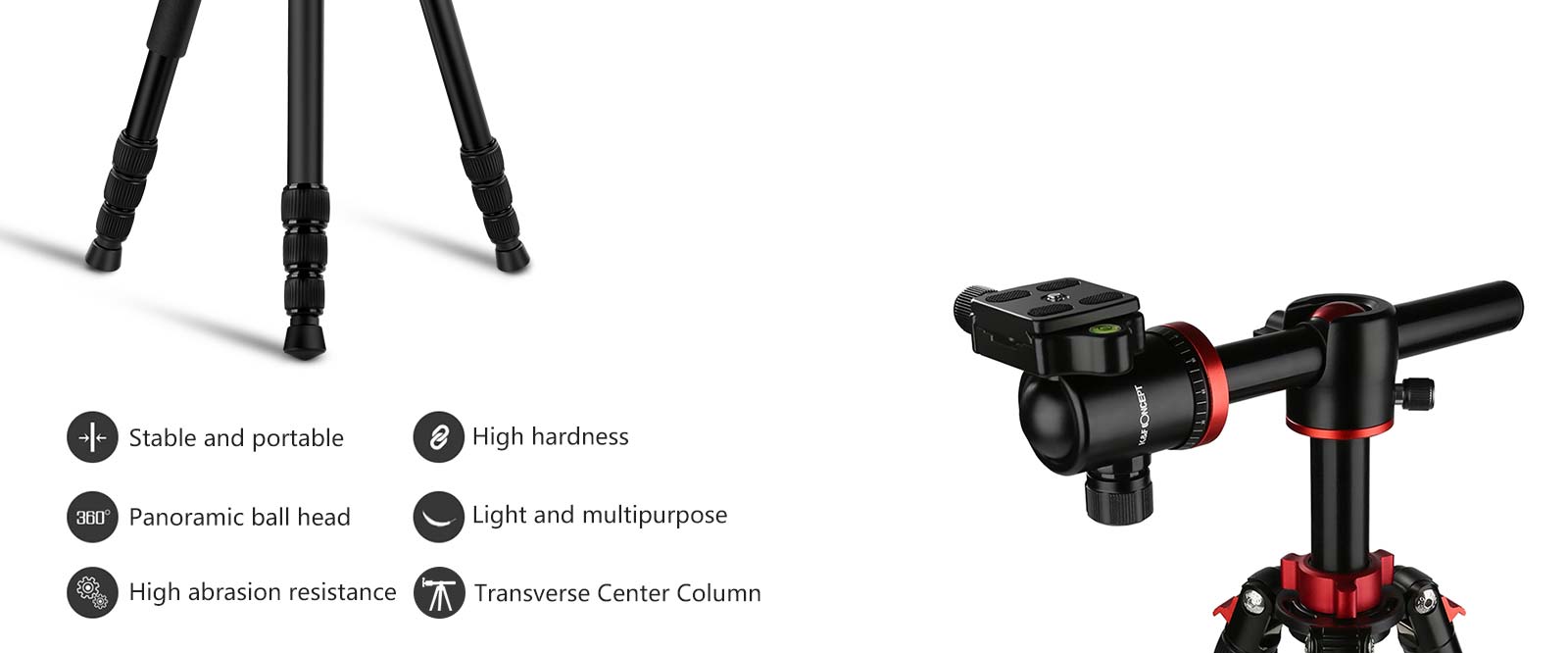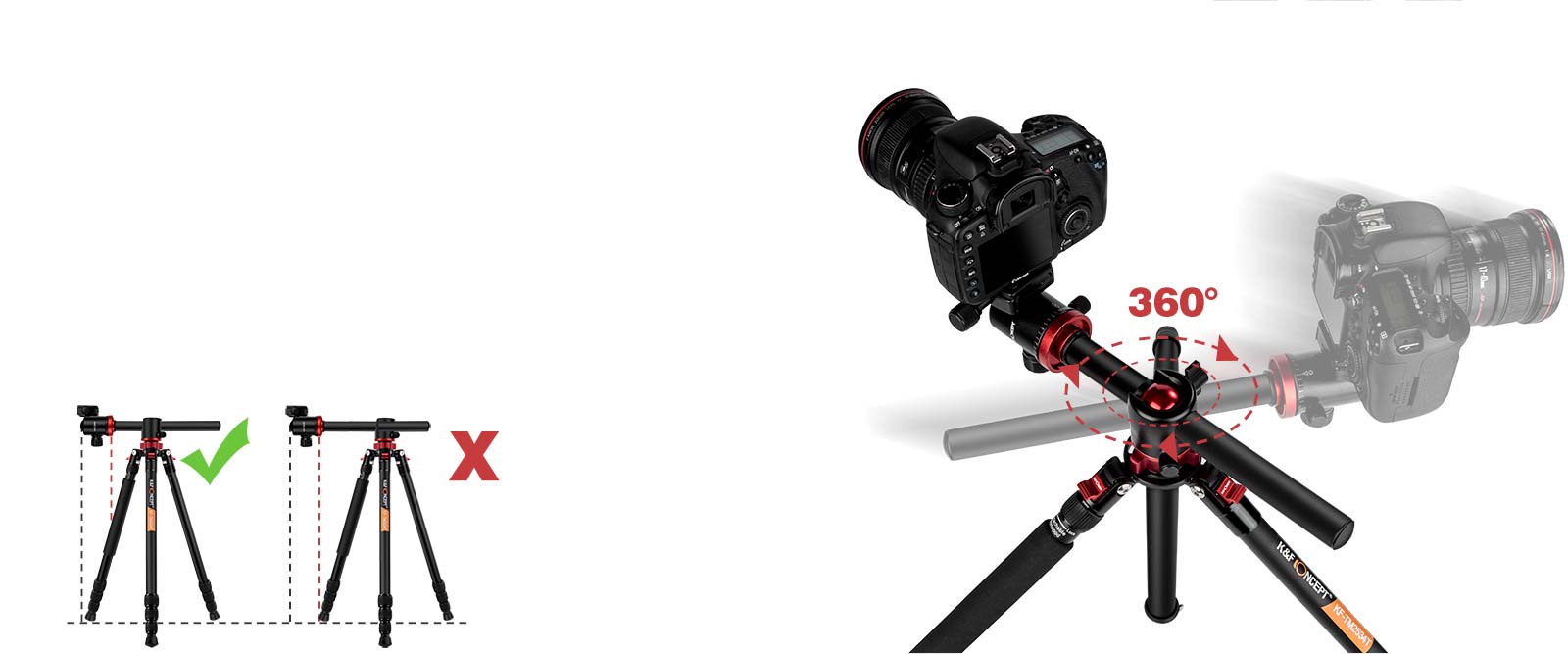 360°HORIZONTAL ROTATION
Make it easier for photography enthusiasts to realize panorama shooting

STRONG BEARING CAPACITY
A more perfect picture and excellent bearing capacity

1.10" (36mm) BALL HEAD
Large spheres are more stable shooting
22lbs (10kg) LOAD CAPACITY
Rubber gasket & Back security plug capacity

360°PANORAMIC SHOOTING
More accurate panoramic synthesis.

Fix the tripod,and keep it in horizontal position,then make it rotate uniformly.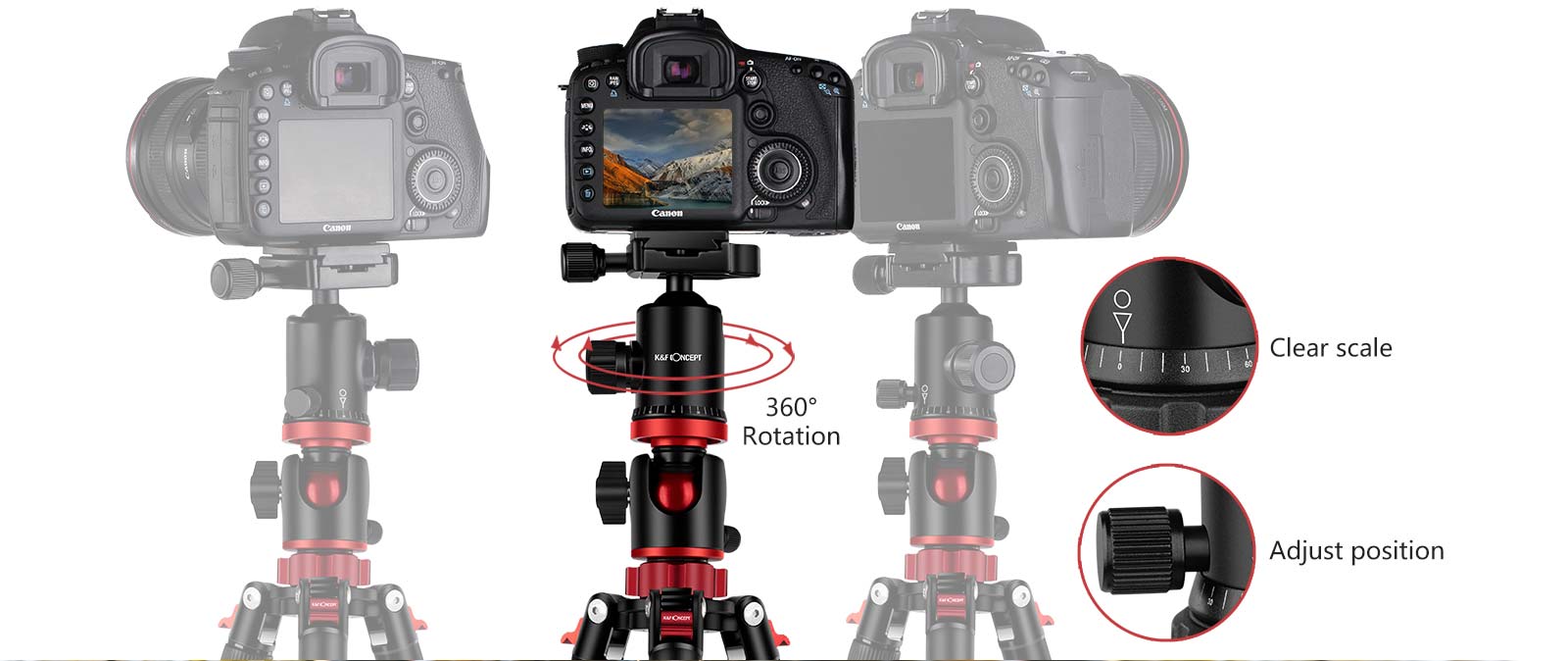 MACRO PHOTOGRAPHY
The center axis can be inverted to give you the option for shooting angles

EASY TO SHOOT
The maximum height is 75.98"(193cm), the maximum height of the midaxis is 57.68"(146.5cm)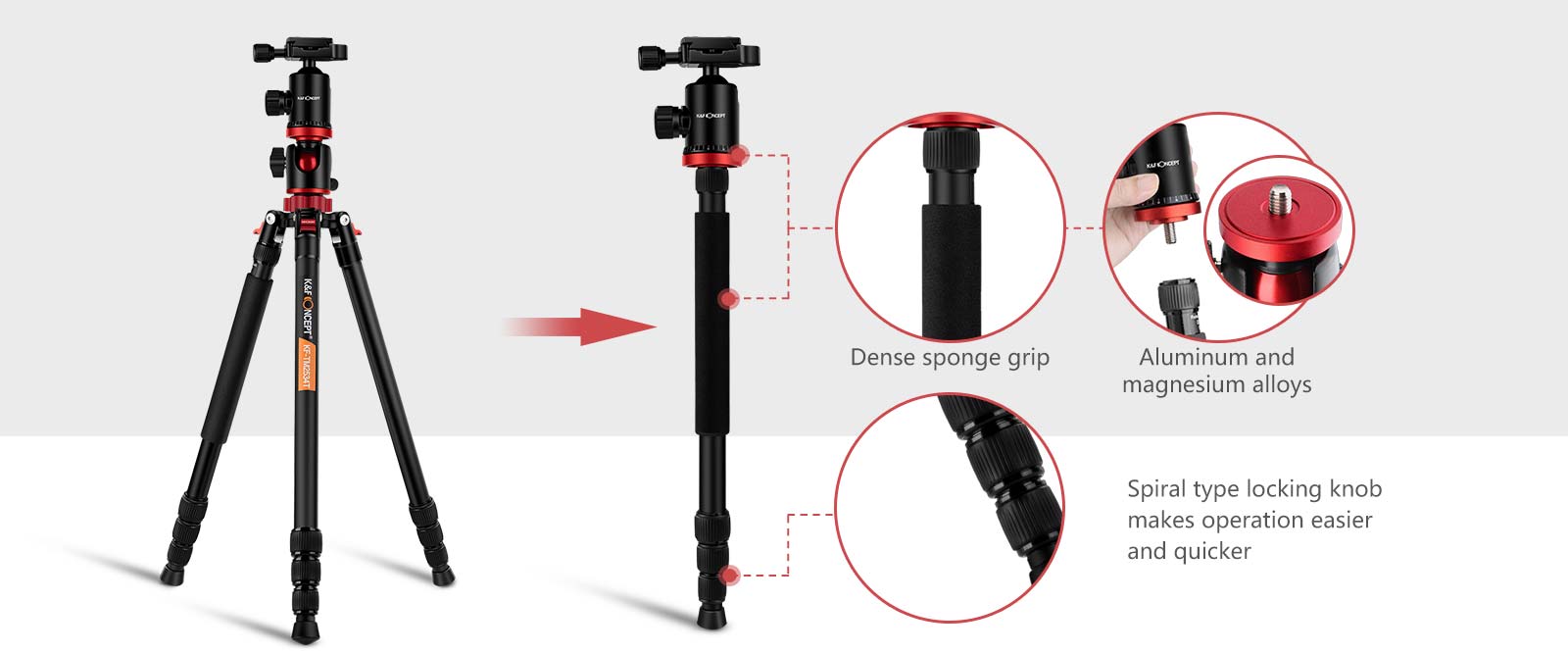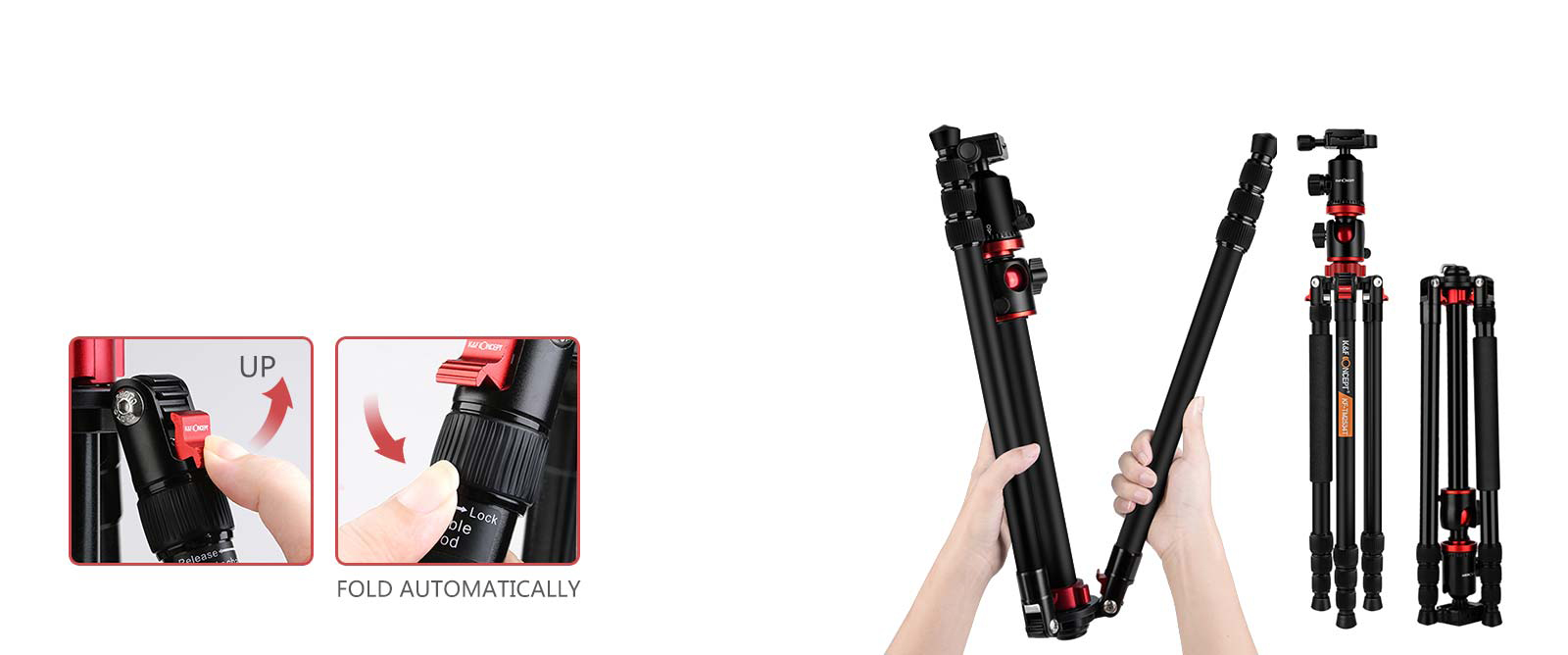 4.36lbs (1.98kg) /19.29" (49cm) FOLDED HEIGHT
Tripod is made of high-quality magnesium-aluminum alloy, can be bent 180°, and weighs 1.99kg (including the pan/tilt).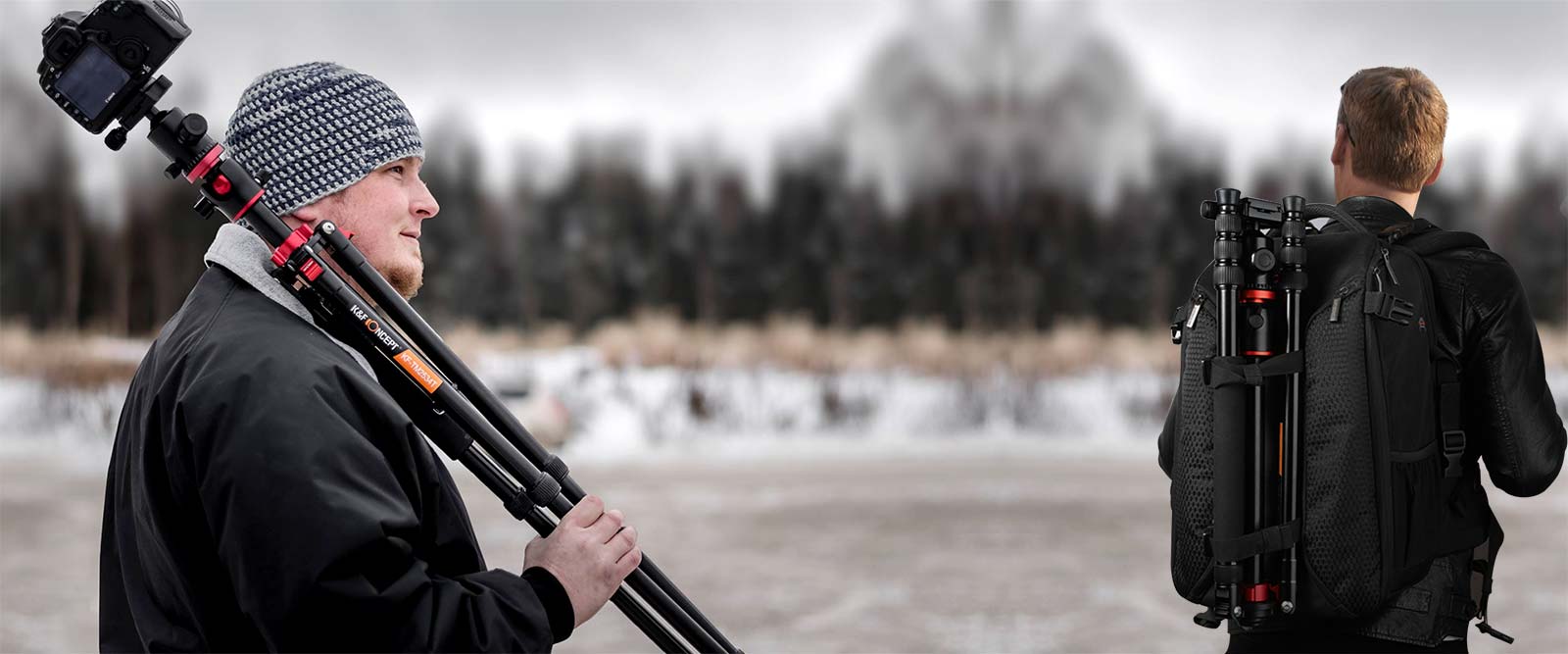 Foldable and portable to carry
All Reviews
Image

All Star

5 Star

4 Star

3 Star

2 Star

1 Star
Great features for for a fair price
Love the style and the colors. Haven't had it long enough to provide an over time review, but is seems if you don't overtighten things, it should be durable and provide a lot of use, fun and professionalism for many a great photo's. I like the twist type locks over the lever clamp type, as they do not get caught on things - recommended for all, armature to pro.
24/08/2021
Rock steady!
I have several tripods that I accumulated over the years and I was only buying those cheaper ones. I finally decided to get a better one but did not meet my expectation, the review was glowing but when tried to use it will not hold upright because it us top heavy.As soon as I got this one from my front door steps I immediately opened the box and I was surprised it gas a carrying bag. Opened the box and from all indications it was meeting my expectations. It us not light but that is not too heavy and that what I expect. Sturdy and steady as rock when finally put on my Z5 camera with the 24-200m lens. All the connection and joints are holding great when tightened and the moving parts are smooth as intended. The great thing about this tripod us the great number of configurations it can set up and used. I recommend thus tripod!
17/08/2021
Incredibly Stable
Locking mechanism on both the legs and head gives a more stable tripod than any of the others I have used
14/07/2021
Cumbersome & Heavy
Returned and got Peak Design tripod, paid more but better quality!!!
05/07/2021
Buy this one, it's excellent!
I have just tried the setups and this does way more than I thought about. What more could you ask for in a quality tripod.
04/07/2021
Need strong hands to set up & take down.
I was quite excited about this tripod. Unfortunately setting it up was exemely difficult. Strong thumbs are required to adjust leg angles and the twists on the legs were difficult as well - very hard to find the point where the pole was loosened and to tighten back up. I emailed K&F to see if there was some helpful tips they could give me, but they never responded. Over a week later, I called them and got a recording that said all customer service needs must be submitted via email. I sent the tripod back at that point.
28/06/2021
Nice little tripod for hiking!
Terrific, lightweight, dependable tripod. I'm 6'5" so I can nicely have my camera at eye level when I'm shooting my landscapes. That's a first! I've used it in the studio with the boom to shoot product shots over a table, camera looking straight down at the table, and it works beautifully! I've used it submerged in streams about 2' away from the water and I got the shot every time. The ball head is smooth and holds nicely. Just know that this is intended for a middleweight camera not a heavy weight. I use it with Sony A7RII and some heavy lenses, no problem. The legs are thin so you have to be careful when you place it and make sure everything is tightened up and on steady ground and don't accidentally kick it with your foot. You be considerate of that and you'll have success every time. I say that because I've owned some beastly tripods over the years that you could bump into and they weren't going anywhere. This isn't the case with this. But those tripods were HEAVY. I can't take that weight any more. I highly recommend this tripod.
21/06/2021
Solid purchase.
I've had my camera on this tripod everyday since it's arrival. It's a really good tripod. If I have any complaint, it's that the camera attach foot isn't a quick release. That's truly the only complaint. If you're taking your camera on and off the tripod a lot, this tripod will take a little extra time. It's well built, the head is super smooth, stays in position well at weird angles, legs work easily and I'm very happy overall with this tripod, it's been great.
04/03/2021
I would recommend this tripod
This is a wonderful tripod however for the use with light weight lens. Heavy lens I wouldn't recommend it
12/02/2021
good travel
Its a good size for bringing around and comes with a bag.
17/01/2021
These images belong to KENTFAITH end users.
K&F Concept Pro Articulating Tripod Review TM2534T Sturdy Tiger Geekoto
Best-selling K&F Concept® Tripods Comparison TM2324 Vs TM2534T
K&F Concept "Pro" Tripod Overview
Tripod General
Load Capacity
10kg/22.05lbs
Maximum Working Height
1930mm/76"
Max Height without Center Column
1460mm/57.5"
Minimum Working Height
650mm/25.6"
Folded Length
500mm/19.7"
Weight
1976g/4.36lbs
Materials
Magnesium aluminum alloy
Tripod Head
Ball Head
Color
Red/Black
Bubble Level
Tripod Legs
Leg Lock Type
Twist Lock
Leg Positions
3
Independent Leg Spread
Leg Sections
4
Leg Diameter
16-25mm/0.63-0.98"
Feet Features
Tripod Center Column
Center Column Features
Transverse Center Column
Center Column Sections
2