55" DSLR Tripods Aluminum Portable Travel Vlog Tripod 22lbs Load Orange
Free Shipping. 30 Day No Reason Return. K&F camera tripod features 360° Ball-Head, wide height range, lightweight & portable, multi-angle shooting.

KF09.087V1

SKU:

KF09.087V1

79.99

https://www.kentfaith.com/KF09.087V1_55-quot-dslr-tripods-aluminum-portable-travel-vlog-tripod-monopod-22lbs-load-with-360-panorama-ball-head-orange
Description
* 【28mm Large 360° Ball-Head and Panoramic View】With two independent control knobs, the specially designed ball-head can rotate 360 degrees allowing you to take photos at any angle horizontally and vertically.
* 【Convenient: From 18'' to 79'' Flexible Adjustment】4-section column legs with 3 quick release flip-locks allows you to adjust the working height from 23.2'' to 78.3' in seconds.Winner in height! 19.7" folden size is easily took to anywhere for outdoor photography
* 【Lightweight and Portable】3.17lbs / 1.44kg tripod weight and 22lbs / 10kg maximum load weight. 78.3'' in height and easy-carried. This tripod can make it the best companion of your DSLR cameras and withstand heavier load compared to similar products yet remain stable.
* 【2-IN-1 Overhead Video Tripod Monopod】The tripod can be easily turned into a monopod or walking stick alone to make your photography more diverse. Multi-angles for shooting like low-angle shot and high-angle shot are allowed with this monopod as well.
* 【Multi-angle Shooting】Center Column could turn to invert situation for low angle shooting;The damping system of the ball head would set your camera at different angles easily(vertical shots or up-side shots) or and get the best shooting view. Note: new leg locking system is available and will be shipped randomly with the old version.
Shipping
Free shipping worldwide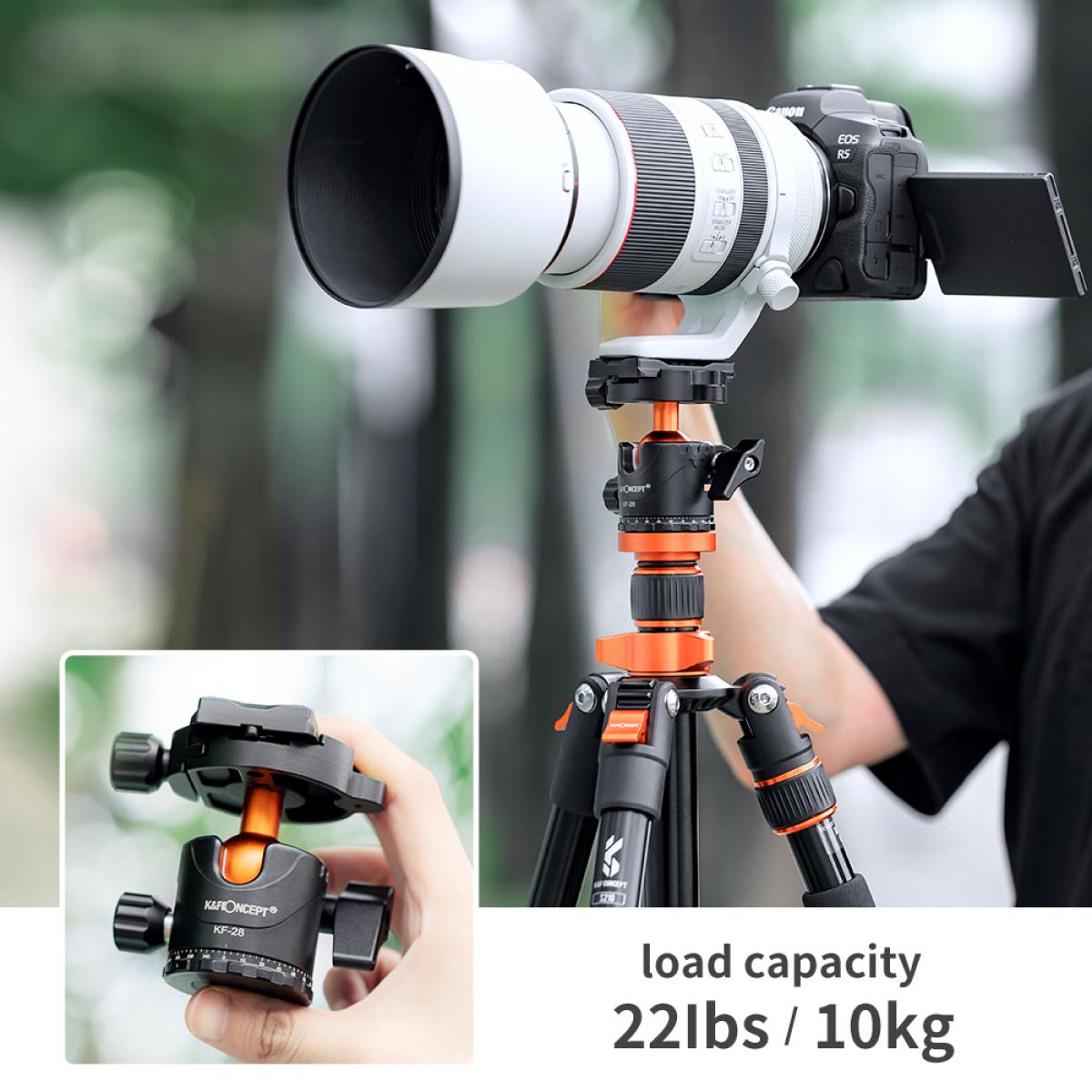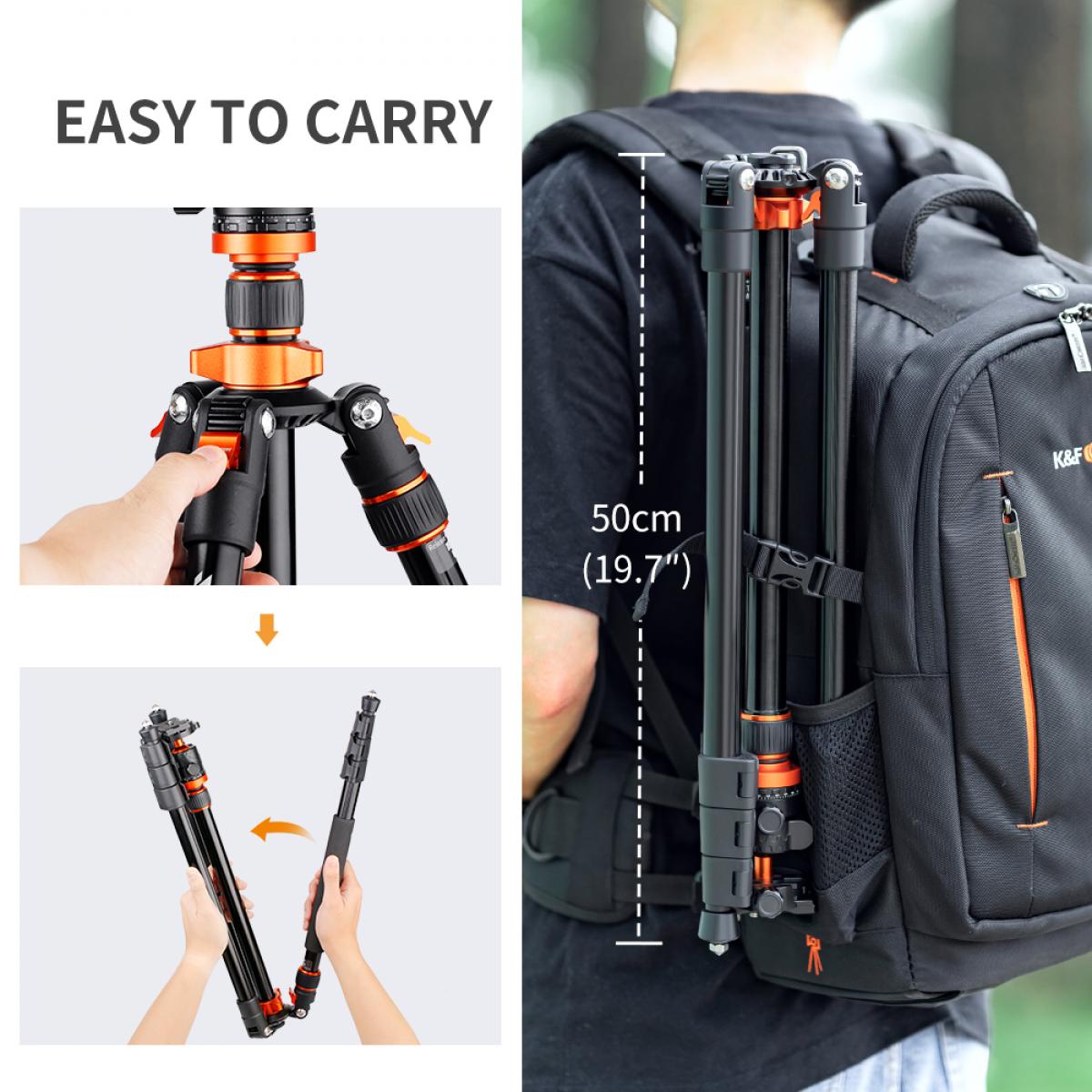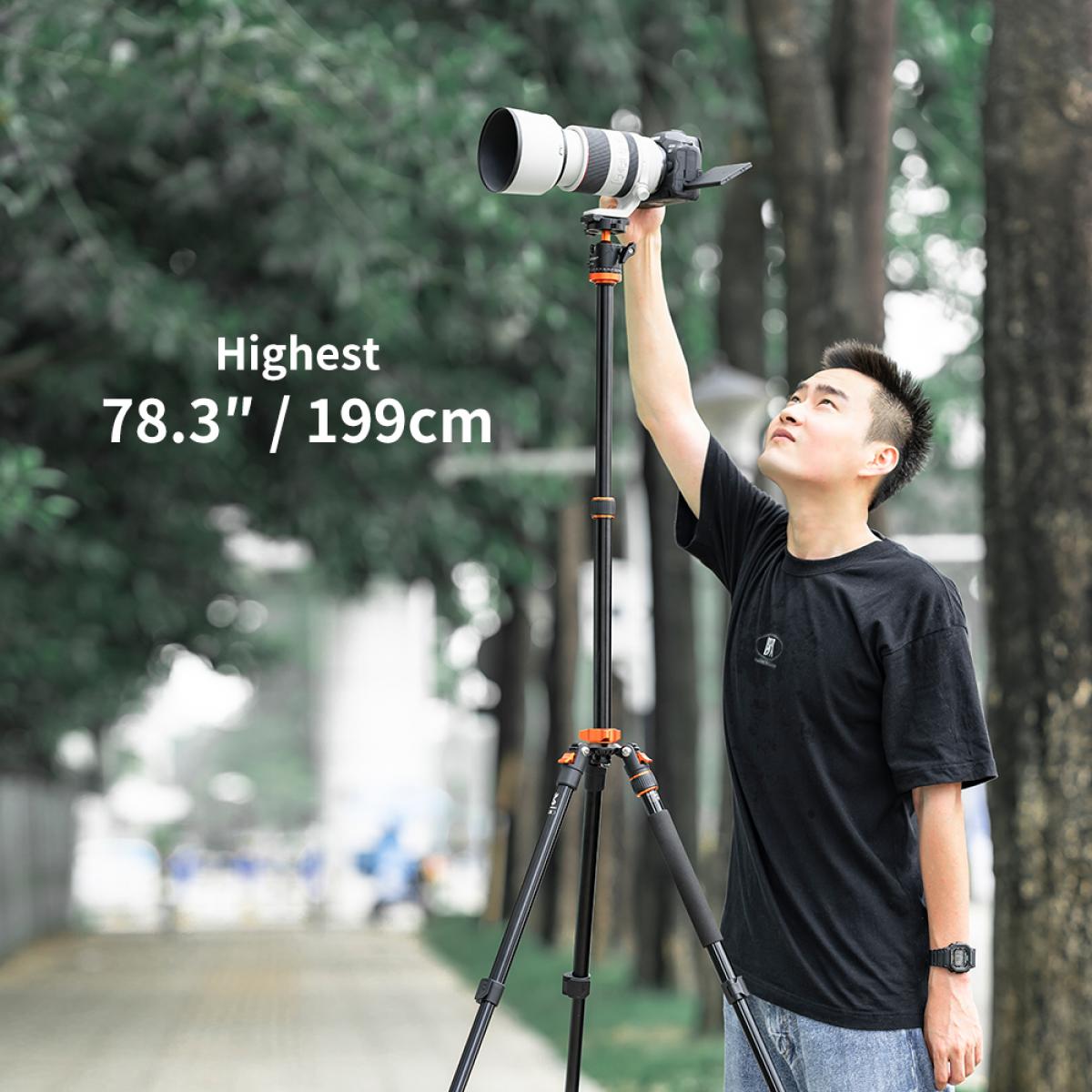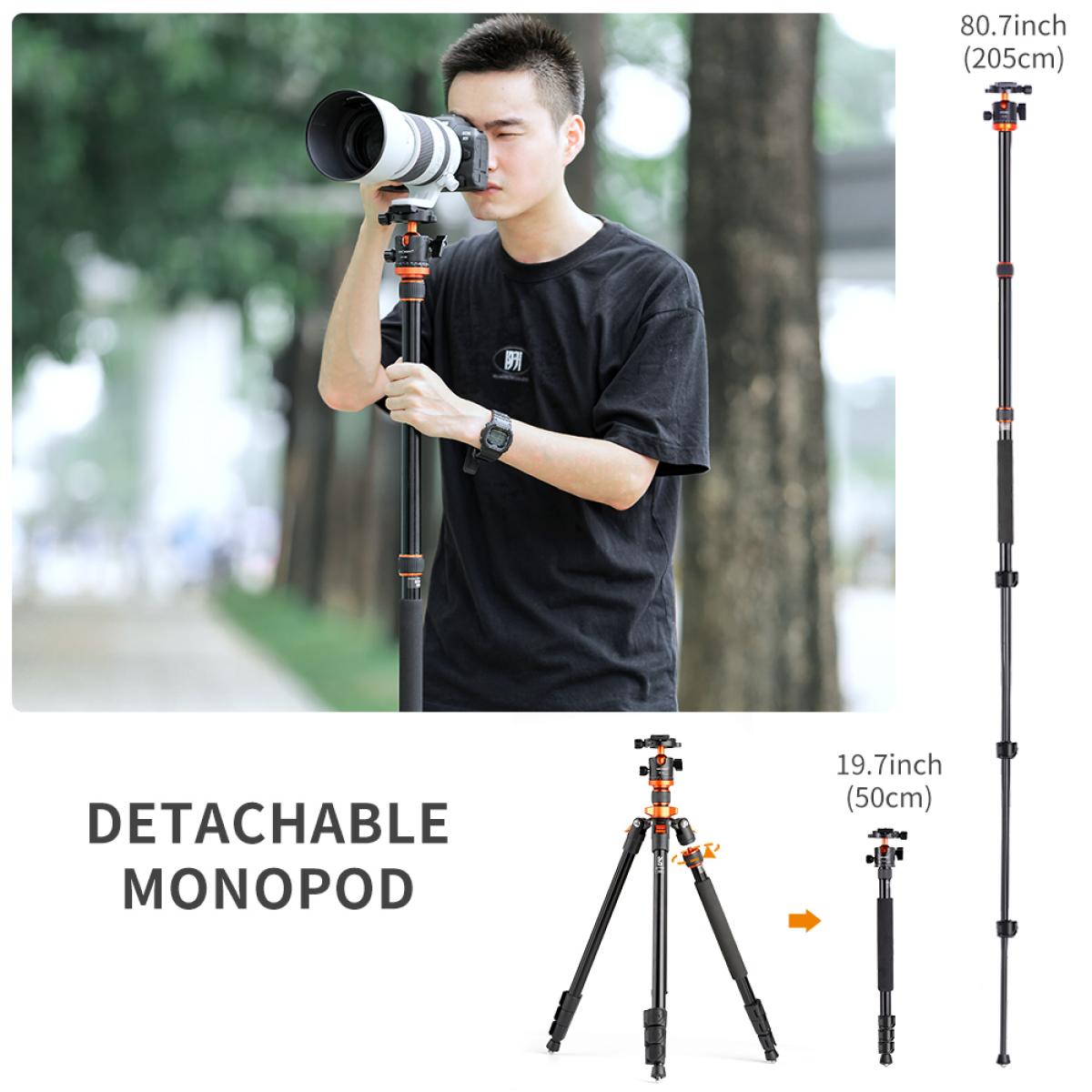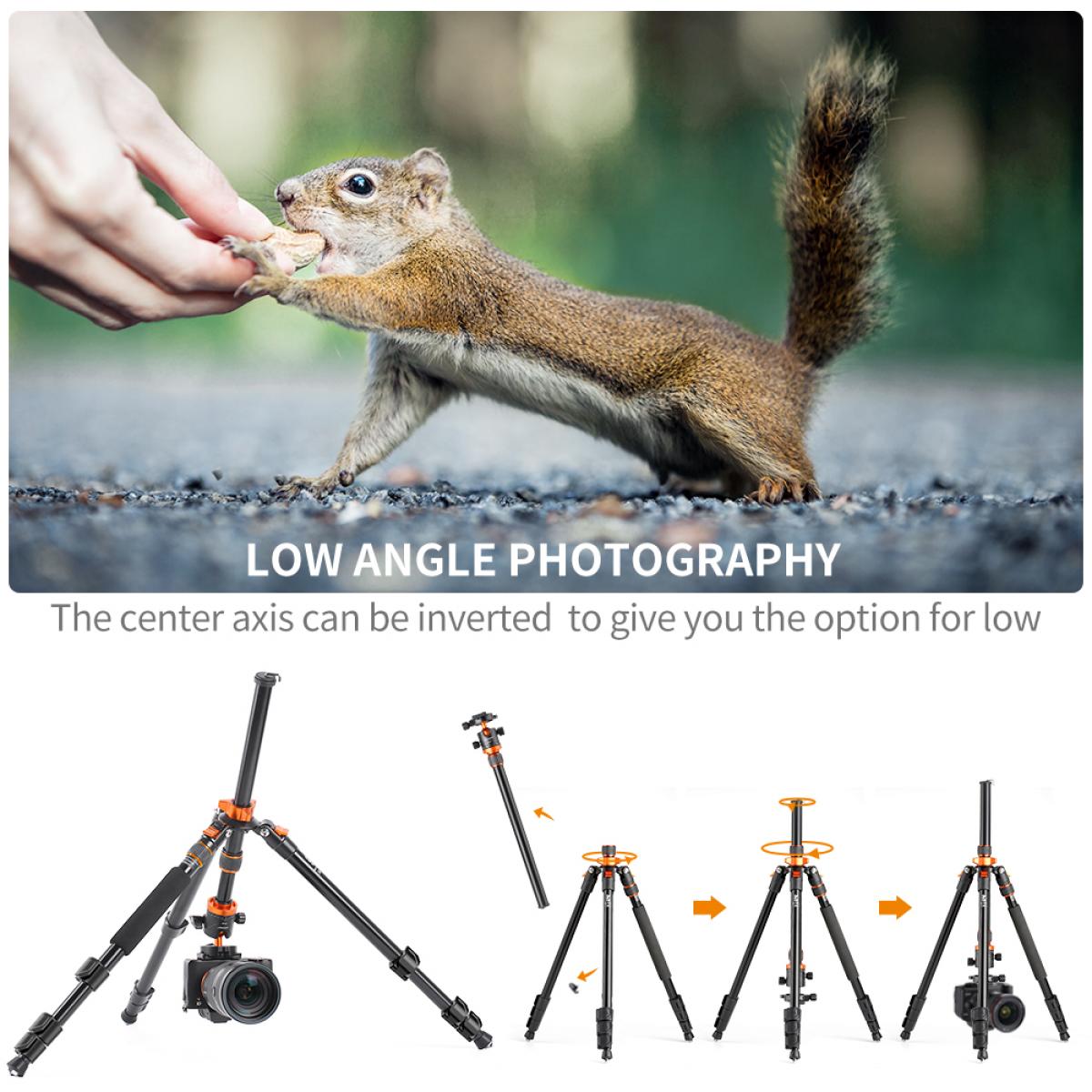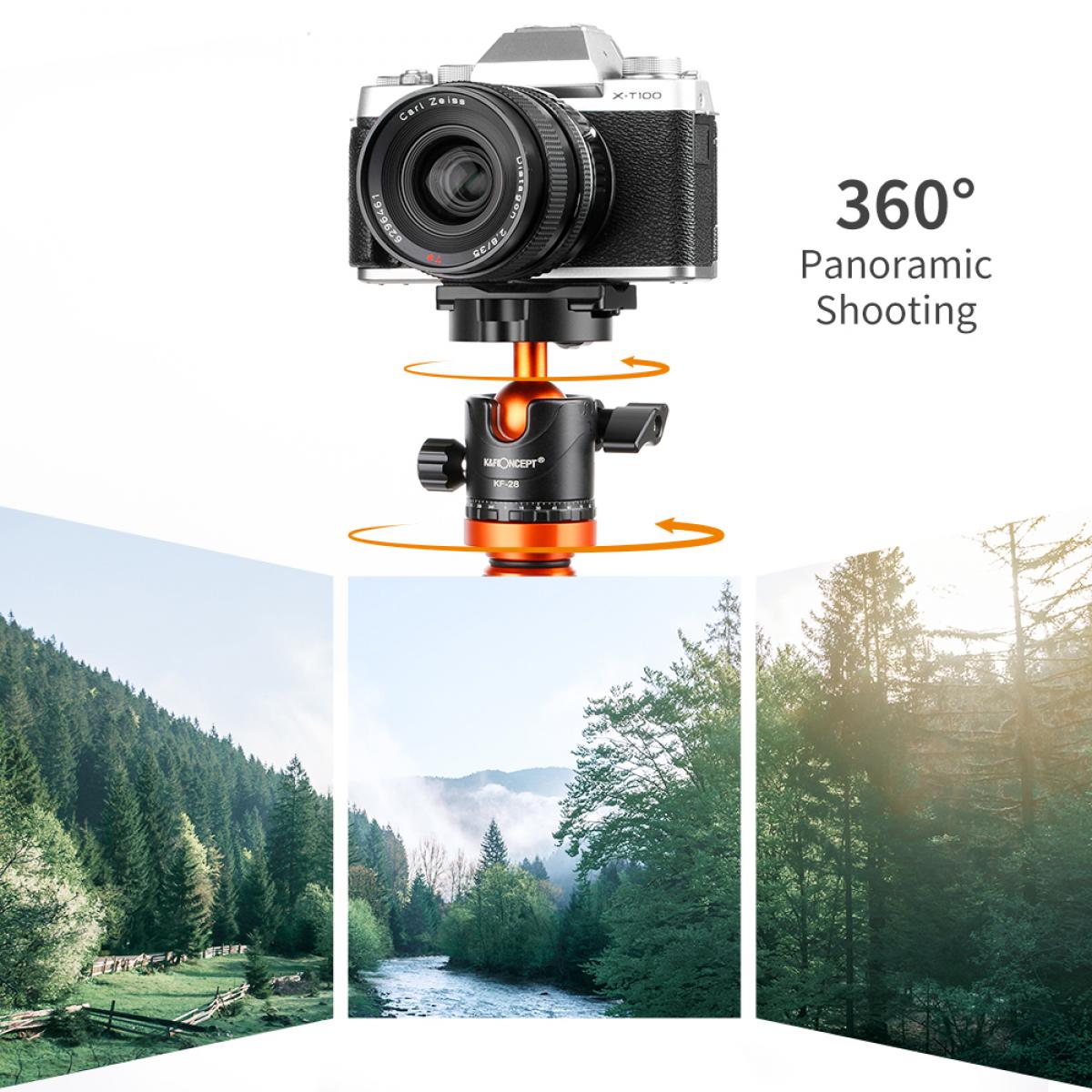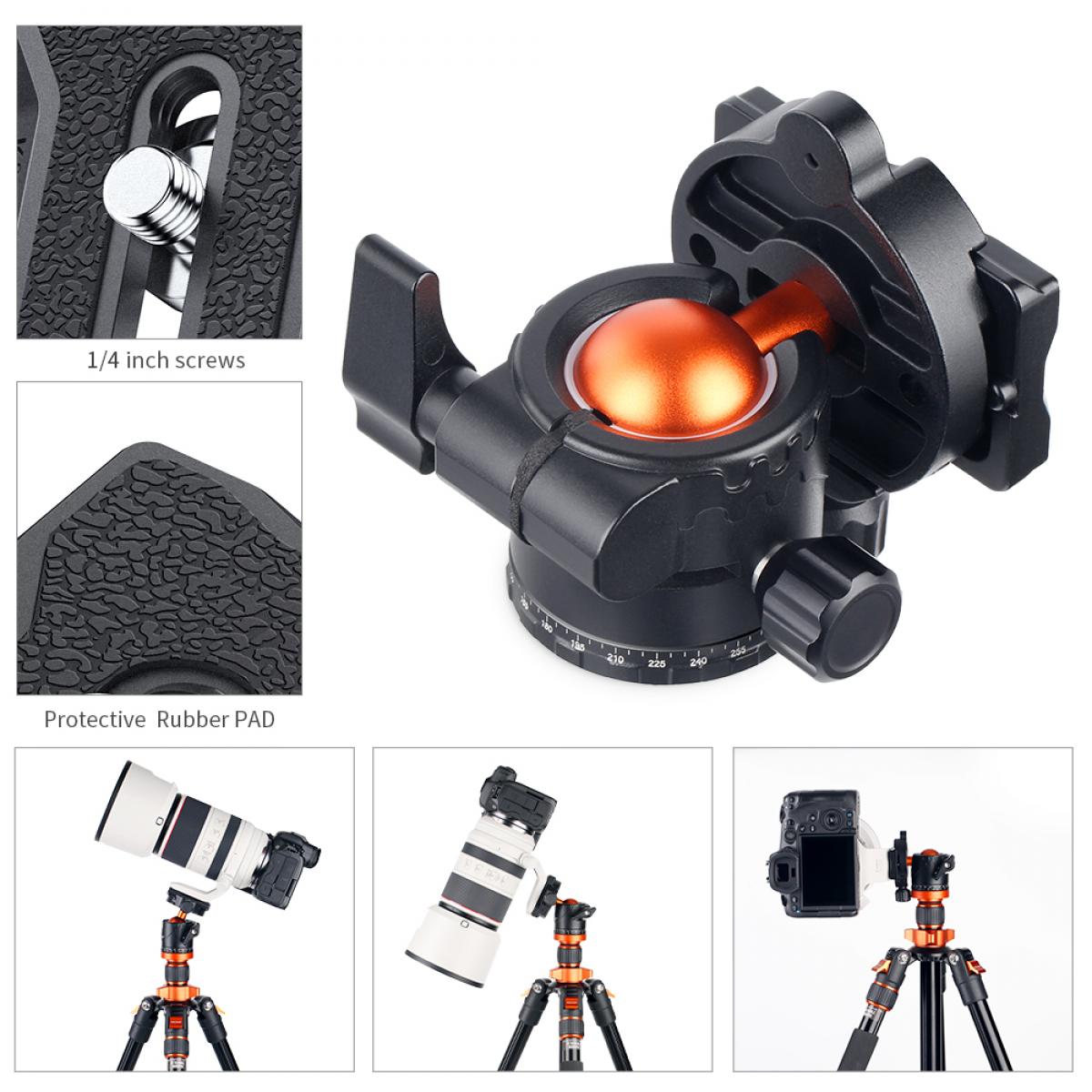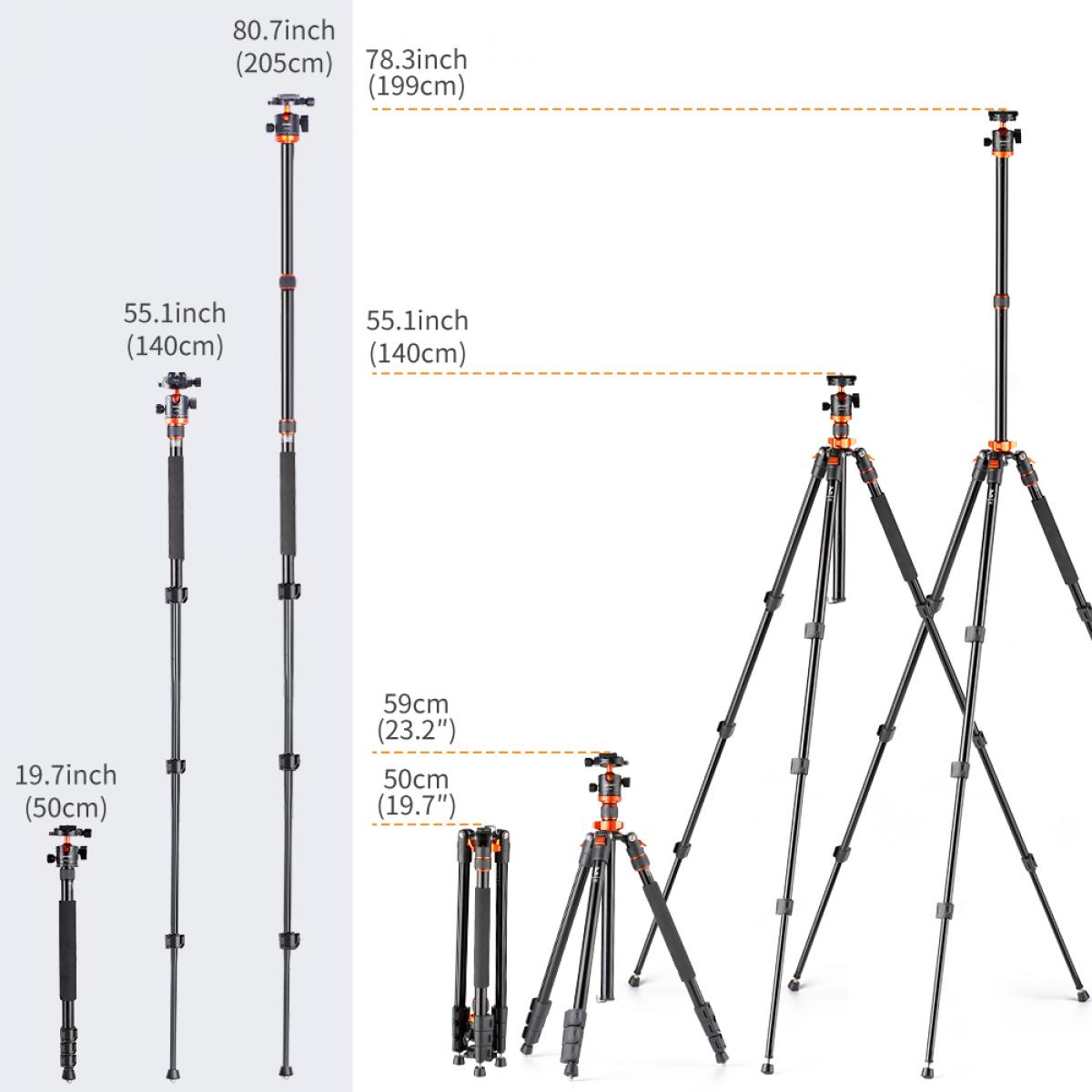 All Reviews
Image

All Star

5 Star

4 Star

3 Star

2 Star

1 Star
Great for real estate photography
Works great for real estate photography. Easy to set up and holds camera well for having a ball joint. No large handles to hinder a corner shot. Also good to just use as a regular tripod. Good build quality and very compact. I purchased 3 different tripods to finally land on this one. The search and struggle was real. Lol. Glad I was able to find this one with out having to spend 2 times the money.
13/11/2022
Very nice tripod for twice the money.
I bought a tripod a few weeks ago and spent about 65 on it. It felt so cheap and junky i sent it back quickly. I have a good tripod and i spent about 300. I was not expecting that kind of quality but not that bad either.This tripod is right in the middle for me now. This one will probably get more use than my good one. It feels great and i am very pleased with it. I didn't think i would like the burnt orange color but i do.
29/10/2022
Great tripod. Very pleased
I've used crummy, beat up tripods my whole life. I guess I'm a glutton for punishment. This tripod is great. It's light, steady, tall and with the included shoe, the camera goes on and comes off easily. Best part is how easily it sets up. Love it.
27/10/2022
Light, sturdy, and holding up very well.
It's been bumped and even knocked over once. It got hit very hard to knock it over and it's just like new. Thank God the camera and lens also survived. I'll be buying another one of these.
23/09/2022
Great travel tripod
Impressive for the money! Minimal details were think of. O rings as stops between sections, smooth movement, light weight yet sturdy and stable. Ball head lock is awesome, and the ball itself is big and steady. Even a little indentation on the plate's screw handle to raise it. All that not counting the looks. I have had a lot of compliments just by the look. Spikes are really nice. Great attention to details. Carrying bag is a nice addition not included in description. Highly recommended!
18/08/2022
Not bad, but...
This is a super early review. I got my K&F S210 78 tripod 2 days ago and I've been testing it at home quite a bit. As you can see in the photos, i use a large telephoto lens (tamron 150-600 g2) and my Nikon D5300 camera. So right off the bat, the tripod does feel secure. By that i mean i have no fear my camera is gonna fall off, as i had once happened to me. However, it's not perfect.1. The center column is not perfectly centered. I used a bubble level to check it as i saw in another review someone complaining about it. And it is indeed a bit off when fully extendeded and stanting on the metal tips, but not much and at least to me it isn't very significant, but i know some people that wouldn't like this.2. Panning should be a lotbetter. The knob doesn't control the resistance of the head... Its basically able to pan ot not. I've tried to really make fine adjustements on that knob and the movement just becomes "bumpy", like there was something making the head get stuck, but that's it. No actual control on how tight the panning is.3. The camera plate needs to be tightened,. In fact, i feared i could actually damage the lens foot because unless i tighten it really har,d with the included allen key, it would come loose after a few minutes. Also, I'd love if it had one of those pins you see on some plates that fit in the foot's grooves, preventing it from swiveling.However, and i really mean this, i actually like this tripod so far. The issues I've mentioned before aren't huge for me and so far i feel like this tripod is stable and safe and that's what really matters. I'm planning on taking it with me in a few days on a field trip and test its in many different conditions. If something comes up, I'll update this review.UPDATE:It's been a few weeks since my intial super early review and i feel i have used the tripod enough to really know all the details.1) the issue with the panning knob is getting annoying. Often, i feel I've tighten it enough to prevent it from moving, but in Fact it wasn't locked and i ended up moving it away from my sibject while adjusting the camera settings. It's not a big deal but once you have everything set, you really want to press the shutter and het the picture you were aiming for and not having to re framing the shot.2) the ball head is already getting loose! Ok, it's not bad but i definitely feel the difference. It's sad though, because i really wanted to love this tripod, but having issues with both panning and tilting is a too much. I don't intend to change the head of this tripod... I mean, it's a travel tripod. Not the cheapest but not expensive. I'd rather invest in a better unit instead.3) i lost my allen key... I knew that was bound to happen from the start and i always carry a few of them with me, so it didn't become a huge deal, but yeah... I've seen uktra cheap tripods with a plastic thingy to attach the key so it's not one more small thing on you backpack that can be lost in the heat of the moment. In the end I'm giving this tripod 3 stars. I basically got what i paid for. There's only one real problem with it's head (the panning knob thing) and one potential problem for the future that may or may not eventually become an issue.
18/10/2021
Good. For six months. Garbage
Garbage. Looks great. Durability out in the field with light use was less than a yearWaste of money
26/08/2021
Perfect for PCP Shooting
Nice and stable for shooting PCP air guns.
05/08/2021
Light and versatile...love it!
Great, versatile tripod. I moved from a big heavy studio Bogen to this. Depending on your equipment size/weight, you may want to add a drop down weight below the center (like a big rock, etc., tied up).
04/08/2021
Definition of stability
The adjustability of this tripod is almost infinite. Holds my 5D with a battery pack and a 600mm lens exactly where I needed it to be with no issues. I love this tripod!
03/08/2021