K&F Concept TM2534 DSLR Camera Tripod Monopod Kit fit Canon, Nikon
Out Of Stock
Product Unavailable
No Cancellation Fee
Buy 99$-9$, 199$-25$, 299$-39$, 599$-100$
New customer gift package
Free shipping worldwide
K&F TM2534 DSLR Camera Tripod Monopod Kit fit Canon, Nikon 25mm large diameter magnesium aluminum alloy tube,the load capacity can reach 22.05lbs (10kg),provide security and stability support for your camera.

KF09.025

SKU:

KF09.025

89.99

https://www.kentfaith.com/KF09.025_tm2534-silver-dslr-camera-tripod-monopod-kit-65-inch-fit-canon-nikon-travel-photography
Buy 99$-9$, 199$-25$, 299$-39$, 599$-100$
Description
* 25mm large diameter magnesium aluminum alloy tube,the load capacity can reach 22.05lbs (10kg),provide security and stability support for your camera.
* 4 sections leg can be folded to 16.73 Inch,the N. weight with ball head is 3.73lbs,which is super portable with tripod carrying bag.
* Foldable,detachable,relexed storage,more convenient to carry, can be remove monopod
* High quality die casting of head, metal twist lock,increasing stability
* Ball head can be rotated 360 degrees, helping to expand camera activity range when panoramic shooting.
Shipping
Free shipping worldwide
Sale
Buy 99$-9$, 199$-25$, 299$-39$, 599$-100$
KF-TM2235
Lightweight Aluminium
DSLR Camera Tripod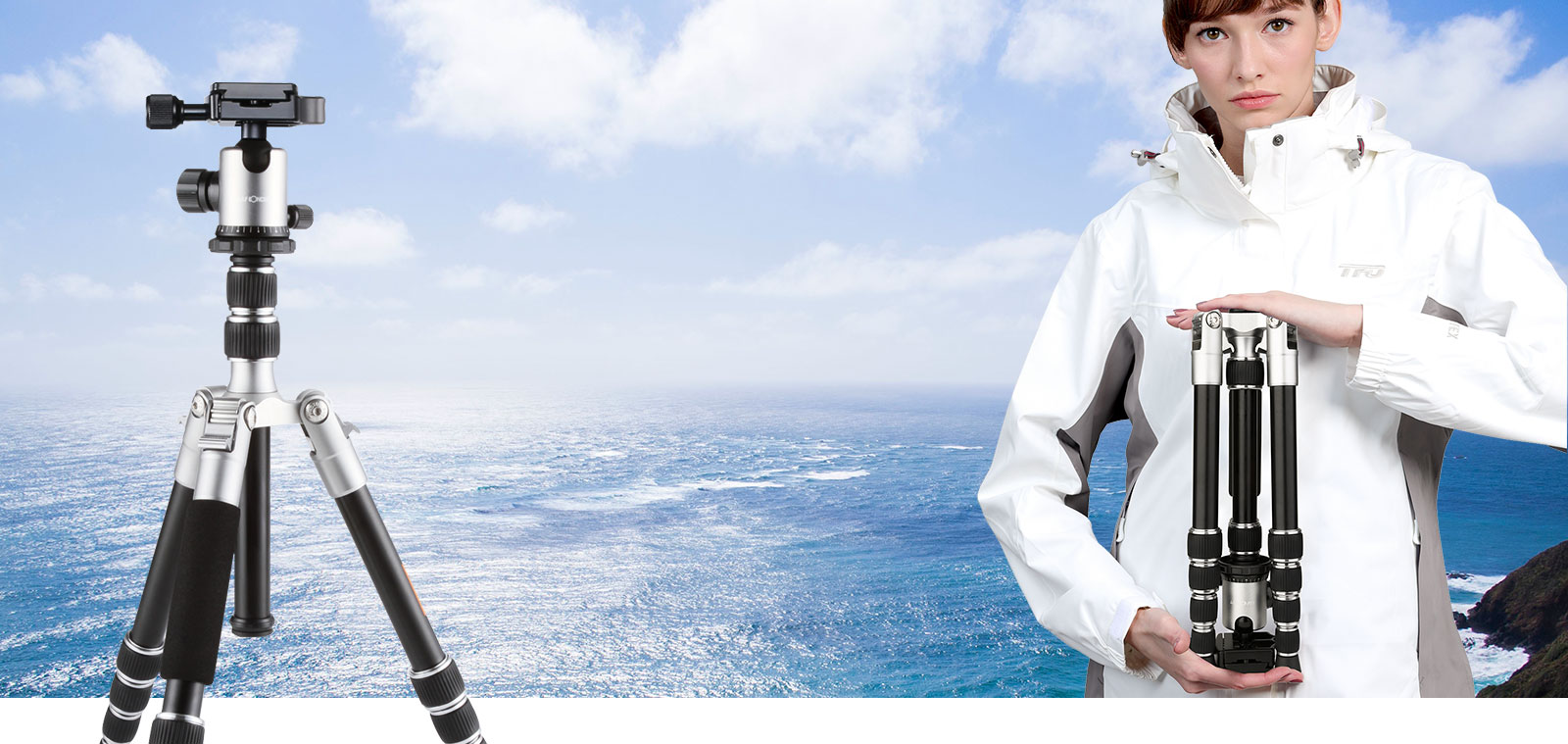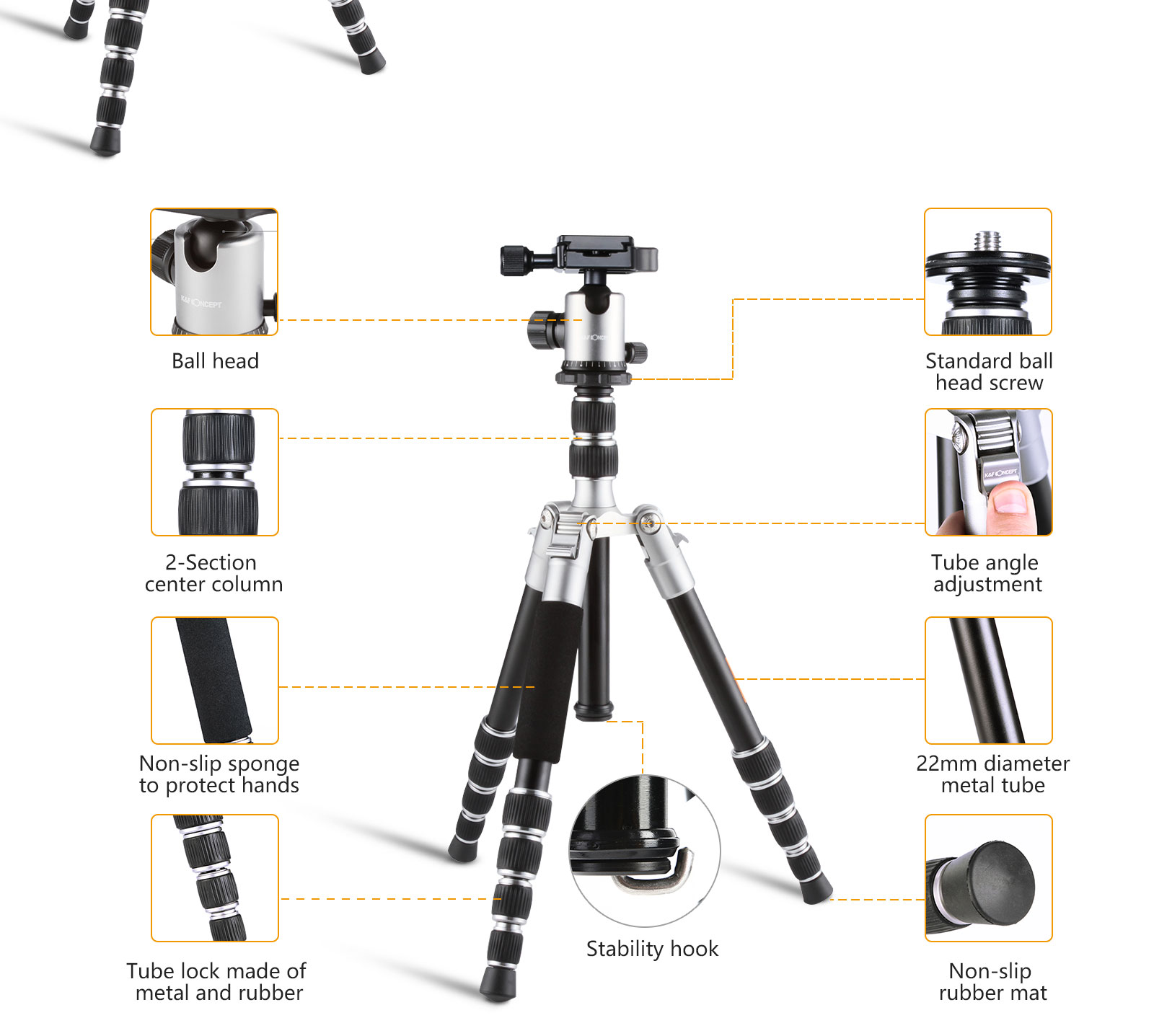 360°PANORAMIC SHOOTING
More accurate panoramic synthesis.

Fix the tripod,and keep it in horizontal position,then make it rotate uniformly.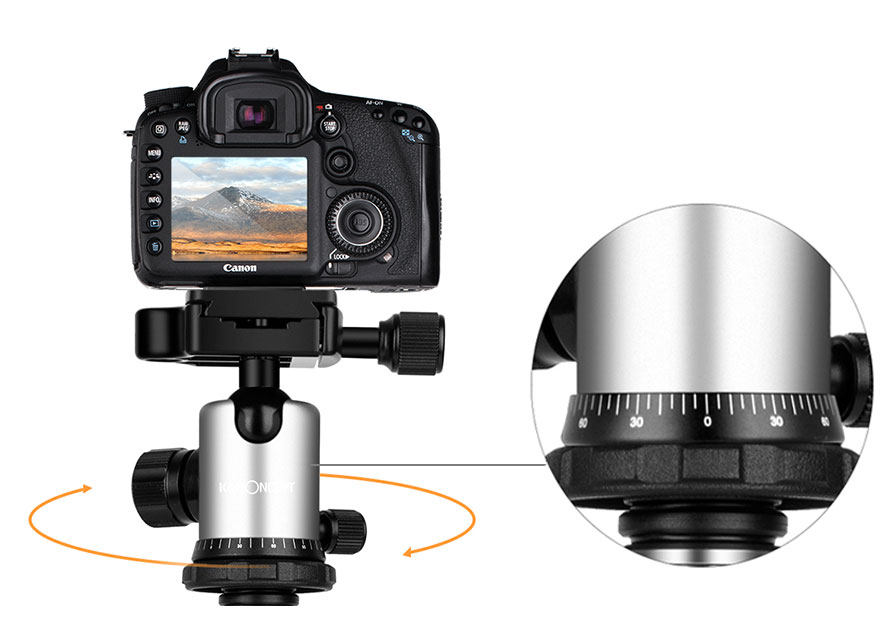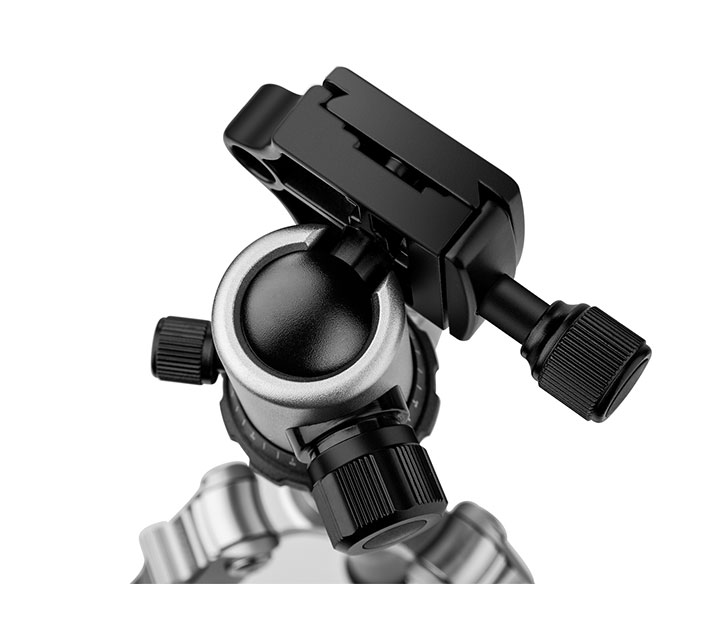 1.1"(28mm) BALL HEAD
22lbs(10kg) LOAD
Large spheres are more stable.
Rubber gasket & Back security plug

MACRO PHOTOGRAHY
Lowest angle shooting, macro shooting, and special photography can be achieved through inverted central axis.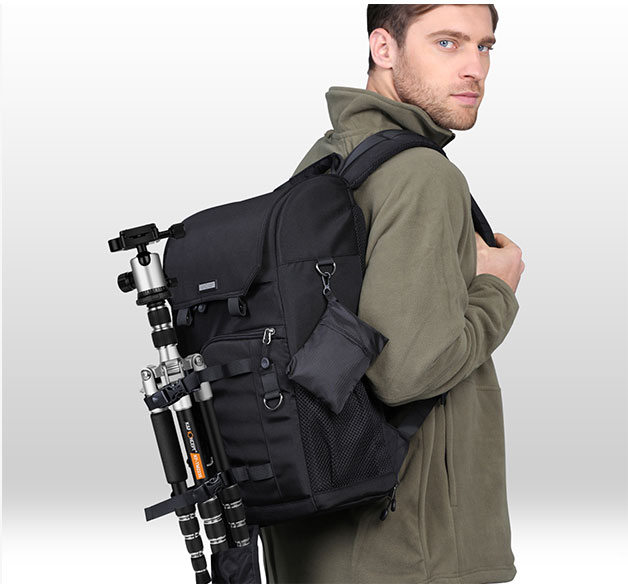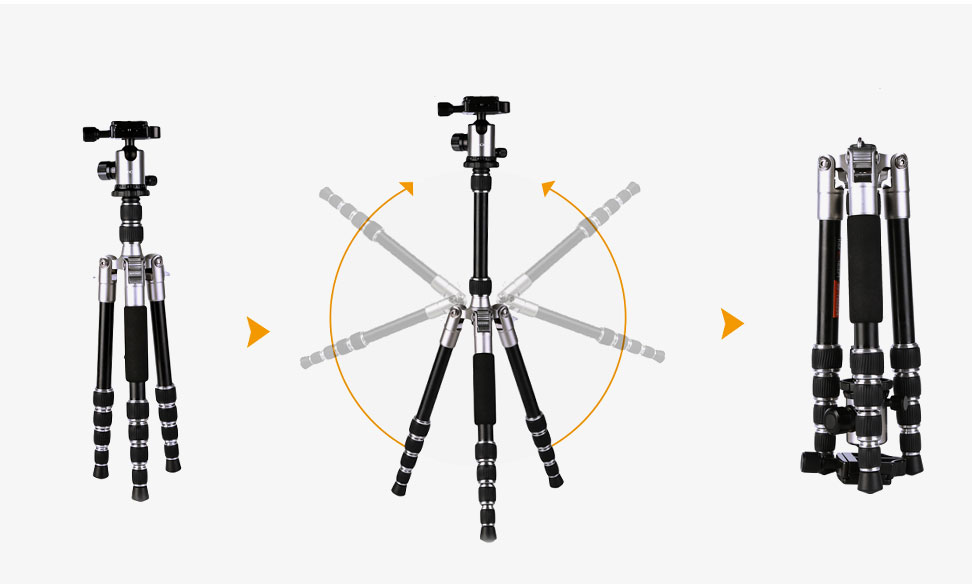 Light and easy to carry
The 3 Tubes of tripod can be folded 180° reversely, which can save space and make it more convenient to carry.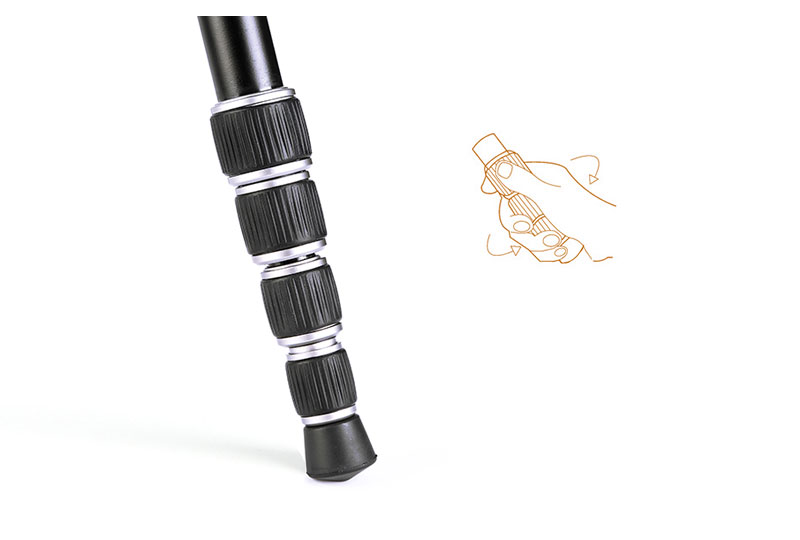 Anticlockwiserototion to right, Clockwise rotation to loose
5-section adjustable-height
legs
Metal material tube lock system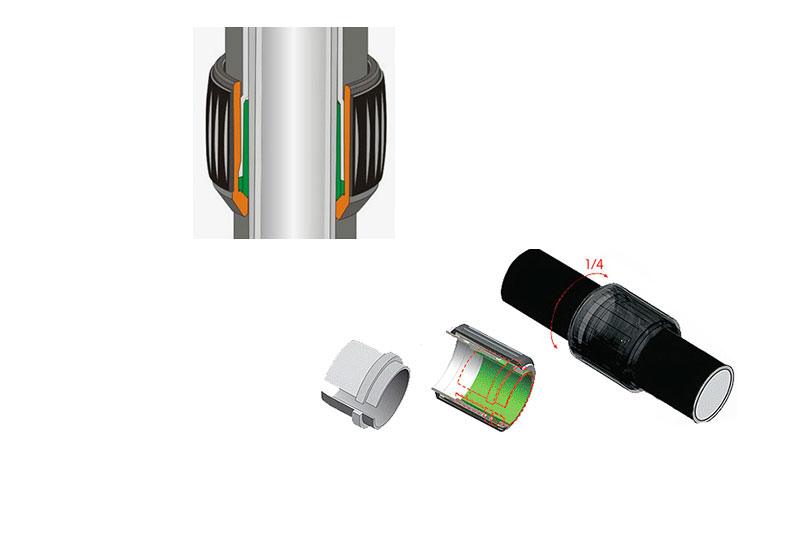 Tube quick locking system
Redesigned tube system use not only ALR, but the lightest and newest one-piece lock system QLS to make lock ring united with lock button.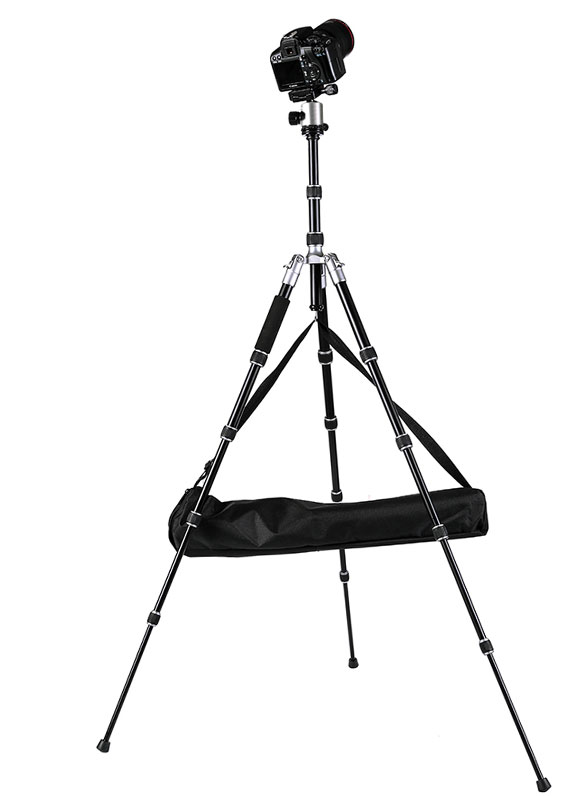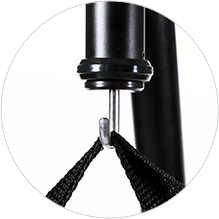 When hang weight, the hook will reach out auto matically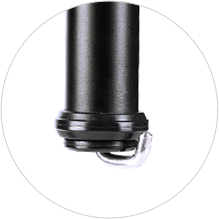 When take weight down, the hook will retrack automatically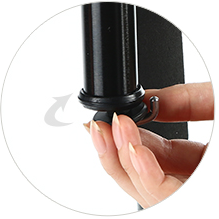 Install downward to realize overhead shooting
Automatic stability suspension system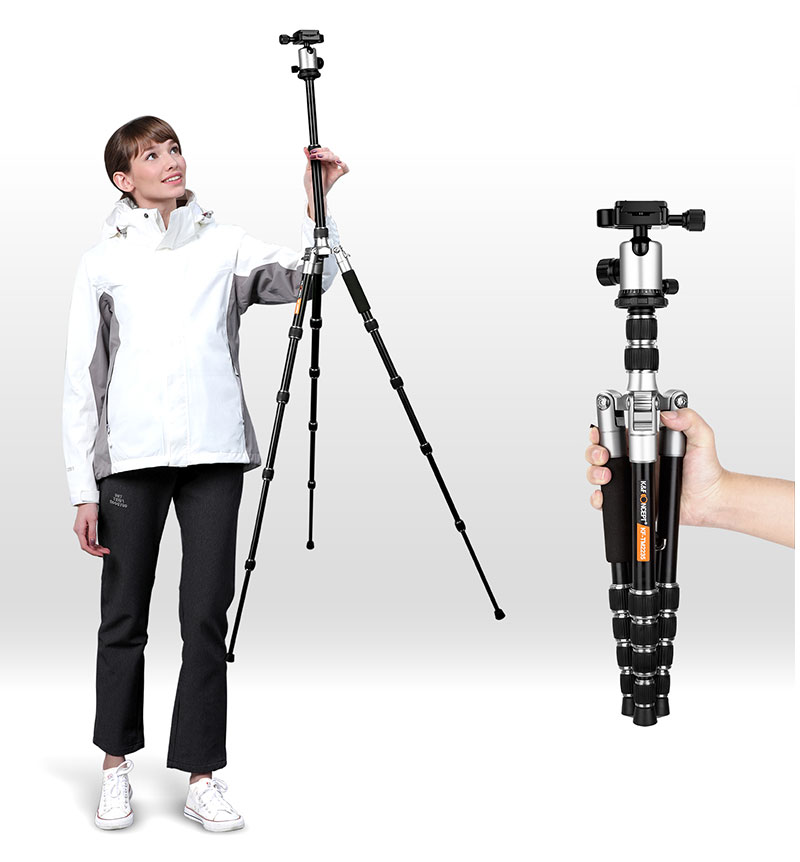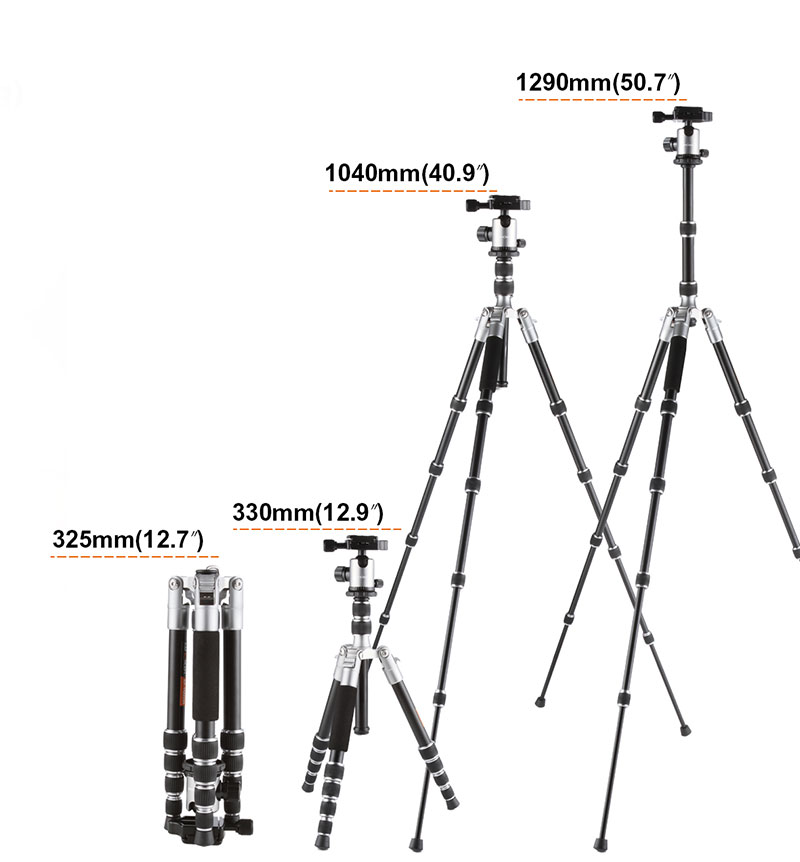 All Reviews
Image

All Star

5 Star

4 Star

3 Star

2 Star

1 Star
Great build
I wanted a the tripod to use my projector anywhere in the house and I've to say multiple articulations and the build quality are fantastic.It comes with a portable bag and the usual hooks for cameras/projectors.
07/01/2020
Excellent light tripod
Very pleased. It is very light and sturdy. Decent quality for the price, especially on lightning deal. If you are using heavy lenses, be sure to attach the lens to the tripod and not the camera to the tripod ;-)It handled a D700 with a 2.9kg lens without any problem.
14/06/2018
Best Tripod i have bought & i have had a ...
Best Tripod i have bought & i have had a few well named brands. Early days yet but i am very impressed. Lots of options and very solid.
05/03/2018
Great tripod. Didn't want to spend too much and ...
Great tripod. Didn't want to spend too much and was trying to find that middle of the road tripod. Build quality feels really good, isn't too heavy to walk around with and the ball head is solid as well. Already enjoying the photos this is allowing me to take
06/02/2018
Did not expect that quality for the price
I did not expect such quality for the price... I saw reviews on YT so I gave it a try and I'm quiet satisfied.When you set up the tripod level, you install your camera on top, your can't see if it is still level but, you may use your camera level sensorThis is a robust tripod, feels solid in your hand not loose...overall impression:not bad at all !
28/01/2018
These images belong to KENTFAITH end users.
There are no faqs for this product.
Tripod General
Load Capacity
10kg
Maximum Working Height
1620mm
Max Height without Center Column
1390mm
Minimum Working Height
425mm
Folded Length
475mm
Weight
2500g
Materials
Magnesium aluminum alloy
Tripod Head
Ball Head
Color
Silver/Black
Bubble Level
Tripod Legs
Leg Lock Type
Twist Lock
Leg Positions
3
Independent Leg Spread
Leg Sections
4
Leg Diameter
25mm
Feet Features
Tripod Center Column
Center Column Features
Center Column Sections