4K 30MP Trail Camera WiFi Game Camera 120° Angle Game Camera 0.3s Trigger Clear Night Vision, With 850nm 36 Infrared Lights 65 Feet, IP65 Waterproof Wildlife Camera (Green)
Free shipping to eligible country
Brand:

K&F Concept

Free Shipping. 30 Day No Reason Return. K&F trail camera features high video&image resolutions, wide flash angle, fast trigger speed, IP65 waterproof&rugged housing.

KF35.011

SKU:

KF35.011

129.99

https://www.kentfaith.com/KF35.011_4k-30mp-off-road-camera-game-camera-wireless-wi-fi-bluetooth-off-road-camera-120-angle-game-camera-0-2s-trigger-clear-night-vision-with-850nm-36-infrared-lights-65-feet-ip65-waterproof-wildlife-camera-green
Description
• [4K resolution and 30MP] The tracking camera provides 4K HD video recording. The video recording speed is up to 3840 x 2160, and the frame is up to 30 frames per second. The maximum number of pixels for photography is 30 megapixels, which ensures that the captured image is clear, whether it is shooting or recording.
• [0.3S trigger and motion detection] The tracking camera is equipped with a center and side dual PIR motion monitoring system. The center detection angle is 60°, and the sides are 30°. This allows the wildlife camera to immediately capture images when it detects that the animal is within the visual range, with a shutter response time as short as 0.3 seconds and a maximum of 10 bursts.
• [Night vision and 36 infrared lights] Equipped with 36 infrared lights to clearly distinguish animals at night, and the tracking camera can provide clear night vision even in dark conditions. The effective night vision range is up to 65 feet/20 meters.
• [IP65 Waterproof & 120°Wide Angle] The main body adopts camouflage, waterproof, and strong sealing, making it have an IP65 waterproof rating, so there is no need to worry about bad weather such as wind and rain; in sleep mode, the standby time is up to 6 months. Can shoot 120° horizontally.
• Using 8 alkaline AA1.5V environmentally friendly energy-saving batteries, you can buy them anytime, anywhere, no need to worry about running out of electricity and longer working hours
4K 30MP WiFi Trail Camera
Catch every fantastic wildlife moment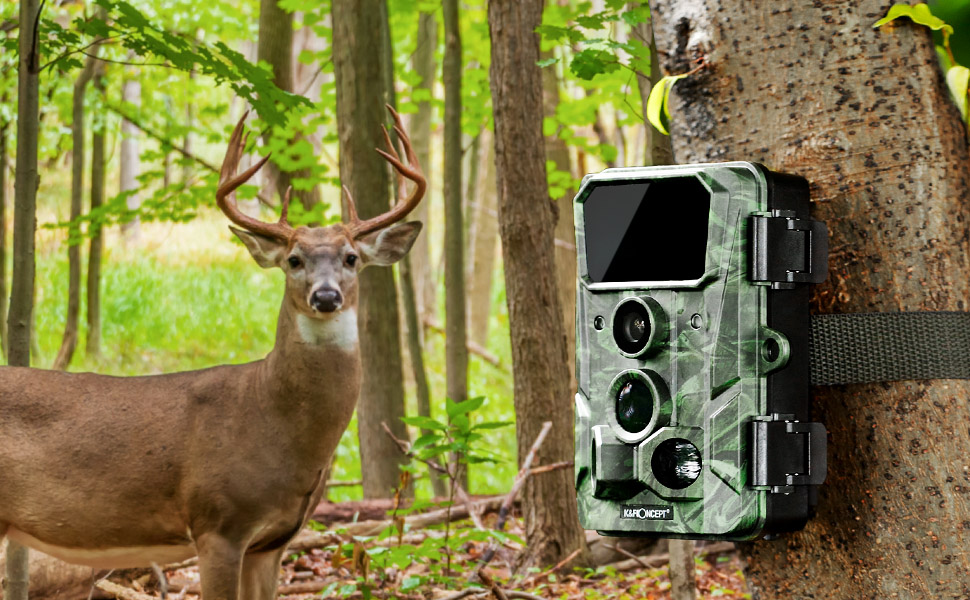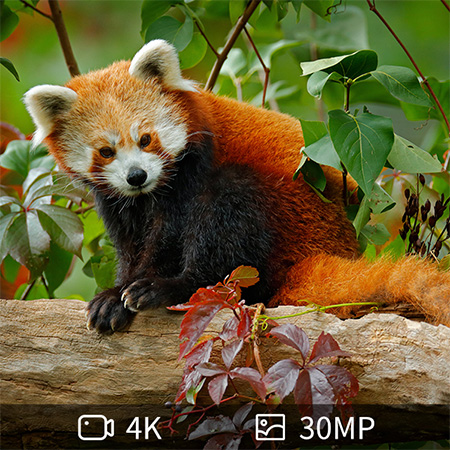 4K Video and 30MP Image
This hunting camera captures 4K vivid video and 30MP clear images each time motion. You will not miss any detail on your wildlife expedition.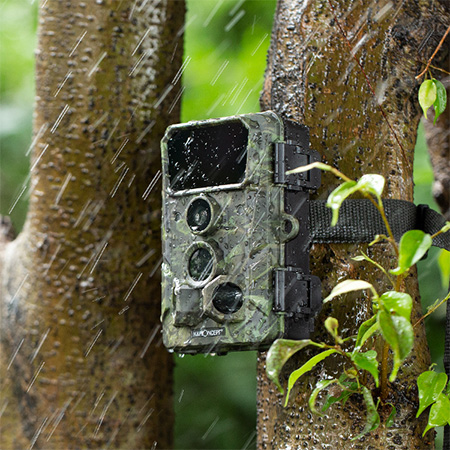 IP66 Waterproof & Sturdy
The hunting cam case has passed the waterproof test up to IP66, protecting it from rain and dust damage.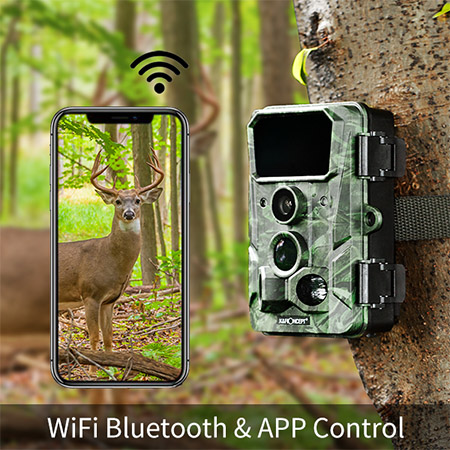 Wifi and bluetooth function
Within 15 meters, manage the recorded pictures and videos in real time via the APP software.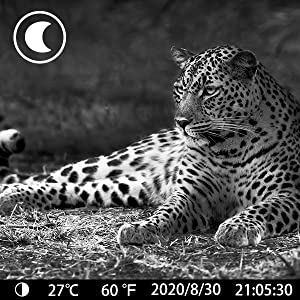 Super night vision
With three upgraded PIR and 36 pcs infrared no glow LEDs, this trail camera offers you a super clear night vision.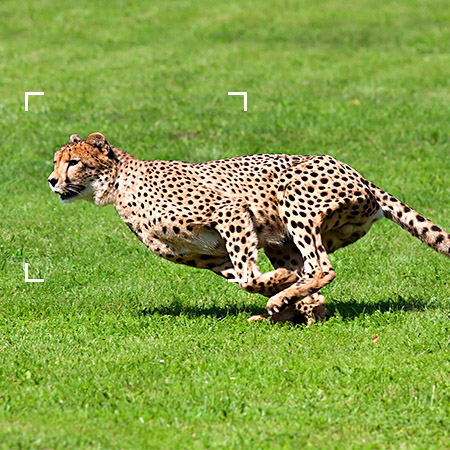 0.3S Trigger Speed
it allows you to record every exciting moment and offers a complete details of various animals that you want.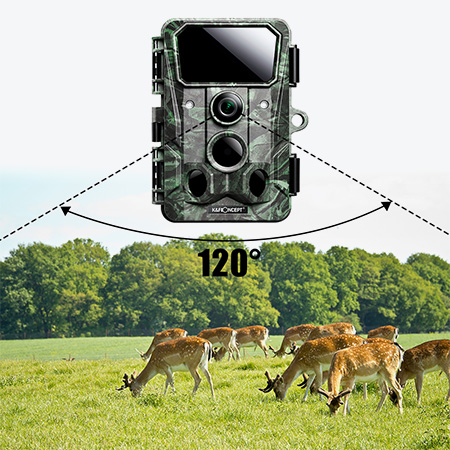 120° Detection Angle
Excellent Optics lens, encompassing distortion correct technologies provides a wider view and more precise vision.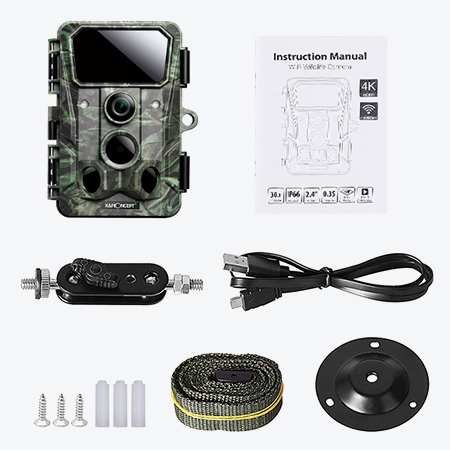 What's included in the box
1xTrail Camera 1x Strap 1x USB Cable 1x Tree Mount 1x User Manual 3× Screws.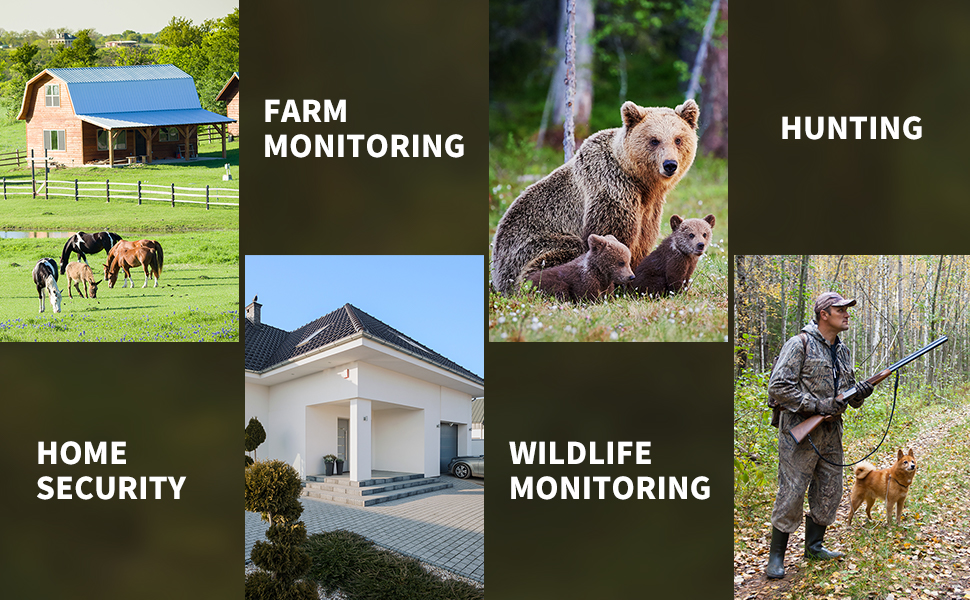 It could not only monitor the wild animals, scout the prey, but also gurad your house and protect your farm from burglar. with a super long standby, it is unnecessary to replace the battaries frequently and gives you a long-term and reliable guard.
Rating

2 reviews.

0 reviews.

2 reviews.

460 reviews.

411 reviews.

33 reviews.
Price

$289.99

$129.99

$79.99

$159.99

$139.99

$69.99

$59.99

$259.99

$229.99

$59.99
Model
KF35.011
KF35.040
KF35.012
KF35.004
KF35.004V4
KF35.021

Max. Storage

256GB
256GB
32GB
32GB

Image Resolution

30MP
30MP
20MP
20MP

Screen Size

2.4"
2.4"

Video Resolution

4K
4K
2.7K
2.7K

WIFI+Bluetooth

Wifi
Wifi
NO
NO

Amount of infrared lamps

36pcs (850nm)
36pcs (850nm)
42pcs (940nm)
42pcs (940nm)

Amount of PIR SENSORS

3pcs
3pcs
1pcs
1pcs

Detection Range of PIR sensors

120°
120°
120°
120°

Trigger Distance

22m (65ft)
22m (65ft)
26m (82ft)
26m (82ft)

Trigger Speed

0.3s
0.3s
0.3s
0.3s

Waterproof IP Rating

IP65
IP65
IP66
IP66
Security camera alternative
I use this unit as security camera in my front yard where there is no power access. It did the job also the camouflage well in the woods.I wish it could have power adapter plug that I don't have to replace battery. Really wanted to give 4 star but I used it in a way not designed to be. It's my issue not the camera
02/09/2021
Very cute and amazing,see what's captured!
Put it on the ground of my back yard, left some rice on the floor.See what's I captured!A big bird and small bird.Very cute and funny toy for children.Easy hand on, insert SD card and battery.Remote is weak point, WIFI remote need Bluetooth active.
25/08/2021
There are no faqs for this product.
4K 30MP Trail Camera WiFi Game Camera 120° Angle Game Camera 0.3s Trigger Clear Night Vision
Trail Camera
Max. Storage
256GB
Image Resolution
30MP
Screen Size
Video Resolution
4K
WIFI+Bluetooth
Wifi
Amount of infrared lamps
36pcs (850nm)
Amount of PIR SENSORS
3pcs
Detection Range of PIR sensors
120°
Trigger Distance
22m (65ft)
Trigger Speed
0.3s
Waterproof IP Rating
IP65