2PCS HC-810A 2.7K 24MP HD Trail Camera Hunting Camera Scouting Trail Camera Wildview
Free shipping to eligible country
Free Shipping. 30 Day No Reason Return. K&F trail camera features 24MP Clearer Image + 2.7K Sharper Video Resolution, fast 0.3s trigger speed, high sensivity&night vision with 3 PIR sensors, 120° flash range, easy to operate. du

KF35.002V2

SKU:

KF35.002V2

141.99

https://www.kentfaith.com/KF35.002V2_kf-hc-810a-20mp-0-3-seconds-start-3-pir-hd-outdoor-waterproof-hunting-and-hunting-infrared-night-vision-camera-for-sale-on-the-official-website-2pcs
Description
* 24MP Clearer Image + 2.7K Sharper Video Resolution -The trail camera captures 20M Pixel crystal images and full HD 2.7K videos. Color by day, black and white by night. Up to 9 photos per detection. Micro SD Card up to 32 GB, HC810A (Memory card NOT included in the package)
* Faster 0.3s Trigger Speed -Once detecting the movements,the hunting camera will be triggered instantly in 0.3s without delay.You will never miss any exciting moments even at night.The trigger distance is up to 80ft.
* High Sensitivity & Night Vision with 3 PIR Sensors -The scouting camera will detect movements of wild animals as soon as they enter the detecting range.With 3 passive infrared sensors,the high-sensitive camera detect and record every breathtaking motion with lower power consumption. The 44 pcs upgraded infrared LEDs without bright flash can let you catch any moment even at dark night.
* 120° Wide Angle Lens Waterproof Sturdy Device -The game camera is equipped with 120° detecting range, allowing you to get excellent broader view.It will record any animal movements you want with wide angle lens even in rainy days, with IP 65 waterproof level.
* Easy to Operate + Multiple Applications-The hunting cam is easy to operate and mount.You could apply the user-friendly device to outdoor activities,not only hunting but also home security, property surveillance, wildlife monitoring and scouting,Farm Security.
Shipping
Free shipping to eligible country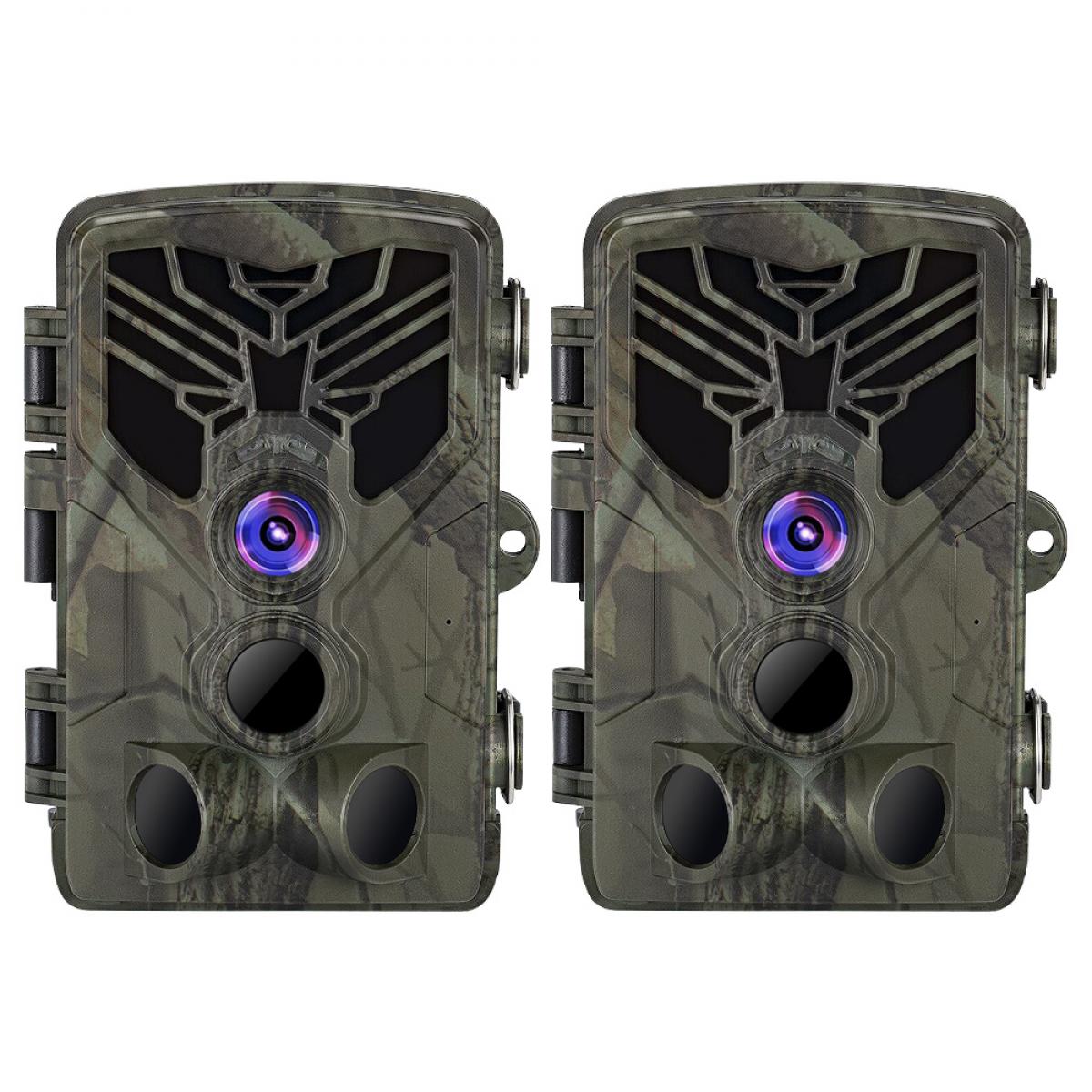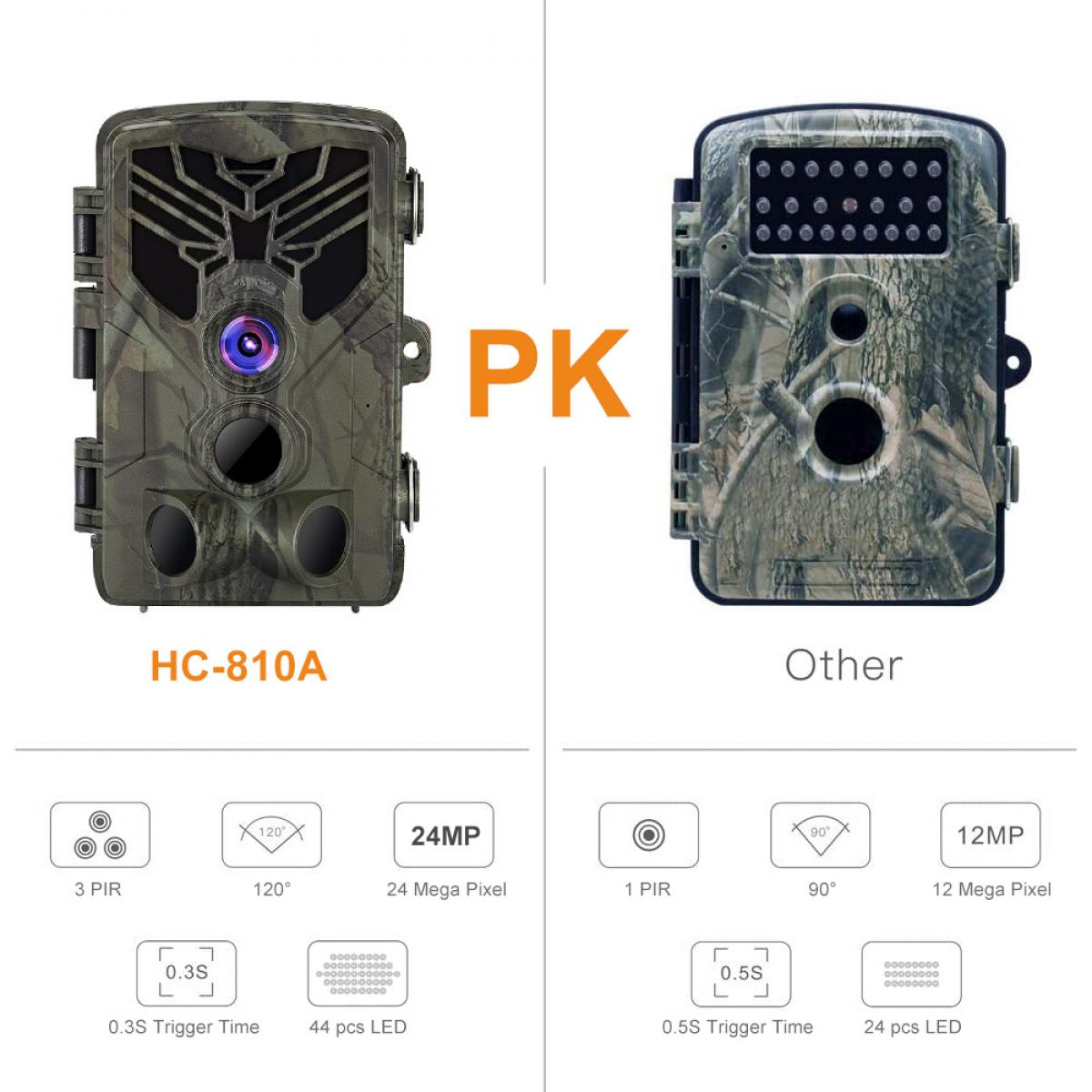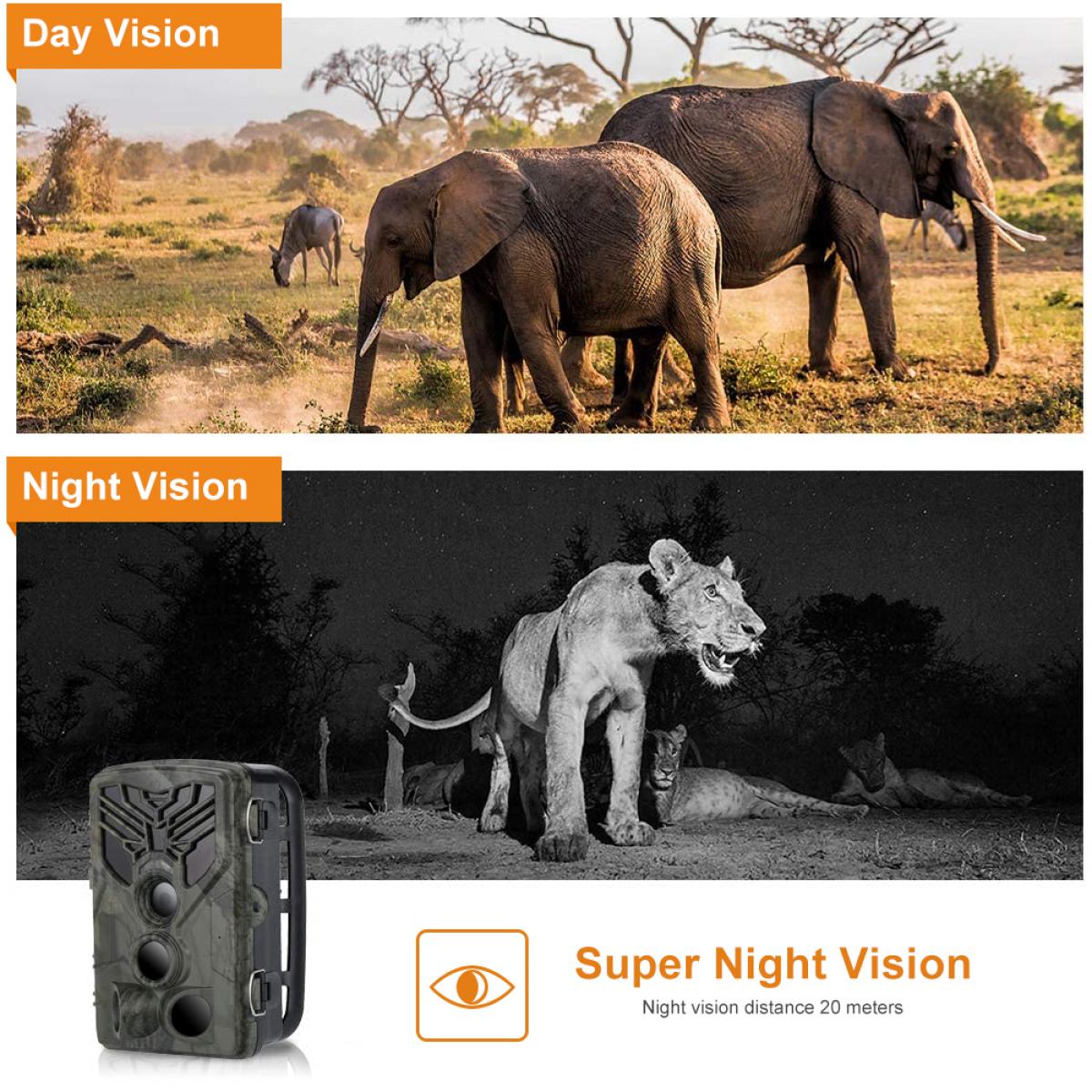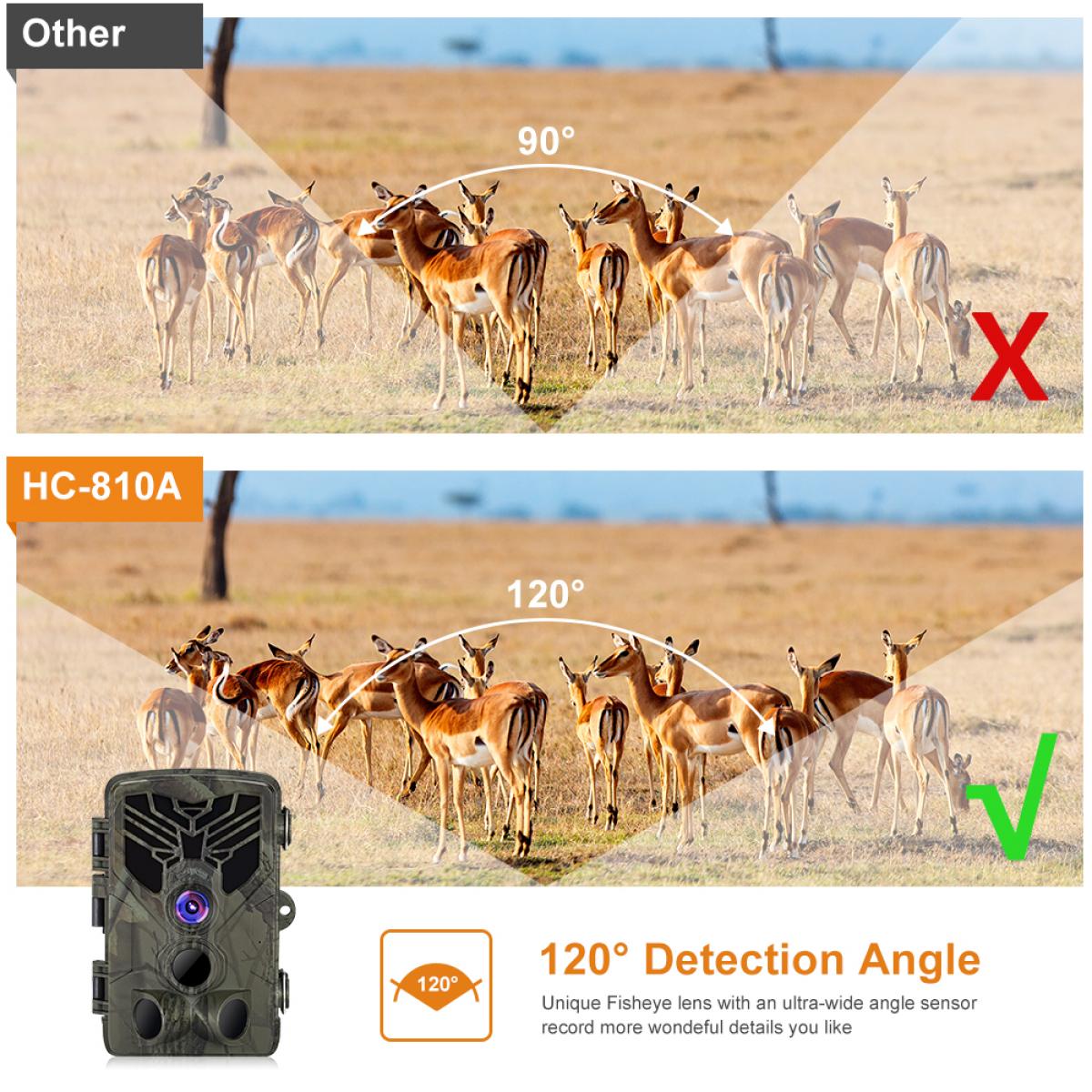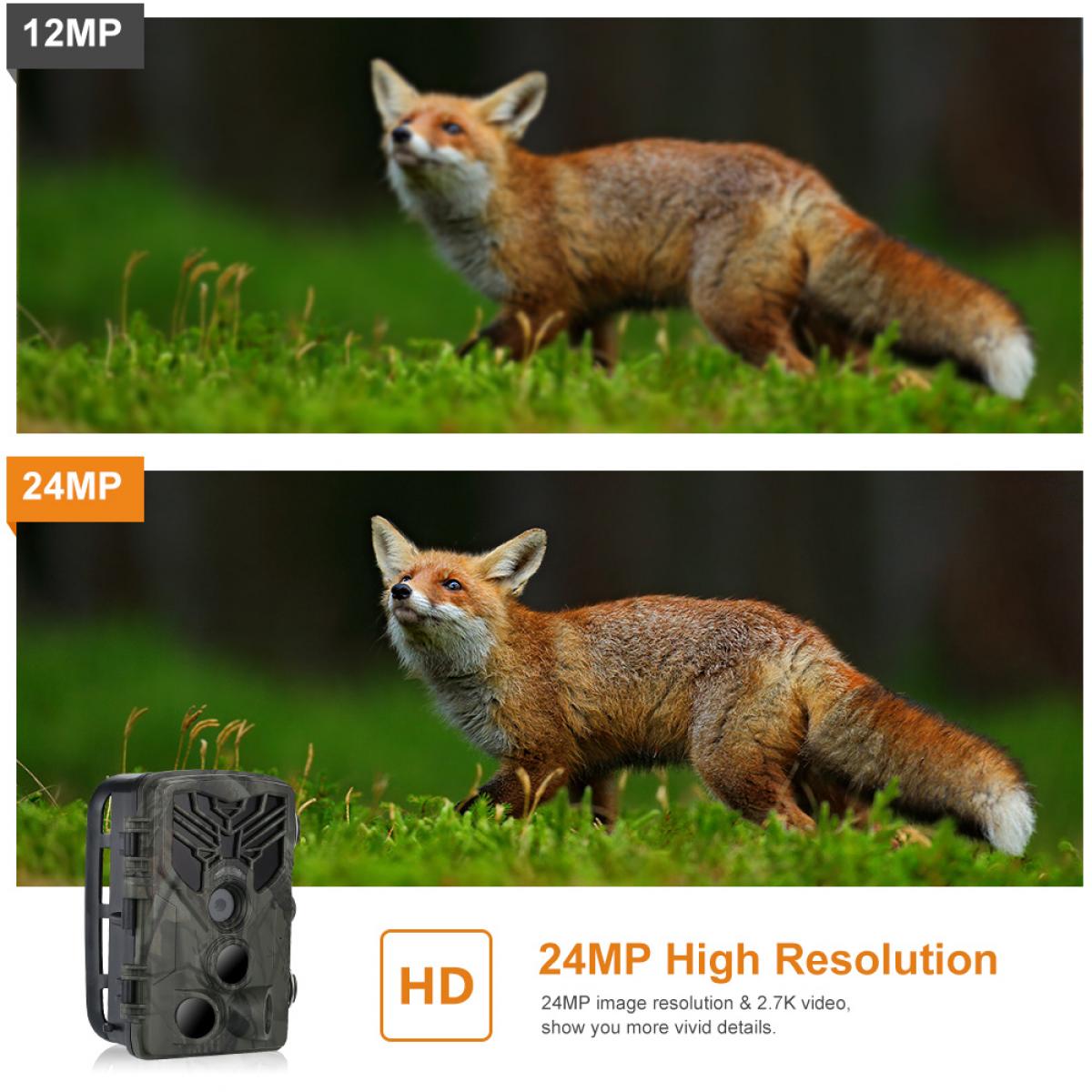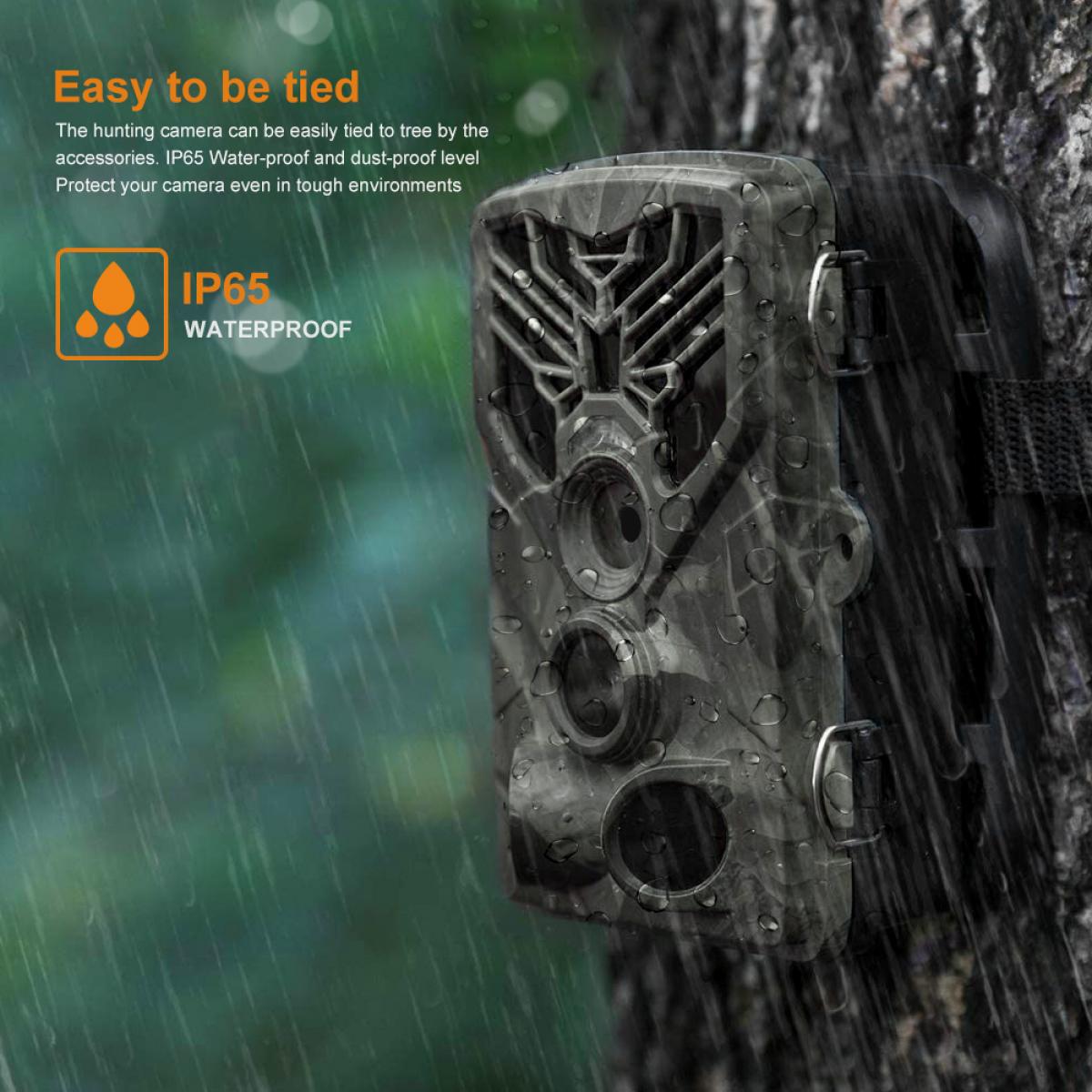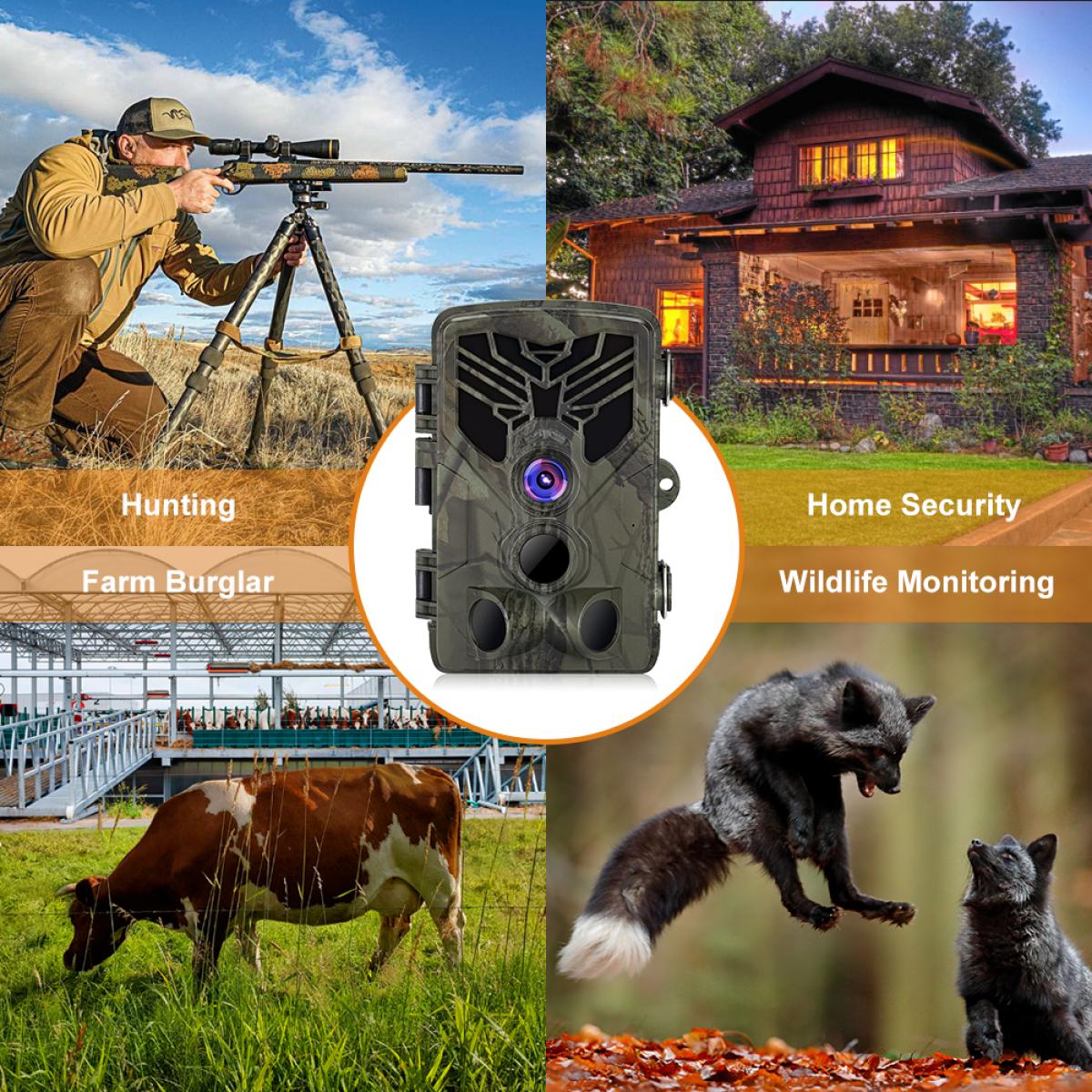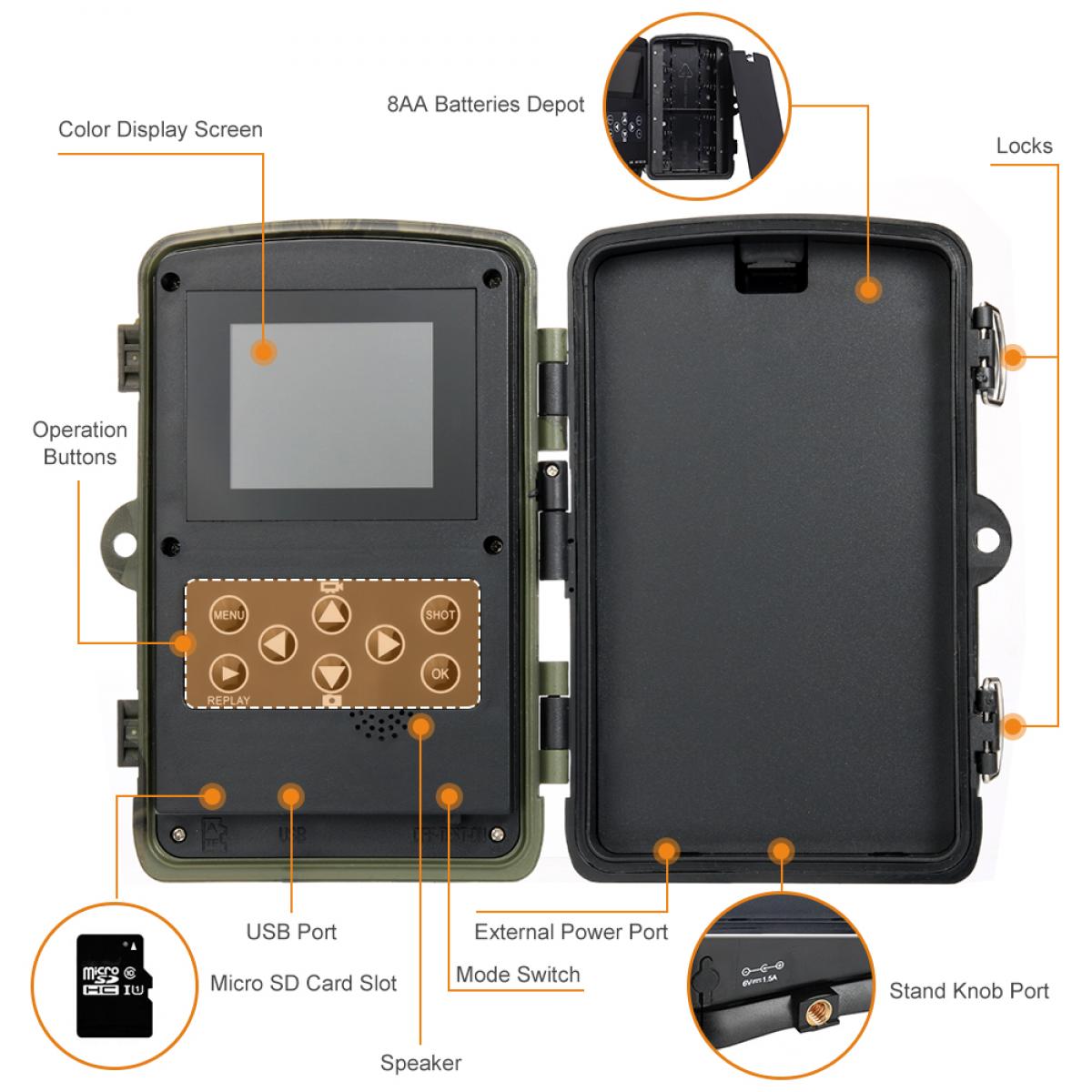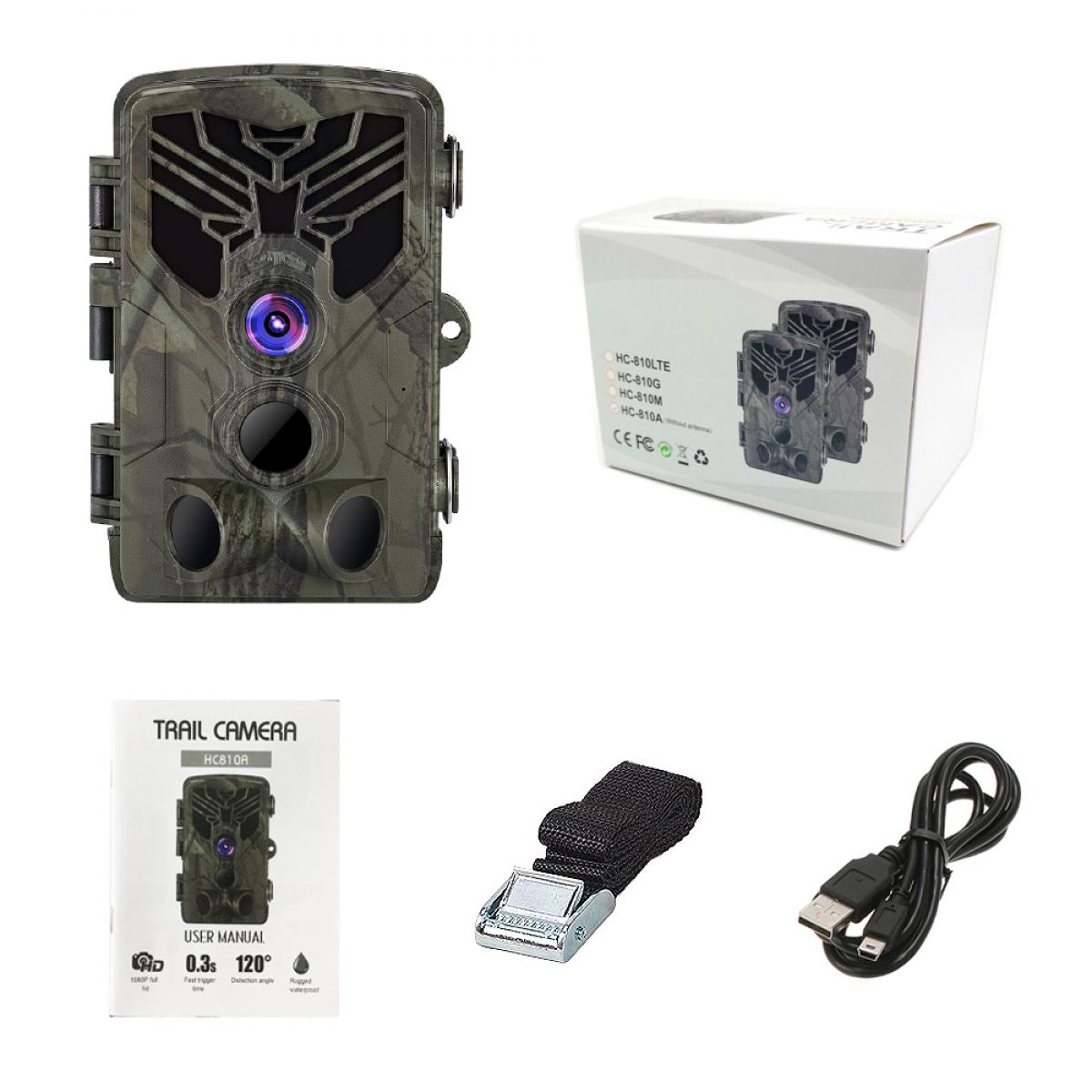 | | | | | | |
| --- | --- | --- | --- | --- | --- |
| | | | | | |
| | | | | | |
| | | | | | |
| Rating | 890 reviews. | 411 reviews. | 795 reviews. | 411 reviews. | 777 reviews. |
| Price | $141.99 | $117.99 | $148.99 | $120.99 | $106.99 |
| Model | KF35.002V2 | KF35.001V2 | KF35.003V2 | KF35.004V2 | KF35.005V2 |
| Max. Storage | 32GB | 32GB | 32GB | 32GB | 32GB |
| Image Resolution | 24MP | 24MP | 36MP | 20MP | 16MP |
| Screen Size | 2.0" | 2.0" | 2.0" | 2.4" | 2.0" |
| Video Resolution | 2.7K | 1080p | 2.7K | 2.7K | 1080p |
| WIFI+Bluetooth | NO | NO | NO | NO | NO |
| Amount of infrared lamps | 44pcs (940nm) | 36pcs (850nm) | 44pcs (940nm) | 42pcs (940nm) | 22pcs (850nm) |
| Detection Range of PIR sensors | 120° | 120° | 120° | 120° | 80° |
| Trigger Distance | 20m (65ft) | 20m (65ft) | 20m (65ft) | 26m (82ft) | 20m (65ft) |
| Trigger Speed | 0.3s | 0.5s | 0.3s | 0.2s | 0.4 s |
| Waterproof IP Rating | IP65 | IP65 | IP65 | IP66 | IP65 |
just that my son seemed to really like it.
My son seemed to love it.
15/01/2022
Not as good as l was expecting
I bought the garde A3 2 months ago. 1st thing that I'd noticed is there is no setting for 20mp pics?! 2,4,8,16 & 24mp. U might be thinking that's a good thing. Except I've always had good luck with sony stuff. I ordered this camera in part because the 20mp gardeA3 has the Sony whatever sensor. So does it?? Don't know. I do know that the the garde A5 is a 24mp camera without the Sony sensor. Mine is surely marked as an A3. What I do know for sure is I retrieved it from the woods yesterday. Went thru almost 1400 pics. Im not sure there's even one night shot that's what I'd call a good clear picture!! Totally disappointed. Another thing l noticed was the large number of deer that noticed the camera! In the day time sure but In the dark?! Weeks after it was put out. I will contact the company asap after this weekend to find out what features this particular camera has. I did purchase an SD card with a faster write speed. The one l had in there was a Sandisk image mate 90mb/s. I'd guess the write speed around 30. Now I will try the SanDisk extreme pro 170mb/s. That one says it's write speed is "up to" 90mb/s. Maybe it will clear up the night shots?? It does detect at a good distance. Last thing, I live in Minnesota there's been a couple nights to -20 while the camera was out. It says it's good to -4. I had a few pics that showed -5 but none on the coldest nights even though the camera was still on when i got to it. So either there were no deer or coyotes out and about those night. Which is kinda hard to believe or the camera stops taking pictures in severe cold but functions when it warms?? Don't know, yet. have fun
14/01/2022
great quality picture easy to use field camera settings easy to understand I highly recommend!!
I use the field camera to view the different wildlife that comes to my back yard.
14/01/2022
Affordable & easy to use
Compact and quality shots
13/01/2022
Amazingly clear pics
Easy for me to set up, and put up on patio post.
13/01/2022
Fantastic!
Picture and sound are amazing. Motion sensor is sensitive which is good but make sure it is not installed where branches will sway in the wind or you will get lots of video of a windy day. Other than that it is perfect.
12/01/2022
Customer service
I bought 3 of these cameras mainly to record what wild life was roaming around at night as we live in the country and our dog and cat often alert to things we did not see. The cameras work well and are easy to program but one camera after about 12 months of continuous use suddenly decided to consume batteries at a prodigious rate but only recorded about 4 minutes of video in the process. I contacted Garde Pro and after some Q&A on set up and diagnosis they replaced the camera free of charge. That was unexpected as I thought perhaps at the most I would get a discount on a new camera so I consider this excellent customer service.
08/01/2022
Bang for the buck
I've been running two units for a month without any issues. Photo quality and detection is excellent. Very easy menu to navigate and set up preferences. Only con is that it's case design appears a little weak. Time will tell.
07/01/2022
Many awesome features at great price
Not yet tested in the field (but will do another review once done). It feels good, sturdy with nice brackets and rubber seal. It has 3 motion detector to cover a wide angle and good features (pic, video and combination, time lapse, etc). It takes 8AA batteries and the screen has good resolution. Easy to set up and operate and many options related to video length, video and picture quality as well as video format (avi, mp4). Good product and firmware is very easy to upgrade.
06/01/2022
There are no faqs for this product.
Trail Camera
Max. Storage
32GB
Image Resolution
24MP
Screen Size
2.0"
Video Resolution
2.7K
WIFI+Bluetooth
NO
Amount of infrared lamps
44pcs (940nm)
Amount of PIR SENSORS
3 pcs
Detection Range of PIR sensors
120°
Trigger Distance
20m (65ft)
Trigger Speed
0.3s
Waterproof IP Rating
IP65