HC-801A 24MP 1080P Trail Camera 0.5s Trigger Speed Hunting 3 PIR HD Deer Camera Infrared Night Vision Game Camera
Free shipping to eligible country
Brand:

K&F Concept

Free Shipping. 30 Day No Reason Return.

KF35.001

SKU:

KF35.001

59.99

https://www.kentfaith.com/KF35.001_kf-hc-801a-16mp-0-5-seconds-start-3-pir-hd-outdoor-waterproof-hunting-infrared-night-vision-camera
Description
• 【High Resolution Image & Video】With high-performance chip, this trail camera captures up to 24MP sharp and vibrant images and 1080P HD videos with super-clear sound in vivid colors by day and black & white shots by night. The 120-degree camera lens offers wide visual angle, helping you to keep an eye on a broader view of the wildlife world.
• 【IP65 Waterproof & Sturdy Housing】With IP65 waterproof, dust-proof, drop-proof plastic housing, our hunting scouting cam is robust enough to withstand the rugged working surroundings like desert or rainforest with temperature from -20-70℃, which is an indispensable guarantee for long-last service life.
• 【Fast Trigger Speed & Long Working Time】Our trail camera features an impressive trigger speed of 0.5 second, which allows it to record every exciting moment of the detecting places. Besides, the camera has an incredible-long standby time of up to 6 months when powered by 8 AA batteries and even longer when connecting to the solar pane(Not included).
• 【High-sensitive PIR sensors】The hunting camera can capture every breathtaking moment within up to 120 degree detection range and 65ft/20meters detection distance. The 36 pcs infrared LEDs invisible-light technology allow you to record incredible videos and photos, avoiding disturbing or spooking your hunting target.
• 【Easy Operation & Mounting】The trail camera is easy to setup and operate. It will be ready for use simply by inserting 4 or 8 batteries and a Micro SD card(32G at most). And then you can set your personal demand on the user-friendly menu. Finally, complete the setup with a fixing belt or a tripod mount. Besides, you can review photos and videos directly on the machine screen or you can take down the Micro SD card and read it at your home.
Frequently Bought Together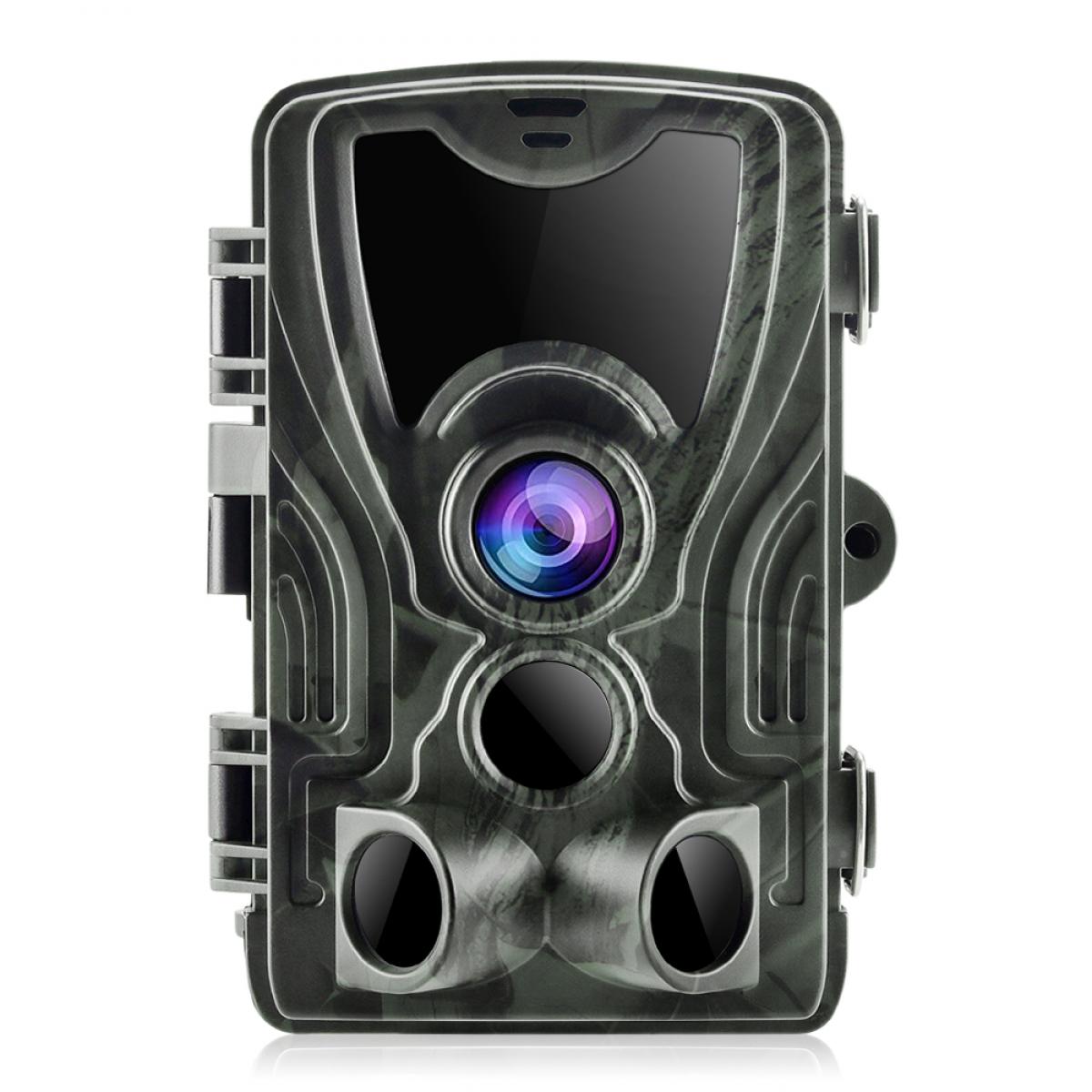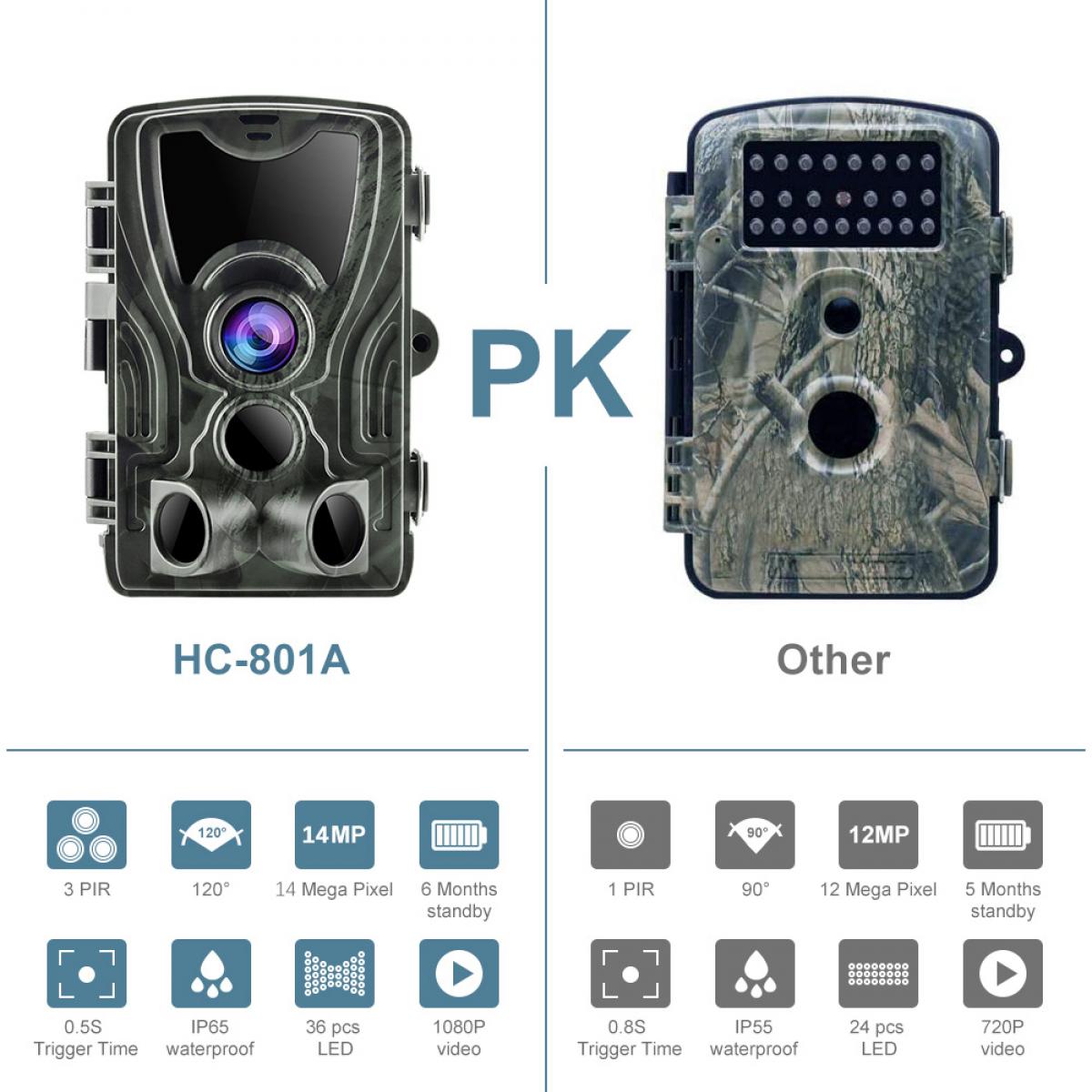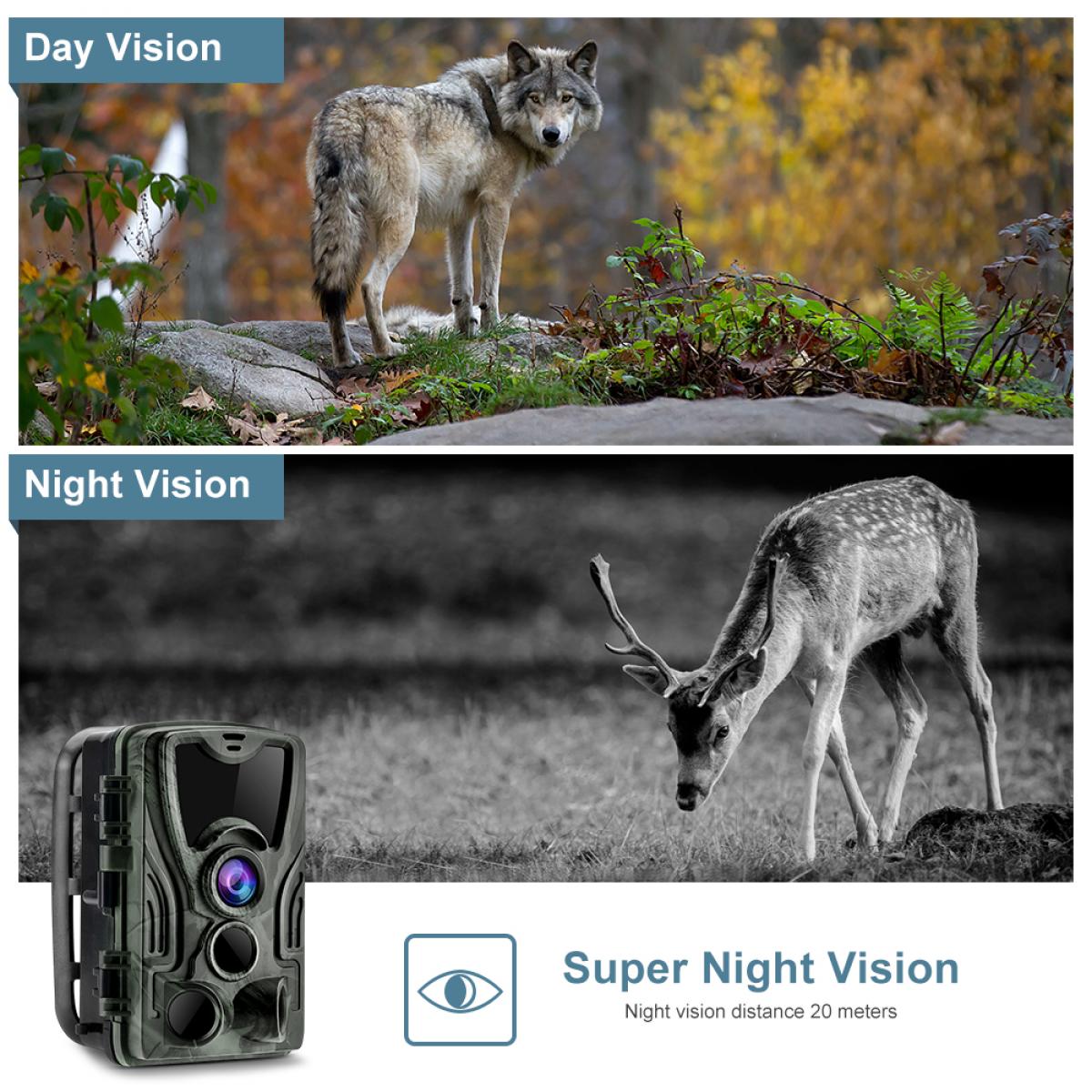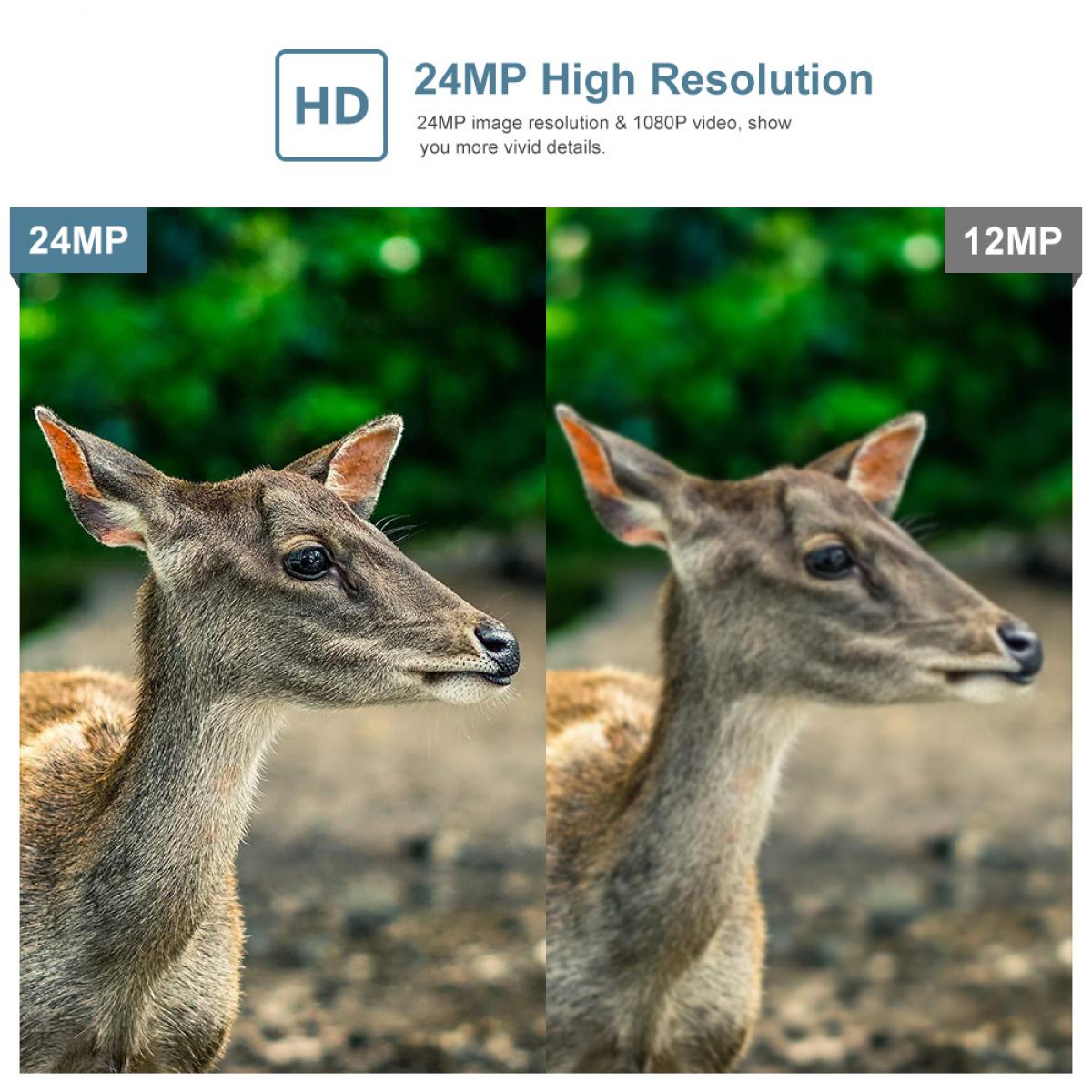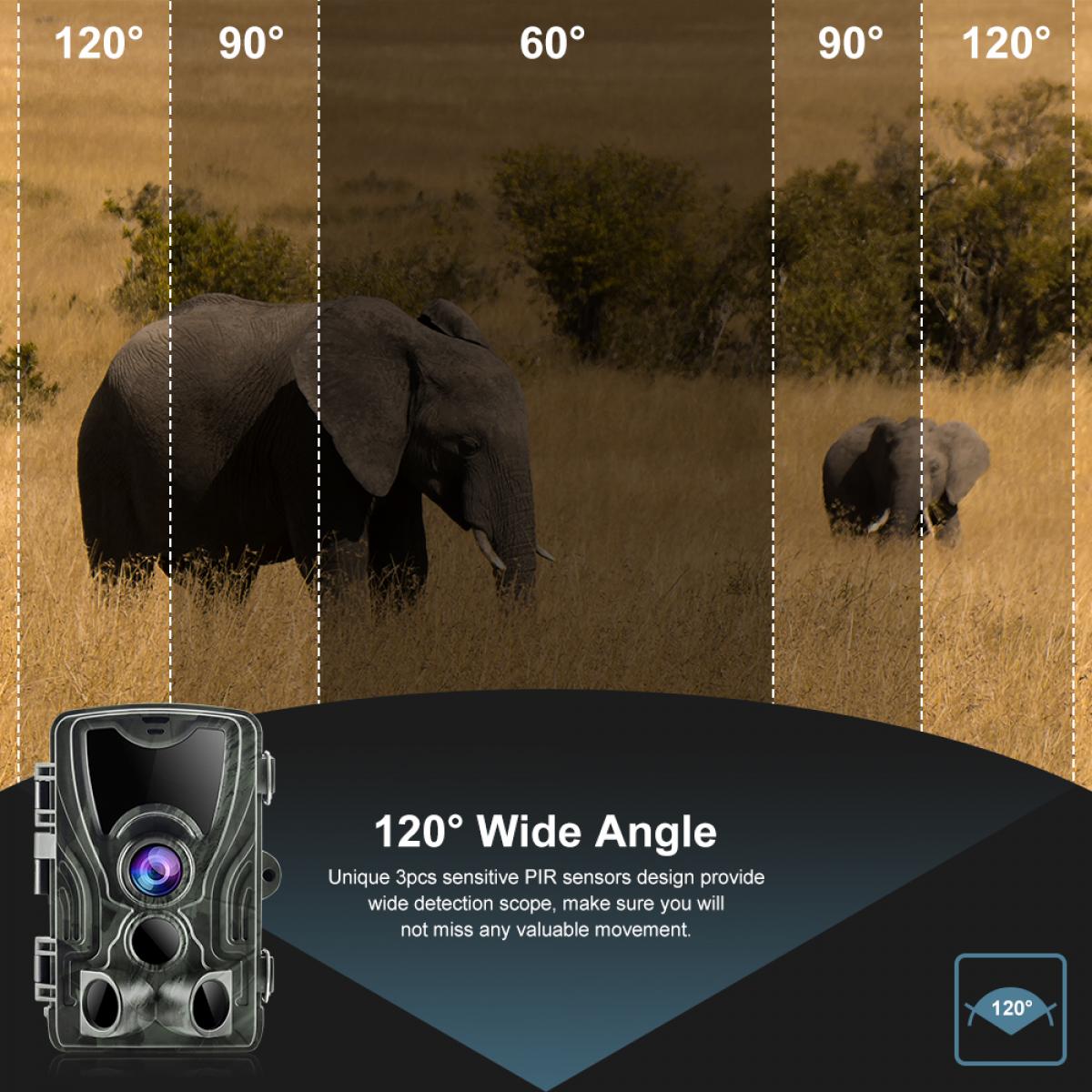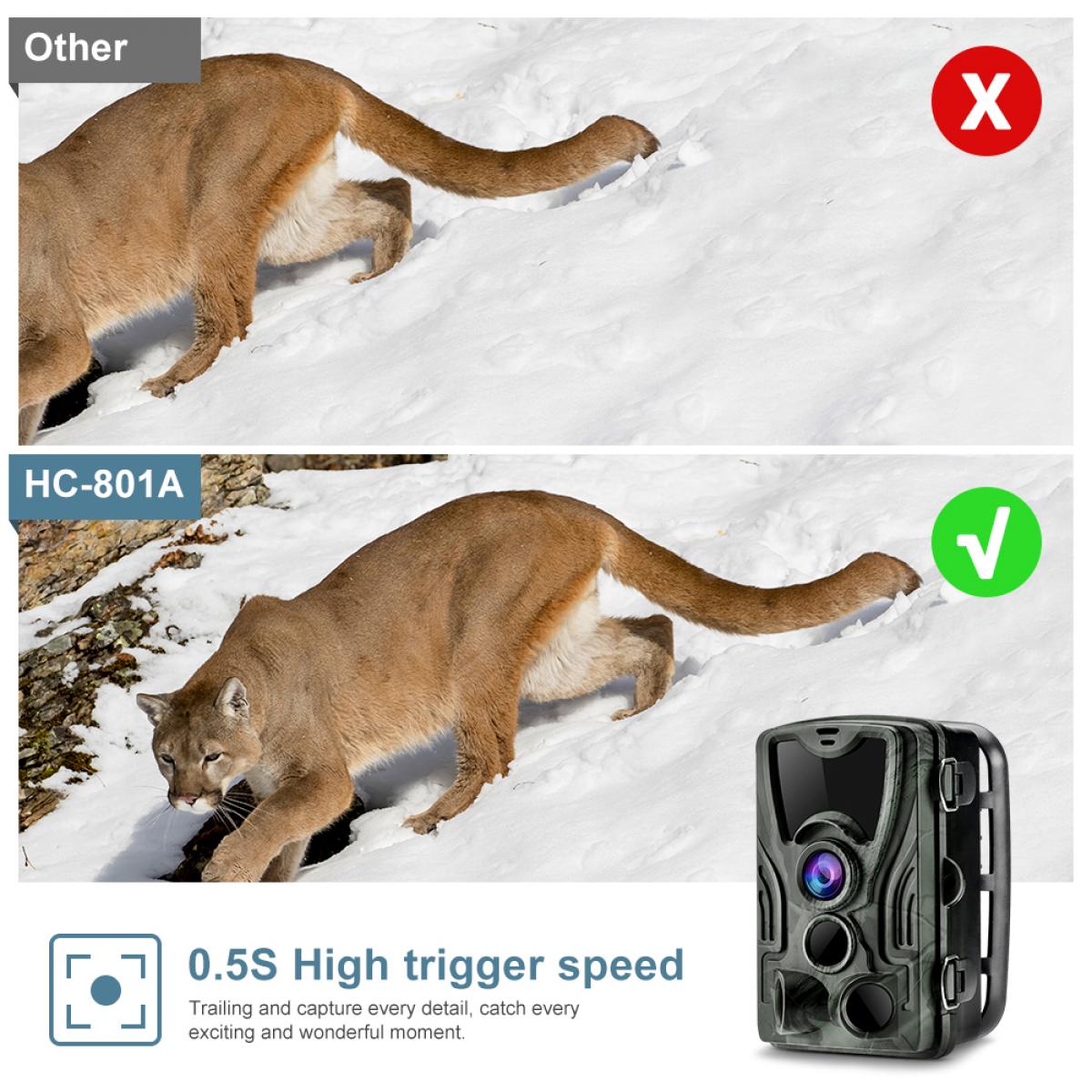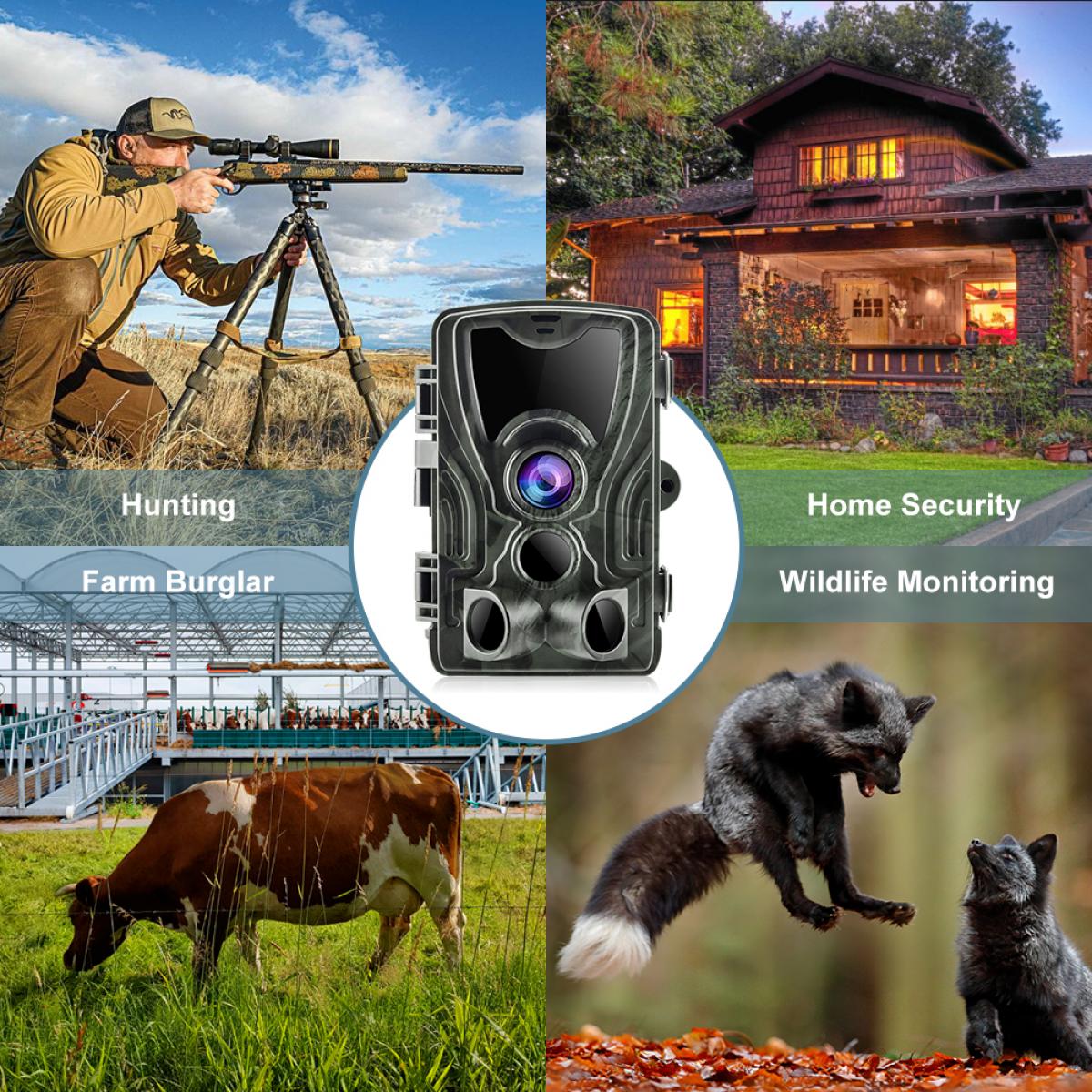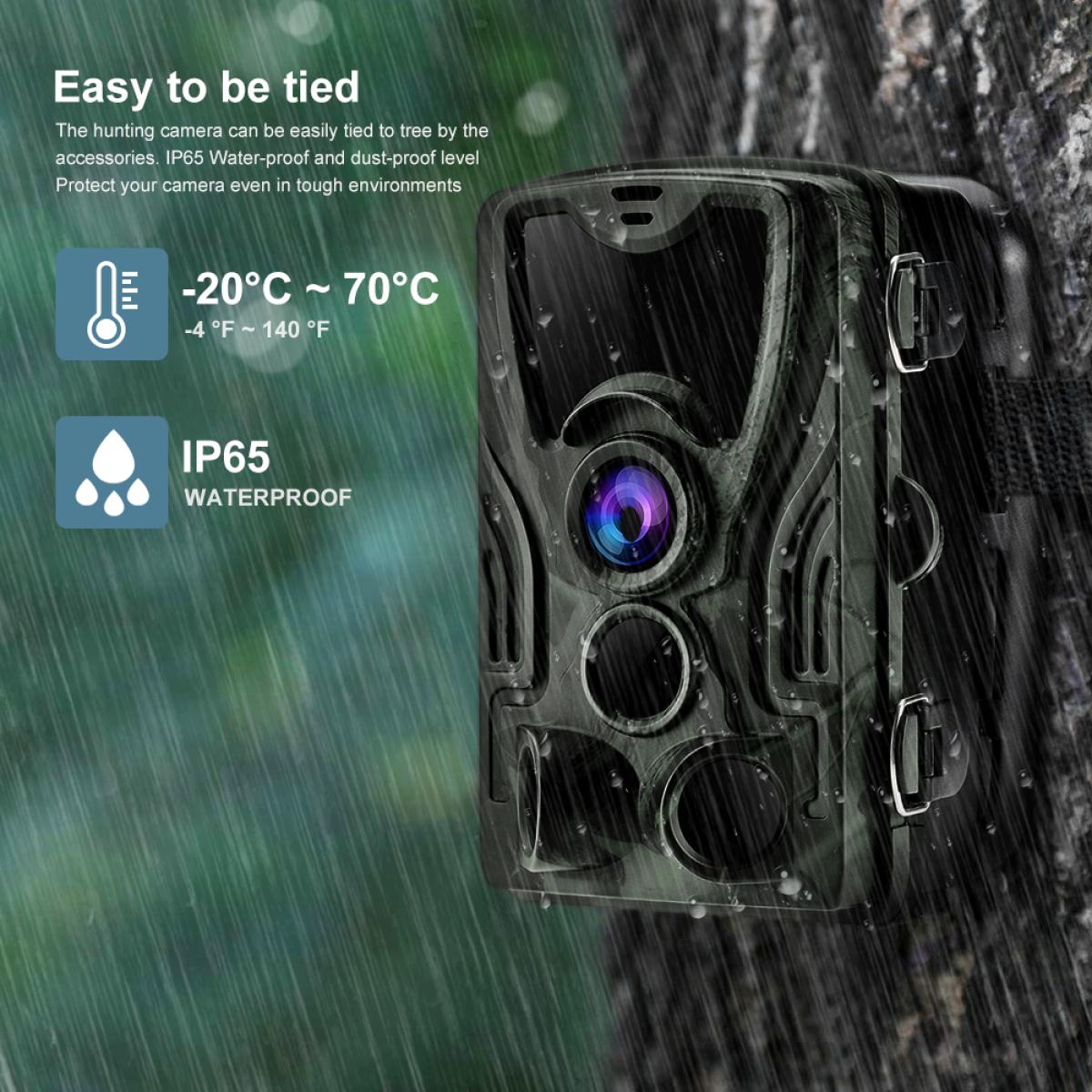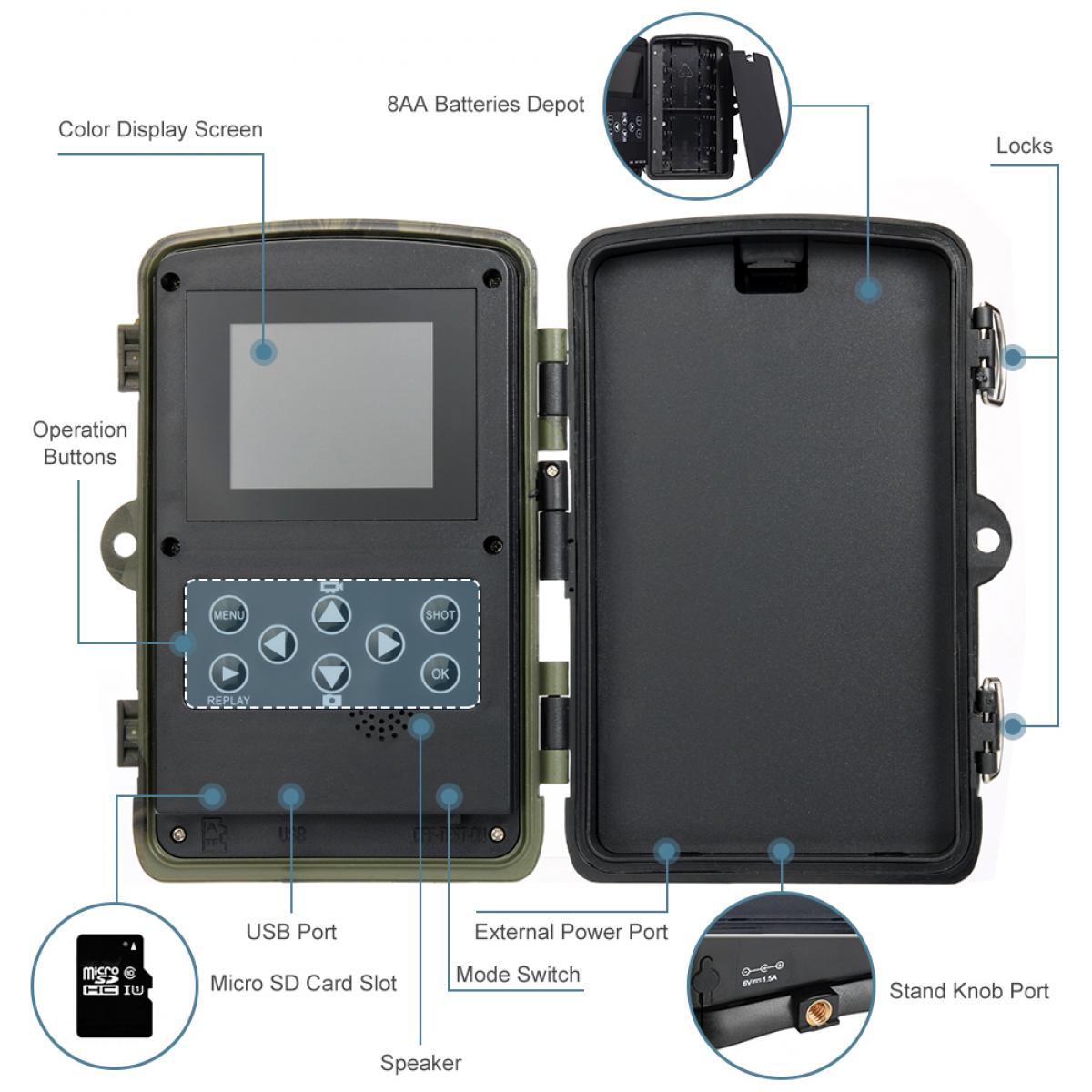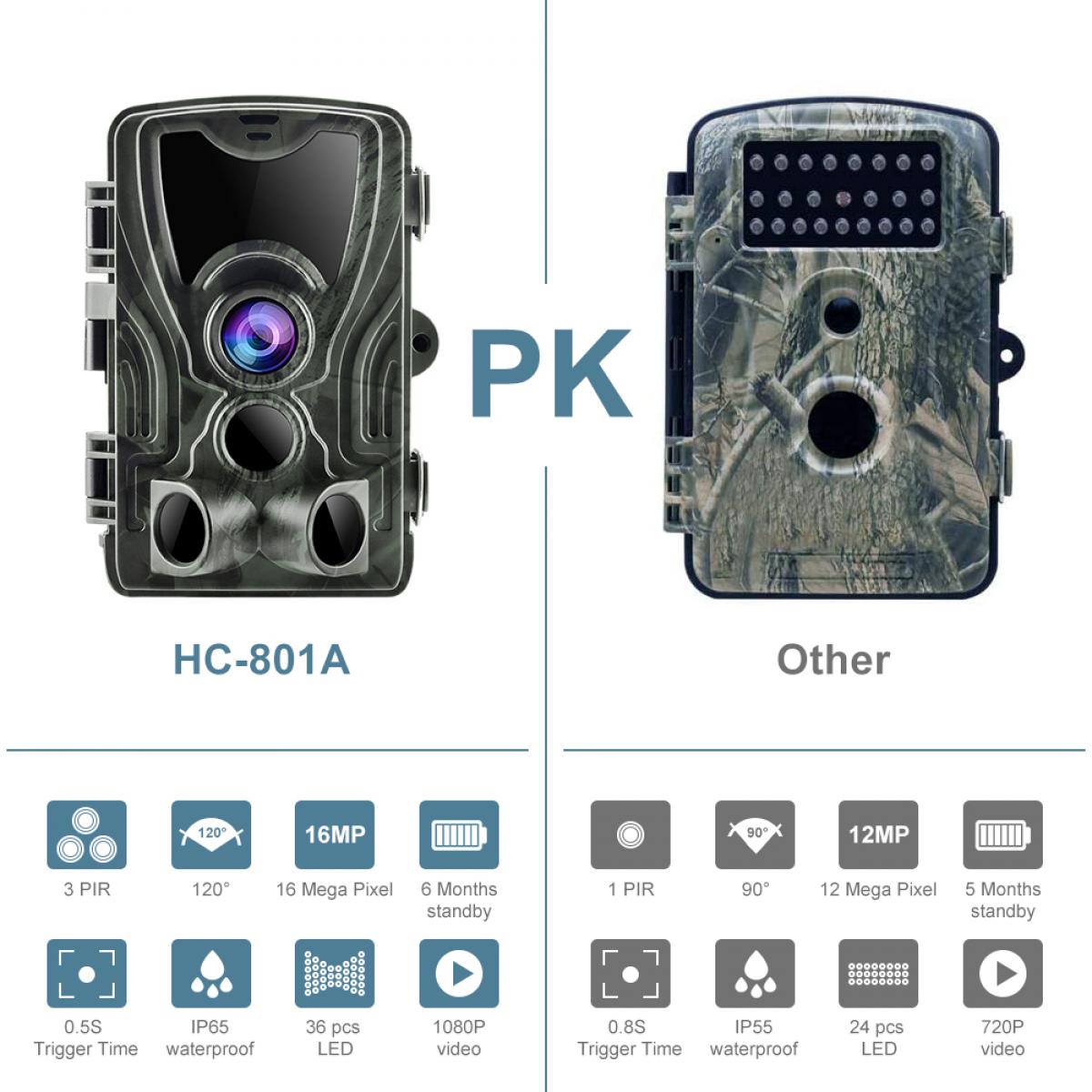 Best cam ever
We got his and hers cameras. One for his bee yard and one for her in the woods. First night we got a collared wolf on night vision, and lots of deer pics and videos in another location. I love the quality of the pics, video and sound. Doesn't use up much batteries but I suggest a recharger to keep your costs down.
17/06/2020
Love this HC-801A trail camera
I had never heard of a trail camera, but as soon as I did, few months ago, I wanted one, right away. I got this HC-801A trail camera. I knew I would love seeing the critters that visit my yard, day and night. We never would've known that we had coyotes visit at night. It sets up fairly easily but I still haven't really figured out how to see the pics and videos on the camera, so I just watch them on the computer (with included cord) and can click right thru each one quickly. I set it up for pics and videos and so there are about 10 still pics and then a video clip and so on. It takes 8 AA batteries but says it will work on 4, but I stick with 8. We have rechargeables which are great. It seems to be able to record a few days before recharging batteries. It also has a plug for 6V 1.5A power plug (not included), but out in my yard, I don't have power. You push the 3 position switch from off to the right, wait about 5 seconds and then push to third position and a light on front blinks, then it starts recording. It has a tight seal so it can stay out in the rain and be fine. There are no visible lights to alert that it's recording so nothing is scared away by it. This would also be a great security camera except if used continuously, you would want to get a power cord. Of course, it wouldn't alert you of any problems, but if there was one, it would capture it. It records alot of clips and then I guess would record over old clips when it runs out of space. We bought a 64 GB card. It also has a tripod hole to be able to mount it. So buy one and have fun too.
01/08/2020
Works well
Bought this to capture the dog I thought was using my yard for an unsupervised visit and poop station. The camera works well - I watched youtube to really understand how to make it work. Had it on pic and video. Bought some quick open straps to use to lash it to various placed in the yard. Bottom line for my investigation: nothing was going on in my yard when the camera was active. But, camera does work well.
21/02/2021
At highest resolution, great day and night shots
This camera suffers from the usual trail cam shortcomings - slow reflex time (the target has left the zone before the video starts recording), and a rather narrow picture field. However, the picture quality is excellent day or night, it doesn't eat batteries too fast, and the camera doesn't need to be taken down and the strap removed to open it to replace the SD chip. It would be nice if it came with some mounting hardware like some others do, but all in all it's a keeper.
23/08/2020
Very good night vision
A very good trail camera , easy to operate
17/08/2020
These images belong to K&F Concept end users.
Trail Camera
Max. Storage
32GB
Image Resolution
24MP
Screen Size
2.0"
Video Resolution
1080p
WIFI+Bluetooth
NO
Amount of infrared lamps
36pcs (850nm)
Amount of PIR SENSORS
3pcs
Detection Range of PIR sensors
120°
Trigger Distance
20m (65ft)
Trigger Speed
0.5s
Waterproof IP Rating
IP65
Comparison of similar products
Rating

13 reviews.

101 reviews.

41 reviews.

429 reviews.

609 reviews.

2 reviews.
Price

$89.99

$59.99

$399.99

$199.99

$99.99

$49.99

$199.99

$134.99

$199.98

$134.99

$189.99

$129.99

Model
KF35.001
KF35.034AU
KF35.005
KF35.002V2
KF35.003V2
KF35.011

Max. Storage

32GB
32GB
32GB
32GB
256GB

Image Resolution

24MP
16MP
24MP
36MP
30MP

Screen Size

2.0"
2.0"
2.0"
2.0"

Video Resolution

1080p
1080p
2.7K
2.7K
4K

WIFI+Bluetooth

NO
NO
NO
NO
Wifi

Amount of infrared lamps

36pcs (850nm)
22pcs (850nm)
44pcs (940nm)
44pcs (940nm)
36pcs (850nm)

Amount of PIR SENSORS

3pcs
1pcs
3 pcs
1pcs
3pcs

Detection Range of PIR sensors

120°
80°
120°
120°
120°

Trigger Distance

20m (65ft)
20m (65ft)
20m (65ft)
20m (65ft)
22m (65ft)

Trigger Speed

0.5s
0.4 s
0.3s
0.3s
0.3s

Waterproof IP Rating

IP65
IP65
IP65
IP65
IP65