TC2534 Lightweight Carbon Fiber Camera Tripod Professional Travel Tripod 66";/168cm 22lbs Load for DSLR Cameras
Terms
Coupon Terms
Save 10% with this coupon
Terms and Conditions:
Coupons are valid for a limited time only. Kentfaith reserves the right to modify or cancel coupons at any time.
You must purchase the qualifying items added to your Cart when the coupon is in effect for the discount to apply.
If you later modify or cancel the subscription or delivery date for the qualifying item, the discount will not apply.
The coupon applies only to qualifying items displaying the coupon offer.
If you buy more than one item from the same coupon, the maximum discount amount of the coupon will be equal to either the percentage discount off or the face value of the coupon on one eligible item. The coupon may only be used on www.kentfaith.com.
The promotion is limited to one coupon per customer.
If you return any of the items purchased with a coupon, the coupon discount or value may be subtracted from the return credit.
Free shipping to eligible country
Free Shipping Worldwide. 30 Day No Reason Return. K&F Concept 66" camera tripod for DSLR camera is lightweight with carbon fiber tube. Strong Stability. wide compability. Long service life.

KF09.010

SKU:

KF09.010

155.99

https://www.kentfaith.com/KF09.010_tc2534-carbon-tripod-monopod-kit-66-inch-168cm-ball-head-professional-dslr-travel-tripod
Description
* 【Carbon Fiber】K&F Concept TC2534 tripod features Carbon fiber construction for a sturdy yet lightweight profile, can be anti-folded 180 degrees reversely and installed inverted, improving the portability.
* 【Strong Stability】25mm large diameter tube,the load capacity can reach 22.04lbs (10kg), provide security and stability support for your camera; Metal spiral type locking knob, more solid and stable.
* 【Monopod Mode】It can be turned into a monopod or walking stick alone to make your photography more diverse.
* 【360º Ball Head】Ball head with quick-release plate,can be rotated 360 degrees, then helps to improve camera activity range when panoramic shooting.(Included bubble levels)
* 【Center Column】Center column inverted installation to realize the lowest angling shooting, macro shooting, or other special photography. (Note: For camera with telephoto zoom lens, you need to buy a tripod mount ring additionally or telephoto lens bracket for better balance)
Shipping
Free shipping to eligible country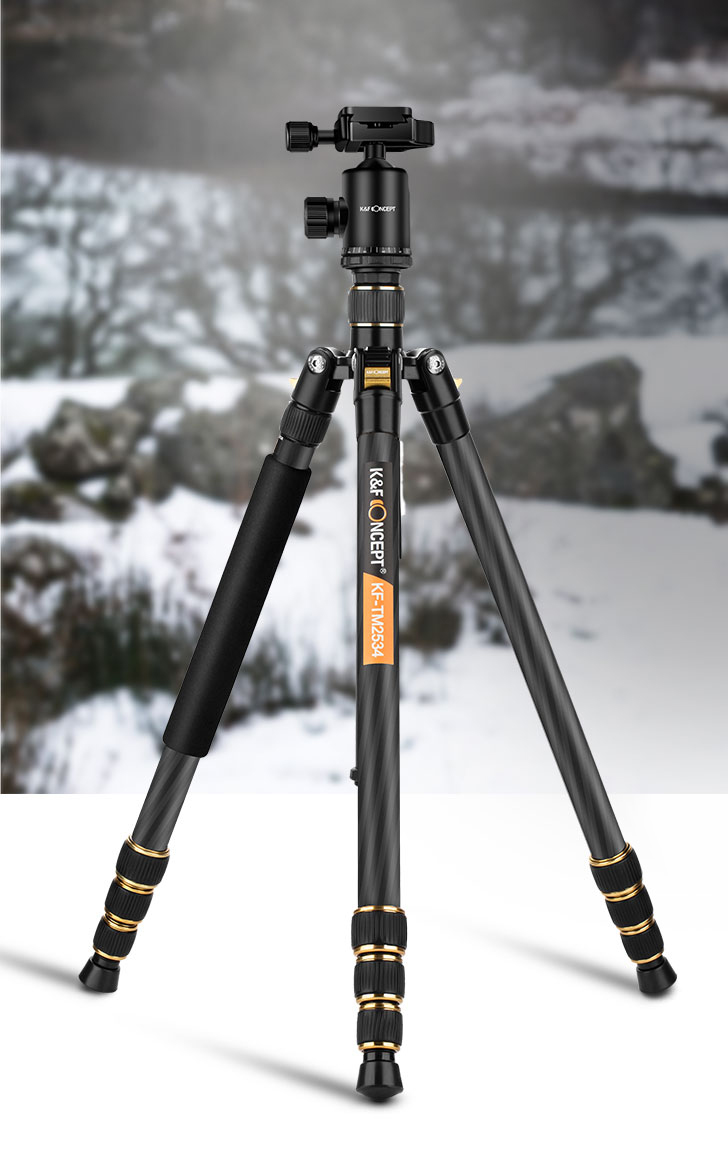 KF-TC2534
Multi-purpose Carbon Tripod for Photography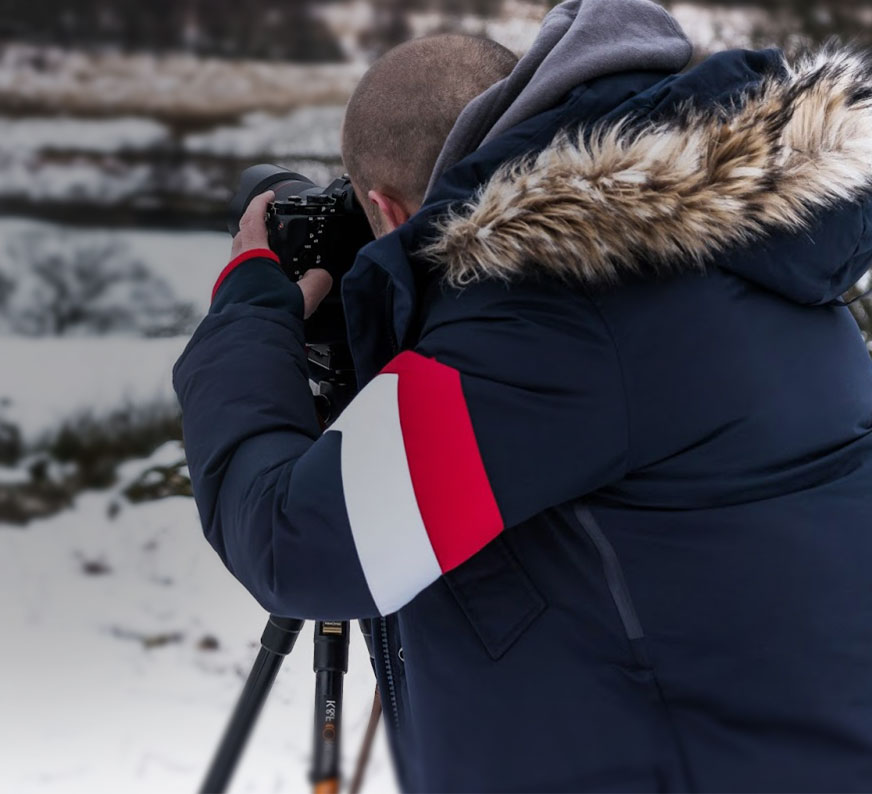 Product Parameter

Sections 4


Minimum height
17.52″(44.5cm)

Maximum height
66.14″(168cm)

Folded 19.29"
(49cm)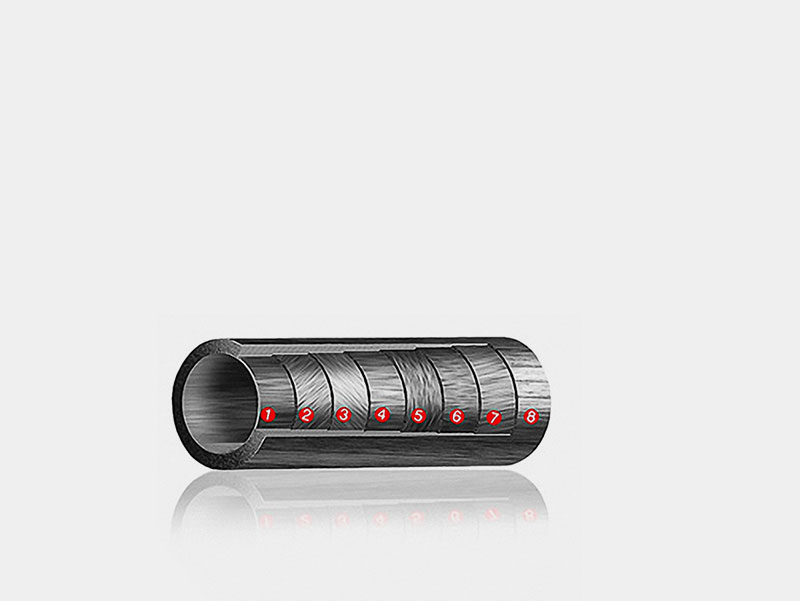 Eight Layers Of 100% Carbon Fiber
Carbon fiber is lighter and more secure.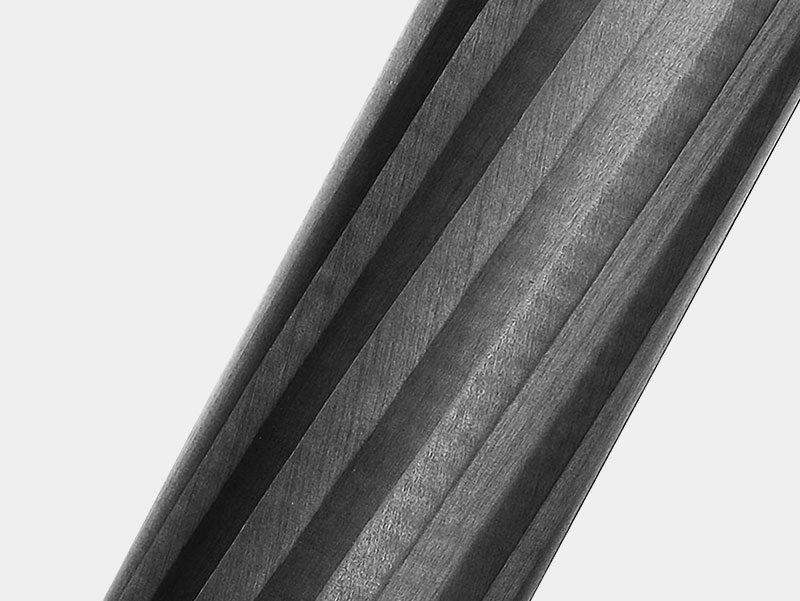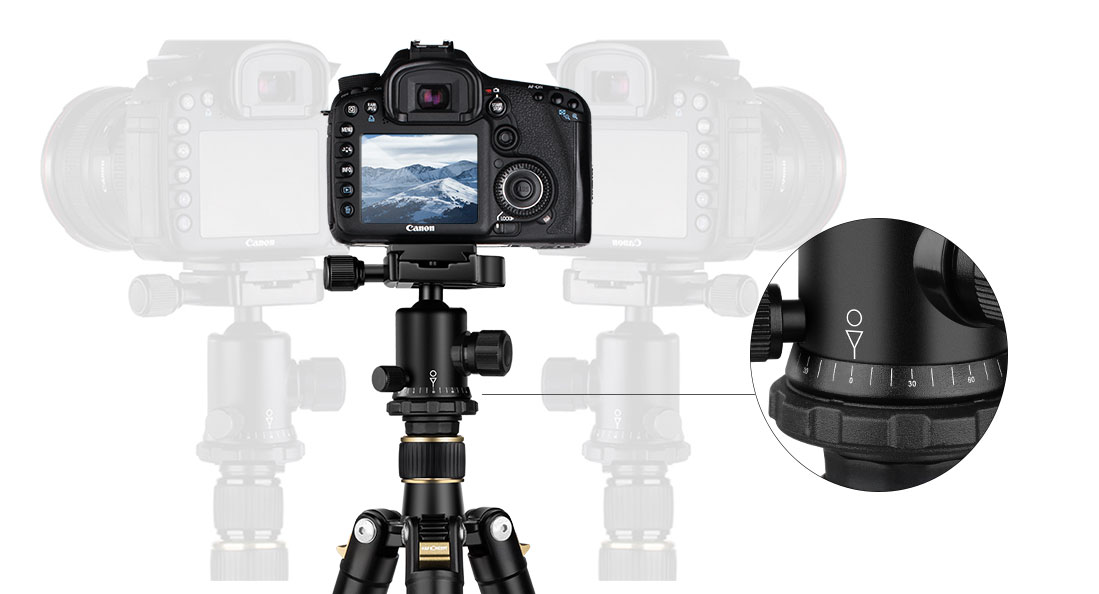 360°
Rotation
Clear Scale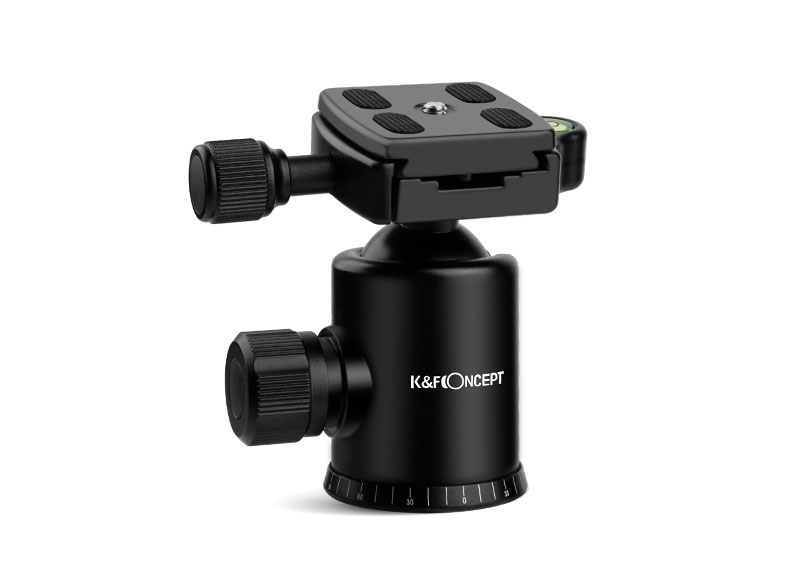 22lbs (10kg)
Load Capacity
Rubber gasket & Back security plug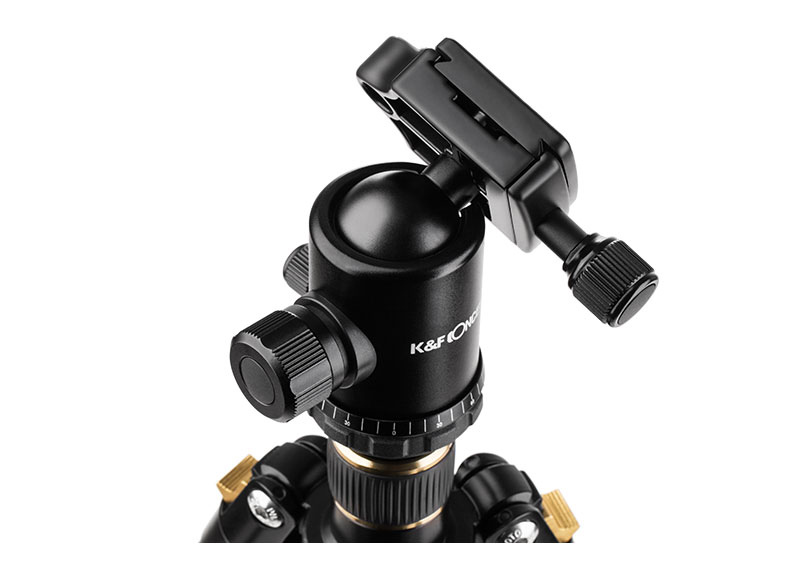 1.42" (36mm)
Ball head
Large spheres are more stable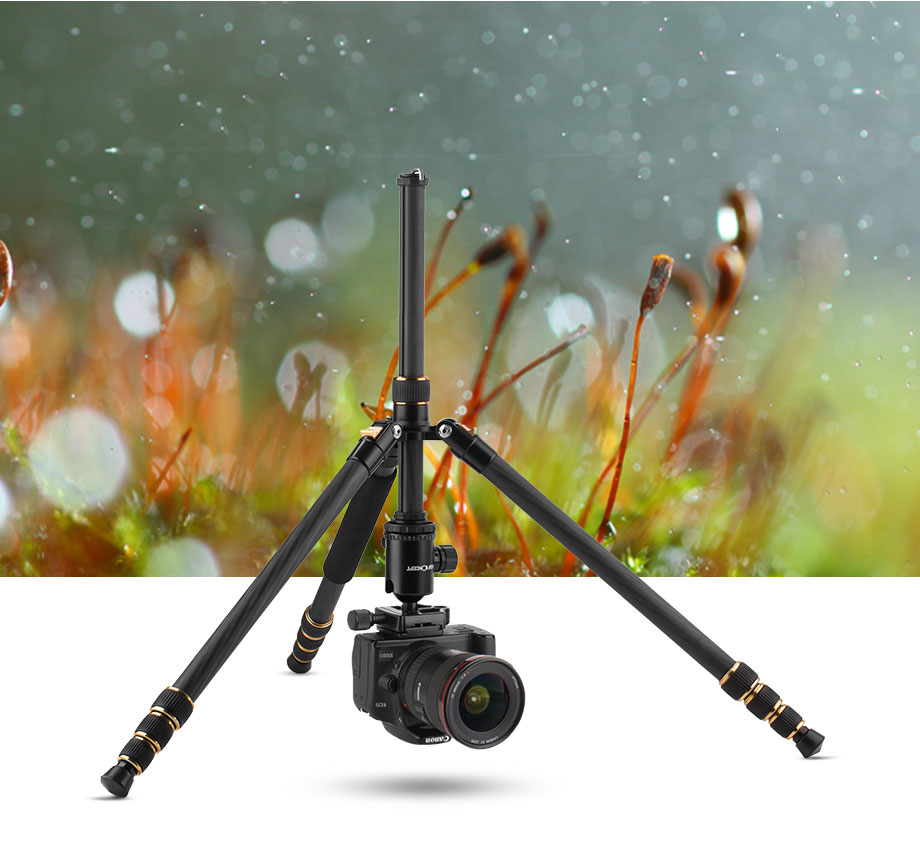 Low Angle Photography
Lowest angle shooting, macro shooting, and special photography can be achieved through inverted central axis.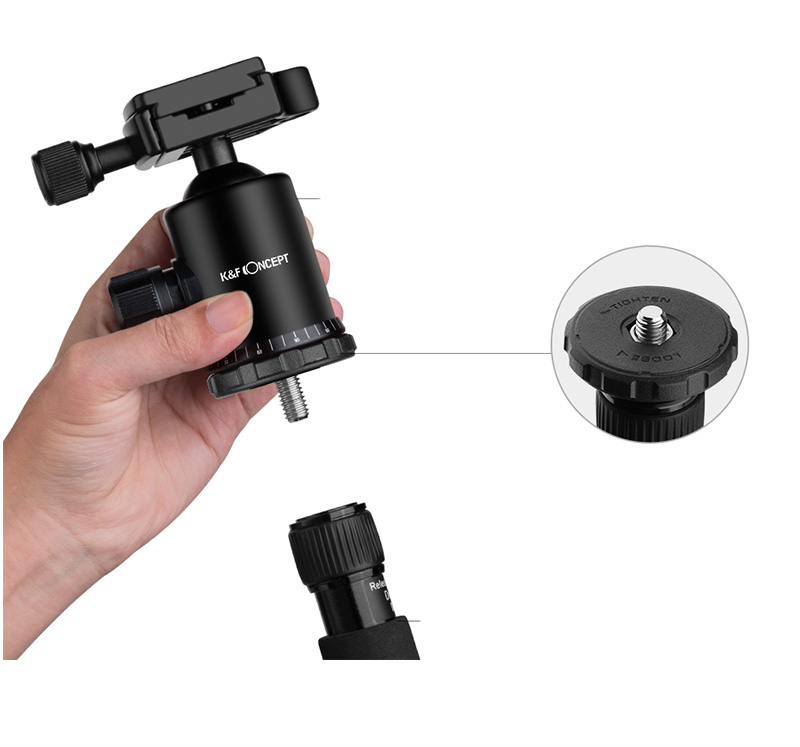 Aluminum and
magnesium alloys
Dense sponge grip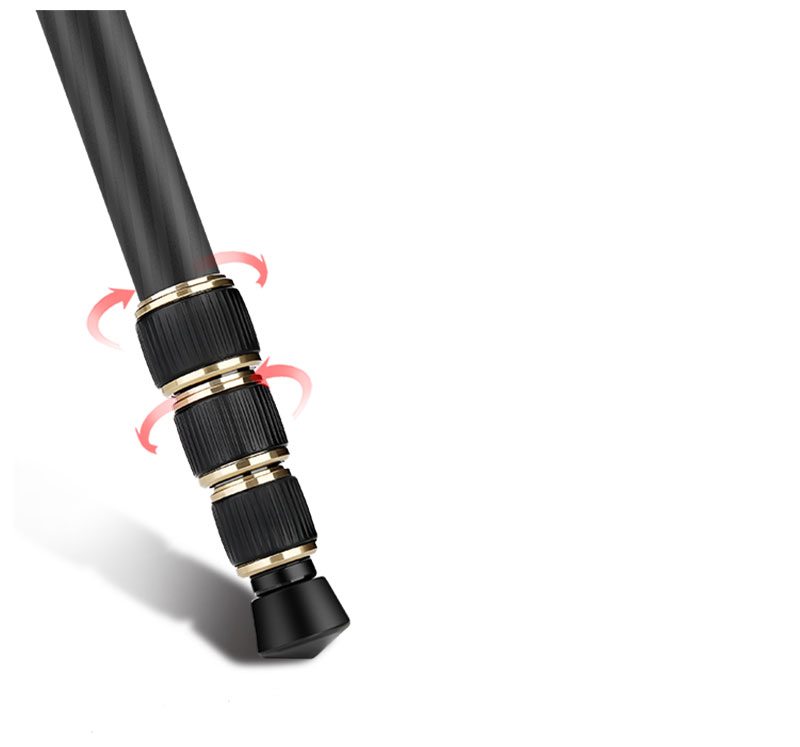 Spiral type locking knob makes operation easier and quicker

LEG SEPARATION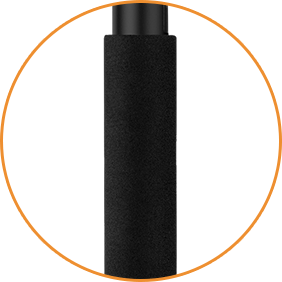 Dense sponge grip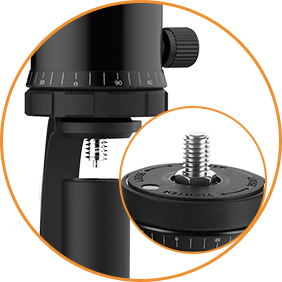 Carbon fiber and
magnesium alloys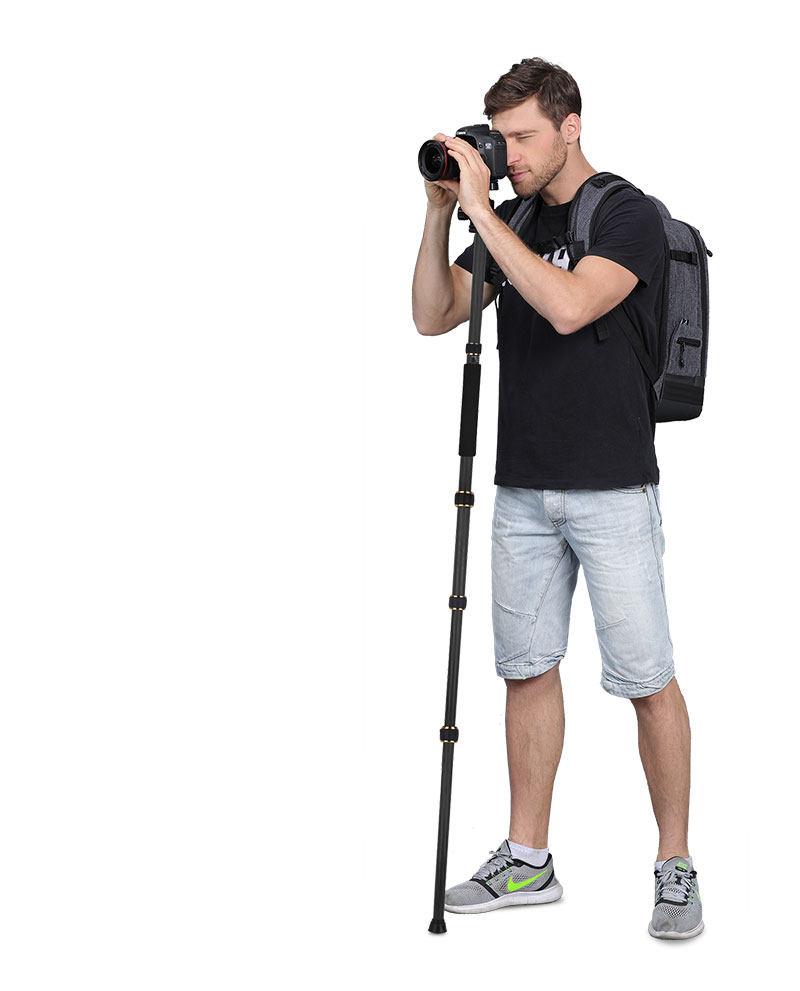 Unipod Information
Height : 165cm


Model information
Height : 185cm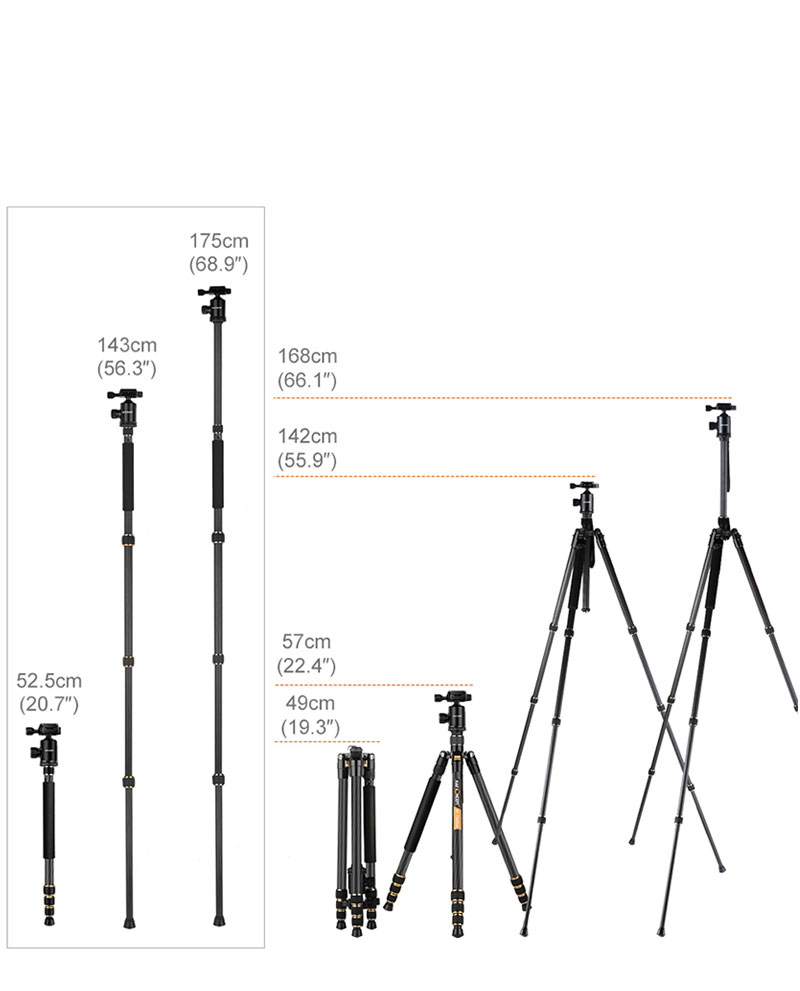 EASY TO SHOOT
The maximum height is 66.14"(168cm), the maximum height of the midaxis is 55.9"(142cm)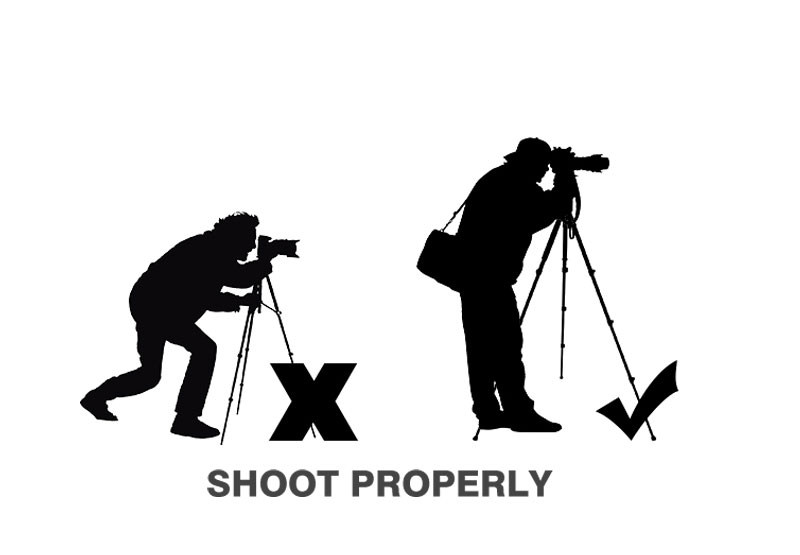 Rating

161 reviews.

130 reviews.

84 reviews.

6 reviews.
Price

$179.99

$155.99

$221.99

$119.99

$239.99

$139.99

$129.99
Model
KF09.010
KF09.077V2
KF09.093
KF09.109

Load Capacity

10kg/22.05lbs
8kg/17.6lbs
10kg/22.05lbs
10kg/22.05lbs

Maximum Working Height

1680mm/66.14"
1520mm/59.84"
1720mm/67.72"
1600mm/63"

Minimum Working Height

445mm/17.52"
460mm/18.11"
530mm/20.87"
535mm/21.06"

Folded Length

500mm/19.69"
350mm/13.78"
420mm/16.54"
410mm/16.14"

Weight

1507g/3.32lbs
1013g/2.20lbs
1325g/2.92lbs
1346g/2.97lbs

Materials

Carbon fiber
Carbon Fiber
Carbon Fiber
Carbon Fiber

Leg Lock Type

Twist Lock
Twist Lock
Twist Lock
Flip Lock

Leg Diameter

16-25mm/0.63-0.98"
10-22mm/0.39-0.87"
13-25mm/0.51-0.98"
16-25mm/0.63-0.98"
Light Weight and Sturdy CF Tripod
As a professional photographer, a good tripod is a must. I've mostly used a Velbon Sherpa 200R which is quiet heavy, so the K&F TC2534 is a great light weight alternative. The CF (carbon fiber) legs have minimal flex and slide out smoothly with gravity and centrifugal force. The metal threaded twist locks secure them with a single turn of the wrist, and are easy to grip with/without gloves. The foam cover on the leg helps with grip and insulates my hands in cold temperatures. Even the CF is less cold than metal.At the top of the legs are thumb lever locks that allow them to quickly be angled at 25, 45, 75, and up to 180 degrees to be upside down or inverted for a compact storage height of 18". The whole tripod takes about 20 seconds to open and 14 to close.The 35mm ball head is solid metal and allows the camera to point in any direction. It's attached to the column with 3/8" screw and can be swapped with different ballheads. There is a pan knob that allows for smooth panning, and has degrees written around it. The largest knob locks the ballhead. The tension is strong enough for a Nikon D7000 and 70-200mm 2.8 (about 5lb), or canon 5D+70-200mm. A bigger lens combo should sit fine on the top if level, but might lose position if tilted. It's rated for up to 16lb.The quick release plate is metal with rubber grip that doesn't slip on the camera. It's nice and small measuring 8x48x50mm. Another great feature is it will not slide out unless fully loosened.The center column has a tall 12.7" CF column, or a short 3.5" metal column. Either can be used individually (the short one allows the tripod to reach a minimum height of 11"). The center column adjusts with a twist lock like the legs, but does not rotate itself. At the bottom of it is a spring hook for hanging weight. This part can unscrew and the center column can be pulled out and combined with a detachable leg to create a 20-68" monopod. The only flaw I found with this design is that in order to connect the center column to the leg, you need to either carry the included 3/8" screw that connects them, or keep it in the bottom of the center column which replaces the weight hook. I wish the screw was built into the tripod leg.Included with the tripod is a rugged padded nylon zipper bag. The zippers are thick. On the bag is a reflective strip for showing up in headlights at night, and there is a detachable shoulder strap. Well made. Also included: ballhead cover, lens cloth, allen key, 3/8" screw, manual.CONCLUSIONThe only thing I would change is put the 3/8" screw in the leg for easier conversion to monopod. And foam jackets on all legs. Also would love to see this in a 3 section version (faster to open). The most important thing is the tripod is sturdy, and dampens vibrations well. With some tripods, the DSLR mirror flap transmits blur to photos during 1 - 1/10s exposures, but this does not have that problem. As long as I use shutter delay, or remote, I can take long exposures at 300mm without any blur. Overall it's great and has worked well in all kinds of situations. 4.5 stars. Sample provided for testing and review.PROS- Small. Light weight. Photos are sharp with it. Several height options and functions, monopod. Rubber feet can be unscrewed and replaced. Materials are 99% carbon fibre, metal, or rubber.CONS- Monopod transformation is tedious, putting the 3/8" screw in the leg would have been better. Only 1 leg has foam grip. Center column is a bit jerky when adjusting.MEASUREMENTS- Tripod: 18" - 65". Max 66", Min 8.5" with short column- Monopod (long column+leg): 33" - 68.5"- Monopod (ballhead+leg): 20" - 56"Leg Diameter:- Center Column: 25mm- Leg Section 1: 25mm- Leg Section 2: 22mm- Leg Section 3: 19mm- Leg Section 4: 16mm
24/05/2016
Well Made Flexible Tripod
From the moment you open the box, everything about this tripod reflects quality.The carry bag is padded and made of ripstop nylon and has both a carry handle and strap. Opening the zipper reveals black tripod legs with gold accents and a velvet bag covered ball head.Taking the tripod out of the bag you immediately get a sense of opulence, whether you're a beginner or a pro, this tripod makes you feel like a professional.The legs of the tripod fold backward onto the center stem and ball head. This allows the tripod to fold down to to a compact size under 19 inches (48cm) yet expand to almost 67 inches (170 cm) when fully extended.Each leg on the tripod ratchets into position and has three locking points allowing your to articulate and adjust the legs to balance on almost any terrain. There are three (3) telescopic sections on each leg and they have a twist lock to secure each section in place.The ball head that comes with the the tripod is all metal construction and very well built, Ball heads are best suited for still photography but can be used for video also. If you do want to change the ball head on this tripod you can, the tripod has a standard 3/8' screw on the center stem which will allow you to attach any professional tripod head you want, although for most users the factory ball head will be all you need.The factory K&F ball head that comes with this tripod comes with a sliding quick release mounting plate which attaches to your camera and then slides onto the mount and is secured tightly in place by a side set screw. There is a small 360 degree ball level on the tripod head which is pretty accurate and showed level along with the onscreen horizon level on my Panasonic G6.The ball level has two adjustment screws. The lower smaller screw controls the pan or side to side horizontal movement of the head. The larger side screw controls the tightness of the ball which will tilt, swivel and also pan.The tension on the ball head is quite precise and can be adjusted to lock your camera head completely or just backed off a little to allow smooth movements up and down.With the top tilt/swivel adjusted to the angle or tension you want the lower pan screw allows you to lock or loosen the horizontal pan adjustment to your liking.One other feature of this tripod that you might find useful is the ability to remove the legs and covert the tripod into a monopod. Personally I have a dedicated monopod so I didn't use this feature however if you're only going to buy one tripod - this one is excellent since it will let you convert it back and forth from tripod to monopod.Overall K&F knocked it out of the park with this tripod. It's solid, well made and an exceptional value under $250.I received a sample product from the manufacturer for testing and unbiased evaluation. I always take the cost of the product into consideration when writing a review.
04/04/2016
Last tripod you'll ever buy!
Wow! I don't know what else you could want in a tripod. I have seen similar tripods priced at $700-$1000, but I can't imagine how much better they could be. I know this seems pricey at $224, but once you see the build quality and features, you will agree that it is worth every penny!Upon opening the box, I was very impressed with the aesthetically pleasing look and feel of the tripod. It also comes with a top notch carrying case, complete with shoulder strap and rugged zipper. Speaking of carrying cases, it matches up perfectly with this backpack from K&F which I also love (Professional Backpack for DSLR Camera & Laptops Fits on Tripods Large Size).As far as the size and usability, there is nothing that they left out. Each leg has three twist lock adjustments which take this from 18.5' to 67' and every size in between. No matter what the terrain, you will be able to adjust this tripod for a stable shot. It also includes a spring loaded hook on the centre pole where you can hang your bag or a weight to further stabilize the tripod. Again, they thought of everything.The fully rotating and removable mount (complete with 360º level) also leaves nothing to be desired. There are three adjustments on it allowing you a full range of motion and the ability to place your camera in any position you could possibly think of. It also comes with a nice velvet/velour carry bag to keep it safe during transport or if you decide to swap it out for another mount. Finally, as far as weight, the carbon fibre makes this equally light and strong. You certainly won't break it or your back carrying it around.Recommended buy!Overall, I am very impressed with this tripod. I couldn't ask for anything more. I will finally be able to retire my ancient aluminum tripod (which owes me nothing) and use this one for many years to come. If you are in the market for a high quality tripod at a reasonable price, look no further. This will definitely satisfy your needs and help you look like a pro while using it! I was contacted by the company and asked to test this product at a reduced price. Once completed, I gave the above review based on my findings.
18/05/2016
Best tripod
Lightweight and easy to set up and use
06/07/2021
Well constructed tripod.
This is a very well constructed tripod with a monopod option. Of the three tripods that I own, this one is by far the best one. I would recommend this item to anyone who enjoys taking shots outdoors.
29/06/2021
These images belong to KENTFAITH end users.
Testing a carbon fiber tripod from K&F Concept | Landscape Photography
Tripod General
Load Capacity
10kg/22.05lbs
Maximum Working Height
1680mm/66.14"
Max Height without Center Column
1420mm/55.91"
Minimum Working Height
445mm/17.52"
Folded Length
500mm/19.69"
Weight
1507g/3.32lbs
Materials
Carbon fiber
Tripod Head
Ball Head
Color
Gold/Black
Bubble Level
Tripod Legs
Leg Lock Type
Twist Lock
Leg Positions
3
Independent Leg Spread
Leg Sections
4
Leg Diameter
16-25mm/0.63-0.98"
Feet Features
Tripod Center Column
Center Column Features
Center Column Inversion
Center Column Sections
1