52mm Black Mist Filter 1/8 + 3pcs Cleaning Cloth with 18 Multi-Layer Coatings Nano K Series
Buy 99$-15$, 199$-30$, 299$-50$, 599$-120$(Black Friday Price)
To
United States
Expedited Shipping
3-5
business days
Buy now in the K&F Concept Black Mist Filter ► 30 Day No Reason Return ► 18 Multi-Layer Coatings ► Fast Shipping From US Free ► Nano K Series

KF01.2190V1

SKU:

KF01.2190V1

20.99

https://www.kentfaith.com/KF01.2190V1_52mm-black-mist-filter-1-8-3pcs-cleaning-cloth-with-18-multi-layer-coatings-nano-k-series
Buy 99$-15$, 199$-30$, 299$-50$, 599$-120$(Black Friday Price)
Description
* 【Soft Highlight Flares, Lowered Contrast】This black mist 1/8 filter can soften facial skin's wrinkles, freckles, and pores, making it more delicate, plump, and gorgeous. The mist dream effect can be better realized, showing the film effects dreamily.
* 【18 Multi-Layer Coatings】Both sides of the glass nanometer coatings. Protecting the filter and lens from all around is durable.
* 【Import Optical AGC Glass】K&F Concept black diffusion filter made by imported Japanese AGC optical glass, double side multi coats to 84% transmittance, ensuring the image quality and no color cast.
* 【Ultra Slim Frame】With aviation aluminum, the width of the frame measures only 3.3mm, ultra-slim frame with no dark corners on the wide-angle and telephoto lens. CNC-non slip design for efficiently removing and installing the filter.
* 【Note】This black mist 1/8 filter is compatible with all 52mm lenses. Please verify your camera's lens thread size before ordering. This number is always beside by a "ø" (diameter) symbol.
Shipping
To
United States
Expedited Shipping
3-5
business days
Sale
Buy 99$-15$, 199$-30$, 299$-50$, 599$-120$(Black Friday Price)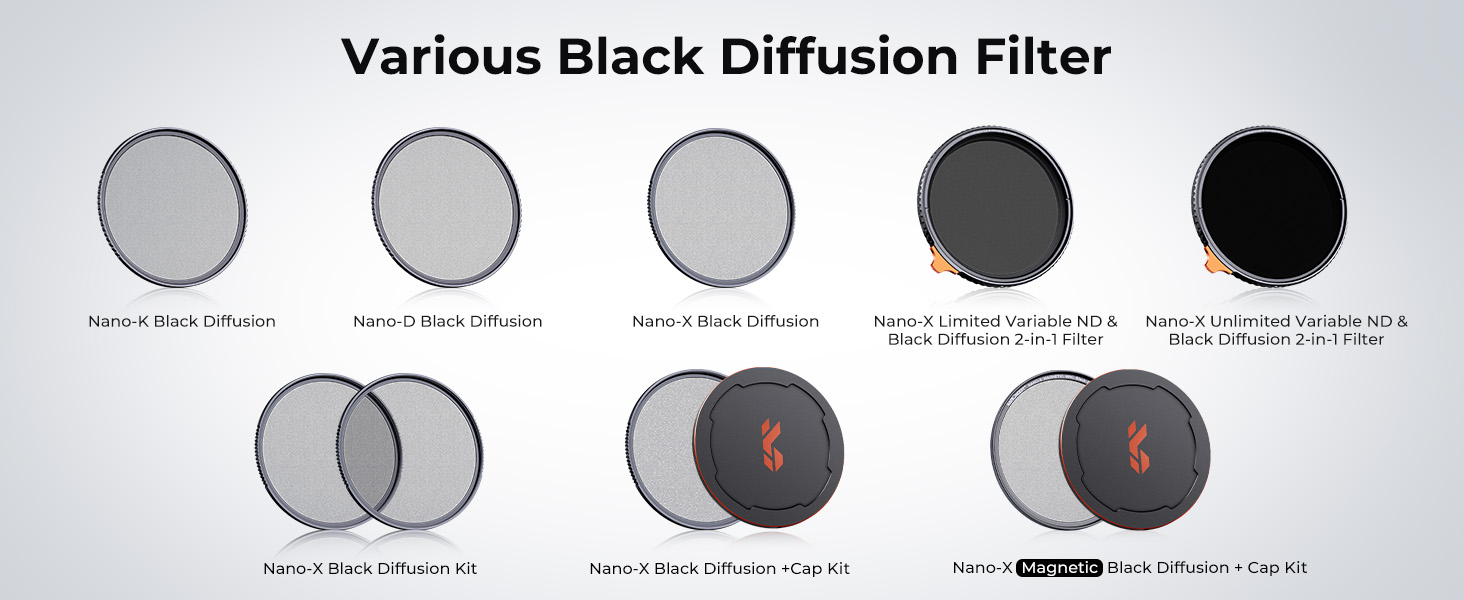 Black Mist 1/8 Nano-K
Effect
Retouching Effects & Softening Highlights
Black Mist Effect Comparison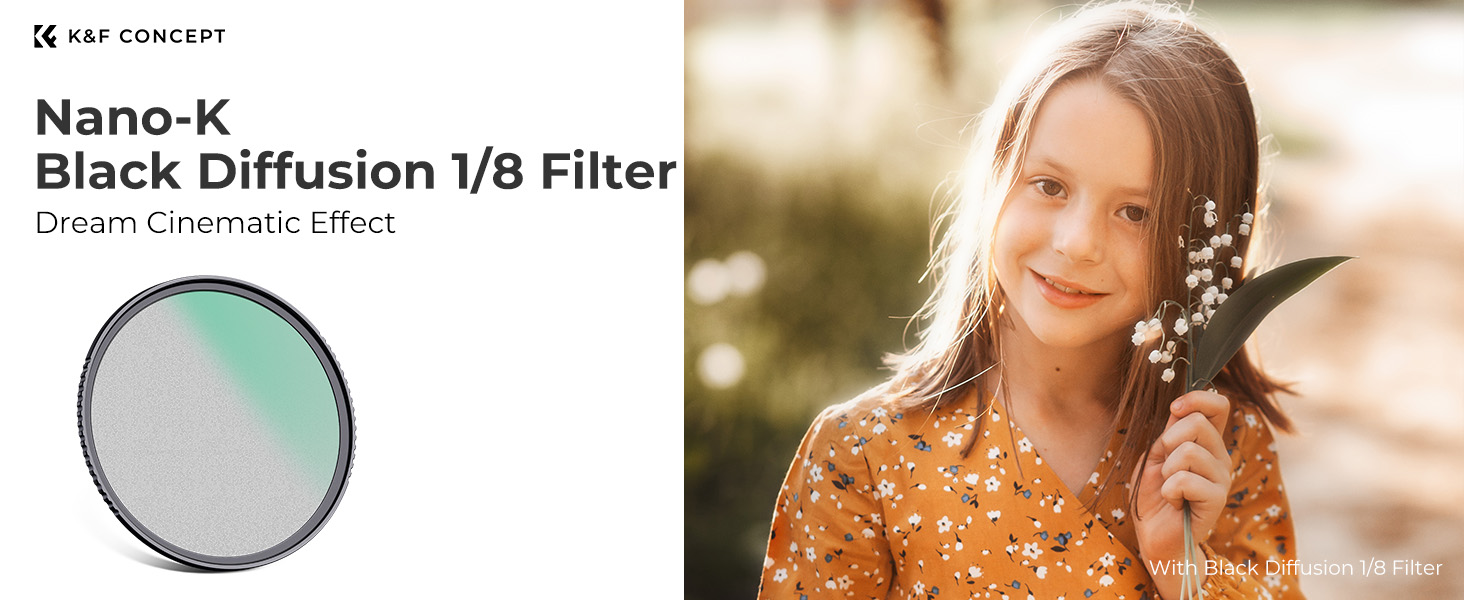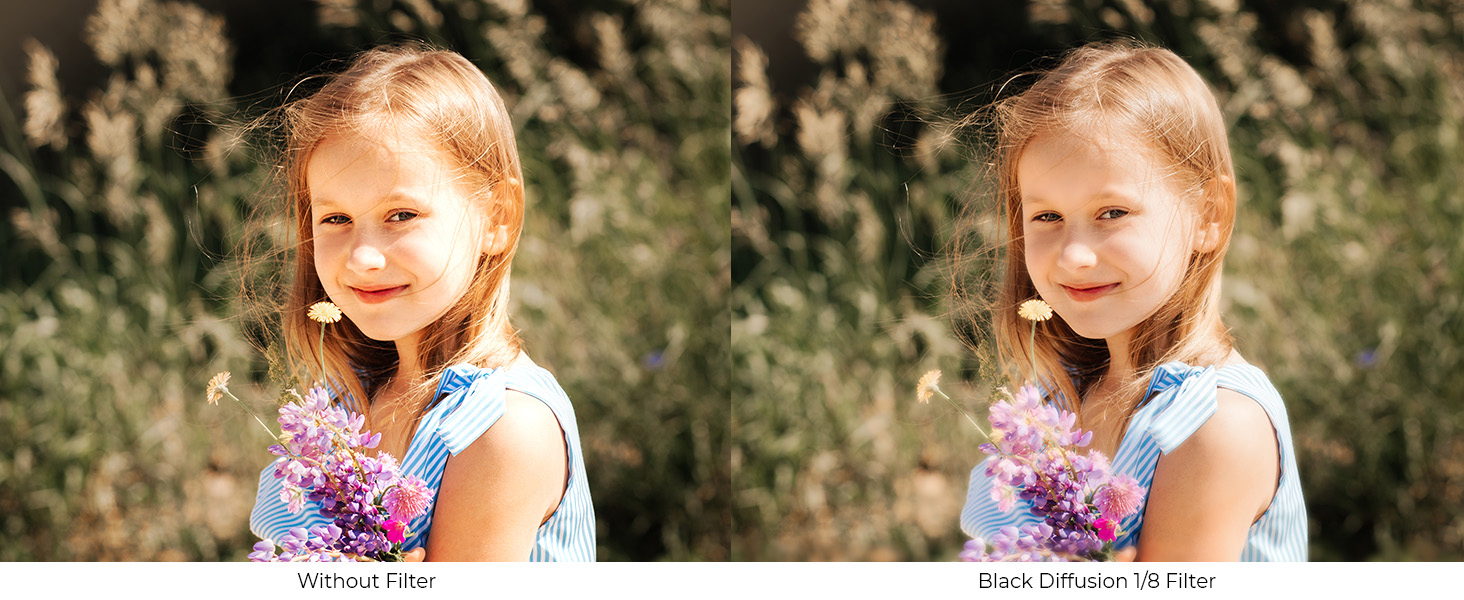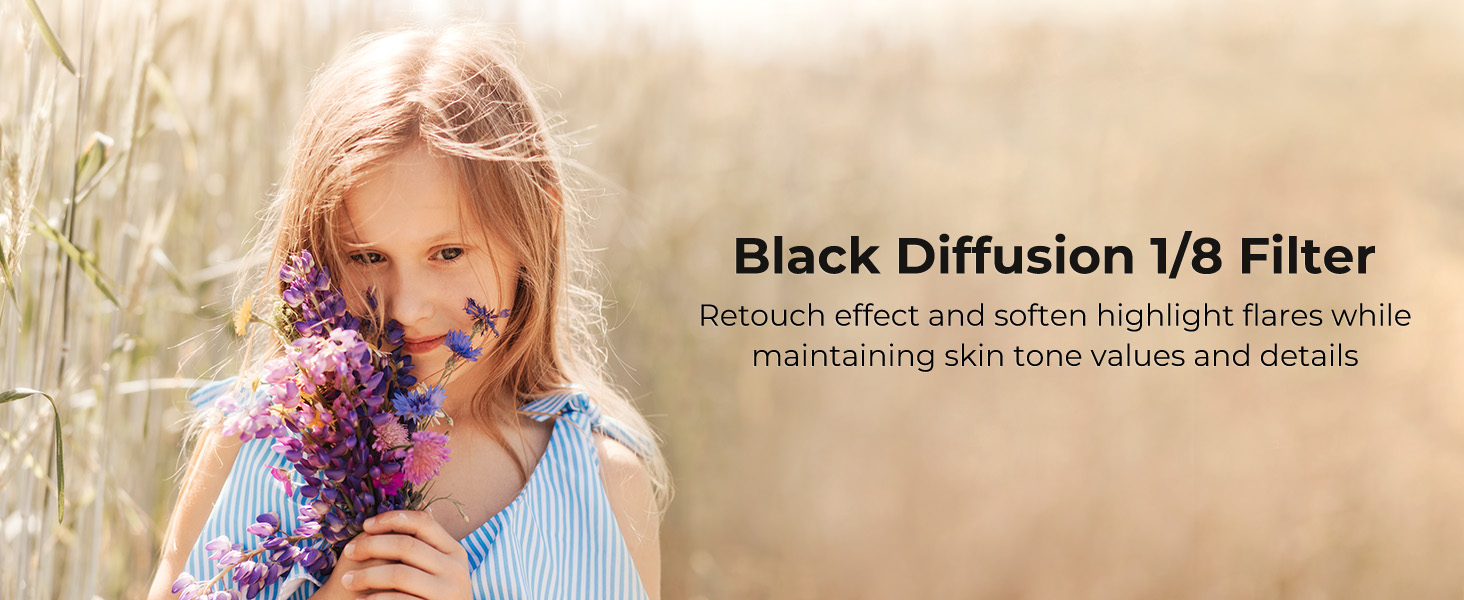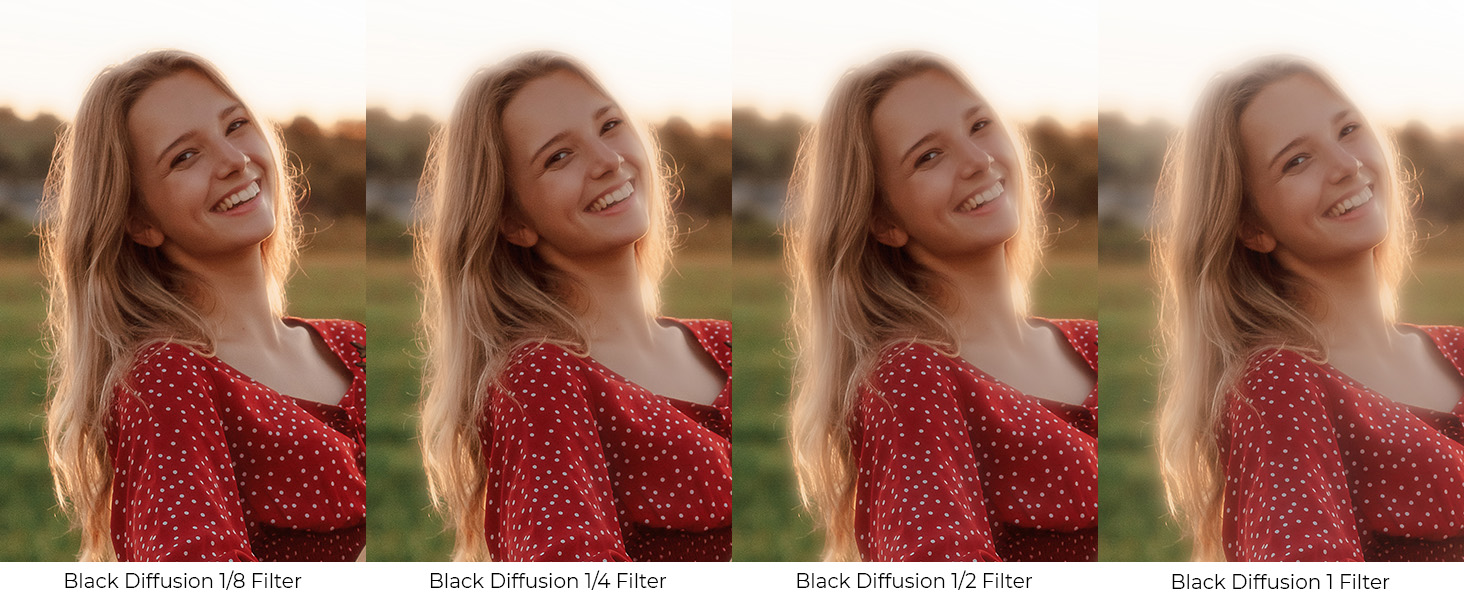 Previous
Next
All Reviews
Image

All Star

5 Star

4 Star

3 Star

2 Star

1 Star
black mist 1/8
less noticable but hot poggers
14/10/2023
Very impressed
I have tried, and own, different grades of black diffusion filter. I think for its subtle effect, this 1/8 filter is my favorite. The smooth look, and highlight diffusion that you get with these filters, is either an acquired taste, or a specific characteristic that you're looking for in your shots. I personally don't use them all the time, but it is nice to bloom the highlights in certain scenarios. The 1/8 filter is very subtle in the daylight, but I found excels at night. You can of course, use it with decent effect during the usual golden hours, as the intensity of the highlights then, may be more visibly changed by this filter, photographically. In the daytime, with the sun right above you, it's hard to notice much of a difference. For video, it does an interesting effect, and may be something that you can apply to specific scenes, or just to unsharpened some of the digitized look from most cameras. Quality of the filter is very nice, made of good materials, and with nice coatings. It comes well packaged, in your standard plastic case, as well as included sealed microfibre cloths. It is affordably priced, and performs very nicely, for that price range. It doesn't in any way appear cheap to me, and like mentioned before, I do like the subtlety of this gradient. It's certainly good for the camera bag, and would be interesting to try with some golden hour portraiture. For video, I'd say it's limited to dreamlike sequences, and better suited for golden hour, and night time. All in all, I'm very pleased, and if you're looking for a 1/8 black diffusion filter, this one is a good choice.
14/05/2023
Impressive and affordable
It is an excellent filter for the price and the quality it provides. In my case one 1/8 of 49mm. The effect it produces is really nice and I can say that even in the definition there is a better minimal but very interesting one. Recommendable.
14/05/2023
K&F the best in the business
If you're looking for a filter to create stunning cinematic effects in your photography or videography, then the K&F Concept 77mm Black Diffusion 1/8 Filter is definitely worth considering. This filter is incredibly easy to use and can help you achieve a dreamy, soft, and misty look that will make your work stand out.

One of the standout features of this filter is its build quality. The filter is made from high-quality materials that are designed to last, so you can be sure that you're getting a product that will stand the test of time. Additionally, the filter is very easy to install and remove, which means you can quickly switch between different looks and styles as needed.

Another great thing about this filter is that it doesn't have any negative impact on image quality. The filter is specifically designed to reduce the sharpness of your images slightly, which helps to create the dreamy, cinematic effect that it's known for. However, this reduction in sharpness is subtle enough that it won't impact the overall quality of your photos or videos.

The K&F Concept 77mm Black Diffusion 1/8 Filter is an excellent choice for anyone who wants to take their photography or videography to the next level. It's easy to use, built to last, and produces stunning results that will leave your audience in awe. So if you're looking for a filter that will help you create truly amazing work, then this is definitely one to consider.
13/05/2023
Concept Filter
This is a fantastic addition to any photographer or videographer's toolkit. The filter adds a beautiful dreamy and cinematic effect to videos and portrait photography, creating a unique and professional look that is sure to impress.

The filter is made of high-quality materials and fits perfectly onto a 77mm lens, providing a great range of compatibility with a variety of cameras and lenses. One of the best things about this filter is how easy it is to use. Simply screw it onto the front of your lens and you're ready to go. The filter is also very durable and easy to clean, making it a great option for anyone who wants a high-quality filter that will last for years.
12/05/2023
Quality filter from a quality company. Subtle diffusion for smoother skin in portraits.
An excellent filter from a company I trust. K&F make superb filters and I own several of them. They're a step up from other filter manufacturers and it shows in their attention to detail.

This ⅛ black diffusion filter adds just a touch of skin-smoothing-softness to your images which is very flattering to women's skin and unnoticeable to most people; it just looks natural. Highlights only have a very slight halo around them and the contrast of your image will be only slightly reduced; the blacks won't be quite as black.

This all adds up to be a great filter when you are shooting portraits. And if you want more diffusion you can order stronger variations of black diffusion. See their Amazon description for a comparison of the different strengths of black diffusion.
11/05/2023
Nice Camera Bag Addition
This is a bit of a niche filter, but I like the effect it provides and it fits my lenses. There doesn't appear to be any negative effects of color casting. I'm glad I have it as an option.
10/05/2023
Another great black diffusion filter
You can't go wrong with this filter if you need that filmic soft look I love it
06/05/2023
Haven't taken it off my lens since I got it.
An excellent diffusion filter. It looks more like a standard diffusion than a black diffusion. So you get the highlights to bloom but retain contrast.
And at 1/8th its not to strong for most situations.
Absolutely love these. K&F have another winner on their hands.
05/05/2023
Dreamy and ethereal
So if you are looking at this review, you probably already know what a black diffusion filter does. If not, then let me just tell you that it basically lowers contrast and makes the highlights bloom a little more than they usually do. It doesn't exactly soften the focus, but it does soften the overall image.

Now to the filter...K&F builds a well-constructed filter. I buy a lot of my filters from K&F, and they have never disappointed in terms of using quality material, a pleasing design that doesn't announce its presence on my camera lens, and glass that doesn't affect my very expensive optics. This filter provides about what I expect from a 1/8th Black diffuser (black mist) in terms of the overall effect. and you just really can't go wrong with anything that K&F produces.

So if you're looking to make lights bloom, without softening your portraits to almost unusable levels, this is the filter for you. It has definitely earned a place in my camera bag.
05/05/2023
There are no faqs for this product.