DJI Mavic 3 Classic Filter ND8 & PL with Single-sided Anti-reflection Green Film Waterproof and Scratch-resistant
Buy 99$-9$, 199$-25$, 299$-39$, 599$-100$
New customer gift package
Free shipping worldwide
Buy now in the K&F Concept Drone Filters ► 30 Day No Reason Return ► DJI Mavic 3 Classic ► Fast Shipping From UK Free ► ND8 & PL

KF01.2284

SKU:

KF01.2284

19.99

https://www.kentfaith.com/KF01.2284_dji-mavic-3-classic-filter-nd8-pl-with-single-sided-anti-reflection-green-film-waterproof-and-scratch-resistant
Buy 99$-9$, 199$-25$, 299$-39$, 599$-100$
Description
* The filter is made of AGC optical glass with 28 layers of nano-coating
* 28-layer coating minimizes reflections, flare and improves image quality, and the hydrophobic coating is also waterproof and anti-fouling
* Frame bayonet design, fits perfectly with the body lens base, easy to install/remove
* The weight of the filter is only 3.2g, which does not affect the gimbal load (ND filter weighs 3.2g, CPL and ND&PL weighs 4.2g)
* The surface of the filter is blackened to minimize reflection and reduce the impact on imaging
Shipping
Free shipping worldwide
Sale
Buy 99$-9$, 199$-25$, 299$-39$, 599$-100$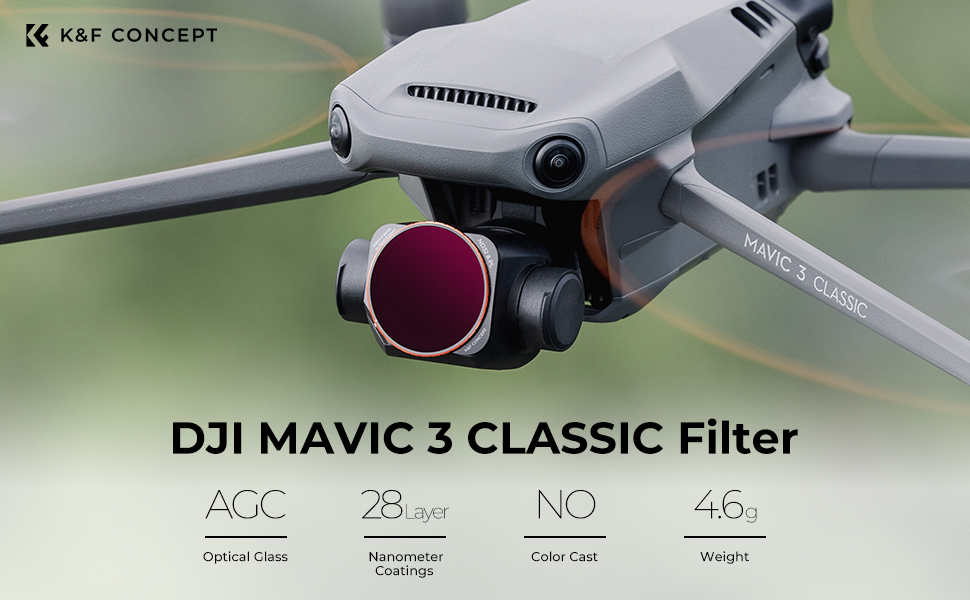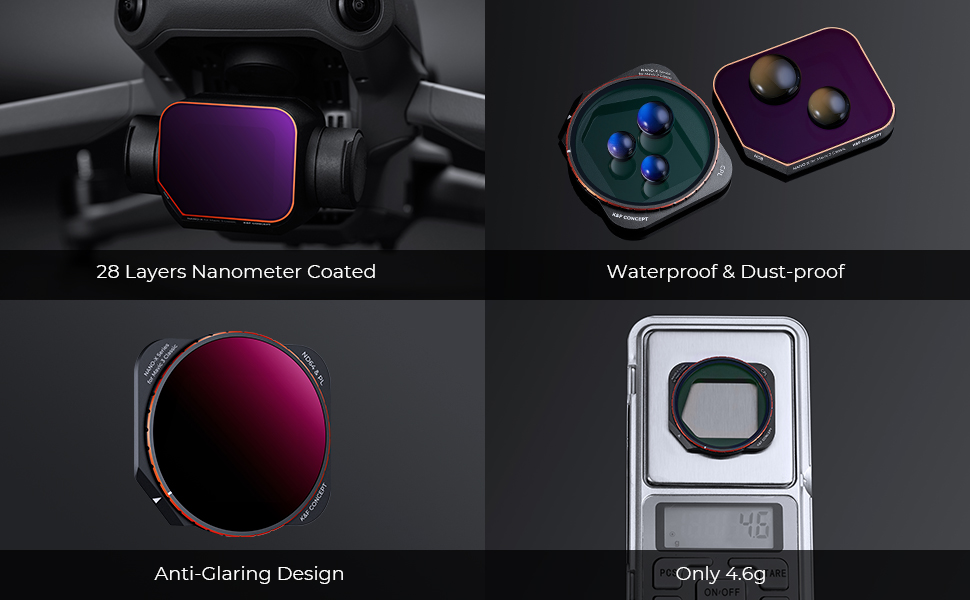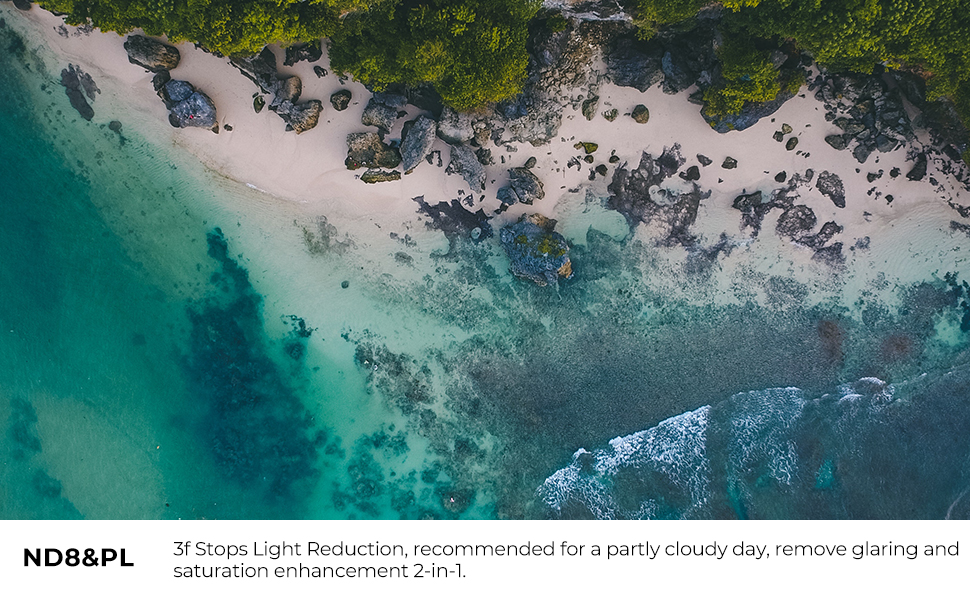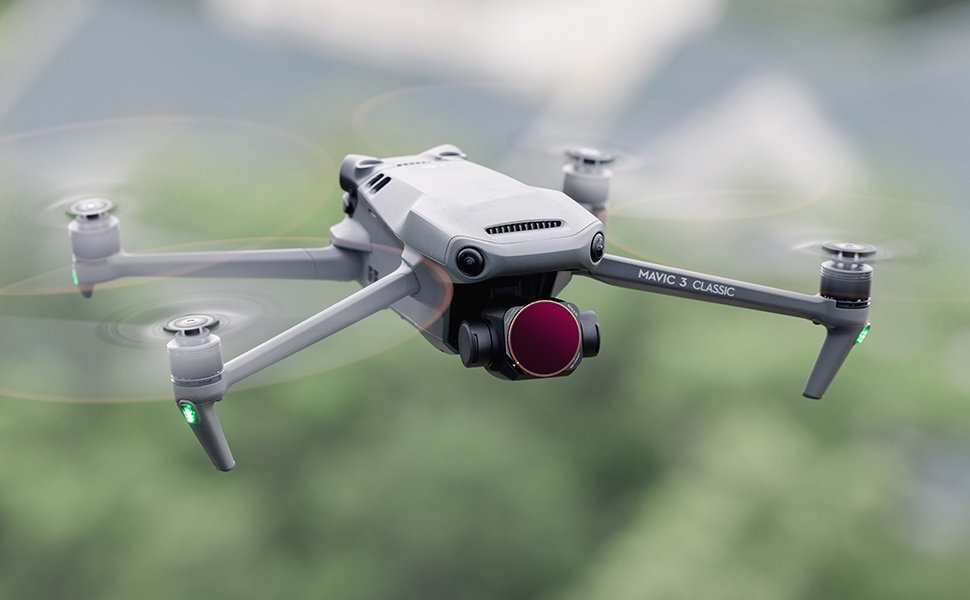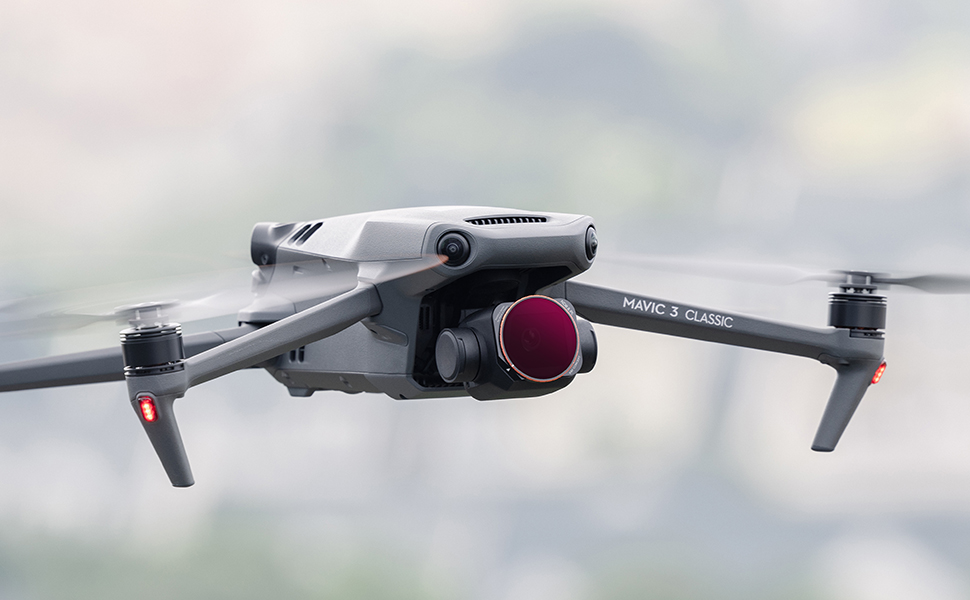 All Reviews
Image

All Star

5 Star

4 Star

3 Star

2 Star

1 Star
Impressive Set of 4 ND Filters for Mavic 3 ND 8-64
Excellent Set of well built ND Filters for Mavic 3. These filters have an anodized aluminum frame and clear labeling of filter type. The filters are made of Optical Glass with various coatings. It all comes well packed in a protective carrying case. The Set includes ND 8, 16, 32 &64. You can't go wrong with the quality of these filters.
08/05/2023
High quality
These look and feel high quality
07/05/2023
To ND Filter, or not to ND Filter… easy install, excellent filters!
This is a great filter set that is super easy to install / uninstall and switch filters. Just rotate the original lenses cover to the left and it comes off. These filters lock into place and are safe to fly with.

The video on my review is the DJI Mavic 3 classic taking a sunset hyperlapse. The video was stabilized and color corrected (which was really easy with the ND8 Filter).

I recommend this set. You can't go wrong unless you use the wrong filter.
06/05/2023
5 stop and filter
This 5 stop and filter works great saves time and space of carrying extra filters just simply turn filter to get desired stop used it now on several different types of days with my mavic 3 classic . I highly recommend this filter set will update when I use the darker 5 stop filter final comment these are just as good as the freewell filters at half the price thy also go on and off very easy .
06/05/2023
Perfect ND filters perfect price
One of the best ND filters set for DJI Mavic 3 Classic. Package and quality of the ND filters are the best. I highly recommend anyone to buy them
05/05/2023
Well done, easy to work with filters, with relatively good optics
I was surprised to find that this lens filter kit is packaged in a Neewer brand mailing bag. The filters are enclosed in a plastic protective case in a retail box. You get four focal points, cleaning tissue and the defense shell.

Because the filters are contained in a rigid, transparent storage case, it's easier to take them with you and simply put them in your pocket. The filters are designed to block out light, which can make your photos and videos look too bright. You'll eventually point your drone toward the sun or bright reflections because you're flying it in all directions. By reducing the amount of light that reaches the camera lens, filters allow better exposure of all footage and less glare. Depending on the type of filters you use, they can make colors more vivid and increase contrast.

Simply plug these filters onto your gimbal, which are designed for the Mavic 3 and Mavic Cine drones. They are light enough not to hinder and in no way restrict the movement of the gimbal. Polarization and neutral density are two types of filters that not only improve your colors but also reduce the amount of light that reaches your lens, prevents reflections, and more. Simply plug in a filter and you're ready to go. There is nothing to set up. Thanks to the inclusion of four strengths, you can shoot in a wide range of lighting conditions.

I no longer have to worry about flying over water or in the direction of the sun due to reflections. The image is a bit darker, but the contrast is better and the colors seem to stand out more. It seems like something that can be done in post-production, but if you use a filter, you can do it instantly without having to fiddle with your recorded footage in the software. A cost-effective way to improve the quality of your photos and videos...
04/05/2023
Love it but having trouble mounting them
Hey I love it but I can't get it to twist all the way round and lock into place. Anyone else? Perhaps it's a different fit from what was designed for the Cine etc ?
04/05/2023
To make the recordings more effective...
The DJI Mavic 3 Classic takes very good pictures out of the box, but using ND/PL filters, the recordings are more contrasting and reflections are reduced. That's why I chose the K&F Concept set. The filter was delivered in a storage box.

It is easy to assemble, turn the frame slightly to the left, remove it and simply place the new filter offset to the left, then slightly turned to the right and this fixes it in place. This makes a quick change possible. I generally use the ND/PL filters for photos and videos. Because it makes the colors come across more effectively and better. When it comes to ND/PL filters, I usually use the ND8PL and ND16PL. ND32PL and DN64PL when it is extremely bright, in winter when it is snowing, on days with cloudless skies and clear sunshine. Starting from ND32PL, the filter makes the rapid movements of waterfalls and clouds softer, which comes across as silky good. Everything else is razor-sharp. It's best to try it out yourself and then compare the results.

The quality of the materials, including the glass, is impeccable and the workmanship of the filters is good. They are easy and quick to apply, they hold reliably, fit perfectly and the recordings are much more professional.

The PL filter minimizes reflections and reflections. In addition, the images become more colorful and contrasting.
Explanation of the ND filter: I use them for long exposure photography and depending on sunlight. This allows you to take softer images.
What is a gray filter/ND filter? A neutral density filter is a filter where the entire surface of the glass is darkened so that less light can penetrate the lens.
It is therefore possible to select longer shutter speeds and achieve the corresponding effects, such as fog-like water or soft, drawn-out clouds. This would not be possible without filters, as the image would be extremely overexposed or even completely white.

About gray filters: Neutral
gray filters come in various variations with confusing, different names, from different manufacturers. I don't want to talk about the different manufacturers here, just the different names. I had to read through it first, but basically, it's easy to understand.

The names for this set mean:
ND8 = slow down the shutter speed by 3 stops to increase the shutter speed
ND16 = slow down the shutter speed by 4 f-stops for the extension of the shutter speed
ND32 = slow down the shutter speed by 5 stops for the extension of the shutter speed
ND64 = slow down the shutter speed by 6 stops to extend the exposure time

This allows outdoor scenes to be created very effectively and effectively. By using the various filters, you will see how beneficial they actually are. Every professional works with filters like this ;-)

Thank you for taking the time to read my review. I hope I was able to help a bit with that.
03/05/2023
There are no faqs for this product.
K&F Concept Filter Set for DJI Mavic 3 Classic