62mm Black Mist Filter 1/8 Special Effects Filter Ultra-Clear Multi-layer Coated With Waterproof Scratch-Resistant and Anti-Reflection Nano-X Series
Buy 99$-15$, 199$-30$, 299$-50$, 599$-120$(autumn sale Price)
To
United States
Expedited Shipping
3-5
business days
Free Shipping. 30 Day No Reason Return. K&F black mist filters feature Extraordinary Performance on Filter Coating, Premium Material Optical Glass, Ultra Slim & Sturdy Frame.

KF01.1489

SKU:

KF01.1489

42.99

https://www.kentfaith.com/KF01.1489_kf-62mm-nano-x-optical-glass-black-soft-filter-1-8-ultra-clear-coated-with-waterproof-scratch-resistant-and-anti-reflection-green-film
Buy 99$-15$, 199$-30$, 299$-50$, 599$-120$(autumn sale Price)
Description
* 【Function 】The K&F Concept 1/8 black diffuison filter makes the picture or video light be soft and controls highlight flares, making skin or pores more delicate, double side polishing technology ensuring high definition within 550mm focal length..Photography Gear for Valentine's Day Shoot
* 【Import AGC Optical Glass】Black diffuison1/8 filter Made by Japanese AGC high precision optical glass, multi-layer coating for extra transparency to 87% transmittance, effectively reduce reflection came from filter itself.
* 【28 Multi-Layer Coatings】The K&F black diffusion 1/8 filter with double side coatings, hydrophobic, scratch resistant and oil-proof , no affect for images quality , eaily for cleaning and carrying.
* 【No Vignetting 】This black diffusion1/8 filter ultra slim frame only 3.3 mm avoids vignetting and dark corner on wide-angle and telephoto lens, CNC-Non slip design frame easily for intall adn remove.
* 【Note】This black soft 1/8 filter is compatible with all 62mm lenses. Please verify your camera's lens thread size before ordering. Your camera's lens thread size will be marked somewhere on the lens barrel or printed underneath your lens cap. This number is always preceded by a "ø" (diameter) symbol.
Shipping
To
United States
Expedited Shipping
3-5
business days
Sale
Buy 99$-15$, 199$-30$, 299$-50$, 599$-120$(autumn sale Price)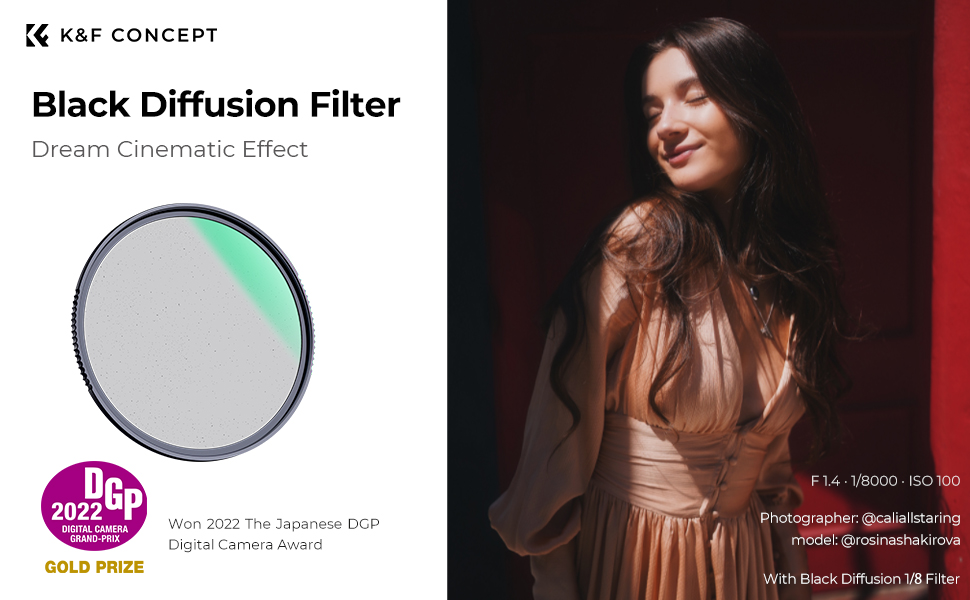 K&F Concept Black Diffusion 1/ 8 Filter Waterproof with 28 Multi-layer Coatings Creates Cinematic Dream Effect for Images and Video
The K&F Concept black diffusion1/8 special effect filter with its unique multi-layer anti-reflection, function effectivly reduced the reflection that came from both grounds and the filter itself, increasing the light transmittance to 87%. Even at its lowest density K&F Concept 1/8 black diffusion effect filter can soft wrinkle and pores of human skin, it delivers an effective increase in the halation which adds a pleasing depth of warmth showing the delicate and hazy movie effect in images, but is not transported to the skin tone values.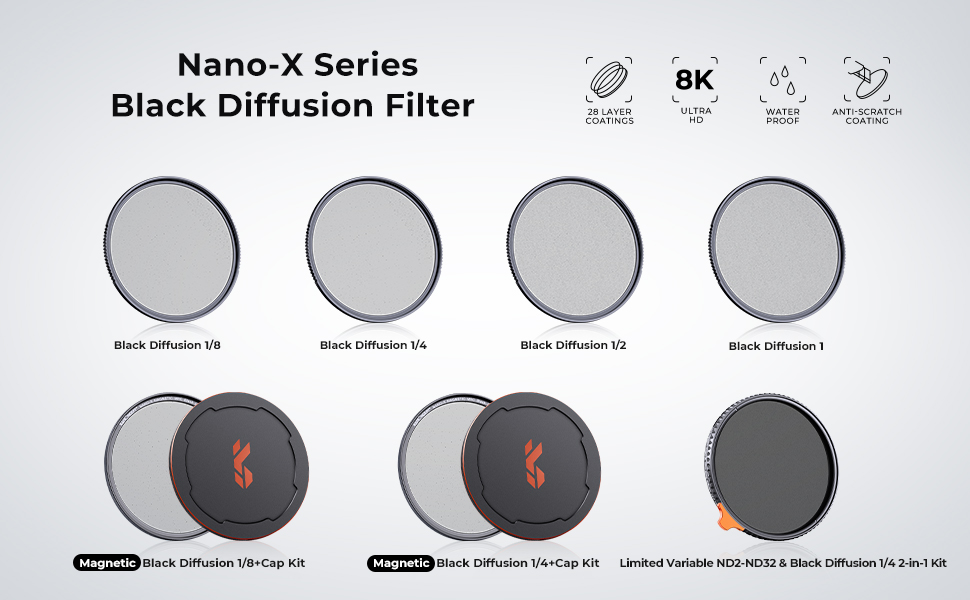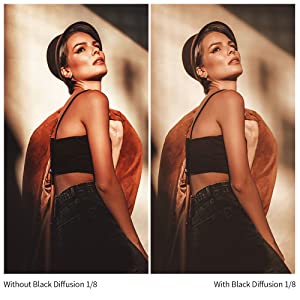 K&F Concept 1/8 Black Diffuison Filter Product Features
• Reduces highlights and lowers glare.
• The surface high-tech coating is waterproof, scratch-resistant and oil-proof.
• Optical glass double-side polishing technology ensures HD image quality.
• Soften wrinkles, blemishes, and pores while maintaining skin tone values.
• Creates a soft quality of light and pastel effect, delicate and hazy cinematic effect.
• Uses the K&F Concept Multi-layer Coating process to protect the filter effect between two pieces of glass, doesn't affect image quality.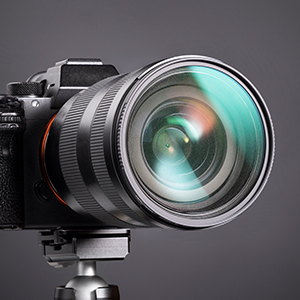 28 Multi-Layer Coated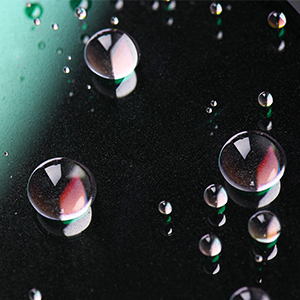 Waterproof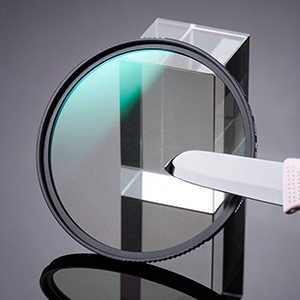 Scratch Resistant

| | | | | | | |
| --- | --- | --- | --- | --- | --- | --- |
| | | | | | | |
| | | | | | | |
| | | | | | | |
| Rating | 131 reviews. | 50 reviews. | 117 reviews. | 56 reviews. | 49 reviews. | 99 reviews. |
| Price | $42.99 | $69.99 | $42.99 | $69.99 | $71.99 | $42.99 |
| Model | KF01.1489 | SKU.1838 | KF01.1480 | SKU.1820 | KF01.1812 | KF01.1652 |
| Reflectivity | 0.2% | | 0.2% | | 0.2% | 0.2% |
| Size | 62mm | | 62mm | | | 62mm |
| Series | Nano-X series | Nano-X series | Nano-X series | Nano-X series | Nano-X series | Nano-X series |
| Recommended Scenes | Video Shooting/Potrait Photography | Video Shooting/Landscape Photography | Video Shooting/Potrait Photography | Video Shooting/Landscape Photography | Video Shooting/ Landscape & Potrait Photograph | Video Shooting/Potrait Photography |
| Function | Soft highlight | 1 Second Switch/Soft highlight | Soft highlight | 1 Second Switch/Soft highlight | Soft highlight/No X cross/Light reduction effect | Soft highlight |
| Filter Material | Japanese AGC Glass | Japanese AGC Glass | Japanese AGC Glass | Japanese AGC Glass | Japanese AGC Glass | Japanese AGC Glass |
| Multi-Coating | 28 layers | 28 layers | 28 layers | 28 layers | 28 layers | 28 layers |
| Waterproof | √ | √ | √ | √ | √ | √ |
| Scratch-resistant | √ | √ | √ | √ | √ | √ |
| HD | √ | √ | √ | √ | √ | √ |
| Transmittance | 87% | 0.87 | 0.84 | 0.84 | | 0.79 |
| Antireflection | √ | | √ | | | √ |
| Filter Thickness | 0.13in/3.3mm | | 0.13in/3.3mm | | | 0.13in/3.3mm |
| Ring Material | Aviation aluminum alloy | | Aviation aluminum alloy | | | Aviation aluminum alloy |
| Stops | | | | | 0.3 to 1.5(1 to 5 Stops) | |
All Reviews
Image

All Star

5 Star

4 Star

3 Star

2 Star

1 Star
Black Diffusion 1/4 & 1/8 Lens Filter Kit
Do You Know How Your K&F Concept Filters be Produced? | One-day Tour in Production Line
How to check your lens size
Filter
Reflectivity
0.2%
Size
62mm
Series
Nano-X series
Recommended Scenes
Video Shooting/Potrait Photography
Function
Soft highlight
Filter Material
Japanese AGC Glass
Multi-Coating
28 layers
Waterproof
√
Scratch-resistant
√
HD
√
Transmittance
87%
Antireflection
√
Pattern
Filter Thickness
0.13in/3.3mm
Shape
Circular
Ring Material
Aviation aluminum alloy