K&F Concept XK43 67mm Natural Night Filter
To
United States
Expedited Free Shipping
3-5
business days
K&F XK43 67mm Natural Night Filter Reduces light pollution for clear night skies or star.

KF01.1117

SKU:

KF01.1117

50.99

https://www.kentfaith.com/KF01.1117_67mm-natural-night-filter
Description
* Reduces light pollution for clear night skies or star.
* Multi-coated.
* German optical glass.
* Alloy aluminium frame.
Shipping
To
United States
Expedited Free Shipping
3-5
business days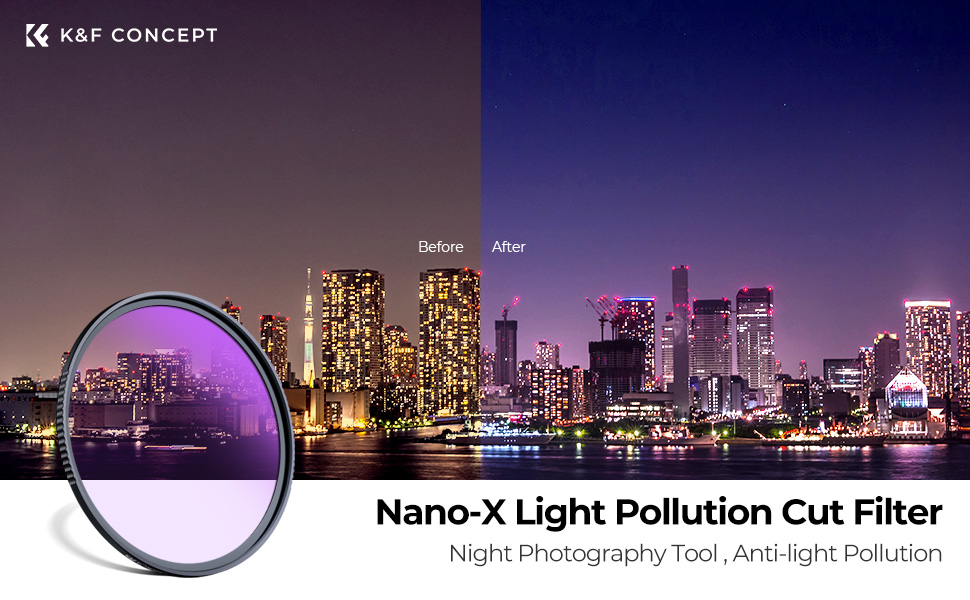 Clear-Night Filter has always been a challenge for photographers who like to photograph cities at night. This unpleasant haze makes capturing stars and celestial objects a lot more challenging. The new K&F Concept 67mm Light Pollution Filter is available for DSLRs with 67mm lens and helps to reduce the effects of light pollution. The special coating on the filter helps stop the yellow and orange wavelengths of light from entering the lens resulting in clearer photographs of the night sky. For architectural shots or long exposures in the urban environment, even delicate structures and contrasts are maintained in the subject and no longer overexposed. By means of extensive filtering of the warmer wavelengths of light, photographs are effectively 'cooled down' retaining the same detail and contrasts that you see with your eyes. As a result of this cooling effect, we recommend that photographers always use manual white balance and select a color temperature between 700K and 1500K of the reading that was taken without the filter inserted, to ensure the color authenticity of your pictures.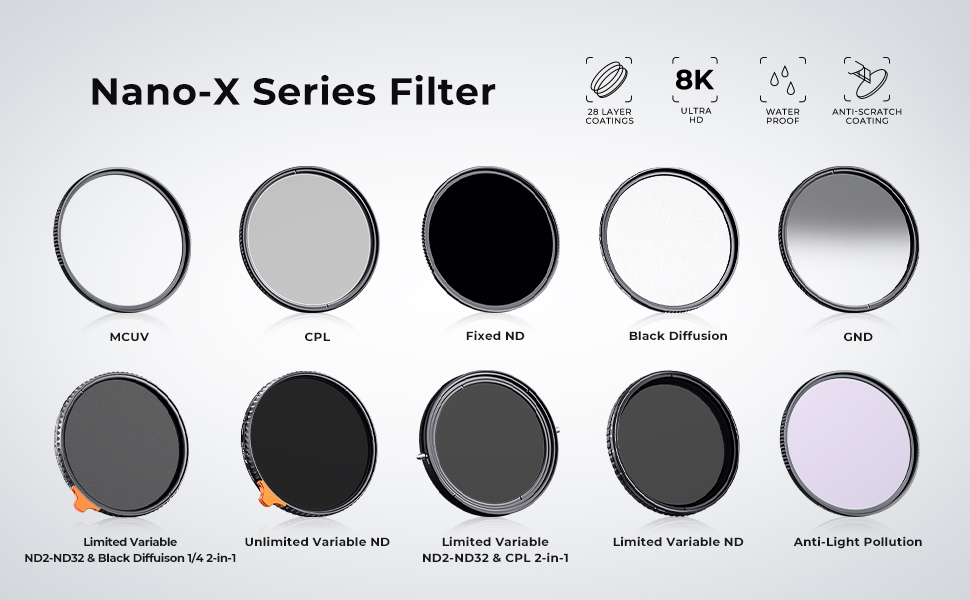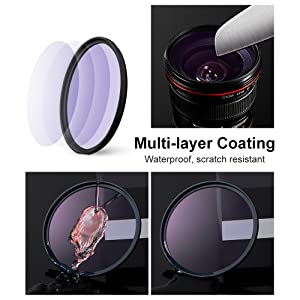 28 Multi-Layer Coatings
K&F Concept Natural Night Filters both glass sides with nanometer coatings ,bring the high-quality definition, low-reflection and no Vignetting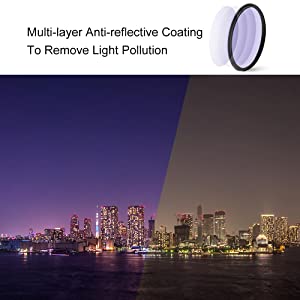 Eliminates Light Pollution Non-Destructively
Eliminating light pollution is essential to capturing beautiful Night Sky images, however, finding a location to shoot without light pollution can be incredibly difficult if not impossible depending on where you're shooting.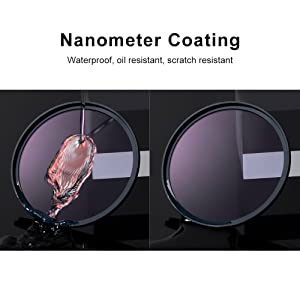 Waterproof & Scratch Resistant
The nanometer coatings on both sides, from the ground, up repel dirt, water, oil, and other elements by beading rather than absorbing and smearing. To withstand extreme wind, saltwater, dust, and other abrasive conditions and elements.

Rating

2 reviews.

44 reviews.

35 reviews.

0 reviews.

65 reviews.
Price

$120.98

$50.99

$62.99

$31.99

$27.99
$64.99

$150.99

$65.99

Model
KF01.1117
KF01.1479
KF01.975
KF01.1849
KF01.1322

Reflectivity

0.2%
0.2%
0.2%
0.2%
0.2%

Size

67mm
58mm
58mm
58mm

Series

Nano-X series
Nano-X series
Nano-X series
Nano-X series
Nano-X series

Recommended Scenes

Starry sky/Night scene
Video Shooting/Potrait Photograhy
Landscape Photography
Video Shooting/Landscape Photograhy
Video Shooting/ Landscape Photography

Function

Block yellow wavelengths of light
Soft highlight
Light reduction effect
1 Second Switch/No X cross/Light reduction effect
Remove glare/No X cross/ Light reduction effect

Stops

/
3.0(10 Stops)
0.3 to 1.5(1 to 5 Stops)
0.3 to 1.5(1 to 5 Stops)

Filter Material

Japanese AGC Glass
Japanese AGC Glass
Japanese AGC Glass
Japanese AGC Glass
Japanese AGC Glass

Multi-Coating

√
28 layers
28 layers
28 layers
28 layers

Waterproof

√
√
√
√
√

scratch-resistant

√
√
√
√
√

HD

√
√
√
√
√

Transmittance

∕
0.84
0.001
∕

Antireflection

√
√
√
√

Filter Thickness

3.3mm
0.13in/3.3mm
3.3mm
9.3mm

Ring Material

Aviation aluminum alloy
Aviation aluminum alloy
Aviation aluminum alloy
Aviation aluminum alloy
Highly recommended.
Exellent filter for the purpose of night sky, wide field Astrophotography. Very adept at cancelling light pollution and has a high quality feel. I can not comment on the coatings, but I had no problems with light refraction or ghosting, and the filter cleans easily. I would say an upgrade from filters like the ICE filters, and the added expense to go to those brands does not justify the cost increase.
09/12/2019
The KF Concept Neutral Night filter is an excellent light pollution filter
It is German made with special coatings for antireflection and scratching. It's a quality filter at a reasonable price.
12/01/2021
These images belong to KENTFAITH end users.
There are no faqs for this product.
Do You Know How Your K&F Concept Filters be Produced? | One-day Tour in Production Line
How to check your lens size
Filter
Reflectivity
0.2%
Size
67mm
Series
Nano-X series
Recommended Scenes
Starry sky/Night scene
Function
Block yellow wavelengths of light
Stops
/
Filter Material
Japanese AGC Glass
Multi-Coating
√
Waterproof
√
scratch-resistant
√
HD
√
Transmittance
∕
Antireflection
√
Pattern
√
Filter Thickness
3.3mm
Shape
Circle
Ring Material
Aviation aluminum alloy