49mm ND64 Magnetic Neutral Density Lens Filter HD Waterproof Scratch-resistant Anti-reflection NANO-X Series
Buy 99$-9$, 199$-25$, 299$-39$, 599$-100$
New customer gift package
Free shipping to eligible country
Buy KENTFAITH 49mm nd64 magnetic neutral density lens filter hd waterproof scratch-resistant anti-reflection nano-x series online, worldwide free shipping and 30 days return guarantee.

SKU.1736

SKU:

SKU.1736

45.99

https://www.kentfaith.com/SKU.1736_49mm-nano-x-nd64-magnetic-filter-high-definition-coated-with-waterproof-scratch-resistant-anti-reflection-green-film-with-magnetic-attachment-ring-and-magnetic-metal-cover
Buy 99$-9$, 199$-25$, 299$-39$, 599$-100$
Description
* 1. Quick installation and removal, magnetic filter can be installed in one second
* 2. No color cast, 6-speed dimming (1.8)
* 3. 16-layer nano-coating, with anti-reflection green film, which can effectively reduce the reflection of the filter surface while filtering ultraviolet rays, greatly improving the light transmittance and balancing the color;
* 4. After the glass is optically polished, a high-tech film is plated on the surface. "Moldproof", "Waterproof", "Scratch-proof" and "Greasy-proof". While having the characteristics of hard scratching, it will not have any impact on the image quality, even if it is contaminated with water droplets or oil, it can be easily removed;
* 5. Equipped with aerospace-grade aluminum alloy material magnetic lens cover, both magnetic and threaded, you can install the lens, two-in-one function
Shipping
Free shipping to eligible country
Sale
Buy 99$-9$, 199$-25$, 299$-39$, 599$-100$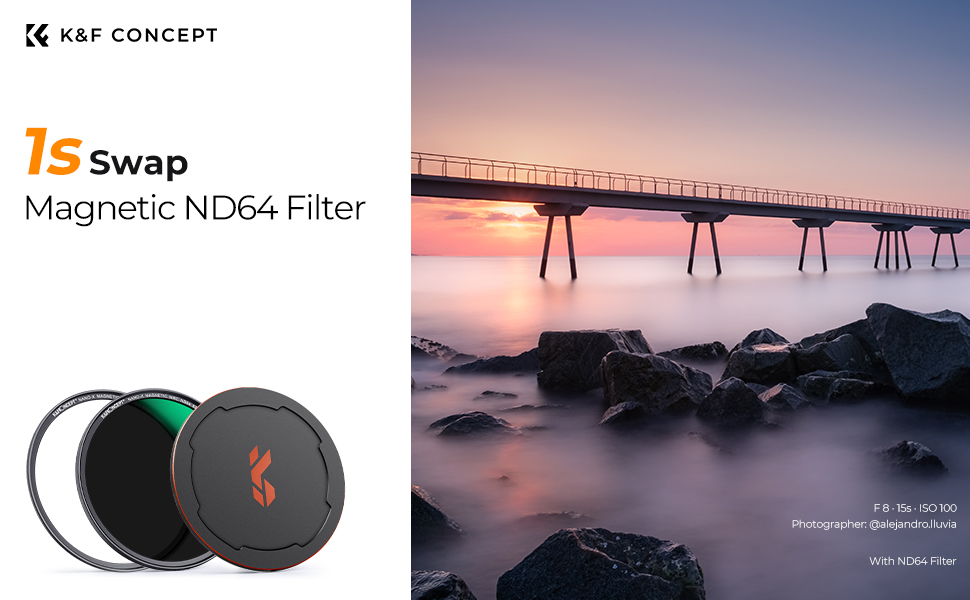 K&F Concept Magnetic ND64 Filters (Nano-X)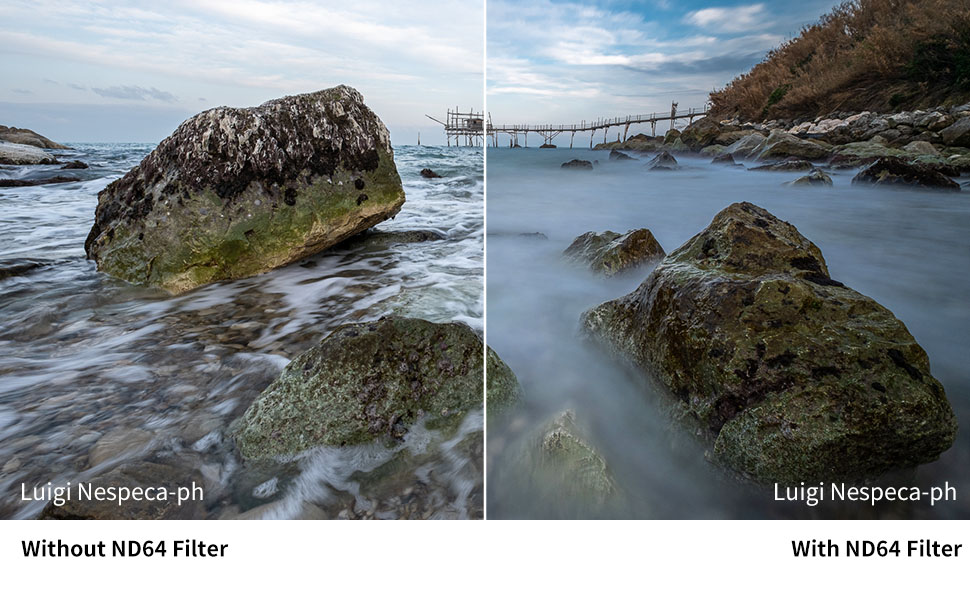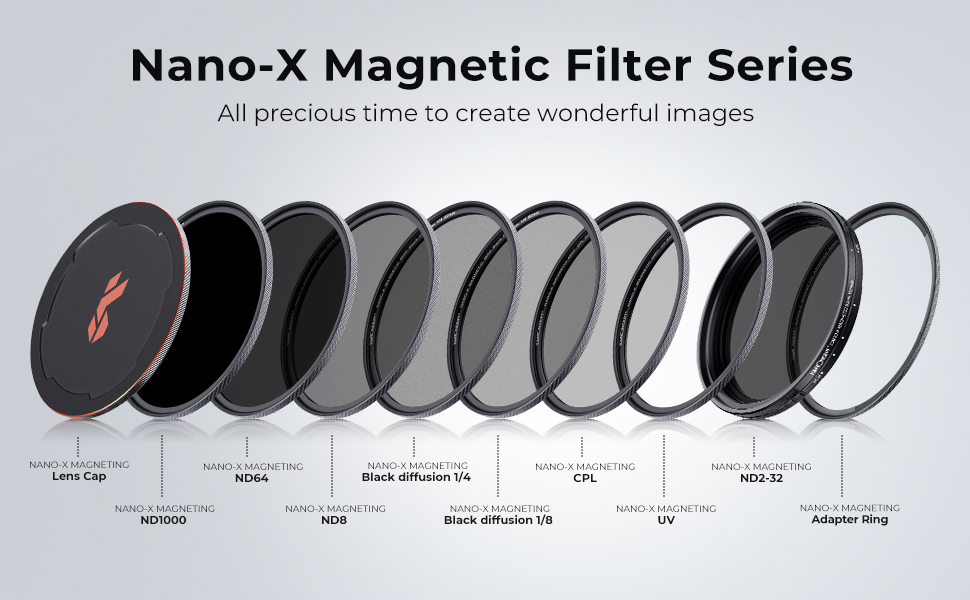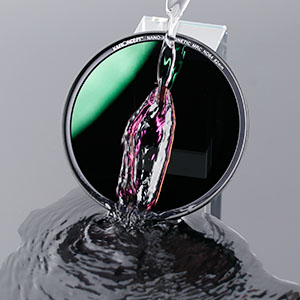 Nano Coating
Double-sided multilayer anti-reflection green film, greatly improve light transmittance and balance colours.
Dust-proof, water-proof, stain-proof and scratch-proof, effectively protecting the lens.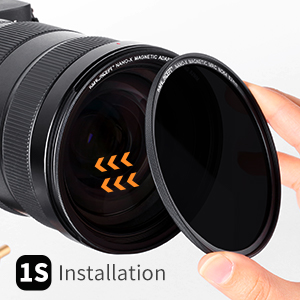 Magnetic adapter ring
Quick installation and removal in 1 second. Other magnetic filters can also be installed
Ultra-thin non-slip frame design can effectively prevent vignetting when using a wide-angle lens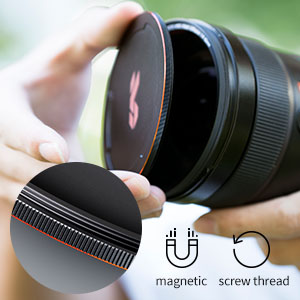 Alloy lens cover
Equipped with aerospace-grade aluminum alloy material magnetic lens cover, both magnetic and threaded, you can install the lens, two-in-one function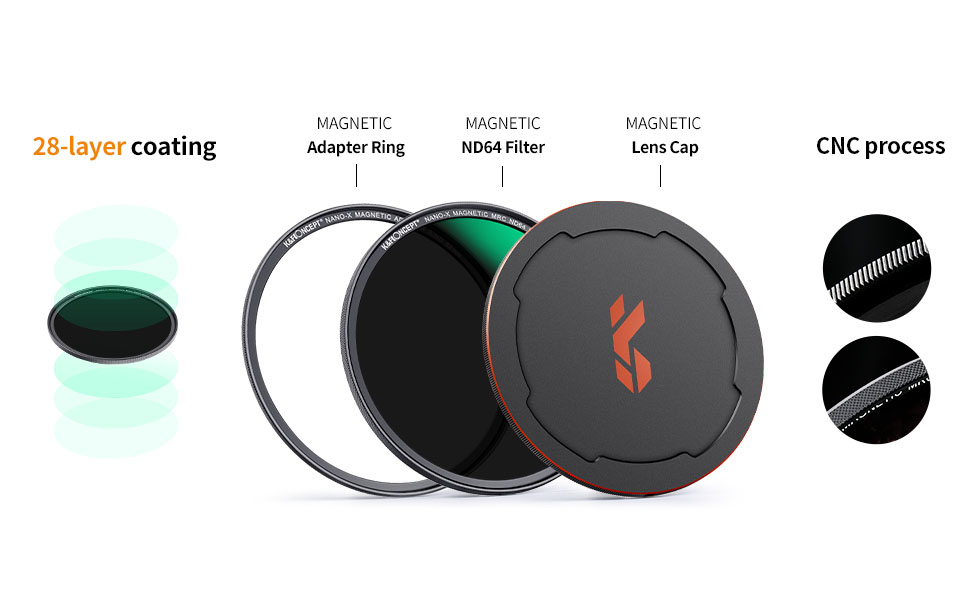 Where you can find your len/filter zise?
Q: What is included in the kit?
A: 1pcs magnetic attachment ring, 1pcs magnetic ND filter, 1pcs magnetic lens cap;
Q: Can the lens cap be directly attached to the lens?
A: Yes, the lens cover is threaded, it can be screwed on directly, or it can be magnetically attached by a magnetic attachment ring or filter, which is a two-in-one function;
Q: How is the ND64 filter installed on the lens?
A: You need to install the magnetic attachment ring first, and attach the ND64 filter to the magnetic attachment;
Q: Can I install ND64 without a magnetic attachment ring?
A: No, you need to install the magnetic adapter first;
Q: How to choose a size filter suitable for my lens?
A: Check the diameter of your lens first. The size is usually displayed next to the ø symbol on the front of the lens.
Q: What scenario is more appropriate to choose ND64
A: Suitable for shooting waterfalls, flowing water, waves, mountains, rivers and other scenery themes
Q: How many f-stops does the ND64 filter reduce light
A: Dimming 6 f-stops


| | | | | | | |
| --- | --- | --- | --- | --- | --- | --- |
| | | | | | | |
| | | | | | | |
| | | | | | | |
| Rating | 11 reviews. | 0 reviews. | 0 reviews. | 22 reviews. | 45 reviews. | 83 reviews. |
| Price | $45.99 | $45.99 | $45.99 | $61.99 | $61.99 | $66.99 |
| Model | SKU.1736 | SKU.1754 | SKU.1718 | SKU.1700 | SKU.1816 | SKU.1619 |
| Series | Nano-X series | Nano-X series | Nano-X series | Nano-X series | Nano-X series | Nano-X series |
| Recommended Scenes | Video Shooting/Landscape Photography | Landscape Photography | Video Shooting/Landscape Photography | Landscape Photography | Video Shooting/Landscape Photography | All Scenes |
| Function | 1 Second Switch/Light reduction effect | 1 Second Switch/Light reduction effect | 1 Second Switch/Light reduction effect | 1 Second Switch/Eliminate stray light/Improve colo | 1 Second Switch/Soft highlight | 1 Second Switch/Protect Lens/Enhance Color & C |
| Filter Material | Japanese AGC Glass | Japanese AGC Glass | Japanese AGC Glass | Japanese AGC Glass | Japanese AGC Glass | Japanese AGC Glass |
| Multi-Coating | 28 layers | 28 layers | 28 layers | 28 layers | 28 layers | 28 layers |
| Waterproof | √ | √ | √ | √ | √ | √ |
| scratch-resistant | √ | √ | √ | √ | √ | √ |
| HD | √ | √ | √ | √ | √ | √ |
| Transmittance | 0.0156 | 0.5 | 0.125 | 0.5 | 0.84 | |
| Size | | | | 49mm | | |
| Antireflection | | | | √ | | |
| Filter Thickness | | | | 5.5mm | | |
| Ring Material | | | | Aviation aluminum alloy | | |
| Reflectivity | | | | | | 0.2% |
All Reviews
Image

All Star

5 Star

4 Star

3 Star

2 Star

1 Star
Really good quality and price
Great quality glass. The price was reasonable. The magnetic filter provides extra flexibility and saves time while travelling. This is key for me as I travel a lot and like to travel as light as I can. I did not experience any chromatic aberration, loss of definition or the dreaded X.
11/11/2021
very good value for money
I bought this ND filter together with an ND1000 filter for my vacation. I was not disappointed, the picture quality was convincing.
The ND magnetic filter was very suitable for filming. It saves me the time of changing filters and I can capture beautiful moments in time.
As always, delivery was very quick.
09/11/2021
Just Buy It! A Variable ND Filter with no X Spot!
I've been looking for a decent Variable ND Filter for some time now and stumbled across this one from K&F.

Having recently purchased a new backpack from the brand and being impressed with the quality, I thought I'd treat myself to this filter. After all it claims to not have the dreaded X that almost all Variable ND Filters have. On first impressions the filter was packaged very well in a hard branded card box.

Getting my hands on the filter, I was amazed with the built quality and overall feel for the price! It feels well put together and durable.
07/11/2021
I love this magnetic ND filter!!!
About a month ago, I shot photos at a wedding on a mountaintop in Tennessee. It was in the middle of the afternoon and the sun was super bright at the location of the ceremony. The venue was huge and I wanted to pack my camera bag somewhat light so that I didn't have to struggle with tons of equipment. The filter set from K&F concept was perfect for this type of work. The kit is lightweight and it makes it possible to use the one filter for several different sizes of lenses. During this wedding I was working with an 82mm lens and a 77mm lens as my primary glass. At the ceremony site, I had to quickly swap lenses and reapply the filter in order to get the shots the couple wanted. I found gaps in the ceremony where I could quietly and quickly change lenses and attach the filters without disturbing the event. It worked perfectly , I thought it was a lot easier than having to swap lenses and then screw filter into each lens.
06/11/2021
How strong is the magnet?
Once attached to the lens even if you run with the camera in your hand you will not lose the filter so dont worry.
05/11/2021
no any color cast
When using these filters, I shot exclusively in RAW, but did not perceive any color cast from the filters.Good products!
05/11/2021
Easy to use filters
I use filters for filming outside which sometimes can be challenging because of the light, the sun comes up from the clouds, manual settings, everyting over exposed which is very bad for video.
My lens diameter is 67mm so I got those. You have to screw the ring and then based on what you want to get you just have to attach the filters.........you DONT have to screw them one by one which saves you a lot of time.
Now, the advantage?
You avoid moving your camera is you want to change the filter!!! This is the most important feature I would say!!
I keep my camera in one spot and 100% doesnt have to move AT ALL!! So with this magnetic system i just remove one filter and add another, easy as that. I dont have to screw anything!!!
01/11/2021
Great ND Filter that doesn't break the Bank
I'm a Professional and I've had 100's of lens filters over the span of a 30 year career. K&F ND Filter is as good as my highend, high priced glass at a very affordable price. As many are buying cameras that shoot both stills and video and you're looking for an ND but aren't sure what to buy... you will be very happy with K&F ND Filters.

I strongly Recommend this Product
29/10/2021
Game Changer !
Been wanting to try these K&F Concept Magnetic Filters since they were announced,
I'm glad I purchased these they're awesome,
Super easy to use and swap when in the field,
Just attach the magnetic ring to your lens and then it's simply a case of attaching the filters with ease and swapping out,
No hassle of having to screw the filters on and off, this is totally a game changer in my opinion, I own a fair bit of K&F gear and these are great quality as always,
I have the k&f square filter kits but these are way easier,
The supplied case is really nice too,
They're not cheap but you get what you pay for, I'm overall extremely happy
26/10/2021
This is going to provide my photos with more emphasis
It arrived earlier than the scheduled date in a good and neat condition, i feel happy with it.I love the variable!
09/10/2021
How to check your lens size
Filter
Series
Nano-X series
Recommended Scenes
Video Shooting/Landscape Photography
Function
1 Second Switch/Light reduction effect
Filter Material
Japanese AGC Glass
Multi-Coating
28 layers
Waterproof
√
scratch-resistant
√
HD
√
Transmittance
0.0156