5 Inch Digital Microscope with Remote Control, 1000x Magnification, Plastic Stand, 1080 FHD USB Microscope with Wifi, Compatible with Windows, iPhone, Android, iPad
Buy KENTFAITH 5 inch digital microscope with remote control, 1000x magnification, plastic stand, 1080 fhd usb microscope with wifi, compatible with windows, iphone, android, ipad online, worldwide free shipping and 30 days return guarantee.

GW45.0031

SKU:

GW45.0031

60.99

https://www.kentfaith.com/GW45.0031_5-inch-digital-microscope-with-remote-control-1000x-magnification-metal-stand-1080-fhd-usb-microscope-with-wifi-compatible-with-windows-iphone-android-ipad
Description
* 【5-inch high-definition LCD screen】1000x magnification, 1920*1080P high resolution, using 2 million CMOS high-definition sensor, you can get high-quality picture quality even in low light environment. The 5-inch high-definition LCD screen allows you to observe directly on the screen without connecting a computer or mobile phone, which is more convenient than traditional microscopes. Built-in 8 LED lights with adjustable brightness to help you see tiny details clearly and brightly in various environments;
* 【Wi-Fi connection】You can connect to the computer through a USB cable, and use the measurement tool to measure accurately. It also supports connecting to a mobile phone or iPad through WiFi, and connecting through WiFi to achieve synchronous display on the mobile phone, which is convenient for discussion. You can also take videos and photos through the app on your phone and share with your clients or friends;
* 【Support connection to PC】If you want to conduct a larger range of observations and facilitate data sharing and analysis, connect to a PC or laptop via a USB cable for a larger field of view, very easy to operate;
* 【Wired Remote Control】Equipped with a multi-function remote control allows you to easily take pictures, record videos, zoom in/out, and make basic microscope settings, using the remote control is a great way to avoid shaking and get great images. (Please connect the remote control and microscope when the power is off);
* 【VERSATILE AND GREAT GIFT】Perfect for circuit board inspection, insects, coins, jewelry, anatomy, gemstones, trichomes, rocks and stamps, watch/clock repair, skin testing, educational inspection for children, textile industry, biological observation, QC Test (not for cellular and medical use), ideal gift for children and adults.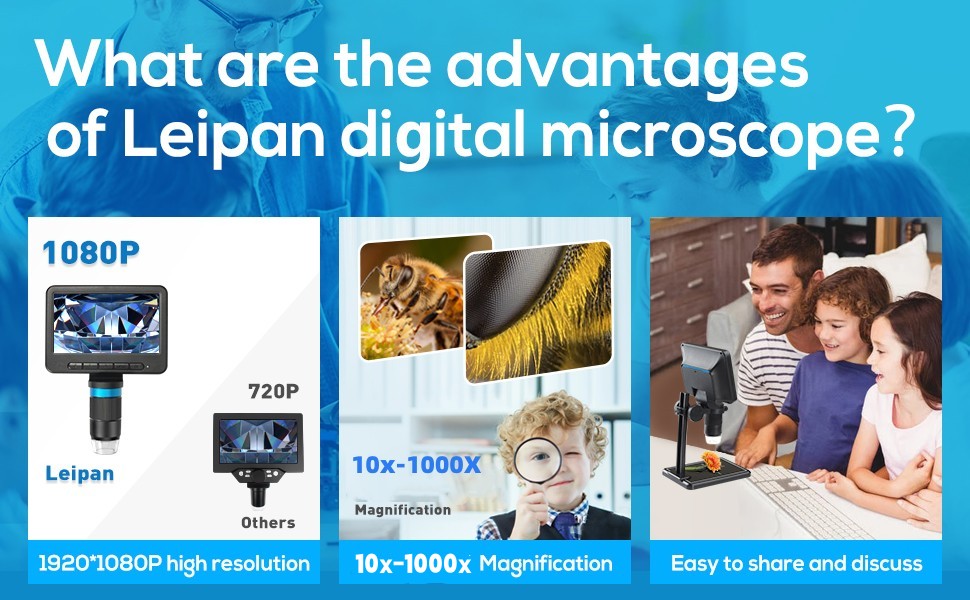 Newest 5-inch LCD WiFi digital microscope
1. HD 1920*1080 resolution brings a clearer picture, upgraded color and brightness conversion, and brings colorful and high-quality images. You will experience a more realistic and clear micro world.
2. Allows you to zoom in and see the tiniest details at magnification range from 10X to 1000X, which will bring a more microscopic world.
3. After connecting to a mobile phone or iPad through the wifi function, the effect of multi-person sharing is achieved. It is also very convenient to share the wonderful images and videos under observation with friends via mobile devices. It can also be connected to a computer for a bigger view,you will be even more amazed at the details of the object.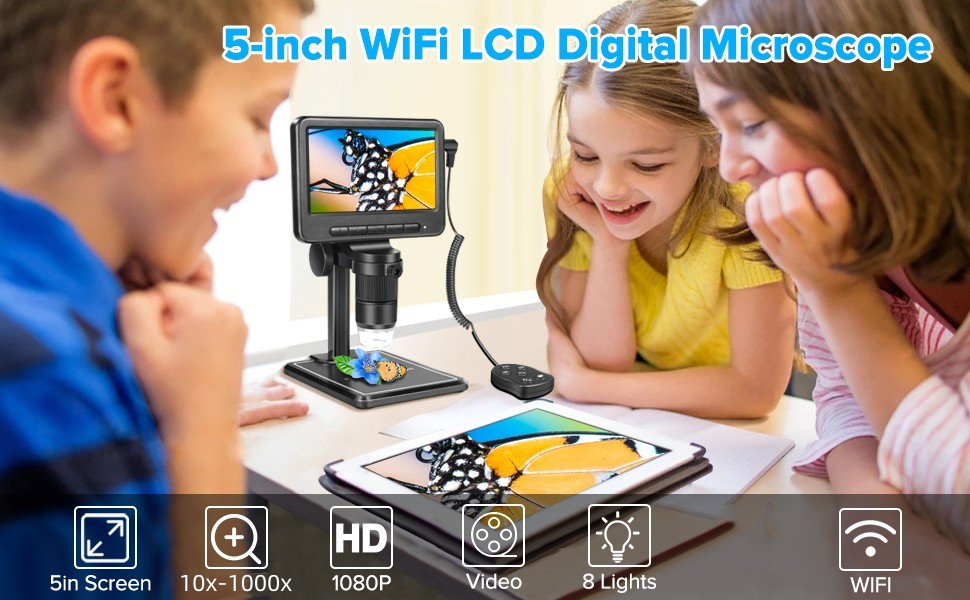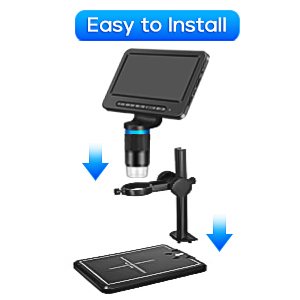 Easy to Install
usb digital microscope is very easy to install and use. It is also very easy for children, and it is a good gift and learning tool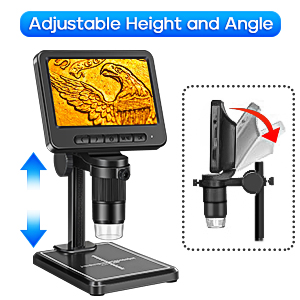 Adjustable Height and Angle
The front and rear adjustable screen and the up and down adjustable stand make it easy for you to find the best viewing angle for observing objects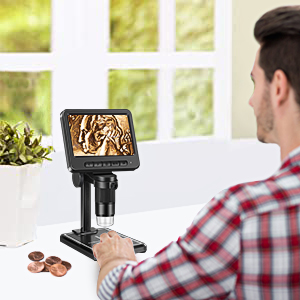 Great Tool for Coin Observation
wireless lcd digital microscope can be used to zoom in on coins and view all details. It is a perfect gift for coin lovers.
Note: Only the part of the coin can be seen, not the entire coin.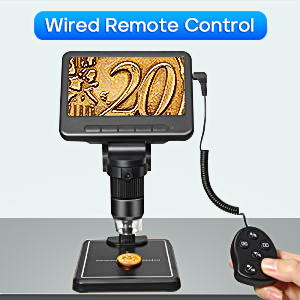 Wired Remote Control
This multi-functional remote control allows you to easily take pictures, videos, access menus, etc. while observing. Conveniently control the wifi microscope without blurring the image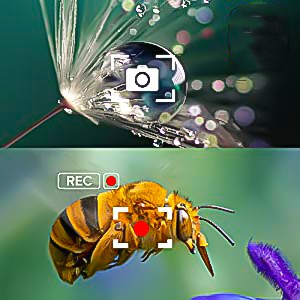 Support Photo and Video
LCD microscope not only has a magnification function, in the video and photo modes, you can capture ultra-clear photos and record high-quality videos.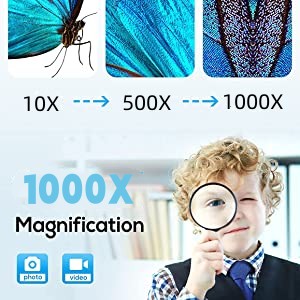 10X-1000X Magnification
microscopio digital can adjust and magnify tiny object from 10X-1000X,you can clearly see the metal surface of error coins,the lines of plants' surface, the joints of insects, the surface of skin and each interface of PCB. It can bring an amazing micro world to you and your kids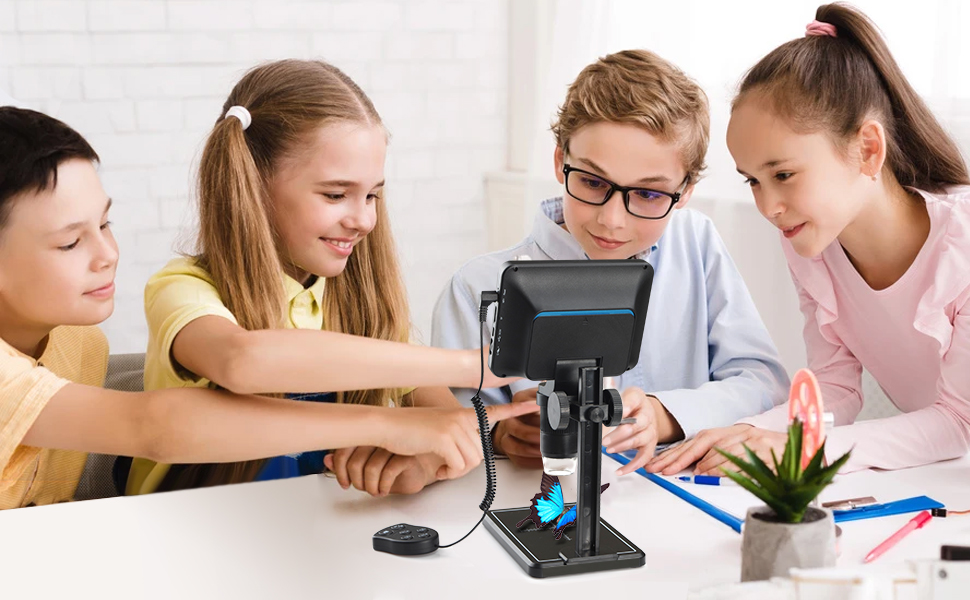 All Reviews
Image

All Star

5 Star

4 Star

3 Star

2 Star

1 Star
child friendly
My 4.5 year old curious son really liked it. Very easy to use (even for a child alone), large screen, light. Thanks to the battery you can take it anywhere
22/01/2023
Very happy with this microscope
Easy to learn on your own as the directions left a little to be desired. Nonetheless, the self-learning curve was relatively easy and the product definitely delivers. Great science learning incentive for kids <10! Good resolution for the magnification listed. Allows for group learning/observing without the tedium of the old eyepiece.
17/01/2023
Fantastic
Great microscope for kids. Easy to use and everyone can gather to watch on the big screen. Don't buy a cheaper one with an eye piece. Children are frustrated. This microscope is great!
29/12/2022
Great for 9 year old!
Our daughter loves this microscope. I was easy to set up and has been fun to use. She has explored our house and yard for interesting things to look at. She has found it easy to operate and a ton of fun.
Side note: prepare yourself....we looked at our toothbrushes and fingernails(after washing even!) and let's just make gagging noises and call it a day.
13/10/2022
Biotechnologist approved
I gave this microscope to my four and a half year old nephew and (with the right company) he can use it and have fun, fueled by great curiosity!
I have to say that you can do many things with the microscope, e.g. B. Taking photos that are saved directly to an SD card and lighting from both above and below. As it has a screen and no eyepieces, it is particularly suitable for children as they can watch together and comment on what they see. In addition to the magnification of the microscope, it adds digital zoom on the screen, which I find very useful.

As well as the microscope there is of course the power cable (which powers the screen and the LED lamps) and a number of slides with various things to look at such as bee wings, insect legs, leaves, seeds and more which are very useful to start with right away to start observing.

All in all an excellent purchase which I hope will be of interest for a long time to come.
26/08/2022
Surprisingly useful
To be honest, I wasn't expecting too much, but I was pleasantly surprised.
Use it for SMD soldering, and partly for watch mechanisms.
You can choose the height (and thus the image section or enlargement) steplessly, and always focus.
Ergo, it is no problem to depict small SMD components in huge sizes, and thus also to read their labeling. Or zoom out a bit and then solder.
The picture quality is also better than I expected. However, the image quality of the live image is much better than that of the photos that the device can take. That's why I also photographed the live view.
17/07/2021
There are no faqs for this product.
gw45.0031 Digital Microscope with Remote Control Feature Showcase
Microscope
Screen Size
5 Inches
Magnification Range
50x-1000x
Resolution
1280*720/26fps
Light Source
8 LEDs
Specificities
Remote Control