72mm Variable ND Filter Kit 2pcs ND2-32 & ND32-512 with Waterproof Anti-scratch Anti-reflection Green Film NANO-X Series
Buy 99$-9$, 199$-25$, 299$-39$, 599$-100$
New customer gift package
Free shipping worldwide
Buy now in the K&F Concept Variable ND filter kit ► 30 Day No Reason Return ► ND2-32 + ND32-512 ► Fast Shipping From UK Free ► NANO-X Series

SKU.1972

SKU:

SKU.1972

116.99

https://www.kentfaith.com/SKU.1972_72mm-variable-nd-filter-kit-2pcs-nd2-32-nd32-512-with-waterproof-anti-scratch-anti-reflection-green-film-nano-x-series
Buy 99$-9$, 199$-25$, 299$-39$, 599$-100$
Description
* 【Function】Adjustable ND2-32 and ND32-512 filters slow down the shutter speed by 1-5 and 5-9 f-stops respectively to extend the exposure time, ideal for video recording
* 【Multi-layer coating】Made of high-quality Japanese optical glass, double-sided 28-layer nano-coating, sandblasting and oxidation, reducing lens reflection and removing glare. Thereby greatly reducing the glare phenomenon caused by the reflection of the external defense line of the long-time exposure lens, ensuring the first-class imaging quality. Waterproof, oilproof and dustproof at the same time
* 【No X-Effect】Variable ND filter frame has min to max locking mechanism and scale value for precise adjustment. The filter can only be rotated about halfway through the min-max range without an X appearing - this limitation is due to physics. (X phenomenon is unavoidable for super wide-angle lenses in the 20mm range)
* 【No Vignetting】The frame is made of aviation-grade aluminum, with a super wide-angle structure design, and the thickness is only 7.6mm, ensuring that there will be no vignetting when using the 16mm wide-angle end
* 【CNC Trapezoid Frame】The surface of the frame is designed with a CNC trapezoidal pattern, which increases rotational friction and facilitates installation and removal
Shipping
Free shipping worldwide
Sale
Buy 99$-9$, 199$-25$, 299$-39$, 599$-100$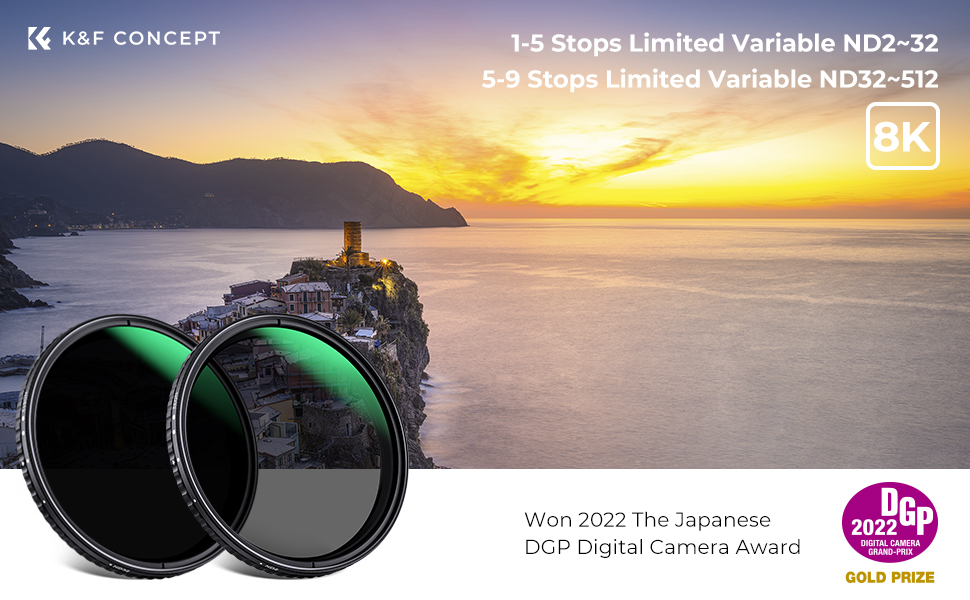 K&F Concept Variable ND2-32 & ND32-512 Lens Filters Kit (2 Pcs) Neutral Density Lens Filter for Camera Lens
Professional Variable ND Lens Filters Kit-------Landscape Photography Must Have!
The K&F Concept Variable ND filters via rotating until you reach your desired effect and shooting. ND2-32 provides 1 to 5 stops and ND32-512 provides 5 to 9 of light reduction control.
Imported Japanese AGC glass with 28 layers of nanometer coatings, while maintaining the high definition of the image.
Each filter with ultra slim frame– 7.6mm. Supporting no vignetting at 16mm focal length.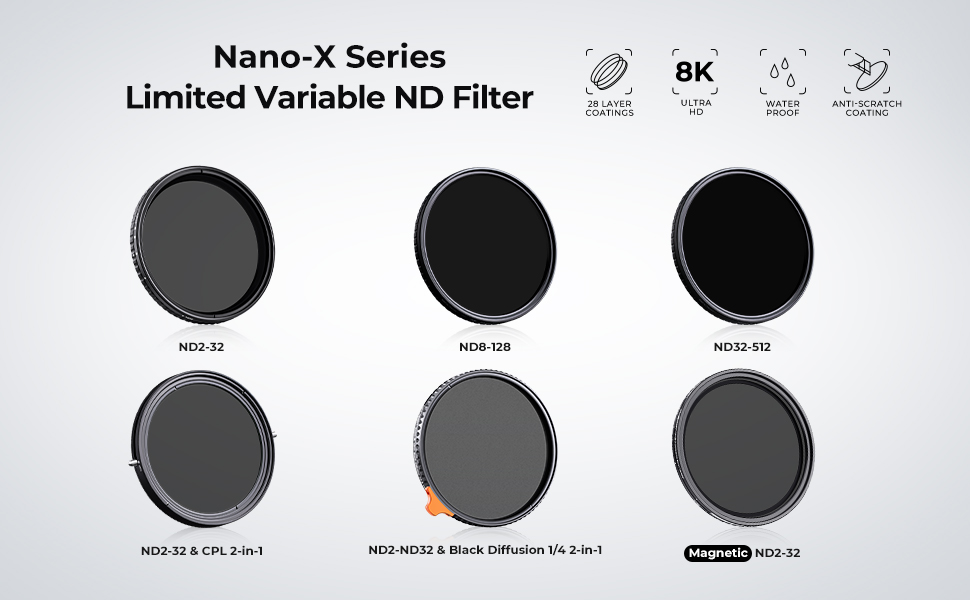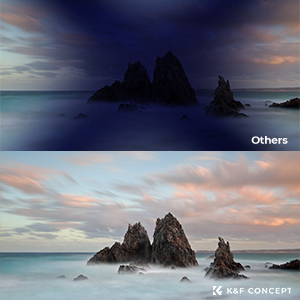 Without "X" Cross
Both filters with frame self-lock design, avoid the common "X" issue on variable nd filter.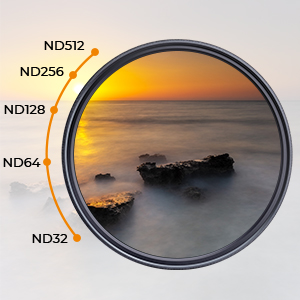 1-5 Stops & 5-9 Stops Light Reduction Combine
The nd2-32 provide 1-5 stops light reduction, fit cloudy day to bright day shooting; The nd32-512 provide 5-9 stop light reduction, for bright day shooting and creats silk movement effect.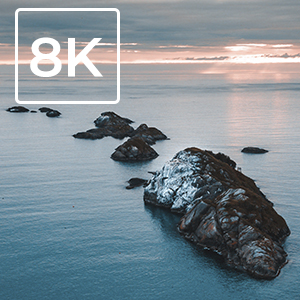 Ultra Definition Image Effect
Made by importing AGC optical glass ensures the high definition image quality.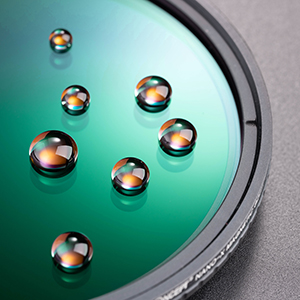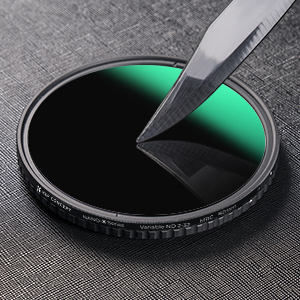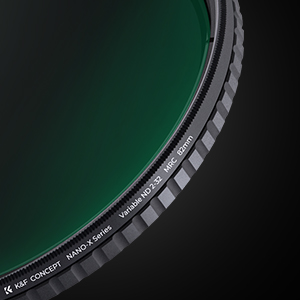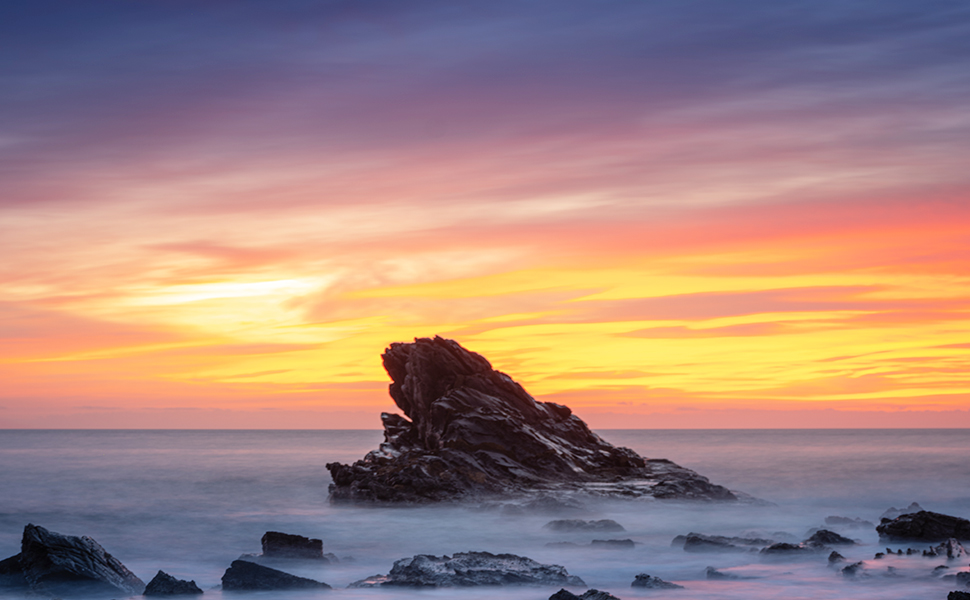 All Reviews
Image

All Star

5 Star

4 Star

3 Star

2 Star

1 Star
Bargain Variable ND Filter
This filter is well constructed with physical stops from the lightest to the darkest setting. This means no more endless spinning of the filter and therefrore prevents the dreaded "X" discolouration.
Because of this it's not the darkest filter (about 4 stops) but its good for most situations. Also the front of the filter is threaded (many arent!) so it is possible to add a lens cap or another filter, for example on rare occaision in really bright conditions I've added solid ND filter to it. Comes in a protective hard case too, great for when you're on your travels or storage. Overall, it's a quality item especially at this price!
22/03/2023
Another excellent product from K&F!
This is my second of these filters I have purchased. Got another lens so needed a different size. Love these filters, easy to use, no 'X' and no colour cast. My photo's and videos benefit greatly from the use of these great Products. Buy with confidence!
18/03/2023
Aweomse life saver of a ND filter
Got this for my gh5 for when I went to Cyprus.
Was literally a life saver with it been so sunny. Didn't notice any colour issues when editing to footage.
Comes in a plastic box feels a bit cheap but does the job for keeping it safe.
Would reccomend to anyone not wanting to spend a fortune on a variable ND filter.
13/03/2023
Does exactly what you'd expect. No 'X' or other issues whatsoever.
I was really worried I'd see an X in my footage when using this ND filter as other people have complained about this but I can confirm that there are absolutely no issues with the filter. I love the fact that is has a hard stop. It's so easy to screw it onto the lens and take it off. I'd definitely recommend it to anyone!
07/03/2023
Recommend
Came in a beautiful box
Smooth and high quality
I'm very happy about the product
Thinking to buy one more for another lens.
05/03/2023
Excelente calidad
Este filtro lo uso con un lente 56mm f1.4 para fotografía de retrato, sesiones, etc. Y funciona perfectamente, no pierde calidad en las imágenes. Así puedo tomar fotos aunque haya mucha iluminación sin pasar de 1/250s
21/01/2023
Use this
This is a must have item in your camera bag and for a fraction of the cost of other brands of Variable ND filters.So far I have tested it with several lenses and 3 different cameras using step down rings in low light and bright mid day light from the lowers ND2 all the way up to DN32 and so far have not seen any X pattern. A huge issue with many a variable ND filter, even with the really expensive ones.Color cast is insignificant too, but like ALL lower end ND filters there will be a color cast, hell even a $500 one will have some kind of color cast, again at a fraction of the cost to have a barely noticeable color cast, or at least one that can't be easily corrected in LRThe only real issue with this is if you are using the filter with the same thread size as your lens the vignetting is a little bad at both extremes, unless you zoom in with your lens. SO I bought the 77mm one for my old Canon 24-105 that has a 77mm thread on a full framed camera, and at the extremes of the ND filter and when my lens is at it's wider focal lengths the vignette is somewhat an issue, again a vignette is still easier to work with than the dreaded X pattern.Now adays I am shooting with Sony mirrorless and every lens I shoot with on my full framed camera is less than 77mm threading and the vignetting is no longer an issue at any range of the filter and at any focal length of the lens and I have been shooting the dang thing A LOT with my Sony.Crop sensor cameras should not have the vignetting issues with this filter.Above are some of the photos I have taken with the filter including my Canon 5D series and my Sony A7R series. The first 3 are of my Canon and the second 3 are my Sony
28/07/2021
Amazing and fast shipping to India
It took only 22 days to reach my doorstep in India. The product feels outstanding and my experience was 10/10. Fully satisfied.
24/06/2021
Great filter very recommend it
Images and video look even and no color distortion
16/02/2021
Great ND with no X problems
This filter is great, feels well built, and comes with a sturdy and protective case. I noticed very little color shifting for video work and the range of ND is good.
08/02/2021
There are no faqs for this product.