72mm ND4-ND64 (2-6 Stop) Variable ND Filter and CPL Circular Polarizing Filter 2 in 1 with 28 Layers of Anti-reflection Green Film, Two Orange Levers, Imported White Cloth Nano-X Series
Terms
Terms and Conditions:
Coupons are valid for a limited time only. Kentfaith reserves the right to modify or cancel coupons at any time.
You must purchase the qualifying items added to your Cart when the coupon is in effect for the discount to apply.
If you later modify or cancel the subscription or delivery date for the qualifying item, the discount will not apply.
The coupon applies only to qualifying items displaying the coupon offer.
If you buy more than one item from the same coupon, the maximum discount amount of the coupon will be equal to either the percentage discount off or the face value of the coupon on one eligible item. The coupon may only be used on www.kentfaith.com.
The promotion is limited to one coupon per customer.
If you return any of the items purchased with a coupon, the coupon discount or value may be subtracted from the return credit.
Buy 99$-15$, 199$-30$, 299$-50$, 599$-120$(autumn sale Price)
To
United States
Expedited Shipping
3-5
business days
Buy now in the K&F Concept 28 Layers 2 in 1 Filter ► 30 Day No Reason Return ► ND4-ND64 & CPL ► Fast Shipping From US Free ► Nano-X Series

KF01.1916

SKU:

KF01.1916

85.99

https://www.kentfaith.com/KF01.1916_72mm-nd4-nd64-2-6-stop-variable-nd-filter-and-cpl-circular-polarizing-filter-2-in-1-with-28-layers-of-anti-reflection-green-film-two-orange-levers-imported-white-cloth-nano-x-series
Buy 99$-15$, 199$-30$, 299$-50$, 599$-120$(autumn sale Price)
Description
* The lens is made of top Japanese optical glass, and the lens is coated with 28 layers of nano-coating on both sides, which is waterproof, oil-proof, scratch-proof, and anti-fog. The lens adopts grinding and polishing technology on both sides to ensure ultra-high-definition, and the sharpness of the image is not damaged.
* The frame adopts self-locking technology, which is infinitely rotated by 2-6 steps, which is convenient for light reduction and positioning, and at the same time avoids the phenomenon of black crosses. The frame is equipped with a push rod, which is convenient for customers to adjust the gear size. For users who shoot video, it is helpful to automatically adjust the light reduction gear through auxiliary tools.
* The surface of the frame is designed with CNC trapezoidal pattern to ensure that consumers increase friction in a large area when rotating, and install/remove lenses and other accessories anytime and anywhere.
* The surface is treated with oxidation sandblasting, which can effectively avoid the entry of stray light to the greatest extent, and is used to reduce reflection
* The product is equipped with a storage bag, which is convenient for customers to store when going out for shooting. The side pull structure follows the design style of the square storage bag, which is easy to take out.
Shipping
To
United States
Expedited Shipping
3-5
business days
Sale
Buy 99$-15$, 199$-30$, 299$-50$, 599$-120$(autumn sale Price)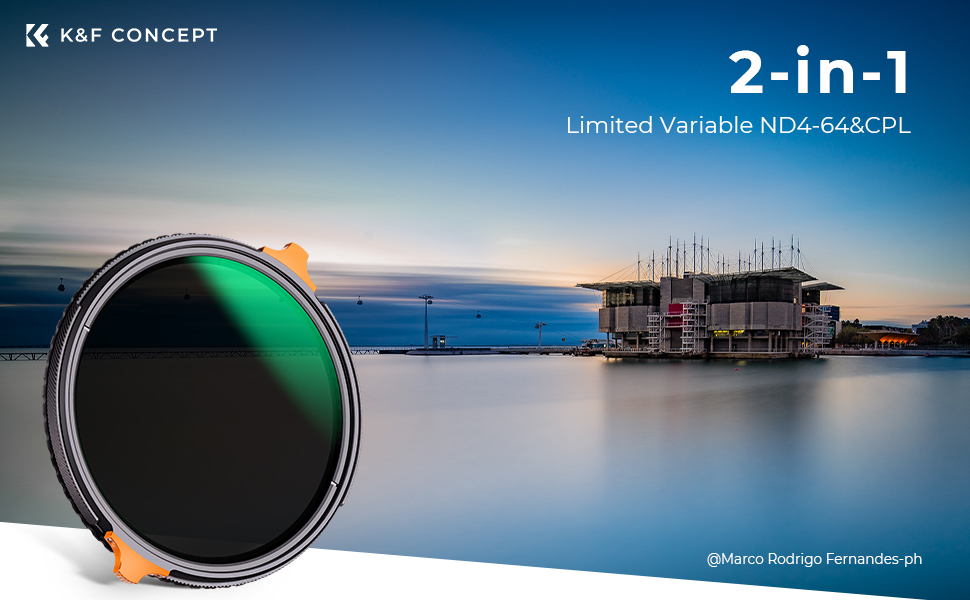 K&F Concept Variable ND4-64 (2-6 Stop)& Polarizing Filter Function 2-in-1 for Camera Lens with 28 Multi-Coated
• Variable ND4-ND64 : Provides 5 stops adjustable, from ND4/ND8/ND16/ND32/ND64, wide application scope.
• CPL Filter : Generally be used on enhance color and contrast , especially for on white cloud and blue sky photography.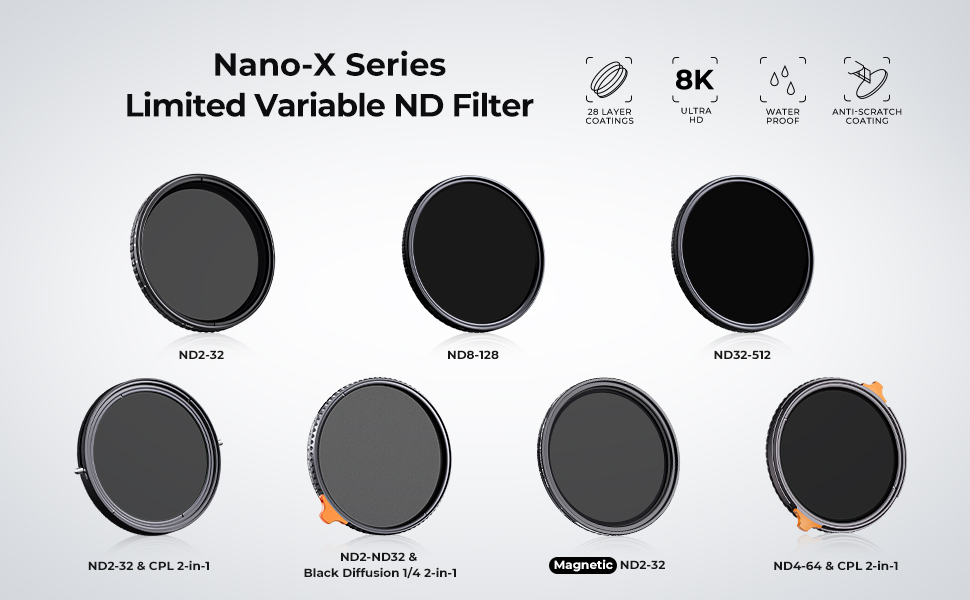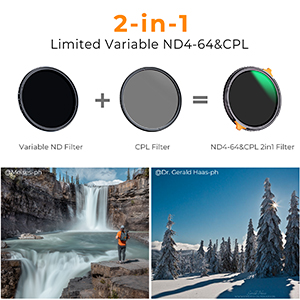 CPL & ND Function 2-in-1
One filter both has a light reduction effect and also can enhance the color and contrast.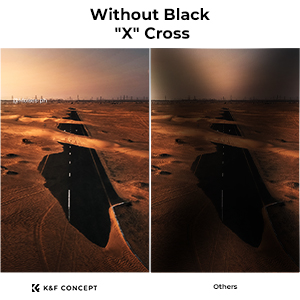 Without Black 'X' Cross
K&F Concept with utilized technology to solve the common issue on variable nd filter- black X cross, utmost to avoid it on the wide-angle lens (16mm).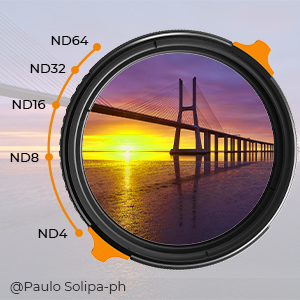 2-6 Stops Adjustable
This filter can be adjusted from nd4-nd64, widely applied, from a cloudy day to an extremely bright day, and fit all your photography light reduction needs.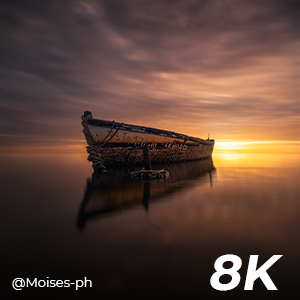 Imported AGC Glass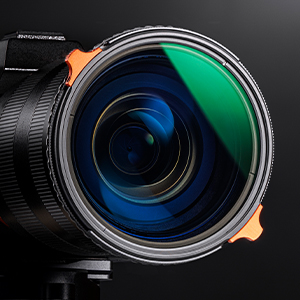 28 Layer Coatings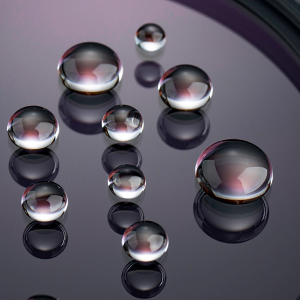 Waterproof & Scrach Resistant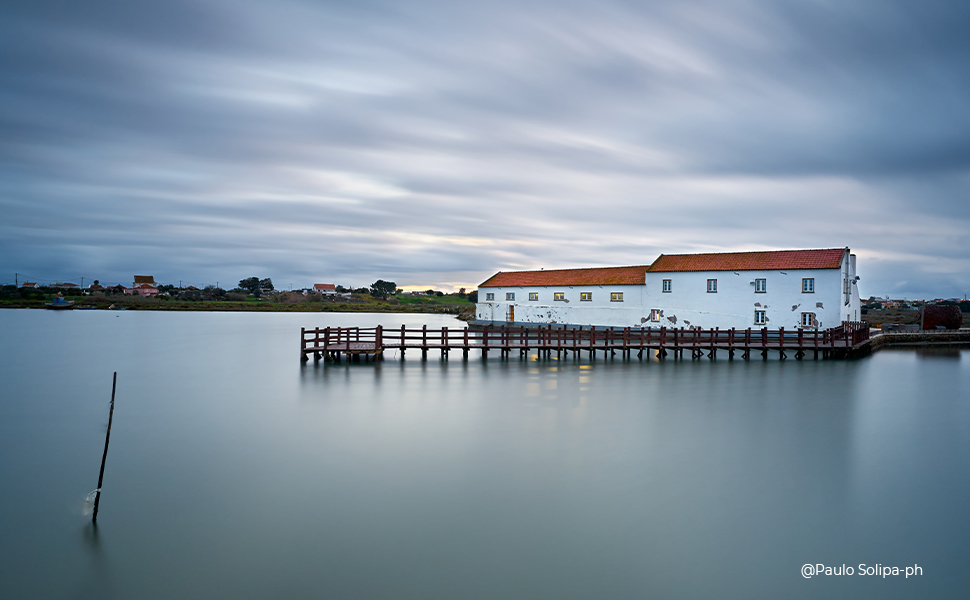 All Reviews
Image

All Star

5 Star

4 Star

3 Star

2 Star

1 Star
Love em
I was hesitant as I have never used filters before but this one is awesome. I love the fact I can make it darker or lighter just with the rotator.
18/08/2023
Interesting Combo Filter
I usually use fixed ND filters with a separate CPL but my filters went missing on a shoot. Instead of replacing them all, I decided to try this combo filter. I had mild expectations, and it has exceeded them. I thought it would be thick and possibly vignette. It is actually thin and even when stacked with a UV filter no vignette. The clarity and build are exceptional. It also comes with a really nice filter case. I do have one criticism on the design. There are 2 finger tabs. I figured on was for the VND and one for the CPL, but they are both for the VND. To adjust the CPL you have to turn rim of the filter, which is hard to do without moving the VND. A finger tab on the CPL would be helpful.
18/05/2023
Excellent variable ND + CPL filter combo.
Really nice 2 in 1 variable ND and CPL filter. The inclusion of the two putters makes it exceptionally easy to make adjustments one way or the other, depending on what you're adjusting. Turning the filter clockwise changes the density between ND4-64, while turning the filter counterclockwise adjusts the polarizer effect.

I find the 6 stops between ND4 and 64 to provide a very versatile range that works for 99% of the things I'm shooting. The adjustment is smooth, and the density changes evenly and consistently throughout the entire field of view.

The polarizer adds much needed functionality and eliminates the need to stack an additional CPL on to the ND filter.

I experienced no color shift or vignetting while using the filter.

Filter comes with a nice storage case as well.

Overall, excellent performance. RECOMMENDED>
17/05/2023
Great combo filter
The putter on the frame comes in really handy. Honestly, I think that a lot of filters need something like this to make the experience of adjusting the filter much better.

In the past, having to screw on two different type of filters on my camera seemed like a daunting task, and with this filter one of those steps is removed, so I'm grateful for that.

I absolutely recommend this if you're looking to have both an ND filter and a CPL filter in one. It saves you a hassle!
16/05/2023
Great buy!
I've always liked k&f for their affordable camera gear, but this time they've outdone themselves! Beautiful packaging and presentation, which really make it feel more premium! The filter works like a sharm with my Nikon d5300 and the 18-35mm wide angle lens.. Does darken the sides when it's all the way, but for me that's not a problem.. If you're looking for a 2-in-1 CPL & ND filter, this one won't disappoint !
15/05/2023
Great Mash-Up for Landscape Photography
This is a really nice design for us landscape photographers. A 5-stop variable neutral density filter with a circular polarizing filter built in. It's all packaged in a single thin package, made from high-quality glass, that's also scratch-resistant and waterproof. In the field, it's easy to work with, very convenient, and no filter stacking is needed. It operates smoothly, just twist to adjust the ND or the CPL. The filter comes in a very nice case and is well-packaged. Overall, a great design that is an excellently constructed tool that should last you a lifetime (barring accidents or abuse).
13/05/2023
Excellent & Convenient
This is an excellent quality circular polarizer and variable neutral density combination filter by K&F. I got the 77mm to cover most of my lenses by using step-up rings. The smallest filter size will be 52mm, seen in the photo. The filter is excellent for all it does and it's reasonably priced. It's much more convenient than separate filters; faster to use and less to carry in your bag. Also, this will work with some wide-angles that would be a problem when stacking multiple filters. The build quality of the filter is excellent. A leather storage case is included. There's some very slight vignetting and color shift starting at 4 stops which increases with more ND filtration. That is expected and can be dealt with in post processing if desired. Image clarity and sharpness is not affected. This filter outperforms other CPL+ND filters I've used.
13/05/2023
Combination ND and CPL Filter Very Handy for all Content Creators
The K&F Concept Circular Polarizer and Neutral Density Filter offers the convenience of two quality useful filters in one, at a reasonable price.

The neutral density filter provides between 2 to 6 stops of light reduction, more than enough when wanting to slow your shutter speed for video or specific type of photography, like waterfalls.
Similarly, the circular polarizer removes glare and enhances color and contrast.

Although the filter did not come with instructions, using it is easy, and the outer rim of the filter is clearly marked to indicate the amount of light reduction. Turning clockwise changes ND levels, and counter clockwise is the circular polarizer.

The rotation of both the ND filter and circular polarizer is smooth and even, and the frame, which is made of aluminum alloy, is well-machined and screws easily into the lens. Overall, the filter appears very well made and it even comes in a very nice (leather looking) carrying case.

Bottom line, this is a very useful and convenient filter to have in your kit. Content creators of all types, video and photos, will appreciate the ability to reduce light for video and different types of photography, and increase contrast and color vibrancy.

Highly recommended!
10/05/2023
Great build quality and par for the course with color shift
Out of the gate the first thing you'll notice is the build quality on this filter. It it feels really solid in your hand, there are no loose parts and has a good weight to it. I like how it has little grip extenders that you can grab a hold of to turn the filter. As the filter does need a little bit of pressure to turn it, it's nice to have these so your fingers don't slip. I like how it has hard stops on the ND filter so you don't accidentally turn it too far, which can mess up your image really quick regardless of what brand filter you're using.
10/05/2023
Another one from K&F
K&F is showing off at this point. Their VNDs are top notch. Quality glass, amazing build quality and construction, sharpness and color retained in images and no cross polarization. Great for keeping your kit light if you don't want to cycle through all sorts of NDs or if you plan on doing some long exposure shots. Not as great for long exposures as say an ND 1000 but good enough. Rotation through the VND range is smooth but the filter has a nice amount of resistance/friction to keep the ring from slipping into another VND stage, so that's always great. You want to shoot the image that you see. This is a great addition to your kit for your 82mm filter thread lenses. Awesome for video as well, just make sure you get an IR Cut filter to place directly on your lens before attaching this. Not all sensors come with a great IR Cut filter.
08/05/2023
There are no faqs for this product.
Variable ND4-ND64 & CPL 2-in-1 Filters