M9 Wireless Lavalier Microphone Plug-Play Noise Reduction Auto-Sync
Out Of Stock
Product Unavailable
No Cancellation Fee
Buy 99$-9$, 199$-25$, 299$-39$, 599$-100$
New customer gift package
Free shipping worldwide
Brand:

KENTFAITH

Buy KENTFAITH m9 wireless lavalier microphone plug-play noise reduction auto-sync online, worldwide free shipping and 30 days return guarantee.

KF10.049

SKU:

KF10.049

20.99

https://www.kentfaith.com/KF10.049_m9-wireless-lavalier-microphone-plug-play-noise-reduction-auto-sync
Buy 99$-9$, 199$-25$, 299$-39$, 599$-100$
Description
* 【Plug & Play Wireless Lavalier Microphone】 Say goodbye to cluttered cables, this wireless lavalier microphone simply plugs the receiver into your phone, the M9 wireless microphone automatically matches immediately and you can start recording or shooting. No APP and Bluetooth Needed, plug and play anytime, anywhere.
* 【DSP Intelligent Noise Cancelling】 Built in DSP intelligent noise cancellation, high signal-to-noise ratio (SNR) and anti-vibration sound chamber. In the outdoor can also maintain a vocals clearly, bid farewell to the influence of ambient noise, to avoid the embarrassment of speaking loudly.
* 【Transmission Technology with Smart】 2.4 GHz transmission technology to achieve no interference, stable, low delay wireless transmission. You can walk around freely, easily achieve 65 feet of remote wireless audio and video synchronization, effectively solve the various situations in the live broadcast, to provide you and your fans with a better viewing experience. Also, it can provide 8 hours of battery life.
* 【Wide Compatibility】 The professional grade Wireless Lavalier Microphone is compatible with iPhone/iPad with Lightning Connectors, is suitable for Live Broadcast, Recording, Interviews, Vlogging, Podcast, YouTube, TikTok, Facebook etc. Professional designed for Creators, Vlogger, Blogger, interviewers, online teacher, etc. (NOTE: the latest version of 11 inch and 12.9 inch iPad Pro with type-C port not supported).
* 【Auto-sync Real-time & Portable Design】 Adopt the real-time auto-sync technology, which effectively guarantees that your video can be synchronized with audio and image, can be received in real time, get rid of the trouble of frequent rerecording. Small and portable wireless microphone, the design of the lavalier type, the weight of this microphone is only 11g, it seems to not feel to weight, clip directly onto collar for use, very portable, say goodbye to the messy cables.
Shipping
Free shipping worldwide
Sale
Buy 99$-9$, 199$-25$, 299$-39$, 599$-100$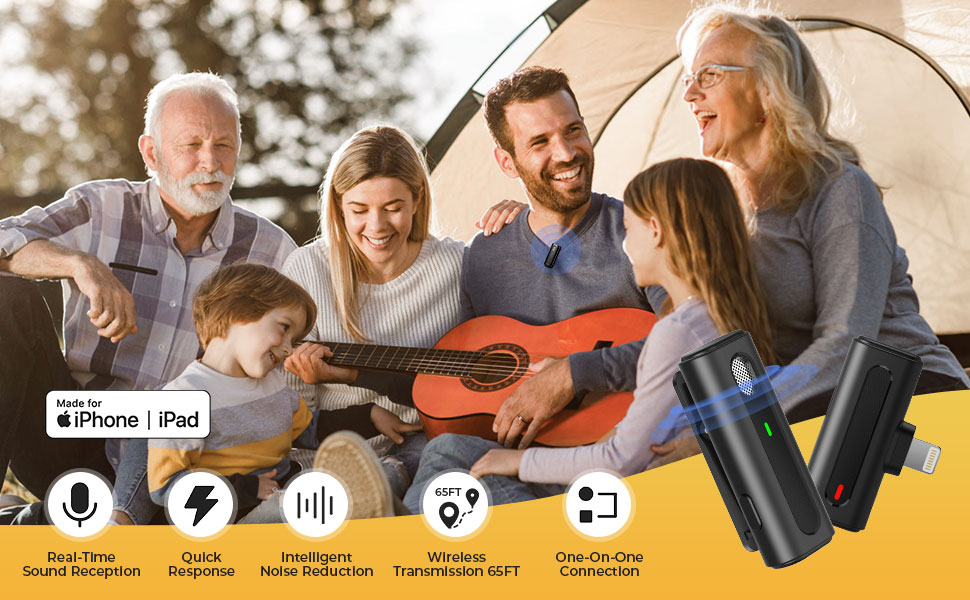 PLUG-and-PLAY Wireless Lavalier Microphone - Provide you with a High-Quality Recording Experience
Throughout our long lives, we often record every moment of our live. But usually when recording is often troubled by cables.
Let's say goodbye to messy cables, this lightweight and portable Wireless Lavalier Microphone solves all problems.
It not only improves the quality of audio video recording, but also provides stronger signal and noise reduction fidelity, reducing the possibility of Bluetooth or WiFi interference.
Professional wireless lavalier microphone for Live Streaming, YouTube, TikTok, Facebook, Vlog, Video Recording, Interview.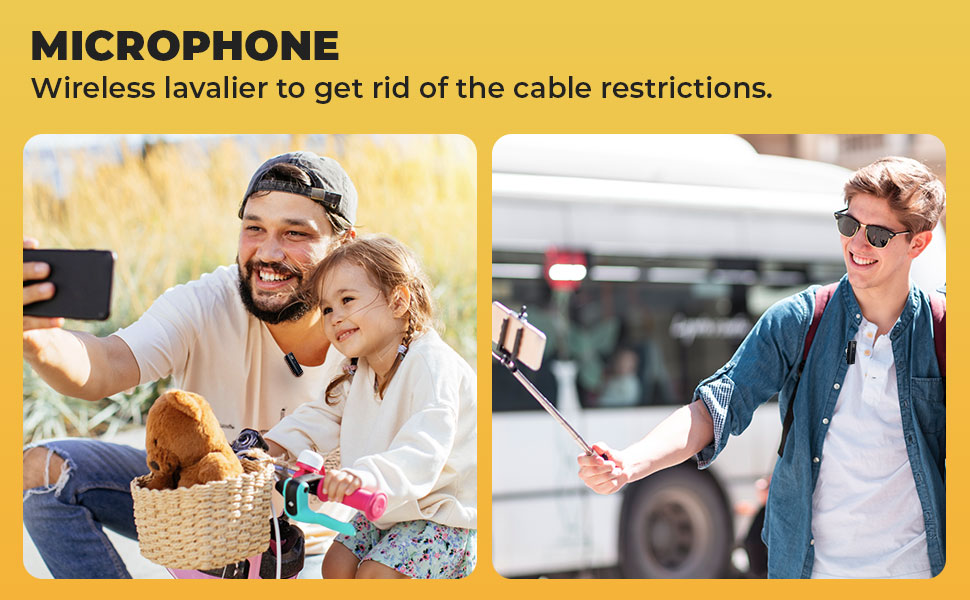 YOU MUST KNOW BEFORE ORDER
· No APP or Bluetooth is required. Easy to use, just plug and play.
· Only compatible with your iOS device with lightning port. (NOTE: The wireless lavalier microphone is not compatible with USB-C iPad series. )
· If you want to hear the video back, please first unplug the receiver.
· If you want to output music while recording video, please use another device. (The device connected to the receiver can not output music.)
· Please note that this mic does not support phone calls and online chatting.
---
Precautions for Use:
1.The receiver does not need to charge, it just gets power from the iPhone/iPad.
2.The receiver comes with a lightning port. This design makes your iPhone/iPad could still be charged while recording via the lightning port.
Note: The Type-C charging cable in the package is only for the microphone transmitter.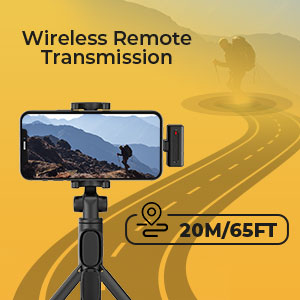 2.4GHz Wireless Transmission Technology
Adopt the new 2.4GHz wireless transmission technology, which can achieve interference-free and stable wireless transmission of up to 65ft(20M without obstacle).
With this wireless lavalier mic you can walk around freely, you don't have to worry about short distance for recording sound. Move around freely when doing video recording!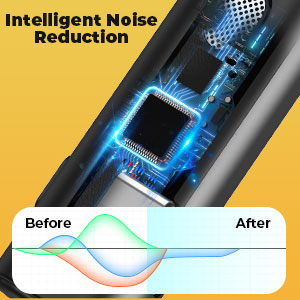 Intelligent noise reduction technology
Built-in DSP professional chip, strong anti-interference ability, this microphone effectively identify the original sound, so that you can easily present a clear voice in a noisy environment, for you and your audience fans and followers when watching the video to provide a better experience.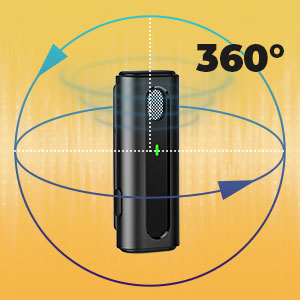 Professional recording quality
This Omnidirectional Lavalier Supports high Frequency Range: 44.1~48kHz allows you to capture clear sound around your Microphone in 360° Omnidirectional pickup mode. The Lapel lavalier mic is featured highly sensitive sound pickup mic head, Which help the mic pick your voice with a higher sample rate, it can help the microphone take your voice at a higher sample rate and restore your voice without any distortion.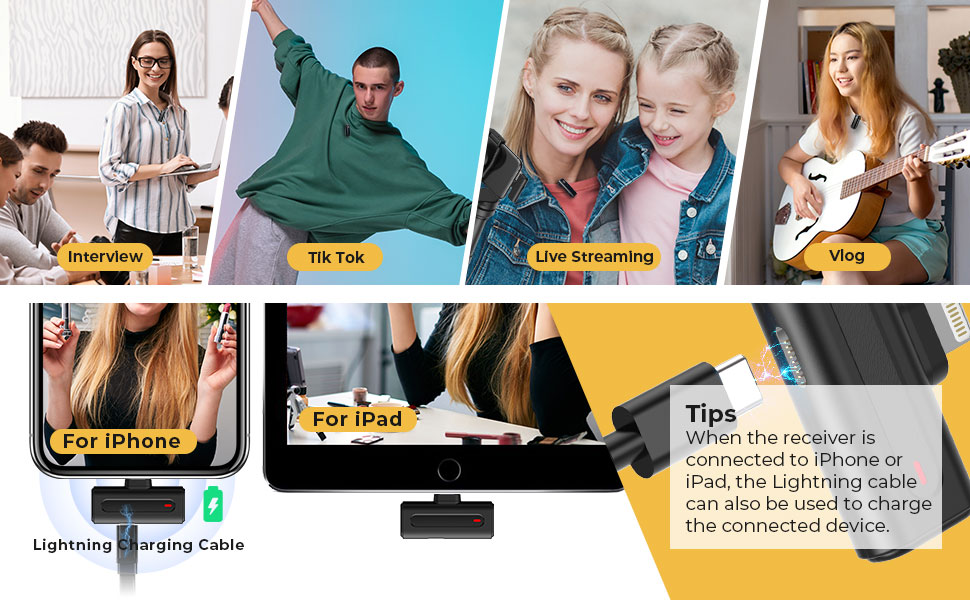 There are no reviews for this product.
There are no faqs for this product.