K3 One Drag Two Wireless Lavalier Microphone for iPhone 14 pro, 2.4G Noise Reduction, Plug and Play Wireless Lavalier Microphone for YouTube TikTok
Brand:

KENTFAITH

Buy KENTFAITH k3 one drag two wireless lavalier microphone for iphone 14 pro, 2.4g noise reduction, plug and play wireless lavalier microphone for youtube tiktok online, worldwide free shipping and 30 days return guarantee.

KF10.042

SKU:

KF10.042

29.99

https://www.kentfaith.com/KF10.042_k3-one-drag-two-wireless-lavalier-microphone-for-iphone-ipad-2-4g-noise-reduction-plug-and-play-wireless-lavalier-microphone-for-youtube-tiktok-interview-live-video-recording-level-3-noise-reduction-auto-sync
Description
* 【2 Mic 1 Receiver】- Including 2 transmitters and 1 receiver, can record two sound sources at the same time. Of course, you can also use the microphone alone. Just clip the wireless mic to your collar, plug the receiver (Lightning port) into your device, and they'll connect automatically.
* 【Plug and Play】Mini Lavalier Microphone does not need APP or Bluetooth, just plug the transmitter into the device and they will connect automatically.
* [Level 3 noise reduction] The wireless lavalier microphone has a built-in smart chip to achieve level 3 noise reduction, and different levels can be selected according to the use environment. Perfect for YouTube/Facebook Live, TikTok creators and other video recording enthusiasts.
* 【Long Working Time and 60ft Audio Range】- Built-in rechargeable battery, each microphone can be used for up to 4-6 hours after charging for about 2 hours. Easy to connect, with signals over 60 feet, real-time auto-sync technology, and 0.009 second transmission delay, helping you reduce power failures and record or shoot video clearly at longer distances.
* 【iPhone/iPad only...】 - Mini Lavalier Microphone for iPhone 6/ 6 Plus, iPhone 7/ 7 Plus, 8/8 Plus, X/XR/XS/XS Max, 11/ 11 Pro/11 Pro Max, 12/12 Pro/12 Pro Max, 13/13 Pro/13 Pro Max, iPad 2nd/3rd/4th gen, iPad Air series (except 4th generation), iPad Mini (except 6th generation), iPad Pro series (1st/2nd/3rd gen 11in. The 3rd/4th/5th gen 12.9in) [iPad not supporting type-c port]
Shipping
Free shipping worldwide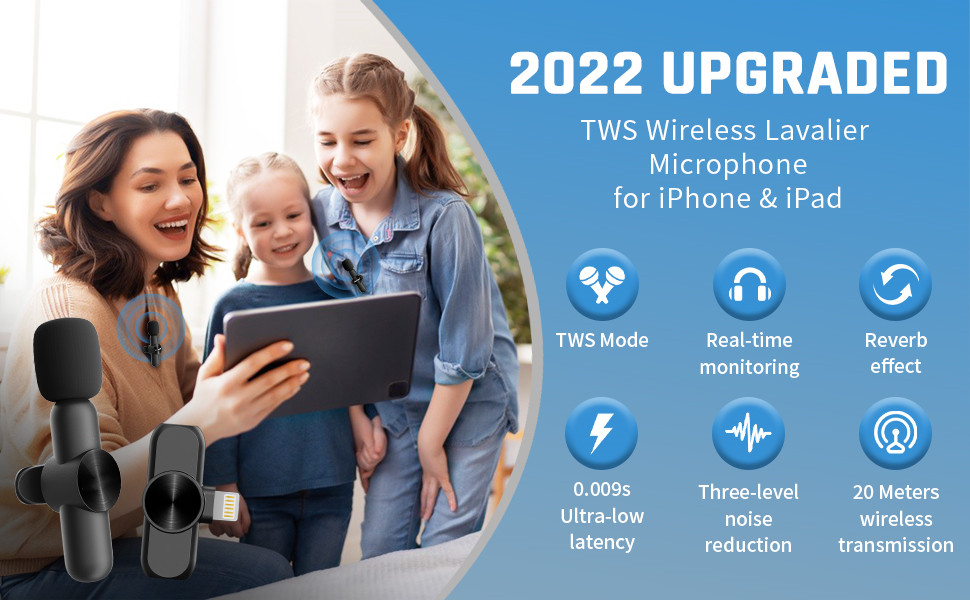 Wireless Lavalier Microphone for iPhone
Say goodbye to messy cables and poor noise cancellation, just plug the receiver on your iPhone or iPad. Tiny and handy microphone makes you more convenient to record in any places.
BEFORE ORDER SOMETHING YOU NEED TO KNOW:
Before you listen to the recorded video, you must unplug the receiver at first.
The receiver only compatible with lightning port iOS device. This is not compatible with the USB-C iPad series.
NOTE: The wireless lavalier micr does not support phone calls and online chatting.
The wireless lavalier microphone can not output music while recording video, if you want please use another device. (The device connected to the receiver can not output music.)
AFTER ORDER YOU WILL GET:
2 Transmitters and 1 receiver, can record two sound sources at the same time.
3-level noise reduction microphone, you can use it wherever.
No APP or Bluetooth is needed, it makes so easy to connect, just plug and play.
Live stream is supported, such as Facebook, Youtube, Instagram live stream
How To Confirm Whether The Microphone Automatic Pairing With Your Device Successfully?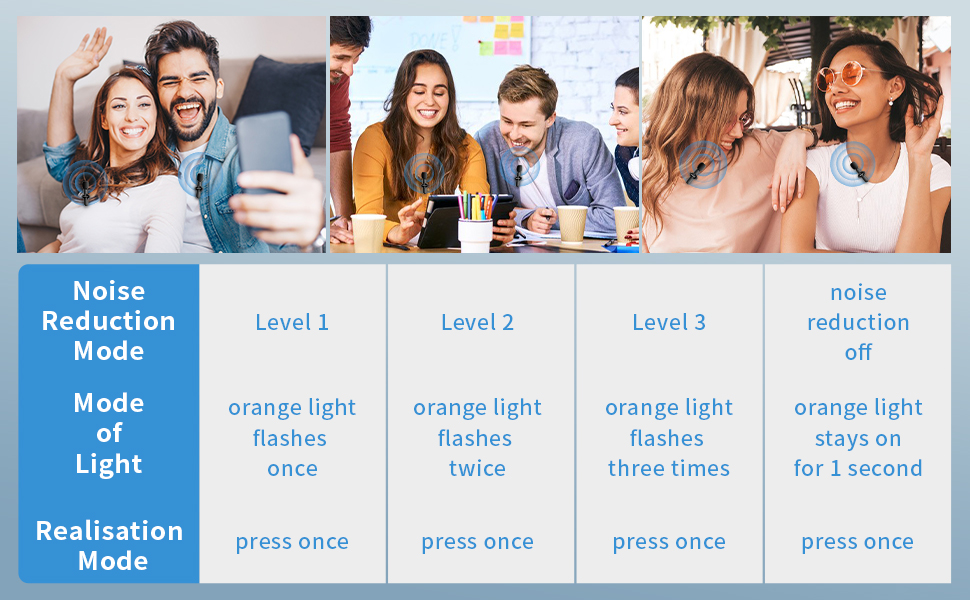 How To Use Other Modes?
Mute: After the connection is successful, double-click the transmitter power button to switch to mute state, green light turn off. Double-click the transmitter power button again to unmute, and the green light will stay on.
Reverberation function: In the connected state, three-click the power button to turn on the reverberation, and the green light flashes. Three clicks to turn off the reverb, the green light is on.
Shut down: long press the power button for 3 seconds. (Note: If the transmitter is not connected to the receiver within one minute, it will enter the shutdown state.)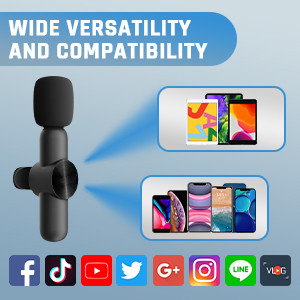 Compatible with iPhone 7/ 7 Plus, 8/8 Plus, X/XR/XS/XS Max, 11/11 Pro/11 Pro Max, 12/12 Pro /Pro Max, 13/13 Pro/13 Pro Max and iPad 2/3/4, iPad Air series, iPad Pro series. (NOTE: Except USB-C iPad series.)
---
It is designed for all of the YouTubers, TikTok Creators, Vloggers, Bloggers, Interviewers and Other Video recording lovers.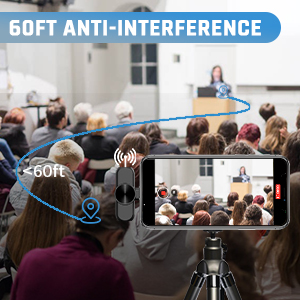 Easy to connect and cover 60FT for signal, 0.009s delay in transmission, helps you reduce power trouble and clearly recording or taking video at a further distance.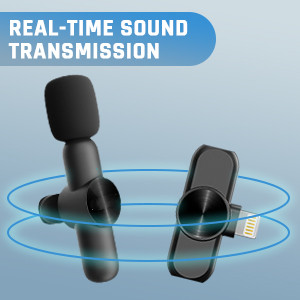 Built-in real time monitoring function, you can test whether it is working normally during recording and monitor the audio status to complete the recording at one time.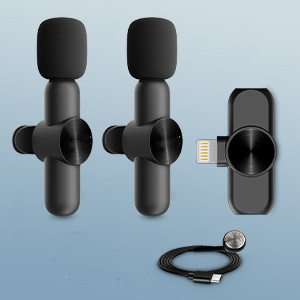 Packing list
The package included 2*microphone, 1*lightning port receiver, 1* charging cable, 1*use manual.
Extra Long Battery Life
Battery life is up to 6 hours with 2 hours full charging time. No matter indoor or outdoor, you can easy to use this mic, perfect for on the go recording.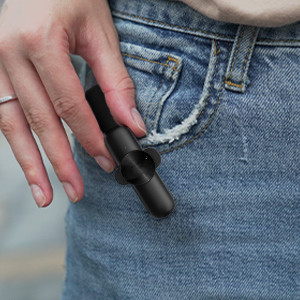 Easy to carry on
Little Finger Size, the compact body won't take up so much room or adding to much weight to you when carrying around. Mini Metal Clip allows you to easily clip it to your collar or pocket. No Need APP or Bluetooth or Messy Cables.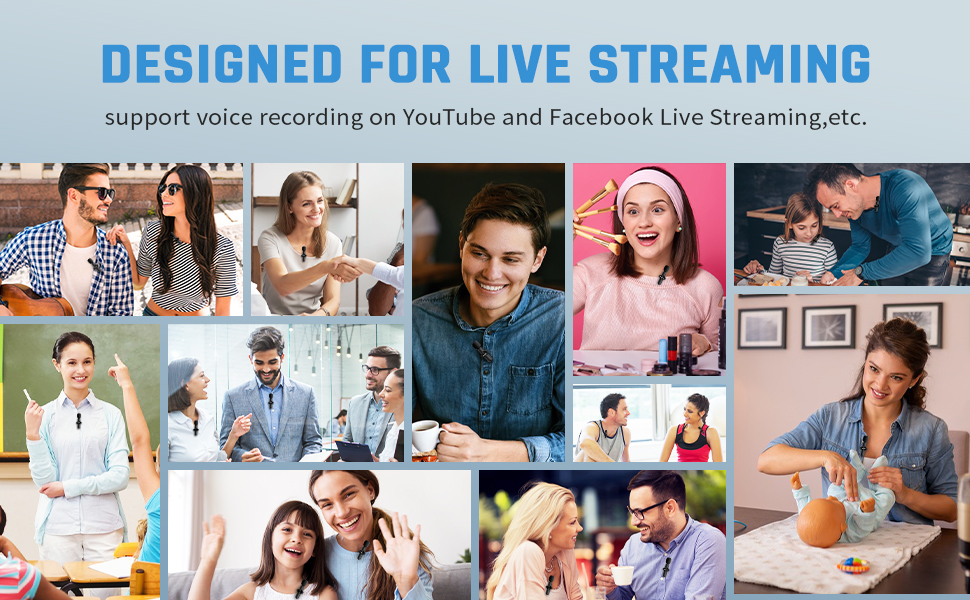 All Reviews
Image

All Star

5 Star

4 Star

3 Star

2 Star

1 Star
Interviewer's dream
These are so easy to use and perfect for my Youtube and TikTok channels. I do interviews with people and it makes it super nice to be able to just plug the receiver in, put the mics on our shirts and get going. No wires or anything. The quality is better than what I get on my phone alone so I'm super happy with that. I haven't had the chance to extensively test the battery life with these but so far the batteries have lasted through the entirety of all my interactions.
30/03/2022
Worked but a bit tin sounding. Better than others.
They worked and canceled out the wind in an interview I did outside with a bike rider I rode next to riding down the road… so there was lots of wind noise but it almost all canceled out. Impressive at the default level 1.I'm picky but I spent years in broadcasting with professional microphones in radio and television … the frequency response isn't as good as I would expect from my iPhone microphone which is excellent. These mics are at the lower end of the wireless microphone price points and it shows with a bit of a compromise in audio quality.When you play it back you become acclimated to the thinner slightly tin like sounding audio but if you're just doing voice and not music like I do it seems adequate.They were better than other wireless mics I have tried that were in this price range.The batteries held up nicely for over an hour of use.It's really great that you have two mics so that the interviewer and the interview subjects audio match.Nice that they sent you an extra set of clips because they're plastic and not metal like professional grade mini Mics and that way you have two spares in case you break some going over a piece of large fabric or a zipper trying to clip them on to an interview subject.
28/03/2022
Simple and Easy to use. Basically just plug n play.
Very simple mic setup with my iPhone. Ordered it to do quick vlogs and interviews. A+ communication from seller. He answered all me questions.
22/03/2022
ideal microphone for creating interviews and videos
The sound quality is excellent! For a long time I have been looking for a product that offers me quality, ease of use and that is light. I love this mic. I have made many travel videos and interviews and it is the best on the market. 100% recommended.
12/03/2022
There are no faqs for this product.