Zhiyun Smooth Q2, 3-axis handheld smartphone gimbal stabilizer for iPhone, Samsung, Android, iOS, with time-lapse subject tracking
Buy 2 get 5% off, Buy 3 get 10% off, buy 6 get 20% off
Free shipping to eligible country
Brand:

KENTFAITH

Buy KENTFAITH zhiyun smooth q2, 3-axis handheld smartphone gimbal stabilizer for iphone, samsung, android, ios, with time-lapse subject tracking online, worldwide free shipping and 30 days return guarantee.

GW46.0009

SKU:

GW46.0009

119.99

https://www.kentfaith.com/GW46.0009_zhiyun-smooth-q2-3-axis-handheld-smartphone-gimbal-stabilizer-for-iphone-samsung-android-ios-with-time-lapse-subject-tracking
Description
* 【Quick Release Clip】With a quick release lock design, the SMOOTH-Q2 can split your smartphone into two and become a professional camera. Provides easy transition between standby mode and shooting mode. Smooth-Q2 does not require any rebalancing when clips are reconnected back.
* 【Pocket Smartphone Gimbal】Smooth-Q2 adopts aerospace-grade aluminum alloy to enhance compactness and stability
* 【Be More Creative】Smooth Q2 supports 360 degree rotation and has 3-axis stabilization, including tilt motor, roll motor and pan motor. Unleash your artistic side with the SMOOTH-Q2, such as time-lapse shots, stun shots, object tracking, panoramas, and more.
* 【Smart Control Panel】Smooth Q2 simplifies all controls into one LED indicator, two buttons and a 5-way control joystick, which is intuitive and convenient. Common 1/4" threaded fittings make the Q2 compatible with most add-on accessories on the market.
* 【17 Hours Battery Life】Power your busy day and charge your devices when necessary
Shipping
Free shipping to eligible country
Sale
Buy 2 get 5% off, Buy 3 get 10% off, buy 6 get 20% off

SMOOTH-Q2 is the smallest mobile gimbal in ZHIYUN gimbal family. It is simplicity meets functionality, Switch among 6 modes with one button.It supports direct control to native iOS and Android phone cameras for photo and video taking, providing a fast lane for you to capture the moments. With SMOOTH-Q2,You can now record your life anytime, anywhere.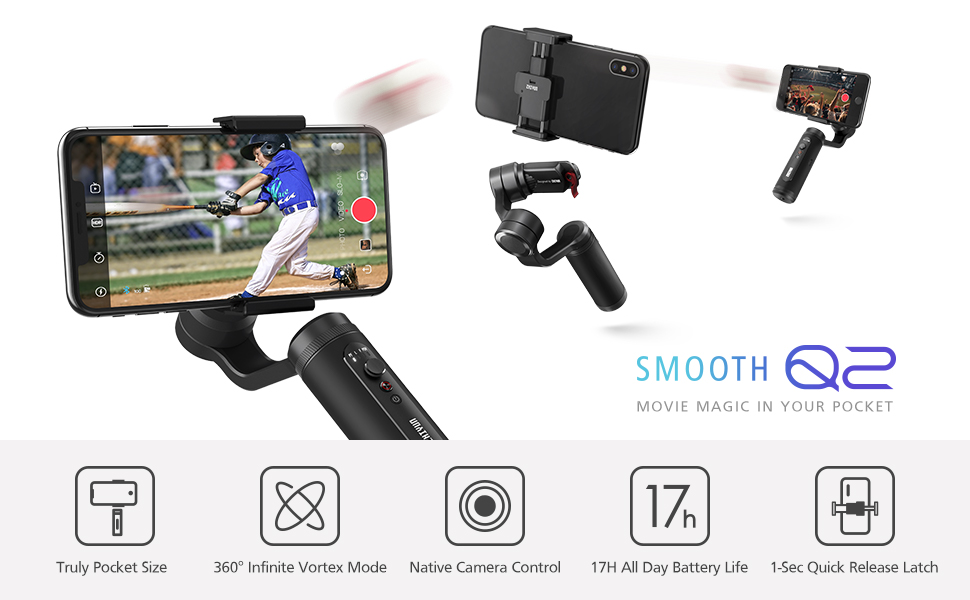 NOTICE:
1.Valid Payload Max:260g(0.57lbs) Min:75g(0.16lbs)
2. The motor of Smooth Q2 may display on view while using ultra-wide angle phone such as iPhone 11Pro Max etc. Please using ultra-wide angle mode for shooting. The solution for problem that some models of the mobile phone may take the motor in view.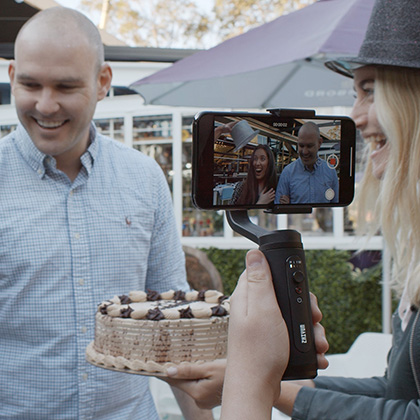 Small yet Strong
Measuring only 204mm(8in) long, SMOOTH-Q2 is almost equivalent to a sunglass case that you can throw into your handbag. The aluminum-built miniaturized body is crafted for maximum solidity.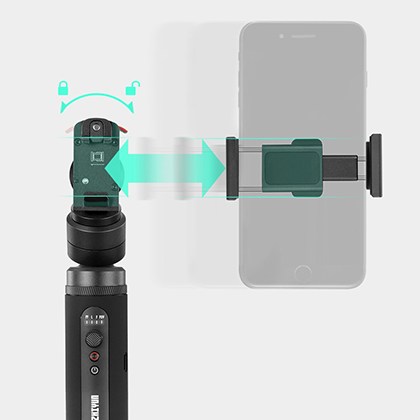 Quick on and off
The innovative quick release latch design and handy phone clamp allow you to take on and off the smartphone in just one second. No re-balancing when the clip is re-attached.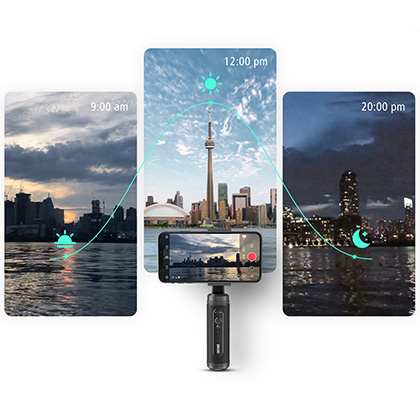 All Day Battery life
Using the 21700 lithium-ion rechargeable battery, SMOOTH-Q2 is able to work for 17 hours continuously under normal filming condition. It also has micro-USB port that allows it to work as power bank to charge your cellphone.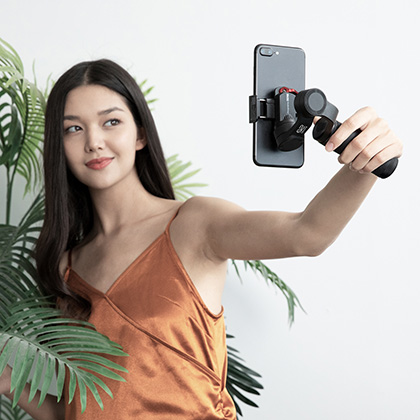 New Portrait Gesture
Tired of traditional portrait gesture? The new generation algorithm allows you to enter a new portrait mode in an effort-saving manner.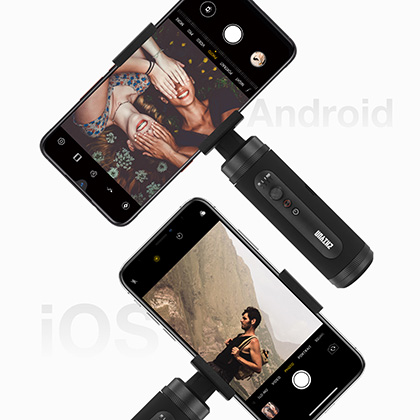 Capture Moments In Fast Lane
SMOOTH-Q2 supports direct control of iOS and Android native cameras, providing a fast lane for you to capture the moments.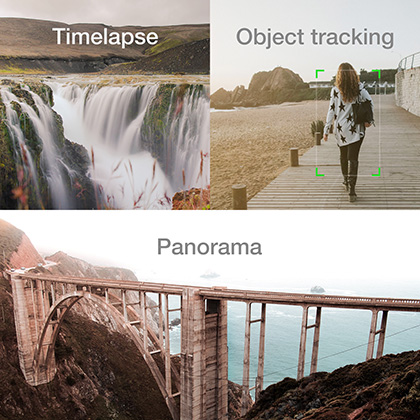 360° Infinite Vortex & More
SMOOTH-Q2 integrates Vortex Mode and Full-Range POV Mode, giving videomakers the freedom to create 360-degree barrel shots in all dimension.
Small in size, not in abilities!
So I'll break my experience up into two sections. Aesthetics and performance.Aesthetics:The packaging: the packaging amazing. Opening Zhiyun's products feel premium and this was, by no means, any different. The white box, the new tech smell, the layers and packaging, the sponge to protect the equipment, it was all an amazing unboxing experience.The device: Everyone that held the gimbal shared the same first reaction as me. It feels premium. The handle feels sweat resistant like Velcro. Very grippy and amazing. It also feels sturdy enough to tank a drop or two.Performance:Set-up: basic one two set up. It's super easy, super quick. I actually took time to balance the phone (something unnecessary) and it actually balanced very well. But even just putting the phone in there it worked just as great.Operation: the joystick is very grippy, very nice. It's fun. To use. Very very snappy. I love the follow mode.Locking: the magnetic lock is very very cool. Reliable too. Powering on the gimbal when it's locked keeps the motors disabled. This is very safe. No strain on the motor. No damage. Only wish I had was the orbit had a lock too.Final words: the gimbal is light, small, study, beautiful and very very fun to use.
29/10/2019
Awesome Little GIMBAL
This is a good gimbal but be aware that with a Galaxy S10+, it is difficult to keep the motor out of the frame. If you are buying a gimbal for the S10+, a DJI might be a better fit.
22/10/2019
Great Gimbal for the money
I like the gimble because it is cheaper then other similar gimbals.One big future that I like is that the sides of the phone are clear and I can add accessories to the phone and the gimbal is able to handle it with my heavy Galaxy Note 10+.I wish this gimbal came with a tripod and some sort of caring case.
16/11/2020
Extremely small
This Gimbal is by far the best one I have ever used.1- It is incredibly smooth. The footage taken with it have just about no shaking at all. The only movement in the camera is the movement that you introduce, with pans/tilts or tracking/dolly type movements. It completely stabilizes the footage and makes it look incredibly2- It is VERY VERY powerful. I use it with the Samsung s8+, which is already pretty heavy, and I throw on a moment 58mm lens, case, and a Ride videomic mini in the audio port; the gimbal manages to hold it all absolutely steady and doesn't struggle under the weight of any of it.3- It is incredibly customizable. The default settings are fine, and I ended up using them, but you can adjust the sensitivity, smoothness, speed and acceleration of the control stick via the the computer software, which is very easy to use, and the app that's free in the appstore.4- The 5 modes are very versatile and altogether, they encompass pretty much anything you would need to do with a gimbal or stabilizer.5- The battery life is INCREDIBLY long; I used it almost all day to test out the features and it was only showing me halfway on the battery monitor
29/10/2019
Wacky thing
I'm sure that when this works well its just amazing. I have had a bunch of trouble getting it to balance. I may just need to work on it more often and figure out the best way to do it. I have my OnePlus 8T on it and when it works well its great. The battery life is rather good and it's very simple to charge. Not easy to balance as I mentioned before but when it works its awesome. The only other issue that I have is that it is a little heavy and not always easy to carry around for long periods of time.
07/07/2021
Very smooth, steady shots/videos
Great device, very smooth videos, liked it so much I got another one for a friend who loves doing videos. App support is not the best but should be able to use even without it
06/04/2021
Intuitive and well made
Without a doubt very intuitive to use. Solid build. The first one received had a battery issue and slow gyro response. THE REPLACEMENT UNIT IS 100% WONDERFUL !!! Really like these gimbals.
03/04/2021
high quality
Solidly made, high quality.....works great.
08/03/2021
Camera Considerations
Battery Life does not last long enough to be able to capture a lot of moments on the go.Would be good to have a tripod to come with the product3-Axis beginners nightmare - but you will get along with it later onno available adapter for a gopro 9 yet..
15/02/2021
There are no faqs for this product.
Gimbal Stabilizers
Axis
3-Axis
Applicable Equipment
Mobile
Fill Light
×
Remote Control
×
Payload
Max:260g(0.57lbs) Min:75g(0.16lbs)
Battery Life
17H
Compatible Phone Size
55mm~90mm, screen of up to 7"