Portable Mini LED Desk Ring Light, 3200-5500K with 1000mAh Battery for Live Streaming, Makeup, YouTube, TikTok, Dimmable LED Ring Light for iPhone and Android Phones
Free shipping to eligible country
Brand:

KENTFAITH

Buy KENTFAITH portable mini led desk ring light, 3200-5500k with 1000mah battery for live streaming, makeup, youtube, tiktok, dimmable led ring light for iphone and android phones online, worldwide free shipping and 30 days return guarantee.

GW51.0079

SKU:

GW51.0079

64.99

https://www.kentfaith.com/GW51.0079_portable-mini-led-desk-ring-light-3200-5500k-with-1000mah-battery-for-live-streaming-makeup-youtube-tiktok-dimmable-led-ring-light-for-iphone-and-android-phones
Description
* 【Rechargeable Ring Light】Built-in 1000mAh battery, can shoot wirelessly for 3-12 hours for a long time when fully charged. Powered by battery, you can take it with you and enjoy its bright fill light function without any limitation;
* 【Dimmable Ring Light】Unique mini box-shaped ring light with 3 color lighting modes: warm light (2800-3200K), cool white (5000-5500K), equipped with 100 energy-saving LED lamp beads, delicate light feeling , 7 lighting modes, cool and warm light effects, three-dimensional fill light, the remote control can easily adjust the brightness, and fully show your beauty;
* 【Easy to Carry】With fully adjustable height and folding function, from 15.7 inches to 49 inches, 8 levels of stretch height, 360 degree rotatable smartphone stand supports portrait mode (vertical) or landscape mode (horizontal). Whether you're placing it on your desk for video calls, or you need some overhead lighting, this is a great option;
* 【Wireless Remote Shutter】The pocket-sized bluetooth remote control allows you to easily take selfies or group photos at a distance of up to 32.8 feet (10M). No app download required, compatible with most Apple/Android smartphones. Can be widely used for makeup, selfie, TikTok/YouTube video shooting, live streaming, Facetime, Twitter, Zoom Meetings, Vlogs, Skype video calls, interviews, advertising photography;
* 【Rotating Phone Holder】You can easily adjust the phone holder to find the angle you want (horizontal, vertical, high angle, low angle, etc.). The phone mount is spring-loaded and extends 2-3.2 inches wide, making it compatible with almost any smartphone with or without a case.
Shipping
Free shipping to eligible country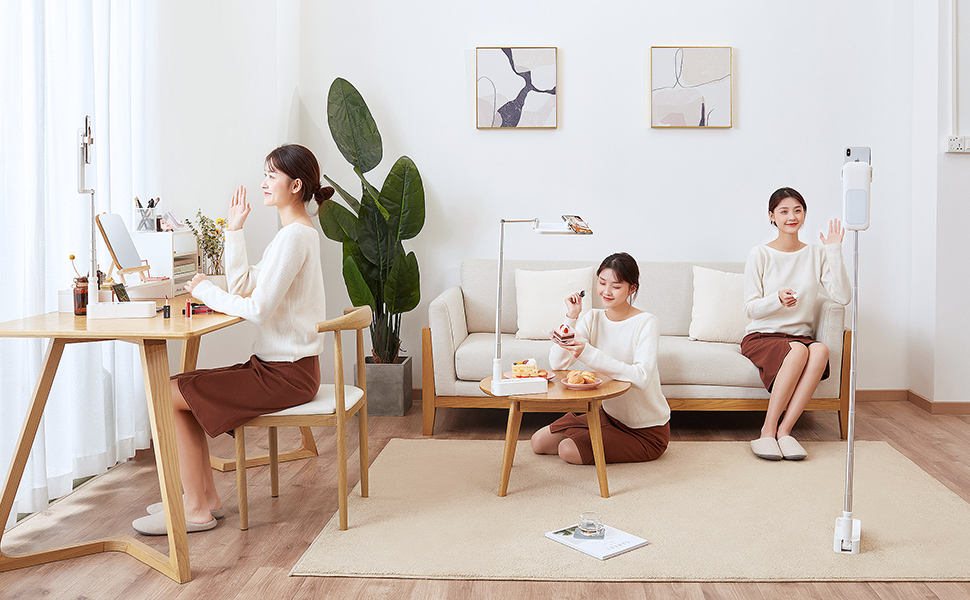 Mini USB LED Ring Light with Table Stand for Streaming Makeup YouTube Video Shooting Selfie, 3 color Light Modes with Flexible Smartphone Holder.
---
This ring light can be applied on various occasions such as makeup, YouTube video shooting, wedding, indoor light filling, outdoor photography, advertising photography, video shooting, streaming media, reading, or other activities in daily life.
---
With 100pcs lamp beads, delicate light feeling; 7 light modes, warm and cold light effect, three-dimensional fill light, fully show your beauty.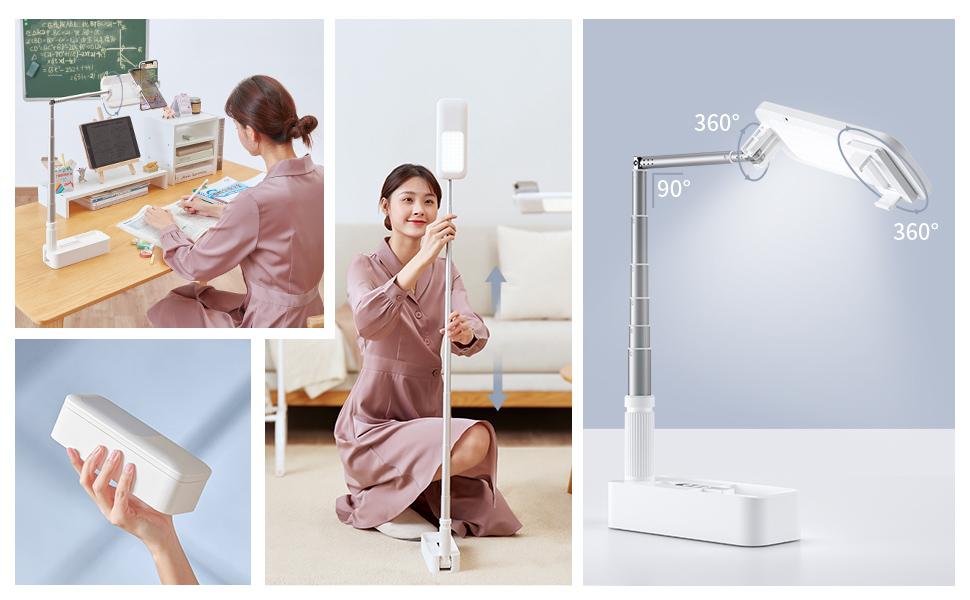 Phone NOT Included!
Foldable to carry, the folded size is 8.3" x 3.1" x 2.5". Very suitable for live broadcasting and recording video outdoors.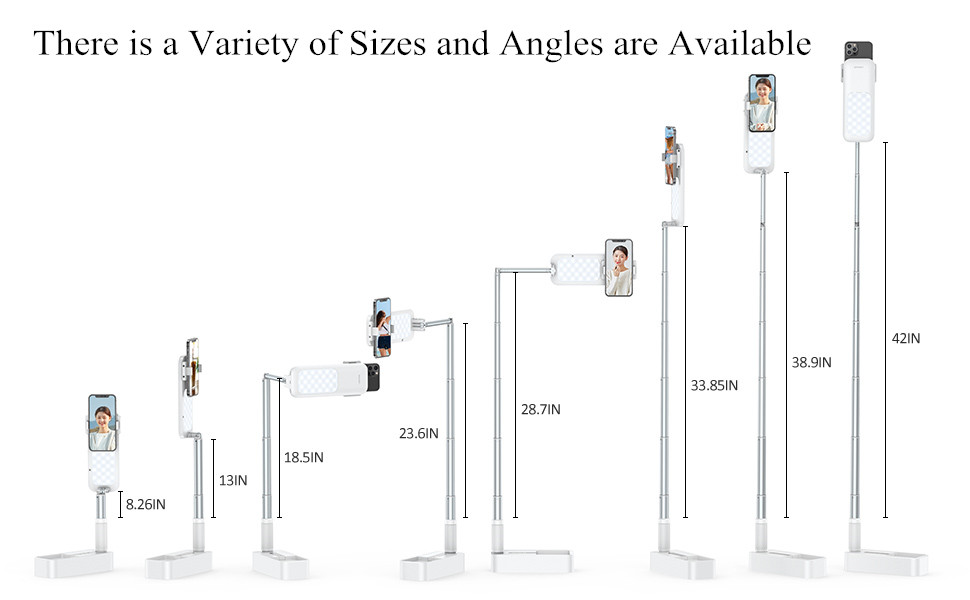 Multifunctional Live Show Foldable Stand can be extended from 15.7 inches to 49 inches (40cm-126cm) to achieve perfect shooting. 360°Adjustable Shoot Angle, Double-sided Fill Light; You only need to stretch and twist the street to fix the desired height and find the most suitable height.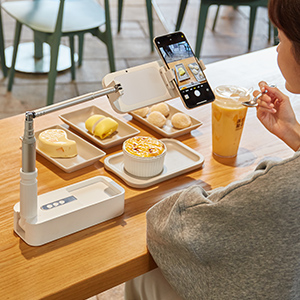 360° free angle rotation, wide application
360 degree rotatable smartphone holder support portrait mode (vertical) or landscape mode (horizontal).
Only need 1s to adjust shoot angle, suitable for live / video multiple scenes.
Making it a great option whether you're setting it atop your desk for video calls or need some overhead lighting and take in your backpack to everywhere when you go out.
---
Package Include
1x mini Ring Light
1x Remote Control Shutter
1 x USB Cable
1x Manual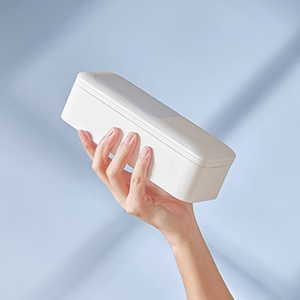 Portable Mini Ring Light
No installation required, Foldable ring light stand can be stored in the bag we offered. Convenient to take it everywhere, a great choice as travel and outdoor ring light.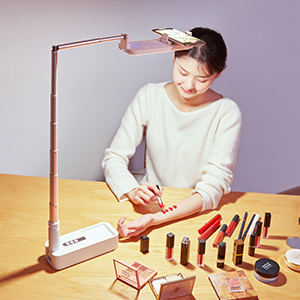 Flexible Rotation Angle
USAMS selfie ring light with stand has flexible rotation angles. You can illuminate your beauty by rotating it to your most attractive angle.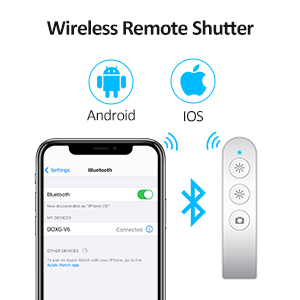 Remote Control Shutter
Our selfie ring light comes with a little remote to take picture/video from up to 30 feet away. paired with your smartphone in seconds, no app download necessarry, works with iOS and Android cell phones.
| | |
| --- | --- |
| Model | V6 |
| Maximum use height | 130cm |
| Light source | LED |
| Lifespan | 10,000 hours |
| Light battery capacity | 3.8V 1000mAh |
| Remote control battery capacity | 50mAh 3.8V |
| Power supply | DC 5V/2A (Micro USB 5pin) |
| Working time | 4h-12h |
| Working temperature | -10~40℃ |
| Lighting | Warm, Warm + White, White |
| Light effect | 7 kinds (cold light 1, cold light 2, warm light 1, warm light 2, mixed light 1, mixed light 2, mixed light 3) |
| Product size | 21*8*6.3cm |
| Product weight | 1116g |
| Packing size | 25.3*10.5*7cm |
| Packing weight | 1236g |
| Packing list | fill light*1, USB cable*1, instruction manual*1 |
Love this Sturdy Stand! - Great Find!
This is a SOLID base stand for your phone. The telescoping grip easily comes out of storage and the lights really help your look on a video conference. Put it at 90 degrees and rotate it over and it's a great document sharer. I love the fact the phone can be put up high for big group selfies or on the floor so you can sit in a chair and look directly at your party. Other selfie tripods always seem to tip over if you move them, but this one is solid so you can change the angle easy. Definitely recommend!
14/04/2022
Great value
Wow! Sleek product! Opening the box is like opening an Apple product. This unit is very well built. Weighs about 2 lbs. easy to adjust light color and brightness. Huge improvement in face call presentations. Also good as basic desk light. Holds phone snug and rotates. Only issue I found is it's a bit difficult to work the spring loaded phone grip as the spring is strong. Overall fantastic product and great value.
17/05/2022
Just what is was looking for!
I'm a crafter and wanted to post some videos using an over head tripod th hold my phone. Well this one for the bill perfectly. It's strong enough to hold my Galaxy Note 20 ultra. And the 360 turn is amazing.
15/05/2022
Small giant vlogging transformer!
Crazy. This is darn unique. From a mere rectangular block to multi tasking stem of adjustable LEDlights and phone holder configurable face up and down mode. Oh boy the block is heavy as it carries powerfulrechargeable batteries that can lasts for hours.

I brought this 'transformer' to my las vegas trip last August, aside from using it for my zoom calls I stationed this next to bed on extended arms as my floor lamp! How amazing is that? Though the light output is not so bright during zoom calls it can be adjusted to different low/setting on warm, daylight spectrum.
16/05/2022
Works great! Very sturdy
Chances are you might've seen this on IG ads, like I did. I am happy to say that it works just like it does on the ads, though you do have to practice using it a little bit.
I have an iPhone 12 pro max and have not had any issues with my stand falling over. It has a really solid base and if you use the directions or watch any videos on how to use this, it works great.
I've not taken any videos yet so I cannot comment on whether the light is going to be enough for shooting tutorial videos, but I will say the different temperatures that you can select was a great feature for the photos I was taking.
Happy with this purchase!
14/05/2022
Amazing!
Love it! A bit wobbly but it works perfect! Wireless and rechargeable too!
12/05/2022
Pretty bright device
Bought this to do short close up videos. It pretty bright and does what it suppose to do. Pretty heavy. I guess that's for holding the phone down and not having it tip over.
11/05/2022
Substantial
I think this is perfect for my use. It is substantially weighted so it does not feel flimsy.
10/05/2022
Compact, Sturdy, Affordable!
Love the innovative design for this light! It works great for overhead desktop videos, holds my phone securely, and provides good lighting! It can also be used for selfie, or straight-on videos. It's easy to adjust, folds compactly, and the remote is a useful addition as well. Very well designed and constructed - all at a reasonable price (especially compared to other phone mounts!)
09/05/2022
This is a great Device!
Once you get through the learning curve of assembly this thing is great. Im excited to use it for Instagram videos. Worth the money!
08/05/2022
A
Yes. It's compatible with iPhone 12
A
Yes, you can turn it off when you dont need it. The phone holder is spring-loaded and extends up to 2-3.2" wide, it is compatible with almost ALL smartphones with or without a case. Including your iPhone 8 Plus, please feel free to purchase it .
A
You just connect it like any other bluetooth device. Hold down the power button until it flashes blue rapidly at the top then connect it in your Bluetooth screen. Worked very easily for me :)