Collapsible Selfie Ring Light Strap Stand, 10 inch Travel Portable LED Ring Light Strap 76 inch Tripod Stand with 9 Adjustable Lights for Live Video Online Classroom Makeup YouTube TikTok Vlog Zoom (Black)
Buy 99$-15$, 199$-30$, 299$-50$, 599$-120$(Black Friday Price)
Free shipping worldwide
Brand:

KENTFAITH

Buy KENTFAITH collapsible selfie ring light strap stand, 10 inch travel portable led ring light strap 76 inch tripod stand with 9 adjustable lights for live video online classroom makeup youtube tiktok vlog zoom (black) online, worldwide free shipping and 30 days return guarantee.

GW51.0099

SKU:

GW51.0099

69.99

https://www.kentfaith.com/GW51.0099_collapsible-selfie-ring-light-strap-stand-10-inch-travel-portable-led-ring-light-strap-76-inch-tripod-stand-with-9-adjustable-lights-for-live-video-online-classroom-makeup-youtube-tiktok-vlog-zoom-black
Buy 99$-15$, 199$-30$, 299$-50$, 599$-120$(Black Friday Price)
Description
* 【9 levels of brightness and 3 light effects】Built-in 136 LED beads with 3 light effects (cold light, warm light, cold and warm light) and 9 levels of dimmable light brightness.3D nano lampshade technology provides more delicate and wider light to protect your eyes from fatigue, while the ring light foldable design can meet your up and down front and rear multi-angle lighting needs.
* The height of the ring light can be extended from 10 inches to 76 inches, the high quality zinc alloy tripod has a small footprint, short enough to fit in a small box and high enough to meet the needs of all heights. No installation, quick deployment, goodbye to fuss, perfect for ring light or desk lamp holder.
* 【Portable Selfie Ring Light】One-piece retractable and foldable design breaks through the problem of cumbersome assembly, bulky and inconvenient to carry. Folded height of only 27cm, no installation, one piece storage, unfold and ready to use, ideal for indoor and outdoor travel use.
* 【Long battery life】Built-in 4000mAh battery can work for 2-8 hours when fully charged, with overcharge, overcurrent, overheat and short-circuit protection, which can extend the battery life. Pocket-sized Bluetooth remote control allows you to take pictures or group photos easily from a distance of up to 32.8 feet. It is compatible with most iOS/Android smartphones, freeing your hands to capture happy moments in time.
* 【Wide Compatibility】The ring light has 1/4" screw interface on the left and right side, which can be matched with other accessories to expand to 2 phone positions to achieve 3 phones live at the same time, with the included storage bag, it can be easily stored and carried to start live streaming anytime, anywhere. Perfect for Jitterbug, Zoom, YouTube, video conferencing, online classroom, live streaming, vlogging, selfie, makeup, etc.
Shipping
Free shipping worldwide
Sale
Buy 99$-15$, 199$-30$, 299$-50$, 599$-120$(Black Friday Price)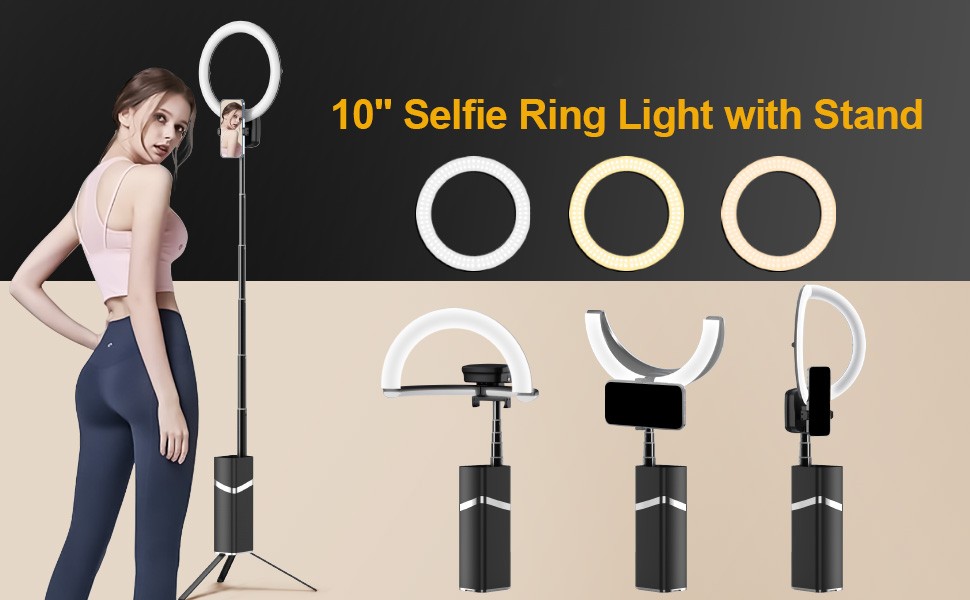 Mini Box Selfie Ring Light with Stand
One-piece retractable and foldable storage design, no need to re-install, one pull to use.
Support a variety of height adjustments, a variety of angle fill light, fill light without dead angle. A variety of lighting creative plays give full play to your creativity.
The ring light not only illuminates your face better and makes your skin look flawless, but also makes you feel confident and beautiful on all kinds of social media.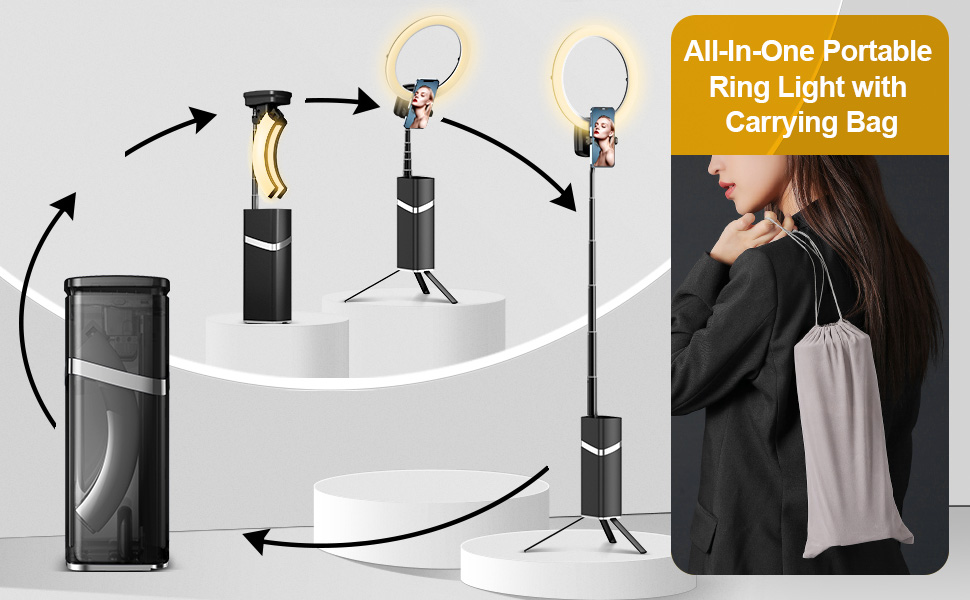 All-In-One Portable Ring Light with Carrying Bag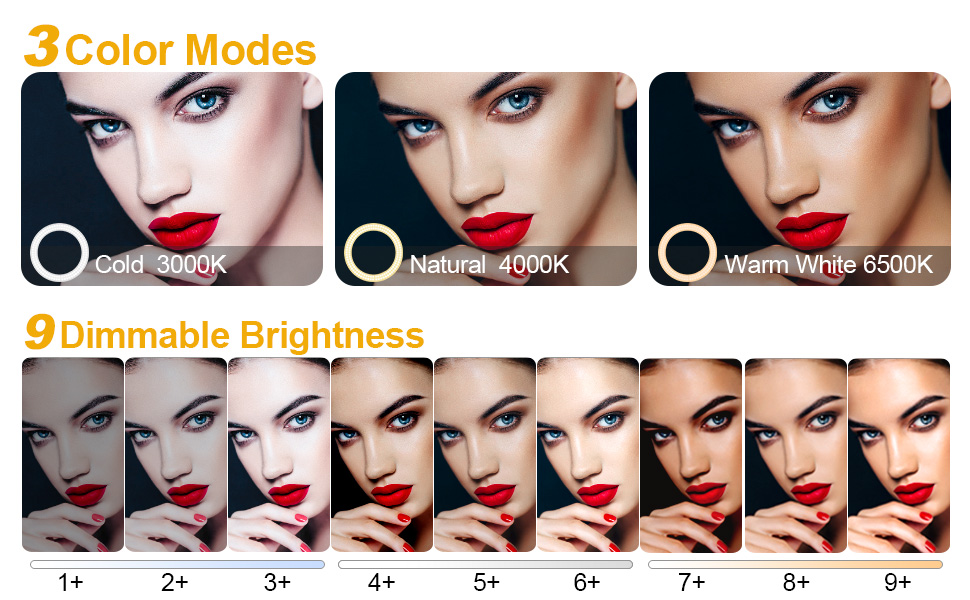 3 Color Modes & 9-Level Brightness
Adjustable 3 color modes: Cold light / Natural light / Warm light.
Each mode has 3 brightness levels for a total of 9 lighting effects, make your photos or videos more perfect.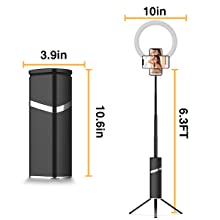 Extendable Ring light Box
The LED ring light can become from a 10.6in box to a max 6.3FT selfie ring light.
Perfect for indoor and outdoor travel uses.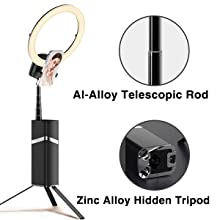 Sturdy & Stable Tripod
Al-alloy telescopic rods are stronger, lighter, smoother.
Hidden zinc alloy tripod design, one pull to use, smaller footprint but more stable, solves the problem of other ring lights easily stumbling.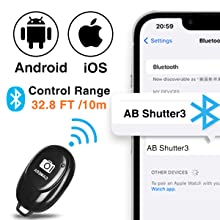 Detatchable Bluetooth Remote
The Bluetooth remote at the bottom of the ring light can controls up to 32FT distance.
You can take photos / videos by removing the remote control for a larger field of view and free your hands.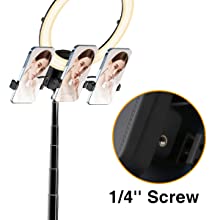 Extensible Interface
The selfie ring light has a 1/4"screw interface on the left and right sides can be matched with other accessories.
You can add a mobile phone holder as needed to achieve a multi-platform live broadcast.​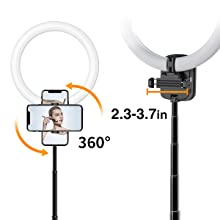 360° Rotating Clip
The Ring Light with stand supports 360° rotating adjust, free choice of horizontal and vertical switching.
The phone clip can be extended by 3.7 in wide, suitable for most phone models in the market.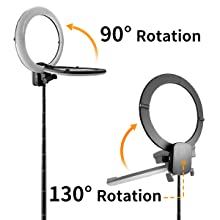 Multiple Angle Adjustment
The lampshade of the portable ring light supports 90° adjustment, and the lamp head supports 120° adjustment.
Whether in a high or low position, it will provide you with the perfect shot angle.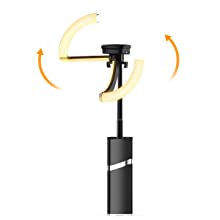 Foldable Ring Light Design
Flexible foldable joint design helps you get the best lighting angle.
Support up and down fill light, front and back fill light, 45° side face fill light, make your face more three-dimensional and thinner.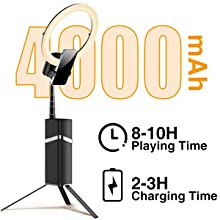 Large Capacity Battery
Built in 4000mAh high-capacity rechargeable battery, it only takes 2H to fully charge but provides up to 10H of playtime.
No longer worry about sudden power failures during live broadcasts or video shoots, enjoy your live stream to the fullest.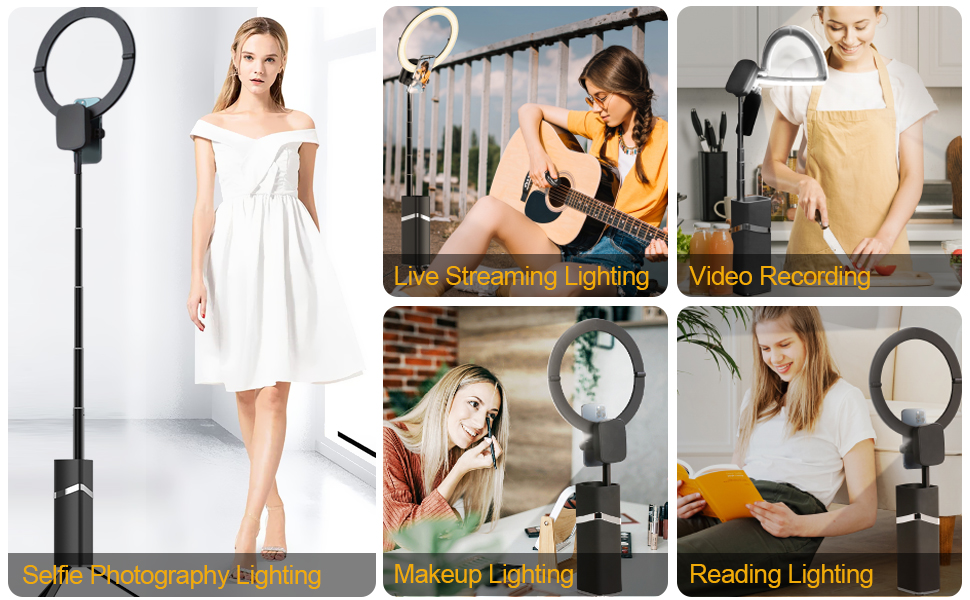 All Reviews
Image

All Star

5 Star

4 Star

3 Star

2 Star

1 Star