Heavy Duty Light Stand, Adjustable Height with Maximum 86.6"/2.2m, Aluminum Magnesium Alloy for Photography/Studio/Youtube Video/Live Streaming
New customer gift package
Free shipping worldwide
Brand:

KENTFAITH

K&F Concept Heavy Duty Light Stand for Photography/Studio/Youtube Video/Live Streaming

KF34.009V1

SKU:

KF34.009V1

55.99

https://www.kentfaith.com/KF34.009V1_kf-concept-heavy-duty-light-stand-adjustable-height-with-maximum-90-5-quot-2-3m-aluminum-magnesium-alloy
Description
* 【Exclusive Patented Tripod Base】 Our light tripod has an exclusive patent at the bottom, making it more steady and improving your use experience for more occasions, indoor or outdoor.
* 【Extended Height of 2.2m/86.6"】 Adjustable extended design with a minimum height of 55"/1.4m and a maximum height of 86.6"/2.2m, meeting your various requirements of studio/photography. The most recommended height for the light stand is 81"/2.06m.
* 【Folded Height of 55cm/21.7"】 Special reversible tripod legs of the light stand with 4 sections, the folded height is only 55cm/21.7", portable and convenient for outdoor activities.
* 【Quick Release Flip-Lock】 Practical flip-lock design of the telescopic pole makes it more flexible and smoother than other traditional locks, and greatly enhances convenience and quickness of operating the light stand legs.
* 【Sturdy Material and Steady Design】 Sturdy and lightweight luminum-magnesium alloy and maximum diameter of 27mm for the lamp stand, it can also be used with sandbags to achieve most load-bearing requirements.
Shipping
Free shipping worldwide
Photography/Video Tripod Light Stand
For Relfectors, Softboxes, Lights, Umbrellas, Backgrounds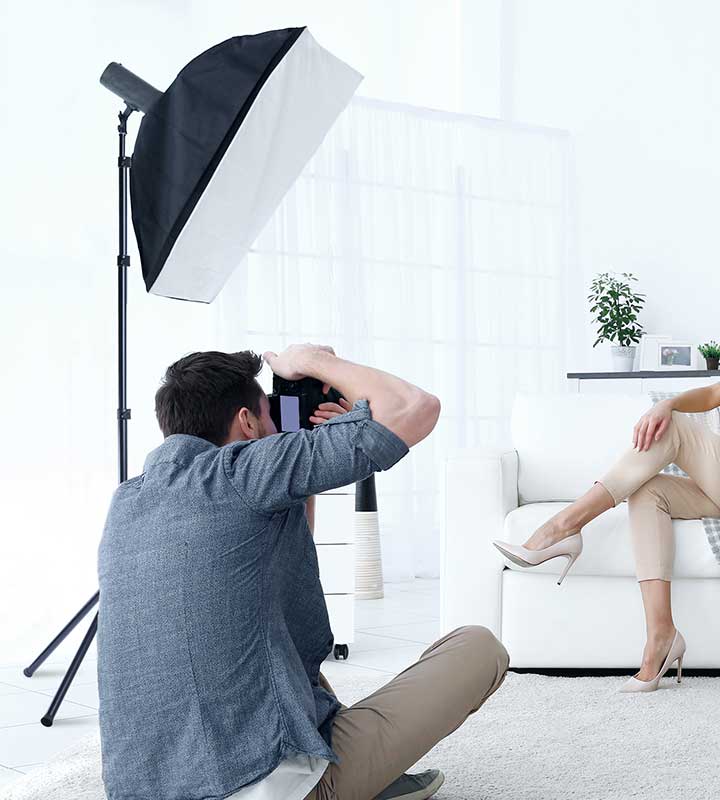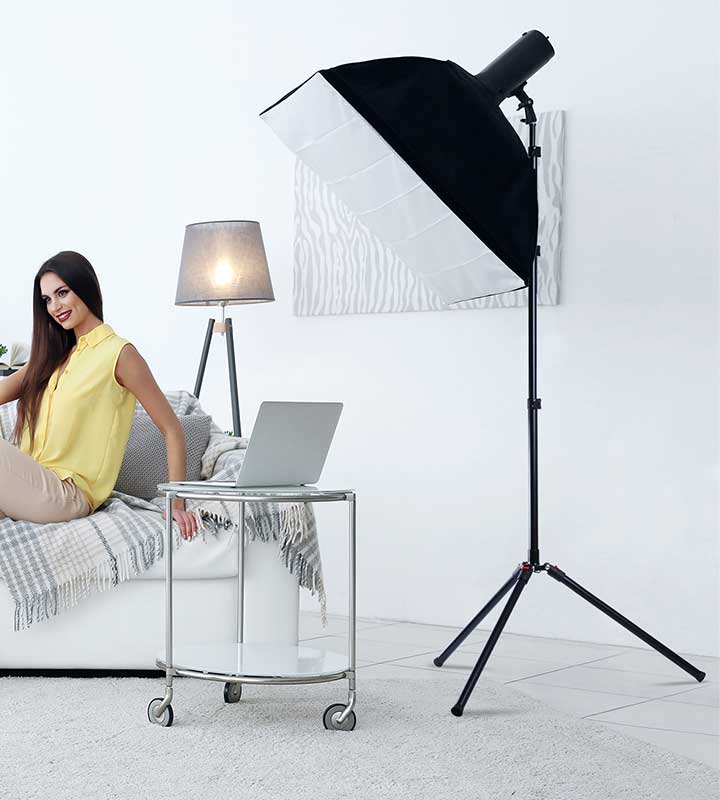 Adjustable Buckle
Can be adjusted to a suitable angle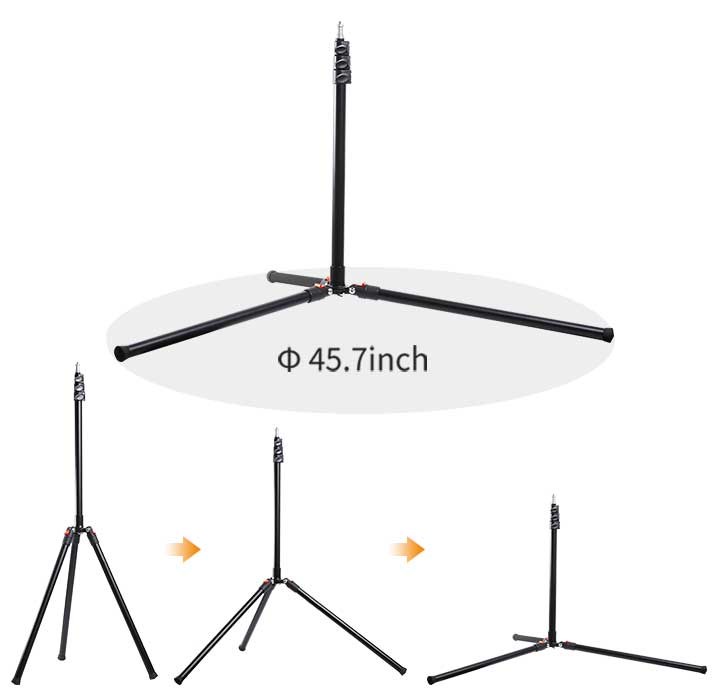 86.6 inch tripod light stand
Can effectively prevent corrosion, scratches, paint drop, etc.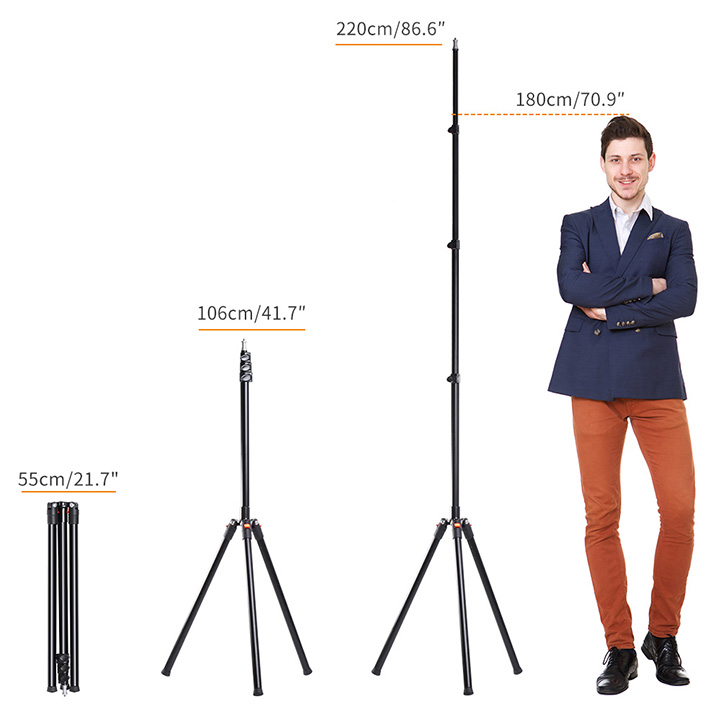 8.8lbs (4kg) Load capacity
All aluminum magnesium alloy with forged technology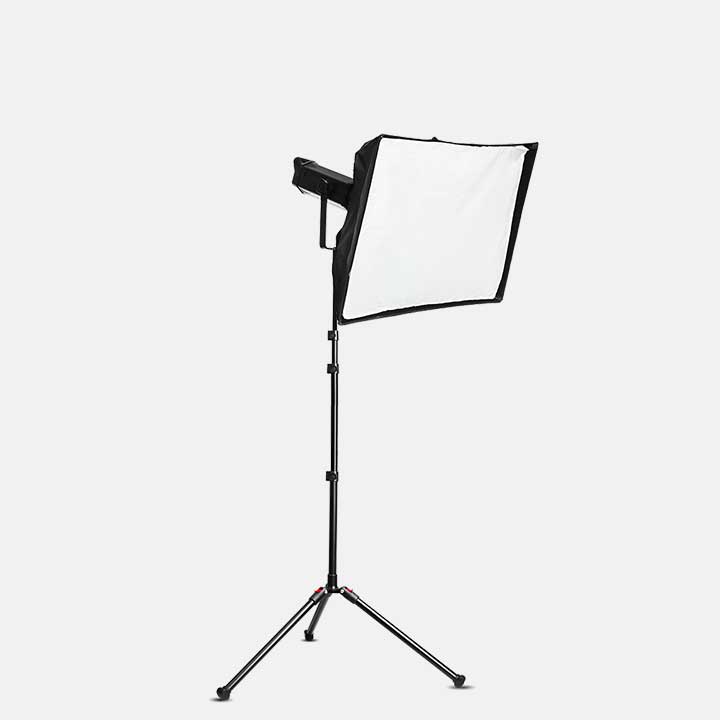 1/4″ screws
Widely applied to most photography studio devices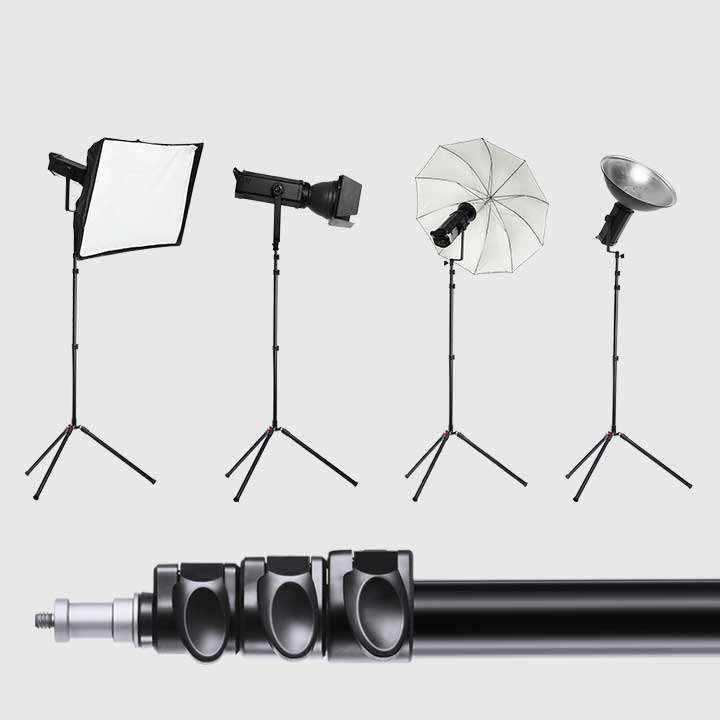 Multi-purpose
Install various photographic equipment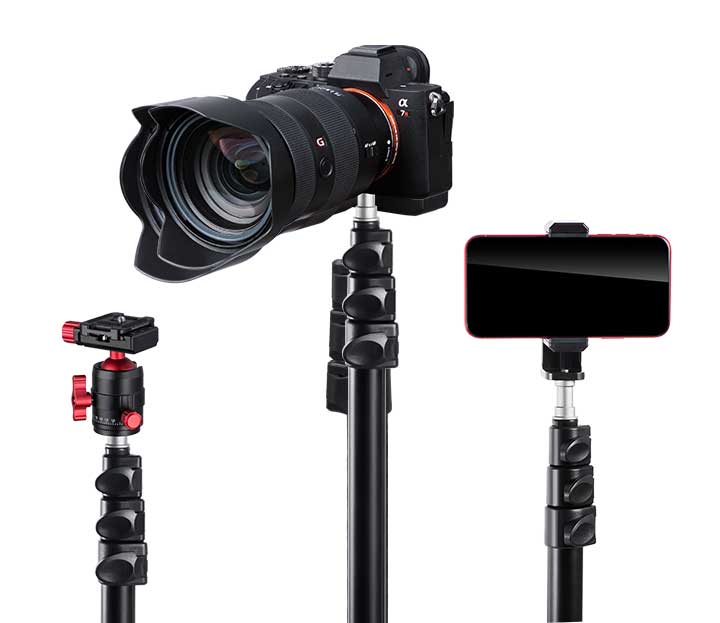 Beauty light application
Can video chat with mobile phone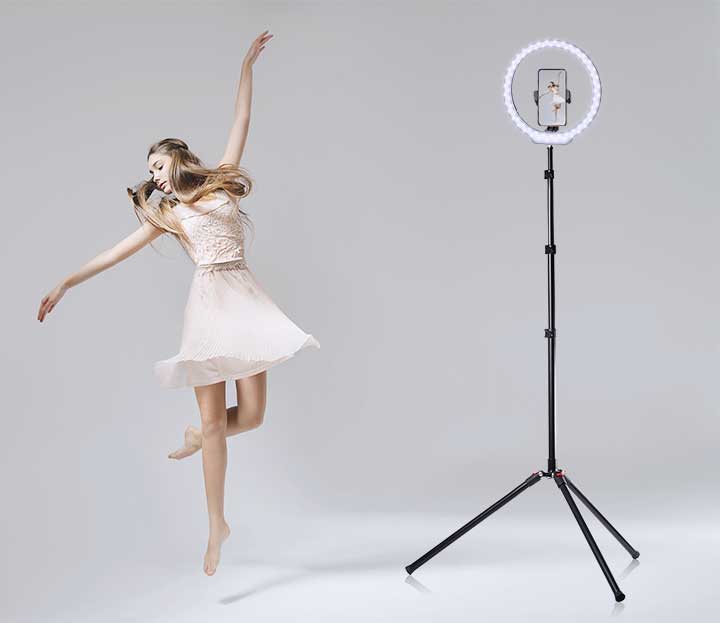 Easy to carry
All aluminum magnesium alloy with forged technology can be 180°reflexed, better portability, weight 3.37lbs/1.53kg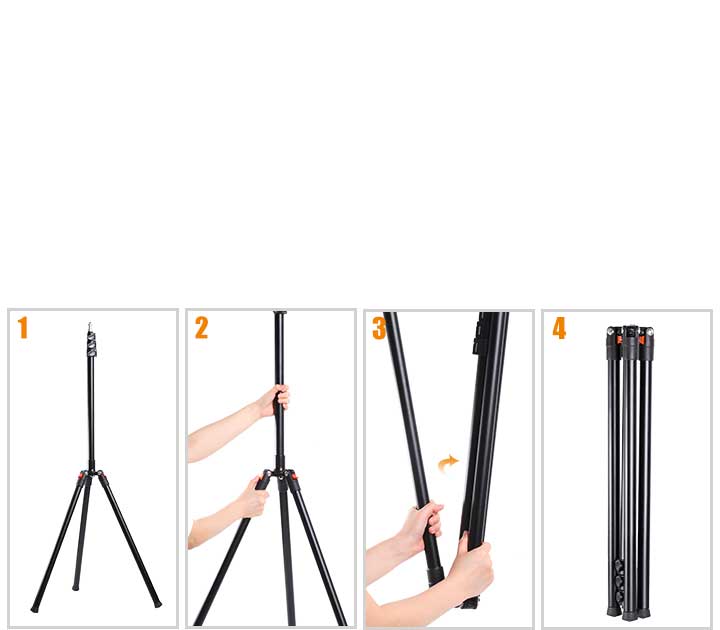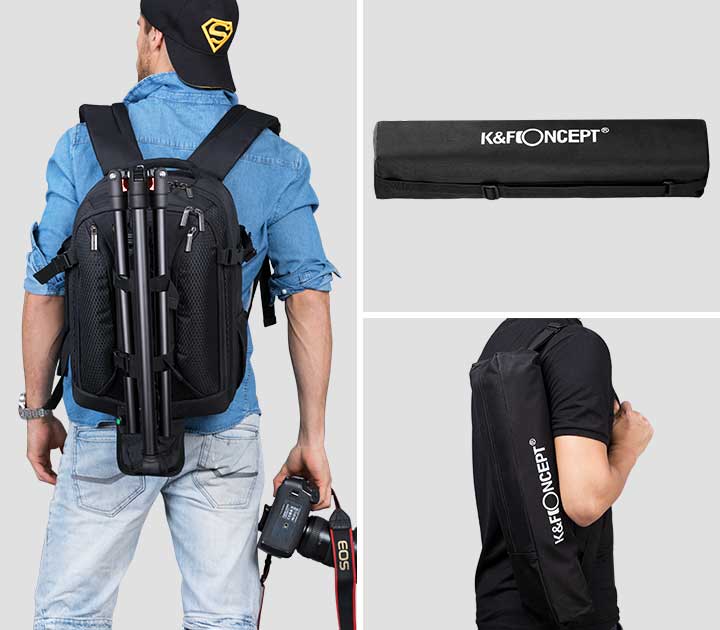 All Reviews
Image

All Star

5 Star

4 Star

3 Star

2 Star

1 Star
Very good for my use.
Super light, well designed and high quality tripod. The product is great. Meets my expectations. Seems solid. The feet can move more or less apart (3 possible positions including horizontal) to increase stability but at the expense of overall height. It is very easy to set up.
30/04/2023
Great tool for field work and study.
Powerful, reliable and manageable. Very useful in any context, outdoor/indoor and photo/video. The carrying bag that comes with it is much appreciated, very good quality by the way.
27/04/2023
Stable and easy to transport anywhere
I wanted to be able to put my miniature projector behind my living room without drilling anything on the wall because the location fits well on this stand, it allows me to have my pico projector and swap it out easily, that's all , what I wanted!
25/04/2023
Great product, the TOP
The light stand is very lightweight, perfect for portability, it comes with a small carry bag. Honestly for the price the foot is stable and well made. It's a purchase I'll happily make again. Great product, practical on motorcycles for its weight and size, very stable and very good quality of finish.
22/04/2023
Strong, robust, compact light stand.
K&F Concept products are amazing. I know it's a little pricey, but it can hold a lot of weight, is compact, and a million times better than the flimsy cheap ones you can buy. Excellent quality, I bought it for my LED panel, this stand is light and easy to take anywhere, it is very manoeuvrable and stable, the height is good. It is easy to install and looks sturdy. I use it every day in combination with the Falcon Eyes LED panel and carry this 5 kg without any problems. The carrying case is great.
18/04/2023
As easy as 1, 2, 3
brilliant stand, so quick to set up and take down I ended up buying another! Great combination with a medium sized LED light for a more professional shot. After the purchase, friends in the industry also bought it after seeing it!
16/04/2023
great product
Really nice light stand, good construction, light weight and pack small. I needed a stand for my studio flash with a 200cm softbox and I have to say it holds the weight well. A practical carry bag is included in the package. completely content!!!
14/04/2023
Compact and lightweight when folded and tall and stable when unfolded
bought this pack of two holders because I have the idea of setting up a photo studio at home, but I also wanted something compact and light in case we ever go to the country (especially in the summer). These tripods are perfect for that. First of all, each comes with its own cover, so you can leave the house with just one without having to carry both when you don't need them. Assembly is super quick: you unfold the legs and start pulling pipes to a height of about 2 meters. Tightening the threads well makes it a very stable prop. These holders are as useful as what you put on their top end and fit the bill perfectly. I'm happy about her.
13/04/2023
Exactly what I needed.
I was looking for a lightweight stand with feet that had a wide and grippy surface to sit still. I only found it in this stand and am very happy with it. From what I can see, by buying K&F variable ND filters as well, they do a good job and save you some money.
13/04/2023
the lamp stand
broke my studio light stand and for the videos I produce I need at least 2 light points. My kit is 5 years old so it will eventually wear out eventually. I was looking for a tripod that was a little lighter and more flexible and this tripod is really nice. The lamp tripod can be easily opened independently, I had fun doing stable things on stairs that I couldn't do before. Max height is good and you can add a weight at the bottom if you have a small jib. Latch locks are easy to use. - Robust - Easy to use - Good working height Conclusion: I am delighted and I was able to film my videos again comfortably for my channel, this tripod will follow me for a while and if the second one in my kit fails me, I will do the same again.
10/04/2023
These images belong to KENTFAITH end users.
There are no faqs for this product.
Tripod General
Load Capacity
4kg/8.8lbs
Maximum Working Height
220cm/86.6"
Max Height without Center Column
\
Minimum Working Height
650mm/25.6"
Folded Length
55cm/21.7"
Weight
3.37lbs/1.53kg
Materials
Aluminum Magnesium Alloy
Tripod Head
\
Color
Black
Tripod Legs
Leg Lock Type
\