69.7"/177cm Phone Tripod DSLR Tripod 8.8lbs Load with Phone Mount, 3-Way Pan Head & Detachable Monopod TM2624L 【Ship to the US Only】
To
United States
Expedited Free Shipping
3-5
business days
Free Shipping Worldwide. 30 Day No Reason Return. K&F Concept Camera Tripod features 360-degree panoramic rotation, 4 Sections Leg, detachable monopod.

KF09.050V1

SKU:

KF09.050V1

61.99

https://www.kentfaith.com/KF09.0500_phone-tripod-dslr-tripod-8.8lbs-load-with-phone-mount
Description
* 【Ship to the US Only】【3-Way Swivel Pan Head&Quick Release Plate】: 360-degree panoramic rotation; allows you to take photos at any angle in horizontal and vertical directions, making it easy to take panoramic photos and video shooting;Accurate panoramas can be easily orchestrated;With Standard 1/4" Screw Mount Compatible for all Digital Cameras, Lenses, most Camcorders, GoPro devices, Binocular, Telescopes
* 【Height and Load Capacity】:4 Sections Leg,5 different height adjustment options and quick-acting locking, height from 20.9"/53cm to 70"/177cm, with extended center column to meet your needs High demand for shooting.
* 【2-in-1 Tripod Monopod】:Can be converted to a monopod in seconds with height ranges from 16.1"/41cm to 57.9"/147cm
* 【Light-weight and Practical】: Weighs 3.7Lbs/1.7kg , Light-weight but durable; there is a handle on the tripod,convenient to carry.Comes with a storage bag, easy for outdoor photographers to carry and transport
* 【Phone Holder】: Easy attachment & padded grip to avoid cellphone damage, Mount stretches between 1.9 to 3.9inches fits all iphone and Andorid phone sizes and universal screw attaches to all tripods;
Shipping
To
United States
Expedited Free Shipping
3-5
business days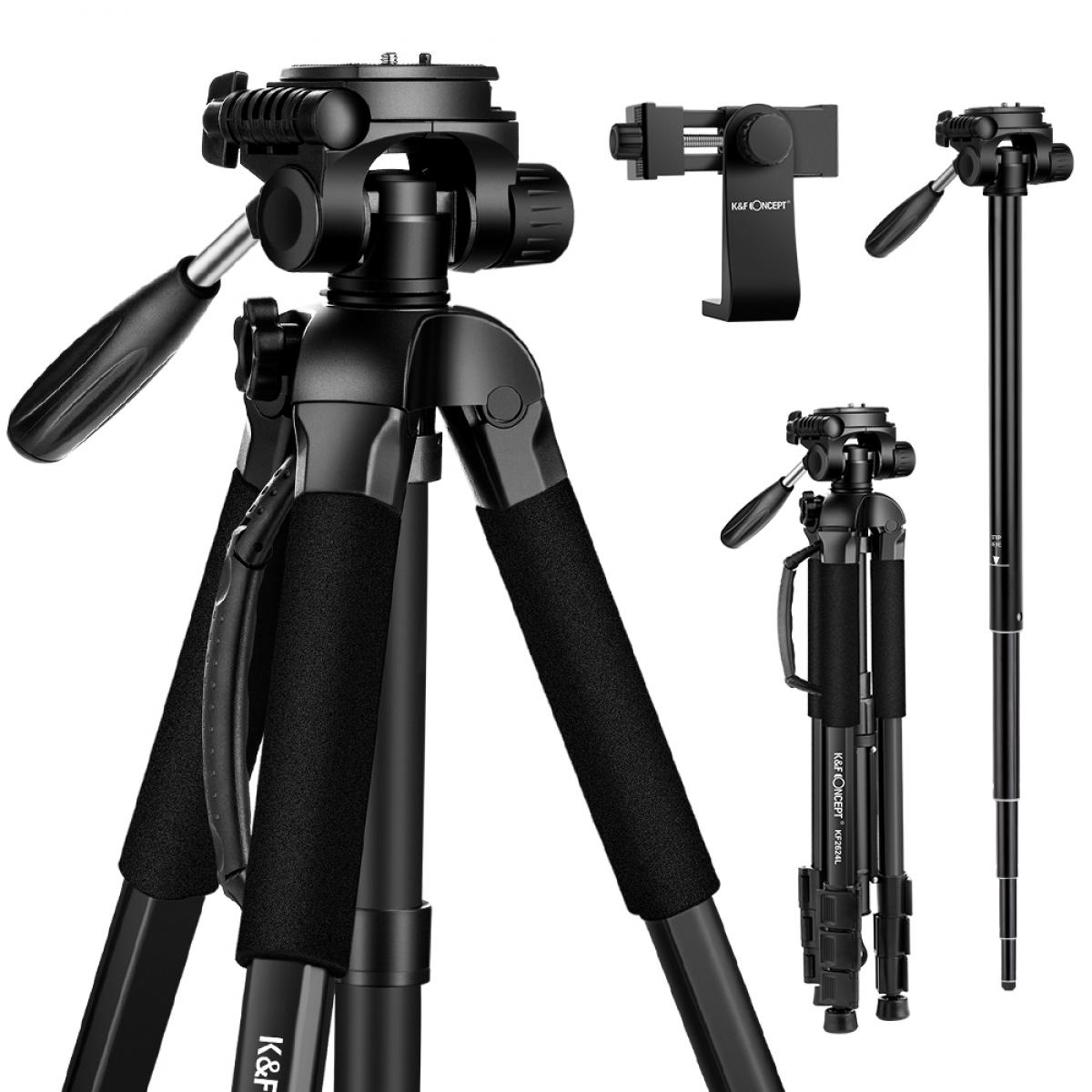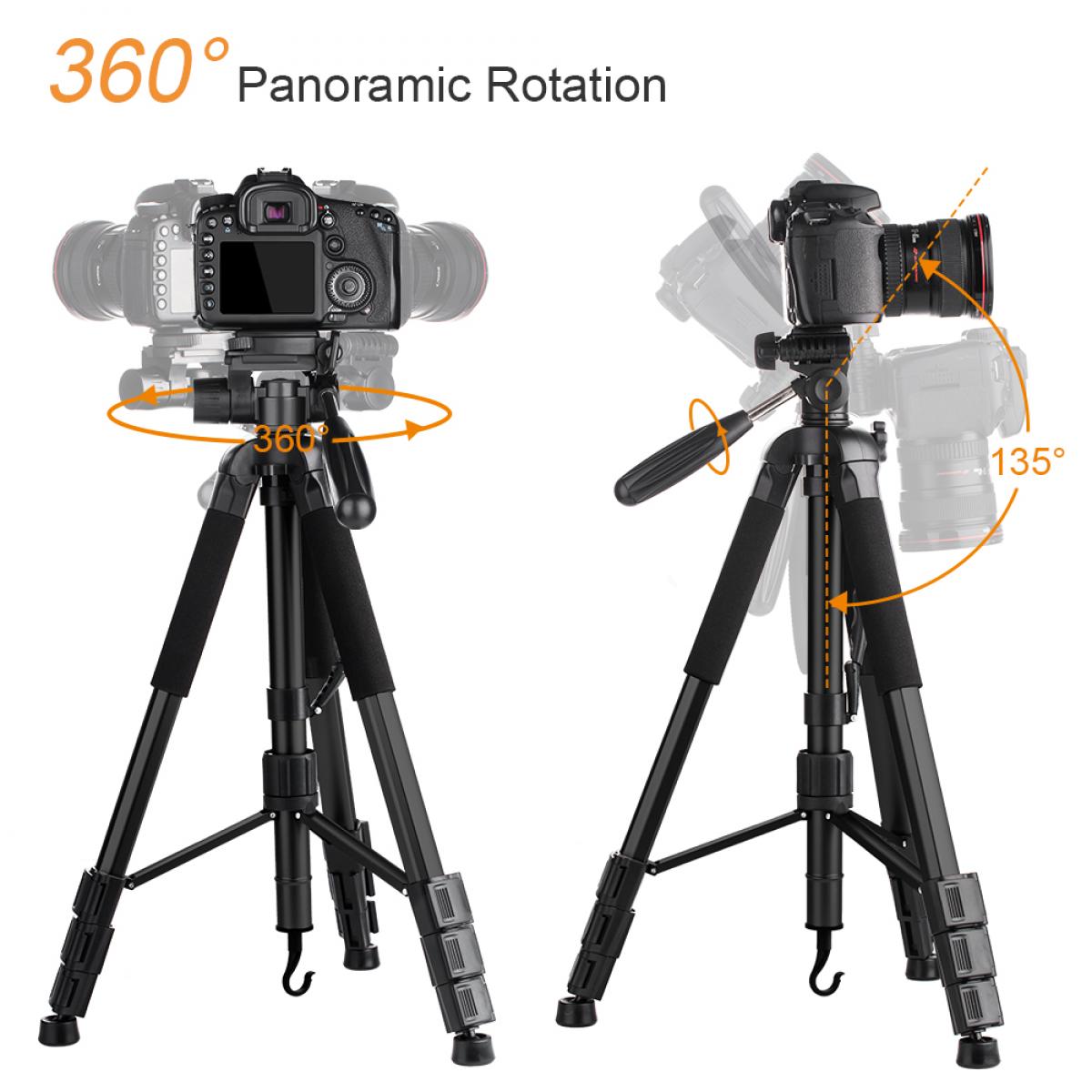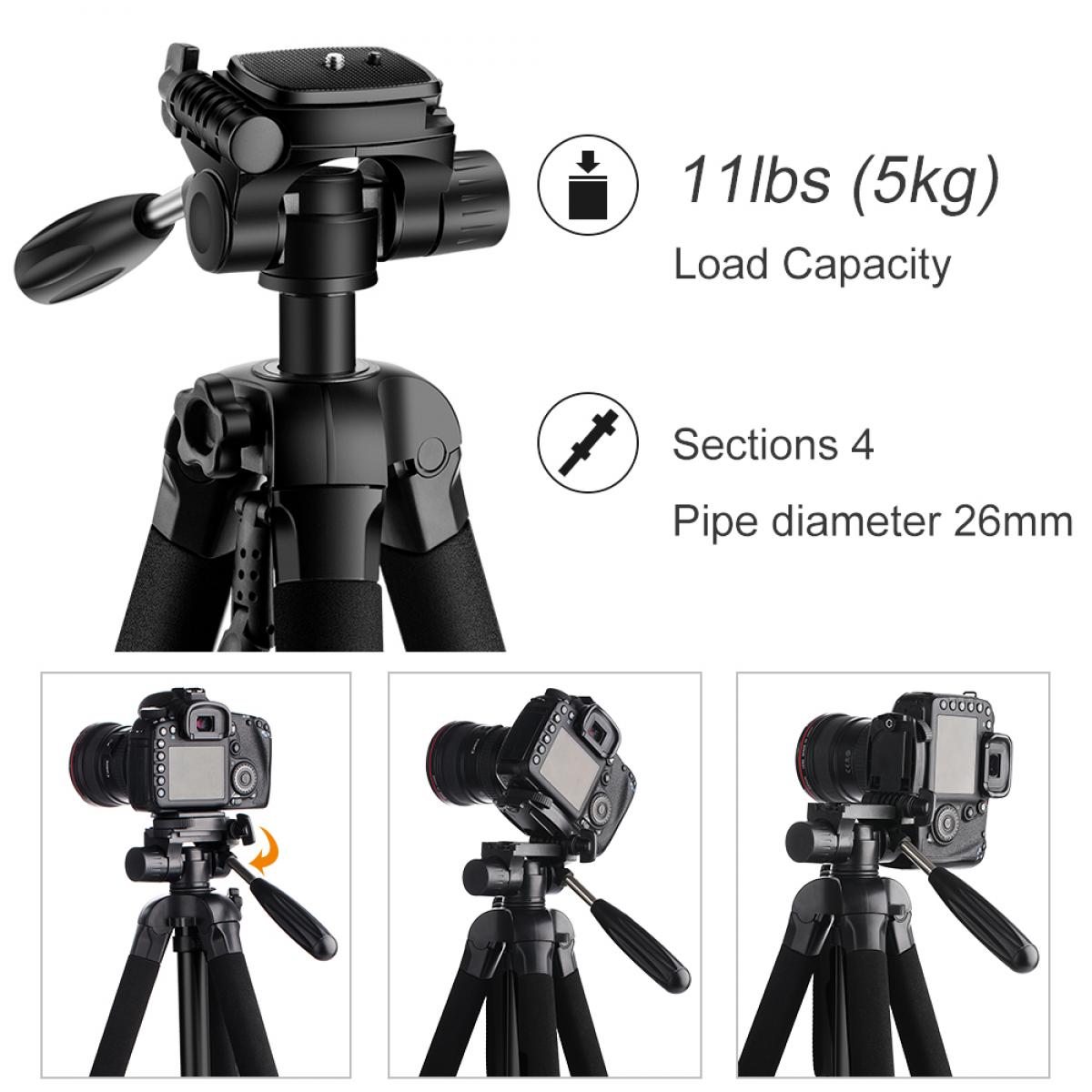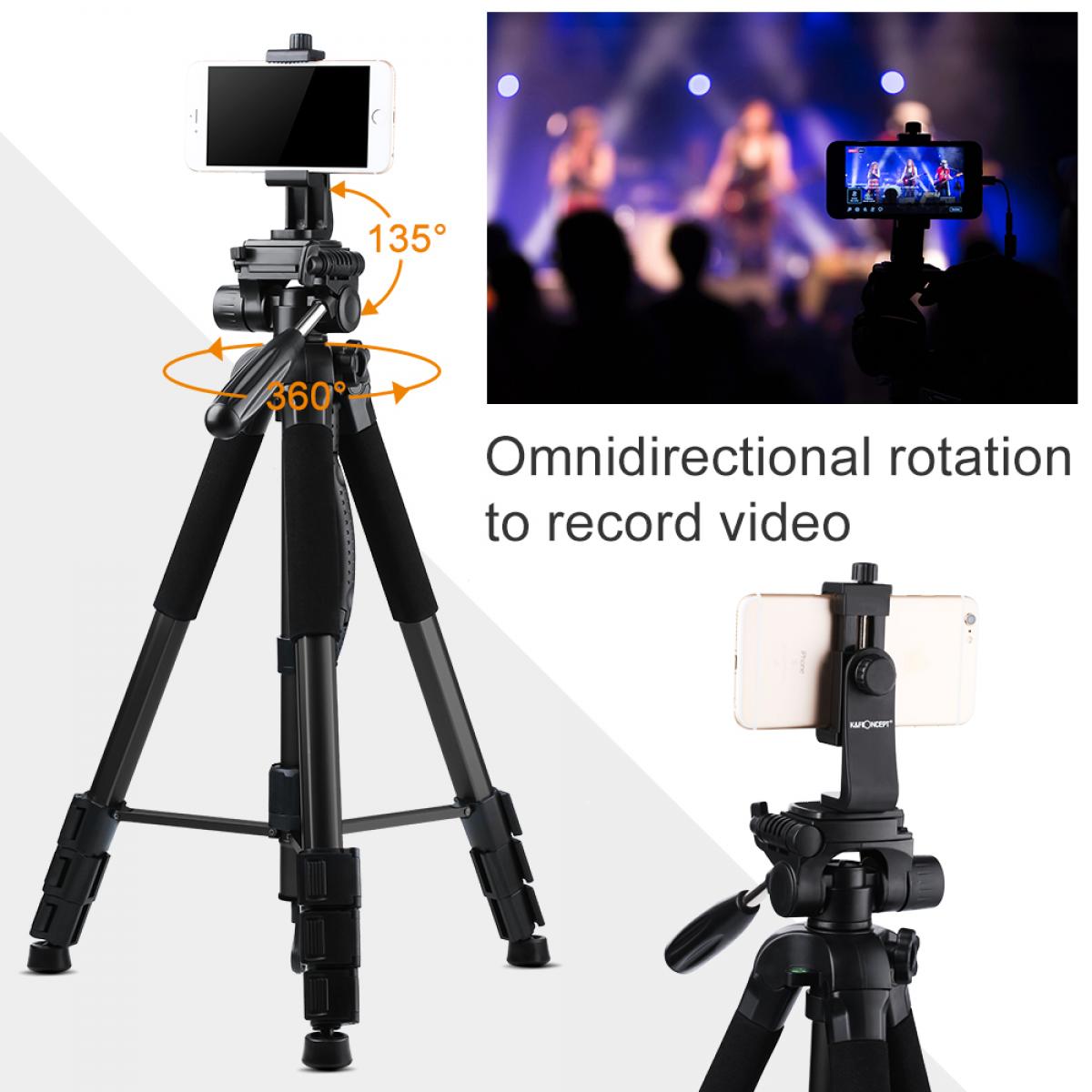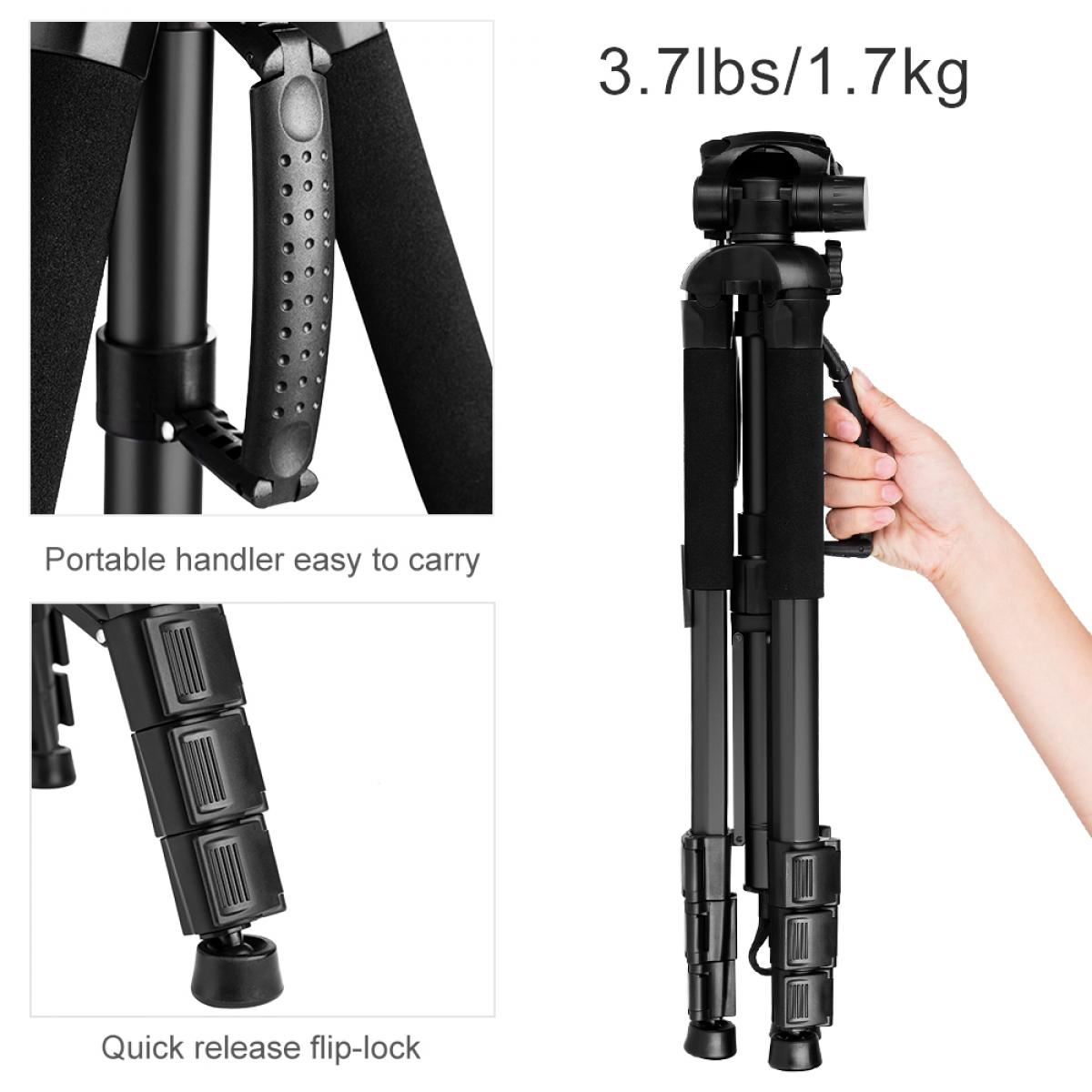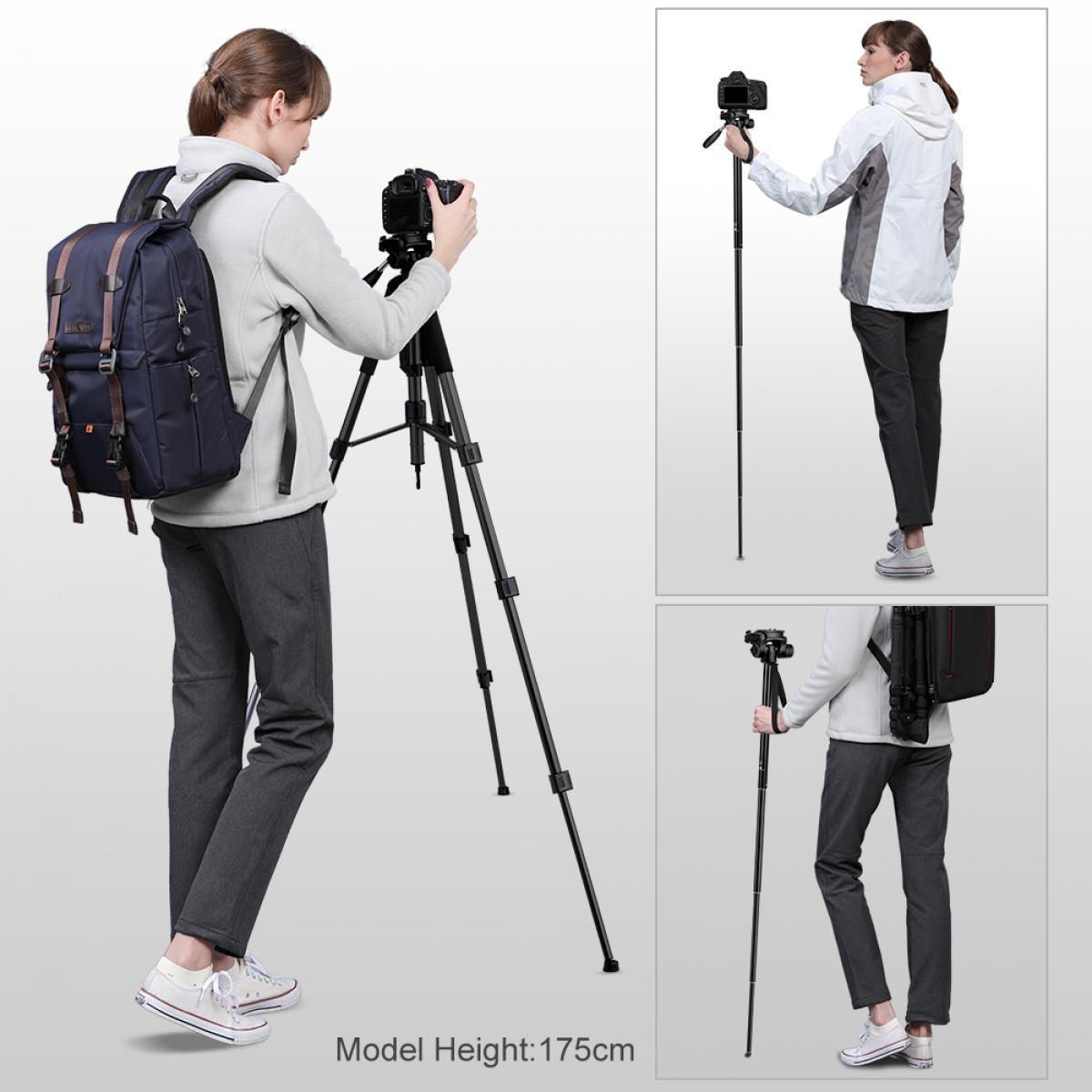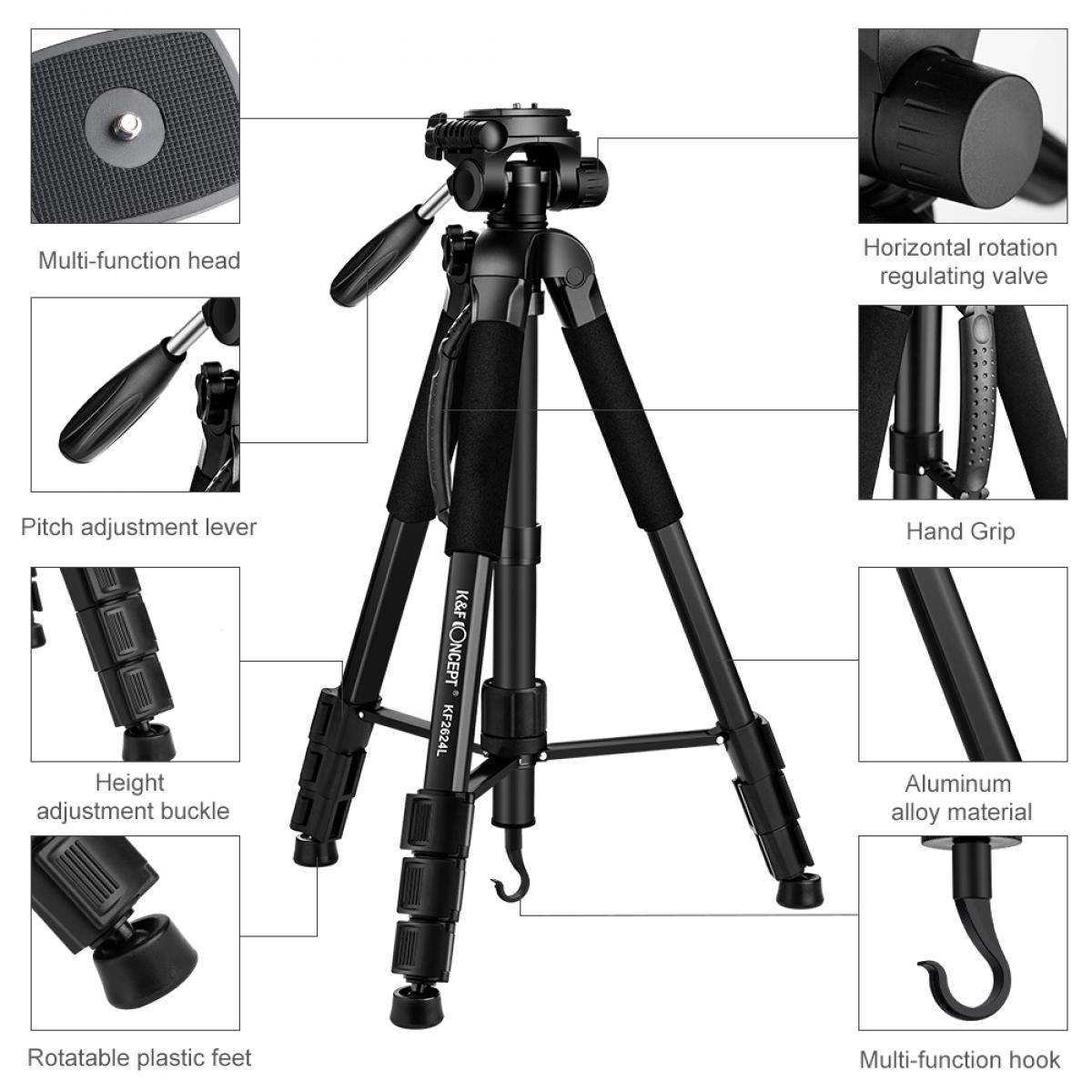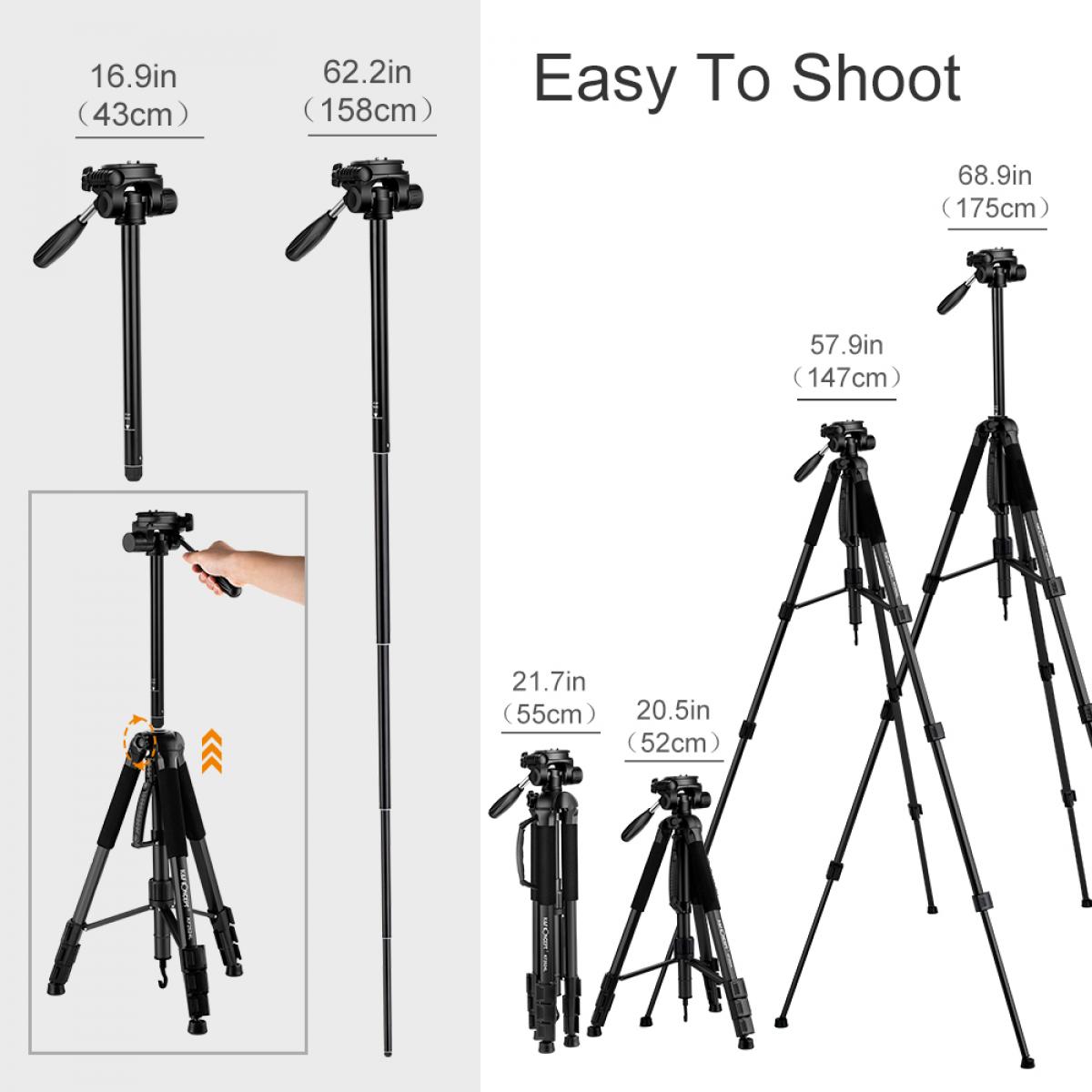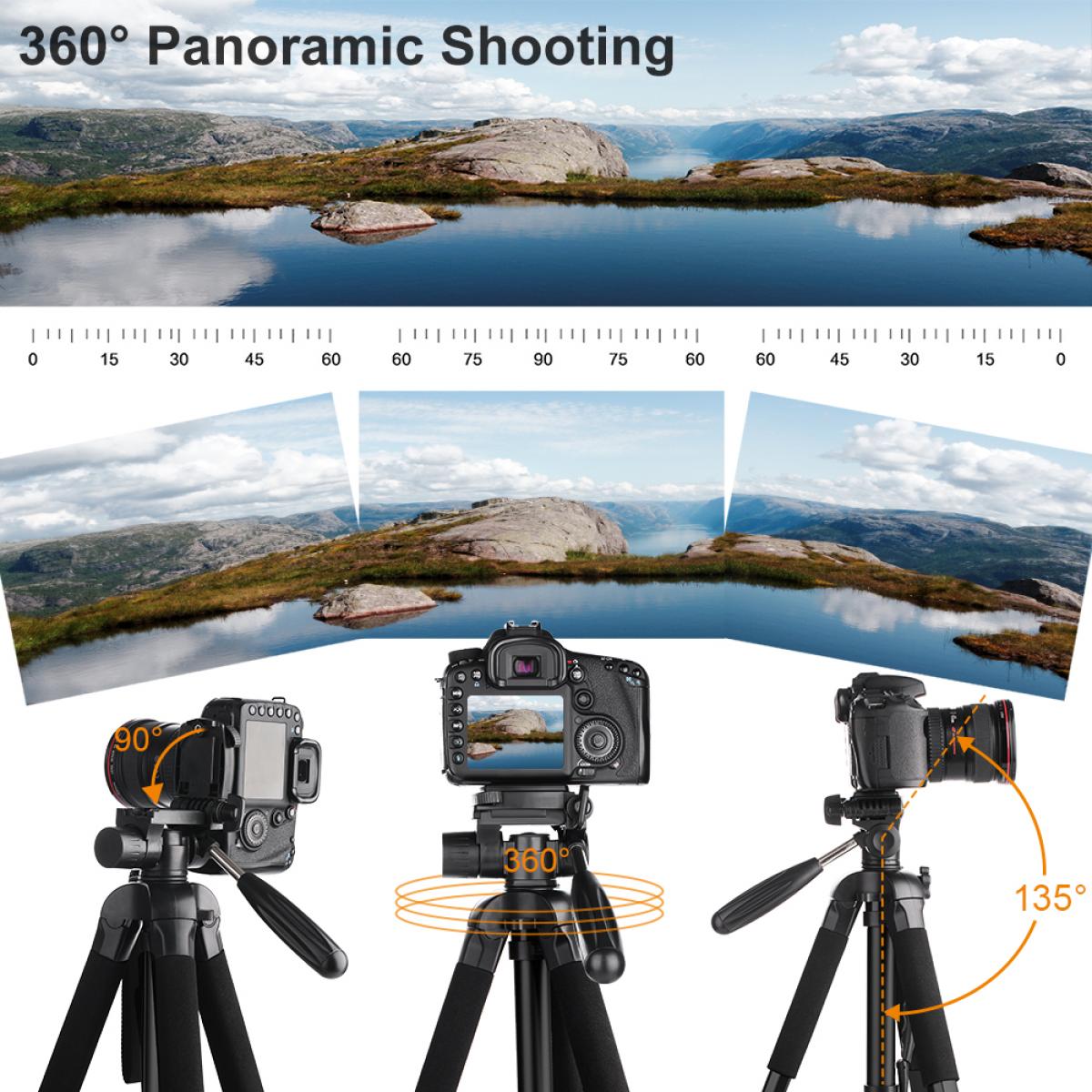 So big !!
I'm what they call a "serious amateur" when it comes to photography, which puts me somewhere between a "casual shooter" and a true professional. I know my way around tripods and monopods alike, starting out with the old Silk line of tripods and now am partial to Manfrotto. Of course those tripods are 5-6 times the price of the Concept, so it is only reasonable that I should modify my expectations accordingly.I "grew up" with pan and tilt tripod heads, have never been in love with ball heads, so I was looking forward to having this type of head again. It does work in the classic sense, offering moving and locking on each of the three axes. The inside of the center column can be pulled out and extended to be used as a monopod, making use of a twist-loc system. The tripod has a nice robust feel to it, easy to confuse it's makeup to be aluminum. The product manual refers to this as a "plastic tripod" and also states its material to be "ABS Environmental Resin". The only metal appears to be the 1/4 stud attaching the head and the rivet hinges allowing the legs to be spread. The quick attach plate seems to be secure when locked in place, but there is no secondary lock to prevent accidental openings and the plate does not appear to be compatible with any of the more common such plates. I greatly prefer the flip leg locks for the speed of set up over that of the twist variety, but there is no adjustment of the locks available, so at some point that will be a problem. The included phone mount is a clamp/screw type which allows one to determine just how much holding power to apply, as opposed to the usual spring loaded variety.If this is all you can afford or justify then I think you will be well served for a time. Eventually the leg locks will begin to slip as they all do of this type and that will probably be the determining factor to force you to move on to something else. As far as a tripod goes, it should help you get the shots you want, and the ABS makes this essentially waterproof and probably washable/cleanable if dropped in the mud. I think most will consider this serviceable, certainly a safe choice as a utility or backup tripod, and can serve as your main unit in a pinch.
03/09/2020
So far so good
It's pretty good, but I think next time I would like to get one without the built in monopod. It's a cool thought, and it is useful, but I think a more traditional telescoping tripod would have been more suitable.
26/12/2021
Camera tripod.
The tripod is well built, it services its purpose.
20/11/2021
It works
Was expecting more from the reviews and price. I wanted a light weight tripod for quick shoots as my others are high end Italian made. It's ok. Does the job. No major complaints. Always concerned a little about my cameras.
17/10/2021
Very nice for the price
Good stability for a Maven spotting scope. Smooth pan head, easy to adjust.
06/09/2021
love it
i have gotten a lot of use out of this and i couldn't be more pleased. the one thing i should utilize more is the monopod... shooting stick... i don't know what you call it, but it looks neat and under the right circumstances, a bonus to use. solid and smooth...
26/06/2021
Good stand very sturdy
Great for Yellowstone
21/04/2021
My favorite tripod
I have only used a couple of tripods so I don't have much to compare this to. But another I tested was in the same price range as this one and I like this one much more.This one is heavier than the other, but it is also a half a foot taller. I really like that I never have to bend over when using this one. I really like that there is a little handle on this one to make fine adjustments to the camera direction.I can't really place the reason, but I trust this one not to tumble over my equipment more than the other one. They have both sat side by side in my closet for quite a few months and this is the one I always reach for when I need a tripod.
13/04/2021
It's okay.
Is this my new, all purpose, love it, tripod? No. Is this my new, up over people heads, church video camera, tripod? Yes. I just need something tall a cheap and stable. This looks like it fits the bill. Would it stand up to daily use, travel, and outdoor use? Not sure right now.
28/03/2021
Okay
Good quality. Very sturdy. Using it for my canon t7i although I wish the handle would be on the other side for long ways pictures... but all in all good tripod.
15/01/2021
A
I don't know, but it has a weight hook underneath the tripod.
A
looking forward to hearing from you.
Tripod General
Load Capacity
4kg/8.8lbs
Maximum Working Height
1770mm/69.7"
Max Height without Center Column
1470mm/57.9"
Minimum Working Height
530mm/20.9"
Folded Length
570mm/22.4"
Weight
1.7kg/3.71lbs
Materials
Magnesium aluminum alloy
Tripod Head
3-way pan head
Color
Black
Bubble Level
Tripod Legs
Leg Lock Type
Flip Lock
Leg Positions
3
Independent Leg Spread
Leg Sections
4
Leg Diameter
26mm
Feet Features
Tripod Center Column
Center Column Features
Center Column Sections