WIFI solar security camera outdoor camera 2K Ultra HD picture Audible alarm IP66 waterproof two-way voice Built-in Battery 9000mAh
Buy 99$-15$, 199$-30$, 299$-50$, 599$-120$(Black Friday Price)
Free shipping worldwide
Buy now in the K&F Concept WIFI solar security camera ► 30 Day No Reason Return ► Built-in Battery 9000mAh ► Fast Shipping From US Free ► 2K Infrared Night Vision 2-Way Audio

KF50.0013A

SKU:

KF50.0013A

87.99

https://www.kentfaith.com/KF50.0013A_kamp-f-concept-solar-security-camera-wireless-outdoor-camera-battery-camera-with-solar-panel-spotlight-camera-2k-resolution-wireless-2-4-ghz-wi-fi
Buy 99$-15$, 199$-30$, 299$-50$, 599$-120$(Black Friday Price)
Description
* 【K&F Concept Solar Security Camera】No need to recharge, solar powered: Daily sunlight is enough to continuously power the camera, so you don't need to worry about changing the battery. When the sun goes down, the built-in battery keeps the camera working.
* 【It's all about the details】Capture every event that happens under the camera in ultra-sharp 2K resolution.
* 【No Hidden Costs】One-time purchase, no monthly fees or hidden fees. Everything is done on-device for complete security and transparency.
* 【Two-way Talk and IP66 Waterproof】The WiFi camera has a built-in intercom system, which always provides two-way high-fidelity calls. Just scan the QR code and you can share the camera with family or friends. IP66 waterproof design, can be used indoors and outdoors, so that it is not protected from heavy rain.
* 【Light up the night】Once motion is detected, the color night vision can detect anyone in the darkness of 8 meters
Shipping
Free shipping worldwide
Sale
Buy 99$-15$, 199$-30$, 299$-50$, 599$-120$(Black Friday Price)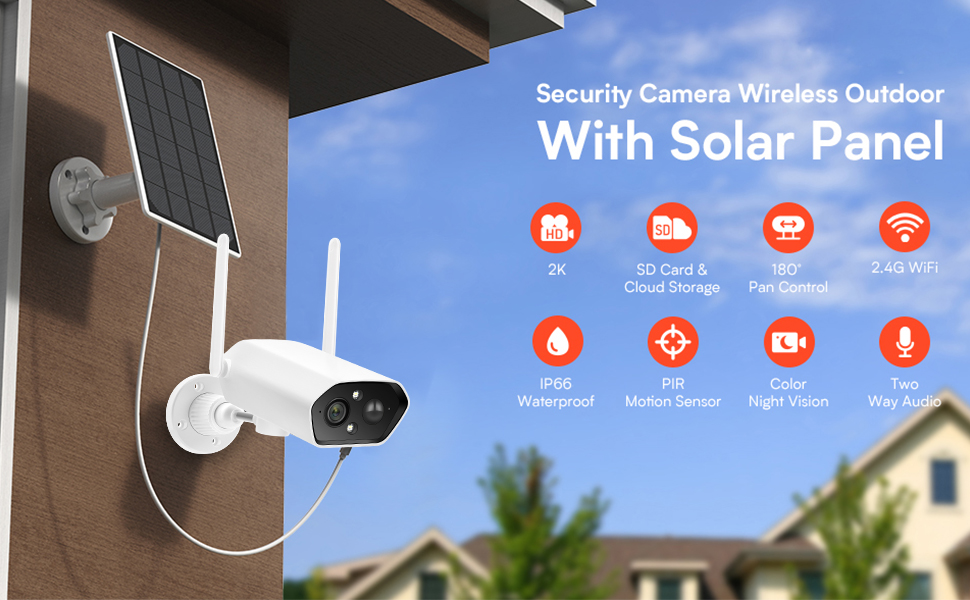 K&F Outdoor Security Cameras Keep Your Life Safe
· Equipped with solar panel and 9000mAh large capacity battery, no need to connect wires, the camera can be charged as long as there is sunlight.
· 3MP high-definition, 180° horizontal rotation can be controlled by APP to expand the field of view.
· Full-color night vision, 3MP ultra-high-definition pixels, easy to see even in the dark.
· PIR humanoid detection, timely send information to your mobile APP.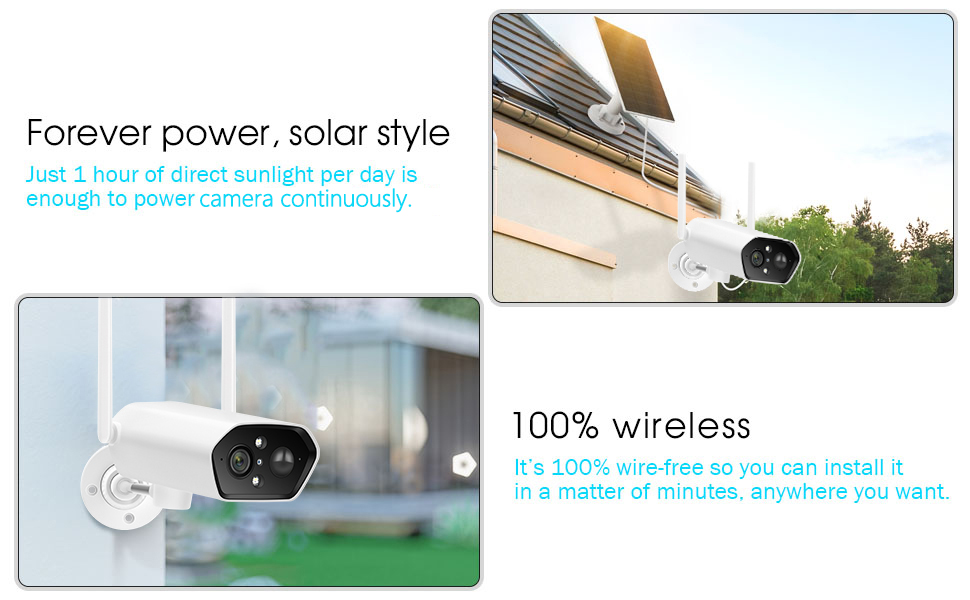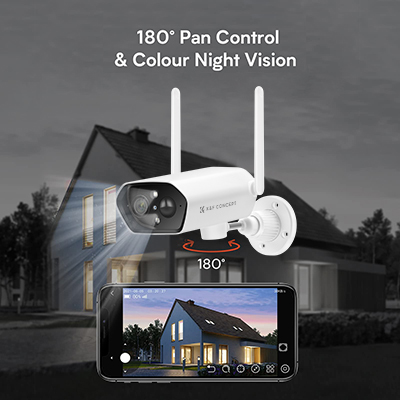 Color night vision and light alerts
The camera supports infrared night vision and color night vision. Equipped with 2 LED white lights, the maximum distance is 8m/26.24ft. In color night vision mode, when human motion is detected, the camera immediately activates a flash warning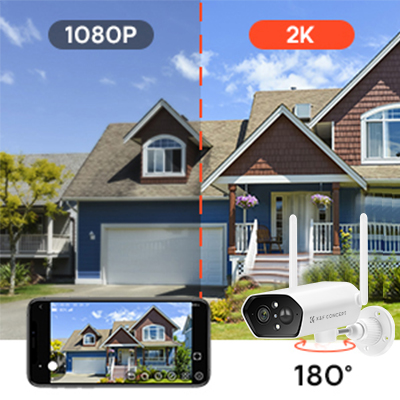 2K HD
Outdoor security cameras feature 2K resolution (2304H x 1296V), providing higher quality clear images and HD video regardless of the weather.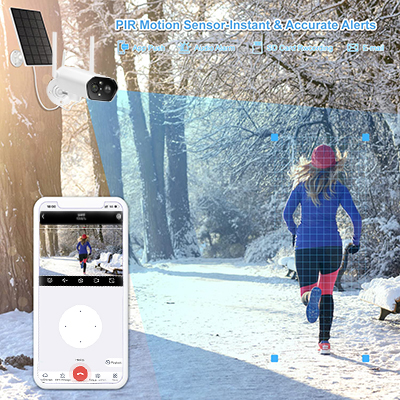 PIR motion sensor and real-time alerts
Advanced PIR sensor with precise AI smart algorithm detects human movement and reduces false alarms caused by flying insects and shaking leaves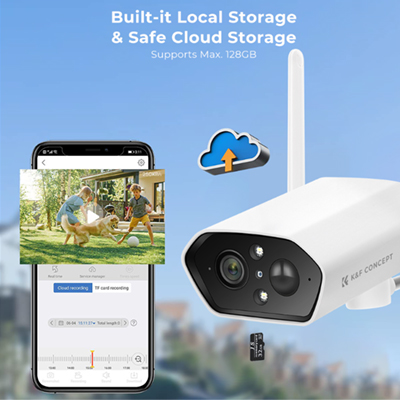 Support SD card storage
The wireless outdoor camera supports SD card storage (not included, maximum 128G), and can choose to use SD card for recording and playback.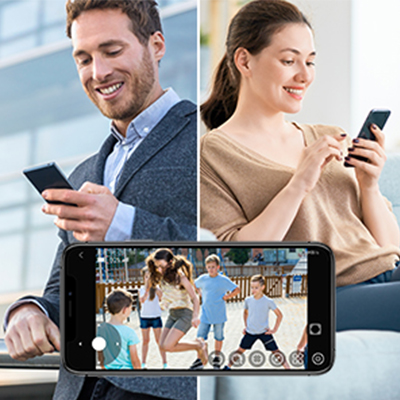 Shared by multiple users
Share your Wi-Fi security camera access with your family or friends, allowing multiple people to view footage remotely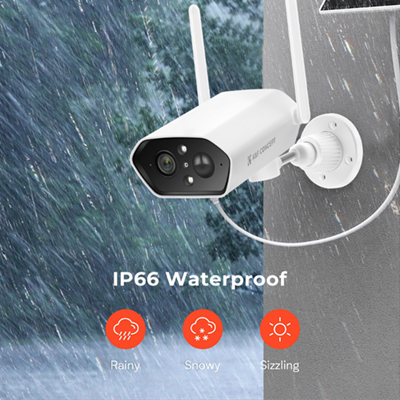 IP66 waterproof
Whether it is raining, sunny, cloudy, or snowing, it will not affect the use of the product. The smooth surface of the camera greatly prevents the accumulation of rain and water.
| | |
| --- | --- |
| Model | PT516 |
| Resolution | 2304*1296 |
| Image Sensor | 1/3.2"" CMOS Sensor |
| Night vision distance | 8M |
| Video encoding | H.264/H.265 |
| Intercom | built-in microphone, speaker |
| Storage | SD card (maximum 128G), cloud storage |
| WIFI | 2.4GHZ FHSS |
| Packing size | 18.5*11*7CM |
| Packing weight | 794g |
| Package Contents | Camera*1, Mounting Bracket*1, USB-C Power Cable*1, Solar Charging Board, Screws*1, User Manual*1 |
All Reviews
Image

All Star

5 Star

4 Star

3 Star

2 Star

1 Star
Good support and value for money
use this camera in the open stable to check on the horse from time to time. The camera can be controlled via a mobile phone app and has various functions. Among other things, the camera can be set so that an alarm is sent to the mobile phone when people are in the barn. The camera has a night vision function, the quality is sufficient for me. The camera recently had a defect and could no longer be controlled via the app. CTRONICS customer service was very helpful and checked the camera for malfunctions. After a day or two, I was very kindly informed that a new camera would be sent to me. This arrived at short notice and I was able to exchange the defective camera. In summary, I can recommend this camera, there are certainly better image qualities, but the price-performance ratio is reasonable here. I would like to mention the good customer service again!
15/06/2023
TOP
For this price - great
14/06/2023
Impressive!
haven't had it long enough to explore all the features and functionality of this remote solar powered security camera, but I can say that based on a short term test this device appears to be very good indeed. My first impression from the start was the quality of the camera, solar panel and fittings. Everything seems to have been well thought out in terms of weather resistance of the electrical connections, including the SD card slot and the on/off switch. This is my first experience with such a camera, but everything is pretty simple and intuitive in terms of installation and operation. The CloudEdge app is very slick and has exceeded my expectations so far. The real-time remote control of the camera from my iPhone is excellent and the imaging is very clear indeed. I like the excellent range of movement of the camera and the operation of the internal motors is barely audible. The battery performance claims are probably correct as I left the unit on in the box with no power for almost four weeks and barely used any power. My WiFi router is 5GHz but also has a 2.4GHz channel which I chose as this camera only works on the lower frequency. I initially thought this was a weakness until someone explained that while 2.4GHz doesn't get through walls as fast, which makes sense. I use an SD card in the device as I didn't want to sign up for cloud storage and I'm happy with that as the camera is out of reach for anyone to access the card. Love the fact that you can install this camera quickly and easily without having to connect it to internal recorders or cables etc. It's literally a plug and play device and has given us peace of mind when we're not at home. If the features I haven't tested are as good as the ones I have, then this is a great security device. Based on my experience so far, I can definitely recommend this security camera for home and light commercial use.
13/06/2023
Solar panel for battery camera
Solar panel for battery camera. Solar panel is suitable for battery cameras not for mobile phones. If you use it to charge your phone, it's very slow. # Product is well made and comes with a long cable. Any time.
13/06/2023
easy installation
Camera no longer goes to home position during motion tracking.
13/06/2023
A good battery camera
The camera works very well, even in these wintry weather conditions the battery charges well. The night vision works very well. The image sensor reacts very well and recognizes a lot. The image quality of the recordings is well resolved and recognizable. We can highly recommend the camera.
12/06/2023
Successfully used for the first few weeks
got the camera for outdoors where I don't have access to electricity. So far I'm very satisfied, I was pleasantly surprised at how quickly the battery is fully charged again (message is displayed on the mobile phone via the app), even if there is little sun (like just now in autumn/beginning of winter). The quality of the camera images is also very good for me. In my opinion, the recordings and motion alarms work as expected. Ride with the medium sensitivity level and think that it works well and is also very balanced in terms of battery consumption. At the moment I don't have a memory card in use, but the recordings are saved via the cloud - so far enough. All in all I am very satisfied - it would be great if you could control the camera. In my case not really necessary, but would be a feature that could still exist. Otherwise everything is fine so far, can definitely recommend the camera!
12/06/2023
Top price/performance
Very nice camera with USB-C solar panel from K&F Concept. The wireless camera is already my 3rd camera from K&F. The assembly is awesome. With a template and mounting accessories, nothing else is needed to hang the camera nicely on the wall. I use them in the garden to monitor the back part behind my garden shed. The setup was easy as usual. Really good. The picture and especially the night vision are outstanding for the price. Of course, the range could be better, but once you realize what you're paying for, you don't have to complain. I'm super happy with it. So far the battery has lasted. I'm curious to see what will happen over the winter when the days are getting shorter and shorter. You don't need to say more about the camera. Should be just a review here from me.
12/06/2023
Super camera with solar panel
Having confidence in this brand and already having several cameras in my possession, I chose this model because it can work on batteries and solar panels and without an outlet, offers the possibility of being able to view them remotely from the same application, and also because of the full duplex audio to chat with people. High quality camera that is easy to set up: you press a button and scan the QR code in the K&F Concept application. After a few moments, the camera will announce that it has successfully established a Wi-Fi connection. The connection to the WiFi network is very stable even at a certain distance from the router or repeater (tested outside of 20 m from the Netgear Nighthawk AX1800 repeater in the garage). The picture quality is very good. H24 7/7 Max 60 seconds Recording to cloud or SD card only activates when motion is detected to save bandwidth and battery. The IR illumination can be automatically activated or completely deactivated depending on the lighting conditions (public lighting, low light, fog, etc.). Once configured, it can be used on the go without WiFi and without a solar panel, for example during a power outage. Hidden for regular surveillance of objects (from theft), of course remember to charge the battery via USB and insert an SD card. Playing videos is very easy with the application on iPhone or Mac (not tested on Windows). Probably the best camera currently. I have no negative comments for now.
11/06/2023
Can only recommend
Parcel would be delivered the next day well packed. All necessary cables and brackets are included. Solid processing. Can only recommend.
11/06/2023
Surveillance Cameras
Video Resolution
2K
Power Supply Method
Solar power
Built-in Battery Capacity
9000mAh
Storage
Micro SD card(up to 128G/NVR/Cloud)
Pan Tilt
/
Motion Detection
PIR
Motion Detection Range
7m/22,96ft
Waterproof IP Rating
IP66
Night Vision
Infrared Night Vision, Color Night Vision
Night Vision Range
8m/26.24ft
Alarm Method
Sound and light alarm
Two-way Talk
√
Connection Method
2.4GHz wifi
App
EseeCloud