Outdoor 4G LTE Wireless Security Camera, Solar and Battery Powered, PIR Motion Detection Waterproof
Free shipping to eligible country
Brand:

KENTFAITH

K&F Concept 4G Camera LTE Security Wireless Camera, 24h non-stop power by solar and 10400mAh battery, PIR Motion Detection Waterproof 2K Infrared Night Vision, 2-Way Audio, Uninterrupted Power Supply, and 360° Full Coverage, Color Night Vision, PI

KF50.0009AUS

SKU:

KF50.0009AUS

179

https://www.kentfaith.com/KF50.0009AUS_outdoor-4g-lte-security-camera-wireless-solar-and-battery-powered-pir-motion-detection-waterproof-1080p-infrared-night-vision-2-way-audio-eu
Description
* 【SIM Camera and Waterproof】K&F Concept 4G wireless solar security camera only works with mobile cellular 4G network, TD-LTE, TD-LTE/LTE FDD TD-LTE/LTE-FDD standard, and Nano-SIM card slot. Waterproof grade IP66. It is a solution suitable for outdoor monitoring. No WiFi is required and no WiFi connection is supported.
* 【Uninterrupted Power Supply and 360° Full Coverage】The 4G solar security camera is equipped with a solar panel, and the built-in 10400mAh battery provides uninterrupted power, no need to remove the camera from the roof to charge. It achieves 355° viewing through 355° horizontal and 100° vertical rotation, 4X digital zoom, and 360° without blind spots. Application: Ubox APP
* 【2K Full HD and Spotlight Color Night Vision】K&F Concept 4G Solar wireless security camera outdoor equipped with 3.6mm lens, provides 2K HD decent images and videos. The built-in spotlight flashes bright light to switch to night vision mode, helping to see true-color night vision in real-time and see-through darkness up to 98 feet even in very low light conditions.
* 【PIR Human Detection and Instant Alerts】PIR sensors and AI humanoid detection alarms are used to detect human bodies more accurately and reduce false alarms caused by light or insects. Supports instant alerts and logging. You can instantly see what's going on from your phone.
* 【Optional Storage and Data Encryption Protection】The K&F Concept 4G LTE solar battery-powered outdoor security camera can be used for cloud storage or MicroSD card (up to 128G, not included) to provide you with flexible ways to save data. You can freely stream videos anytime, anywhere via the cloud (with an additional subscription fee). Mobile apps can be downloaded from the Apple App Store/Google Play
Shipping
Free shipping to eligible country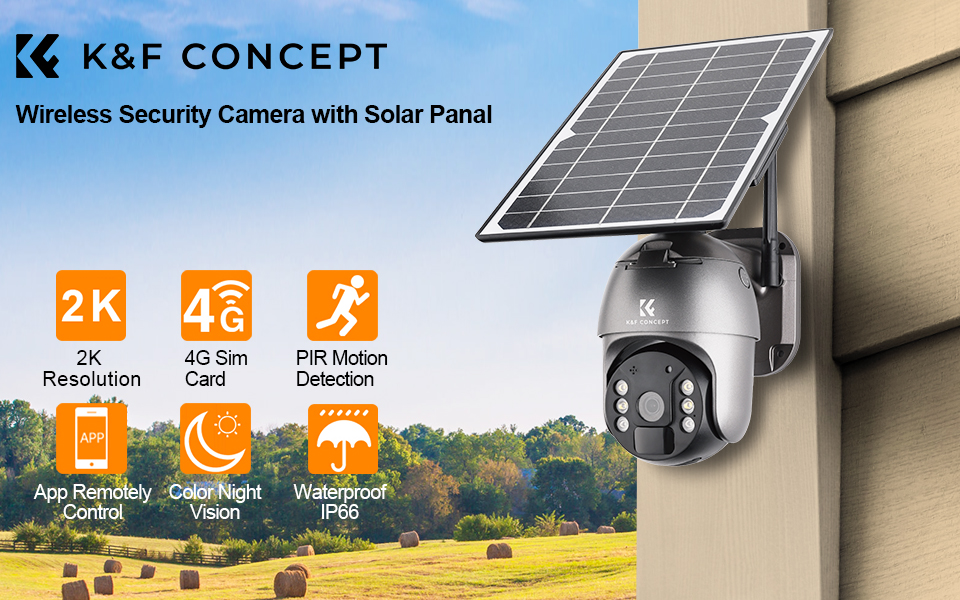 4G Solar Cell Outdoor Camera Color Night Vision
· 8W high-efficiency solar panel with adjustable angle.
· Built-in 10400mAh high-capacity power battery storage.
· HD 2K all-round coverage of any corner Pan 355°Tile 120°
· Local TF card slot & cloud storage, support Class 10 8G to 128G (not included)
· IP66 waterproof, weather resistance from -4°F to 140°F (-20°C to +60°C)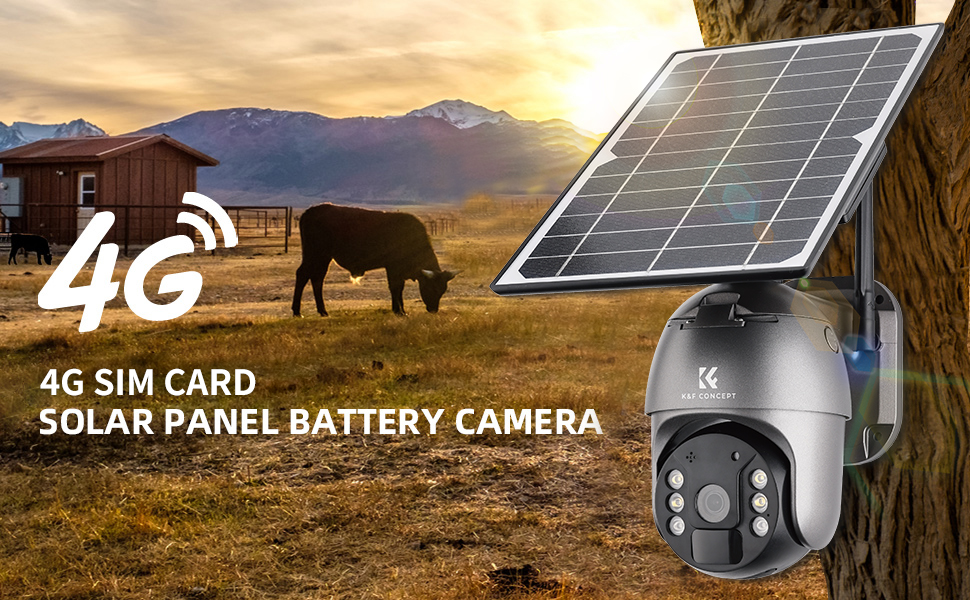 Why choose 4G Solar Security Camera:
1. No wiring, save money: 4G solar security cameras can get the job done without connecting cables to remote areas, saving you a lot of money and trouble.
2. No need for a WiFi network: One of the biggest advantages of a 4G solar security camera is that it is independent of a WiFi network, and it does not need to transmit video by wire or wireless at all.
3. Sensitive to motion: built-in PIR motion sensor + Ai humanoid detection alarm, reducing a large number of false alarm natural elements.
4. Remote real-time viewing and notification: Support remotely viewing and control the direction at any time with the UBox APP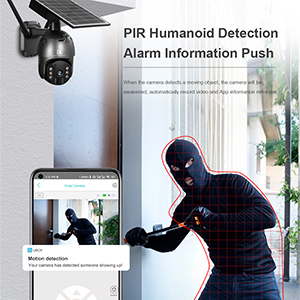 PIR motion detection and alerts
Get active alerts when something unusual happens so you know if anything happens while you're away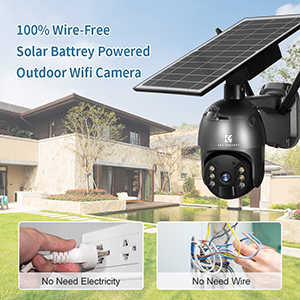 Solar-powered 100% wireless
Built-in high-capacity rechargeable lithium battery and 8W solar panel, no need to worry about battery life and low power, keep it fully charged, and achieve 100% wireless outdoor safety.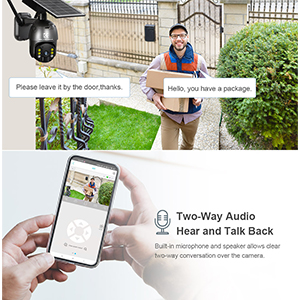 Two-way talk
Built-in enhanced microphone and speakers make it easy to communicate even when you're outside.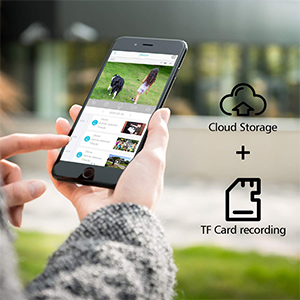 SD card storage and cloud storage
Support SD card storage, up to 128G (not included), cloud storage (optional)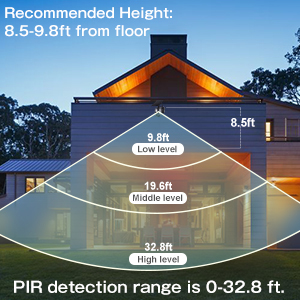 PIR human detection distance
The monitoring distance of K&F solar security cameras is up to 10m/32.8ft and will trigger instant alarm notifications through the APP. The ideal installation height is 8.5-9.8 feet above the ground.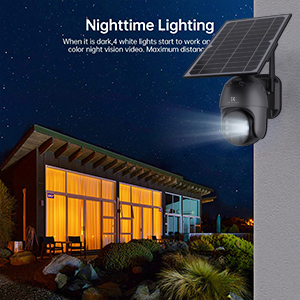 White light
Featuring 4 illuminated LED spotlights, enabling color night vision for clear video recording and 98ft live streaming.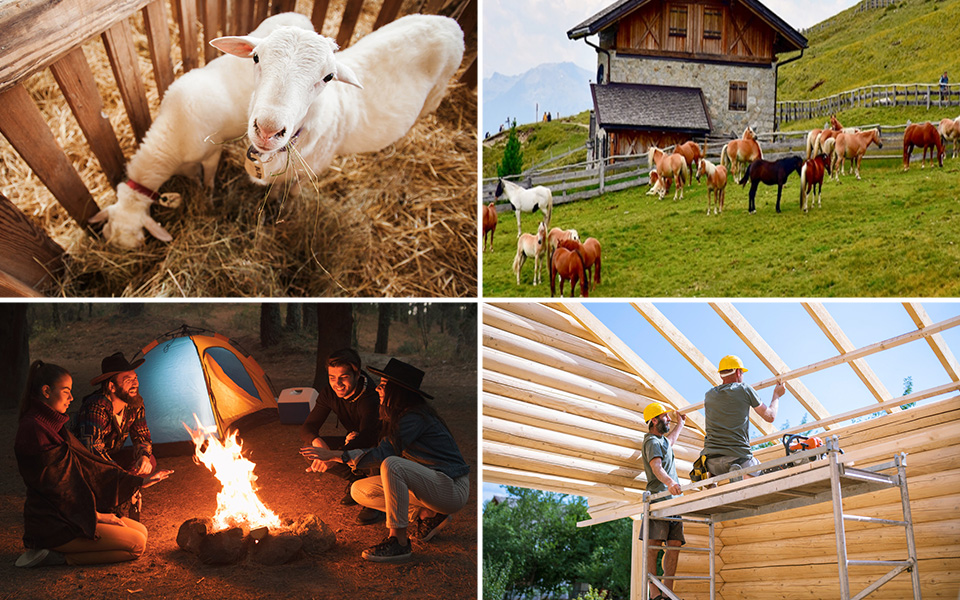 Suitable for home security/farm/construction site, etc. (built-in battery, please charge it with 5V2A adapter for more than 8 hours before first use)
Great camera I love it
Great camera , The only problem I had is with the SIM card, just make sure you have 4G SIM card and if you planning to get one from AT&T that won't happen. So what I did I took the SIM card from my iPad and used it on the camera it it work beautifully, I have the camera placed by the gate on 20 Acre ranch and the gate is far away from the house. I was able to Receive notification and Monitor my gate from anywhere. I'm thinking of getting another one but I don't have another SIM card
31/03/2022
Easy to use and great quality
Set up is super easy.
26/03/2022
Great off grid camera
This cellular, solar camera allows us to view land we bought in Tennessee without power. It was challenging to find a cellular, solar camera (with rechargeable batteries) to be able to monitor the area remote. The pan, tilt works great and connection to live viewing is quick. One issue, make sure you write down your password so you can share the camera with others. Great camera and solar panel keeps it charged. Great solution for remote area without power. I did go to my Verizon store and added a SIM card onto our account for the cellular connection for $20/ month without a contract. Love the camera.
23/03/2022
This camera is great solar powered take anywhere
This camera is great all the takes is a Sims card and you're ready to go I'm going to purchase another one
19/03/2022
Great system
Easy setup and pictures from 80 miles away are great.
08/03/2022
It really works well
With the EIOTCLUB sim card just plug and play.
02/03/2022
Great Camera, some network quirks
I have ATT as my carrier and I checked 4G coverage on their website for the location I wanted to use this camera which was several states away from me. I ordered a universal SIM card selecting the option that I was going to use it in a tablet. ATT mailed me the sim card and added it to my account. I put the camera together and verified that the sim card worked. I fully charged the camera with the included cable and then took it to my location and mounted it by screwing the bases into a tree. I had the solar panel kit and connected that. The camera showed 4 out of 5 bars of 4G at this location.The app software is pretty good, a little more complicated than I think it needs to be. I have a hard time getting to the sections of the app I use the most, like looking for the battery charge indication, any captured movement film clips, etc. To get email notifications, the app wants your email address and your email account password. I use Gmail and Gmail does not like the app and blocks any attempt by the app to get into Gmail, so I can't use this function.Connection and quality is a little inconsistent, though this is most likely network related and my setting the camera for the highest quality picture. Sometimes I get the best results when using my WiFi only tablet to connect to the camera. It pans the camera almost instantly even from several states and thousands of miles away. Using my cell phone with 5G to connect to the camera with the app I will get a clear picture, but the panning has several seconds of delay and lags. Sometimes, no matter what device I am using, it takes almost a minute for the camera image to come up, I will get an updated, yet frozen image, with "loading stream" and "connecting" messages for up to 30 seconds to over a minute. With panning, the camera will have a current signal because the time stamp will update but it just won't pan no matter how long you direct it too. Switching to the app on a laptop during all of these issues, I was able to connect quickly and pan with some minor delay after directing the panning, but I have had times when the tablet has trouble loading and then switching to PC it also takes some time. Once again, I think this is all network depending on time of day and what is going on. I do think I prefer the PC app better than the mobile version for navigation, function and the panning control (not a fan of the app panning control "buttons").The battery with the solar panel so far is awesome. After a week of February cloudy days, rain, wind, and a solar panel location that only gets half day sun filtered through trees, I have not gone under 98% battery and have gone back up to 100% several times. This is with checking the camera for a few seconds several times a day and doing some panning. The microphone picks up sound pretty good (though where my camera is, I all hear is the wind and grass rustling). I haven't tried talking to the woods and forest animals with the speaker function.Night vision is pretty good. I had some moisture or water drops on the lens which the IR caught and illuminated so it gives off glowing round reflection on parts of the picture at night.Overall, very impressed with the picture/video quality especially during the day. Very cool how I can be thousands of miles away and watch my plot of land that has no power or internet.
22/02/2022
Awesome
Love to have on ice house and boat lift.
07/12/2021
Added security for my Open Storage Lot!
I would like the night vision to be more clear! Motion detector works well! Alert works well!I own a RV Storage lot and added security was what I was looking for!
06/12/2021
Move around do you get a good signal
Poor Pitcher quality even on 1080
29/11/2021
K&F Concept Outdoor 4G LTE Wireless Security Camera | Installation Tutorial for KF50.0009
Surveillance Cameras
Video Resolution
2K
Power Supply
Solar / Built-in Battery
Built-in Battery Capacity
10400mAh
Storage
Micro SD card (up to 128G/cloud storage)
Pan Tilt
Horizontal 355°/Vertical 120°
Motion Detection
PIR
Motion Detection Range
10m/32.8ft
Waterproof IP Rating
IP66
Night Vision
Night Vision
Night Vision Range
20m/65.6ft
Audio & Light Alert
×
Two-way Talk
√
WiFi Connectivity
/(4G LTE)
App
UBOX