Outdoor 4G LTE Security Camera Wireless, Solar and Battery Powered, PIR Motion Detection, Waterproof, 1080P Infrared Night Vision, 2-Way Audio, Solar Panel US Standard
99$-15$ / 199$-30$ / 299$-55$ / 599$-120$
New customer gift package
Free shipping to eligible country
K&F Concept 4G Camera LTE Security Wireless Camera, 24h non-stop power by solar and 10400mAh battery, PIR Motion Detection Waterproof 2K Infrared Night Vision, 2-Way Audio, Uninterrupted Power Supply, and 360° Full Coverage, Color Night Vision, PI

KF50.0009AUS

SKU:

KF50.0009AUS

169.99

https://www.kentfaith.com/KF50.0009AUS_outdoor-4g-lte-security-camera-wireless-solar-and-battery-powered-pir-motion-detection-waterproof-1080p-infrared-night-vision-2-way-audio-eu
Description
* 【PIR Human Detection and Instant Alerts】PIR sensors and AI humanoid detection alarms are used to detect human bodies more accurately and reduce false alarms caused by light or insects. Supports instant alerts and logging. You can instantly see what's going on from your phone.
* 【Uninterrupted Power Supply and 360° Full Coverage】The 4G solar security camera is equipped with a solar panel, and the built-in 10400mAh battery provides uninterrupted power, no need to remove the camera from the roof to charge. It achieves 355° viewing through 355° horizontal and 100° vertical rotation, 4X digital zoom, and 360° without blind spots. Application: Ubox APP
* 【2K Full HD and Spotlight Color Night Vision】K&F Concept 4G Solar wireless security camera outdoor equipped with 3.6mm lens, provides 2K HD decent images and videos. The built-in spotlight flashes bright light to switch to night vision mode, helping to see true-color night vision in real-time and see-through darkness up to 98 feet even in very low light conditions.
* 【PIR Human Detection and Instant Alerts】PIR sensors and AI humanoid detection alarms are used to detect human bodies more accurately and reduce false alarms caused by light or insects. Supports instant alerts and logging. You can instantly see what's going on from your phone.
* 【Optional Storage and Data Encryption Protection】The K&F Concept 4G LTE solar battery-powered outdoor security camera can be used for cloud storage or MicroSD card (up to 128G, not included) to provide you with flexible ways to save data. You can freely stream videos anytime, anywhere via the cloud (with an additional subscription fee). Mobile apps can be downloaded from the Apple App Store/Google Play
Shipping
Free shipping to eligible country
Sale
99$-15$ / 199$-30$ / 299$-55$ / 599$-120$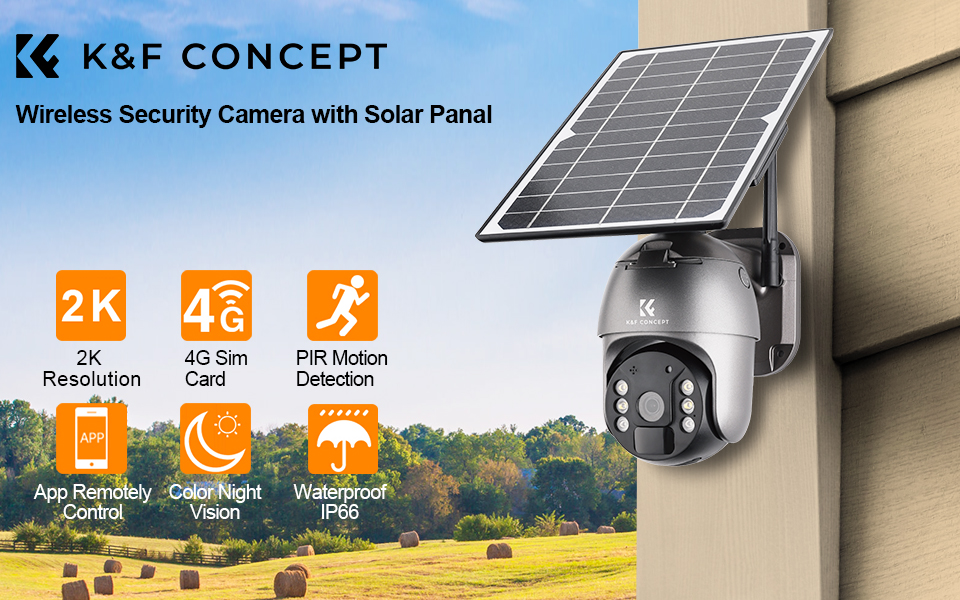 4G Solar Cell Outdoor Camera Color Night Vision
· 8W high-efficiency solar panel with adjustable angle.
· Built-in 10400mAh high-capacity power battery storage.
· HD 2K all-round coverage of any corner Pan 355°Tile 120°
· Local TF card slot & cloud storage, support Class 10 8G to 128G (not included)
· IP66 waterproof, weather resistance from -4°F to 140°F (-20°C to +60°C)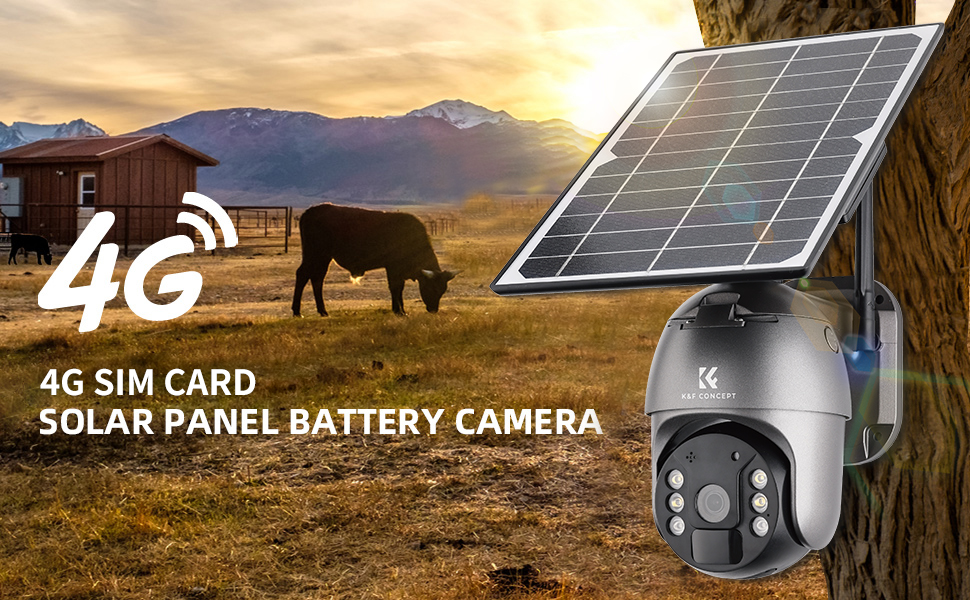 Why choose 4G Solar Security Camera:
1. No wiring, save money: 4G solar security cameras can get the job done without connecting cables to remote areas, saving you a lot of money and trouble.
2. No need for a WiFi network: One of the biggest advantages of a 4G solar security camera is that it is independent of a WiFi network, and it does not need to transmit video by wire or wireless at all.
3. Sensitive to motion: built-in PIR motion sensor + Ai humanoid detection alarm, reducing a large number of false alarm natural elements.
4. Remote real-time viewing and notification: Support remotely viewing and control the direction at any time with the UBox APP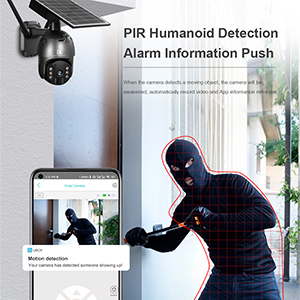 PIR motion detection and alerts
Get active alerts when something unusual happens so you know if anything happens while you're away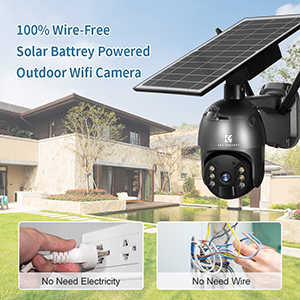 Solar-powered 100% wireless
Built-in high-capacity rechargeable lithium battery and 8W solar panel, no need to worry about battery life and low power, keep it fully charged, and achieve 100% wireless outdoor safety.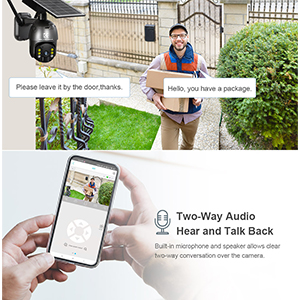 Two-way talk
Built-in enhanced microphone and speakers make it easy to communicate even when you're outside.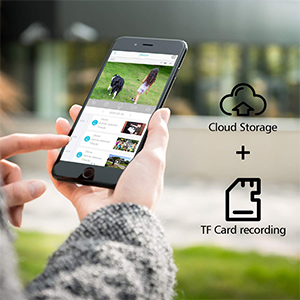 SD card storage and cloud storage
Support SD card storage, up to 128G (not included), cloud storage (optional)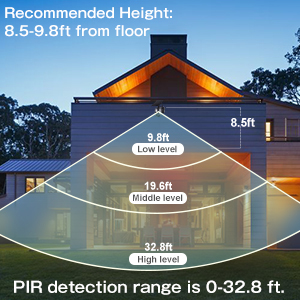 PIR human detection distance
The monitoring distance of K&F solar security cameras is up to 10m/32.8ft and will trigger instant alarm notifications through the APP. The ideal installation height is 8.5-9.8 feet above the ground.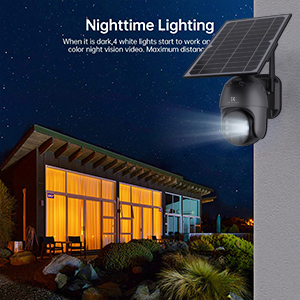 White light
Featuring 4 illuminated LED spotlights, enabling color night vision for clear video recording and 98ft live streaming.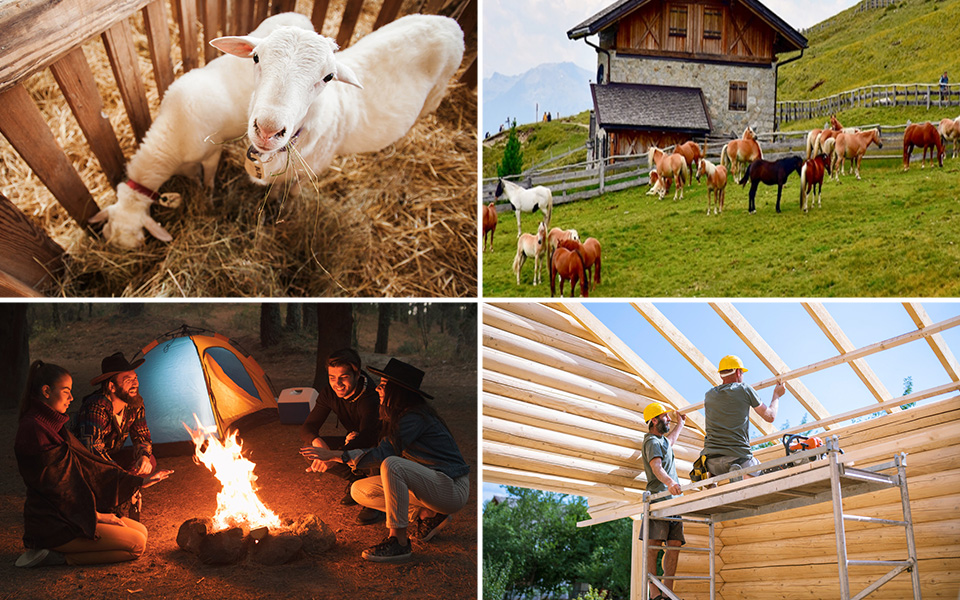 Suitable for home security/farm/construction site, etc. (built-in battery, please charge it with 5V2A adapter for more than 8 hours before first use)
Great Solar 4G Camera
Used this device to monitor a remote citrus garden where there was no access to an ectrical power supply.. And the device has exceed my expectations.. Received the device as a gift and it worked perfectly i
04/11/2022
excellent camera
Excellent camera with high quality pictures day and night. Definitely go grab one for the holidays, you wont regret it.
03/11/2022
High-quality workmanship and excellent image and video quality
4G cameras usually do not hold signal, NOT this one. NOT a cheap plastic camera toy, it is an important part of a security plan without wifi. The mounting bracket and solar panel and battery life are excellent. Very easy to set up. Don't buy a cheaper version, this one has great PTZ. Good sound quality. The app is reliable and free. A small annual fee gets you cloud service for a year. I am just getting the second one up and running.
02/11/2022
4G LTE Outdoor Surveillance Camera A solid performer with an integrated power source.
The K&F Concept KF50.0009AEU is an outdoor surveillance camera with full control via wireless connection. It is powered by an internal lithium battery that can be charged with the included solar panel. The lens mount is motorized and allows remote control of horizontal and vertical movements as well as zooming in and out.
The integrated power source provides some independence in camera location. I placed our sample on a post in the backyard, fairly high up, pointing at the lawn to record wildlife, especially at night. The plastic mount is easily attached with the screws provided. Masonry requires the use of a drill and dowels (preferably better than the cheap examples in the kit). I mounted the solar panel under the camera in a similar fashion, using the pivoting mount to adjust it so that it points slightly upward to harvest as much sunlight as possible. It could be placed away from the camera. The 3-meter tether offers a lot of flexibility in this regard. It plugs into a USB-C socket underneath the device. An alternative power source could possibly be used if sunlight is scarce, but the body of the plug is a bit too small and the socket is surrounded by rubber to keep moisture out, so a suitable cord is needed.
Before all this, the first task is to connect the camera to the home WLAN and download the Ubox app to a smartphone. It's pretty standard for this type of device. I would have liked to use the camera via PC, but it doesn't support Windows. The only option is to use the Android app in an emulator, or possibly use a Windows program with multiple factory cameras. This requires some knowledge and effort, and the camera may need to be set up in the manufacturer's app first to get the necessary details.
The camera can be set up with either a sound signal or a QR code. I had trouble with the former, but the QR code worked right away. The instruction book clearly made some effort, but some of the English language is difficult to follow.
The camera has all the typical features listed. The app is fairly easy to navigate, but not perfect. Recordings can be viewed after a short connection delay. They can be stored on an SD card in the camera or in the cloud (subscription required after the free trial). The recording quality is very satisfactory, and I found this camera generally capable. I'm still trying to set up shots longer than a few seconds, and the battery doesn't last the night at this time of year. It might be better on a safety setting where it's not triggered and not accessed as often.
01/11/2022
Great off grid camera
Great quality pictures day and night. User friendly app solar panel keeps it charged for days even with no direct sunlight.
01/11/2022
A good solution to your home solar surveillance cameras
This camera is designed to be 100% autonomous wireless. It works on batteries that can be charged via the built-in solar panel or via a USB port.
DE connects to your devices via 3G/4G/LTE with a SIM card (included). It connects via the UBox app, which is available in multiple languages, including Spanish, and is very easy to use.
For this reason, it is an ideal camera for monitoring farms or remote areas where there are no cables or wifi nearby.

Some of its main functions are:
- Detection of people (throwing away animals) and instant notification to your devices with recording of the detected scene.
- High quality color vision, even with color night vision.
- Two-way audio that allows you to have real-time conversations.
- 355° swivel, 95° tilt and x4 zoom.
- Totally waterproof, suitable for outdoor use.

It's a great option and at a price that matches the features it offers.
I think I'll install another one in the backyard to keep the whole house under control!
31/10/2022
Ideal for places where there is no mains power available.
An external solar-powered camera suitable for setting up and watching your property, especially outdoors.
You can connect to the camera via 2.4GHz WLAN. It is solar powered via a separate solar panel with a 3M cable, so it can be located away from the camera's location. This way, you can locate the panel to get the maximum sunlight it needs. It has a 355-degree pan and tilt view, a spotlight, a PIR motion sensor, super HD night vision, and is compatible with 2-way rakes. Besides, it is waterproof up to IP66.
However, please note that you need to place it where it will receive maximum sunlight to keep it charged and give it enough power to work in winter.
The camera is operated via the "uBox" app and has cloud and micro SD card, secure storage and remote access. It supports up to 128GB SD card, although this is not included, which is a shame, but they are cheap enough these days, which is why I always wonder why they don't include one, maybe it's to get you to buy the cloud storage.
You can also charge it via USB, especially handy for the winter months when the sun may not be strong enough to fully charge the camera.
I wanted this camera to keep an eye on my garden area, as it's difficult to locate power cables on an exterior wall without drilling large holes. This solar system is hopefully the answer when our winters allow it to be sufficiently charged. I have a garden that faces east/west so it can track the sun all day, and I believe it will charge even on the cloudiest days. I will report back now that summer seems to be over and let you know if the batteries are sufficiently charged. But as mentioned, you have the option of charging USB either via a powerbank or other mobile source, but I may update it when winter comes.
The camera and panel were easy to mount with the included screws and connected effortlessly to my WLAN. I didn't have to turn off my 5 GHz setup for this to happen.
The camera is easy to operate, via the app on your phone or pad, even remotely.
A great, solidly built kit that I hope is as reliable as it looks.
I'm happy to recommend it.
31/10/2022
Great for remote project site security
The cameras work well with the app. The support staff was very helpful with a few initial issues and got everything resolved.
27/10/2022
Really Impressive Camera
Really impressed with the quality of the camera, audio is amazing. Speaker volume is really clear. Night vision with or without light is extremely good.
24/10/2022
Happy with product (so far)
Perfect solution for our bldg Prjt. Wecan watch what is going on at the site w/being on site
20/10/2022
K&F Concept Outdoor 4G LTE Wireless Security Camera | Installation Tutorial for KF50.0009
Surveillance Cameras
Video Resolution
2K
Power Supply
Solar / Built-in Battery
Built-in Battery Capacity
10400mAh
Storage
Micro SD card (up to 128G/cloud storage)
Pan Tilt
Horizontal 355°/Vertical 120°
Motion Detection
PIR
Motion Detection Range
10m/32.8ft
Waterproof IP Rating
IP66
Night Vision
Night Vision
Night Vision Range
20m/65.6ft
Audio & Light Alert
×
Two-way Talk
√
WiFi Connectivity
/(4G LTE)
App
UBOX