Solar Wireless Security Camera 360° Outdoor Camera with Audio & Light Alert 2K Color Night Vision & 9600mAh Built-in Battery
Buy 99$-9$, 199$-25$, 299$-39$, 599$-100$
New customer gift package
Free shipping to eligible country
Free Shipping Worldwide. 30 Day No Reason Return. K&F surveillance camera features 100% wire free, extremely long standby time, 1080P HD video, IP66 waterproof, Sound/Light Alert, APP Control, etc.

KF50.0001

SKU:

KF50.0001

97.99

https://www.kentfaith.com/KF50.0001_low-power-solar-1080p-outdoor-wireless-dome-surveillance-camera-with-audible-and-visual-alarm-battery-version
Buy 99$-9$, 199$-25$, 299$-39$, 599$-100$
Description
* 【100% Wire-Free & Non-stop Power】This solar-powered wireless security camera features wire-free power. With a built-in 9600mAh battery and efficient solar power, the security camera features an extremely long standby time of up to 6 months. The surveillance camera runs on 2.4 GHz WiFi and stays fully charged with Solar Panel which realizes 100% wire-free security. Built-in 9600mAh 21700 battery, so you only need to connect the PTZ security camera to a WiFi network on the app, next you can remotely monitor your house via app.
* 【Tilt Pan & PIR Motion Detection】K&F Concept surveillance camera's smart design enables it to rotate without obstacles, horizontally rotated 355°, vertical 120°, can achieve a wide panoramic field of vision, monitoring without blind spots, no dead angle panoramic shooting. Offer a full protection for your sweet home. The smart home security camera is equipped with a smart PIR motion detection chip. No false alarm. Optional setting of 5-10 meters to quickly identify the human body, reduce false alarms caused by rain, insects, animals, etc., and common batteries The camera can only send alarm notifications on the mobile phone.
* 【Full HD 2K & Color Night Vision】Infrared full-color night vision: The camera can automatically recognize day and night for mode switching. It adopts advanced night vision technology. In color night vision mode, two white lights exclusively designed will light up when detecting motion, providing lights for people at night and warning suspicious people.
* 【Two-way Audio & Multiple users Remotely Access】You can remotely speak to the person in front of the solar camera in real-time through the phone app, ward off would-be burglars when off-site. Easily share the security cameras with your families or friends just with a QR scan.
* 【2 Optional Storage Methods & Privacy Secured】: The solar outdoor camera can automatically record video to a micro SD card (up to 128G) or cloud when motion is detected. Encrypted cloud service ensures your privacy safely. Recorded videos can be replayed via the CloudEdge app and client (7-day free trial).
Shipping
Free shipping to eligible country
Sale
Buy 99$-9$, 199$-25$, 299$-39$, 599$-100$
Wireless battery secutity camera with solar panel
Built-in 14400mAh high-capacity battery, solar panel continuously replenishes power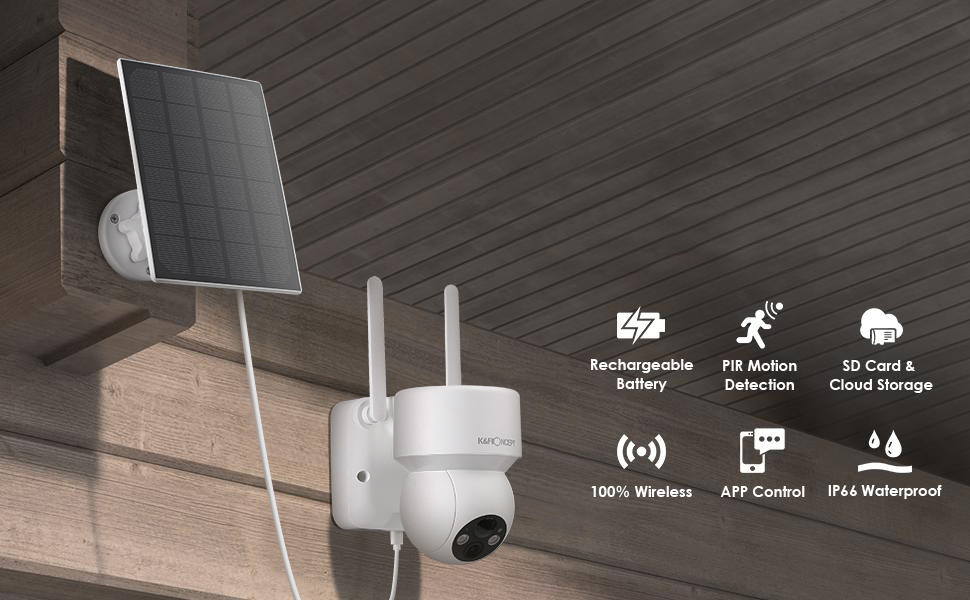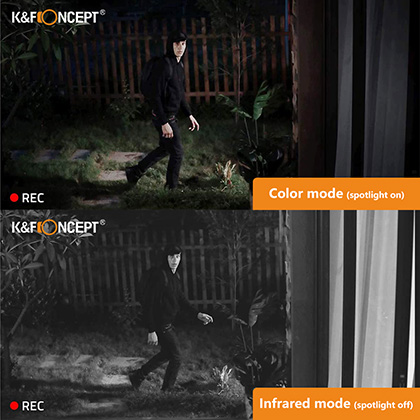 Smart Color Night Vision
The home security camera with 2 LED lights and HD lens enables sharp colorful night vision up to 33 feet in dark.Secure your family and property even in the dark always.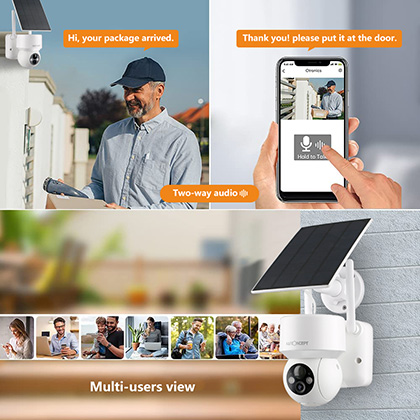 Two-way conversation and sharing
The K&F solar camera has built-in high-quality speakers and microphones. Even if you are not at home, you can communicate with people in the surveillance area and share with others.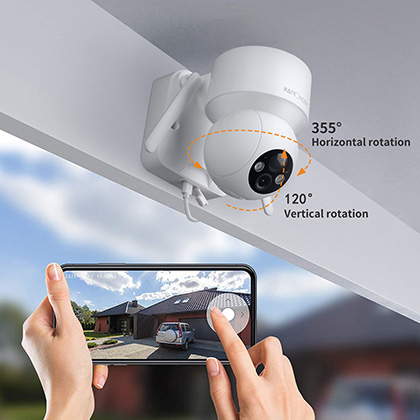 Horizontal and vertical rotation
Support remote control of the camera rotation through the PTZ function on the APP. You can move the camera left and right/up and down.(Rotate 355° horizontally and 120° vertically.)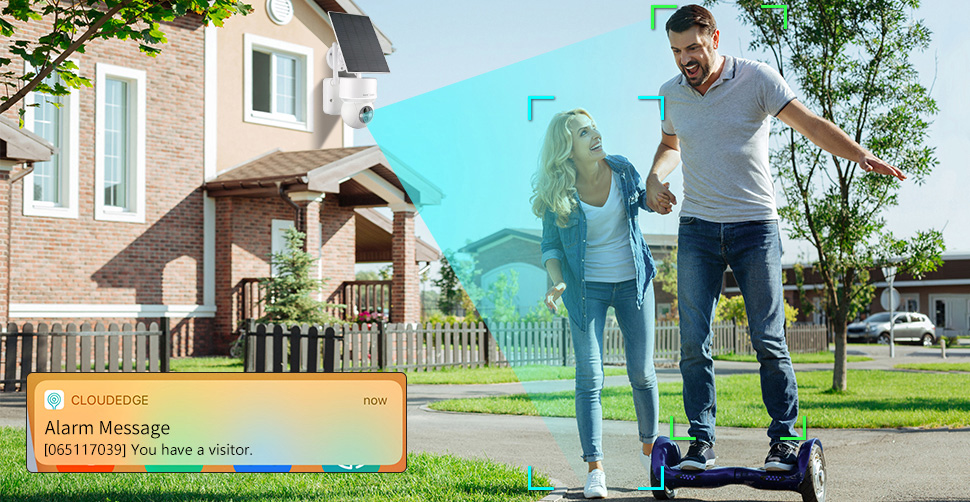 Alarm Detection
This PTZ battery-powered security camera uses a high-sensitivity PIR motion senso to reduce false alarms, wakes up quickly in 0.2 seconds and stably captures all human movements, significantly reducing false alarms caused by rain and insects. An excellent choice for home protection.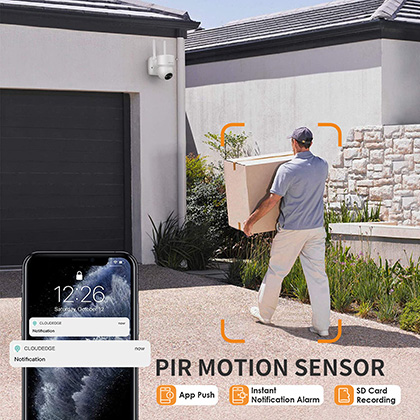 PIR motion detection
Outdoor solar cameras equipped with higher sensitivity PIR sensors can accurately capture human movement and reduce false alarms caused by bugs and leaves.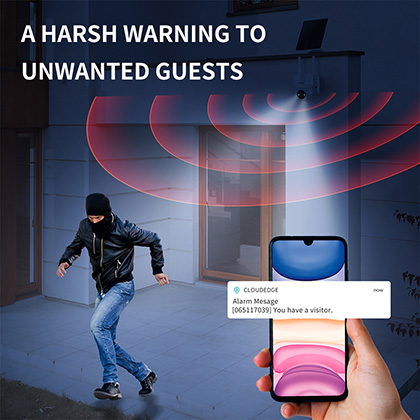 Sound-Light Alarm
With the help of AI algorithms, the camera can recognize movement faster, distinguish between people, cars, and pets, and push alarm information.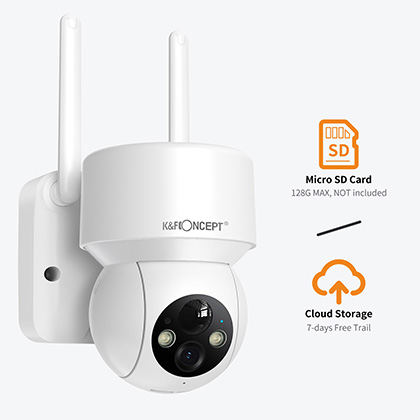 Cloud and SD Card Storage
The wireless outdoor camera supports memory and SD card storage (not included, maximum 128G), select one of them for recording and playback.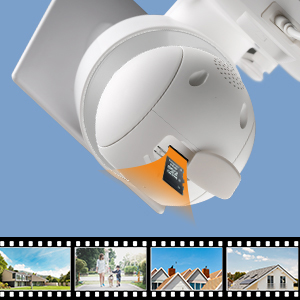 Supports SD Card and Video Playback
The outdoor camera supports a maximum of 128 GB micro SD card. When the SD card is full, the new recording will overwrite the old recording. You can also play your videos from the app and SD card.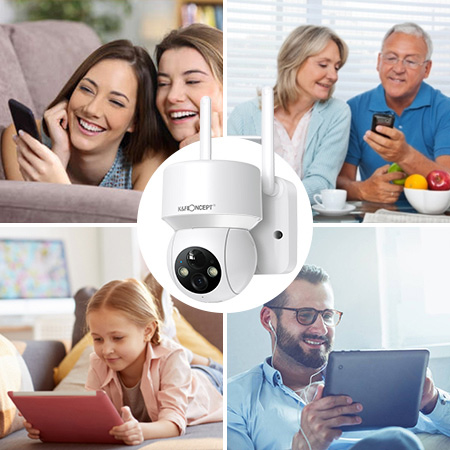 Get remote access anytime, anywhere
Use the free APP to view, playback and download manually recorded videos at any time. You can manage multiple cameras through the same application to easily share with others.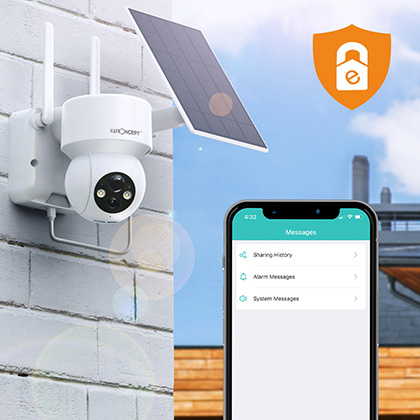 Data Security
If you need to save data for a longer period of time, you can also subscribe to a securely encrypted cloud service and enjoy a 7-day free storage discount.
| | |
| --- | --- |
| Resolution | 1920*1080 |
| Image Sensor | 1/2.9"CMOS,2MP(GC2063) |
| Video encoding | H.264 |
| Intercom | Built-in microphone, speaker |
| WIFI | 802.11 b/g/n |
| Product Size | 12.5*11.7*8.6cm |
| Package dimensions | 21.6*14.8*12.3cm |
| product weight | 619g |
| Package weight | 1200g |
| Package Contents | Camera*1, multi-language manual*1, installation kit*1, solar panel*1 |
| | | |
| --- | --- | --- |
| | | |
| | | |
| | | |
| Rating | 23 reviews. | 156 reviews. |
| Price | $97.99 | $106.99 |
| Model | KF50.0001 | GW50.0039 |
| Video Resolution | 2K | 2K |
| Power Supply Method | Solar power | Solar |
| Built-in Battery Capacity | 9600mAh | 9000mAh |
| Storage | SD memory card (up to 128G/cloud storage) | SD memory card (up to 128G/cloud storage) |
| Pan Tilt | Horizontal 355°/Vertical 120° | Horizontal 355°/Vertical 120° |
| Motion Detection | PIR | PIR |
| Motion Detection Range | 10m/32,8ft | / |
| Waterproof IP Rating | IP66 | IP66 |
| Night Vision | Infrared Night Vision, Color Night Vision | Infrared Night Vision |
| Night Vision Range | 10m/32.8ft | 15m/49.2ft |
| Alarm Method | Sound and light alarm | Sound and light alarm |
| Two-way Talk | √ | √ |
| Connection Method | 2.4GHz WIFI | 2.4GHz wifi |
| Application | Cloudedge | Cloudedge |
All Reviews
Image

All Star

5 Star

4 Star

3 Star

2 Star

1 Star
Great quality for the price
Amazing picture quality during the day! A little less at night but still good quality. I really like that through the app, I can rotate camera for 180 view, left, right, up, down! Solar powered! Uses micro SD card.
01/09/2022
Great security camera!!
I couldn't be more pleased with this product. I was looking for more coverage in my front yard and this device was perfect!
29/08/2022
Just what I needed
I love that this camera is solar powered and that I never have to worry about running power cables or charging anything. It has a motion detection light and super loud siren that acts as a great deterrent to intruders that you can turn on or off in the app. It sends notifications to my phone. It has a built-in mic so you can speak to whoever is at the camera. You can view up to 4 cameras at once and share the camera feed with others who have the app (if you want). It has amazing photo and video quality, even at night. The price is just right and I couldn't be happier with this purchase.
28/08/2022
Great Security Camera
It's a little more expensive than others but worth it: Easy to install, the solar panel works and is perfect for outdoor areas without electrical outlets, the encrypted network provides added security and the camera quality is great.
26/07/2022
The solar panel works well enough to keep the camera battery charged.
The bonus of a solar-powered camera is the ability to continuously charge it just with the sunlight.

The K&F Concept Solar Panel is a simple solar panel with 10ft Micro-USB charging cable and mounting hardware.
It can keep your security or doorbell cameras charge without the need of removing it to charge or run a power cable.
A little bit of sun daily could keep the cameras from running out of power.

I tested a couple of cameras and it was able to charge them around 8% per hour, which was almost as fast as a 5v power adapter.

Battery powered security cameras can last months before the need of re-charging them,
but sensitive motion sensors that triggers constant recording could drain a battery fast.
The K&F Concept Solar Panel could allow cameras to run constantly
Also cameras could be placed in hard to reach areas and keep them charged and running just with a bit of sun light.

To get the most of the solar panel, it should be placed where it gets the peak sun-hours with the highest sunlight intensity.
23/07/2022
Security camera
Excellent value and a quality product, easy to install
25/06/2022
Outdoor security camera is excellent
So far it works great. I like the way I can move the camera with my phone to get a view of the driveway or turn it all the way around to see the front door
25/06/2022
Better Than Hardwired
I have a couple of these that are similar. Certainly, you need sun, but it's usually better than running a wire. This comes with everything you need for a Micro-USB connection.
24/06/2022
Great wireless camera
This is a solar security powered camera, running on 2.4 GHz WiFi. The app to download is called CloudEdge. The app can be easily set up.
The solar panel needs to face the sun for the built-in rechargeable batteries to stay fully charged. The installation process took 20 minutes as I had to drill holes in a concrete wall. I used my own reinforced screws as the screws provided by the seller are good only for stucco and wood. It is a bonus that the camera did not require to install any power cords or ethernet cables. The only wire which had to be attached to the wall was the one from the solar panel to the camera. The camera pans and moves around from the phone, and a second camera is not needed to see the front of the house. The pan and tilt features are definitely a plus, as well as the built-in intercom. I can speak in real-time to any person standing in front of the security camera through the phone app. The camera will automatically record any motion to an included (another bonus) 64G microSD card (up to 128G, but not included) or a cloud storage which comes free for 7 days only. Overall, this security camera is a good option for adding some safety to your home. The video quality is good, and the camera is worth the money.
16/05/2022
I can use them for my exterior
I can use them to watch my street, and exterior of my home without running wires to them
28/04/2022
Solar Powered Wireless Outdoor Home Security Camera
Solar Powered Wireless Outdoor Home Security Camera User Guide
Surveillance Cameras
Video Resolution
2K
Power Supply Method
Solar power
Built-in Battery Capacity
9600mAh
Storage
SD memory card (up to 128G/cloud storage)
Pan Tilt
Horizontal 355°/Vertical 120°
Motion Detection
PIR
Motion Detection Range
10m/32,8ft
Waterproof IP Rating
IP66
Night Vision
Infrared Night Vision, Color Night Vision
Night Vision Range
10m/32.8ft
Alarm Method
Sound and light alarm
Two-way Talk
√
Connection Method
2.4GHz WIFI
Application
Cloudedge