2.7K 20MP tracking camera 0.2s fast trigger speed IP66 waterproof sturdy hunting camera with 120° wide flash range,wildlife monitor + free SD TF three-in-one card reader
Buy 2 get 5% off, Buy 3 get 10% off, buy 6 get 20% off
Free shipping to eligible country
Buy KENTFAITH 2.7k 20mp tracking camera 0.2s fast trigger speed ip66 waterproof sturdy hunting camera with 120° wide flash range,wildlife monitor + free sd tf three-in-one card reader online, worldwide free shipping and 30 days return guarantee.

KF35.041

SKU:

KF35.041

69.99

https://www.kentfaith.com/KF35.041_2-7k-20mp-tracking-camera-0-2s-fast-trigger-speed-ip66-waterproof-sturdy-hunting-camera-with-120-wide-flash-range-wildlife-monitor-free-sd-tf-three-in-one-card-reader
Description
* [20MP/2.7K ultra-high image and video resolution]-The camera has a good structure, design and easy-to-use controls. It can capture impressive 20MP photos and record wonderful 2.7K videos day and night.
* [0.2s ultra-fast trigger speed and 120° wide flash range]-The trigger speed is 0.2s, equipped with a 120° detection range, and the speed is extremely fast, ensuring that you will not miss any movement. It is moving fast or moving slowly.
* [Enhanced low-light infrared night vision] Fully automatic PIR sensor and 48 940-nanometer infrared low-light LED lights ensure clear night images and videos, and a longer and wider visible range in the dark, which can record every dream moment at night.
* [IP66 Waterproof Rugged Shell] IP66 waterproof, dustproof, and drop-proof plastic shell, sturdy and durable, is an indispensable guarantee for prolonging the service life, and is very suitable for outdoor use.
* [Color screen, easy viewing and long standby time] The 2" color LCD screen allows you to easily set up the camera and view photos immediately. The camera has a long standby time of up to 6 months.
Shipping
Free shipping to eligible country
Sale
Buy 2 get 5% off, Buy 3 get 10% off, buy 6 get 20% off
HB-E2 HD Night Vision Trail Camera
Catch every fantastic wildlife moment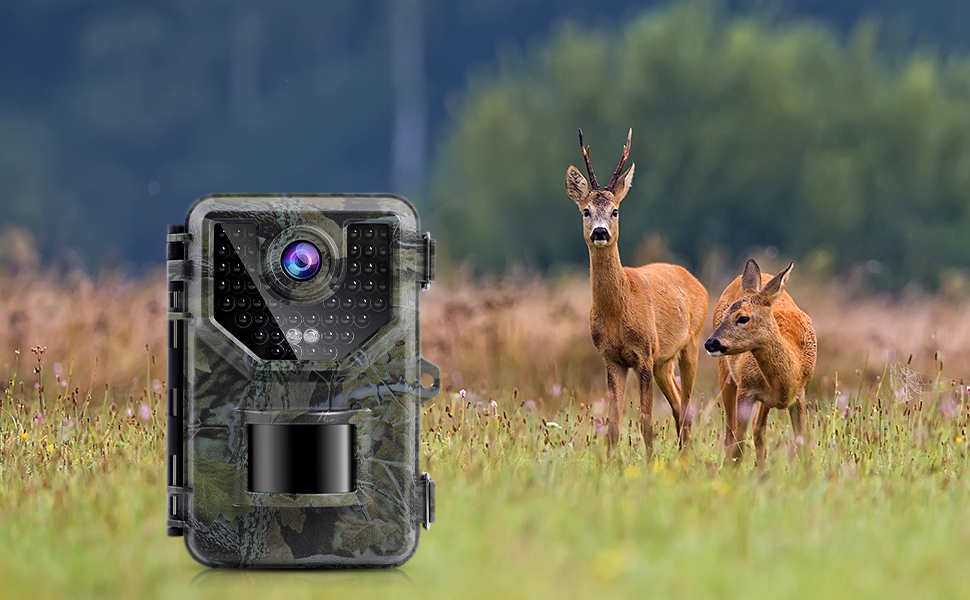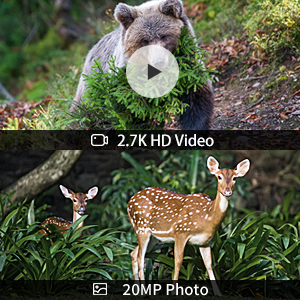 2.7K Video and 20MP Image
This hunting camera captures 2.7K vivid video and 20MP clear images each time motion. You will not miss any detail on your wildlife expedition.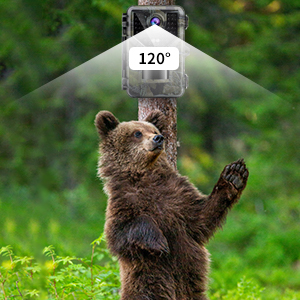 120° Detection Angle
Excellent Optics lens, encompassing distortion correct technologies provides a wider view and more precise vision , captures more details with no spots missed.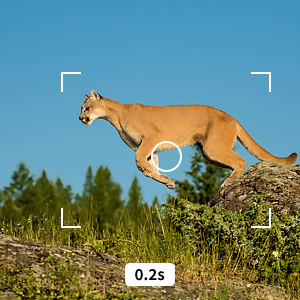 0.2S Trigger Speed
Preactivated and fast-boot technology combined to reach ultra-fast 0.2s trigger speed and 0.1s recovery time, quickly capture every exciting moment.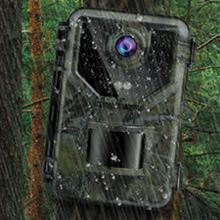 IP66 Waterproof & Sturdy
The hunting cam case has passed the waterproof test up to IP66, protecting it from rain and dust damage.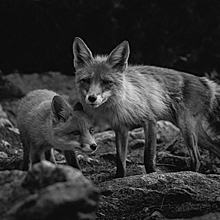 More Brilliant Night Vision
48 non-luminous infrared lights, using intelligent night vision imaging technology, night vision distance of 20 meters.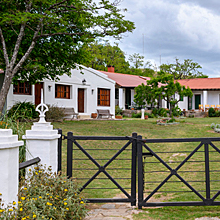 Home Security
The trail camera is also as a home monitor, which would be a multifunctional device.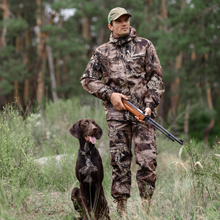 Hunting
Trail camera is a helpful assistant to track animals for hunter.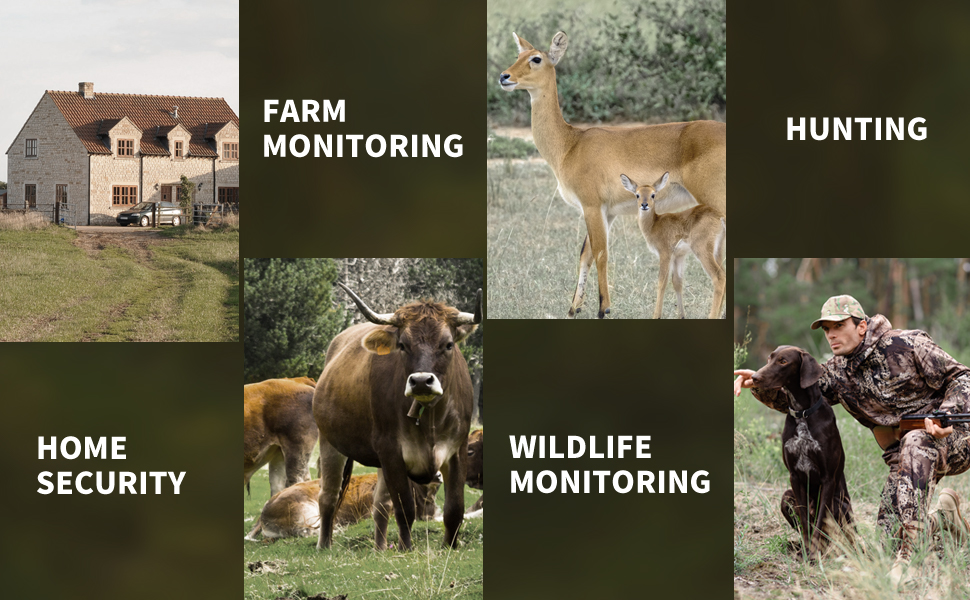 Suitable for farm monitoring/hunting/home safety/wild animal monitoring, etc.
| | | | | |
| --- | --- | --- | --- | --- |
| | | | | |
| | | | | |
| | | | | |
| Rating | 272 reviews. | 28 reviews. | 272 reviews. | 100 reviews. |
| Price | $69.99 | $69.99 | $126.99 | $66.99 |
| Model | KF35.041 | KF35.042 | KF35.043 | KF35.045 |
| Max. Storage | 32GB | 32GB | 256GB | 256GB |
| Image Resolution | 20MP | 16MP | 30MP | 20MP |
| Screen Size | 2.4" | 2.0" | | 2.0" |
| Video Resolution | 2.7K | 1080p | 4K | 1080P |
| WIFI+Bluetooth | NO | NO | √ | NO |
| Amount of infrared lamps | 42pcs (940nm) | 22pcs (850nm) | 44pcs (940nm) | 2pcs (940nm) |
| Detection Range of PIR sensors | 120° | 80° | 120° | 120° |
| Trigger Distance | 26m (82ft) | 20m (65ft) | 22m (65ft) | 15m~20m |
| Trigger Speed | 0.2s | 0.4 s | 0.2s | 0.2s |
| Waterproof IP Rating | IP66 | IP65 | IP65 | IP66 |
gift
I got for a gift. For the price they are good.
06/02/2022
didn't work
went through all the settings, time, photo's, video resolutions. Set it out to record. Nothing showed up only, the batteries almost dead. would not connect to computer; showed the right screen, but no recognition by pc.Returned, it either works or doesn't.
05/02/2022
Does the trick
Works to see what's visiting our chicken coop at night
05/02/2022
Generally a good buy
This camera is generally very good with some qualifiers. It takes good night videos and is fairly straight forward to set up. It's audio recording is very poor, but I don't intend to use this anyway. The off, test and on switch identification could be easier to see as the lettering is hard to see on the bottom of the camera. I added my own label to make this easier. The micro SD is less convenient then a full size would be and more likely to get lost.
04/02/2022
quality
takes great image's
02/02/2022
pretty good
I had this camera on some property for about 3 months before I went to check it.Really good clarity. 3 files corrupted out of 651.Main issue I have is that it didn't capture the critters. Meaning, at one point some snow fell and I can see tracks accross the snow but no pics of the critters that made the tracks. Is there another setting I need to use or what??? Chime in if you know.
30/01/2022
Super clear
Much clearer than I expected! The night vision was surprisingly clear and quite sensitive to movement
30/01/2022
Had a problem with buttons not working
Like the camera except I had a problem with buttons not workingI talked to amazon and was sent a newI hope to not have the same problem.
30/01/2022
Poor instructions and came with half the batteries
This product arrived fast, however the book said it needed 4 batteries. Was suppose to come with batteries and it did. 4. The camera requires 8. So some where it's confused. Once up and running the set up instructions are a little vague, but with the help of the internet will get you straight. It's been okay for the money.
28/01/2022
There are no faqs for this product.
Trail Camera
Max. Storage
32GB
Image Resolution
20MP
Screen Size
2.4"
Video Resolution
2.7K
WIFI+Bluetooth
NO
Amount of infrared lamps
42pcs (940nm)
Amount of PIR SENSORS
1pcs
Detection Range of PIR sensors
120°
Trigger Distance
26m (82ft)
Trigger Speed
0.2s
Waterproof IP Rating
IP66