K&F M24121 Konica AR Lenses to M43 MFT Lens Mount Adapter
Free shipping to eligible country
Brand:

K&F Concept

K&F M24121 Konica AR Lenses to M43 MFT Lens Mount Adapter Allow Konica AR mount lenses used on Micro 4 3 MFT mount camera body.

KF06.139

Availability:

In Stock

29.99

https://www.kentfaith.com/KF06.139_konica-to-micro-four-thirds-m4-3-mount-adapter
Buy 2+ items get
10% off
!
Features
• Allow Konica AR mount lenses used on Micro 4 3 MFT mount camera body.
• Compatible with Micro Four Thirds (M4/3) camera includes: Panasonic Lumix G1, GH1, GF1, G10, G2, GH2, GF2, G3, GF3, GX1, GF5, G5, GH3, GF6, G6, GX7, GX80/GX85/GX7 Mark II, GM1, GH4, GM5, GF7, G7, GX8, G85/G80, DC-GH5, DC-G9; Olympus PEN E-P1, E-P2, E-PL1, E-PL1s, E-PL2, E-P3, E-PL3, E-PM1, E-PL5, E-PM2, E-P5, E-PL6, E-PL7, PEN-F, E-PL8; Olympus OM-D E-M5, E-M1, E-M10, E-M5 II, E-M10 Mark II, E-M1 Mark II, JVC GY-LS300 S35 mm Camcorder, DJI Zenmuse X5, Kodak Pixpro S-1, Blackmagic Pocket Cinema Camera etc.
• Made of brass and aluminum. Stable, precise and durable construction. Manually operated.Infinity focus allowed.
• For heavy medium format lenses, we suggest to use with a telephoto bracket and a tripod to balance its weight when shoot.
• 30 Days No Reason Return, 12 months quality guarantee, 100% satisfaction assurance.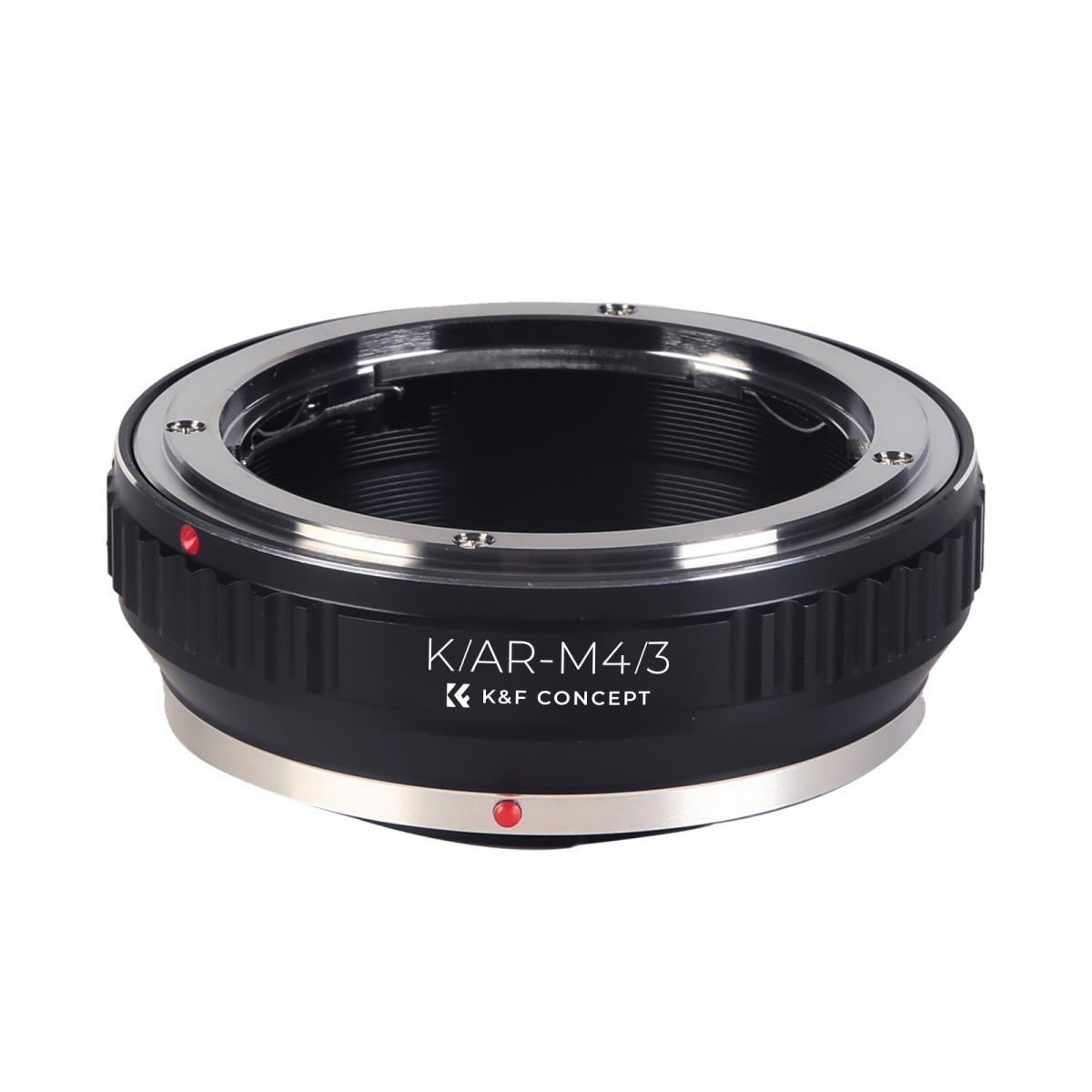 K&F Concept design and produce full range of lens adapters to fit lenses of Canon, Nikon, Pentax, Olympus, Leica, Contax Yashica, Minolta, Tamron, T2, C mount, Exakta, M39, M42, Pentacon etc used on Camera bodies of Canon, Nikon, Sony, Fujifilm, Pentax, Micro 4 3, Leica, M42, Cinema C mount etc.

Passt perfekt: MFT auf Konica Hexanon
Wenn es um das Aufbringen eines fremden Bajonetts geht, ist man ja als passionierter und um seine Kamera besorgter Fotofreund schon etwas vorsichtig. So auch hier. Aber nach dem ersten Einrasten kommt doch richtig Freude auf: Adapter liegt satt auf, wackelt nicht, kein Spiel, passt perfekt. Auch objektivseitig keinerlei Probleme. So kann ich meine alten qualtativ guten Konica Hexanonobjektive noch verwenden. Ein besseres Preis-Leistungsverhältnis gibt es nicht.
Adattatore preciso e ben costriuto
Ho comprato l'adattatore temendo che le tolleranze in costruzione avrebbero potuto causarmi qualche problema nel montaggio o nel fuoco su infinito ma mi sono dovuto ricredere, il mio esemplare è costruito molto bene. Soddisfatto dell'acquisto
Spaß mit alten Konica Objektiven
Ich filme mit einer Panasonic Micro 4/3 Kamera. Mit diesem Adapterkann ich wunderbar alte günstige Konica Objektive wiederverwenden.Genauso wie mein K&F m42 - mft Adapter,passt er perfekt und es gibt es kein Wackeln, wie bei anderen Adaptern, die ich verwende.Auch das Design passt.Ich kann diese K&F Adapter nur empfehlen, 5 Sterne!
Robusto e incastri perfetti tra macchina e obbiettivi
Un adattatore di buona fattura. Bene così. Dalla parte dell' ottica la ghiera è in metallo mentre sul lato macchina è in plastica ottima e c'e un cerchio di metallo tra la parte posteriore e quella anteriore verso la ghiera obbiettivo. In pratica dà una buona impressione di robustezza e longevità nel tempo. I tempi di consegna un po' lunghi ma sono scritti già al momento dell'acquisto e nella descrizione. Per il resto, se ne avete bisogno, vale la pena aspettare 15-20 giorni per questo prodotto.
Adapter
camera
M4/3
lens
KONICA
Ring Material
| Image | Lens | Mount | Filter Size (mm) |
| --- | --- | --- | --- |
| | Access P-MC 35-70mm f/ 2.5-3.5 | Konica AR | 58 |
| | Access P-MC 70-210mm f/ 3.5 (one ring) | Konica AR | 62 |
| | Access P-MC 70-210mm f/ 3.5 (two rings) | Konica AR | 62 |
| | Admiral G.M.C. 135mm f/ 2.8 | Konica AR | 55 |
| | Admiral MC Automatic 28mm f/ 2.8 | Konica AR | 52 |
| | Albinar ADG MC 80-200mm f/ 3.9 | Konica AR | 55 |
| | Angenieux 35-70mm f/ 2.5-3.3 | Konica AR | 58 |
| | Asanuma 17mm f/ 3.5 | Konica AR | 72 |
| | Asanuma Auto-Wide 28mm f/ 2.8 | Konica AR | 52 |
| | Cambron MC 500mm f/ 8.8 | Konica AR | 67 |
| Camera | Mount |
| --- | --- |
| Blackmagic Pocket Cinema Camera | Micro 4/3 |
| Blackmagic Pocket Cinema Camera 4K | Micro 4/3 |
| DJI Zenmuse X5 | Micro 4/3 |
| JVC GY-LS300 4KCAM Handheld S35 mm Camcorder | Micro 4/3 |
| Kodak Pixpro S-1 | Micro 4/3 |
| Olympus Air | Micro 4/3 |
| Olympus OM-D E-M1 | Micro 4/3 |
| Olympus OM-D E-M1 Mark II | Micro 4/3 |
| Olympus OM-D E-M10 | Micro 4/3 |
| Olympus OM-D E-M10 Mark II | Micro 4/3 |