K&F M16121 Olympus OM Lenses to M43 MFT Lens Mount Adapter
Free shipping to eligible country
Brand:

K&F Concept

K&F M16121 Olympus OM Lenses to M43 MFT Lens Mount Adapter Allow Olympus OM Zuiko mount lenses used on Micro 4 3 MFT mount camera body.

KF06.145

Availability:

In Stock

29.99

https://www.kentfaith.com/KF06.145_olympus-om-to-micro-four-thirds-m4-3-mount-adapter
Buy 2+ items get
10% off
!
Features
• Allow Olympus OM Zuiko mount lenses used on Micro 4 3 MFT mount camera body.
• Compatible with Micro Four Thirds (M4/3) camera includes: Panasonic Lumix G1, GH1, GF1, G10, G2, GH2, GF2, G3, GF3, GX1, GF5, G5, GH3, GF6, G6, GX7, GX80/GX85/GX7 Mark II, GM1, GH4, GM5, GF7, G7, GX8, G85/G80, DC-GH5, DC-G9; Olympus PEN E-P1, E-P2, E-PL1, E-PL1s, E-PL2, E-P3, E-PL3, E-PM1, E-PL5, E-PM2, E-P5, E-PL6, E-PL7, PEN-F, E-PL8; Olympus OM-D E-M5, E-M1, E-M10, E-M5 II, E-M10 Mark II, E-M1 Mark II, JVC GY-LS300 S35 mm Camcorder, DJI Zenmuse X5, Kodak Pixpro S-1, Blackmagic Pocket Cinema Camera etc.
• Made of brass and aluminum. Stable, precise and durable construction. Manually operated.Infinity focus allowed.
• For heavy medium format lenses, we suggest to use with a telephoto bracket and a tripod to balance its weight when shoot.
• 30 Days No Reason Return, 12 months quality guarantee, 100% satisfaction assurance.
Frequently Bought Together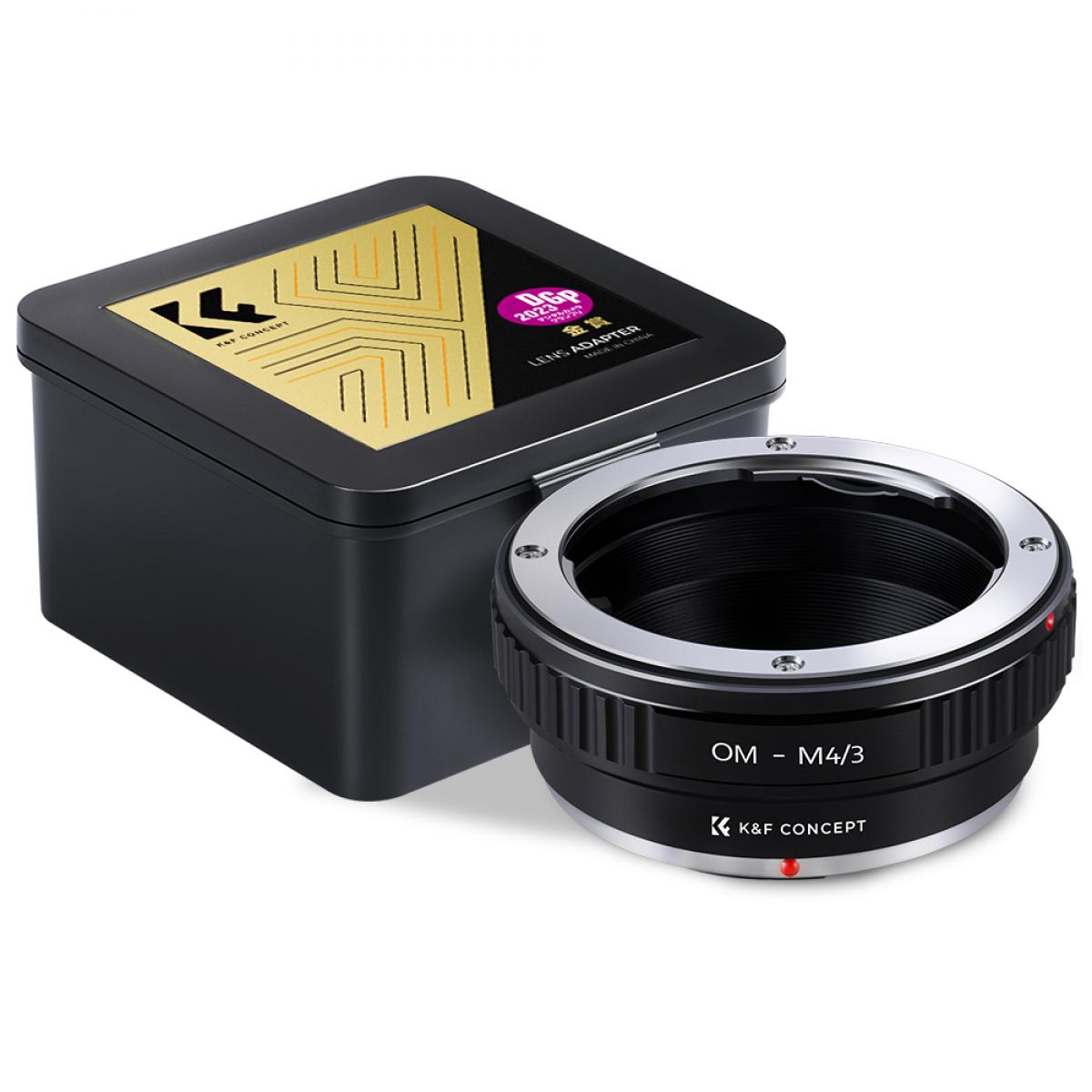 K&F Concept design and produce full range of lens adapters to fit lenses of Canon, Nikon, Pentax, Olympus, Leica, Contax Yashica, Minolta, Tamron, T2, C mount, Exakta, M39, M42, Pentacon etc used on Camera bodies of Canon, Nikon, Sony, Fujifilm, Pentax, Micro 4 3, Leica, M42, Cinema C mount etc.

Five Stars
Works as expected
Objetivo Olympusanalogioca para lumix G80
Cuando lo probé, pensaba que debería devolverlo, porque a pesar de encajar perfectamente el objetivo con el cuerpo de la cámara; al intentar fotografiar, me salia un mensaje de ERROR que decía que la cámara no reconocía el objetivo.Pero lo que hay que hacer es ir a la opción de menu personalizado (una C con una llave inglesa) existe una opción que es grabación con lente. Admite solo dos opciones ON/ OFF, sino recuerdo mal hay que poner off, y te funcionara perfectamente
These adapters are amazing the the price
These adapters are amazing the the price, with my OM lenses it feels like part of the orig lens, at least as much as an adapter can do, I love them.
Günstig und gut!
Ich habe diesen Adapter gekauft um meine alten analogen Objektive an einer Lumix G6 zu verwenden um eine Art "retro" Look bei Videos zu erreichen.Und was soll ich sagen?Der Adapter macht seinen Job gut - die Objektive sitzen fest und man muss keine Angst haben, dass irgendetwas abfällt.Auch mit Teleobjektiv muss man hier keine Angst haben, dass sich das Objektiv vom Adapter oder gar der Adapter von der Kamera löst.Von mir also eine klare Kaufempfehlung.
An excellent alternative to the much more costly Olympus equivalent.
I bought this adapter to mount an OM lens on my OM-D E-M10 MkII micro 4/3 camera. The Olympus own-brand costs £199 so I tried this as there was no comparison in the prices. I am delighted with the adapter. It is of all-metal construction and both the lens-facing and camera body-facing surfaces are very well machined, so both attach smoothly. There is no rocking at the joints with this combination and the images are excellent. The only point to bear in mind is that focus and aperture must be adjusted manually, as there's no auto-linking across the adapter. This is, however, no chore at all. Why pay more when this unit should suit most users?
Adapter
camera
M4/3
lens
OM
Ring Material
These images belong to K&F Concept end users.
| Image | Lens | Mount | Filter Size (mm) |
| --- | --- | --- | --- |
| | Access 28-70mm f/ 2.8-4.2 P-MC Macro | Olympus OM | 72 |
| | Access P-MC 35-70mm f/ 2.5-3.5 | Olympus OM | 58 |
| | Access P-MC 70-210mm f/ 3.5 (one ring) | Olympus OM | 62 |
| | Access P-MC 70-210mm f/ 3.5 (two rings) | Olympus OM | 62 |
| | Accura 135mm f/ 2.8 Supertel Tc | Olympus OM | 55 |
| | Accura Supertel TC 135mm f/ 2.8 | Olympus OM | 55 |
| | Admiral G.M.C. 135mm f/ 2.8 | Olympus OM | 55 |
| | Admiral MC Automatic 28mm f/ 2.8 | Olympus OM | 52 |
| | Albinar ADG MC 80-200mm f/ 3.9 | Olympus OM | 55 |
| | Angenieux 35-70mm f/ 2.5-3.3 | Olympus OM | 58 |
| Camera | Mount |
| --- | --- |
| Blackmagic Pocket Cinema Camera | Micro 4/3 |
| Blackmagic Pocket Cinema Camera 4K | Micro 4/3 |
| DJI Zenmuse X5 | Micro 4/3 |
| JVC GY-LS300 4KCAM Handheld S35 mm Camcorder | Micro 4/3 |
| Kodak Pixpro S-1 | Micro 4/3 |
| Olympus Air | Micro 4/3 |
| Olympus OM-D E-M1 | Micro 4/3 |
| Olympus OM-D E-M1 Mark II | Micro 4/3 |
| Olympus OM-D E-M10 | Micro 4/3 |
| Olympus OM-D E-M10 Mark II | Micro 4/3 |