Professional Camera Backpacks with Removable DSLR Case fit up to 15.6" Laptop - 18L
Free shipping to eligible country
Buy KENTFAITH professional camera backpacks with removable dslr case fit up to 15.6" laptop - 18l online, worldwide free shipping and 30 days return guarantee.

KF13.104

SKU:

KF13.104

89.99

https://www.kentfaith.com/KF13.104_professional-camera-backpacks-with-removable-dslr-case-fit-up-to-15-6-laptop-18l
Description
* 2 In 1 Backpack: Use brand new 16A waterproof canvas, natural environmental protection, biodegradable, with rain cover. The main compartment is designed with a padded divider in the middle. As a camera backpack, the padded divider can divide the main room into two spaces. The Up half-space can store clothes or travel accessories, and the down half-space has a separate camera insert which can be taken out quickly and easily from the left side access. As a travel backpack, you can put down the padded divider to form a large capacity room, convenient for storing.
* Multi-Compartment: Laptop camera backpack has a separate laptop compartment that could hold 15.6 laptops; Front organizer compartment keep your items organized and easier to find. The external system can carry a 50cm tripod, a camera, a drone, 6 lenses, 1-2 sets of laundry, etc.
* Camera Protection: Camera insert with Shockproof Foam store DSLR/SLR camera and two camera lenses;2 Detachable divider sticks on the liner make easily dividing the camera from lens and flash, protect your camera and accessories well; The mesh pocket can hold your SD card, USB, lens cover, etc.
* Ergonomic Design: The carrying system is suitable for people of different body shapes, effectively reducing the weight-bearing feeling, ventilation, and heat dissipation. The straps can be adjusted. The waist pad can effectively tighten the contact with the body and protect the waist.
* Portable tripod design: The tripod strap design at the bottom of the backpack effectively solves the problem of carrying balance, making it more labor-saving to carry.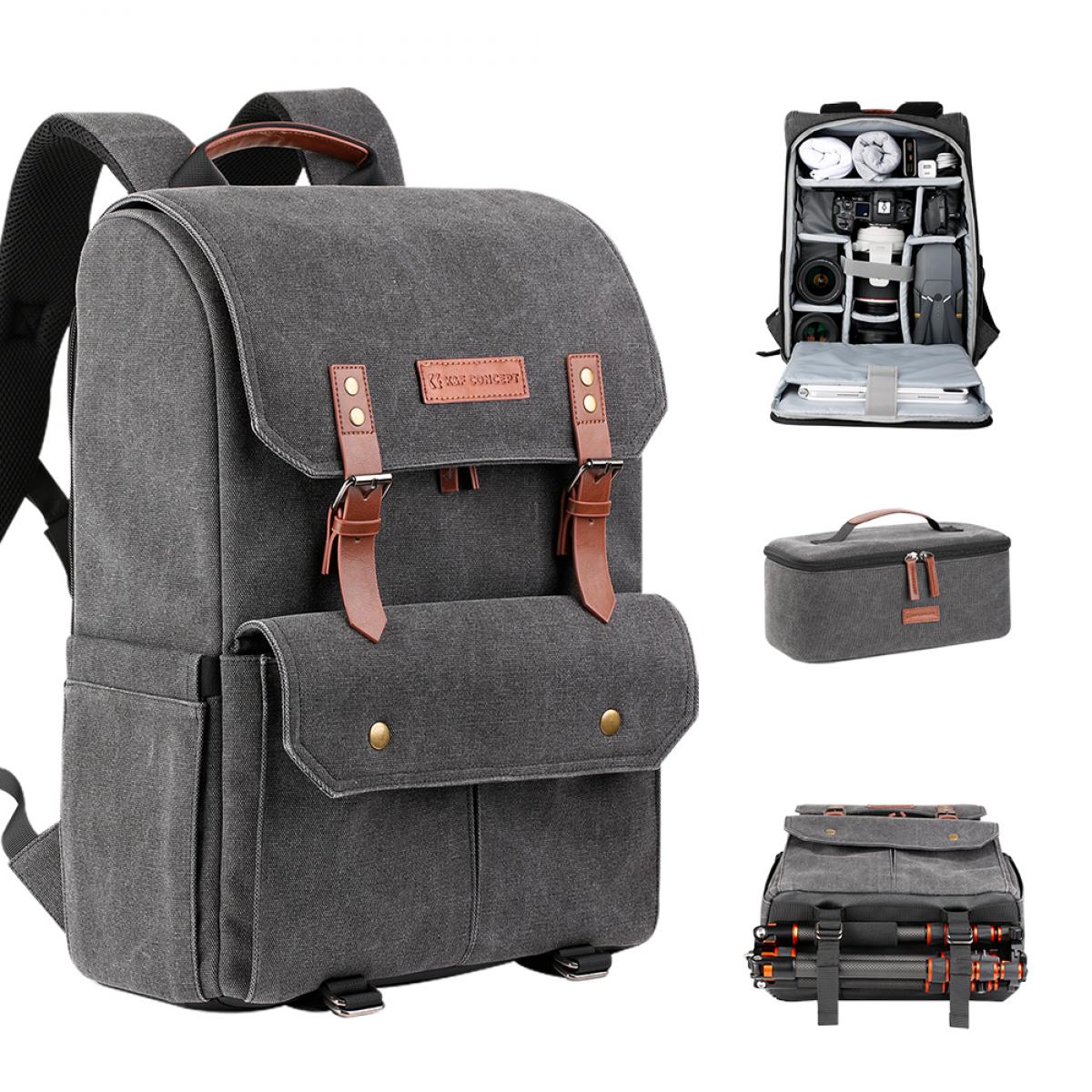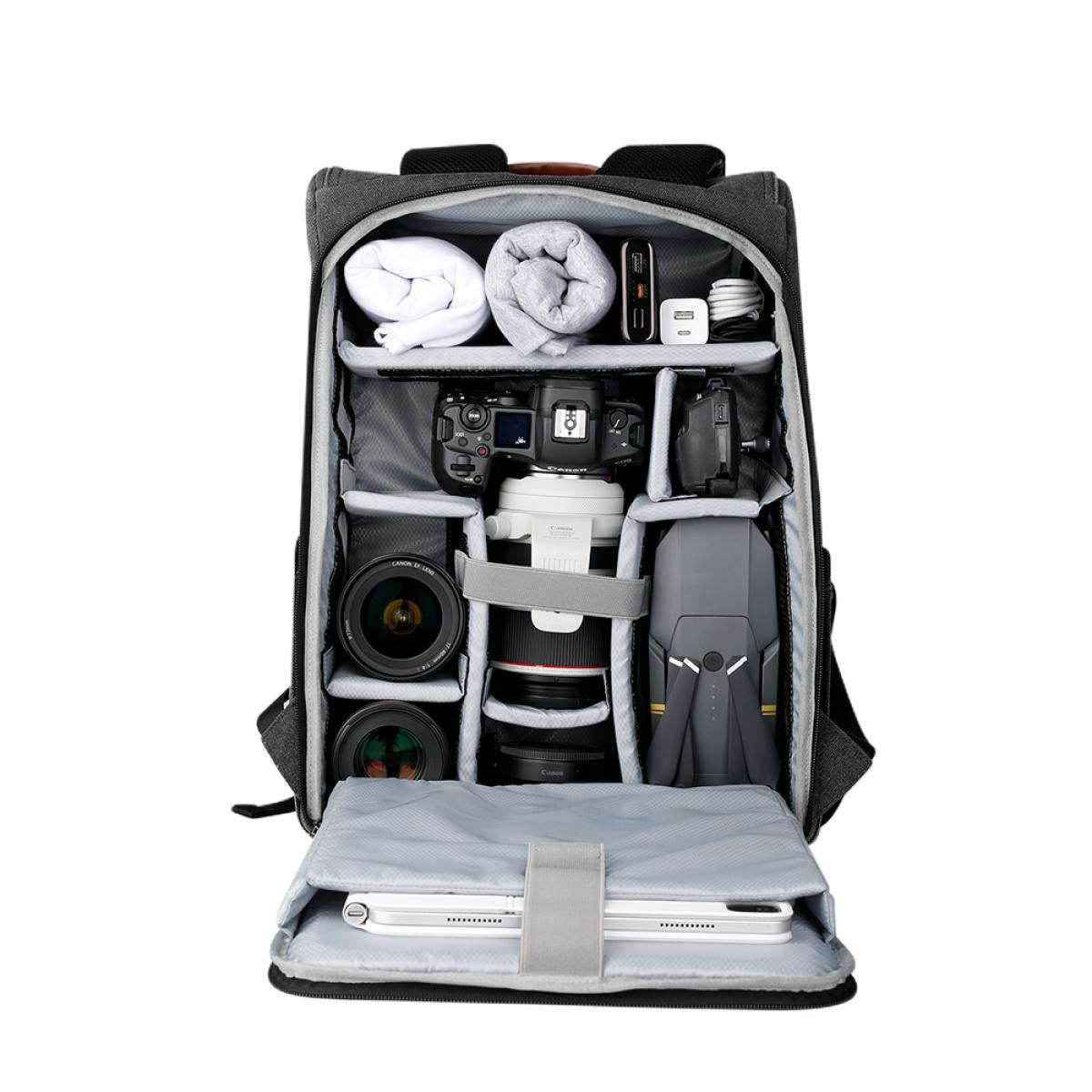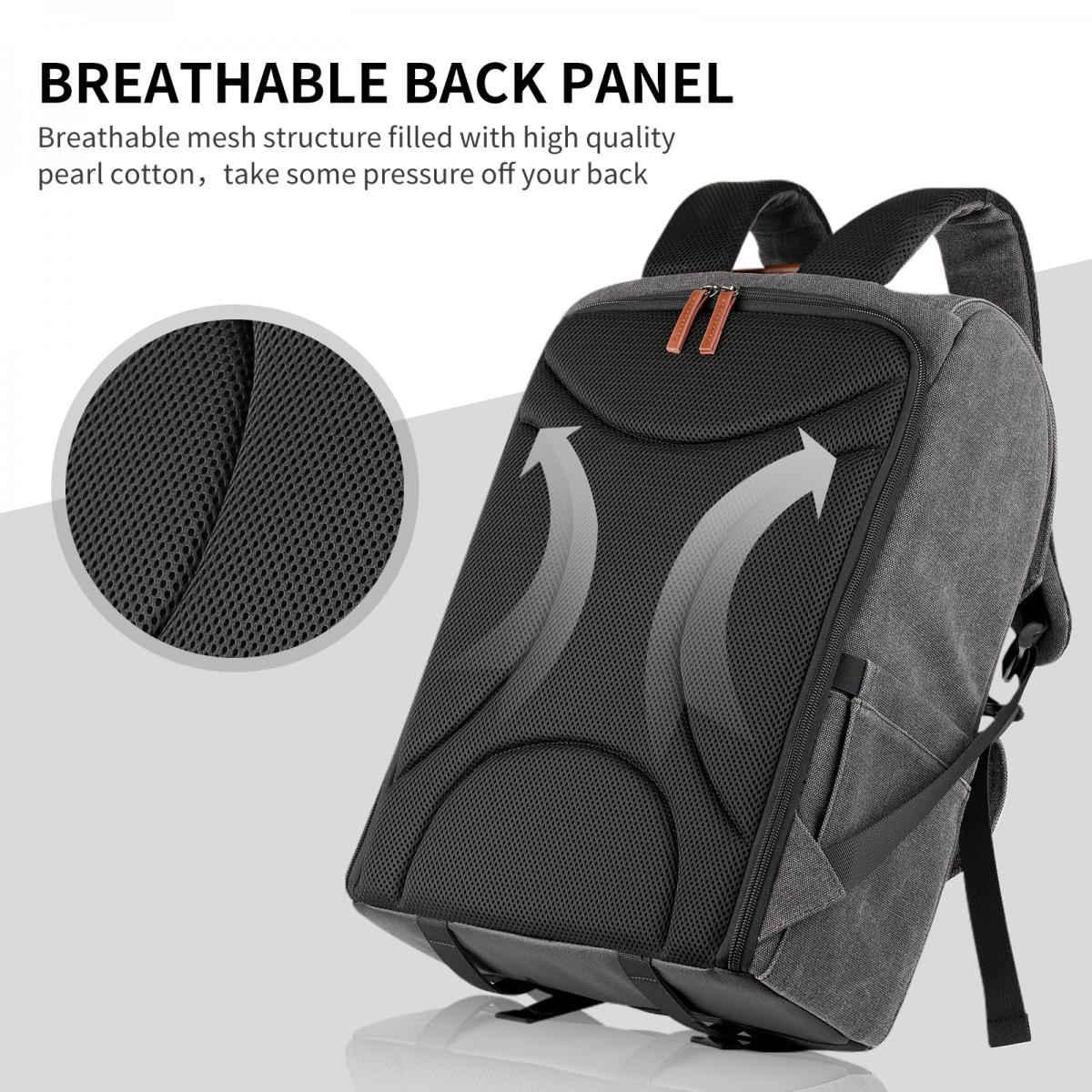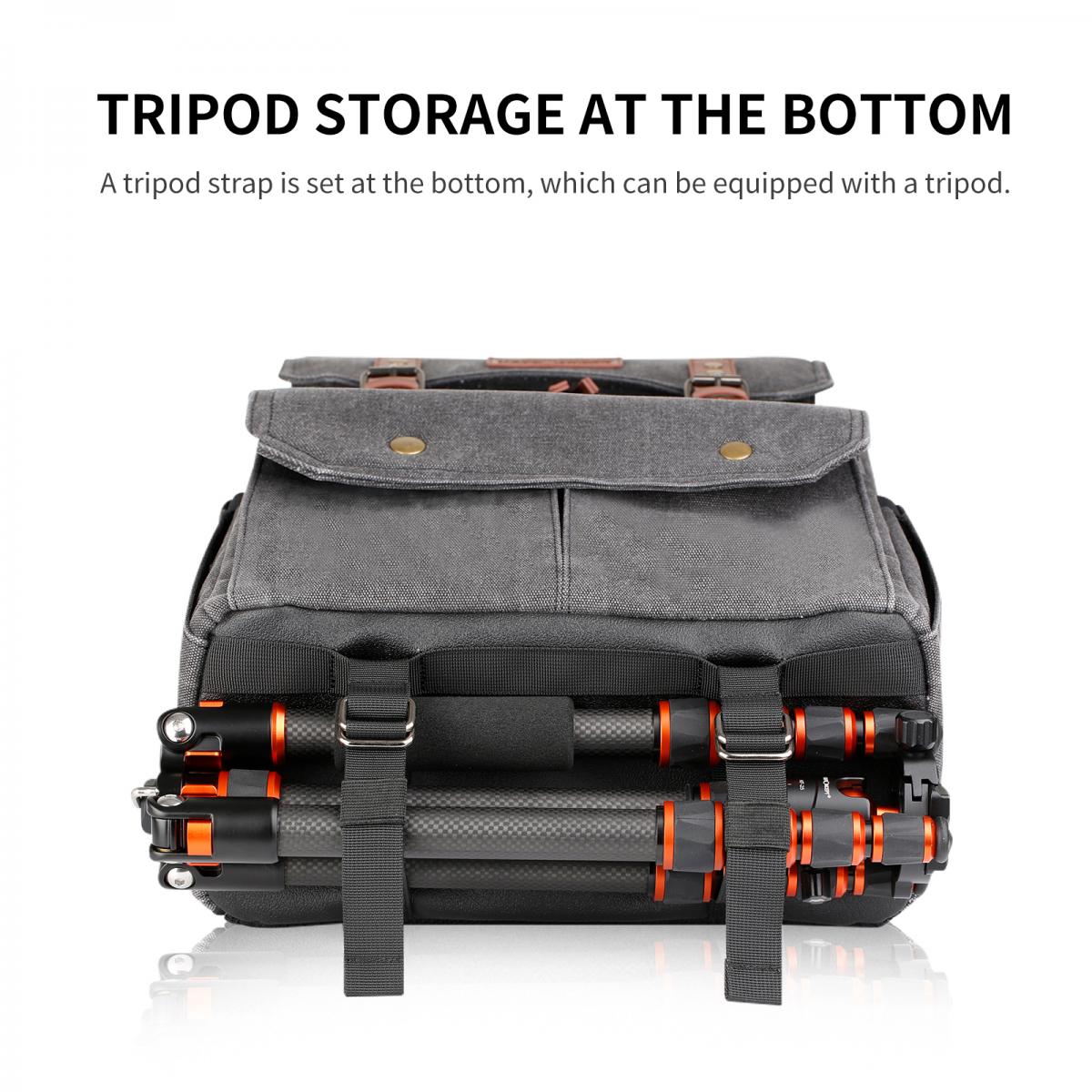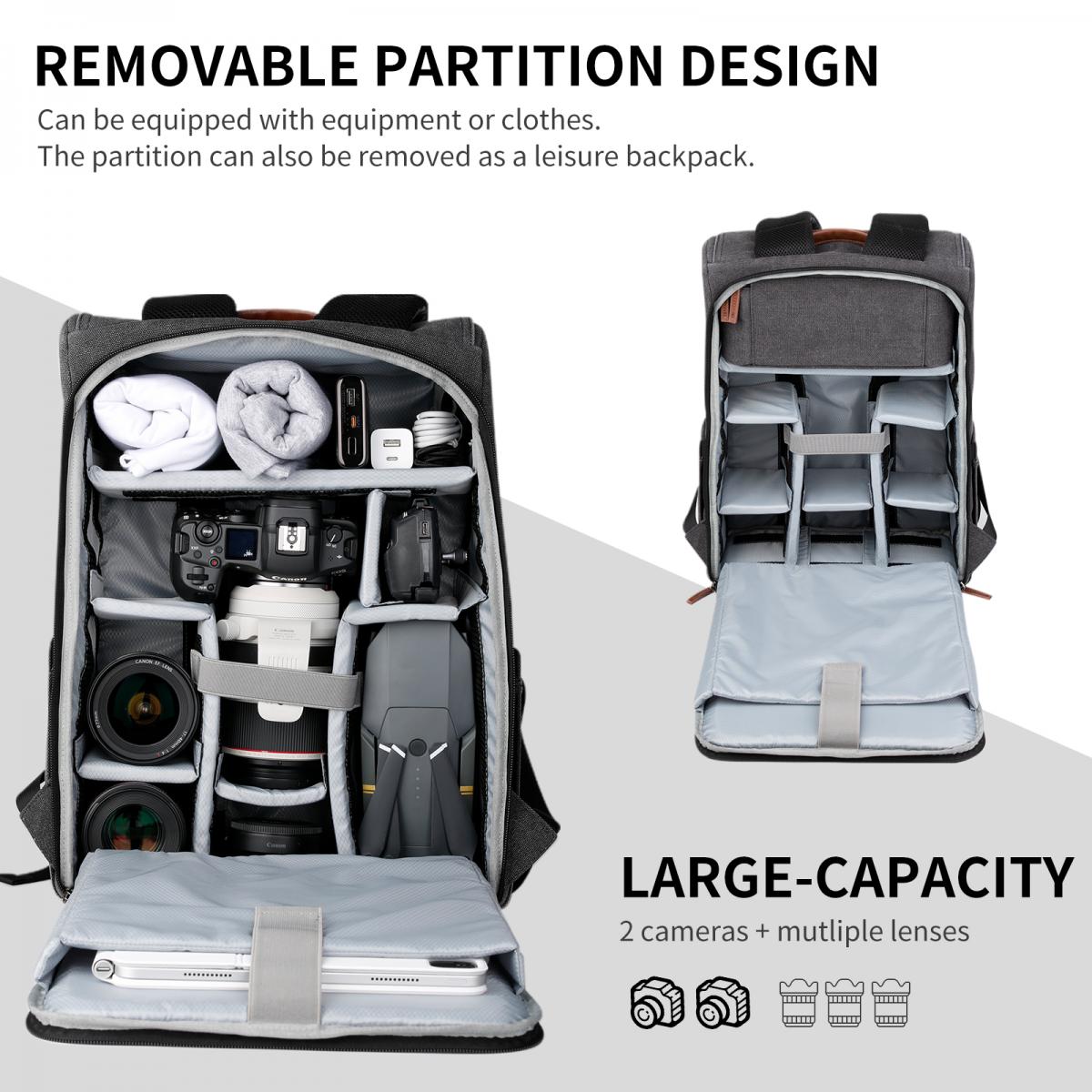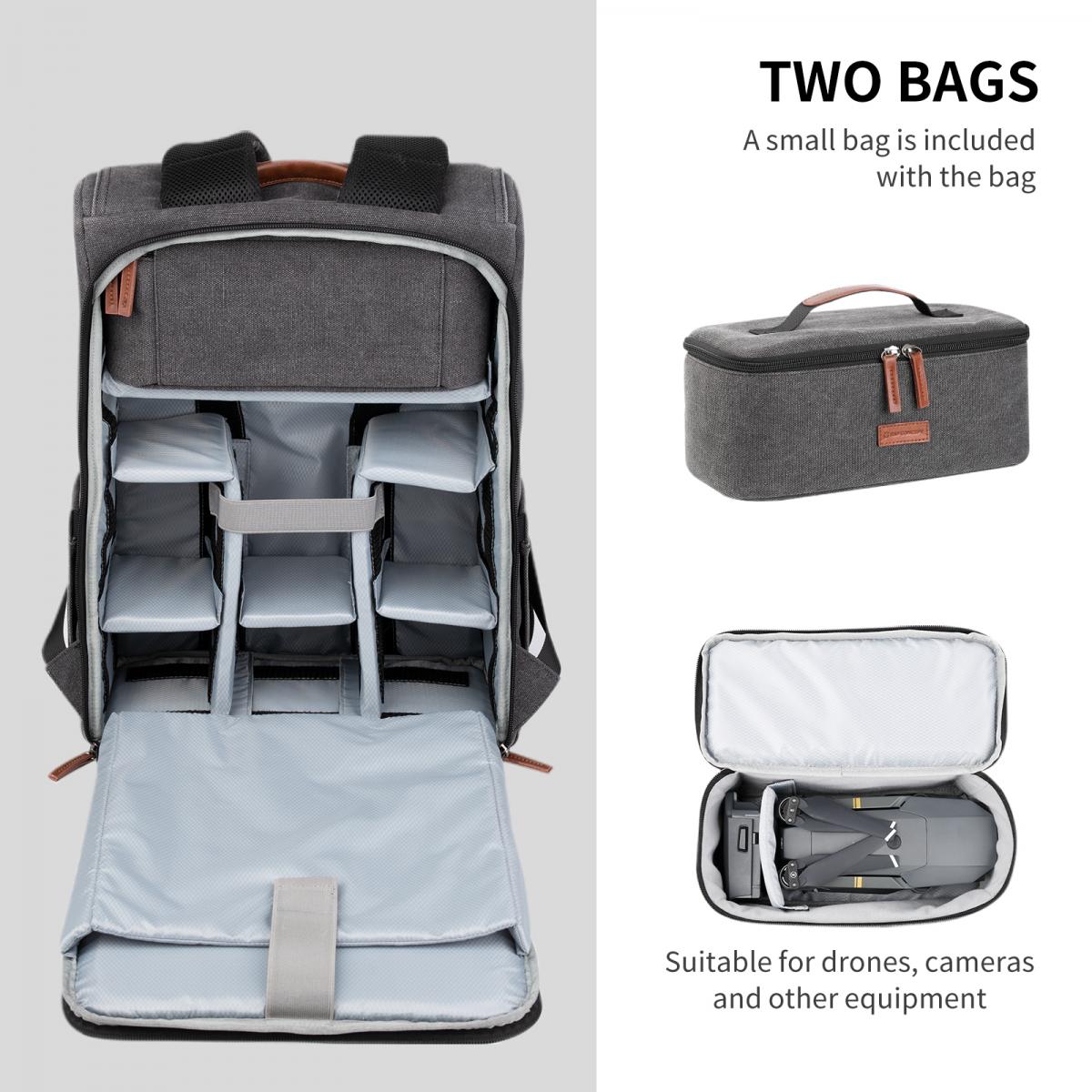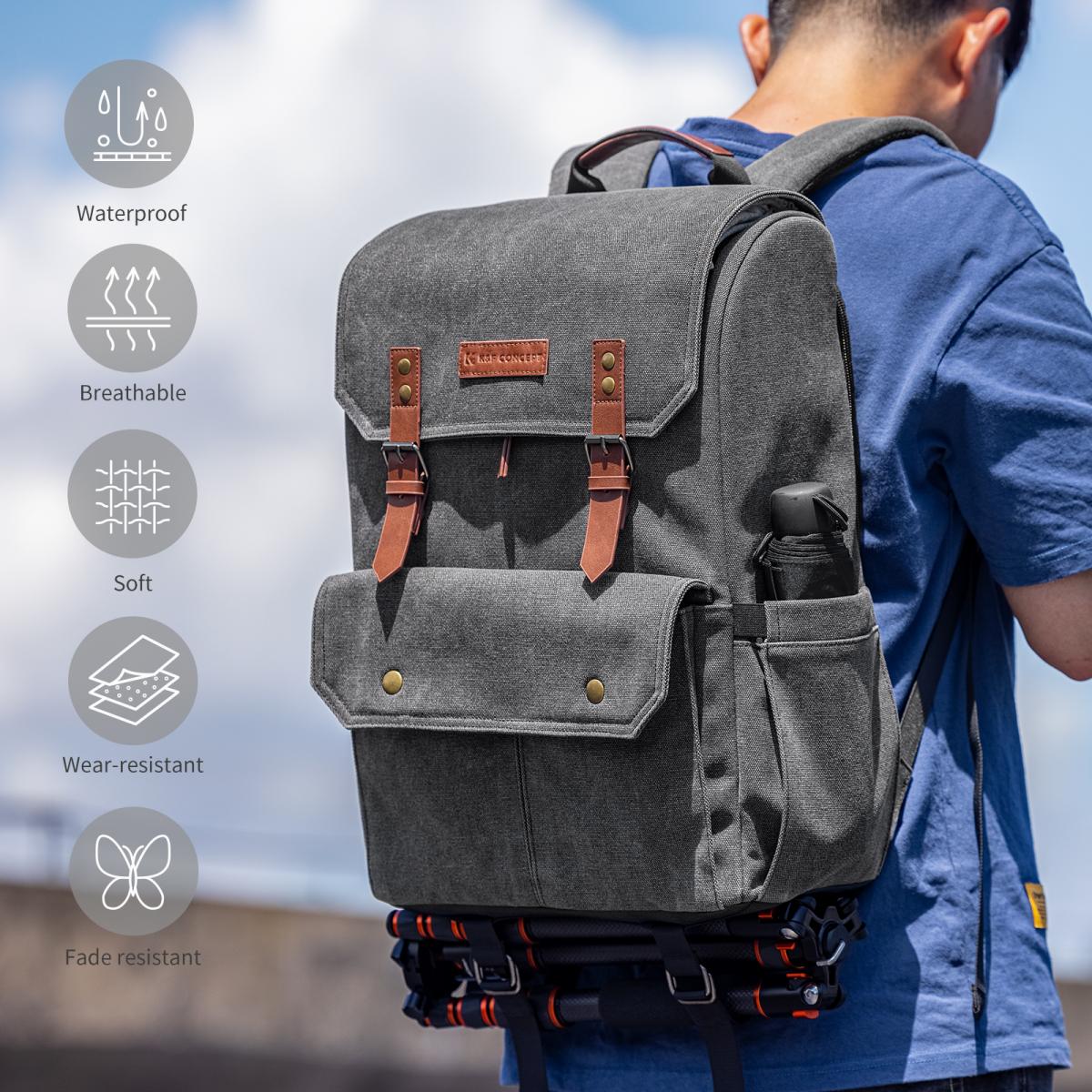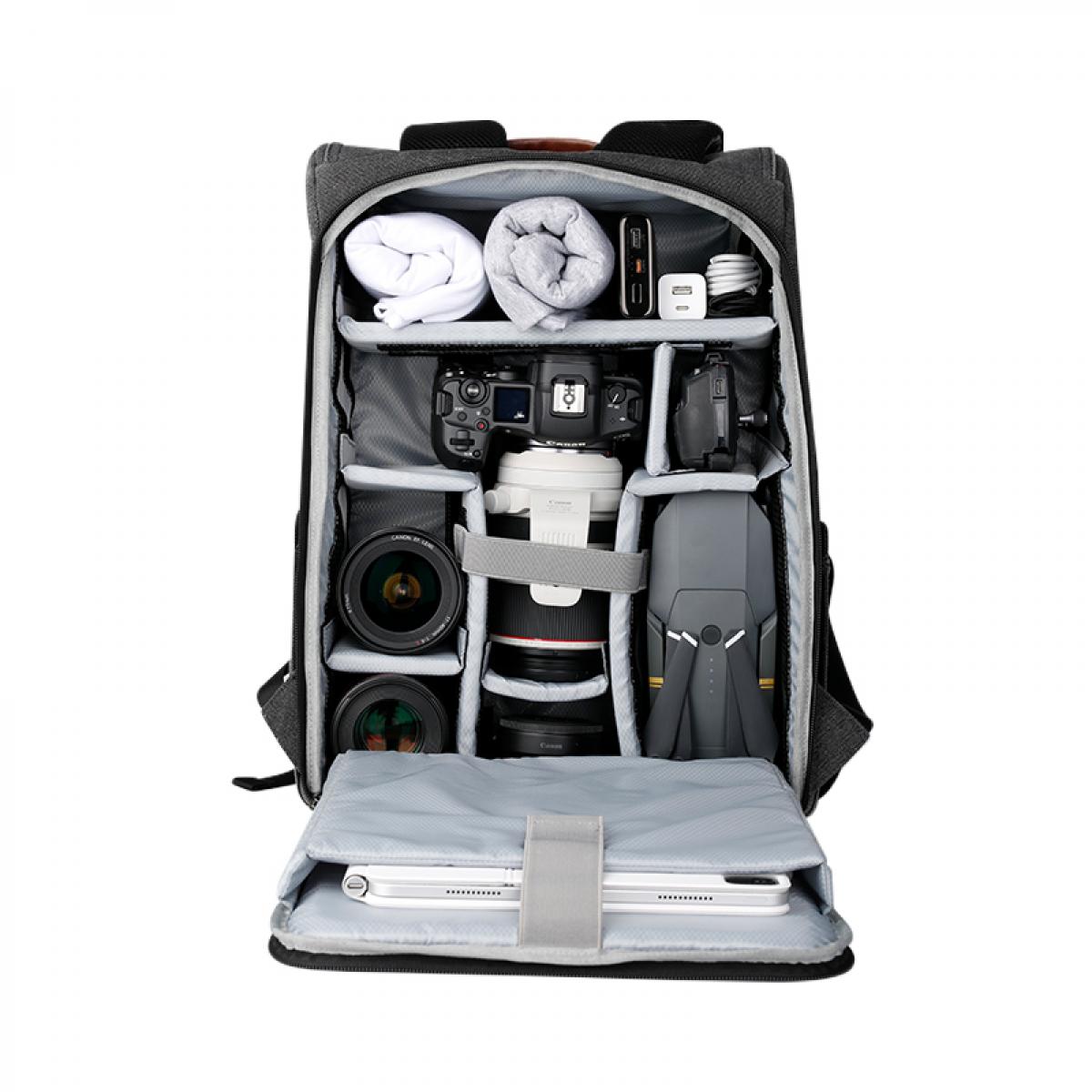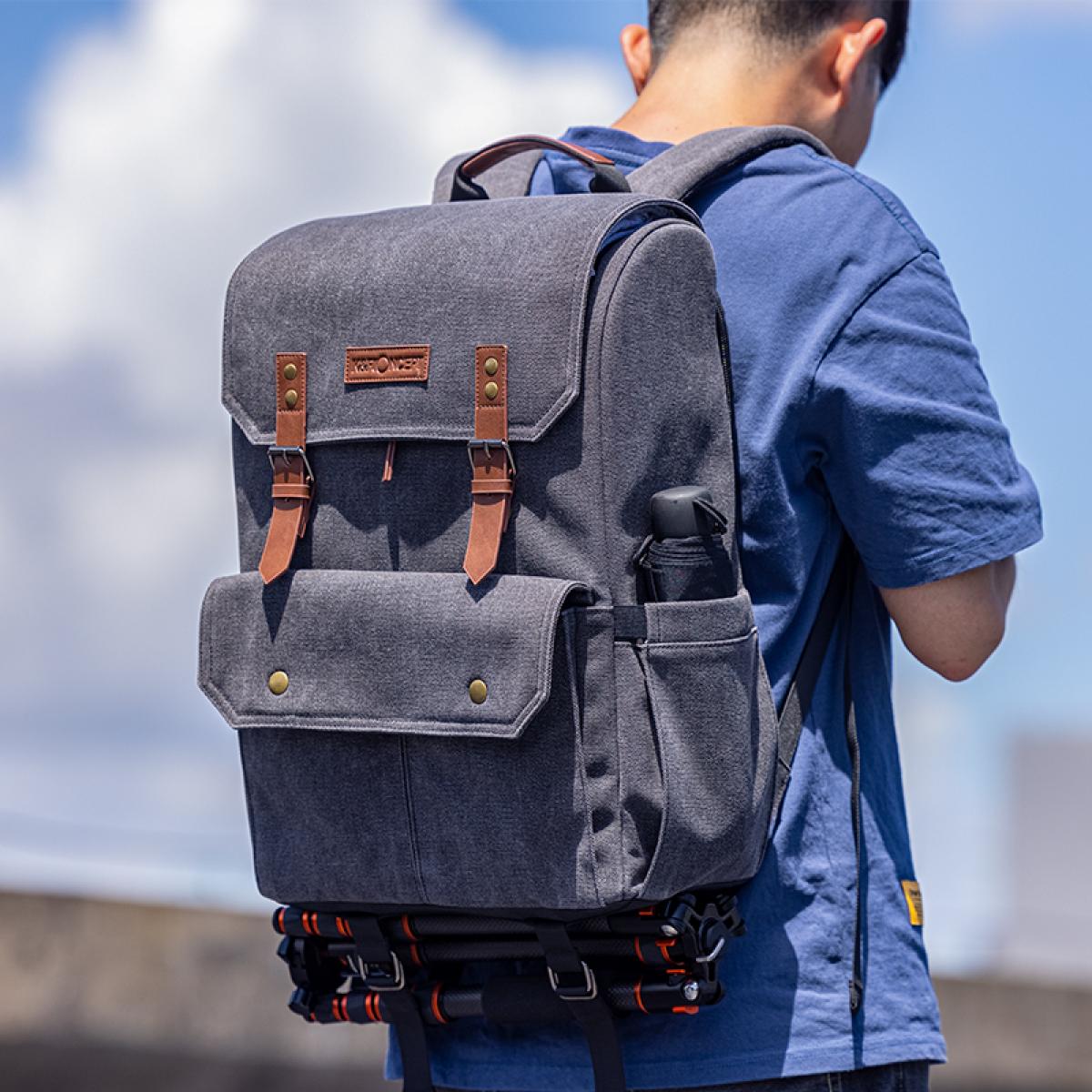 | | |
| --- | --- |
| Product Size | 32*18*45cm |
| Package dimensions | 32*18*45cm |
| product weight | 1.76KG |
| Package Contents | Photography backpack*1, Removable DSLR Case*1 |
2 for 1 And spacious
I really like the bag. More than enough room for my camera, laptop and my small purse! Not to mention I can fit so many other things in it. It was a great pick for me☺️
19/09/2021
too heavy :(
it's a good design but the material is tooooo heavy. If you put the camera + couple of lenses + 17" computer = you can't lift it :(
29/08/2021
Camera bag
This is a great bag! Lots of room. Great price.
13/08/2021
Great bag week seems
This was a great purchase! I have a giant laptop for work and this fit it perfectly! It also has extra space. Just all in all a wonderful bag!
15/06/2021
Great camera laptop backpack
It's a good bag. Personally, I like my backpacks to be a little smaller looking on my back and this one was just large and bulky. But if you're into that then it's great!
12/06/2021
Great hiking pack to carry my DSLR camera
This backpack works great for carrying all my camera equipment. The small carrying case comes in handy so I can quickly and easily switch out my camera lens.
23/05/2021
Durable and Functional
I bought this bag as a replacement for a LowePro bag whose zipper had separated. I am a professional photographer and I like to have a camera with me at all times, and I was taken by the clever design. I do realize that there's no such thing as a perfect bag; however, this one is billed as a combination camera and laptop bag, and while I only peripherally got to use it as a camera bag (meaning there WAS a camera in it), it fails as a usable bag on all counts. I can only imagine that this bag is yet another example of a product that is never once actually USED by the designers. Had MOSISO bothered to field-test this bag, the flaws would have made themselves known early enough on to be able to be rectified before putting this thing on sale for such a premium price.First, the hook-and-loop strips that hold the separator panel between the upper and lower sections of the bag are thin and FAR less than is useful to actually hold the panel in place when objects are placed into the main compartment. This panel cannot be prevented from falling into the bottom compartment with any adjustment of the hook-and-loop material, and all items in the upper compartment will end up in the bottom, rendering them inaccessible until the camera bag is removed from the bottom and the items are fished out.Second, the separator panel falling into the lower compartment renders the camera bag in the bottom inaccessible without rearranging the rest of the bag. As such, the camera bag part is only usable when out of the main bag; this is where the disparity of the concept and execution are at odds with each other.Finally, a bag with this concept should be able to hold the weight of the computer AND the camera bag, and after a couple of weeks of regular use as just a bag, the right shoulder strap and the top handle began to separate from the body of the bag, rendering it utterly useless without a major repair. As a point of explanation, the camera in question was not a heavy DSLR, but rather a Voigtlander Vito II and a few rolls of 35mm film in canisters. Hardly a lot of weight.My LowePro bag is nearly fifteen years old, and still structurally sound except for the zipper, which I will replace this weekend as I get rid of this MOSISO travesty. Sadly, I do NOT recommend this bag.
15/05/2021
HOLY BAG!!!!
I am absolutely obsessed with this bag!! I finally found a bag that fits my 17.5 lap top and my camera all in one with tons of extra space!!!
28/04/2021
Such an incredible bag
Quality it good, lots of storage and cool features. Bigger than I was expecting, would be best suited for a big dude.
28/04/2021
Bigger than expected
This backpack is exceptionally made. It feels nicely finished, with lots of attention to detail. Very nice-looking. I love the side pockets for a water bottle or something. The camera insert that goes on the bottom can also fit on the top portion. That's useful if you're going on at trip and need to pack heavy items like water and food, and you expect to have your camera out and in use most of the time. In that scenario, the lower section will be empty and the heavier items on top might dislodge the divider. In that case, you can pack the extra stuff on the bottom and the camera insert on top. And if you leave the lid of the insert open and flipped back, the camera can be very easy to access from the upper section.Unfortunately, I will probably return it because the backpack itself is very rigid (don't know why one review calls it flimsy!) and even when totally empty and with the divider collapsed, it's as large as if it's stuffed full. I don't think the backpack needs to be so padded that it's always at its fullest size. The insert is padded enough, and so is the back. I will actually think about it before returning. Maybe its constant inflated size isn't that big of a deal, if I only use it for camera transport. It will be packed full the entire time the camera is inside so the fact that it doesn't flatten shouldn't matter. But I did want to use it as a full time backpack, for uses other than camera equipment. Grocery shopping, for example. I don't want to wear such a bulky empty thing. I'll see.
20/04/2021
There are no faqs for this product.
Bag Compartment
Carrying/Transport Options
Backpack
Camera Support Strap
Yes
Camera Compartment
2
Lens Compartment
Multiple Lenses
Laptop Compartment Screen Size
15.6 inch
Bag Exterior
Exterior Color
Dark Grey
Exterior Dimensions
32*18*45cm
Exterior Material
Washed Canvas
Type of Closure
Buckle
Rain Cover
Yes
Bag Interior
Maximum Volume
20.6L
Weight
1.76kg