A10 Wireless Lavalier Microphone Lapel Mic System Plug&Play for Vlogger - iPhone + Type-C Adapter
Free shipping to eligible country
K&F Concept A10 Wireless Lavalier Microphone Plug&Play with Automatic connection, plug and play no Bluetooth, and APP are needed. Provide professional full-band audio 48kHz stereo CD quality.

KF10.039

SKU:

KF10.039

61.99

https://www.kentfaith.com/KF10.039_a10-wireless-lavalier-microphone-lapel-mic-system-plugplay-for-vlogger-lighting-adapter
Description
* Automatic connection, plug, and play: the transmitter and receiver (working range is about 50 feet) will automatically connect, no Bluetooth and APP are needed, just plug the receiver into the device to play directly. Compatible with Andriod smartphones, iPhone smartphones, Macbook Air Pro with Type-C port. Computers, notebooks, and tablets with Type-A port (reminder: only mobile phones that support OTG function)
* Excellent sound quality and performance: Provide professional full-band audio 48kHz stereo CD quality; support multi-channel real-time mixing, real-time synchronization of mobile phone background music and human voice, built-in 6mm ECM high-sensitivity microphone, and adjust the noise reduction effect through the volume key, Together to provide multi-level noise reduction, so that your voice is clearer, even if you are in a noisy environment without effort.
* Portable and durable, easy to charge: The wireless lavalier microphone is equipped with a 150mAh high-quality lithium battery, which can provide more than 4-6 hours of battery life after being fully charged.
* Plug and play, no cables required-perfect for outdoor recording. The mini metal clip allows you to easily clip it to your collar or pocket. The compact and lightweight design (weight: 14g, size: 2.4'' x 0.6'' x 0.66'') is easy to carry.
* Designed for YouTube/Facebook live broadcasts, TikTok creators, video bloggers, Instagram users, podcasters, interviewers and other video recording enthusiasts. Say goodbye to messy cables and poor noise reduction, you can create perfect video and audio files on your smartphone anytime, anywhere.
Shipping
Free shipping to eligible country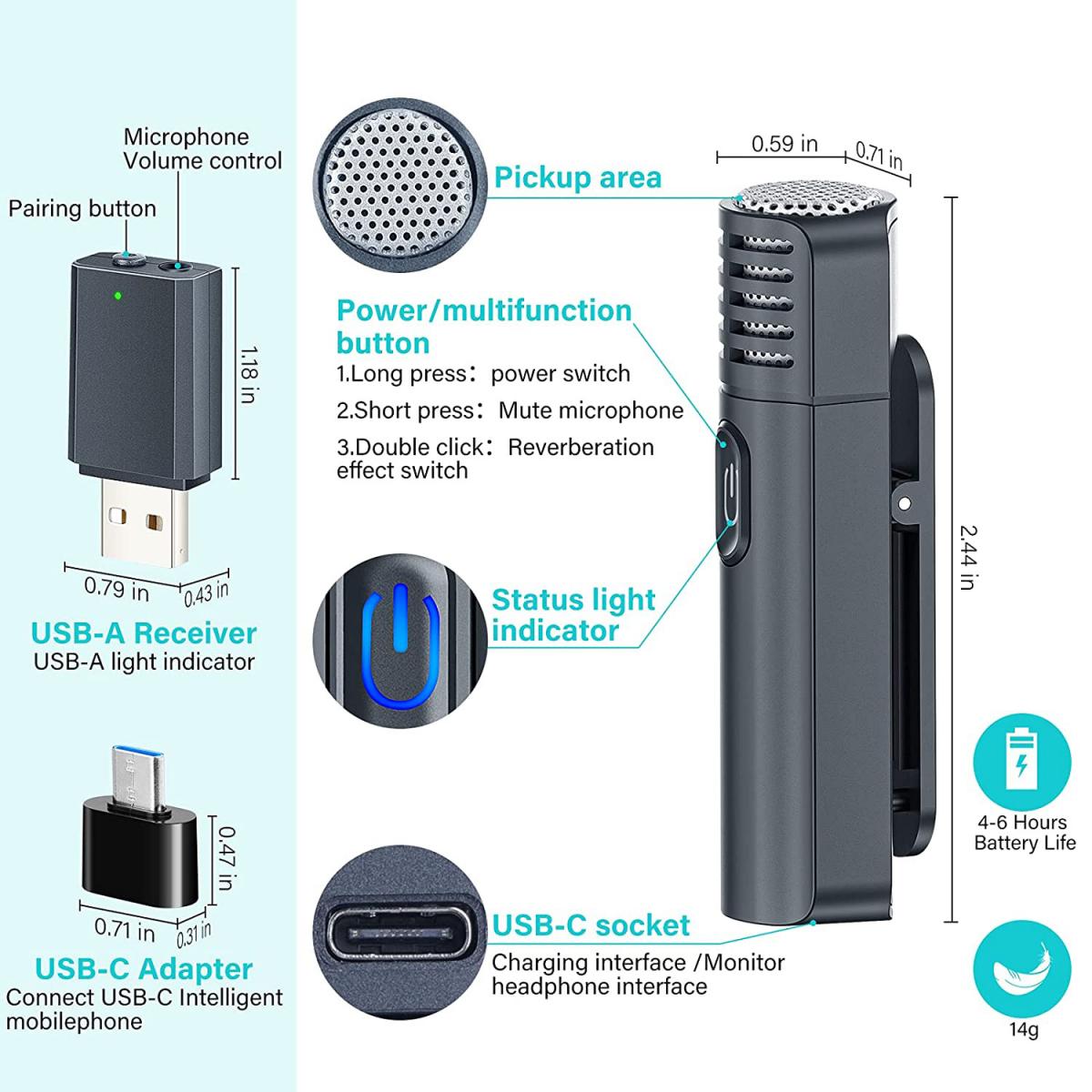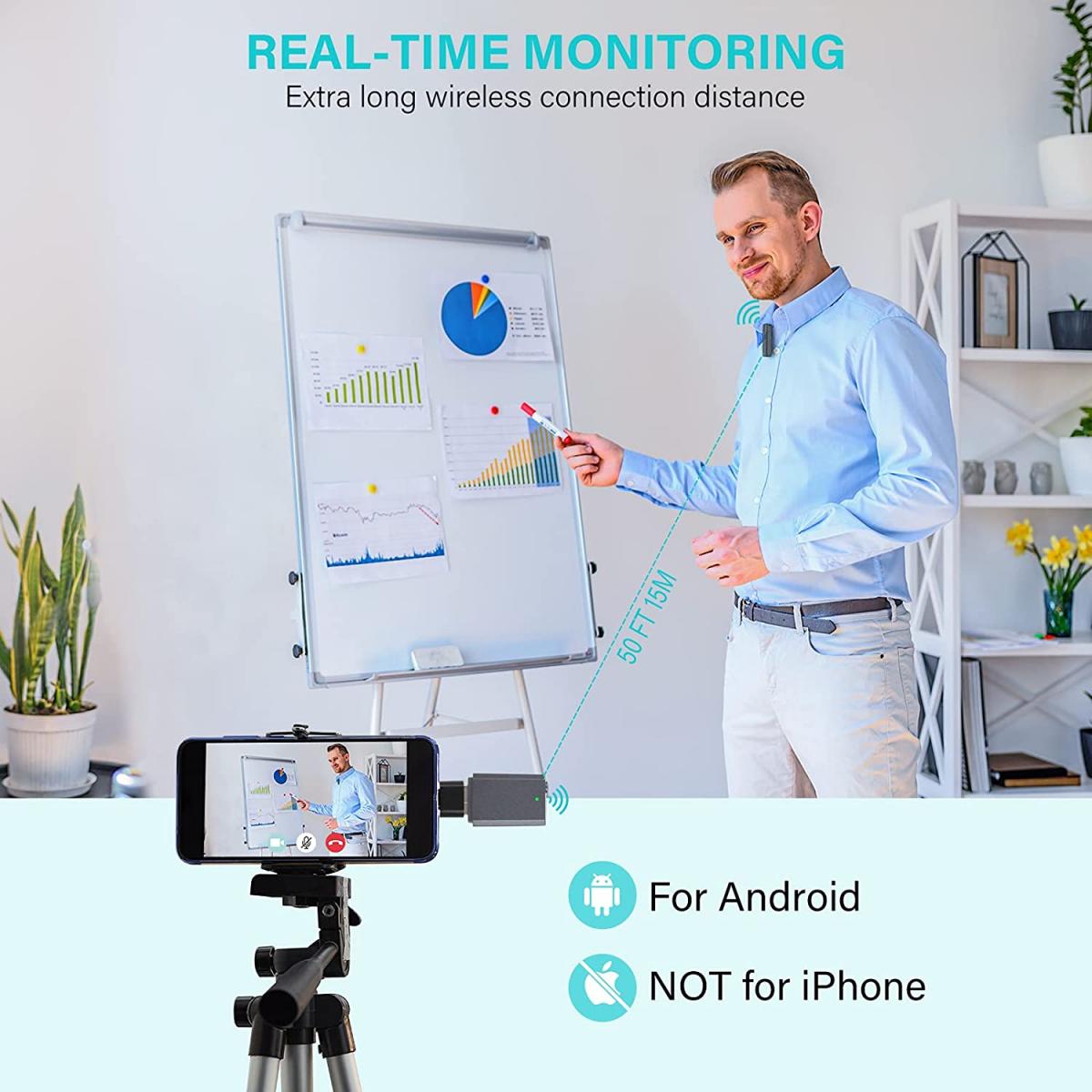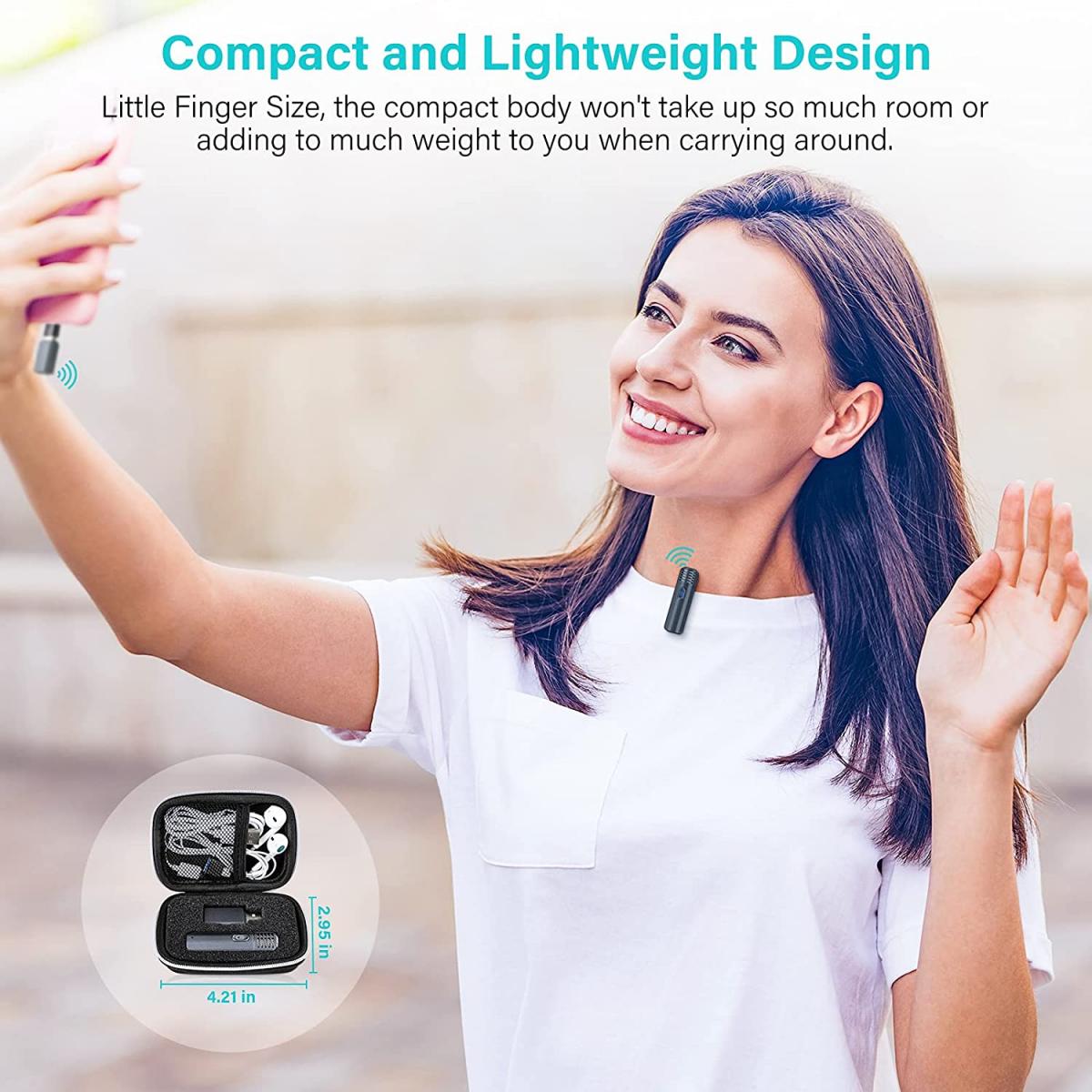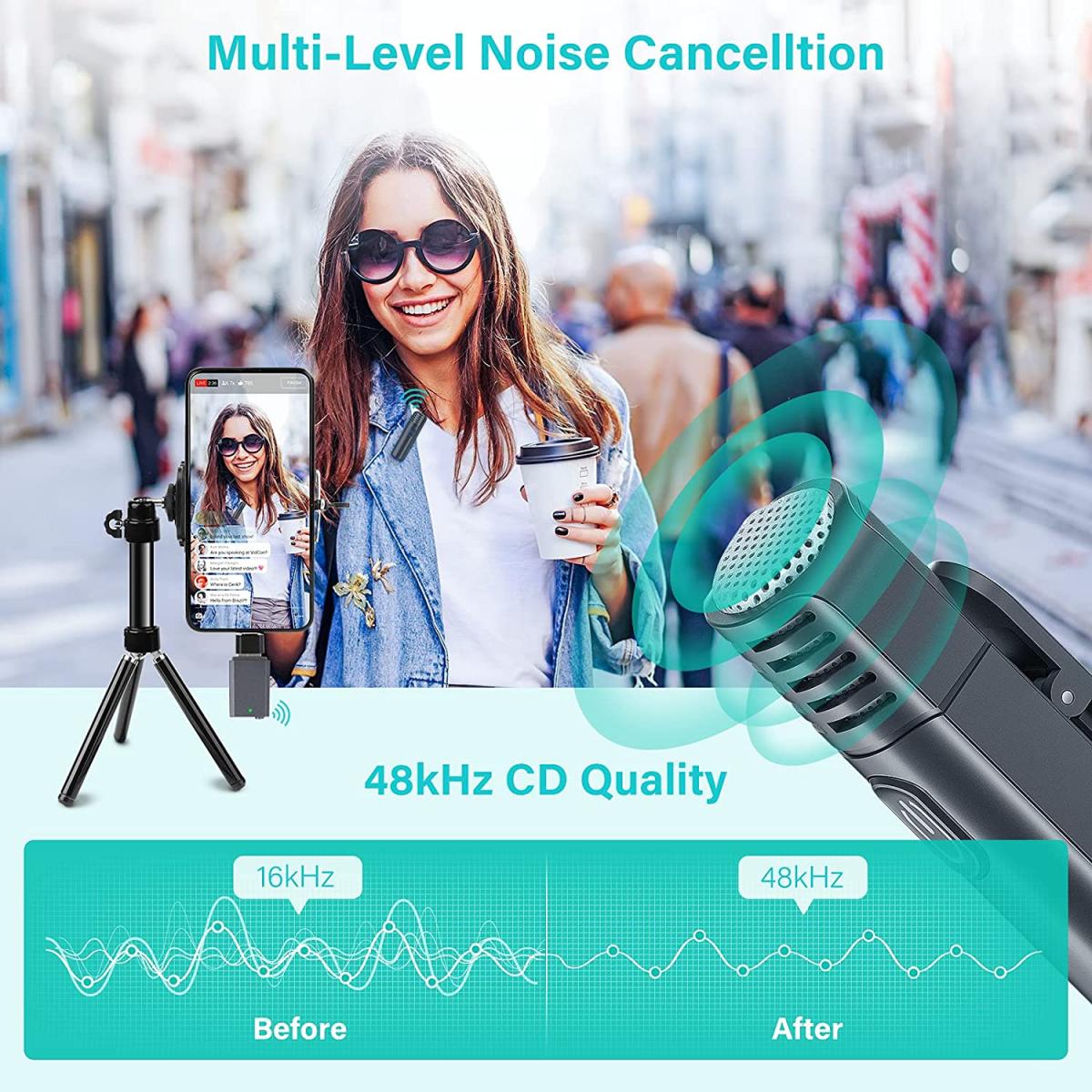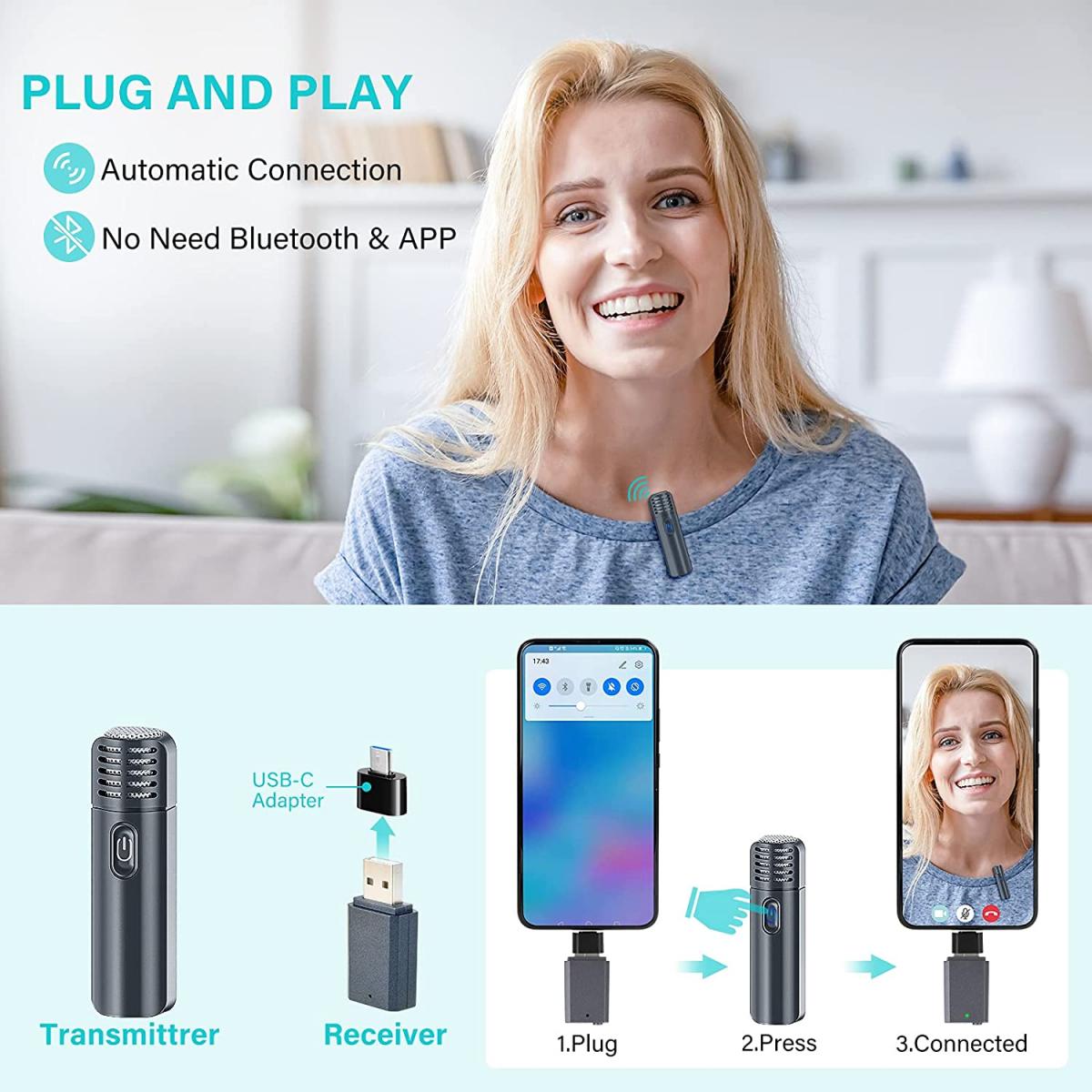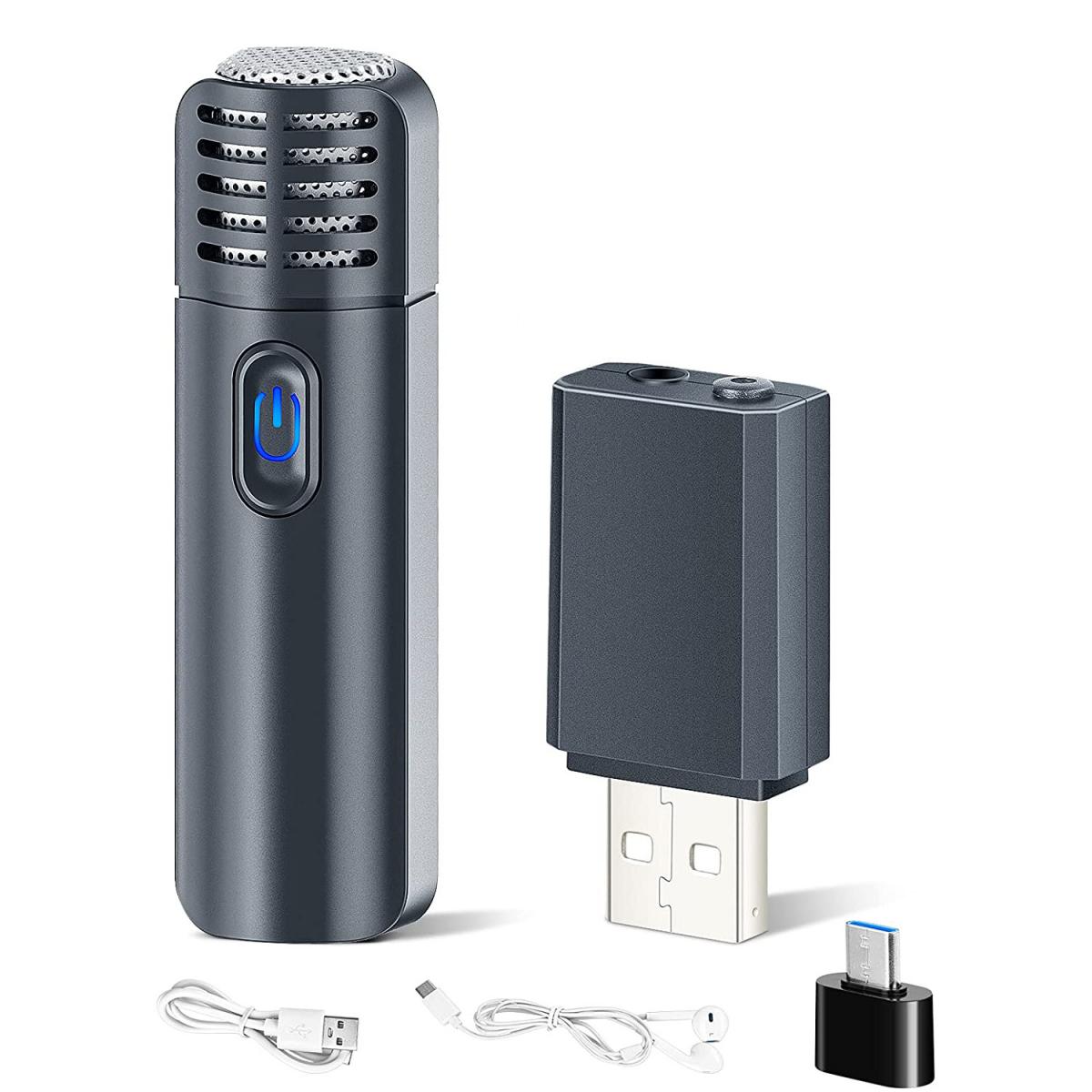 | | |
| --- | --- |
| Model number | A10 |
| How to use | Lavalier |
| Battery | Built-in lithium battery |
| Connection method | 2.4G |
| Charging port | Type-C |
| Pickup pattern | Omnidirectional |
| Output sound quality | 48Khz |
| Battery life | 4.5 hours |
| Microphone weight | 14g |
| Receiver weight | 6g |
| Product size | 1.7*1.6*6.1cm |
| Packing size | 10*7*3.5cm |
| Packing weight | 100g |
| Packing list | Microphone*1, manual*1, charging cable*1, receiver*1,USB to iPhone adapter*1,USB to Type-C adapter*1, monitor headset*1 |
So nice!
This mic is so nice! There are so many uses for it and I'm excited to use it for my YouTube channel! It's good quality and charges fast!
18/08/2021
Just what I was looking for.
This was what I wanted. Works great. I had looked at several but decide on this one and am pleased with my decision
18/08/2021
The mic you didn't know you needed
I use a big bulky mic for all of my projects, and for the longest time I've just been making it work. This mic is small, easy, portable, and a great addition to any set in which you'd need a mic!! Love it!
18/08/2021
Good value
Just used it and it worked like a charm!I like that the case is a little on the hard side so it protects it all. Everything fits nicely in the case also. I was able to also put in my secondary mic, I'll be using as a back up. If you take out the foam insert, you can easily fit in something else, so I'll likely do that and put in my wireless earbuds since they didn't come with a case.I'm returning the one I bought from best but, cause this works better and was cheaper too.Good buy!
13/08/2021
Didn't know I needed it till I started using it!!!
I absolutely loved everything about this little microphone.. It's small small and you can keep it in your pocket or a drawer. It came fully charged which was surprising surprising and I've made 5 videos with this microphone and still have battery left.. If you were looking to vogue blog that's would be the perfect asset to asset. It's not overly expensive which I love. I didn't think I needed a microphone back but after using it, my videos are way more awesome than what they already are, of course lol. It's very easy to connect and comes with everything you need to to use with PC and mobile devices. It has a simple mute option which is nice. Just clip it on your shirt and your set!
13/08/2021
There are no faqs for this product.