64"/1.6m Lightweight Travel Tripod Compact Aluminum Alloy Tripod 10kg/22lbs Load Capacity with 28mm Metal Ball Head & Detachable Monopod Orange B234A1+BH-28(TM2324)
Terms
Terms and Conditions:
Coupons are valid for a limited time only. Kentfaith reserves the right to modify or cancel coupons at any time.
You must purchase the qualifying items added to your Cart when the coupon is in effect for the discount to apply.
If you later modify or cancel the subscription or delivery date for the qualifying item, the discount will not apply.
The coupon applies only to qualifying items displaying the coupon offer.
If you buy more than one item from the same coupon, the maximum discount amount of the coupon will be equal to either the percentage discount off or the face value of the coupon on one eligible item. The coupon may only be used on www.kentfaith.com.
The promotion is limited to one coupon per customer.
If you return any of the items purchased with a coupon, the coupon discount or value may be subtracted from the return credit.
To
United States
Expedited Shipping
3-5
business days
K&F Concept TM2324 Lightweight Travel Tripod Aluminum Tripod 2022 New Orange

KF09.111

SKU:

KF09.111

89.99

https://www.kentfaith.com/KF09.111_kf-concept-tm2324-2022-new-64-162cm-dslr-tripod-lightweight-compact-aluminum-camera-tripod-with-360-ball-head-detachable-monopod-for-travel-work-b234a1-bh-28l
Description
* 【K&F Concept TM2324 2022 Upgrade】K&F Concept B234A1+BH-28L DSLR Tripod is the 2022 Upgrade Version designed and improved based on K&F Concept best-selling tripod model TM2324 for the past seven years. We Are Committed to Creating Professional and Innovative Camera Accessories.
* 【Detachable Monopod】To make the TM2324 more practical and functional for most photographers, a detachable monopod is added. Loosen the knob and pull out the center column so that the center column can be used as a monopod.
* 【28mm Large Ball Head】28mm large ball head ensures the stability; The non-oil damping new design allows the camera to rotate smoothly and accurately; With a 360-degree scale at the bottom of the ball head, it's easier to take panoramic photos and gives more stunning effects than the ultra-wide-angle lenses.【 NOTE】For a camera with a telephoto zoom lens, you need to buy a tripod mount ring additionally or a telephoto lens bracket for better balance.
* 【Powerful & Quick Flip Leg Lock】With powerful and quick flip leg lock, only use one hand can open and close all the buttons in a few seconds. It's very easy to use, saving you more time and can be more focused on enjoying the shooting.
* 【Practical and Portable】The tripod combines practical and portability factors, with the maximum height (without center column) of the most stability being 55.1'' (1400mm), providing sufficient stability and shooting height as far as possible; The max height is 63.8'' (1620mm), making standing shooting easier and the min-height is 22.4'' (570mm) to meet various shooting environment and photographic needs.
Shipping
To
United States
Expedited Shipping
3-5
business days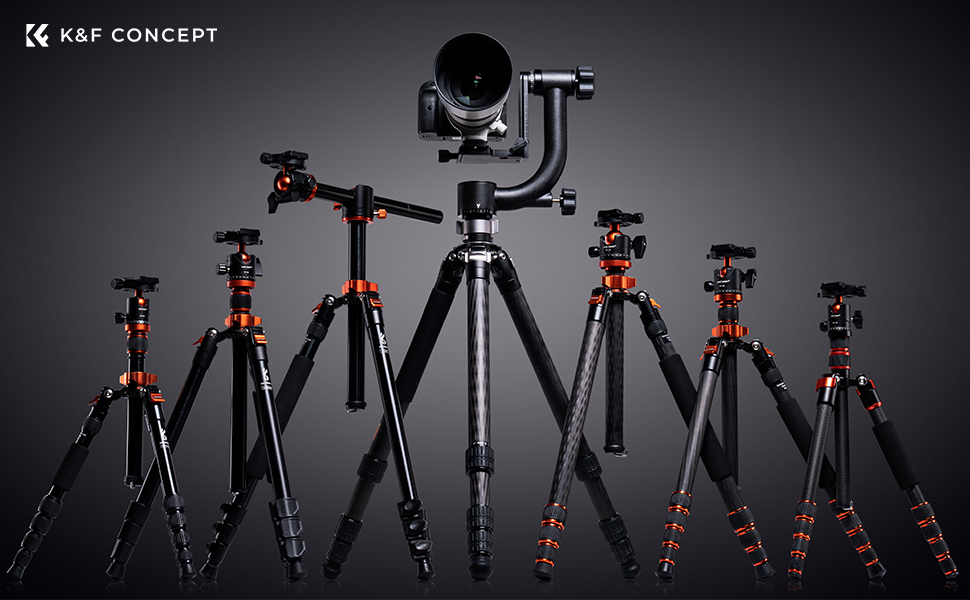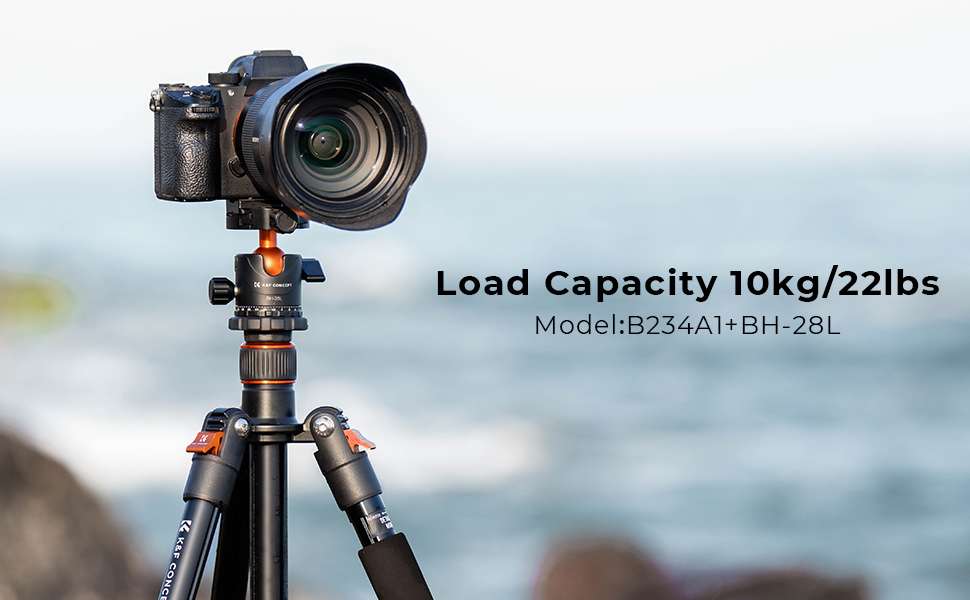 K&F Concept TM2324 Upgrade Model B234A1+BH-28L 10kg/22lbs Load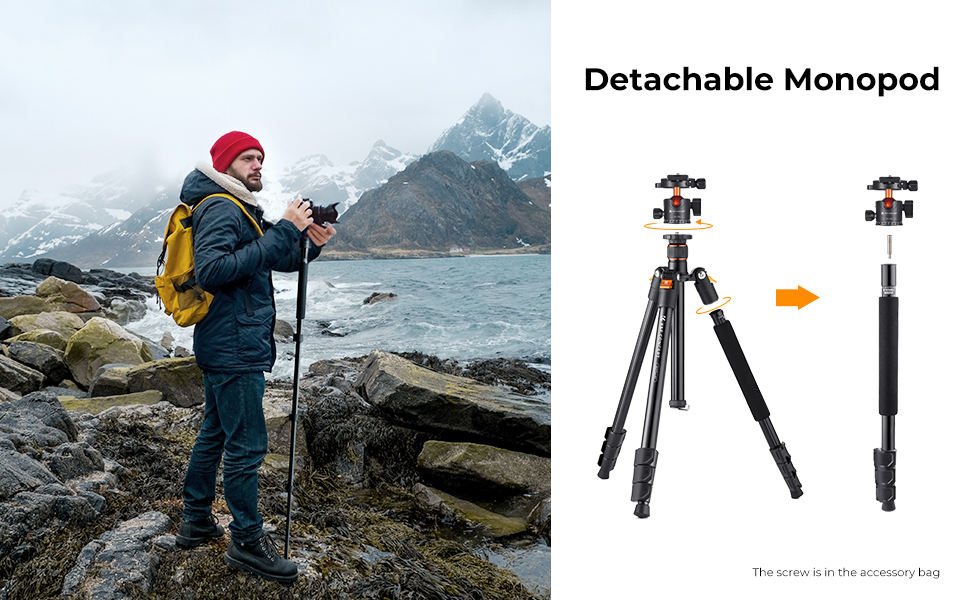 To make the TM2324 more practical and functional for most photographers, a detachable monopod is added to this upgrade model.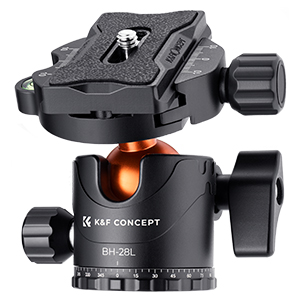 28mm large ball head ensures the stability; The non-oil damping new design allows the camera to rotate smoothly and accurately.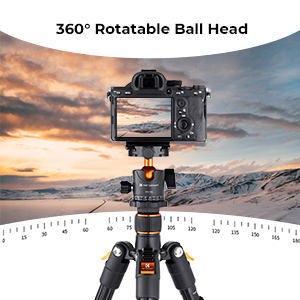 Panoramic shooting is allowed as the tripod is equipped with a 360° rotatable ball head.
Grand landscape shooting will be easily achieved with this function.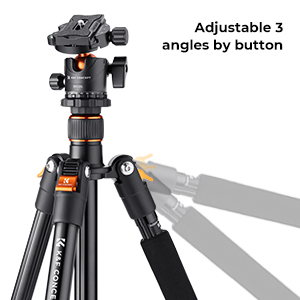 Each leg can be adjusted alone by three angles so the tripod can be used on uneven terrain.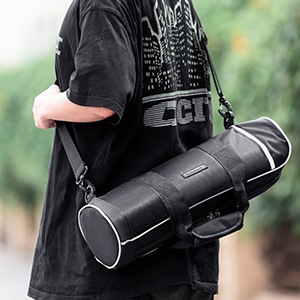 A padded carry bag is included. It features rugged material, easy storage, and heavy-duty zippers.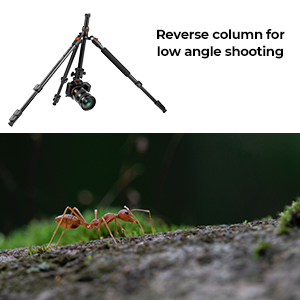 Invert the center column of this tripod for low angle shooting, such as macro shooting and close-up photography. Locking knob secures the column firmly.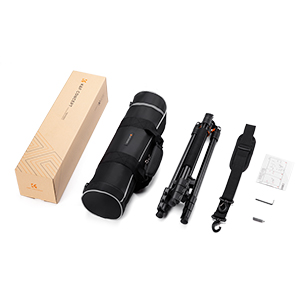 Rating

56 reviews.

63 reviews.

23 reviews.

286 reviews.

286 reviews.
Price

$156.99

$89.99

$304.99

$185.99

$139.99

$99.99

$199.99

$122.99

$195.99

$119.99

Model
KF09.111
KF09.098
KF09.099
KF09.085V3
KF09.085V5

Load Capacity

10kg/22lbs
15kg/33.07lbs
10kg/22lbs
16kg/35.3lbs
12kg/26.5lbs

Maximum Working Height

1620mm/63.78"
1750mm/68.90"
1600mm/62.99'
1700mm/67"
1700mm/67"

Minimum Working Height

570mm/22.44"
540mm/21.26"
490mm/19.29''
560mm/22"
560mm/22"

Folded Length

470mm/18.50"
585mm/23.03"
530mm/20.87''
430mm/17"
430mm/17"

Weight

1325g/2.92lbs
1395g/3.08lbs
1.34kg/2.95lbs
1.75kg/3.94lbs
1.75kg/3.86lbs

Materials

Magnesium aluminum alloy
Carbon Fiber
Aluminum alloy
Magnesium aluminum alloy
Magnesium aluminum alloy

Leg Lock Type

Flip Lock
Twist Lock
Flip Lock
Twist Lock
Twist Lock

Leg Diameter

14-23mm/0.55-0.91"
16-25mm/0.63-0.98"
13-23mm/0.51-0.91"
13-25mm/0.51-0.98"
13-25mm/0.51-0.98"
All Reviews
Image

All Star

5 Star

4 Star

3 Star

2 Star

1 Star
happy with the product
happy with the product
26/05/2023
good product, recommend
happy with the product, solid, stable and reliable
26/05/2023
it looks and feels solid and functions flawlessly.
happy with the product, recommend.
26/05/2023
Excellent tripod for the price
Versatile tripod, 64" height, ball head, 2.79 lbs aluminum magnesium is lighter than most carbon fiber tripods. I can unfold the tripod very easily & set up quickly. I'm very happy using this tripod.
10/04/2023
Sturdy and versatile.
just received the tripod today. On first impression, the tripod feels sturdy and the adjustments are solid. I previously purchased a lower priced unit but had to return it because it was too flimsy. After giving this one a quick trial run, it was justified. Hopefully it will prove itself just as good on the field. One quirk with this ball head type is that there's no handle to control the camera. You have to aim the camera itself and then lock down the ball head. I guess it's all a matter of getting used to it. But so far, I love it. I would say this is a good value for a semi- professional photographer.
06/04/2023
This is a good tripod.
am an amateur, but this is a good tripod. It stays where I put it. It lets me adjust exactly one thing at a time, holding everything else in place, so I can get it just right. It's solid enough to be useful in real life situations. It's obvious how every piece of it works, no confusion or frustration at all. I don't have to fight with it and I don't have to think. It even has a little bubble level at the top of the central pillar, so it's easy to see whether it's sitting flat. It's way better than the trash I was using before. Now if I mess up, I can't blame the tripod any more, I have to blame myself. Darn!
03/04/2023
Everyone is now included in the photo
Been using this tripod for more than 6 months and I am very happy with it. It is not super lightweight but it is pretty acceptable. Setting it up is also easy when you get used to it. Of course, every body can now join the group photo rather than taking turns or asking a stranger.
29/03/2023
Go-To
My sweet sweet husband got me this as a surprise and I couldn't be happier super easy to use and in many ways
24/03/2023
Best for the price
Solid, well constructed tripod. I don't think you can beat it for this price range. Works well, no complains whatsoever!
20/03/2023
A
Hi,the quick release plate carried by the tripod can only be installed with a camera, and is not compatible with the phone.If you want to install the phone, please purchase an additional phone holder, please check here: https://www.kentfaith.com/index.php?route=product/search&search=KF31.027
Show more
A
hello,tripod can be used in the water, but need to clean up after use, pay attention to ventilation before storage.
Show more
Tripod General
Load Capacity
10kg/22lbs
Maximum Working Height
1620mm/63.78"
Max Height without Center Column
1400mm/55.12"
Minimum Working Height
570mm/22.44"
Folded Length
470mm/18.50"
Weight
1325g/2.92lbs
Materials
Magnesium aluminum alloy
Tripod Head
Ball Head
Color
Orange, Black
Bubble Level
√
Tripod Legs
Leg Lock Type
Flip Lock
Leg Positions
Independent Leg Spread
√
Leg Sections
4
Leg Diameter
14-23mm/0.55-0.91"
Feet Features
Tripod Center Column
Center Column Features
Center Column Inversion
Center Column Sections
1