127mm MCUV Protection Filter with 28 Multi-Layer Coatings HD/Hydrophobic/Scratch Resistant/Ultra-Slim UV Filter for 127mm Camera Lens
Buy 99$-15$, 199$-30$, 299$-50$, 599$-120$(Black Friday Price)
To
United States
Expedited Shipping
3-5
business days
New Arrival 2023. K&F Concept 127mm MCUV Protection Filter offers ultraviolet protection for your camera lens with premium HD glass. Nano-coated No Vignetting.

KF01.2085

SKU:

KF01.2085

129.99

https://www.kentfaith.com/KF01.2085_127mm-mcuv-protection-filter-with-28-multi-layer-coatings-hd-hydrophobic-scratch-resistant-ultra-slim-uv-filter-for-105mm-camera-lens
Buy 99$-15$, 199$-30$, 299$-50$, 599$-120$(Black Friday Price)
Description
* 【Ultraviolet Protection】UV Filters protect your lens from dirt, scratches, fingerprints, and accidental damage. Reduce haze and improve contrast to your video and digital images by minimizing the amount of ultraviolet (UV) light.
* 【Premium HD Glass】 High-Density sharp cut UV glass; Chemically enhanced optical glass is 4x stronger, made with Japanese optical glass.
* 【NANOTEC】This UV filter with 28 multi-layer coatings, hydrophobic,scratch resistant . The 99.6% transmission, effectively reducing the reflection came from both the ground and filter itself, ensuring the true color of images.
* 【Telephotos Lens No Vignetting】K&F Concept HD uv filter frame only 3.3mm with double side polishing technology no vignetting and the images still clarity even on telephotos lens.
* 【Note】Please verify your camera's lens thread size before ordering. Your camera's lens thread size will be marked somewhere on the lens barrel or printed underneath your lens cap. This number is always proceeded by a "Φ" (diameter) symbol. For example: Φ49 = 49mm lens thread size.
Shipping
To
United States
Expedited Shipping
3-5
business days
Sale
Buy 99$-15$, 199$-30$, 299$-50$, 599$-120$(Black Friday Price)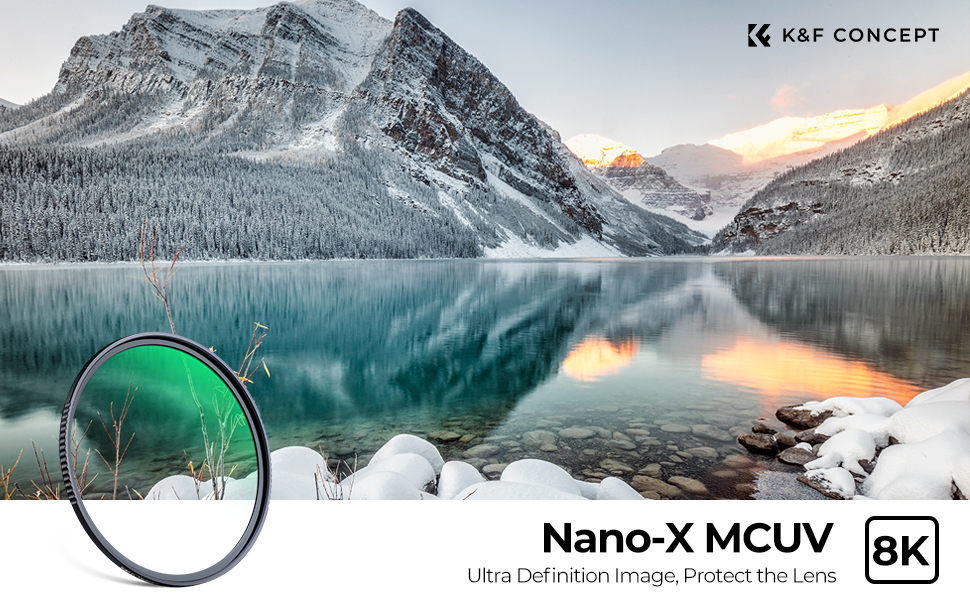 K&F Concept MCUV Protection Filter High Definition/Hydrophobic/ Scratch Resistant with 28-Multi-layer Coatings for Camera Lens
The main function of the K&F Concept MCUV Protection Filter is to prevent the harmful effect of UV rays and eliminates atmospheric haze that causes a bluish cast and makes distant subjects such as mountains in scenic photos less sharp. By using our UV filters you will be eliminating this and your pictures will be so much sharper and color accurate.
---
Please reconfirm your lens size before ordering, your camera's lens thread size will be marked somewhere on the lens barrel. This number is always preceded by a "Ø" (diameter) symbol. Eg. Ø58=58mm thread size.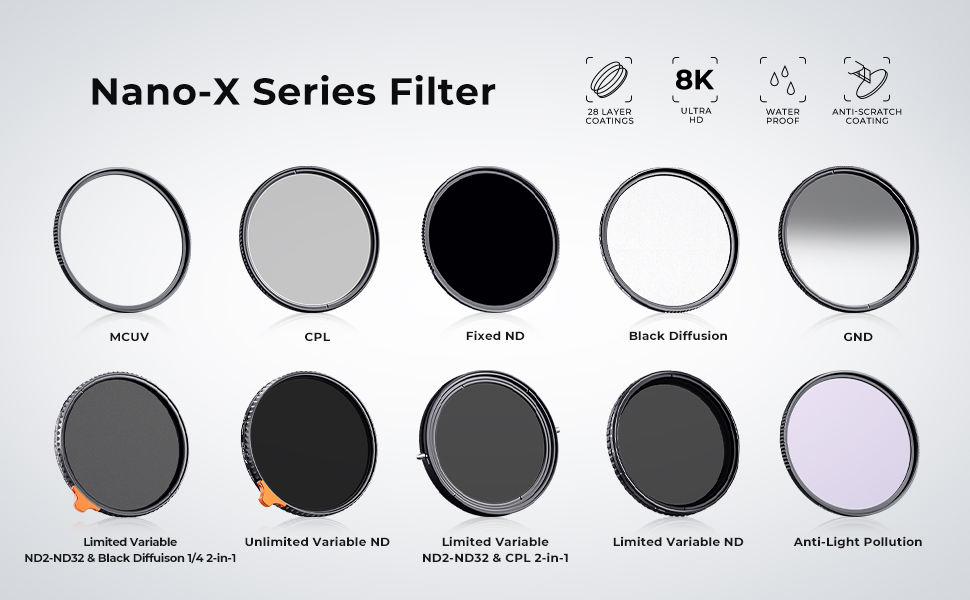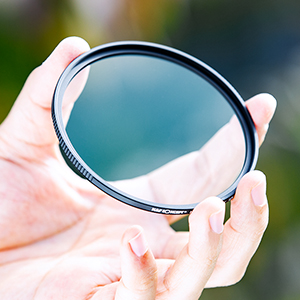 CNC Non-Slip Design
Super slim filter frame only 3.3mm with CNC non-slip design supporting easily to installation and removal.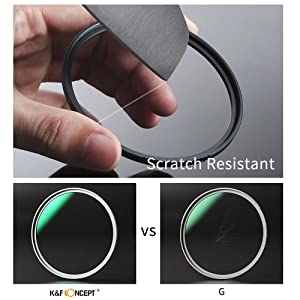 Import AGC Optical Glass
This MCUV Protection Filter is made by importing Japanese AGC optical glass, 99.6% transmission, HD, hydrophobic and scratch-resistant, restoring true color in photos.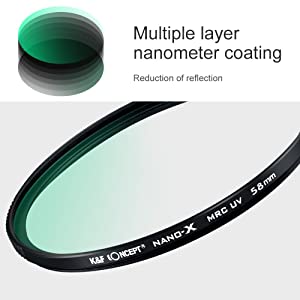 Multi-layer Coatings
The K&F Concept MCUV Protection Filter filter with 28-layer coatings increases the Anti-reflection, also reducing the reflection coming from the ground and filter itself, improving light transmission and balancing the color well.


All Reviews
Image

All Star

5 Star

4 Star

3 Star

2 Star

1 Star
Exactly what I needed
Was well packed and delivered fast.
12/11/2023
NICEST
The lens quality was good and overall it's a 10/10
07/11/2023
Yes Yes Yes!!!
I have this filter in three sizes! It is very well made, easily threads on the lens, and provides great UV protection as well as preventing my actual lens from being scratched. Great value for the price! Picture quality is great through the filter. I use this filter for everything outdoors.
02/11/2023
Excellent Lens Filter!
I chose this filter and was not disappointed. Excellent, quality lens filter comes in a nice circular case. Fits perfect.
28/10/2023
Quality filter at a great price
Great filter with very deep green coatings. I tested my lens with, and without the filter, and it has no effect on sharpness. I'm using it on a digital camera as a protector, so there are no additional image effects. One thing that I noticed, is the the glass itself is super thin, so I don't know if it would protect from impact, but it keeps the dust and smudges off of my lens, so that I'm only cleaning the filter.
19/10/2023
Nice filter
Fast delivery
18/10/2023
Great UV Filter
No complaints. Great quality UV filter.
15/10/2023
Great filter, way over-packaged
This is a really nice UV filter. My only complaint is that it comes in this massive plastic ring. the size of a petri dish. Seems like a wasteful amount of plastic for something that probably won't come off this lens. Probably isn't recycle-able either.
12/10/2023
It is pretty good so far.
I purchased this filter from them and it's my first ever filter so I am not sure how it is in comparison to other brands but so far, it has been good. The pictures came out clear and there were no glares or visual shadows while on outdoor sunny place. The material is good and sturdy. Glad that I gave them a shot and will continue to see if there is any difference from using with filter vs w/o filter.
07/10/2023