72mm Magnetic Variable ND8-ND128(3-7 Stop) Lens Filters + Magnetic Filter Basic Ring Kit with 28 Multi-Layer Nano-X Series
Buy 99$-9$, 199$-25$, 299$-39$, 599$-100$
New customer gift package
Free shipping worldwide
Buy now in the K&F Concept Magnetic Variable ND Filters► 30 Day No Reason Return ► ND8-ND128(3-7 Stop) + Basic Ring Kit ► Fast Shipping From US Free ► Nano-X Series

KF01.1979

SKU:

KF01.1979

80.99

https://www.kentfaith.com/KF01.1979_72mm-magnetic-variable-nd8-128-3-7-stop-lens-filters-nano-x
Buy 99$-9$, 199$-25$, 299$-39$, 599$-100$
Description
* 【1 Second Install & Swap】This variable ND8-ND128 filter with magnetic technology, install the filter adapter ring on the lens first, the filter can be adsorbed in 1 second, faster installation than traditional thread filter (6s).
* 【No Black "X"】K&F Concept utilizes cutting-edge technology (frame self-lock) to avoid the common "X" cross on a wide-angle and telephoto lens
* 【28 Multi-Layer Coatings】Both sides of the glass with nanometer coating (a total of 28 layers) are waterproof, scratch-resistant, and anti-glaring, effectively protecting the camera lens.
* 【Magnetic Adapter Rings】The adapter ring has a thread to be screwed onto the lens. The ND8-ND128 magnetic filters engage in a magnetic way. Magnetic Adapter Rings also suitable for other magnetic filters such as the Magnetic CPL, Magnetic ND8, Magnetic black mist and the Magnetic ND1000 by K&F Concept.
* 【Note】Please verify your camera's lens thread size before ordering. Your camera's lens thread size will be marked somewhere on the lens barrel or printed underneath your lens cap. This number is always proceeded by a "Φ" (diameter) symbol.
Shipping
Free shipping worldwide
Sale
Buy 99$-9$, 199$-25$, 299$-39$, 599$-100$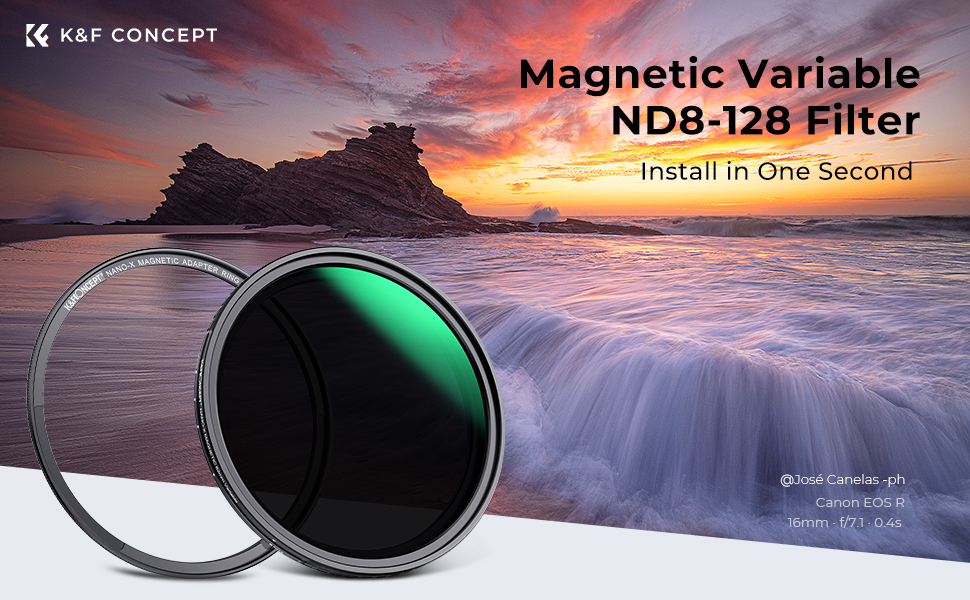 Magnetic 1-Second Swap ND8-ND128 (3-7 Stops) Variable ND Lens Filter with 28 Multi-Layer Coatings for Camera Lens
K&F Concept Magnetic Variable ND-------Extend exposure time, never miss any wonderful moment. Try K&F Concept magnetic variable neutral densityfilter. ND filter reduces the amount of light entering the lens. This makes it easier to achieve effects such as a shallower depth of field or blurred motion.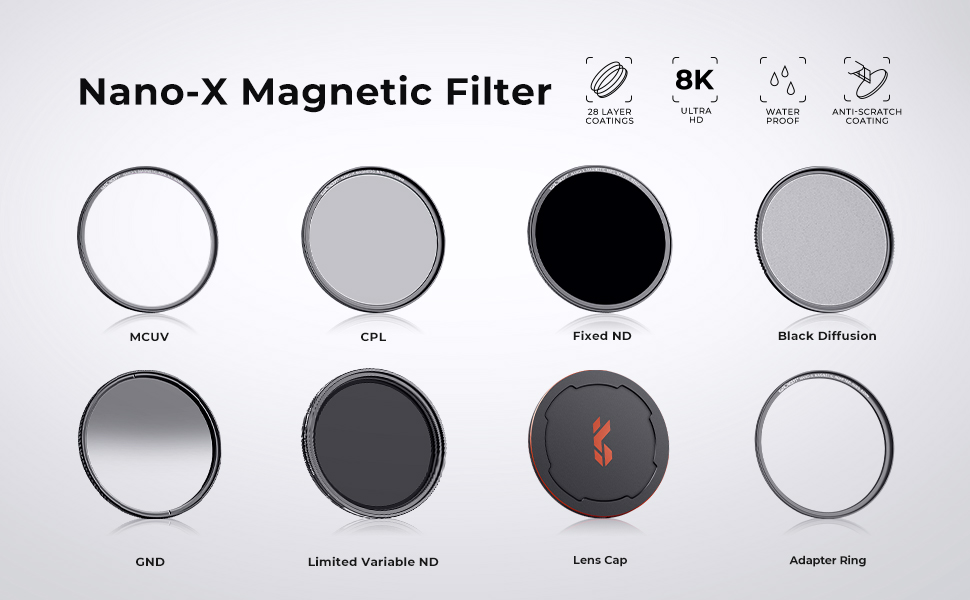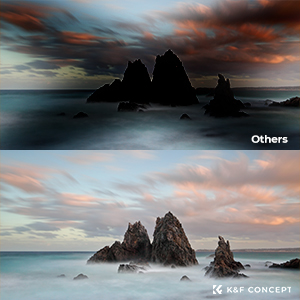 Wide Angle Lenses No-X Cross
K&F Concept self-lock frame technology ( the frame will be locked while rotating the filter to the Min(ND8) or Max(ND128)) helps the wide-angle lens to avoid dark "X" cross in photos.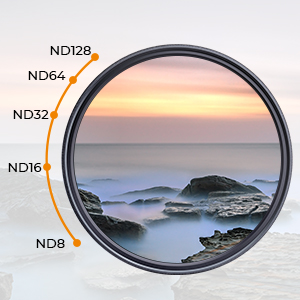 3-7 Stops Adjustable
Variable from ND8-ND128, with 5 stops light reduction including ND8/ND16/ND32/ND64/ND128, suitable for various scenes.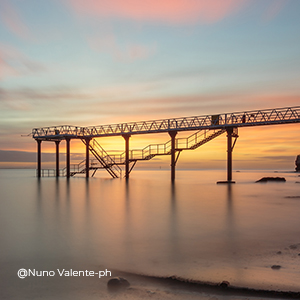 Light Reduction to Avoid Over-exposure
3-7 light reduction, control the light precisely,fit most landscape photography needs, onefilter than more.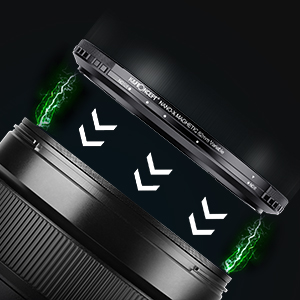 Magnetic Swap
The package including:
• 1* Magnetic ND2-ND32 filter
• 1* Magnetic filter dapter rings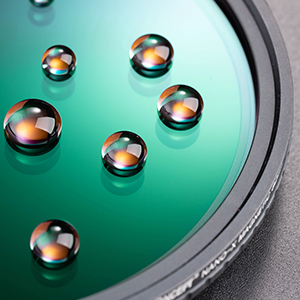 Waterproof &Scratch Resistant
Both sides with nanometer coating, waterproof and scratch-resistant, reduce the reflections coming from the filter-self, without any negative effect on the image quality.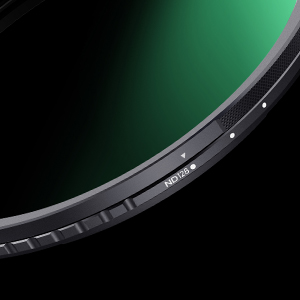 Ultra Slim Frame
Only 7.4mm thickness, effectively avoided vignetting even on wide-angle lenses.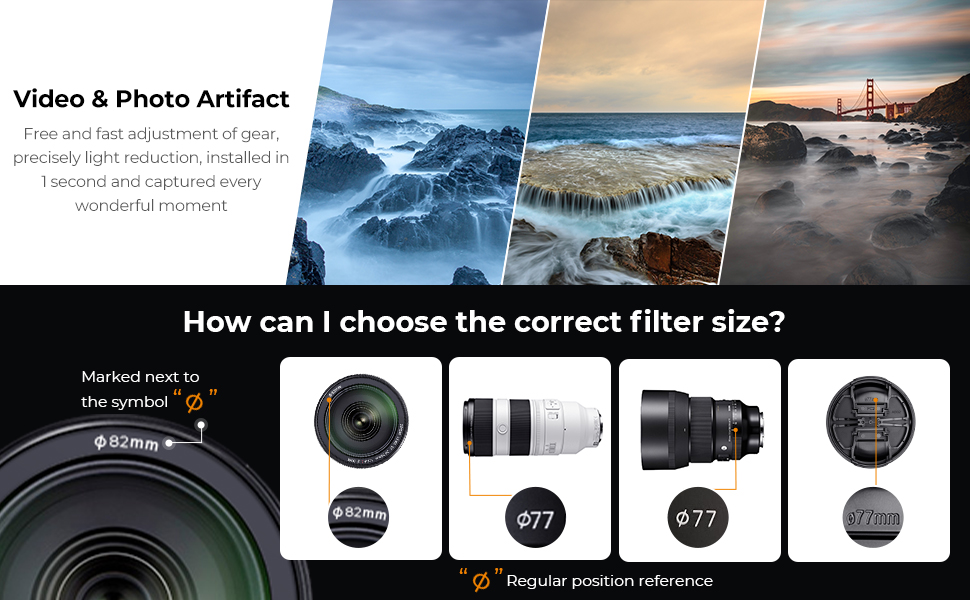 All Reviews
Image

All Star

5 Star

4 Star

3 Star

2 Star

1 Star
Best 5 Stop Nano ND Filter with No X cross
After looking at different reviews of different ND filters, zeroed it on K&F Concept VND filter.
Economical, High Performance VND filter that produces spotless long exposure photos.

I have tried waterfalls and the results are stunning.. the Special Nano Series with No X Cross produces videos and photos without any vignetting at extreme stops in broad day light.
22/05/2023
Great ND Filters
Used this filter on my Sony to get great long exposure shots! Good value great results.
20/05/2023
K&F Variable ND Filter- Hard Stops & Best Bang for Your Buck
When I ordered the K&F variable ND filter, I wasn't sure what to expect in terms of quality and the coloring that would be achieved when my images were rendered. However, the colors do not shift at all, and I was pleased with how nicely they pair with the Sony A7iii and A7riii. As an owner of both Polar Pro and Tiffen filters, I must say this filter is a cost-efficient product, coming in at half the cost of the Polar Pro filters I own. Even better, is that this filter has hard stops so you don't get that X when you go beyond the filter's limit. If you're on the fence about ordering this product, I highly recommend trying it out. Below, I've added a couple images where the K&F variable ND filter was utilized- one shows the filter on my Sigma 135mm f/1.8 Art, and the other demonstrates a portrait I took while using it.
16/05/2023
Excelente calidad
Muy satisfecho con los resultados de las fotos
10/05/2023
Best ND Filter Ever!
This filter will really up my photography! Some landscapes near me can be very bright and I needed a filter to adjust the brightness from the camera with ease. It comes in a nice case and the lens is constructed very well. To install, just screw it onto the lens. You can move the front of the filter up and down to adjust how much neutral density to apply. It makes taking pictures so much easier!
08/05/2023
Good and really works
These is my 2nd variable ND from K&F. The quality it's good as Tiffen and others manufacturers. Instead of have a lot of ND of different sizes it's better have a variable ND for my photography work and save same money.

The only CONS it's the protective case that came with the ND. It's nice but too big.
06/05/2023
Great Value
The item appears to be very well made and is nicely packaged. Having only recently acquired the filter, I haven't yet fully put it through its paces in all conditions. However, so far so very good. I haven't noticed any detrimental effects on image quality - no colour cast or X marks that afflict some other similar filters. It's just what I wanted and at a good price.
23/03/2023
Does the job
Always satisfied with KnF products. Nicely built with a very solid and long lasting feeling.
22/03/2023
Fantastic filters
82mm used on Nikon 24-70 F2.8, now have the 77mm for 70-200 F2.8, may try a 52mm to see if it will fit a 300mm F2.8 drop in, allowed me to shoot the Lancaster on a bright day at F6.3 (sweet spot) iso64 at 1/6th second to obtain perfect full discsCracking filter fully recommend
19/03/2023
This is going to provide my photos with more emphasis
This ND filter maintains the sharpness of the image to an acceptable level, in my humble opinion. There is some colour cast and vignetting, which can be adjusted in post, so it's not that big an issue. The build quality is decent, and it's very easy to clean.The ND8-ND128 is a good range that is suitable for most conditions, both for photography and videography. If you're trying to take long exposure shots in very bright sunlight, you will definitely need an ND filter with at least 10 stops (ND1000 or more).Overall, I'm satisfied with the purchase. It's definitely worth the money.
19/03/2023
There are no faqs for this product.