AD012 Portable Children's Microscope, Children's Microscope with 2 Inch LCD Screen, Windows PC Compatible Educational Toy, Suitable for Indoor, Outdoor Use, Age 5+ (Pink)
New customer gift package
Free shipping to eligible country
Buy KENTFAITH ad012 portable children's microscope, children's microscope with 2 inch lcd screen, windows pc compatible educational toy, suitable for indoor, outdoor use, age 5+ (pink) online, worldwide free shipping and 30 days return guarantee.

GW45.0016

SKU:

GW45.0016

55.99

https://www.kentfaith.com/GW45.0016_ad012-portable-children-s-microscope-children-s-microscope-with-2-inch-lcd-screen-windows-pc-compatible-educational-toy-suitable-for-indoor-outdoor-use-age-5-pink
Description
* 【High Resolution】1080FHD picture quality, can be magnified 300 times, built-in 8 adjustable LED lights, provide enough magnification and light conditions to fully meet the needs of children;
* 【Lightweight and Safe】The body only weighs 135g (0.29lbs), kids can easily put it in a pocket or hang it around their necks and take it to explore outdoors. Built-in 2-inch high-definition display, no need for children to stick their faces and eyes on the lens barrel, protecting children's delicate eyes and skin;
* 【Rechargeable Portable Microscope】Built-in 900mAh rechargeable battery, so children can take it anywhere to observe cute little animals, plants, or go camping, climbing, increase children's interest in the natural world;
* 【Support Storage and Video Recording】With Micro SD card (not included), kids can easily take and store images or videos of the microscopic world they observe, making it a fun educational toy;
* 【Easy connection to Windows computer】 Not only can you take pictures and videos, but also connect to Windows computers to display real-time images. Children can easily operate the computer to take pictures and videos, making it easier for children to discover the fun of nature and science and share them with friends.
Shipping
Free shipping to eligible country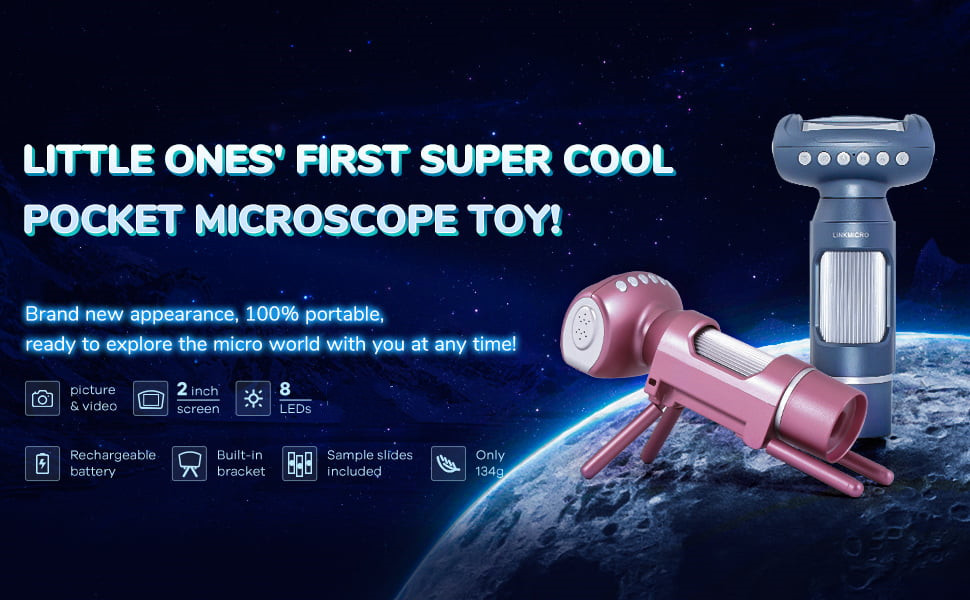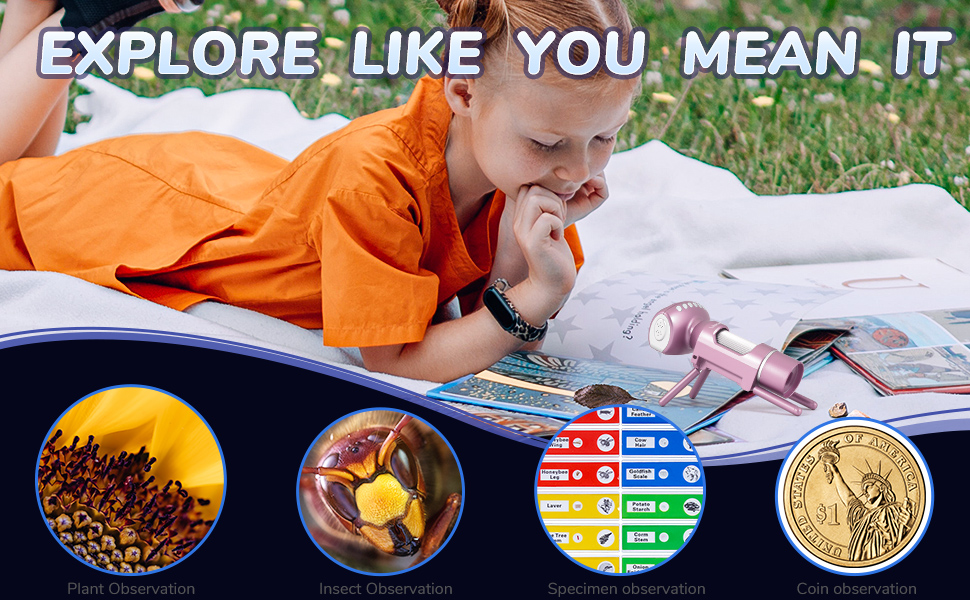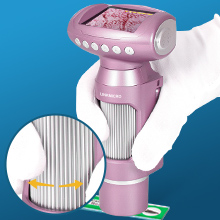 Slides observation
Place the biological slide(included) on a white bottom plate (such as a piece of tissue), stand the microscope vertically above the slide, adjust the focus wheel to get a clear picture.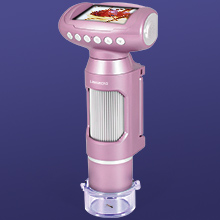 Insect observation
Put the insects caught into the observation box(included), stand the microscope vertically above it, and adjust the focus wheel to get a clear picture.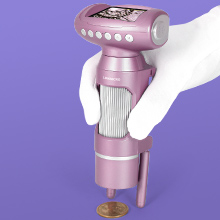 Coin/stamp observation
Observing coins/stamps often requires a larger field of view. You can unfold the two legs under the microscope to increase the object distance.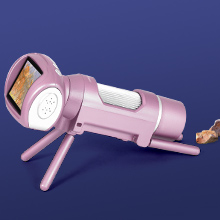 Irregularly shaped objects observation
The tilt microscope can be used to observe irregularly shaped objects, such as rocks. The microscope legs can be adjusted as needed to reduce screen jitter.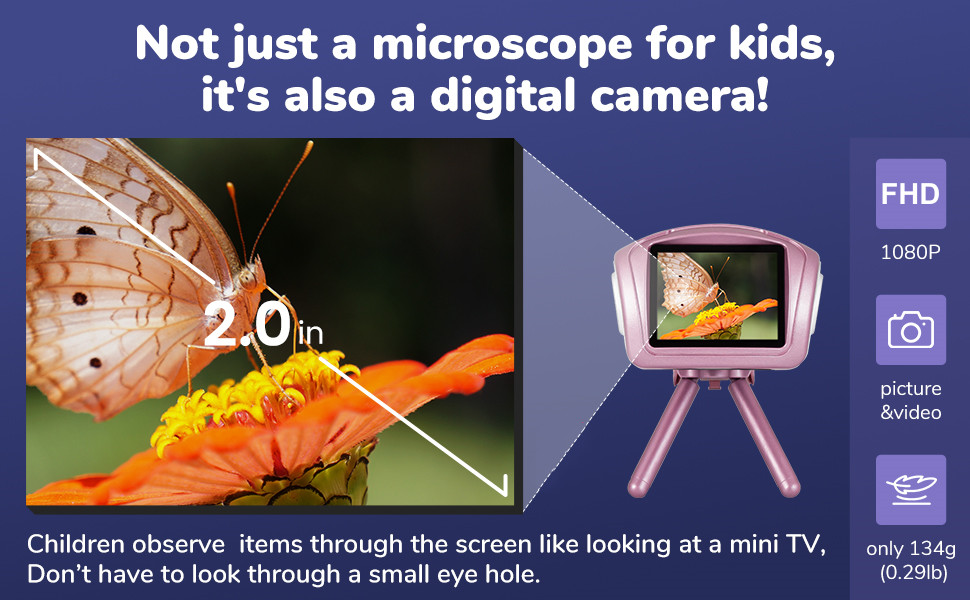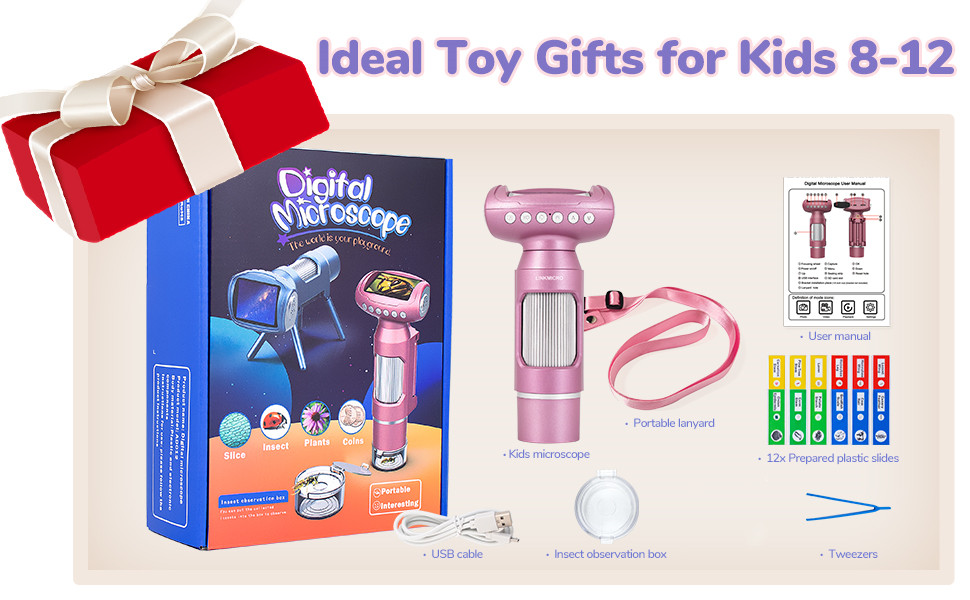 All Reviews
Image

All Star

5 Star

4 Star

3 Star

2 Star

1 Star
camera and microscope
The product was made available to me as part of a test program.

This is a digital children's microscope and camera in one.

Integrated battery, so you can take it outside with you.

Either observe directly with the microscope or take a photo of it.

Great versatile device for kids
15/01/2023
Toy microscope set for little nature lovers!
I ordered the K&F Concept toy microscope for my daughter. The delivery was quick.
The workmanship is of good quality and the microscope seems to be robust. The monitor is not particularly large, but it is sufficient. I like that the microscope is powered by a rechargeable battery. So you can take it with you into the garden and use it there. I love the ability to take photos and videos. However, we would not have needed the music function. The slides are only of limited interest, since everything is quite similar. However, my daughter loves going into the garden with the insect observation box and then observing ants or ladybugs through the microscope. The operation is simple and focusing is done by turning a wheel. I think it's good that you can also drag the videos and photos to the laptop and look at them in a good size.
29/12/2022
Except
I bought this for my 8 year old grandson for Christmas. He is very keen on fossil hunting and wanted to be able to get a good look at some of the smaller items in his collection. When he unwrapped this on Christmas Day, his face was an absolute picture. It now has a pride on its workbench. I am very satisfied with all aspects of my purchase.
16/12/2022
Buy with confidence
As a biologist, I have used professional microscopes for years and know the good and the bad. This microscope is a low power = x20 = stereo magnifier. The lenses are good and the construction is sturdy. It's NOT professional quality, but, for the price, it's excellent, and with proper care should last for many years. It is useful and works very well. This was bought as a gift for a six year old boy, although his grandmother enjoyed hours of enjoyment looking at the flowers and insects before giving it as a gift. The product is made in China which explains the low price and is excellent value for money at €65. Two AA batteries are required for the light and are an additional purchase,
07/12/2022
Great microscope
Very good microscope. We gave her the microscope for Christmas to my 8-year-old granddaughter. Good guidance of the eyepieces and a great result. A small disadvantage, for this price you could have included a few samples to look at. So I made visual objects out of slide cases, otherwise she wouldn't have had anything to look at at Christmas. Very good device and robust.
23/11/2022
Integrating a microscope and telescope is fun
A camera that integrates a microscope and a telescope. Don't watch it, watch it on a 2 inch screen. The telescope doesn't appear to be magnified as much as expected. When I took a test shot with my hand, the photo was quite blurry, even though I intended it to be in focus. . Well, the level of toy cameras. The operability is performed with the six buttons next to both sides of the screen, however, it is difficult because pressing and holding items such as settings and items only appear when they are not scrolled. I wonder a little if children can master it. Everything in the instructions The concept of the product is interesting, fun and seems to go well with nature observation. But usability and image quality are now one step further. I would like the trigger to be a little easier to press.
08/11/2022
Cheap plastic but glass lenses
Nice product but cheap plastic. I bought this for my grandson. Many cheap microscopes are all plastic but this one has glass lenses but the body feels cheap. It works well for the price. I tested it before giving it to him and for his first microscope it was very clear.
31/10/2022
We recommend
Super great microscope for our 7 year old. As adults, we also have a lot of fun looking at everything bigger and in more detail.
17/10/2022
efficient
The microscope is an effective magnifying microscope. Its weak point is the tripod, which is quite unstable, but there is a way to make a styrofoam base yourself. On the other hand, I found the instructions rather easy; for example, it didn't say you had to plug in the USB port to charge the battery before using it, but I finally managed to do it. Overall I'm happy.
04/10/2022
Good introduction to microscopy
Did what it says on the tin. Looks like business, but a bit thin. Overall very good
24/09/2022
There are no faqs for this product.