K&F Concept Industrial Endoscope Dual Lens Inspection Camera 1080P HD Endoscope 4.3-inch Screen 360° Adjustable Lens 8.5mm Cable Including 32G Memory Card 5m Cable
Free shipping to eligible country
Brand:

KENTFAITH

Buy KENTFAITH k&f concept industrial endoscope dual lens inspection camera 1080p hd endoscope 4.3-inch screen 360° adjustable lens 8.5mm cable including 32g memory card 5m cable online, worldwide free shipping and 30 days return guarantee.

GW45.0012

SKU:

GW45.0012

394.99

https://www.kentfaith.com/GW45.0012_kamp-f-industrial-endoscope-dual-lens-inspection-camera-1080p-hd-endoscope-4-3-inch-screen-360-adjustable-lens-8-5mm-cable-including-32g-memory-card-5m-cable
Description
* 【IP67 Waterproof】Different from other non-waterproof products, our camera supports IP67 waterproof, whether it is wet sewers or sinks, it can work perfectly.
* 【Bidirectional 180° Steering Lens】Bends 180° easily and freely on both sides, which can bring small probes into tight spaces, and then transmit vivid, clear, all-round videos and pictures on monitor screens and mobile phones at the same time through the cable. It is a recommended tightly curved endoscope camera with light.
* 【Utility】Steering Endoscope Camera with Active Head is specialized in evaluating and diagnosing car, car evaporator, engine, carbon, combustion chamber, plumbing or house problems. If you are a homeowner, electrician, mechanic, and especially someone who loves technology, it is your best partner.
* 【Large 4.3-inch IPS HD Display】The endoscope inspection camera adopts a 2.0MP 1080 HD 4.3-inch large display with built-in 8 LEDs with adjustable brightness, allowing the front camera to perfectly view the darkest inspection area. This industrial range allows viewing images, taking standard photos and recording videos.
* 【High temperature protection】The endoscopy camera is designed with unique temperature protection technology, which can cope even in harsh environments. When the temperature exceeds 95 degrees, it will automatically shut down and play a protective role.
Shipping
Free shipping to eligible country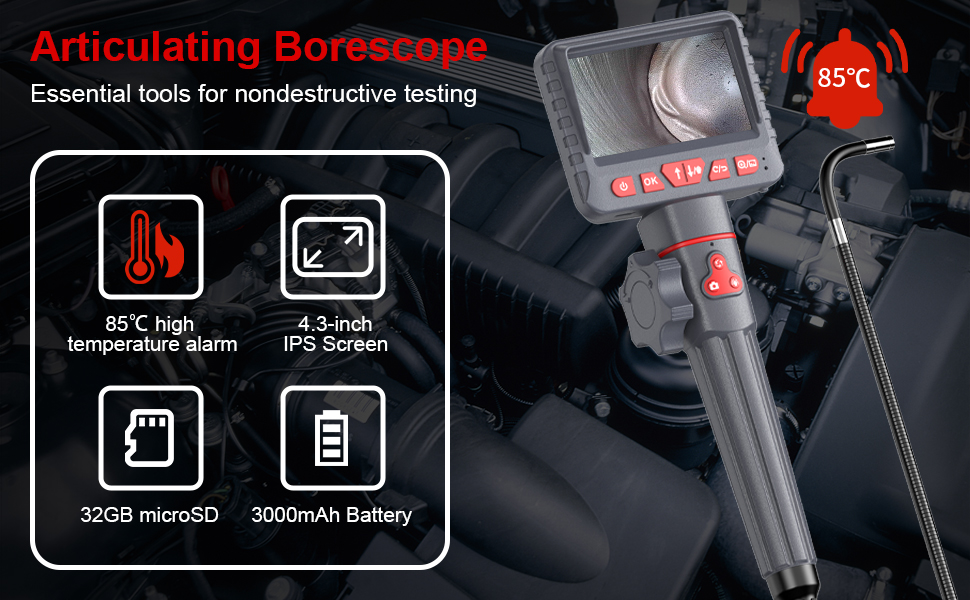 Selecting the right Inspection tool for the job is critical - different Level of A Borescope Why AGC430N is so popular among customers around world? What's the special function of it?
The most important thing is that the camera part can be controlled and turned!
Articulation bendable angle: 0°to 180°continuously adjustable and can be locked at any angle. Very easy operation: just push down the release button with the thumb to adjust the articulation angle. Greatly fulfilled the actual needs of customers of inspecting the difficult angles inside a dark closed compartment.
---
Widely used in NDT and RVI field:
Aviation aircraft, for both general aviation, business aviation, commercial aviation and military
Power generation and electricity
Energy, gas and oil
Automotive, motorcycles, and boat
HVAC
MRO services
Industrial facility and building maintenance
Manufacturing, metal machining, tube and pipe
Mining
AGC430N Articulating Industrial Endoscope - Bend At Any Angle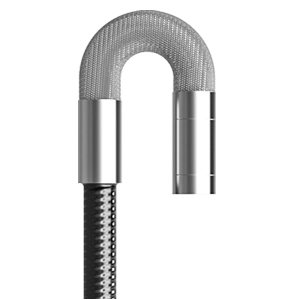 Look Back Examining the entire cylinder and valves
The articulation engine scope is able to take a close look at the piston and then turn the camera around 180 degrees while inside the cylinder to see the valves at the top of the cylinder.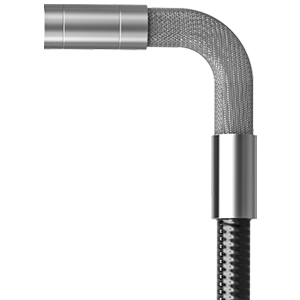 90 Degree Bend
When insert inside tube or inside wall where has mainline and branch line, such as plumbing U/H shape pipe. Have ability to turn into the branch line, won't pass by.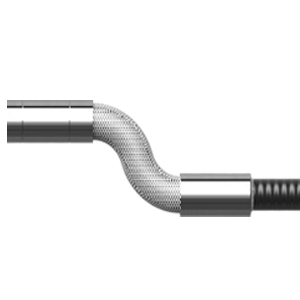 Pass Obstacle
The snake camera is 0° to 180°continuously adjustable and can be easily go through small block.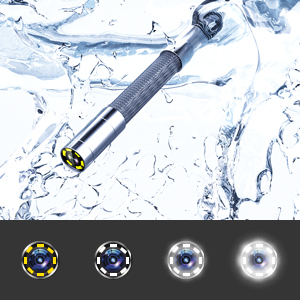 Waterproof and Oil Resistant
Greatly improve the articulating part structure, made from titanium alloy with high tungsten braided wear resistance. The camera probe and insertion tube is waterproof IP67.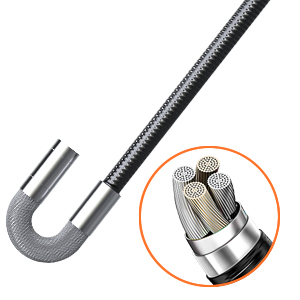 Rigid Gooseneck Probe
The AGC430N industrial endoscope adopting metal fiber optic probe, flexible and malleable enough to shape for your need, up to 80cm lifting.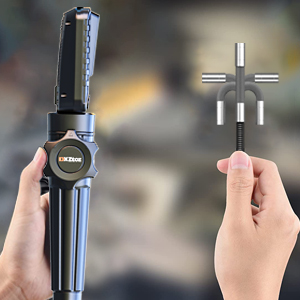 Locked at Any Angle
The scope camera's direction can be freely controlled by one whirl, and firmly locked at any desired angle.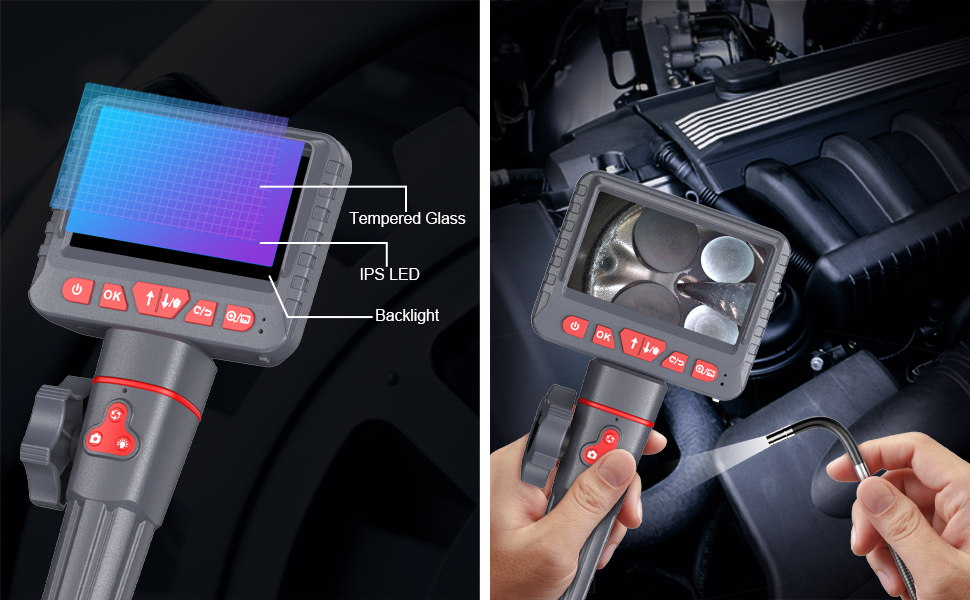 Who will need an articulating Borescope Inspection Camera?
Professionals: Aircraft/automotive mechanics, electricians, engineers, HVAC/machine technicians, building inspectors, plumbers, pipefitters, security and law enforcement officers, locksmiths, serious DIYers.
Regular Person: car owner, handy man who likes to fix things around house.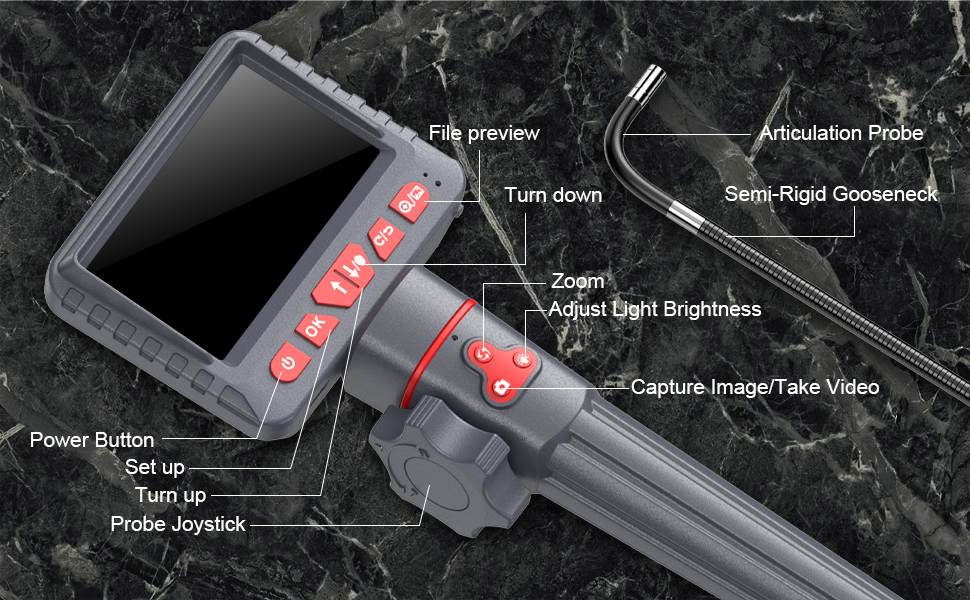 Specifications
1.Camera Diameter: 8.5mm
2.Articulating Angle: 0° - 180° Two-Way
3.Bending Ratio: 34mm
4.Monitor: 4.3'' LCD color display
5.Probe Length: 1.7M/5.5FT
6.Waterproof Grade: IP67
7.Light Source: 8 LED with 4 adjustable brightness
8.Camera Resolution: 1920*1080
9.Zoom: 8X
10.Battery: 3000mAh rechargeable Lithium-ion battery(up to 4h working time)
---
Additional Functions: Take photo, record video, saved on 32GB TF card(showed and transferred to customer).
Bonne qualité avec des commandes très faciles à utiliser.
J'utilise cet endoscope quotidiennement et j'inspecte les parois de la cavité. J'ai trouvé la qualité robuste et la qualité d'image claire. L'écran est de bonne taille, ce qui m'aide à voir l'état de la cavité.Je trouve que la caméra de duel est un facteur important pour le recommander à tout arpenteur de murs creux ou de rénovation.
22/03/2022
très bon appareil photo
J'utilise cette caméra dans mon travail d'examen des convertisseurs catalytiques, des turbos, des fuites, des travaux sous le tableau de bord... la qualité est très bonne, elle a également 2 caméras donc plus de miroirs à fixer. Fortement recommandé par rapport aux plus chers.
19/03/2022
Recommander. Totalement 100%..!!
Je suis électricien et c'est très solide/durable. C'est donc fantastique de faire le ménage. Ne cassez pas les murs pour voir pourquoi les câbles ne sont pas retirés ou placés. Andamp industriel; Travail commercial aussi, AKA ; Plafonds hauts/flottants, conduits, goulottes, etc. La vision sur la caméra est totalement meilleure que prévu. C'est parfait.. Je regarde votre téléphone.. Et facile à utiliser.
05/03/2022
Great everyday helper
Price/performance is perfect
12/08/2021
great device easy to use
Good endoscope. I made the experience that you only get something decent for a little more. It has two lenses. 5 inch screen. What more do you want. The main thing is that it works and it does. So it's better to spend a little more and get something decent in return. My opinion.
03/08/2021
Decent device at a reasonable price
After a few unsuccessful attempts, this device meets all expectations, especially in terms of quality of workmanship and image quality! Clear purchase recommendation!
01/08/2021
Top endoscope camera
Easy to use, good picture quality, without a lot of zip and zapp, exactly for the purpose for which the device was bought.
25/06/2021