K&F Concept Industrial Endoscope Camera 8mm Endoscope Inspection Camera 4.3 Inch HD Screen 1080P Snake Camera with LED Lights, Semi Rigid Cable for Auto, Engine, Drain Inspection (8mm, 2m/6.5ft) Orange
New customer gift package
Free shipping worldwide
Buy KENTFAITH k&f concept industrial endoscope camera 8mm endoscope inspection camera 4.3 inch hd screen 1080p snake camera with led lights, semi rigid cable for auto, engine, drain inspection (8mm, 2m/6.5ft) orange online, worldwide free shipping and 30 days return guarantee.

GW45.0020

SKU:

GW45.0020

56.99

https://www.kentfaith.com/GW45.0020_kf-concept-industrial-endoscopy-camera-8mm-endoscopy-inspection-camera-4-3-inch-hd-screen-1080p-snake-camera-with-led-lights-semi-rigid-cable-for-auto-engine-drain-inspection-8mm-2m-6-5ft-orange
Description
* 【1080P HD K&F Concept Endoscope】This industrial endoscope is equipped with a 4.3-inch full-color HD screen and advanced sensors to provide clear images and videos with a resolution of 1920 x 1080P pixels, support for taking photos and recording videos, up to 32G TF card (not included) can store pictures and videos, allowing you to view high-definition photos and videos at any time.
* 【IP67 Waterproof Camera Probe and LED Lights】This endoscope camera comes with 6 super bright LED lights with 3 adjustable brightness levels to provide enough light for darker situations. The camera probe and LED light are IP67 waterproof, suitable for dark areas, wet or wet areas, etc.
* 【Multifunctional and easy to use】Snake inspection camera with flexible semi-rigid cable, ideal for various inspections, such as car repair, industrial machinery inspection, drainage inspection, line inspection, home appliance maintenance, wall structure inspection, sewer inspection, ETC.
* 【Easy operation】It can be used after power on, no need to install any APP, which is very convenient. Endoscopic cameras support taking pictures and recording videos.
* 【Built-in 2600mAh rechargeable battery】can work continuously for up to 3-4 hours according to different situations. Package includes: 1x industrial endoscope, user manual, 1x USB charging cable, 1x accessories (including hooks, magnets, protective caps and side mirrors).
Shipping
Free shipping worldwide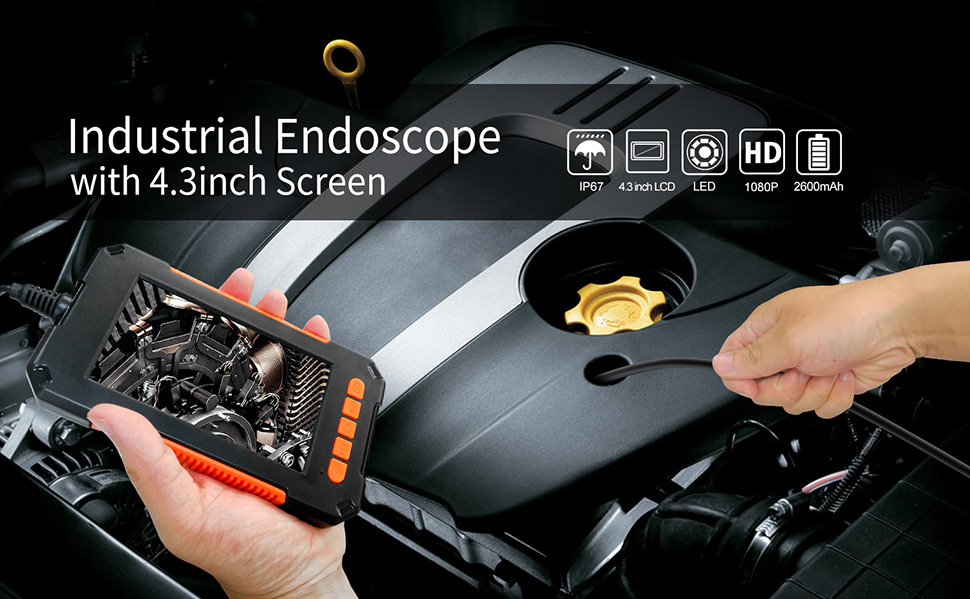 Don't need to install any APP, use it after turn on, very convennient
Slim 8mm dia probe - which has a wide enough field of view that able to detect objects in a small space.
Taking HD photo & revording video, 4.3-inch full color HD screen - for real-time viewing of test videos and pictures.
Semi-rigid cable - A bendable Hard cable to get into hard to reach places. Maker your work easier!
IP67 Waterproof camera probe with 6 LEDs Light - get clear images in dark and wet places, such as engine, pipelines, etc.
2600mAh Rechargable Battery - after full charged it can work continuously for up to 3-4 hours.
Perfect accessories - Accessories included ( hook, magnet, and side mirror)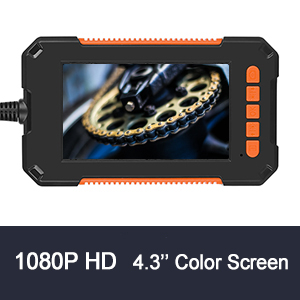 4.3 inch HD Color Screen
This Industrial Endoscope with 4.3 inch HD Color Screen and advanced sensor provide clear real-time inspection image and video. High resolution 1920 x 1080 pixel, conveniently inspecte surface detail.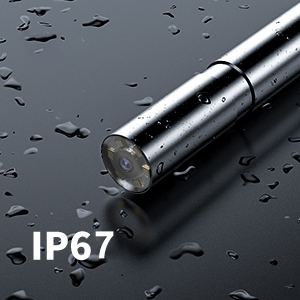 Waterproof IP67
Our camera Len and LED lights are waterproof. This Borescope suitable for various types of environment, for example, exploring the water pipes, damp or wet area etc.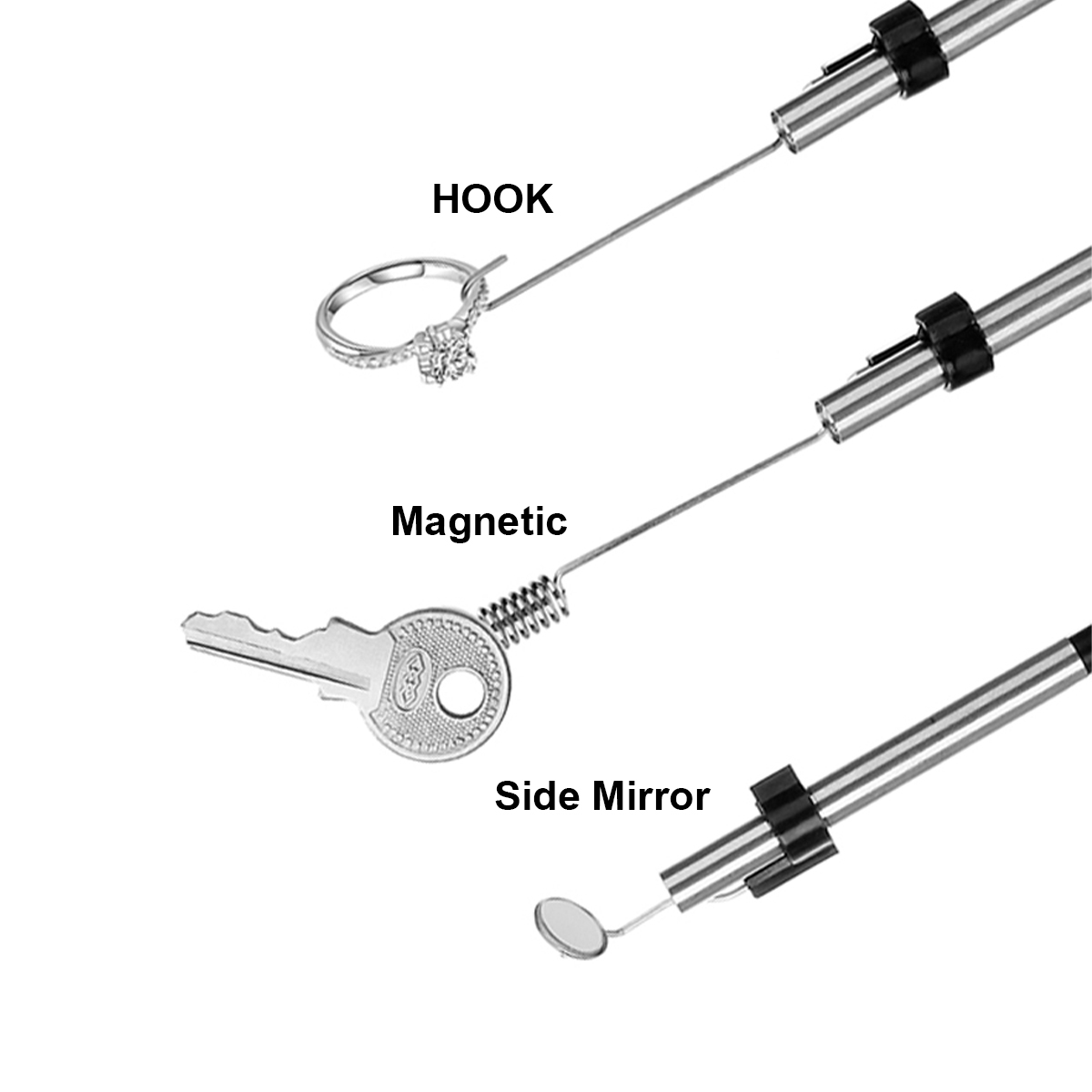 3 Accessories:
Hook , Magnetic (for picking up objects in narrow places), and side mirror (to investigate the side wall of a drainage pipe,ect)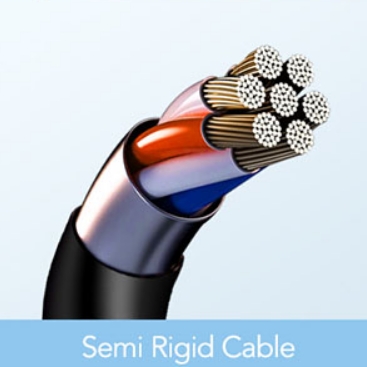 Semi-rigid Snake Cable
Semi-rigid cable can be bent to a different shape or hold its state to reach all corners of your house according to your needs.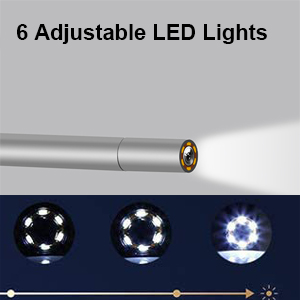 Adjustable LED Lights
The borescope Camera with 6 adjustable super bright LED Lights, provide enough light for darker situations, provide clear images. for low-light or dark area.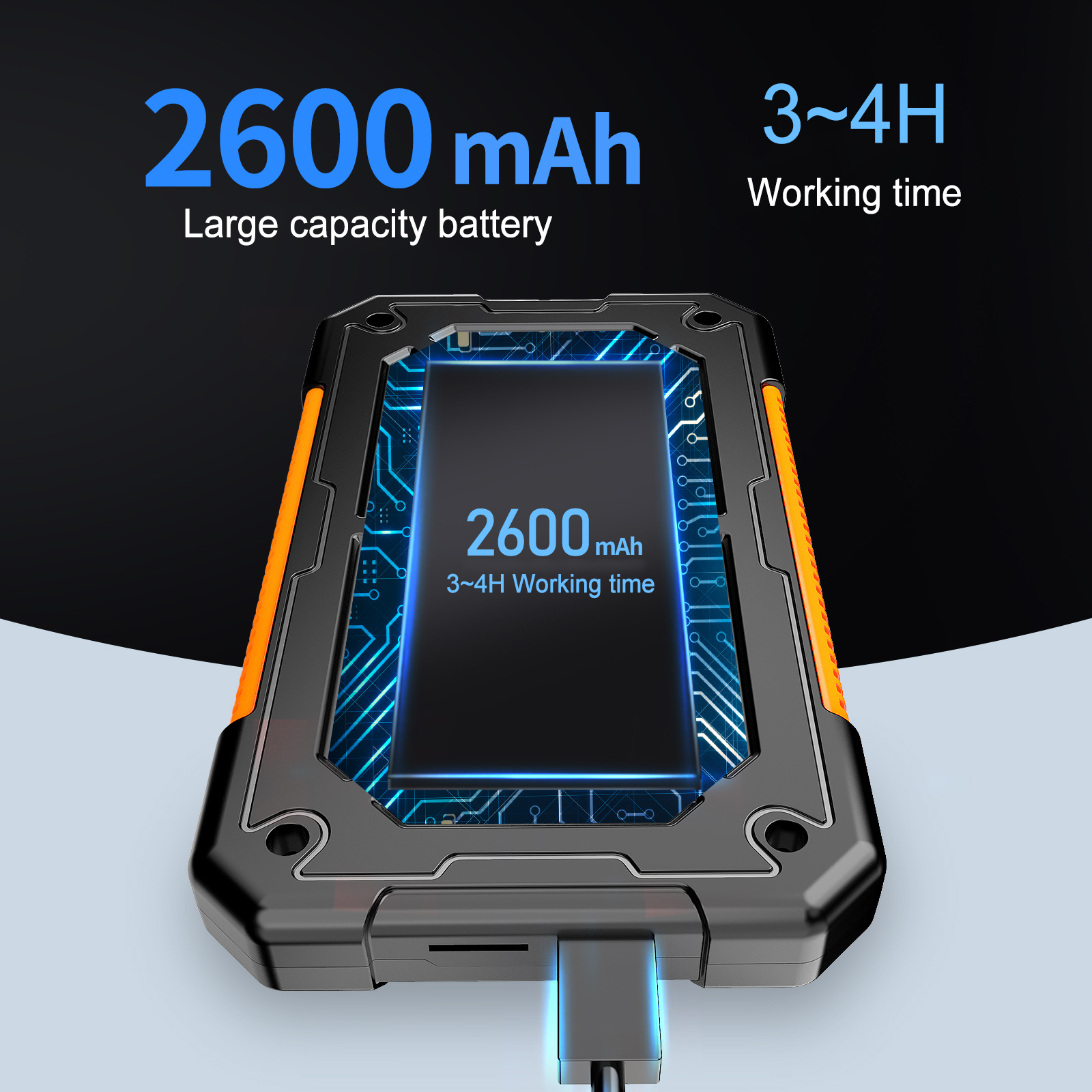 2600mAh Battery
Built-in 2600mAh rechargeable battery, which can provide about 3~4 hours working time, comes with a USB cable to charge the endoscope at any time conveniently.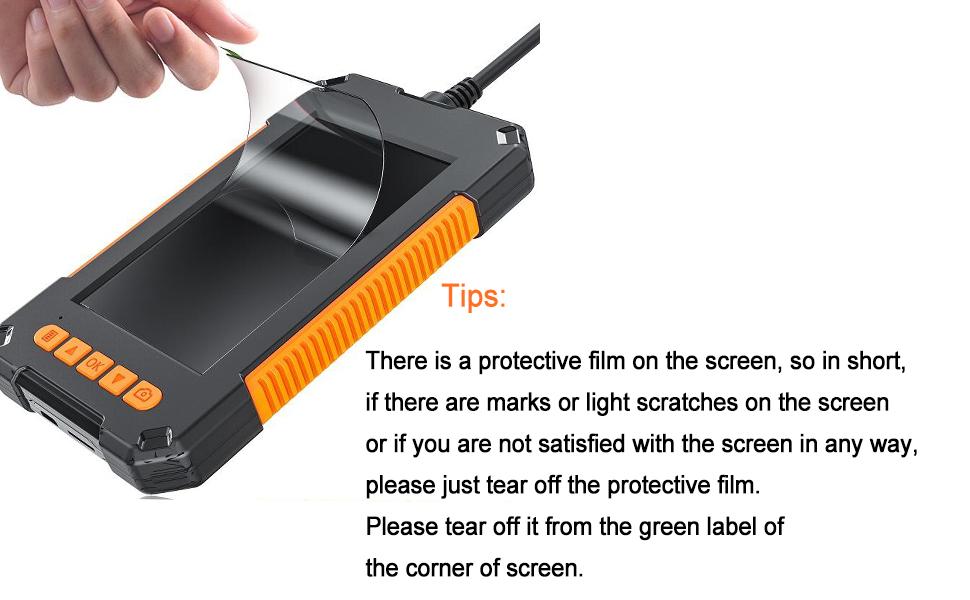 All Reviews
Image

All Star

5 Star

4 Star

3 Star

2 Star

1 Star
by far the best endoscope camera I have ever had
I've been testing the endoscope camera offered here for almost a month and I'm absolutely thrilled. I have never had such a sensational endoscope camera. I particularly liked the following properties: +Very good processing quality +Rock solid +Easy to set up +Foolproof handling +Sensational recording quality +Ultra-precise control +Great display +Perfect for tube endoscopies +Very good price/performance ratio Consequently, I can't avoid buying the endoscope camera with the Maximum score of 5 stars. I would get them again anytime!
18/10/2022
Good quality and sharp picture
The K&F Concept endoscope camera comes with a robust storage case. Instructions and a USB cable for charging are also included. The workmanship is flawless and makes a very high-quality impression. The lens head can be rotated so that you can also look to all sides in niches and gaps. The strong LED lighting allows a good picture even in the darkest areas. Everything is shown beautifully sharp on the TFT display. Optionally, you can also connect to the smartphone app to save and view videos and images directly there. The app is intuitively easy to use. The device itself is operated using the 6 buttons on the display and two buttons next to the rotary wheel for the movable tip. The display can be folded if necessary, so that you have a better picture outside with the sun. The temperature is also shown on the display. However, this increases by using the light function. I am very satisfied with the endoscope and can give it a full 5 stars for convincing quality and a good image.
15/10/2022
Great endoscope camera, easy to use
The device does what it is supposed to and with absolutely sufficient quality. The ability to create images and videos is a nice feature that allows you to share the results here. The gooseneck looks quite robust and can be moved using a rotary wheel and this function works just great! The endoscope comes in a fairly sturdy box with a fairly thin molded plastic shell. The device itself is really wonderfully intuitive to use. The swivel head can be easily operated mechanically via the handle. The LEDs can be controlled in 3 brightness levels (and off). Optionally, you can also load the APP "Smart Endoscope" on your smartphone and connect to the endoscope via WiFi and display it on your cell phone. The advantage, however, is that the endoscope does not necessarily require an additional device. A nice feature is the temperature sensor in the camera head, which gets quite warm due to the LEDs, but can of course quickly indicate high temperatures. The device makes a stable and valuable impression and delivers impressively good images with a very wide focus range. The LED illumination is bright and you can see everything very well and record it easily. Camera and display quality are very good. The probe is waterproof. With an articulation of 210° you get a comprehensive impression of the interior. All in all, a beautifully compact, self-sufficient endoscope with a swivel head at a fairly high price when you look at the pure USB or WLAN endoscopes. Operating the pan is very simple and can be operated with one finger on the handle. Clear buy recommendation from me...
04/10/2022
Absolutely awesome
This endoscope is actually not comparable to the usual devices. The most obvious and biggest difference to other (cheaper) endoscopes is the moveable camera (see video). If you actually want to look into a more complex cavity, that's just absolutely brilliant, no comparison to normal devices. I've been doing everything on my car myself for years, now I've come to the point that I can't get any further with my normal endoscope camera. It's incredibly helpful, especially when examining the cylinders. I haven't really noticed anything negative about the camera, everything is exactly as described on the product page: - Large and really good display - Semi-rigid camera cable - 1 meter cable length (so far has always been sufficient) - Reputable manufacturer - SD card included - Charging via USB-C - multilingual menu - very bright LED lighting - temperature sensor at the top - not dependent on mobile phones or apps thanks to the internal display - good camera A big extra that is not mentioned in the description: the device has WLAN. It is super easy to connect your smartphone wirelessly (the app for the iPhone is called "AllScope"). The functions include, among other things, a live image transmission and that recordings can be viewed and saved directly on the cell phone without a PC (see screenshot).
04/10/2022
Price performance outstanding
I'm very satisfied. The part is very beautiful and takes good pictures. The materials are high quality and the workmanship is great. The little bag is very nicely made.
03/10/2022
Very good picture quality
very good device with a high quality camera. Other devices of this quality like to cost 2-3 times as much. A possibility to extend the cable would be good. Battery lasts long too. I'm very satisfied.
03/10/2022
TOLL!
have used many home construction and auto repair endoscopes over the years and this is by far the best I have used, by far. This offers a very high quality display with HD quality images and videos. With no instructions or information this worked right out of the box, was simple and easy to use and started looking through the camera on the built in display in seconds. After further checking, I was able to connect it to my iPad without any problems and there was no lag between the screen display and the iPad. I took pictures and videos, saved them to the device quickly and easily, and then was able to easily transfer them to my computer for storage or review. I also love how once you have the scope where you want to fish it you can just use the knob with your thumb to adjust the tip to look left/right or up/down (depending on orientation). This avoids the difficulty of pushing/pulling and bending it when you are so close to what you need to see. This device is also well packaged and protected in its case and I have no doubts that this will also be enough for me to pass on to my children.
03/10/2022
Perfect for petrol engines
Due to its size, the endoscope camera is perfect for looking into the combustion chambers of a petrol engine. A top price-performance ratio for workshop requirements. I wouldn't use it for sewers or similar because the camera isn't waterproof! The app for the Android operating system works wonderfully and does not cause any problems.
02/10/2022
Amazing for tight spots!
ordered it for my vehicles. It's fortunate to be able to see places I couldn't otherwise get to. This unit is well built, sturdy. It comes with a very nice carrying case, a 32GB SD card pre-installed, a USB charging cable to charge the 3000mAh battery which lasts quite a while. I've been using it for over an hour and the percentage hasn't even dropped Head on it, controlled by up and down on the device, very helpful for looking around the area you're in. It has a 5ft length on the camera cable which is semi-rigid so you can position it however you need it, it's IP67 waterproof which means it's perfect if you need to check the plumbing around the house or others Way. Another great feature is that it supports audio which is also amazing as as a mechanic I sometimes need to hear what makes a certain noise. It supports image capture as well as video 720p or 1080p. You can stream from the device to another using the built-in WiFi for easier viewing, but that's not necessary as the built-in screen is phenomenal for viewing. In summary, if you need to take a look at a hard-to-reach spot and see what's happening, I highly recommend you get your hands on this professional tool. K&F Concept did a good job of building a solid unit. I've added a few videos on the picture quality and video quality of some random areas (one of which is my shed outside, inside a soda can, a picture of the unit itself, taken by myself,
02/10/2022
Blick ins Detail
The endoscope camera has a 4.3" LCD screen with good image quality. My test product has an 8.5 mm camera with 8 LEDs installed as lighting. A 1.55 m semi-rigid cable with a 180 degree rotatable head is also installed. The head rotates via the adjusting wheel on the handle. A temperature sensor is also installed in the camera head for inspection of warm car engines. (Protection against injuries) Hard-to-reach places can be checked at home, electrical systems, waste water, etc. The endoscope can be connected via WLAN and the created Send images to a computer or tablet for better evaluation.The camera has a 1.5x zoom and the camera image on the screen can be rotated by 180 degrees at the push of a button.A lithium-ion battery with 3000 mAh enables an operating time of approx. 2 hours. To save the images, a 32 GB TF card is plugged in. The endoscope supports a TF card up to 64 GB. The handle still has the option ability to dim the light and take a photo of the live image. The whole thing is stored in a practical transport bag to protect against damage. Great device at a good price.
02/10/2022
K&F Concept Industrial Endoscopy Camera
Endoscope
Resolution
1920*1080
Camera Design
Single Camera
Pixel
2.0 MP
Camera Diameter
8mm
Adjustable LED Lights
6
Waterproof Level
IP67
Camera Angle Adjustment
/
Transmission Distance
/
Battery Capacity
2600mAh
Cable Length
2m
Included 32GB Card
/
Wifi Support
/