K&F Concept industrial endoscope dual-lens inspection camera 1080P HD borescope 4.3-inch screen 360° adjustable lens 8.5mm cable 32G memory card 2m cable
New customer gift package
Free shipping worldwide
Industrial Endoscope Dual Lens Inspection Camera 1080P HD Borescope 4.3-inch screen 360° adjustable lens

GW45.0026

SKU:

GW45.0026

229.99

https://www.kentfaith.com/GW45.0026_kf-concept-industrial-endoscope-dual-lens-inspection-camera-1080p-hd-endoscope-4-3-inch-screen-360-adjustable-lens-8-5mm-cable-32g-memory-card-2m-cable
Description
* 【IP67 Waterproof】Different from other non-waterproof products, our camera supports IP67 waterproof, whether it is wet sewers or sinks, it can work perfectly.
* 【Bidirectional 180° Steering Lens】Bends 180° easily and flexibly on both sides, which can bring small probes into tight spaces, and then transmit vivid, clear, all-round videos and pictures on monitor screens and mobile phones at the same time through the cable. It is a recommended tightly curved endoscope camera with light.
* 【Utility】Steering Endoscope Camera with Active Head is specialized in evaluating and diagnosing car, car evaporator, engine, carbon, combustion chamber, plumbing or house problems. If you are a homeowner, electrician, mechanic, and especially someone who loves technology, it is your best partner.
* 【Large 4.3-inch IPS HD Display】The endoscope inspection camera adopts a 2.0MP 1080 HD 4.3-inch large display with built-in 8 LEDs with adjustable brightness, allowing the front camera to perfectly view the darkest inspection area. This industrial range allows viewing images, taking standard photos and recording videos.
* 【High temperature protection】The endoscopy camera is designed with unique temperature protection technology, which can cope even in harsh environments. When the temperature exceeds 95 degrees, it will automatically shut down and play a protective role.
Shipping
Free shipping worldwide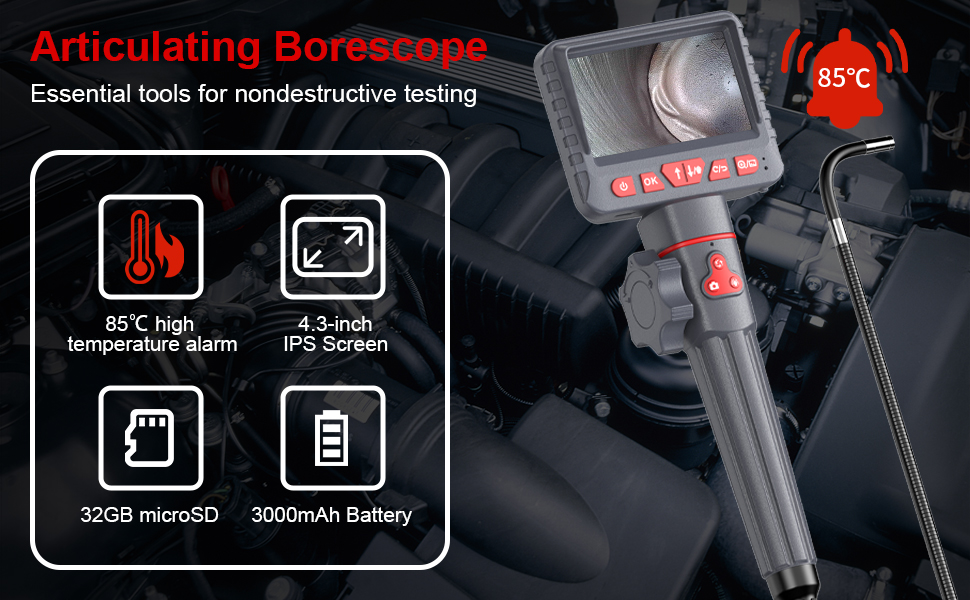 Selecting the right Inspection tool for the job is critical - different Level of A Borescope Why AGC430N is so popular among customers around world? What's the special function of it?
The most important thing is that the camera part can be controlled and turned!
Articulation bendable angle: 0°to 180°continuously adjustable and can be locked at any angle. Very easy operation: just push down the release button with the thumb to adjust the articulation angle. Greatly fulfilled the actual needs of customers of inspecting the difficult angles inside a dark closed compartment.
---
Widely used in NDT and RVI field:
Aviation aircraft, for both general aviation, business aviation, commercial aviation and military
Power generation and electricity
Energy, gas and oil
Automotive, motorcycles, and boat
HVAC
MRO services
Industrial facility and building maintenance
Manufacturing, metal machining, tube and pipe
Mining
AGC430N Articulating Industrial Endoscope - Bend At Any Angle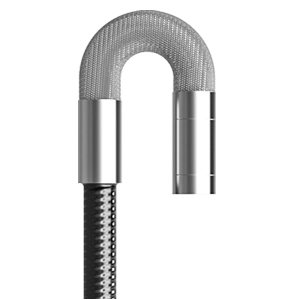 Look Back Examining the entire cylinder and valves
The articulation engine scope is able to take a close look at the piston and then turn the camera around 180 degrees while inside the cylinder to see the valves at the top of the cylinder.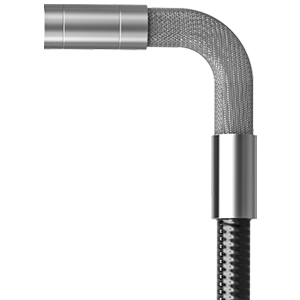 90 Degree Bend
When insert inside tube or inside wall where has mainline and branch line, such as plumbing U/H shape pipe. Have ability to turn into the branch line, won't pass by.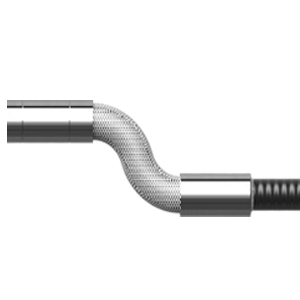 Pass Obstacle
The snake camera is 0° to 180°continuously adjustable and can be easily go through small block.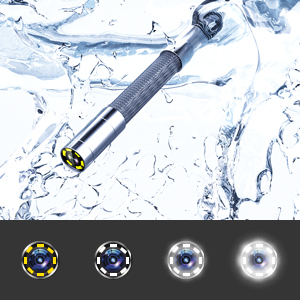 Waterproof and Oil Resistant
Greatly improve the articulating part structure, made from titanium alloy with high tungsten braided wear resistance. The camera probe and insertion tube is waterproof IP67.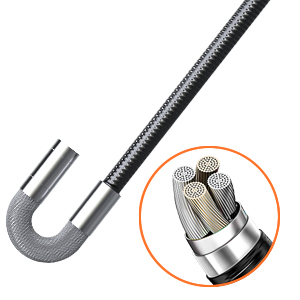 Rigid Gooseneck Probe
The AGC430N industrial endoscope adopting metal fiber optic probe, flexible and malleable enough to shape for your need, up to 80cm lifting.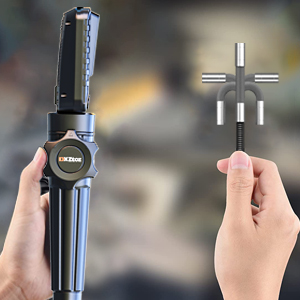 Locked at Any Angle
The scope camera's direction can be freely controlled by one whirl, and firmly locked at any desired angle.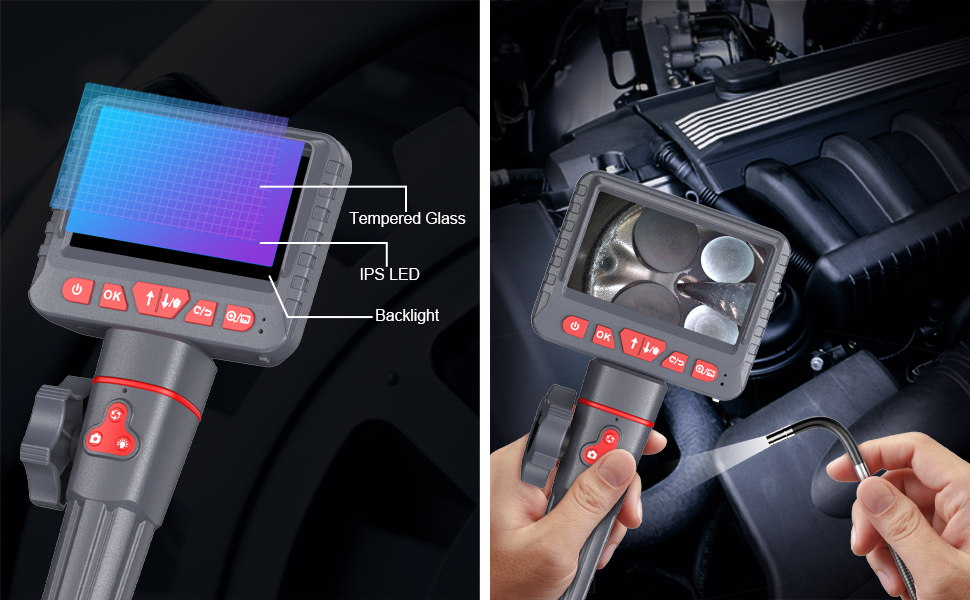 Who will need an articulating Borescope Inspection Camera?
Professionals: Aircraft/automotive mechanics, electricians, engineers, HVAC/machine technicians, building inspectors, plumbers, pipefitters, security and law enforcement officers, locksmiths, serious DIYers.
Regular Person: car owner, handy man who likes to fix things around house.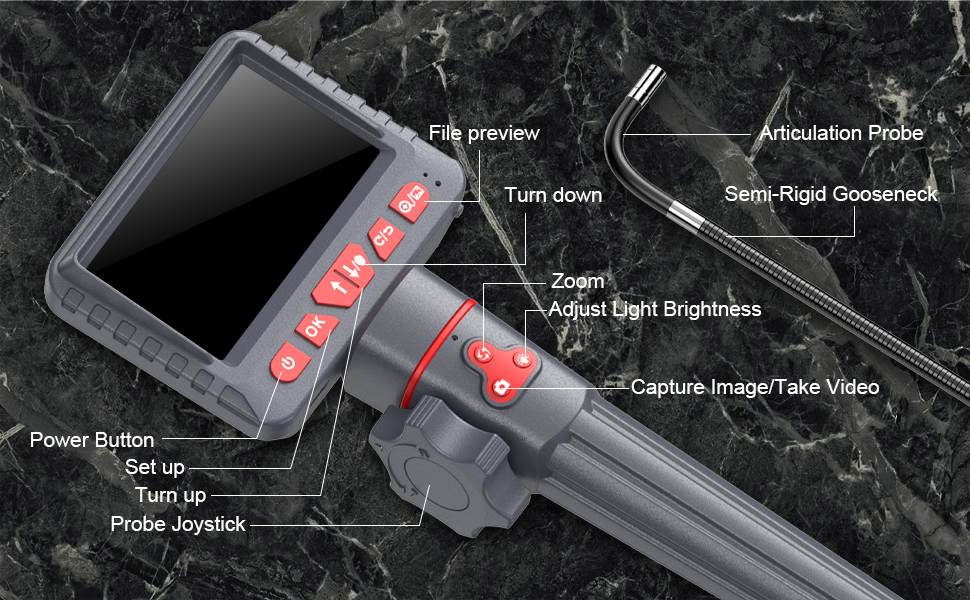 Specifications
1.Camera Diameter: 8.5mm
2.Articulating Angle: 0° - 180° Two-Way
3.Bending Ratio: 34mm
4.Monitor: 4.3'' LCD color display
5.Probe Length: 1.7M/5.5FT
6.Waterproof Grade: IP67
7.Light Source: 8 LED with 4 adjustable brightness
8.Camera Resolution: 1920*1080
9.Zoom: 8X
10.Battery: 3000mAh rechargeable Lithium-ion battery(up to 4h working time)
---
Additional Functions: Take photo, record video, saved on 32GB TF card(showed and transferred to customer).
All Reviews
Image

All Star

5 Star

4 Star

3 Star

2 Star

1 Star
Good borescope for DIYers and professionals
Great price for a useful little device. Just what we needed to check inside the walls of a new extension we have had. We wanted to check that the builder had put the correct insulation inside due to other issues and very pleased to see he had. This has given us peace of mind and didn't cost an arm and a leg to find out. The very long camera is super flexible and easy to poke into the smallest hole, the app is simple to navigate and there is a button on the cable to change brightness. For the price a bargain. This could be used for many issues in cars etc where you can't get in easily. Really happy thanks this was a big help.
20/10/2022
by far the best endoscope camera I have ever had
I've been testing the endoscope camera offered here for almost a month and I'm absolutely thrilled. I have never had such a sensational endoscope camera. I particularly liked the following properties: +Very good processing quality +Rock solid +Easy to set up +Foolproof handling +Sensational recording quality +Ultra-precise control +Great display +Perfect for tube endoscopies +Very good price/performance ratio Consequently, I can't avoid buying the endoscope camera with the Maximum score of 5 stars. I would get them again anytime!
18/10/2022
Good quality and sharp picture
The K&F Concept endoscope camera comes with a robust storage case. Instructions and a USB cable for charging are also included. The workmanship is flawless and makes a very high-quality impression. The lens head can be rotated so that you can also look to all sides in niches and gaps. The strong LED lighting allows a good picture even in the darkest areas. Everything is shown beautifully sharp on the TFT display. Optionally, you can also connect to the smartphone app to save and view videos and images directly there. The app is intuitively easy to use. The device itself is operated using the 6 buttons on the display and two buttons next to the rotary wheel for the movable tip. The display can be folded if necessary, so that you have a better picture outside with the sun. The temperature is also shown on the display. However, this increases by using the light function. I am very satisfied with the endoscope and can give it a full 5 stars for convincing quality and a good image.
15/10/2022
Top endoscope camera
Article was delivered very quickly and neatly, article then times taken in inspection. Was actually already mounted everything, memory card was inserted, endoscope already mounted and accessories such as Imbussschllüssel small spare screw in a small plastic bag available.
Switched on, battery and was almost to good 100 percent loaded----- thus immediately ready for use, endoscope actually very rigid and the function of the LEDs as it advertised or advertised. The side LEDs can only be activated as well as the camera switching to the left / right view, by pressing the small push button on the endoscope (USB port on the camera). Screen provided with protective film and everything in an associated case well and safely to store or protect available.
Image quality for close-ups acceptable to good, editing options but to be qualitatively better .... there you can about an image editing program still rausholt so some (but is not a point of criticism for me, just a note) ....for the quick snapshot, inspection / examination or short video sequences but quite sufficient.
USB - connection to the camera with a small screw fixed, has its reason because the cable is a little rigid, it protects the connection in the camera from accidental loosening or breakage. The small support foot, which can be attached to the camera, is well-intentioned but somehow not mature, unless you no longer move the endoscope cable because otherwise the camera actually does what it wants.....slides back and forth or falls down if necessary.
Settings of the camera such as date, time, language, etc. quickly and intuitively adjustable. Manual available .....
You should take the time to check all functions and familiarize yourself with the camera. If questions arise, the customer service provides very fast and friendly support in a short time .....Klasse
Should the quality and customer service remain so, which I hope, the camera is for me a clear buy recommendation.
10/10/2022
In any case, a help...
The shipping and packaging from Kentfaith is as always top.

The endoscope camera from the company K&F Concept comes just in time. I had to run a LAN cable through the tube from my 1 floor to the ground floor and couldn't get through. This is very annoying because I have no other way from top to bottom. Through this camera I found the error and eliminated it. The picture quality and the light to it were just awesome and everything is just right. The processing and the quality of the device is P/L technically top. When using it, I noticed something that you have to watch out for the device. I will get me a holder to it or manufacturer could install a magnet, if the built-in technology allows. The connection of the camera is connected to the housing with a locking system > TOP. The hose is also accordingly very rigid, so that it can also cross any obstacle without problems. The charging cable is included in the delivery. For this, the power supply is not on board. Nevertheless, I can recommend the endoscope camera with 2 lenses
08/10/2022
Great endoscope camera, easy to use
The device does what it is supposed to and with absolutely sufficient quality. The ability to create images and videos is a nice feature that allows you to share the results here. The gooseneck looks quite robust and can be moved using a rotary wheel and this function works just great! The endoscope comes in a fairly sturdy box with a fairly thin molded plastic shell. The device itself is really wonderfully intuitive to use. The swivel head can be easily operated mechanically via the handle. The LEDs can be controlled in 3 brightness levels (and off). Optionally, you can also load the APP "Smart Endoscope" on your smartphone and connect to the endoscope via WiFi and display it on your cell phone. The advantage, however, is that the endoscope does not necessarily require an additional device. A nice feature is the temperature sensor in the camera head, which gets quite warm due to the LEDs, but can of course quickly indicate high temperatures. The device makes a stable and valuable impression and delivers impressively good images with a very wide focus range. The LED illumination is bright and you can see everything very well and record it easily. Camera and display quality are very good. The probe is waterproof. With an articulation of 210° you get a comprehensive impression of the interior. All in all, a beautifully compact, self-sufficient endoscope with a swivel head at a fairly high price when you look at the pure USB or WLAN endoscopes. Operating the pan is very simple and can be operated with one finger on the handle. Clear buy recommendation from me...
04/10/2022
Absolutely awesome
This endoscope is actually not comparable to the usual devices. The most obvious and biggest difference to other (cheaper) endoscopes is the moveable camera (see video). If you actually want to look into a more complex cavity, that's just absolutely brilliant, no comparison to normal devices. I've been doing everything on my car myself for years, now I've come to the point that I can't get any further with my normal endoscope camera. It's incredibly helpful, especially when examining the cylinders. I haven't really noticed anything negative about the camera, everything is exactly as described on the product page: - Large and really good display - Semi-rigid camera cable - 1 meter cable length (so far has always been sufficient) - Reputable manufacturer - SD card included - Charging via USB-C - multilingual menu - very bright LED lighting - temperature sensor at the top - not dependent on mobile phones or apps thanks to the internal display - good camera A big extra that is not mentioned in the description: the device has WLAN. It is super easy to connect your smartphone wirelessly (the app for the iPhone is called "AllScope"). The functions include, among other things, a live image transmission and that recordings can be viewed and saved directly on the cell phone without a PC (see screenshot).
04/10/2022
Price performance outstanding
I'm very satisfied. The part is very beautiful and takes good pictures. The materials are high quality and the workmanship is great. The little bag is very nicely made.
03/10/2022
Very good picture quality
very good device with a high quality camera. Other devices of this quality like to cost 2-3 times as much. A possibility to extend the cable would be good. Battery lasts long too. I'm very satisfied.
03/10/2022
TOLL!
have used many home construction and auto repair endoscopes over the years and this is by far the best I have used, by far. This offers a very high quality display with HD quality images and videos. With no instructions or information this worked right out of the box, was simple and easy to use and started looking through the camera on the built in display in seconds. After further checking, I was able to connect it to my iPad without any problems and there was no lag between the screen display and the iPad. I took pictures and videos, saved them to the device quickly and easily, and then was able to easily transfer them to my computer for storage or review. I also love how once you have the scope where you want to fish it you can just use the knob with your thumb to adjust the tip to look left/right or up/down (depending on orientation). This avoids the difficulty of pushing/pulling and bending it when you are so close to what you need to see. This device is also well packaged and protected in its case and I have no doubts that this will also be enough for me to pass on to my children.
03/10/2022
Industrial Endoscope Dual Lens Inspection Camera 1080P HD
Endoscope
Resolution
1920*1080
Camera Design
Dual Lens
Pixel
2.0 MP
Camera Diameter
8.5mm
Adjustable LED Lights
8
Waterproof Level
IP67
Camera Angle Adjustment
360°
Transmission Distance
/
Battery Capacity
3000mAh
Cable Length
2m
Included 32GB Card
√
Wifi Support
/