Industrial Endoscope Single Lens Inspection Camera 1080P HD Borescope 4.3-inch Screen 360° Adjustable Lens 8.5mm Cable with 32G Memory Card
Industrial Endoscope Dual Lens Inspection Camera 1080P HD Borescope 8.5mm Cable

GW45.0011

SKU:

GW45.0011

199.99

https://www.kentfaith.com/GW45.0011_industrial-endoscope-dual-lens-inspection-camera-4-3-inch-screen
Description
* 【IP67 Waterproof】Different from other non-waterproof products, our camera supports IP67 waterproof, whether it is wet sewers or sinks, it can work perfectly.
* 【Bidirectional 180° Steering Lens】Bends 180° easily and freely on both sides, which can bring small probes into tight spaces, and then transmit vivid, clear, all-round videos and pictures on monitor screens and mobile phones at the same time through the cable. It is a recommended tightly curved endoscope camera with light.
* 【Utility】Steering Endoscope Camera with Active Head is specialized in evaluating and diagnosing car, car evaporator, engine, carbon, combustion chamber, plumbing or house problems. If you are a homeowner, electrician, mechanic, and especially someone who loves technology, it is your best partner.
* 【Large 4.3-inch IPS HD Display】The endoscope inspection camera adopts a 2.0MP 1080 HD 4.3-inch large display with built-in 8 LEDs with adjustable brightness, allowing the front camera to perfectly view the darkest inspection area. This industrial range allows viewing images, taking standard photos and recording videos.
* 【High temperature protection】The endoscopy camera is designed with unique temperature protection technology, which can cope even in harsh environments. When the temperature exceeds 95 degrees, it will automatically shut down and play a protective role.
Shipping
Free shipping worldwide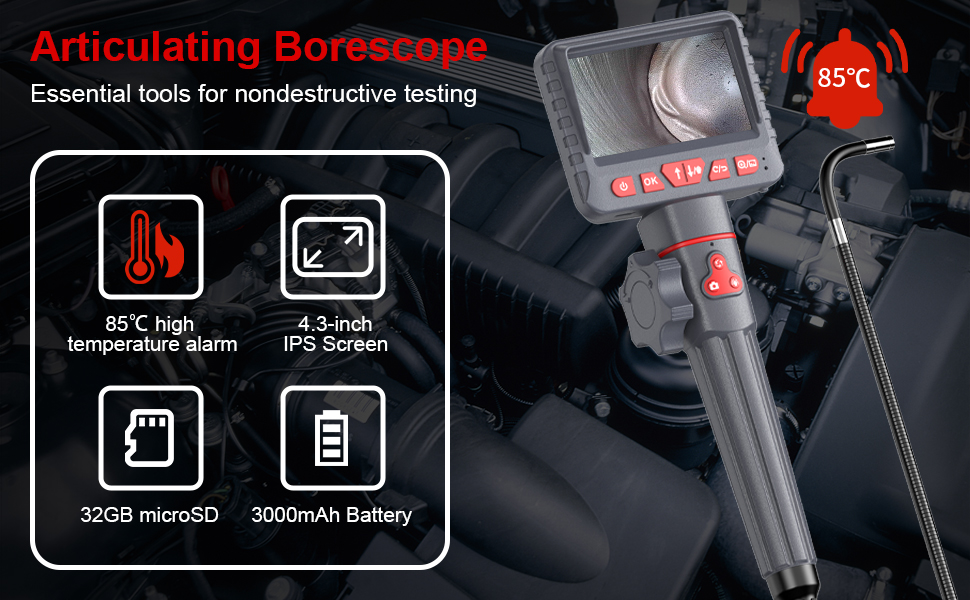 Selecting the right Inspection tool for the job is critical - different Level of A Borescope Why AGC430N is so popular among customers around world? What's the special function of it?
The most important thing is that the camera part can be controlled and turned!
Articulation bendable angle: 0°to 180°continuously adjustable and can be locked at any angle. Very easy operation: just push down the release button with the thumb to adjust the articulation angle. Greatly fulfilled the actual needs of customers of inspecting the difficult angles inside a dark closed compartment.
---
Widely used in NDT and RVI field:
Aviation aircraft, for both general aviation, business aviation, commercial aviation and military
Power generation and electricity
Energy, gas and oil
Automotive, motorcycles, and boat
HVAC
MRO services
Industrial facility and building maintenance
Manufacturing, metal machining, tube and pipe
Mining
AGC430N Articulating Industrial Endoscope - Bend At Any Angle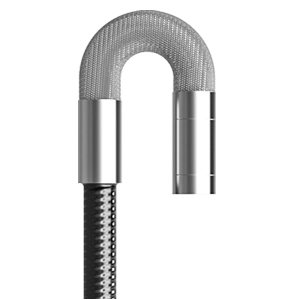 Look Back Examining the entire cylinder and valves
The articulation engine scope is able to take a close look at the piston and then turn the camera around 180 degrees while inside the cylinder to see the valves at the top of the cylinder.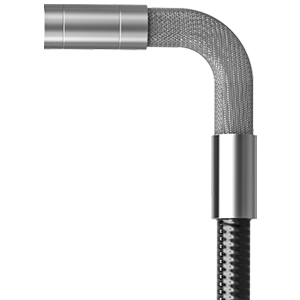 90 Degree Bend
When insert inside tube or inside wall where has mainline and branch line, such as plumbing U/H shape pipe. Have ability to turn into the branch line, won't pass by.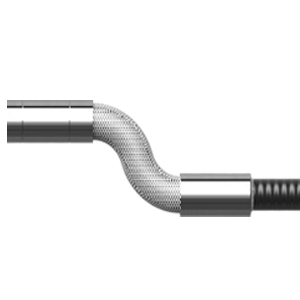 Pass Obstacle
The snake camera is 0° to 180°continuously adjustable and can be easily go through small block.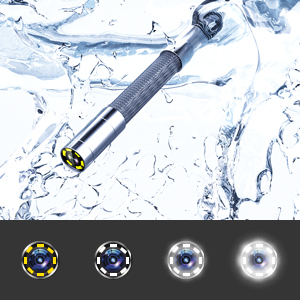 Waterproof and Oil Resistant
Greatly improve the articulating part structure, made from titanium alloy with high tungsten braided wear resistance. The camera probe and insertion tube is waterproof IP67.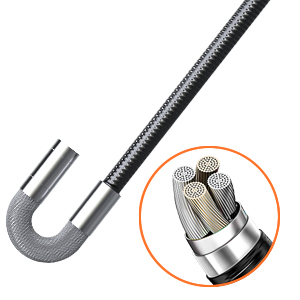 Rigid Gooseneck Probe
The AGC430N industrial endoscope adopting metal fiber optic probe, flexible and malleable enough to shape for your need, up to 80cm lifting.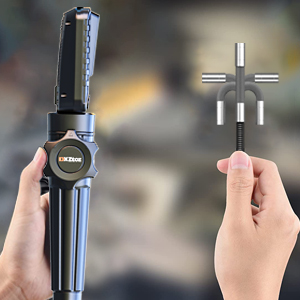 Locked at Any Angle
The scope camera's direction can be freely controlled by one whirl, and firmly locked at any desired angle.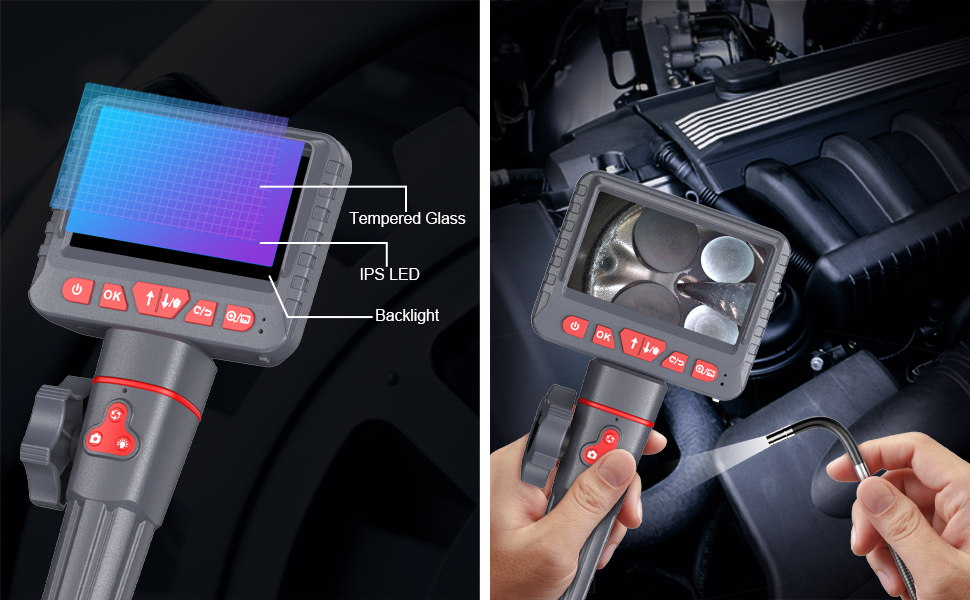 Who will need an articulating Borescope Inspection Camera?
Professionals: Aircraft/automotive mechanics, electricians, engineers, HVAC/machine technicians, building inspectors, plumbers, pipefitters, security and law enforcement officers, locksmiths, serious DIYers.
Regular Person: car owner, handy man who likes to fix things around house.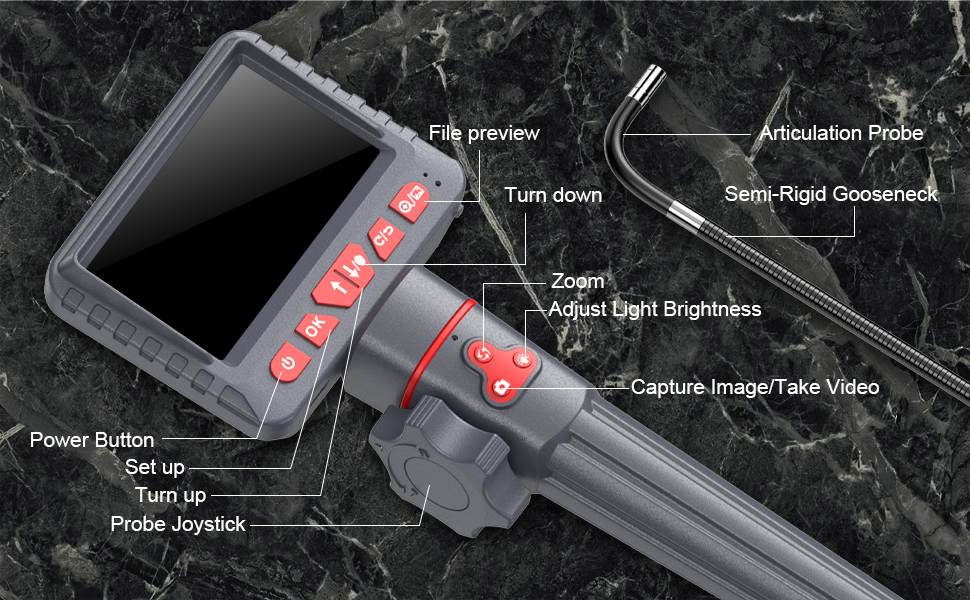 Specifications
1.Camera Diameter: 8.5mm
2.Articulating Angle: 0° - 180° Two-Way
3.Bending Ratio: 34mm
4.Monitor: 4.3'' LCD color display
5.Probe Length: 1.7M/5.5FT
6.Waterproof Grade: IP67
7.Light Source: 8 LED with 4 adjustable brightness
8.Camera Resolution: 1920*1080
9.Zoom: 8X
10.Battery: 3000mAh rechargeable Lithium-ion battery(up to 4h working time)
---
Additional Functions: Take photo, record video, saved on 32GB TF card(showed and transferred to customer).
All Reviews
Image

All Star

5 Star

4 Star

3 Star

2 Star

1 Star
Flexible endoscope with somewhat rigid camera tube
It has an excellent camera, especially for up close and personal looks.
02/07/2023
Helpful for home inspectors
As a home inspector, my toolbox includes a variety of testing and measuring tools: screw drivers, nut drivers, framing square, concrete and wood moisture meters, temperaturehumidity meters, multi-meters, GFCI & AFCI testers, infrared and probe thermometers, binoculars and a couple of really nice digital cameras to document the appearance of the residence or structure.

Two hands required for a thermal temperature picture, one holding a digital IR thermometer directed at the object while aligning the camera with my other hand to "capture" the reading works well enough; however, a lightweight IR camera attachment to my cell phone is quicker and gives my client a true visual representation of temperature variance.

During a recent home inspection with the house temperature set at 75 and the exterior temperature 61 (picture 1), I felt a breeze several inches away from the chipped plaster above the receptacle and wanted to know more. Placing my anemometer meter at the opening, a 3 mph wind speed was recorded, the draft I felt several inches away. A wide view of the wall was provided by the K&F Concept IR camera that displayed a 9 degree wall temperature difference within 24" inch span (lack of or missing insulation). Removing the cover and receptacle (outlet), I was able to easily insert the lens for a look behind the wall. As the pictures captured, there was no insulation directly behind the receptacle box, above (bent the lens cable upward) and below using the side view camera. The red, yellow, blue, green IR picture is the outside (fiber cement siding). The exterior outlet aligns with the cold spot to the right of the interior outlet and the blue in the upper right corner is the interior outlet. I did not attempt to locate the source of the air leakage, annotating in my report further evaluation by a licensed contractor for options and cost. The nine pictures provided by the K&F Concept and IR camera provide a more comprehensive visual understanding than a mere draft from the outlet.

What is the water bottle for?
I drilled a hole on each end, passed the cable through secured with tape making a lens "stand off" for better observation looking in HVAC duct. With the rounded bottle, I've gone 14 feet without getting stuck.

The IR camera comes in a protective small semi-hard case, easy to use with the ability to annotate comments directly onto each picture.

The scope is lightweight and easy to use. All functions (picture, video, light, etc.) controlled by your thumb, except for the side view camera switch which is at the base of the cable. Packaged in a protective hard plastic case, with two metal latches and top and bottom foam padding cut to fit the cable, camera, USB cable and three included lens attachment options is more than adequate. A small magnet, 90 degree mirror and hook to fish wire, or "I dropped my ring in the drain" recovery tool are nice additions.

Providing two options for image transfer (one via the provided USB cable or by removing the mini SD card) gives the user flexibility.

As a home inspector, having a "third eye" is nice to answer any lingering questions regarding temperature and other issues: wall cavities, HVAC units, duct, vents, smoke chamber, chimney…

Adding the K&F Concept infrared thermal camera attachment to my tool inventory will allow more accurate reporting. Well worth the investment.
01/07/2023
Great scope for finding hidden plumbing issues.
The picture shows a plumbing issue not visible without the scope. We also have video of active leak.
29/06/2023
super sharp image ; long flex camera; very easy and intuitive to use
I purchased this after reading the reviews and also because I needed a long camera flex scope. I had to travel to CT from NC to survey a trimaran that was interested in purchasing and did indeed purchase. I specifically needed to inspect the stainless chainplates that secure the mast shrouds. This was a racing rig and this securement is super critical and needs to be well inspected. Of course they were inaccessible expect in one had a camera endoscope type device, which I did. I hadn't even tested the Tesslong out before the flight but I did charge it up. I was super simple to use. The cable is indexed for proper orientation. Attach and turn it on and put it to work ! Super clear images well lit also ! I high recommend for any type of mechanical inspection. You will need a micro sd adapter card for a few dollars to view your saved photos on a computer. Plastic instrument doesn't seem to be made of high impact plastic or rubber coated plastic so I would handle it with care. The case is high impact plastic and the instrument is well protected in the case. Battery life seemed well within what I need for the days work.
23/06/2023
Versatile endoscope camera
The K&F Concept is an endoscope camera with two lenses. It is supplied with a sturdy hard case.

In addition to the actual endoscope camera, consisting of an approximately cell phone sized control panel (with 5" screen) and mounted endoscope tube, there is a charging cable (USB 3), a mountable support for the control panel, a magnetic attachment and a hook attachment for the camera as well as a quick start guide in various languages.

Basically, I find the endoscope camera good, the processing, the accessories and also the control panel and its operation make a very high-quality impression. Anyone who is often instructed to carry out inspections in narrow areas in the private or commercial sector is well served by the system. For a quick inspection or a search, the resolution of the camera system is quite sufficient in the private sector. However, if you want to document a damage with pictures or work in the commercial sector, you will definitely want a higher resolution of the camera and a further recording distance of the lens system. Despite all this, I still give it the full 5 stars.
21/06/2023
Do you do HVAC? You need this!
As an HVAC technician I can honestly say that this tool has been one of my best investments i have ever purchased at such a low cost. I own a $1300 combustion analyzer yet this $150 tool helps me make more money in the field. I primarily use this camera to inspect heat exchangers. I have purchased 6 cameras within the last 10 years including other K&F Concept models and this camera beats them all by a land slide! The camera cable itself has durable Material and will not get cut by metal. The cable is also very flexible yet sturdy enough to bend in the position you want it to take a proper picture. The picture quality is literally unbelievable compared to what iv used in the past. You can clearly identify things that are less than 1/4" long and a millimeter thin. Make sure you adjust the date before sending pictures over to customers though! You'll get screwed! Lol. But yes if you do hvac and want to do a thorough check in heat exchangers this is your tool!
20/06/2023
WORKSHOP
RECEIVED AS PRESCRIBE. GOOD QUALITY
19/06/2023
K&F Concept Inspection Camera, 1080p Dual Lens 4.5" Screen Endoscope
If you're looking for a good all round inspection camera this is it....
I purchased this with specific task in mind:
1. Plumbing inspection and leak detection especially when the drain is clogged...
2. Automotive and light duty Truck repair - used it to do visual inspection inside cylinders on diesel engine valve, cylinder walls and piston.. I used it to locate hidden bolts while changing out cam driven distributor on 1994 Toyota Camry..
3. Home HVAC inspection on evaporator, condenser, and supply side air registers.

I am retired and no I am not a professional.. just like fixing things and the K&F Concept Inspection Camera is soooo much better than using an inspection mirror and a flash light....plus you don't have to climb over or under things to do inspections....My wife uses it to find things that she has dropped behind the washing machine, dryer or the stove...
17/06/2023
Great item must buy
Great item must buy works great for getting good views, high quality imaging make sure you put protective cover over camera lines. I did it and accidentally broke mines hoping company might be able to send a replacement.
17/06/2023
Great Bright Pictures For all Undisclosed Places
I have a 2003 Camry 2.4L engine with a P0420 OBD-II Trouble Code. I was told to buy new catalytic converters. With a price tag of $2,500 for new converters, it made sense to do my own inspection and work-around. There are many catalytic cleaners on the market, but how do I know if the treatment I used worked? I needed to get some pictures inside the Catalytic converters, and they had to be bright and clear. After studying every review of the K&F Concept , it looked like the best bang for the buck. As I treated my catalytic converters, the pictures revealed my success along the way. I saved a ton of money with the . It took about 15 minutes to figure out the buttons and what they do. It's all in the settings and MODE switch. The OK button takes you through where you need to go in each MODE search. It's as simple as that. I love the fact that the screen tilts on the handle. The tilt comes in very handy. As for the quality of the machine itself, there is nothing negative to say. The screen is large and the images are crisp and sharp. I love the camera cable. It is heavy duty and strong. It feels very professional while using it. The camera itself is tiny enough, about the size of a pencil. In fact, I just ordered the 3.3 foot
Borescope-Inspection Camera Accessory that goes with the . It's Waterproof. It comes with a Hook & Magnet Mirror. The 3.3 foot camera cable completes the for me. I found caps to cover the two ends on the 16 foot cable and will hang it in my garage. I plan to use the 16 foot cable for my home inspections. Then I will put the 3.3 foot cable in the beautiful case the comes in. I will use the 3.3 foot cable more often for auto repairs, etc. I would recommend the K&F Concept without any reservations. I was not paid for this review. Nor was I asked to make one. It all comes from the love I have for this device. This camera is a great tool to have when you need it. It can save me a lot of money when inspecting things around the house. Being able to look inside of things without taking them apart is a dream come true for me.
12/06/2023
Industrial Endoscope Dual Lens Inspection Camera 1080P HD
Endoscope
Resolution
1920*1080
Camera Design
2
Pixel
2m megapixels
Camera Diameter
8.5mm
Adjustable LED Lights
8 LEDs
Focus distance
20mm-100mm
Waterproof Level
IP67
Camera Angle Adjustment
360°
Transmission Distance
/
Battery Capacity
3000mAh
Cable Length
1M
Support System
/
Included 32GB Card
Contains
Wifi Support
/