Industrial Endoscope Dual Lens Inspection Camera 1080P HD Borescope 4.3-inch Screen 360° Adjustable Lens 8.5mm Cable with 32G Memory Card
New customer gift package
Free shipping to eligible country
Industrial Endoscope Dual Lens Inspection Camera 1080P HD Borescope 8.5mm Cable

GW45.0011

SKU:

GW45.0011

175.99

https://www.kentfaith.com/GW45.0011_industrial-endoscope-dual-lens-inspection-camera-4-3-inch-screen
Description
* 【IP67 Waterproof】Different from other non-waterproof products, our camera supports IP67 waterproof, whether it is wet sewers or sinks, it can work perfectly.
* 【Bidirectional 180° Steering Lens】Bends 180° easily and freely on both sides, which can bring small probes into tight spaces, and then transmit vivid, clear, all-round videos and pictures on monitor screens and mobile phones at the same time through the cable. It is a recommended tightly curved endoscope camera with light.
* 【Utility】Steering Endoscope Camera with Active Head is specialized in evaluating and diagnosing car, car evaporator, engine, carbon, combustion chamber, plumbing or house problems. If you are a homeowner, electrician, mechanic, and especially someone who loves technology, it is your best partner.
* 【Large 4.3-inch IPS HD Display】The endoscope inspection camera adopts a 2.0MP 1080 HD 4.3-inch large display with built-in 8 LEDs with adjustable brightness, allowing the front camera to perfectly view the darkest inspection area. This industrial range allows viewing images, taking standard photos and recording videos.
* 【High temperature protection】The endoscopy camera is designed with unique temperature protection technology, which can cope even in harsh environments. When the temperature exceeds 95 degrees, it will automatically shut down and play a protective role.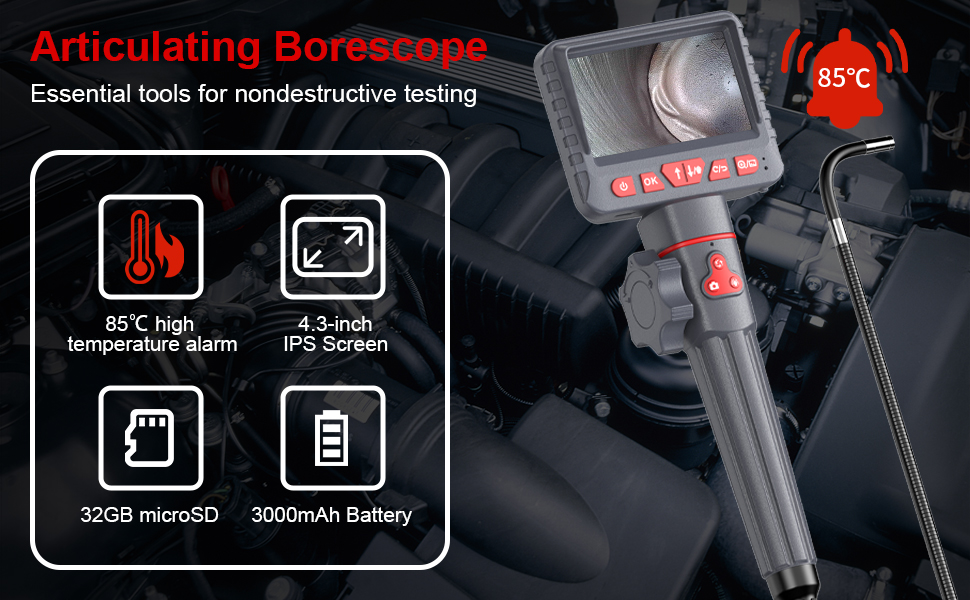 Selecting the right Inspection tool for the job is critical - different Level of A Borescope Why AGC430N is so popular among customers around world? What's the special function of it?
The most important thing is that the camera part can be controlled and turned!
Articulation bendable angle: 0°to 180°continuously adjustable and can be locked at any angle. Very easy operation: just push down the release button with the thumb to adjust the articulation angle. Greatly fulfilled the actual needs of customers of inspecting the difficult angles inside a dark closed compartment.
---
Widely used in NDT and RVI field:
Aviation aircraft, for both general aviation, business aviation, commercial aviation and military
Power generation and electricity
Energy, gas and oil
Automotive, motorcycles, and boat
HVAC
MRO services
Industrial facility and building maintenance
Manufacturing, metal machining, tube and pipe
Mining
AGC430N Articulating Industrial Endoscope - Bend At Any Angle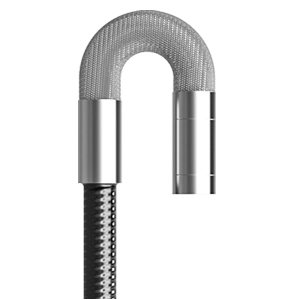 Look Back Examining the entire cylinder and valves
The articulation engine scope is able to take a close look at the piston and then turn the camera around 180 degrees while inside the cylinder to see the valves at the top of the cylinder.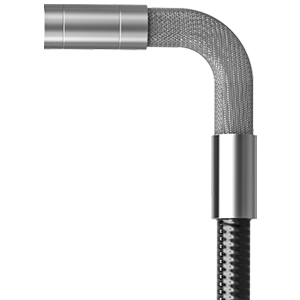 90 Degree Bend
When insert inside tube or inside wall where has mainline and branch line, such as plumbing U/H shape pipe. Have ability to turn into the branch line, won't pass by.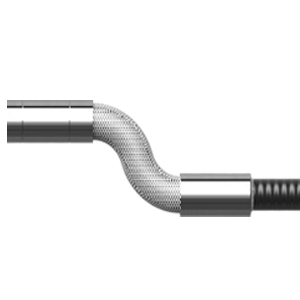 Pass Obstacle
The snake camera is 0° to 180°continuously adjustable and can be easily go through small block.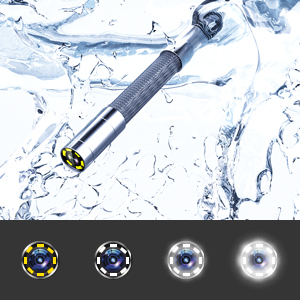 Waterproof and Oil Resistant
Greatly improve the articulating part structure, made from titanium alloy with high tungsten braided wear resistance. The camera probe and insertion tube is waterproof IP67.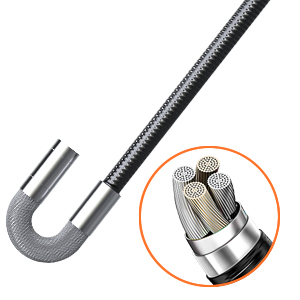 Rigid Gooseneck Probe
The AGC430N industrial endoscope adopting metal fiber optic probe, flexible and malleable enough to shape for your need, up to 80cm lifting.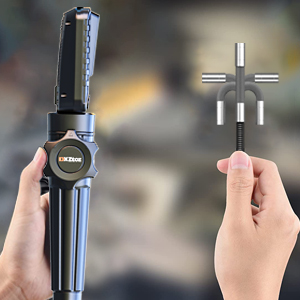 Locked at Any Angle
The scope camera's direction can be freely controlled by one whirl, and firmly locked at any desired angle.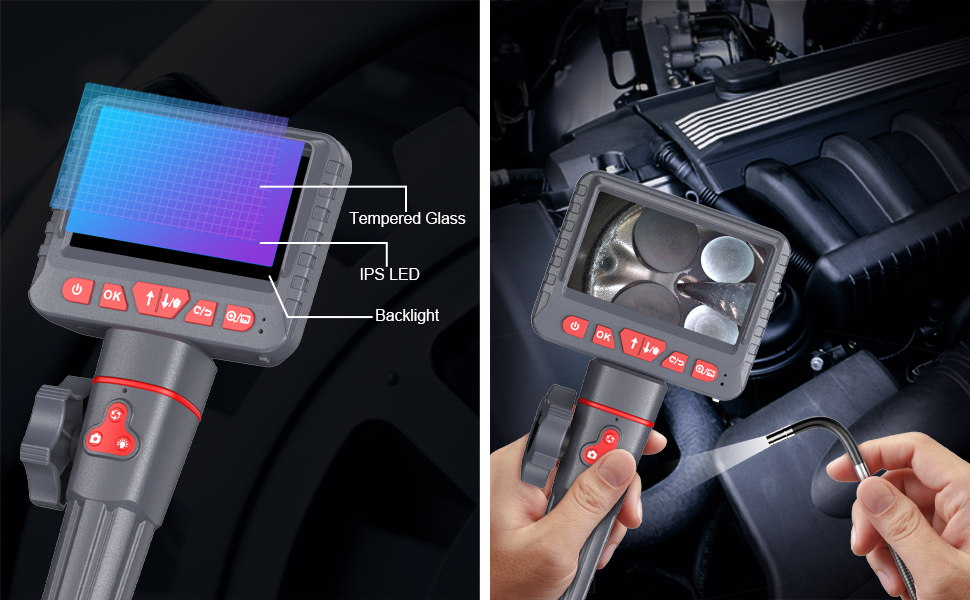 Who will need an articulating Borescope Inspection Camera?
Professionals: Aircraft/automotive mechanics, electricians, engineers, HVAC/machine technicians, building inspectors, plumbers, pipefitters, security and law enforcement officers, locksmiths, serious DIYers.
Regular Person: car owner, handy man who likes to fix things around house.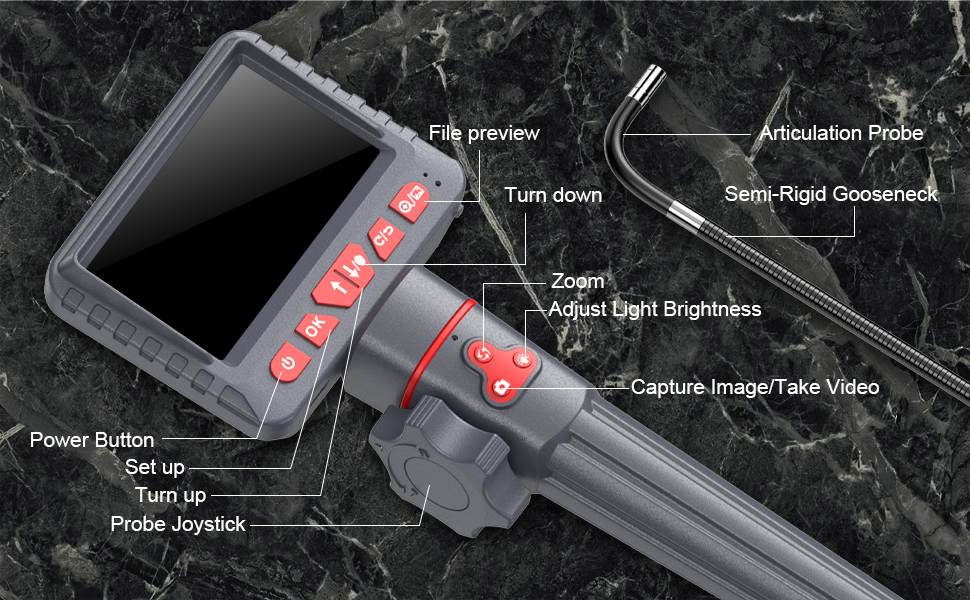 Specifications
1.Camera Diameter: 8.5mm
2.Articulating Angle: 0° - 180° Two-Way
3.Bending Ratio: 34mm
4.Monitor: 4.3'' LCD color display
5.Probe Length: 1.7M/5.5FT
6.Waterproof Grade: IP67
7.Light Source: 8 LED with 4 adjustable brightness
8.Camera Resolution: 1920*1080
9.Zoom: 8X
10.Battery: 3000mAh rechargeable Lithium-ion battery(up to 4h working time)
---
Additional Functions: Take photo, record video, saved on 32GB TF card(showed and transferred to customer).
All Reviews
Image

All Star

5 Star

4 Star

3 Star

2 Star

1 Star
Good borescope for DIYers and professionals
Great price for a useful little device. Just what we needed to check inside the walls of a new extension we have had. We wanted to check that the builder had put the correct insulation inside due to other issues and very pleased to see he had. This has given us peace of mind and didn't cost an arm and a leg to find out. The very long camera is super flexible and easy to poke into the smallest hole, the app is simple to navigate and there is a button on the cable to change brightness. For the price a bargain. This could be used for many issues in cars etc where you can't get in easily. Really happy thanks this was a big help.
20/10/2022
Top endoscope camera
Article was delivered very quickly and neatly, article then times taken in inspection. Was actually already mounted everything, memory card was inserted, endoscope already mounted and accessories such as Imbussschllüssel small spare screw in a small plastic bag available.
Switched on, battery and was almost to good 100 percent loaded----- thus immediately ready for use, endoscope actually very rigid and the function of the LEDs as it advertised or advertised. The side LEDs can only be activated as well as the camera switching to the left / right view, by pressing the small push button on the endoscope (USB port on the camera). Screen provided with protective film and everything in an associated case well and safely to store or protect available.
Image quality for close-ups acceptable to good, editing options but to be qualitatively better .... there you can about an image editing program still rausholt so some (but is not a point of criticism for me, just a note) ....for the quick snapshot, inspection / examination or short video sequences but quite sufficient.
USB - connection to the camera with a small screw fixed, has its reason because the cable is a little rigid, it protects the connection in the camera from accidental loosening or breakage. The small support foot, which can be attached to the camera, is well-intentioned but somehow not mature, unless you no longer move the endoscope cable because otherwise the camera actually does what it wants.....slides back and forth or falls down if necessary.
Settings of the camera such as date, time, language, etc. quickly and intuitively adjustable. Manual available .....
You should take the time to check all functions and familiarize yourself with the camera. If questions arise, the customer service provides very fast and friendly support in a short time .....Klasse
Should the quality and customer service remain so, which I hope, the camera is for me a clear buy recommendation.
10/10/2022
In any case, a help...
The shipping and packaging from Kentfaith is as always top.

The endoscope camera from the company K&F Concept comes just in time. I had to run a LAN cable through the tube from my 1 floor to the ground floor and couldn't get through. This is very annoying because I have no other way from top to bottom. Through this camera I found the error and eliminated it. The picture quality and the light to it were just awesome and everything is just right. The processing and the quality of the device is P/L technically top. When using it, I noticed something that you have to watch out for the device. I will get me a holder to it or manufacturer could install a magnet, if the built-in technology allows. The connection of the camera is connected to the housing with a locking system > TOP. The hose is also accordingly very rigid, so that it can also cross any obstacle without problems. The charging cable is included in the delivery. For this, the power supply is not on board. Nevertheless, I can recommend the endoscope camera with 2 lenses
08/10/2022
All in all Good endoscope camera for home use
K&F Concept endoscope camera. With a cable length of about 5 meters, this is aimed at semi-professional users, typical areas of use would be, for example, the examination of pipes, cavities in vehicles, hard-to-reach places in shafts or, as in my case, the inspection of a pellet silo.

Qualitatively, the endoscope makes a really high-quality impression, is heavy and very solidly built, even the supplied case could also be considered for professional users. The scope of delivery includes the case, the endoscope, the probe incl. 5 meter cable, an SD card with 32 GB, two holders and a clear manual.

Here are the specifications according to the article description:
- 4.3-inch color screen
- Resolution video:1280x720
- Photo resolution:1920x1080
- The probe is waterproof according to IP67 standard
- Probe diameter 5.5 mm
- Memory of the included SD card: 32GB (for photos/video recording)
- Battery memory 2600mAh (lithium battery)
- The probe has 8 LED lights

I've had the in use a few times now and can mention the following punks:
- The battery was almost fully charged on delivery, there is a USB Type-C charging cable included, but no charger per se. However, that is not a big deal - any USB charger can be used for this. So far, I have not managed to empty the battery in my few uses, so I cannot make a statement about the runtime yet.
- The endoscope cable is a bit stiff at first, but after unwinding it can be bent well into shape. However, you should not expect a 90° bend, it is definitely too tight for that. Insertion into e.g. empty tubes is a bit tricky, the cable holds its shape, but then adapts to bends in case of resistance. Here, as I said, some practice is necessary at the beginning. Ideally, you do the insertion in pairs, so one person can insert the cable, a second then holds the screen. Since it is IP67 rated, the cable could also be provided with a lubricant, e.g. soap or similar, to reduce frictional resistance.
- The lens head is a bit large with just under 5.5 mm, so it can be a bit tight at drain openings, for example. At our sink, I could not insert the head through the drain grate, I had to remove the siphon and then insert the cable over it.
- The front camera is designed for distances of max. 10 cm, the side cameras for max. 3 cm, that's enough for pipes and cavities, when checking my pellet silo is then due to the size of the image a little blurry, but it is perfectly sufficient to visually check the level, for example.
- The LEDs in the endoscope head make good light, even the darkest pipes are illuminated and you can see the surroundings well on the display. Unfortunately, the image quality is somewhat sobering when viewing the recordings on a PC, for example, despite Full HD photos and HD Ready videos.
- Nice feature: the scope of delivery also includes a hook and a magnet to fish out keys, screws, etc. from pipes.

Conclusion: It's a very robust device, which fulfills its tasks. I lack the comparison to other devices, but I am satisfied so far. The quality of the stored pictures and videos could have been better, but are still ok. I would give 4.5 stars, but then round up to 5 stars.
29/09/2022
everything worked out great
for diagnosis of engines
28/09/2022
Versatile endoscope camera
The K&F Concept is an endoscope camera with two lenses. It is supplied with a sturdy hard case.

In addition to the actual endoscope camera, consisting of an approximately cell phone sized control panel (with 5" screen) and mounted endoscope tube, there is a charging cable (USB 3), a mountable support for the control panel, a magnetic attachment and a hook attachment for the camera as well as a quick start guide in various languages.

Basically, I find the endoscope camera good, the processing, the accessories and also the control panel and its operation make a very high-quality impression. Anyone who is often instructed to carry out inspections in narrow areas in the private or commercial sector is well served by the system. For a quick inspection or a search, the resolution of the camera system is quite sufficient in the private sector. However, if you want to document a damage with pictures or work in the commercial sector, you will definitely want a higher resolution of the camera and a further recording distance of the lens system. Despite all this, I still give it the full 5 stars.
21/09/2022
An absolutely top-notch device
I was provided the item free of charge for a test, but this fact is not reflected in my reviews. If something is no good, then I write it that way.

Everything you need to get started right away is included in this kit. The device and all the accessories come in a small plastic case. With some devices, there is sometimes the problem that once unpacked, it does not fit back into the case. In this case, however, everything can be conveniently stored again without problems, the space for this is more than generously designed.
The main part houses the 4.3-inch color screen and the controls. The whole thing is very robust and also feels valuable. The controls are easily accessible and also respond very well to pressure. Operating the device is no problem with them. I only had no success with switching cameras in the various menus at the beginning. These are self-explanatory and clear, but switching here was not possible. Even in the (not exactly extensive) manual was nothing to find about it. After a long search, I found the button: It is located directly on top of the connector that connects the optics to the device. This connects to the top right and is about 5m long. It is relatively stiff, but it can be maneuvered well in tight spaces. The image quality of all three cameras is good, and the lighting is also bright enough to make even small details visible, but not so bright that when you are closer to an object, it can then only be seen as a white spot.
The scope of delivery also includes an SD card. With 32GB, it is also big enough to store lots of photos or videos on it.
It is powered by a built-in battery, so the whole thing can be used very flexibly, so you do not necessarily have to have a power outlet nearby. The battery can be recharged via USB-C plug, and the cable for this is also included.
Furthermore, two tool tips are included, which can be attached to the camera. This is very practical when, for example, dirt has to be removed in order to inspect the material underneath.

All in all, everything you need is supplied here for about 140€ (as of 04/22), and that too in excellent quality.
20/09/2022
Very robust, super shots, large display
I brought this item to help me identify a wasp problem in my loft and just wanted to take a look at the extent of the invasion without the risk of getting stung a million times.
17/09/2022
Excellent device in hard case. Includes 32 GB memory card. Very light.
This very light and compact endoscope camera is delivered in a hard case, which is lined with foam inside.
The cable of the camera is about 5 meters long and has a diameter of 0.5 cm.Contrary to what is stated in the description, the camera is not equipped with 6 LEDs, but with 8.
6 LEDs light up on the front of the middle camera. 2 lights on the sides each right and left. Cameras are also installed here. So you can look down (into the combustion chamber of the cylinder, for example) or switch on the camera on the right or left to look at the walls without having to turn the camera. Very good.

The camera has a resolution of 1080p, so Full HD, the recordings are stored on the included 32 GB memory card and can be accessed at any time. The 4.3-inch display has tempered glass and is easy to read. The menu is tidy and logically structured. Language, resolution of the recordings, etc. can be set here.
On the side of the device are additional LEDs, which can also be turned on to act as a flashlight.
The integrated 2600 mAh battery is charged via USB-C charging cable.

A good choice for hobbyists and mechanics.
16/09/2022
Pleasantly surprised K&F Concept endoscope
It is always a bit difficult to judge some of these devices - many of them have fantastic specifications that do not come true. Here, however, it's a great picture, thin neck.... what more do you need.

Update: In the water its garbage, too small optics and dirt happens quickly. For this you need 7 or 9 mm. Dry (wall / ceiling,...) it's great.
15/09/2022
Endoscope
Resolution
1920*1080
Camera Design
Dual Lens
Pixel
2.0 MP
Camera Diameter
8.5mm
Adjustable LED Lights
8
Waterproof Level
IP67
Camera Angle Adjustment
360°
Transmission Distance
/
Battery Capacity
3000mAh
Cable Length
1M
Included 32GB Card
√
Wifi Support
/