4K 30FPS Dual-Screen Waterproof Sports Camera Support Wifi Control Remote Control Anti-Shake Black
Free shipping to eligible country
Brand:

KENTFAITH

Buy KENTFAITH 4k 30fps dual-screen waterproof sports camera support wifi control remote control anti-shake black online, worldwide free shipping and 30 days return guarantee.

GW41.0011

SKU:

GW41.0011

79.99

https://www.kentfaith.com/GW01.0157_4k60fps-dual-screen-waterproof-sports-camera-support-wifi-control-remote-control-anti-shake-black
Description
* 【4K ultra HD action camera】Available in 4K 30fps video resolutions and 24MP photos. This action camera enables you to take incredible photos and ultra HD videos. Capture and share your world in a fantastic resolution.
* 【Dual color screen design】The dual screen action camera makes you the protagonist of your own world. The vivid front screen provide excellent recording experience for selfie photos and videos. 2.0'' high sensitivity back screen is clear and vivid, gives you a great playback and preview experience.
* 【Optional view angle and anti-shaking】Adjust the view angle of this sports camera according to your needs between wide(170°), medium, and narrow. Built in smart gyroscope for anti-shaking and image stabilization makes your video much more smooth.
* 【Built-in wifi and 30M waterproof】With wifi connected, the wifi gopro alternative camera is completely under your control in " iSmartDV" APP. With the solid and durable waterproof case, you can take the underwater camera dive into water up to 131.2 feet / 30 meters.Perfect for water sports, such as swimming, diving, surfing and so on.
* 【Time-lapse & long recording modes】More than stable, high-resolution video, the sports cameras also offers a range of smart features and shooting modes to help you capture and share cinematic shots. Frame rates of up to 30fps means the action cam can deliver silky slow-motion footage, while time-lapse and long recording modes allow you to capture the passage of time with dramatic effect. Excellent modes like Time-lapse video and car mode will meet different shooting needs.
Shipping
Free shipping to eligible country
Frequently Bought Together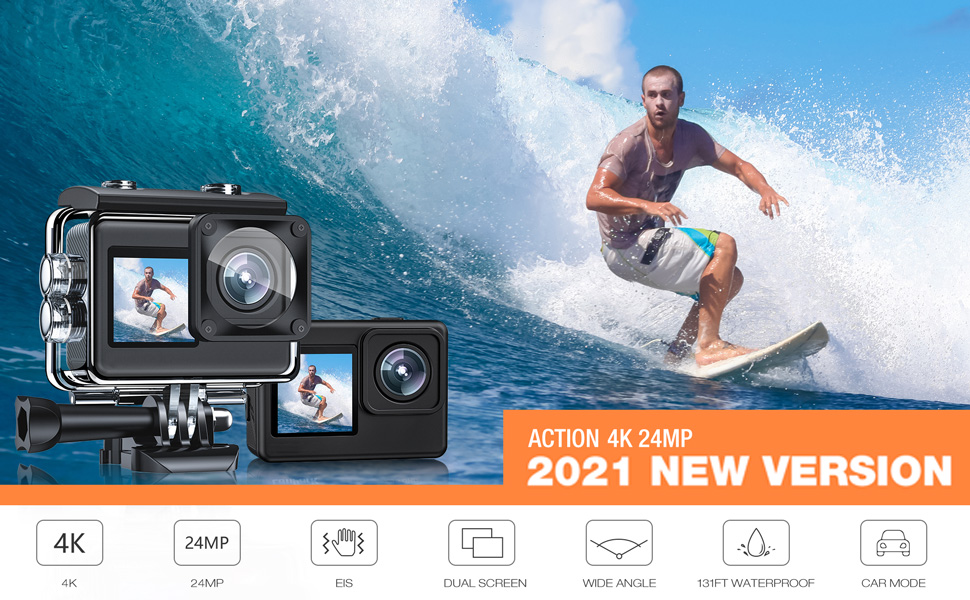 We provide a variety of high quality sports action cameras for outdoor enthusiasts
4K 24MP/ Dual Screen/ EIS/ Sony Sensor/ Car Mode/ Time Lapse/ Long Exposure/ 8X Slow Motion/ WiFi/ 30M Waterproof Case/ Adjustable View Angle/ Distortion Calibration/ White Balance/ ISO/ Burst Photo/ Micro USB/ Micro HDMI/ Max 4x zoom
Warm Tips:
1. Support class 10 or above, 8-128GB micro SD card (NOT included). Please FORMAT the card in the camera before using. (This gopro type camera doesn't have internal memory)
2. Dual screen cannot be used at the same time. Please press and hold Down button for 3 seconds to switch between the front screen and the back screen.
3. The sound effect will be influenced in the waterproof case. Please do not put it in the waterproof case for a better sound recording.
4. Recording Time: Each battery for 1080P/2.7K About 180 minutes, 4K About 90 minutes.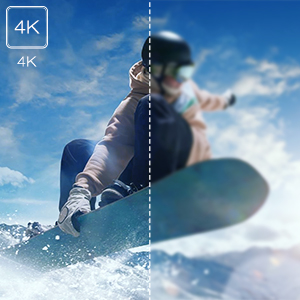 Professional Video Quality
The ACTMAN action camera features ultra HD 4K video recording and 24MP photo resolution. You can capture stunning 4K 30FPS/2.7K 30FPS/1080P 120FPS/ 720P 240FPS, etc video to recall your adventure with sharp and clear video quality.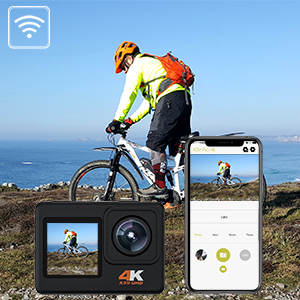 WiFi + APP Control
1. Please install "XDV PRO" app program
2. Press the "UP" button for 3 seconds on camera to turn on WiFi. and connect to it. (Default password is 1234567890)
3. Locate and open the "iSmartDV" app program. Within the app, you can configure the settings to your liking (preview / remote / video / camera / file / playback / download / delete / share).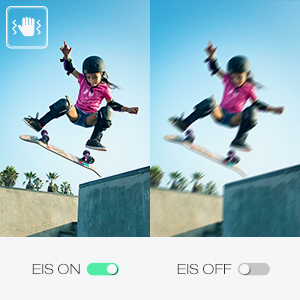 Smooth Video Stabilization
Built-in advanced Electronic Image Stabilization (EIS) with 6-axis gyroscope delivers spectacularly smooth and steady videos and photos in all kinds of sports activities. The X35 action camera records smooth, steady video whether you're skiing, snorkeling or chasing your dog around the yard.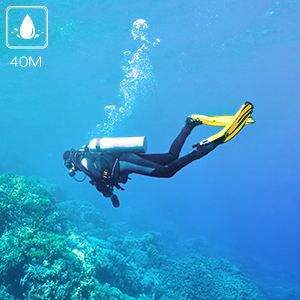 30M Waterporoof
Dive deep to 98ft(30m) to embrace the beauty of the sea, using supplied waterproof housing with easy access to shoot buttons. Perfect for swimming, surfing, diving, etc. This underwater case can protect camera from scratches and hit.It is a good companion for diving, surfing, swimming and other water sports.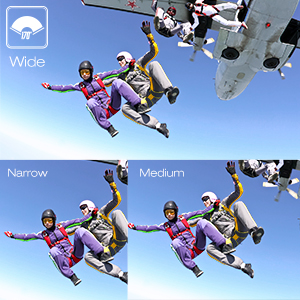 170° Wide Angle Lens
The view angle of this action camera can be set between wide(170°), medium and narrow according to your needs. 170° wide-angle enables the camera to capture more than your eyes can do. It is a great design for shooting and filming.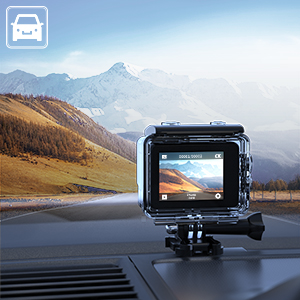 Car Mode
The camera can be adjusted to the loop recording mode and used as a driving recorder to record the environment around the car. When the car mode is turned on, the camera will automatically turn on after the USB cable is connected, and automatically record in the loop recording mode. After power off, the camera will automatically stop recording and turn off.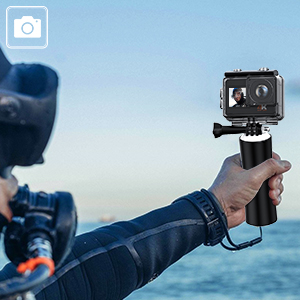 Self Timer
Even when you alone, you can take a more beautiful image, you can take it anywhere, record every indelible moment. The vivid front screen provide excellent recording experience for selfie photos and videos. 2.0'' high sensitivity back screen is clear and vivid, gives you a great playback and preview experience.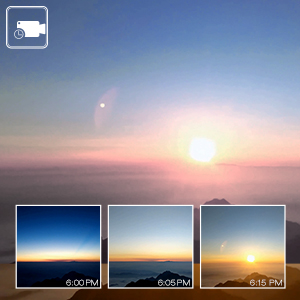 Time Lapse
Time lapse video creates video from frames captured at specific interval. This option record regularly, intermittently, and reproduce the slow changing process of the scene with a significantly changing image. Ideal for taking pictures of the passing of time, such as sunrise and sunset, flower sprouting and blossoming, the rhythm of the city, etc.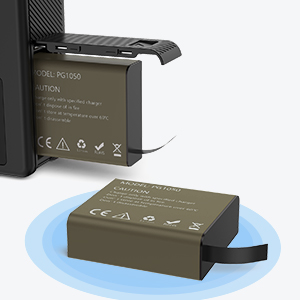 Long Battery Life
Comes with 1 rechargeable 1050mAh batteries. Each battery can record up to 90 minutes when it's recording at 4K mode, no more worry for power running out during the happy times with your family and friends.
| | |
| --- | --- |
| Video Resolution | 4K@30fps / 2.7K@30fps / 1080P@60fps(1920x1080) / 1080P@30fps(1920x1080) / 720P@120fps(1280x720) / 720P@60fps(1280x720) |
| Video Format | MP4 |
| Waterproof Depth | 30M |
| Sensor | SONY |
| Image Format | JPG |
| Battery | One 1050mAh Li-ion Batteries (Included) |
| Wi-Fi Connection | Android/iOS Supported(8-15 meters) |
| Waterproof Depth | 30M |
| Photo Resolution | 24M;20M;16M;13M;8M |
Very complete action camera for stills and movies
The product seems to be sturdy. The visual quick start guide is not clear as to how to open the battery door. It reminded me of IKEA instructions. The product arrived in perfect condition and all the bits were there, including many mounting options! I will start using it on bicycle rides next week. So far the product has exceeded my expectations.
10/04/2021
GREAT camera for the price
i wanted a camera that i could use to get some footage with my fpv quadcopter, knowing that the camera is always in risk , this camera is giving me great image quality at an awesome price
09/04/2021
great value; initial assessment
came as described, easy set-up, lots of accessories. only had a day to noodle with it so this is initial look: good image stabilization, easy to set-up, no H20-proof test yet. also will test external mic (bought separately) with e-bike ride soon (weather not optimal) and update review. Peace -
09/04/2021
Solid action cam
Super solid camera! Definitely a better alternative to a go pro!
08/04/2021
Excellent Cost Benefit
Does what it says, good price, good features. I use a lot to record time lapses from my work. Recommend.The only down side for me is the app that is clunky.
08/04/2021
uh....no
it was probably an OK value 'cause I got it at $85 sale price. Not worth a penny more IMO. It is not a serious action cam. The stabilization only eliminates shaking but not any wobble and produces serious frame snapping when the camera is moved around. So it's useful for example on a bicycle or car mount and for hand held shots with little movement. beware Youtube reviews!!Good video quality and they have evidently fixed the low mic volume issue. Videos sound fine... but.... I also found audio/video sync issue at higher than 30 fps. Issue seems to be resolved by using 3 min time interval in loop recording mode (max file size) but at 60 fps the clips were still getting out of sync. And the frame rate was coming out as weird fractions and didn't work with Lightworks or even the Windows 10 Photo video editor. eh. very limited use. bottom line: there is probably still no cheaper option than a GoPro7 Black or the DJI Osmo that will be worth your $$$
06/04/2021
pleasantly surprised
I was pleasantly surprised by the quality of this device. Works perfectly for what I needed. Video quality is "good enough." It may not be quite as good as a gopro, but it costs a fraction of its price too.TERRIFIC value for the pricepoint.
05/04/2021
Great quality/Ease of use
Great camera. Worked perfectly for snorkeling in the Florida Keys. I started with it mounted on my snorkel but soon found that it was pointed down too far, so I switched to holding it a on a selfie-stick a few feet out in front of me. That worked perfectly. Video quality is fantastic.One problem I encountered is that when I take some video, power the camera off for a while and then turn it back on, it says the SD must be formatted. Even if the card is large and still has a lot of space left on it. Formatting will erase what is already on it, so the only other option is to carry another empty card that you can switch to. Since I'm not sure if this is the camera's fault or the SD card I'm using, I still gave it 5 stars.
05/04/2021
Eager to try!
So far everything looks good, will post back after usage and seeing how things look!***UPDATE***Video quality was not as good as I was expecting, causing a huge disappointment. Sound quality also wasn't good. The app used to transfer files over was buggy and would crash a lot. Would not recommend.
05/04/2021
Value for your buck.
Its a good camera if you are looking for something cheaper and intend to use occasionally. The video quality and stability is good, the user interface could be better but does its work. It should tell when the card is full. This is the best camera for someone who doesn't want to spend $400 in a Go-pro and needs something similar and relaible.
03/04/2021
There are no faqs for this product.