17.3 Inch Laptop Backpack, Large Waterproof Anti-Theft Laptop Bag with USB Port Charging, Stylish Rucksack for Business Work & Travel
Out Of Stock
Product Unavailable
No Cancellation Fee
Over 99$-10$ / 200$-25$ /300$-40$
New customer gift package
Free shipping to eligible country
Brand:

KENTFAITH

Buy KENTFAITH 17.3 inch laptop backpack, large waterproof anti-theft laptop bag with usb port charging, stylish rucksack for business work & travel online, worldwide free shipping and 30 days return guarantee.

BC13.0029

SKU:

BC13.0029

94.99

https://www.kentfaith.com/BC13.0029_17-3-inch-laptop-backpack-large-waterproof-anti-theft-laptop-bag-with-usb-port-charging-stylish-rucksack-for-business-work-travel
Over 99$-10$ / 200$-25$ /300$-40$
Description
* 【18L Large Capacity】 With 18L volume and the size of 47*29*16cm, the large laptop backpack can hold a 17.3" laptop, 11" iPad, smartphone, wallet, power bank, water bottle, notebooks, folding umbrella, clothes, etc. All you need for business/school/trip can be stored in just one bag.
* 【IPX-6 Waterproof】 The laptop bag including the zip part is covered by professional 600D waterproof PU material. Strong waterproof ability keeps you away from worrying about rainy days. Water drops and small dust can be easily wiped away.
* 【Anti-theft Designs】 A lock buckle at the bottom of the bag can help lock the laptop bag on your chair when you are in restaurants or parks. A wallet pocket inside the laptop bag is specially designed with anti-metal interference anti-magnetic cloth, which can avoid identity theft on the credit card. And a key chain inside the bag can avoid your keys losing or being stolen.
* 【50cm USB Charging Cable】 The laptop bag not only supports USB port charging with the built-in USB port design, but also provide long charging cable. You can put your own power bank in the backpack and conveniently charge your phone outside with the long charging cable.
* 【Comfy and Practical】 Nano cooling material, well padded breathable mesh, and curve widen design on the back and shoulder strap, greatly release the pressure on your back and shoulders. With multi-fuctional pockets, the laptop backpack is a good partner for long trips. It can also be full open through the front pocket, convenient to organize items inside.
Shipping
Free shipping to eligible country
Sale
Over 99$-10$ / 200$-25$ /300$-40$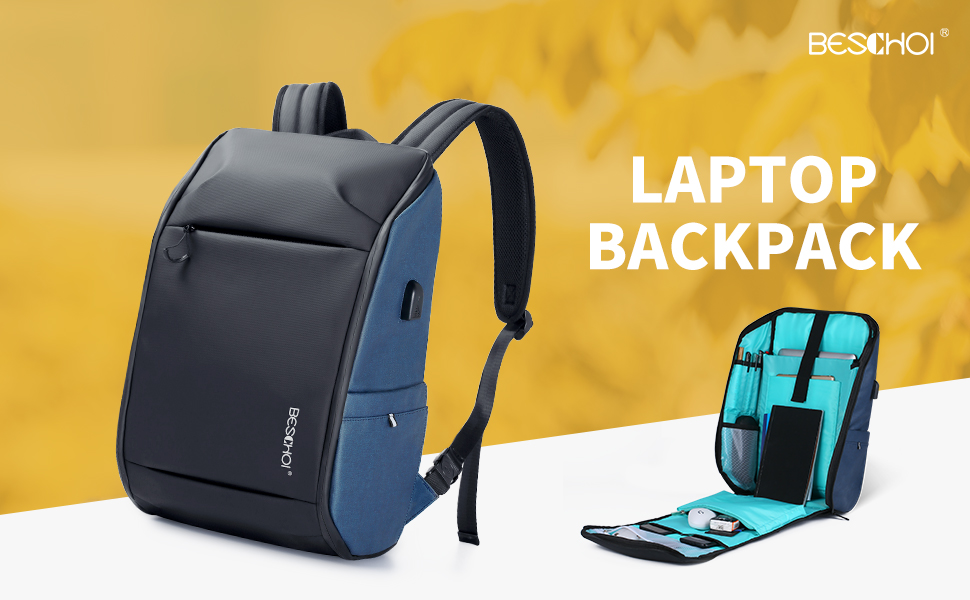 Beschoi 17.3" Large Waterproof Laptop Backpack -- Reliable Partner for Outdoors!
What is Beschoi
·Beschoi is a classical brand for photography accessory which devotes to camera tripods, lens adapters, lens filters, backpacks, microphones and others for many years. Based on love and enthusiasm towards photography, we never stop improving and innovating.
What We Want
·We strive to provide professional and practical backpacks to people in need, so we design and produce camera backpacks and laptop backpacks on our own, aiming to provide special items of better quality to you.
What We Wish
·Life is a treasure that there are so many beauties waiting for you to discover. Carry Beschoi backpack with you and go out, enjoy your life and the whole world!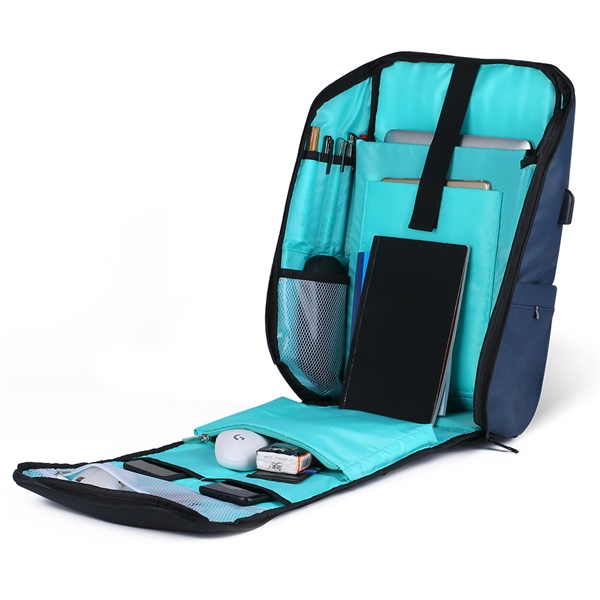 1. Full open design, convenient for putting items in or taking out, and visible to neatly organize all items in the laptop bag, helps you make good use of its 18L capacity.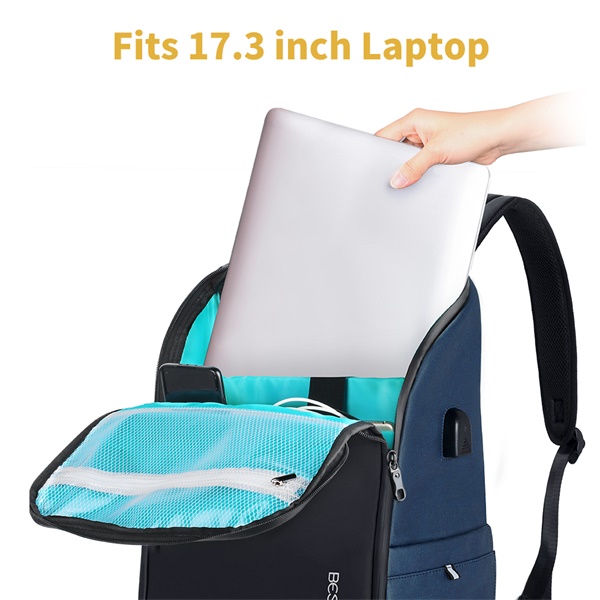 2. Super large compartment, fits in laptops up to 17.3 inch. Well-padded laptop compartment prevents your laptop from being scratched by other items in bag.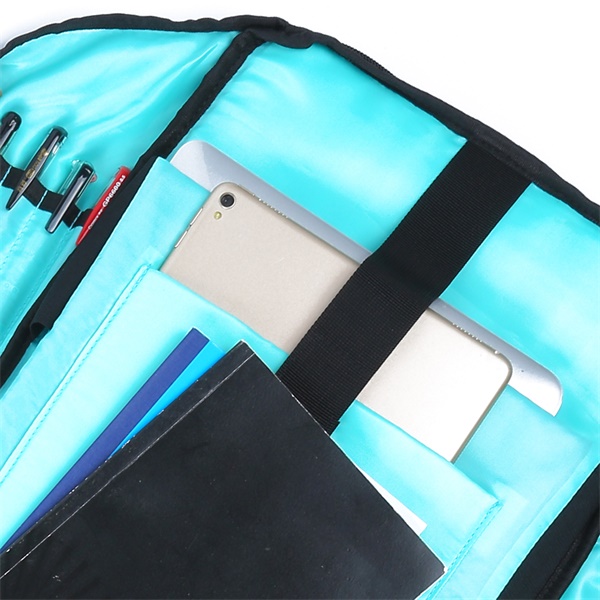 3. Extra iPad compartment, fits in iPad up to 11 inch; Upper strap and velcro, avoid laptop and iPad slipping out; Individual side pockets, help you put yous pens orderly.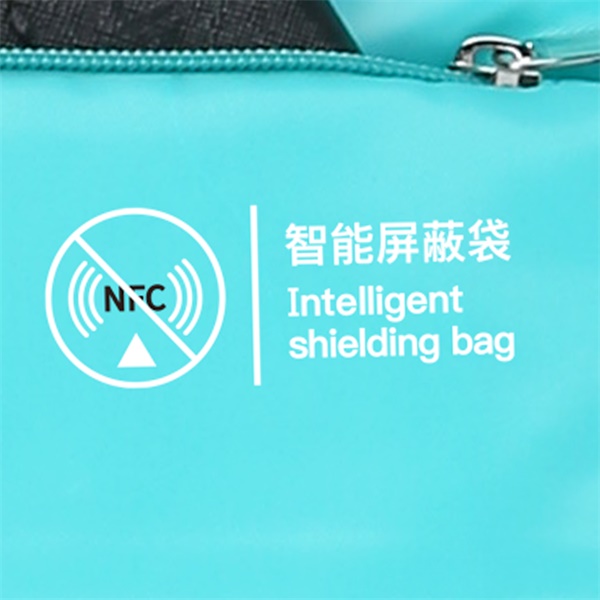 4. Intelligent shield bag, made off anti-magnetic cloth which supports anti-metal interference. It is designed for wallet/credit card, to avoid identity theft on the credit card.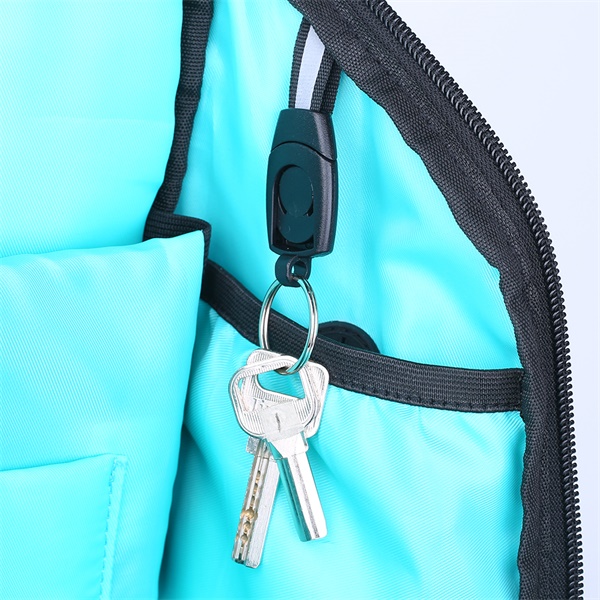 5. Extra key chain inside bag, easy to find and get your keys from the large backpack especially when there are lots of items inside, and can avoid your keys losing or being stolen.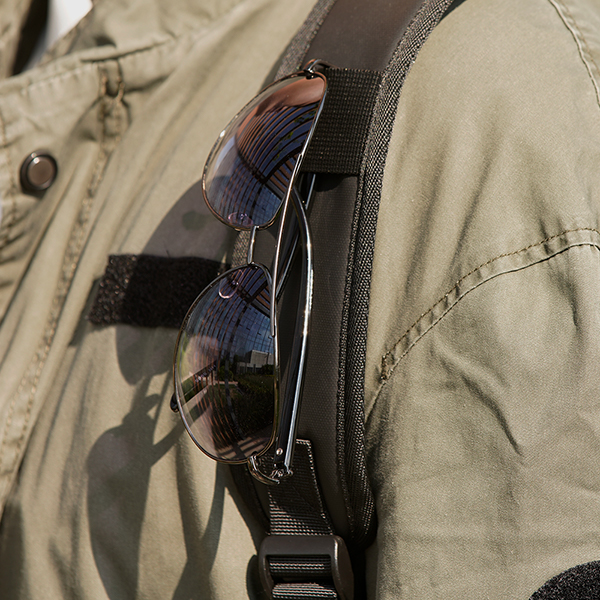 6. Extra braided belt on shoulder straps, convenient to hang your sun glasses on and free your hands while walking/travelling/hiking.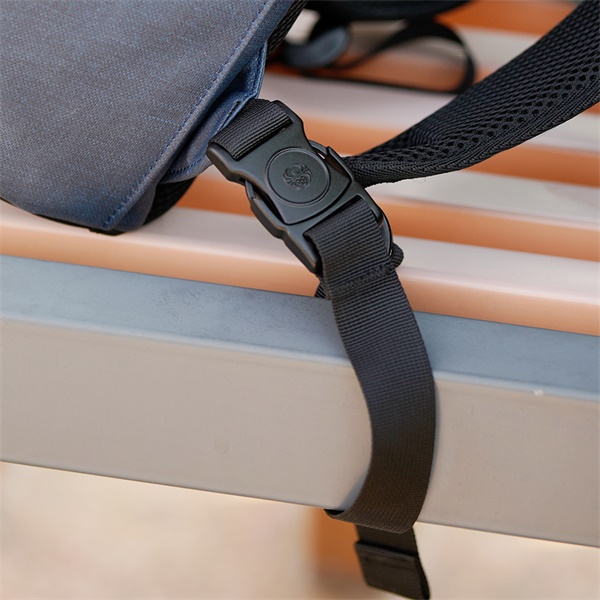 7. Anti-theft lock buckle with straps at the bottom of the bag, can lock the laptop bag on your chair when you are in restaurants/cafes/parks/theaters in case of being stolen.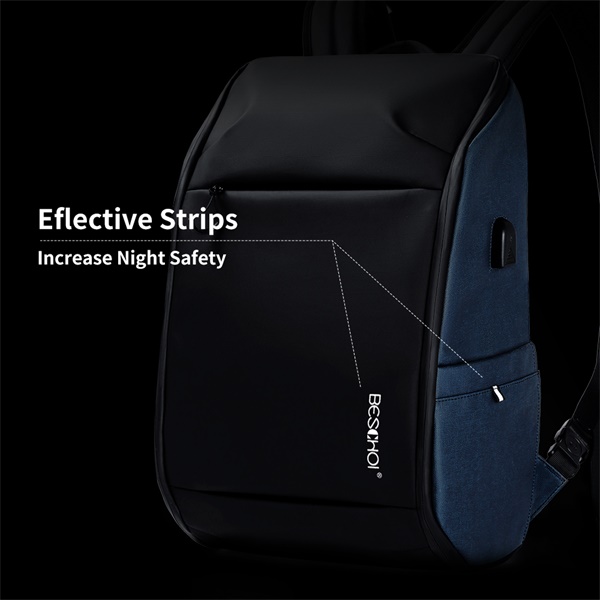 8. Reflective "Beschoi" logo and strips, make you visible in darkness by reflecting car lamps or street lights, greatly improving your safety while going out at night.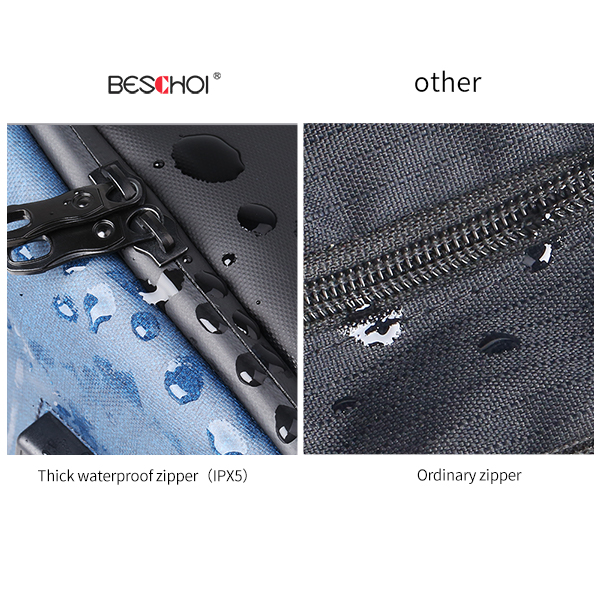 9. IPX-6 waterproof hidden zipper design, covered with 0.5mm thick waterproof coating, effectively prevent water from seeping into the backpack through the zip.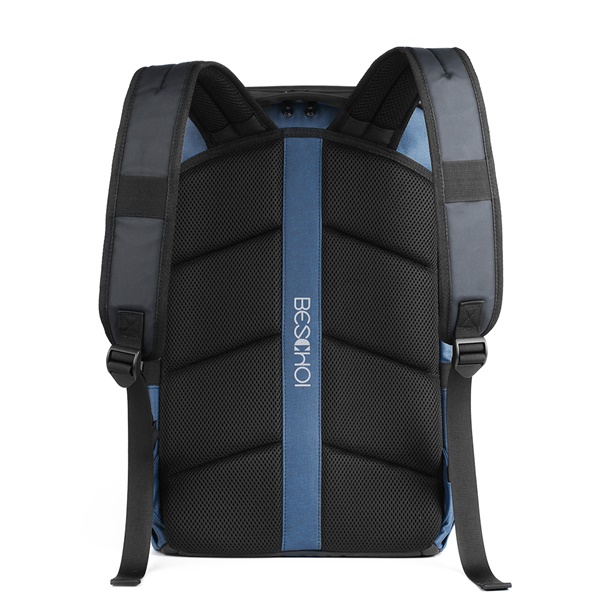 10. Breathable nano cooling material, prevent your back from stuffiness. With the curve widen design on the back and shoulder, it can release the pressure and support your body better.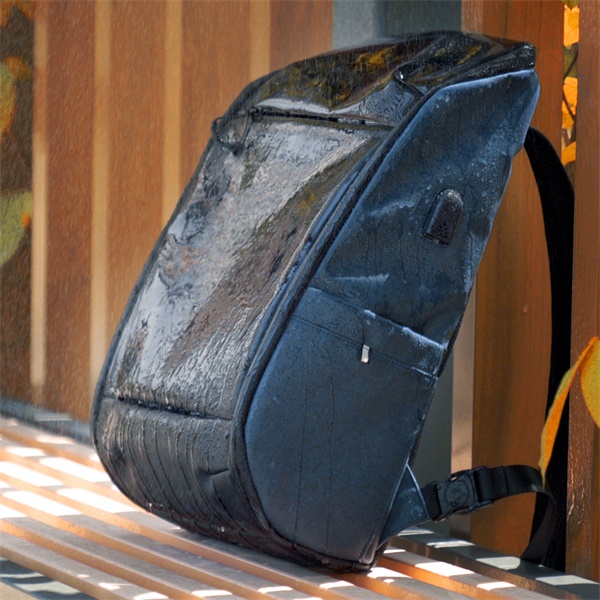 11. 600D high density PU material, makes the backpack waterproof, durable, and tear-resistant. It can also be easily cleaned by wiping.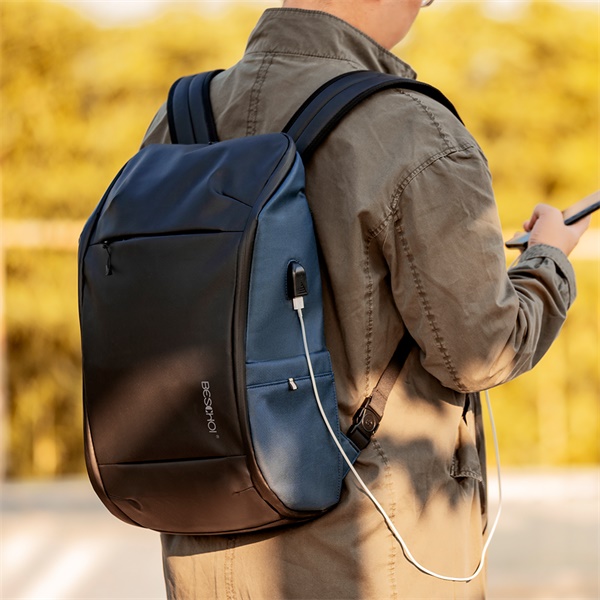 12. Built-in USB port charging, equipped with 50cm length charging cable, helps you charge your phones outdoors conveniently, as long as you carry a power bank with sufficient power inside the bag.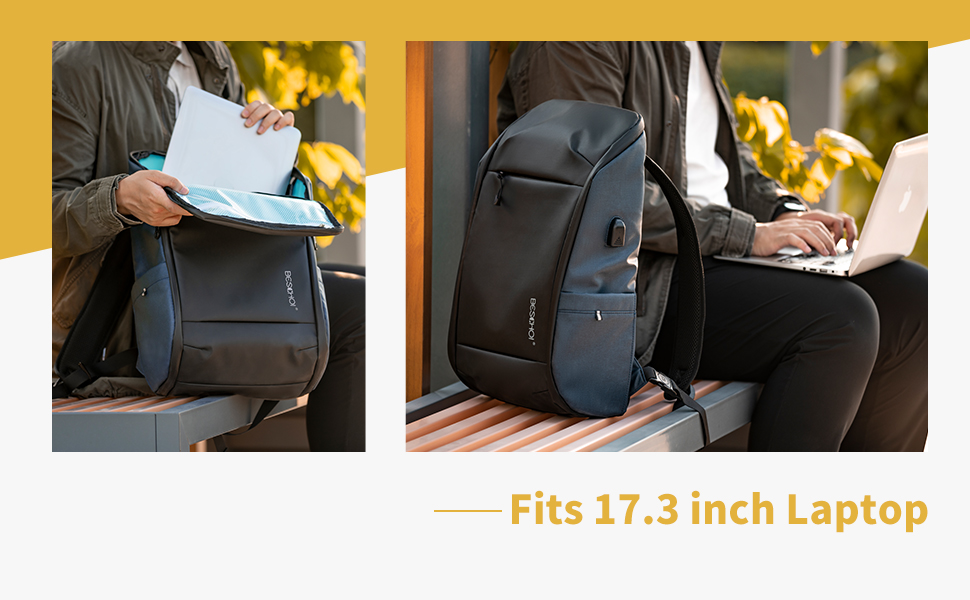 There are no reviews for this product.
There are no faqs for this product.