Snowmobile Trail Camera
Brand:

KENTFAITH

Buy KENTFAITH snowmobile trail camera online, worldwide free shipping and 30 days return guarantee.

KF35.133331

SKU:

KF35.133331

106.99

https://www.kentfaith.com/KF35.133331_snowmobile-trail-camera
Description
* High-quality image capture with 2.0" IPS display:The snowmobile trail camera captures high-quality images with a 2.0" IPS display, providing clear and detailed images of the surrounding environment.
* Large memory capacity with SD card support:The camera supports SD cards ranging from 4GB to 512GB, providing ample storage space for capturing images and videos.
* Password protection for added security:The camera features a 4-digit password function, supporting both numeric and alphabetic characters, ensuring that your data is secure and protected.
* Ambient temperature watermarking for accurate data collection:The camera supports ambient temperature watermarking, providing accurate data collection and analysis for research and scientific purposes.
* Moon image watermarking for enhanced image analysis:The camera supports moon image watermarking, allowing for enhanced image analysis and research in the field of astronomy and space exploration.
Shipping
Free shipping worldwide
A snowmobile trail camera is a type of camera that is specifically designed to capture images or videos of snowmobiles as they travel along a trail. These cameras are typically mounted on trees or other stationary objects along the trail and are triggered by motion sensors or other types of sensors that detect the presence of a snowmobile. The images or videos captured by these cameras can be used for a variety of purposes, including monitoring trail conditions, tracking snowmobile traffic, and identifying potential safety hazards. Some snowmobile trail cameras are also equipped with GPS technology, which allows them to track the location of snowmobiles in real-time and provide valuable data to trail managers and other stakeholders. Overall, snowmobile trail cameras are an important tool for managing and maintaining snowmobile trails, and they play a critical role in ensuring the safety and enjoyment of snowmobilers and other trail users.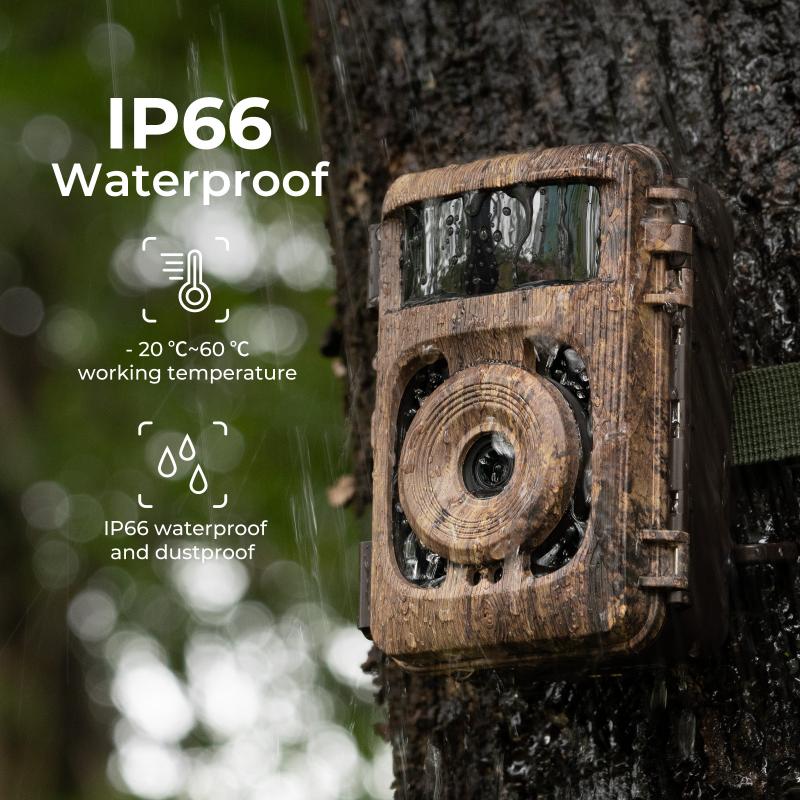 Related accessories:
1. Weatherproof Housing: A snowmobile trail camera needs to be protected from harsh weather conditions such as snow, rain, and wind. A weatherproof housing will ensure that the camera remains functional and protected from the elements.
2. High Capacity Memory Card: A high capacity memory card is essential for a snowmobile trail camera as it allows for extended recording time. A 64GB or 128GB memory card will provide ample storage space for long recordings.
3. Solar Panel: A solar panel can be used to power the snowmobile trail camera, eliminating the need for batteries. This is especially useful in remote areas where power sources are not readily available.
4. Wireless Remote Control: A wireless remote control allows the user to control the camera from a distance, making it easier to capture footage without disturbing the wildlife.
5. Tripod: A tripod is essential for stabilizing the camera and ensuring that it remains steady while recording. This is especially important in windy conditions or when the camera is mounted on uneven terrain.
6. Motion Sensor: A motion sensor can be used to trigger the camera to start recording when movement is detected. This is useful for capturing footage of wildlife that may be difficult to spot otherwise.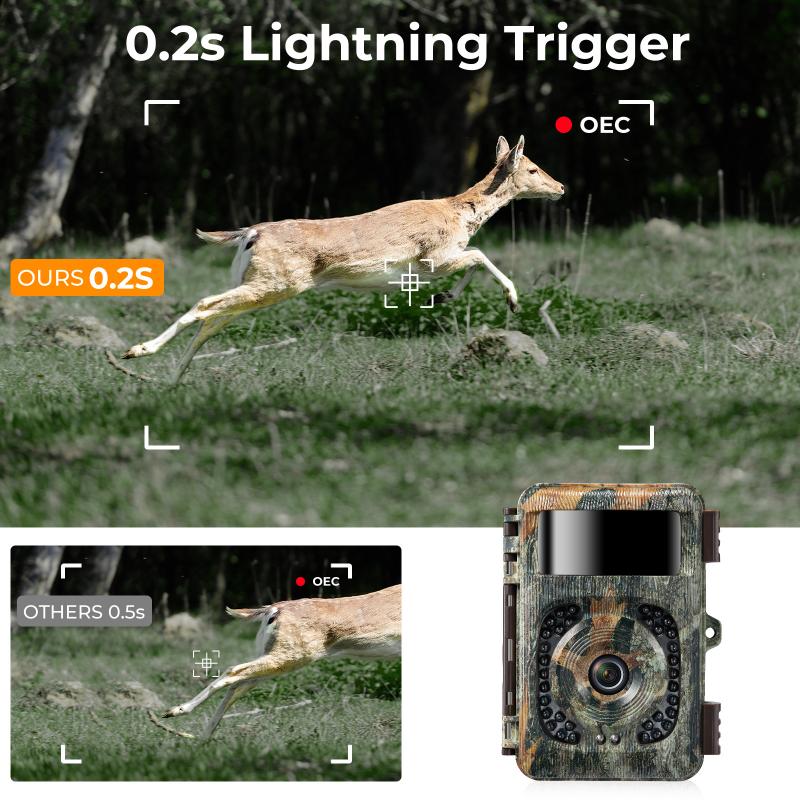 Related technologies:
1. Weather-resistant design: The latest snowmobile trail cameras are designed to withstand harsh weather conditions, including snow, rain, and extreme temperatures. This is achieved through the use of durable materials and advanced sealing techniques.
2. High-resolution imaging: Snowmobile trail cameras are equipped with high-resolution sensors that capture clear and detailed images, even in low-light conditions. This allows users to capture high-quality images of wildlife and other outdoor activities.
3. Wireless connectivity: Many snowmobile trail cameras now come with built-in Wi-Fi or Bluetooth connectivity, allowing users to remotely control the camera and view images and videos from their smartphone or tablet.
4. Motion detection technology: Snowmobile trail cameras are equipped with advanced motion detection technology that can detect even the slightest movement and trigger the camera to start recording. This ensures that users never miss a moment of the action.
5. Long battery life: To ensure that the camera can operate for extended periods of time without needing to be recharged, many snowmobile trail cameras now come with long-lasting batteries that can last for weeks or even months on a single charge. This is particularly important for users who plan to leave the camera unattended for long periods of time.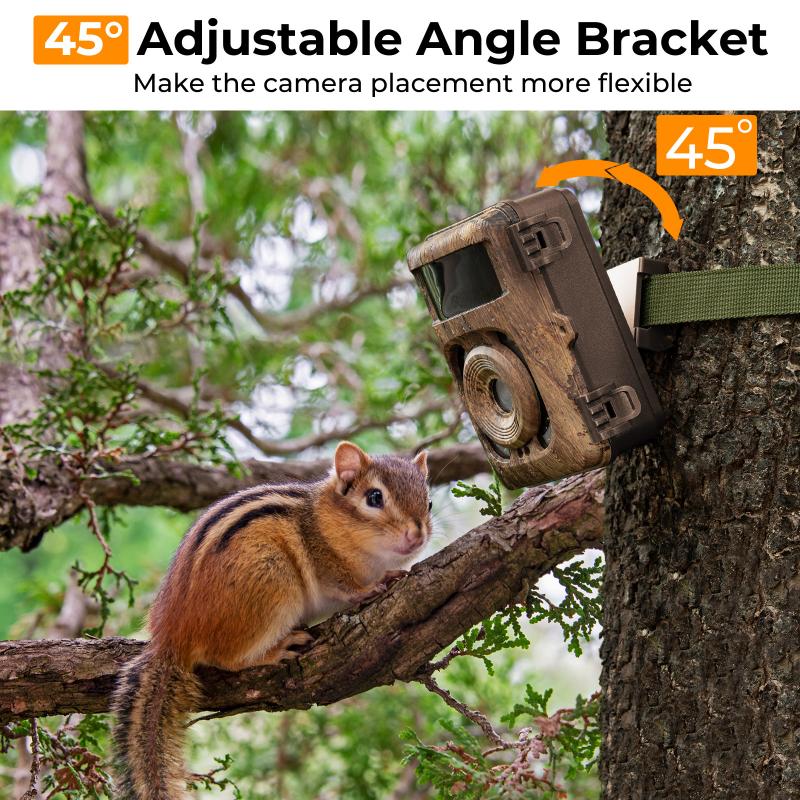 Common problems:
1. Error: Blurry Images
Solution: Check if the lens is clean and free from any dirt or smudges. If not, clean it with a microfiber cloth. Also, ensure that the camera is stable and not shaking while taking the picture.
2. Error: Overexposed Images
Solution: Adjust the exposure settings of the camera. If the camera has an automatic mode, switch to manual mode and adjust the exposure settings according to the lighting conditions.
3. Error: Underexposed Images
Solution: Increase the ISO settings of the camera to make the camera more sensitive to light. Alternatively, use a flash or external lighting source to illuminate the subject.
4. Error: Incorrect White Balance
Solution: Adjust the white balance settings of the camera to match the lighting conditions. If the camera has an automatic white balance mode, switch to manual mode and adjust the settings accordingly.
5. Error: Battery Drain
Solution: Ensure that the camera's battery is fully charged before use. If the battery drains quickly, consider using a higher capacity battery or carrying spare batteries.
6. Error: Memory Card Full
Solution: Transfer the images from the camera to a computer or other storage device to free up space on the memory card. Alternatively, replace the memory card with a higher capacity one.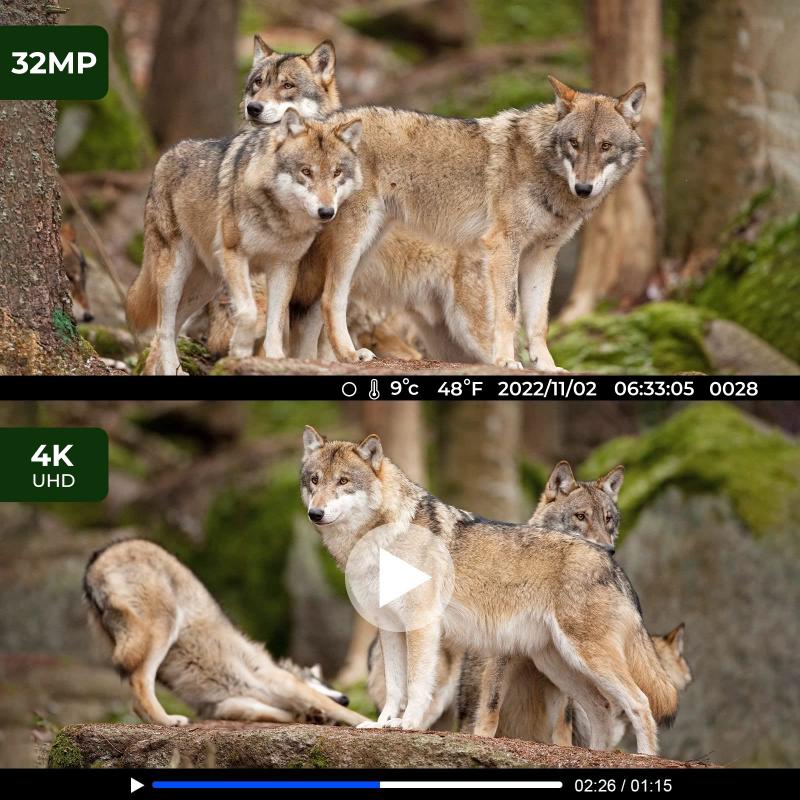 Product Advantages:
1. Durability: A snowmobile trail camera is designed to withstand harsh weather conditions, making it a durable option for outdoor use. The camera is built to withstand extreme temperatures, snow, and moisture, ensuring that it can capture high-quality images and videos in any weather condition.
2. Motion Detection: The camera is equipped with motion detection technology, which allows it to capture images and videos of wildlife and other objects that move within its range. This feature is particularly useful for capturing images of animals that are active during the night, such as deer, foxes, and raccoons.
3. Easy Installation: The snowmobile trail camera is easy to install and can be mounted on a tree or other stationary object. The camera comes with a strap or mounting bracket, which makes it easy to attach to a tree or post. Once installed, the camera can be left in place for an extended period, allowing you to capture images and videos of wildlife without disturbing their natural habitat.
4. High-Quality Images: The camera is designed to capture high-quality images and videos, even in low light conditions. The camera is equipped with infrared technology, which allows it to capture clear images and videos of animals and other objects in the dark. This feature is particularly useful for capturing images of nocturnal animals, such as owls and bats.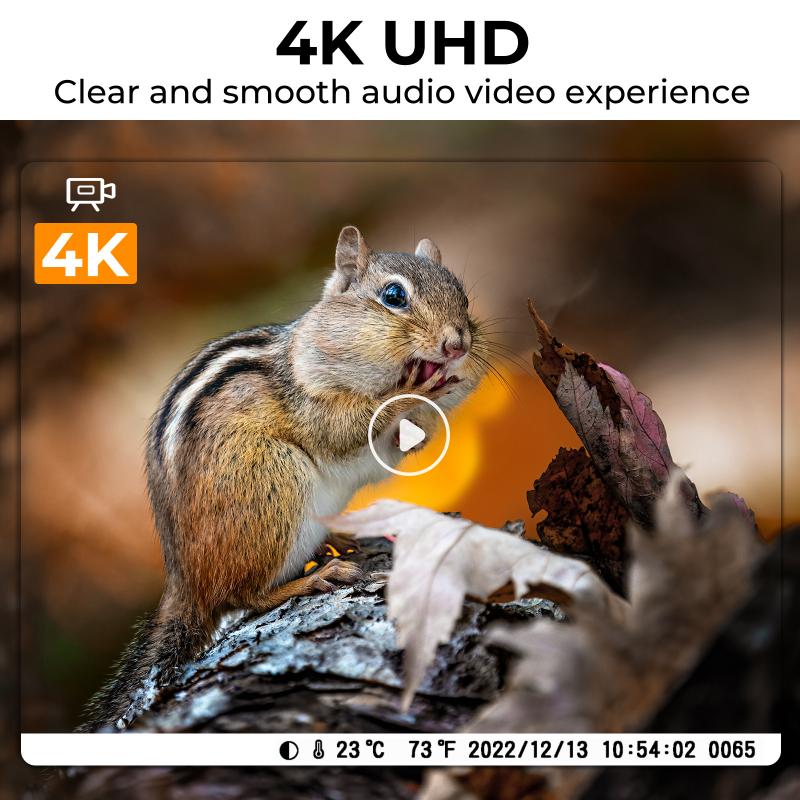 Product parameters:
LCD display : 2.0" IPS 320×240(RGB) DOT
Area of use : unlimited
Password function : 4 digits, numeric and alphabetic support
Timing shooting function : 3 seconds - 24 hours
Moon image watermarking : Support
Trigger photo speed : 0.2 seconds
Interface : USB; TF memory card socket
Ambient temperature watermarking : Support
3-Pod Interface : 1/4" standard interface
Memory Card : SD Card 4GB~512GB
All Reviews
Image

All Star

5 Star

4 Star

3 Star

2 Star

1 Star
The Benefits of a Trail Camera
This trail camera works great and has all the necessary specifications. It is a great option for those looking to explore the outdoors with a camera.
21/04/2023
Digitgarden Trail Camera - Worth the Investment
This Digitgarden Trail Camera 4K is a great investment - especially for those who are new to trail cameras. With its impressive features and capabilities, this camera has exceeded expectations and is sure to provide users with an enjoyable experience.
08/04/2023
A User-friendly Camera
This camera is incredibly easy to use and operate - perfect for trail watching of deer!
28/03/2023
High-Quality Trail Camera
This trail camera offers excellent video and sound quality, making it a great all-around choice. Highly recommended!
19/03/2023
A Must-Have Trail Camera
The GlassRaven 4G Trail Camera is the best of its kind, far surpassing other trail cameras. Diana S. couldn't be more satisfied with this remarkable product!
15/03/2023
Highly Recommended for Trail Cameras
These batteries are perfect for use on trail cameras, with no issues reported. A great choice for any trail camera enthusiast!
09/03/2023
Unbelievably Satisfied with this Camera
I am so pleased with this camera! It works amazingly on my snowmobile and I can't wait to use it this winter. It truly is an excellent product!
08/03/2023
A Pleasantly Surprising Camera
I have been pleasantly surprised by the performance of this camera, which I've only had for a few weeks. I have set it up on a trail that I know will be put to the test, and the quality of the photos I've taken so far have been excellent. I have Moultrie and Bushnell cameras, and this one is definitely up there with them.
03/03/2023
Mounting Options for Cold Environments
Having lots of mounting options is great, but how well do they work in cold climates? This adhesive worked well on a snowmobile helmet even in temperatures as low as -35°C - no issues!
30/11/-0001
A Surprising Performance
This trail camera offers excellent value for money, performing far better than expected.
30/11/-0001