Camera Backpack, Lightweight Camera Bags for Photographers Large Capacity Camera Case with Rain Cover for 15.6 Inch Laptop, DSLR Cameras ( All Black )
New customer gift package
Free shipping to eligible country
Buy KENTFAITH camera backpack, lightweight camera bags for photographers large capacity camera case with rain cover for 15.6 inch laptop, dslr cameras ( all black ) online, worldwide free shipping and 30 days return guarantee.

KF13.087AV6

SKU:

KF13.087AV6

105.99

https://www.kentfaith.com/KF13.087AV6_waterproof-outdoor-large-capacity-camera backpack-15.6-inch-all-black
Description
* 【Large Capacity】30*18*44cm, approx. 20L. The upper compartment is used to store various personal items such as clothes, wallet, cell phone or flash; There is also a laptop compartment for laptops up to 15.6 inches. The bottom compartment can hold 1 camera + 4 lenses and other accessories such as filters, batteries or memory cards, or for DJI drone.
* 【Side & Back Access】Professional back full open design helps you organize all compartments and equipments clearly; Quick side access lets you get your gear in a short time while wearing.
* 【Quality Material】 All suture parts of the camera bag have taken upgrade reinforcement technology, the load-bearing capacity up to 21kg. Water-repellant and tear-resistant 900D high-density nylon, heavily reinforced stitching and antitheft zippers. sturdy and durable, PE board + EPE foam divider,strong and solid, shock relief and decompression, to protect your equipment well.
* 【Offer you an Easy Travel】Breathable air-mesh straps and ergonomic well-padded back keep you cool and comfortable; Adjustable chest belt keeps the straps tight on you shoulders to reduce weight.
* 【Designed for photographers】Special internal pockets designed for storing photographic spare parts, such as filters, adapter rings, etc. Hidden front pocket for your daily accessories storage.Side pockets can carry water bottle or umbrella.
Shipping
Free shipping to eligible country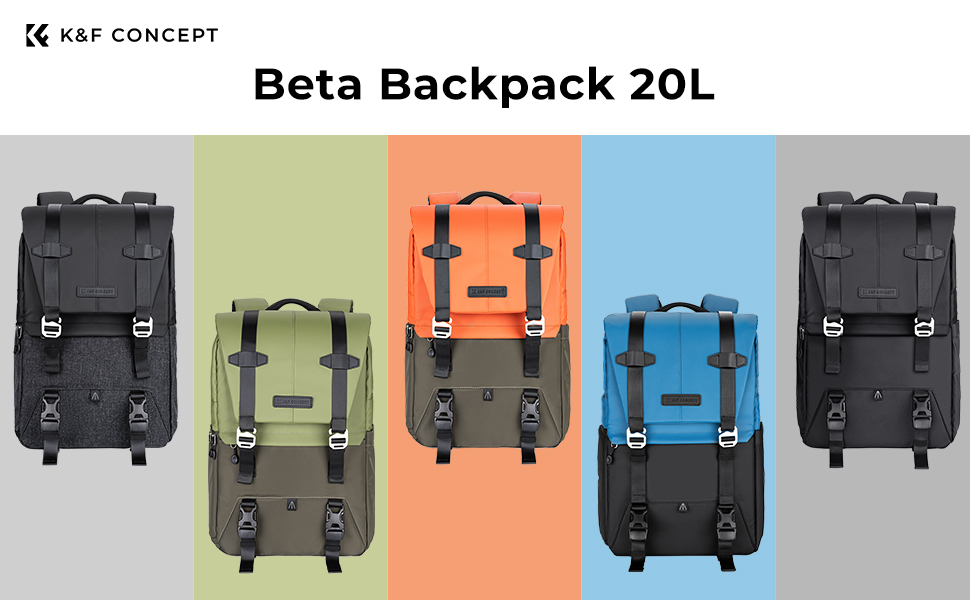 K&F Concept Camera Backpack, Camera bags for photographers with Rain Cover (All Black)
• 
The K&F Concept Camera Backpack has plenty of room for all your photography equipment.
• 
Designed to hold your photo and editing tools with ease and comfort while on the move.
• 
Large Capacity: Can fit 1 Camera + 4 Lenses + 1 Tripod + Accessory
•
 Quick Side Access and Back Access & Top Entry
• 
Dedicated Max 16" Laptop Compartment
• 
DIY Customizable Inner Space
• 
Shock-proof EPE Dividers provide wear Safety and Security.
---
Package includes:
• 
1x KF13.087AV6 Camera Backpack
•
 1x Waterproof Rain Cover
• 
 6x Compartment
• 
 2x Auxiliary Strap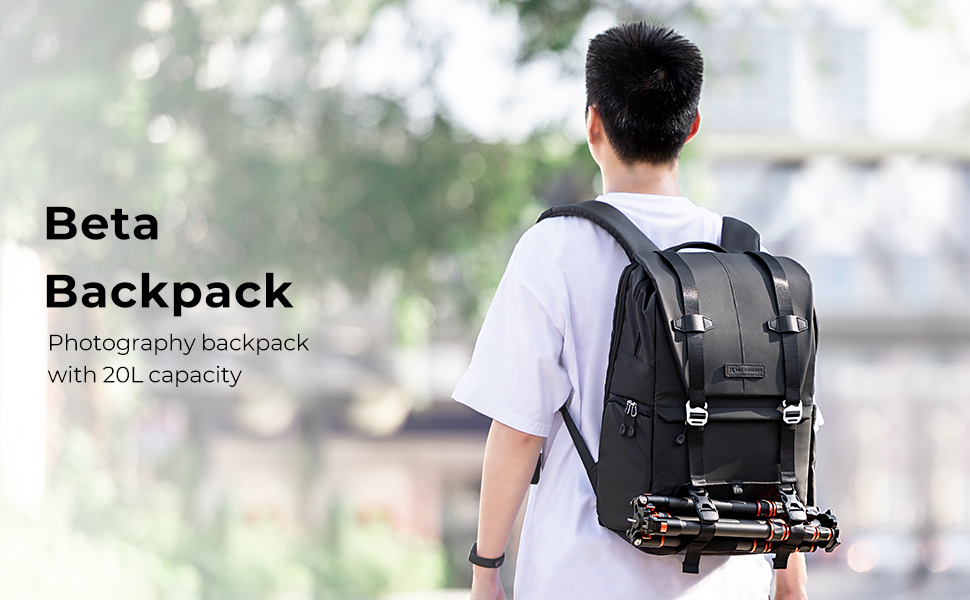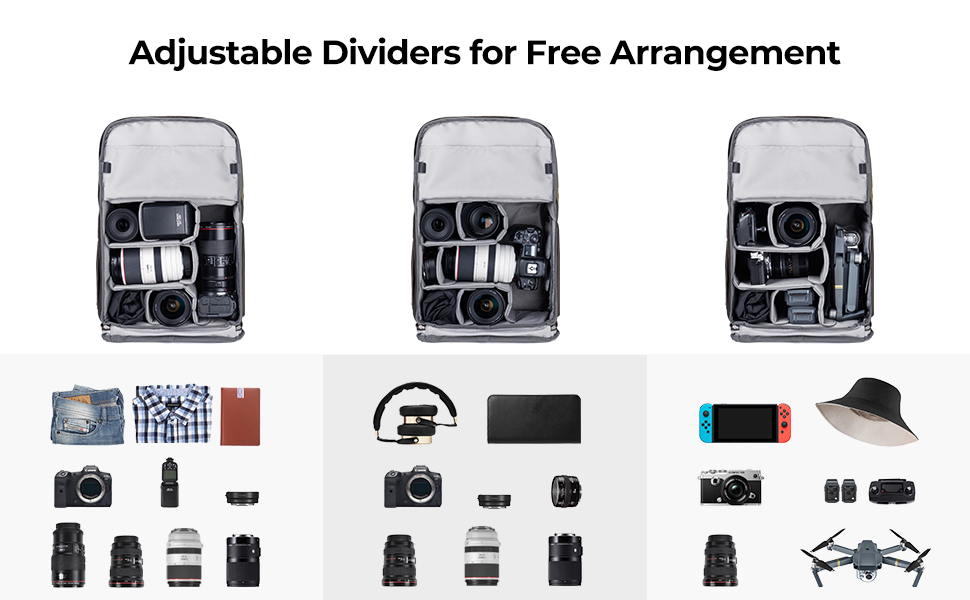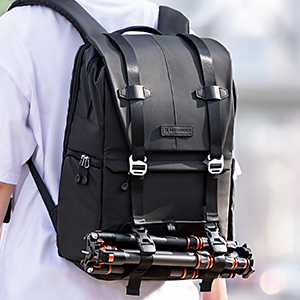 Free Your Hands
The front straps can be used to hang tripods, clothes, and blankets; side pockets provide space for a water bottle and umbrella.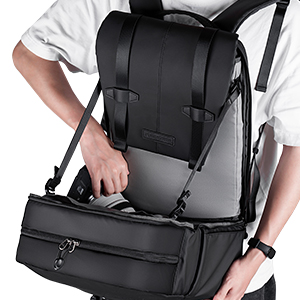 Fully Open Back
Professional back fully open design, equipped with 2 auxiliary straps helps to organize all your gears clearly and easily.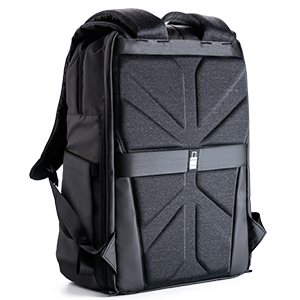 Ergonomic Design
Rear ergonomic design increase airflow while hiking or traveling and distribute the weight, evenly to add comfort and save energy.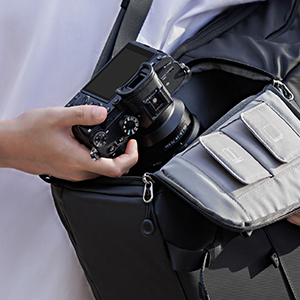 Quick Side Access
Quick side access lets you take out your camera in seconds without taking off your camera backpack and never missing a moment.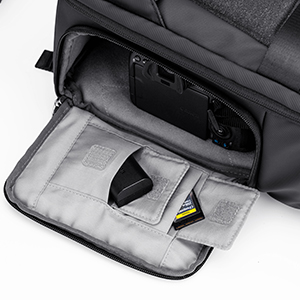 Side Hidden Pockets
Multiple separate small pockets are designed to store SD cards, batteries, and other small items, which keeps you away from storage troubles.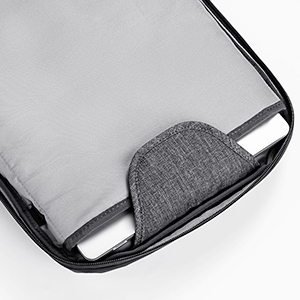 Independent Laptop Compartment
There is a specially designed compartment for a laptop up to 16 inches, which separates the laptop from other items.

All Reviews
Image

All Star

5 Star

4 Star

3 Star

2 Star

1 Star
Great backpack
Very practical photo backpack. Particularly suitable for Canon EOS cameras with attached zoom 100-400 including sun visor. It was super easy to remove and store away from above. The arched flap at the top clears the way with a short zip operation. A wide-angle zoom with a wide sun visor and a second camera and other lenses are also no problem. The backpack is very easy to carry and has many additional pockets, including many clip straps for tripods, jackets, towels, etc. The only flaw was the chest strap holds the two straps together in front of the shoulder. Went on me because it is only clipped on, not sewn. You can get it back on with a little effort, but it probably won't last, I don't use it anymore although it was/is useful. I can only recommend the part, it's definitely worth the price!
18/11/2022
Perfect! Again and again!
This is my first camera backpack! I always wear one - I recently got a camera too and it's perfect! Compartment for camera is sufficient for several lenses, camera is stable inside and does not shake much. Enough space for more SD cards, spare batteries or anything else. The upper compartment can be connected to the lower one (but there is no point in doing so) because there is enough space for snacks or charging cables etc... Another recommendation! Please tap Useful!
18/11/2022
Just great
am completely satisfied with the backpack. Would I buy again. The nice thing is that I can easily take my two cameras with me without the 2 camera bags dangling around so stupidly. I think the best thing or a nice feature is that a camera bag is already integrated at the bottom and I even if I take the big backpack with me on vacation and decide one day I only need 1 camera with a lens that I can take out the small bag, so I always have a small one Camera bag with me :D So thumbs up :D
16/11/2022
Good backpack
Good quality, lots of storage space, easy to wear.
14/11/2022
I'm excited! :D
This backpack keeps what it promises! It is very nice and large, has a high-quality finish and there are enough adjustable straps and buckles for the perfect fit. The backpack has a lot of storage space, which you can design as you like thanks to numerous dividers. However, my Fujinon 100-400mm telephoto lens only fits in when it is sitting on the camera, unfortunately there is no space for it alone. Otherwise there is a lot of storage space for a lot of equipment. I'm really impressed with the quality through and through. The backpack is very sturdy. I think the price is extremely fair and I'm glad I made this purchase!
14/11/2022
Price/performance TOP!
ordered the photo backpack as a replacement for my old backpack. Goods came very punctually. I was curious about the processing. Someone thought about it! Everything is very well made, lots of little extras that I really like. In the meantime I have made 3 photo tours, everything fits. You can adjust everything to your body size, very comfortable to wear. I can recommend him!
10/11/2022
good stuff!
Very comfortable good looking backpack. More importantly - your gear is safe inside.
10/11/2022
Good solution
Very compact and well thought out. There are many options for customization to your own needs. Turns out bigger than shown in the pictures.
10/11/2022
Good backpack, great magnets
The camera has an extra access to the compartment so it can be easily taken in and out of the backpack. Even while running, you don't have to put the backpack down awkwardly, but someone else can simply take the camera out quickly. Access to the back is then intended for the other lenses etc. For this you have to take off the backpack, but the effort is also very low here due to the clear division of the compartment. No more digging around for the lenses - that's great. There is an extra compartment at the top where you could put food, clothes, etc. Above all, I had stowed my flash and the self-timer as well as other small things (rechargeable batteries, etc.) there. According to my feeling, they had no more space in the back compartment, or would have made it less clear. I found that a bit unfortunate. However, if you only choose one or two lenses to take with you, you could certainly also store the battery and the like there.
08/11/2022
Good for on the go
got the bag for on the go. It is practical to go out because of its many different pockets. The quality and workmanship are very good. In addition, the bag is light. Carrying the bag is comfortable.
29/10/2022
There are no faqs for this product.