4.3" Screen Video Baby Monitor with 12H Rechargeable Battery, Soft Color Comfort Lights Lullaby, VOX, Gimbal Function US Power Plug
Terms
Coupon Terms
Terms and Conditions:
Coupons are valid for a limited time only. Kentfaith reserves the right to modify or cancel coupons at any time.
You must purchase the qualifying items added to your Cart when the coupon is in effect for the discount to apply.
If you later modify or cancel the subscription or delivery date for the qualifying item, the discount will not apply.
The coupon applies only to qualifying items displaying the coupon offer.
If you buy more than one item from the same coupon, the maximum discount amount of the coupon will be equal to either the percentage discount off or the face value of the coupon on one eligible item. The coupon may only be used on www.kentfaith.com.
The promotion is limited to one coupon per customer.
If you return any of the items purchased with a coupon, the coupon discount or value may be subtracted from the return credit.
Buy 2 get 5% off, Buy 3 get 10% off, buy 6 get 20% off
Free shipping to eligible country
Brand:

KENTFAITH

Free Shipping. 30 Day No Reason Return. Baby Monitors are on the list of Top 10 Baby Must-Haves For First-Time Parents, Best Gifts for New Moms.

GW50.0032US

SKU:

GW50.0032US

119.99

https://www.kentfaith.com/GW50.0032US_4-3-inch-baby-monitor-with-replaceable-18650-battery-with-colorful-comfort-lights-support-lullaby-vox-gimbal-function-u-s-standard
Description
* Comfort Lights of 3 Colors - K&F Concept is the best company for new parents. When the baby is crying, the comfort light will automatically light up to give the baby a sense of security. The comfort light is designed on the back of the camera and will not stimulate the baby's glasses;
* Long Battery Life - K&F Concept baby monitor is powered by 18650 Rechargeable Battery, the longest battery life is 12H, if there is no electricity in emergency, you can also replace the battery;
* View the entire baby room-the baby camera monitor lens can be panned 355° to capture all corners of the space, and tilted 90° to view floor to ceiling. If your baby escapes from the crib, you will be able to see all this happen. Use the buttons on the LCD screen to easily move the baby camera.
* Don't worry about night time-the automatic night vision function provides black and white images on the video baby monitor at night, allowing you to see your child clearly even in a dark room. The red dot or red light emitted by the camera will not cause any interference to your baby.
* Stable Signal Transmission- K&F Concept baby monitor features stable signal transmission, even through thick walls. If you're living in a two-story house, this baby monitor is the perfect choice for you. You can always calm your baby with your voice wherever you may be. Baby Monitors are on the list of Top 10 Baby Must-Haves For First-Time Parents, Best Gifts for New Moms.
Shipping
Free shipping to eligible country
Sale
Buy 2 get 5% off, Buy 3 get 10% off, buy 6 get 20% off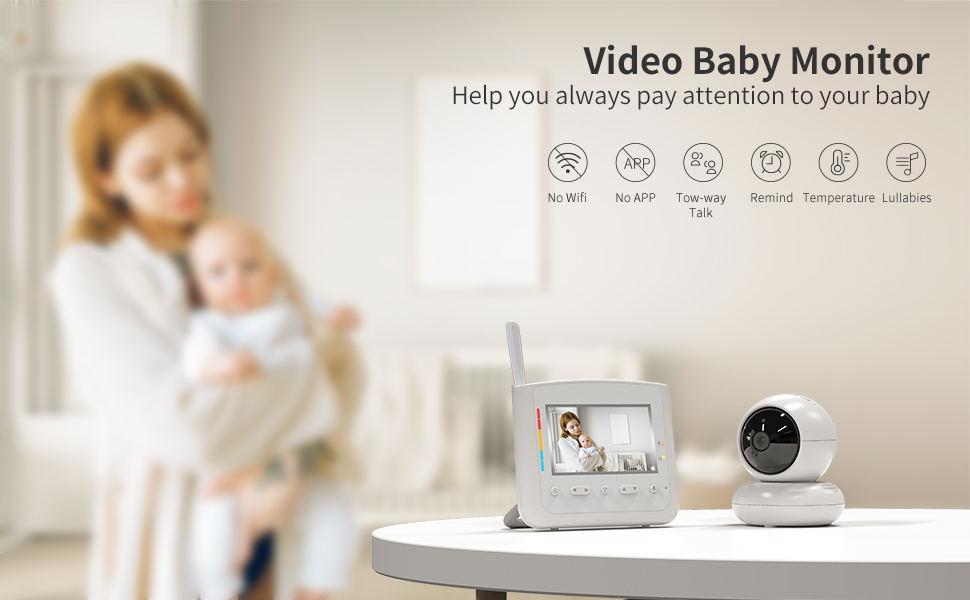 Do you worry every time your little angel makes the slightest movement on his/her bed?
Do you want to know exactly when a newborn baby falls asleep or when a baby wakes up and needs your hug?
Are you worried about all the stories of hacked baby monitors?
Well, it seems that this completely safe and hacker-free baby monitor is all you need!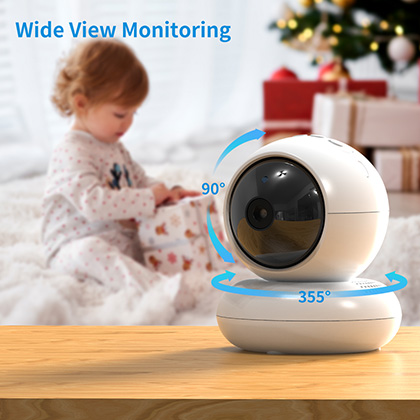 4.3 inch LCD display
The large 4.3-inch high-definition color screen, the picture is clear, 355 ° rotation, you can see your baby from all angles. The 90° wide-angle camera captures a wider field of view.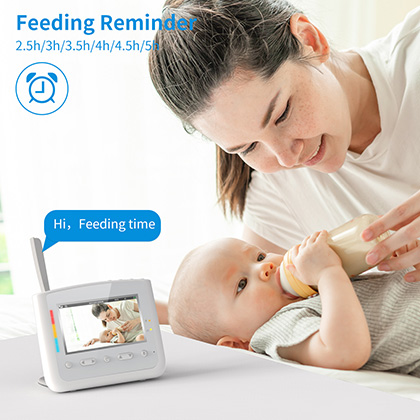 Feeding alarm reminder
This function reminds you to feed your baby on time. You can set the time freely.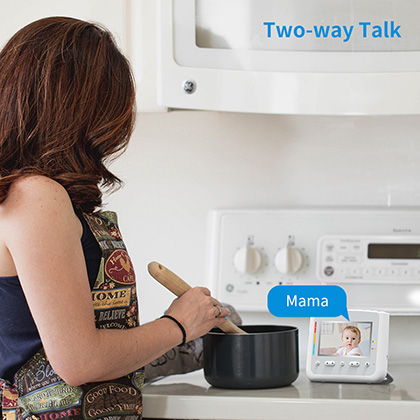 Two-way audio
The integrated microphone and speaker ensure simple and real-time communication, and you can have a peaceful conversation with your child from a distance by just pressing a small button.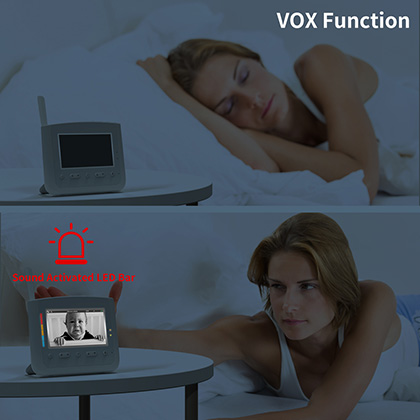 VOX voice control mode
VOX is a voice-activated switch, usually used to turn on the screen when there is noise in the baby room, and turn off the screen when the baby room is quiet.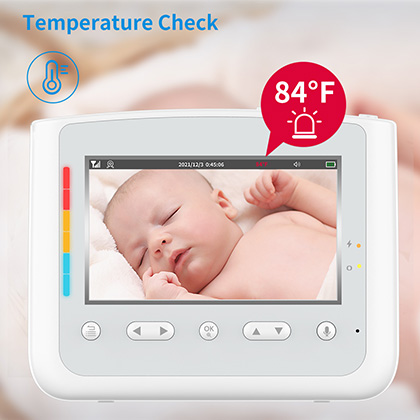 Temperature monitoring
-Monitor the nursery temperature in real time throughout the day.
-When the temperature is higher or lower than the setting, it will notify you.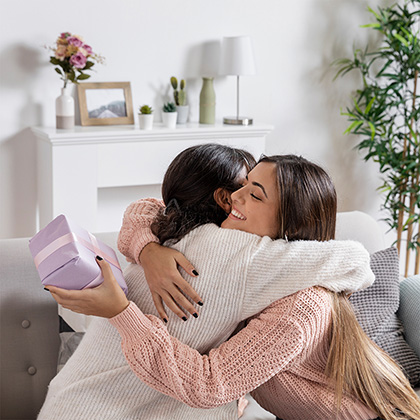 The ideal gift for novice mothers
The K&F baby monitor is an ideal gift for mothers' birthdays, Christmas, Children's Day and other special days.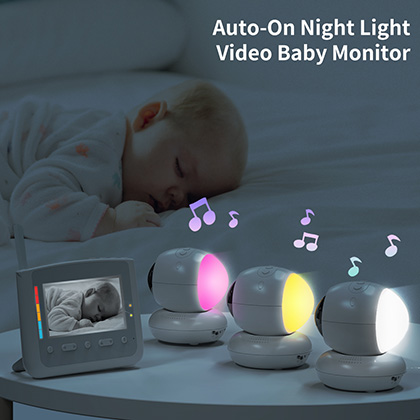 Night lights and lullabies
There are three colors of night lights for you to choose from, which can play 5 songs with white noise, which is very suitable for night lights in children's rooms, creating a wonderful sleeping atmosphere.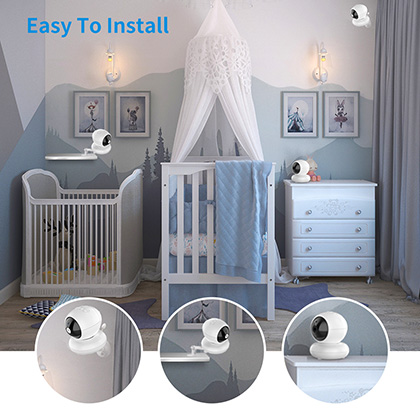 Easy to install
The product can be placed flat on a flat surface, such as a table, or installed anywhere in the room using an installation kit. It is convenient for you to observe your baby's every move from any angle.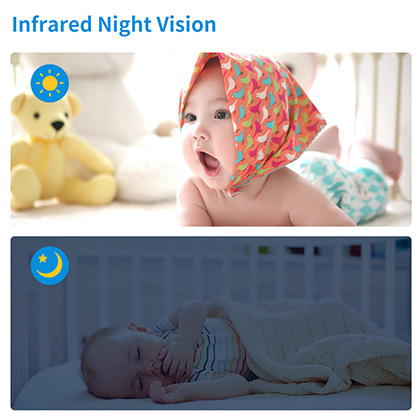 HD night vision
This high-definition baby monitor has a full-HD camera that can provide clear baby images during the day and night. Make sure you can clearly see your baby at any time.

| | | | |
| --- | --- | --- | --- |
| | | | |
| | | | |
| | | | |
| Rating | 447 reviews. | 378 reviews. | 68 reviews. |
| Price | $119.99 | $109.99 | $129.99 |
| Model | GW50.0032US | GW50.0027US | GW50.0031US |
| Screen Size | 4.3" | 4.5" | 5" |
| Video Resolution | 800*480 | 1280*720 | 1280*720 |
| Battery | 2600mAh | 2300mAh | 2000mAh |
| Pan Tilt | √ | √ | √ |
| Zoom | 4 | 1 | 4 |
| Infrared Night Vision | √(invisible) | √(invisible) | √(invisible) |
| Connect Up To | 2 | 2 | 4 |
| Night Light | √ | × | × |
| Lullaby | 5 | 8 | 5 |
| Temperature Sensor | √ | √ | √ |
Great product for the price
This has been really great! Very easy to use, picture quality is really decent and the battery life of the monitor so far with light use has been amazing. The last time I bought a video baby monitor they were still making the monitors like tube tvs, 16 years ago and they were really expensive. Super happy with this purchase!
07/01/2022
Great product
We've had this monitor since March, use it faithfully, the team was amazing when our monitor randomly stopped working, (could've been dropped, loose wire, or just a mishap) they immediately sent out a new one, this is our second monitor threw them, as we upgraded to this one in March but it's amazing, great quality, picture is clear, even if you have the sound down you can see if baby wakes up as the lights Flicker with any sound, I recommend this product to anyone, it's simple, great price, and the team is amazing if a weird issue we're to pop up!
06/01/2022
Makes a lot of noise
Makes a lot of little random noises, like a walkie talkie when you hit the button. The static sound. Battery doesn't last long at all
05/01/2022
Almost perfect but some major signal issues
This monitor would be perfect if it kept a signal and held a charge longer…almost dealbreakers. The picture and sound are great. The tilt and scan are exceptional, far better than our previous monitor. A HUGE issue is that the signal between the hub and video screen will randomly disconnect leading to loss of image and this wretched beeping. There is no rhyme or reason to when or why this will happen - sometimes it's in the evening while we watch tv, other times in the middle of the night when it's plugged in. Sometimes the signal comes back after 1 minute, other times it lasts 4-5 minutes. I complained to Amazon customer service who suggested we put tin foil on both antennae, one of which is a 1/2" nub on the video monitor. Against my better judgement I tried this, and of course, it did not work. If they can fix this signal issue and improve the battery life, this would be an ideal monitor.
03/01/2022
Best one
This is the beat camera we have bought. We have gone through 2 others and this is the best one. Great quality. And it cheaper then the others we purchased before this one.
01/01/2022
For the price it's good
I wanted a baby monitor since every time we would sneak into our baby's room to check on him he would wake up. This gave us peace of mind. For the price this baby monitor is good. The picture quality is pretty good and night vision I can't complain. I love that you can move the monitor up/down and side to side. Unfortunately you can't zoom in and out. This would be an amazing feature. Because you can't zoom out you are unable to get a picture of the whole crib. You just have to find a place to put it that gets the best view. Another downside is that the monitor has to say plugged in the whole time. The monitor comes with music although my baby could care less about that. I really never use that feature. Another cool feature is that you can talk to your baby through the monitor. For the price I'm happy with my purchase. I also like that it's not on Wi-Fi so I don't have to worry about weirdos hacking the monitor!
31/12/2021
Wonderful Customer Service
Great monitor and even better customer service. First monitor malfunctioned and I contacted the company. They were pleasant, quick to respond and after attempting to troubleshoot replaced the monitor promptly. My only complaint is the battery life but I've just gotten into the habit of plugging in the monitor every time the baby wakes up, no big deal.
29/12/2021
Great buy!!
Ordered this for our first baby and it works amazing! Best purchase we have made and worth every penny!! Gives us so much peace of mind. Would absolutely recommend to anyone getting a baby monitor!
28/12/2021
There are no faqs for this product.
Baby Monitor
Screen Size
4.3"
Video Resolution
800*480
Battery
2600mAh
Pan Tilt
√
Zoom
4
Infrared Night Vision
√(invisible)
Connect Up To
2
Night Light
√
Lullaby
5
Temperature Sensor
√