Day and night rechargeable infrared binocular night vision binoculars, 2.4-inch display, 7-speed infrared night vision adjustment, 8x digital zoom, 1000 feet dark viewing distance, support video recording and photo shooting, suitable for day and night
Free shipping to eligible country
Brand:

KENTFAITH

Buy KENTFAITH day and night rechargeable infrared binocular night vision binoculars, 2.4-inch display, 7-speed infrared night vision adjustment, 8x digital zoom, 1000 feet dark viewing distance, support video recording and photo shooting, suitable for day and night online, worldwide free shipping and 30 days return guarantee.

KF33.060

SKU:

KF33.060

87.99

https://www.kentfaith.com/KF33.060_day-and-night-rechargeable-infrared-binocular-night-vision-binoculars-2-4-inch-display-7-speed-infrared-night-vision-adjustment-8x-digital-zoom-1000-feet-dark-viewing-distance-support-video-recording-and-photo-shooting-suitable-for-day-and-night-hunting-c
Description
* 【Day and night, full black night vision】Built-in 3W IR LED infrared light, 850nm strong infrared spotlight, allows you to clearly see the target you want to observe in complete darkness or dim ambient light. 7-speed infrared night vision adjustment, 10x high-definition magnification and 1.3 million pixel, star-level infrared enhanced CMOS photosensitive chip, will help you find animals accurately and clearly in the dark;
* 【2.4-inch TFT LCD display】This night vision binoculars adopts a 2.4-inch wide TFT material screen, allowing you to capture the wonderful moments of animals at night, giving you a more vivid visual experience. Supports 1080P FHD photo shooting and video, allowing you to have clear night vision. You can save animal photos and videos while observing;
* 【Easy to use and mini size】This night vision goggle is only 206g and the size is only palm size, very light and easy to carry. Perfect for hunting, military tactics, watching wildlife and landscapes, it allows you to expand your night vision on the go. In addition, there are 5 silicone buttons on the goggles, and each button has a clear mark to explain what the function is, making it easy for novices to identify and use;
* 【Ultra High Resolution and 1000ft Hunting Field of View】This night vision binoculars allows you to clearly see targets within 1000ft distance in complete darkness. The captured videos and photos can be exported to a computer for viewing using a data cable, or stored in a memory card, with a maximum of 32GB of extended memory, allowing you to review wonderful moments at any time. (Note: memory card not included)
* 【Built-in high-capacity battery】Built-in 2600mAh rechargeable battery, don't worry about always changing the battery, saving and environmental protection. IP54 waterproof, supports more usage scenarios, and can be a good helper for your hunting, camping, fishing, outdoor adventure, search and rescue, wildlife observation, bird watching, and taking landscape photos
Shipping
Free shipping to eligible country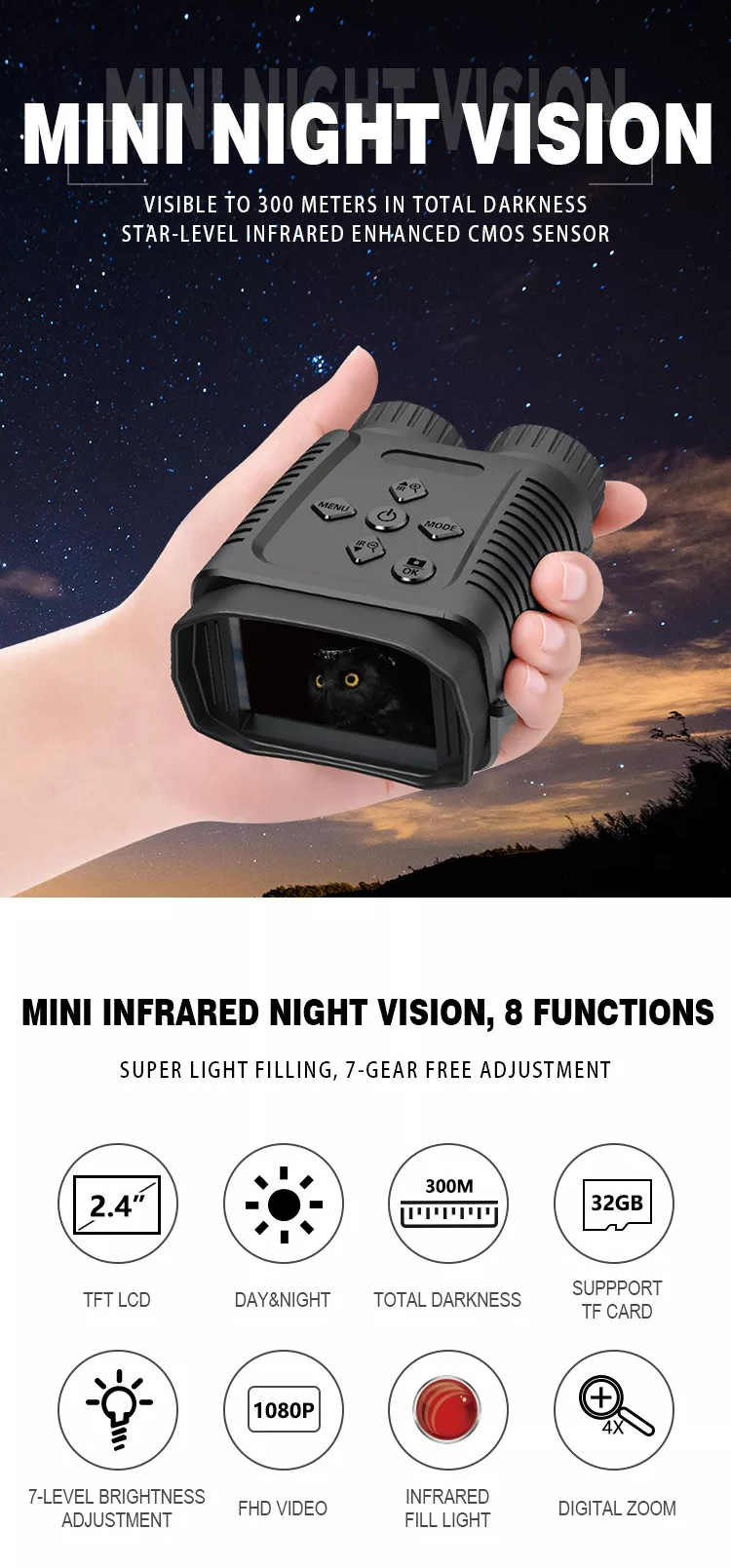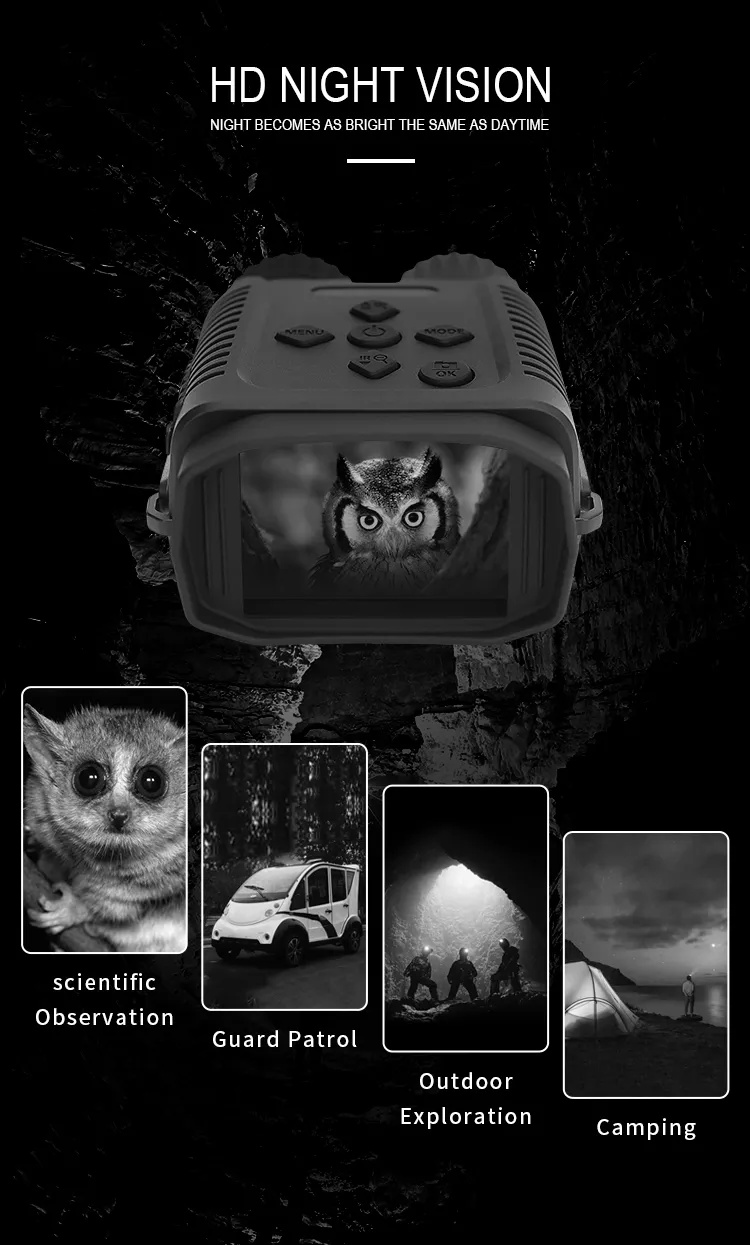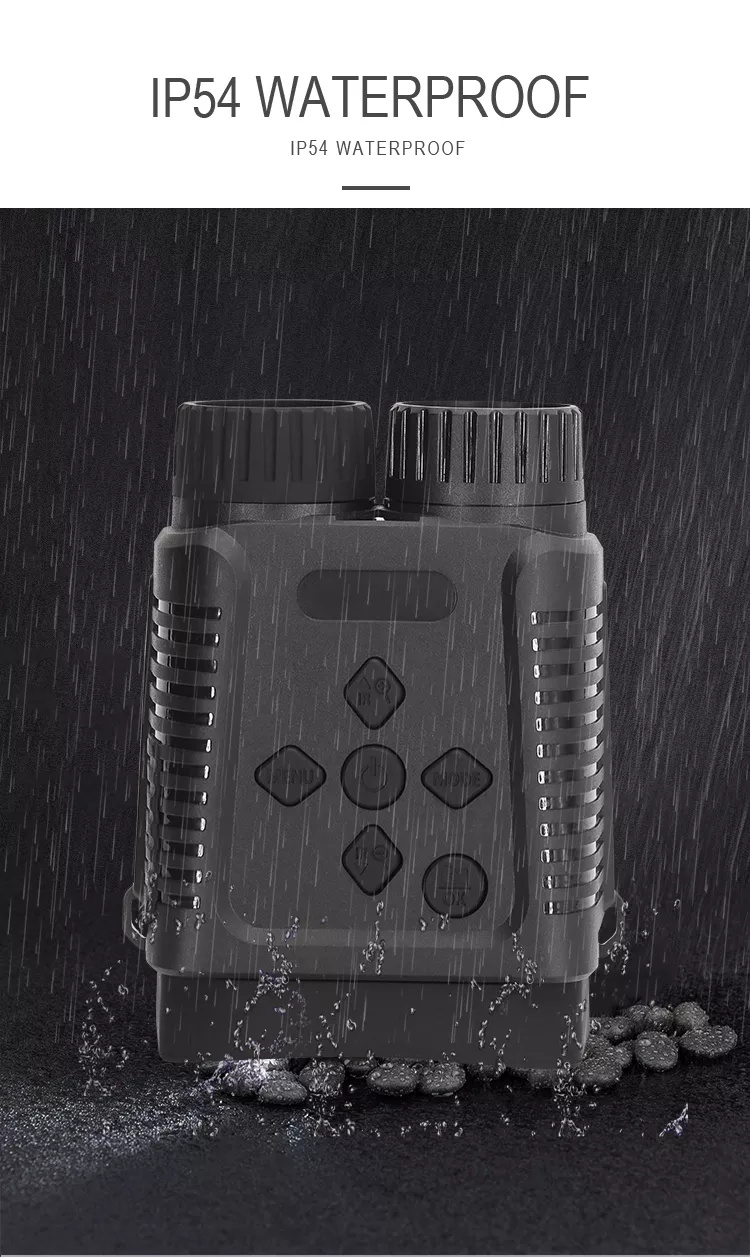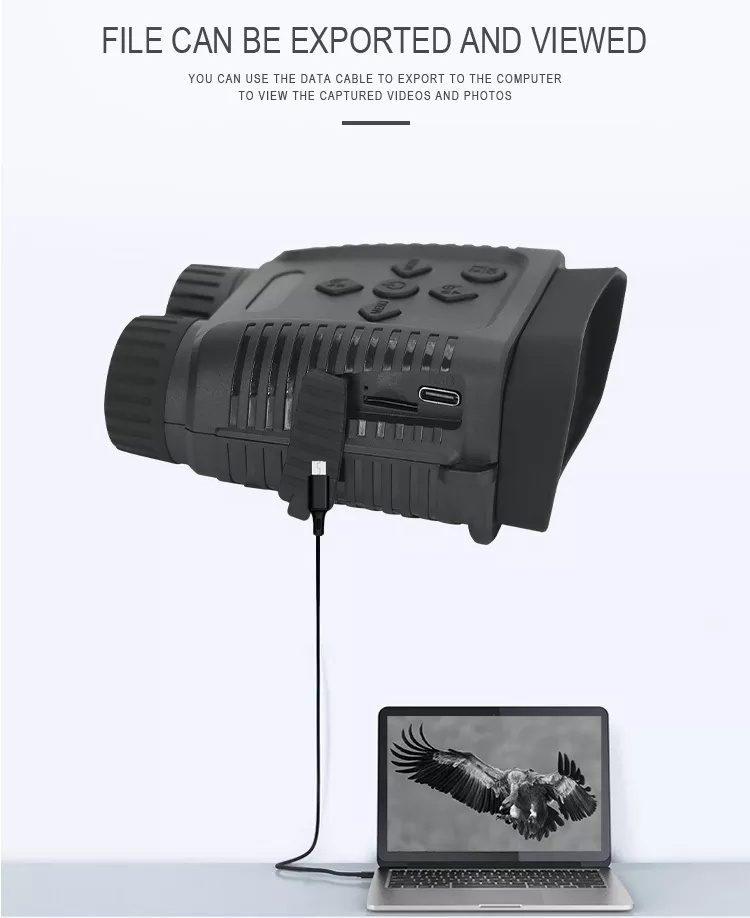 Perfect for travel
I picked up these NVGs to carry in my patrol bag for work. Considering I work law enforcement having NVGs definitely has its benefits. This product is small and compact yet durable. I have used these on a few occasions when attempting to locate missing persons. These NVGs can literally work in zero lighting conditions to include warehouses. I am very happy with this products battery life.
20/08/2022
See What's going on at Night
I live in an apartment facing the woods and it can be daunting wondering ~ what is out there at night.

With these I don't have to worry or wonder anymore-

I can see better in the dark with night vision..

I'm still playing with this ,
setting up all the different options that it gives you-
too much to mention here.

I like the big viewing screen ~

it's easy to use and see.

It comes with a velvet carry case and a glass cleaning cloth with instructions on all the things you can do with these.

They are much nicer than I thought they would be!

It has a way to take videos and
store media with a micro SD card up to 32 GB ..
it automatically powers off in 10 minutes ( default) or the time you set it too.

7 speed infrared adjustment

USB port - type C rechargeable

The video size is adjustable...

date stamp and digital zoom 8x

Color special effects: color , Black and white, luminous green and infrared light..

Multiple languages available
19/08/2022
Great Product - far better at night in GREEN MODE
I didn't expect too much but this thing is really great at night! I've worn Army night vision and frankly as I am not worried about having an IR signature, this one is GREAT. You can focus in super clear day or night. At night I found that while in Green Mode I could see out perfectly clear with the IR just set on 3 (so a pretty low setting) out to 300 Meters EASY, and clear. I can zoom in that far at least as well. I will say that the more you do zoom the quality drop some. For around 100 dollars I am absolutely thrilled with this product. The actual build is solid as well. Out of all the many IR based night vision out there this one is just a great size, solid build and really good optics. Outstanding.
15/08/2022
Works well for a such a compact unit.
For the price I think this is a good value. I compared to another that looks almost identical but that does not come with a battery. (Finding a battery that fit was easier said than done.) This one comes with a rechargeable battery installed and sells for $20 less than the other brand. I also found the color of the image more to my liking in this one.

I was looking at object up to 150 feet way and the image was excellent. The IR illuminator was very effective.

A couple of comments. These are monoculars, not binoculars. They only have one objective lens. You do not hold these up to your eyes as shown in several places in the ad. You hold them out in front of you and look at the screen.

Overall I am very pleased with this item.
12/08/2022
Very nice little day or night binoculars
The biggest problem I had with this was finding the charging/memory card port. It's hard to see, especially for an old guy like me working in dim light. Eventually I noticed a small area that feels different and opened it up. I like that it uses USB-C!

The number of controls intimidated me at first. Each button is marked, but there's no contrast, so I can't make them out without reading glasses in bright light. However, a quick glance at the manually quickly gives you the idea.

Adjusting the zoom is a bit slow, but that's actually good when trying to focus on a particular thing.

It switches automatically between day and night vision and can record movies as well as still photos.

Very light, it's no burden to carry these with you. Unlike traditional binoculars, the viewing screen makes it easier for two or three people to see at the same time, either live or retrieved video/photos.

I think I'll keep this in the car so it will always be handy.
06/07/2022
Excellent Night Vision
While I almost took off a star because these are not "goggles," I decided that the function made up for the word slip. You don't look through them, as you would binoculars, rather you look at the screen. I had them backwards at first.

However, these are super lightweight and portable. They will fit in a pocket, purse, glove box, so they are a cool little item to have around for many reasons.

The ability to see in the dark is great. Whether it's true "night vision" or not is not of any importance to me. What is important is that if I think there is something out there in the dark, and I want to see what it is, I can.
03/05/2022
There are no faqs for this product.