12x42 Professional HD Binoculars with Phone Clip and Tripod, Low Light Night Vision, Waterproof Lightweight Binoculars for Bird Watching, Hunting, Travel, etc.
Brand:

KENTFAITH

Buy KENTFAITH 12x42 professional hd binoculars with phone clip and tripod, low light night vision, waterproof lightweight binoculars for bird watching, hunting, travel, etc. online, worldwide free shipping and 30 days return guarantee.

KF33.057

SKU:

KF33.057

43.99

https://www.kentfaith.com/KF33.057_12x42-professional-hd-binoculars-with-phone-clip-and-tripod-low-light-night-vision-waterproof-lightweight-binoculars-for-bird-watching-hunting-travel-etc
Description
* [FMC Multilayer Broadband Coating] FMC full multi-layer broadband green film, high light transmittance, effectively reducing the refractive index of light, BAK4 prism provides extremely bright, clear and sharp vision, ideal for bird watching, hunting, concerts, hiking and sports;
* [Low Light Night Vision] The telescope is equipped with a large 19mm eyepiece, which provides a large field of view of 328 feet / 1000 yards, even in low light vision, it can provide brighter vision and clearer detailed images with 12x magnification;
* [Light and Portable] Light weight (only 1.06 lbs), so not only suitable for adults but also children. At the same time, it is equipped with a shoulder strap and a storage bag, which is easy to carry and use, and has a waterproof level of life, which can easily cope with various outdoor environments and ensure the normal use of the telescope;
* [Easy to use, comfortable experience] The central focusing system and the diopter adjustment of the right eyepiece can easily complete focusing even with one hand, and the operation is simple and fast;
* [Universal Phone Clip and Tripod] Newly upgraded universal phone adapter, suitable for all smartphones, retractable tripod to ensure stable photo shooting. The perfect gift for boys and girls birthdays, Christmas, Father's Day, Children's Day, Thanksgiving and more.
Shipping
Free shipping worldwide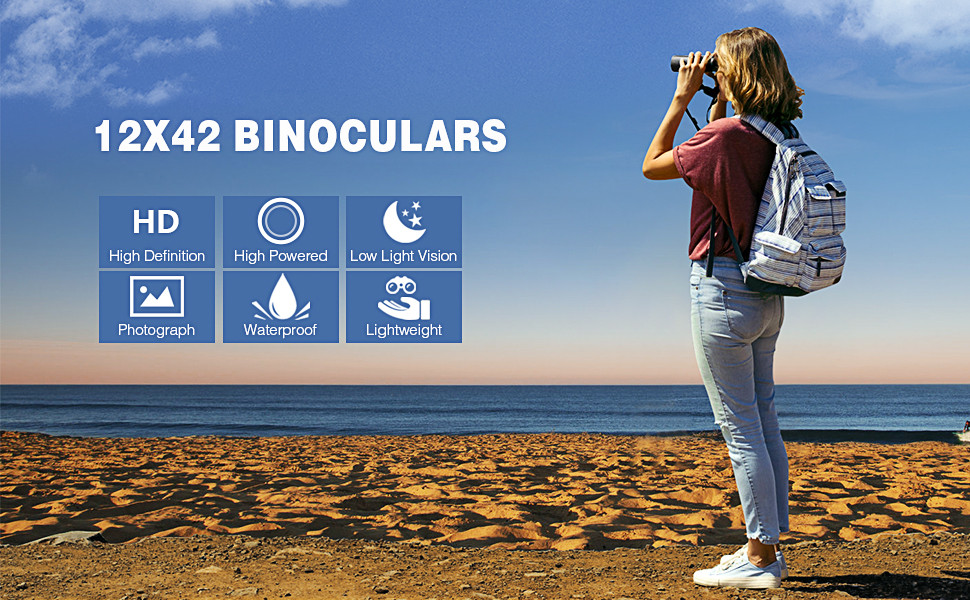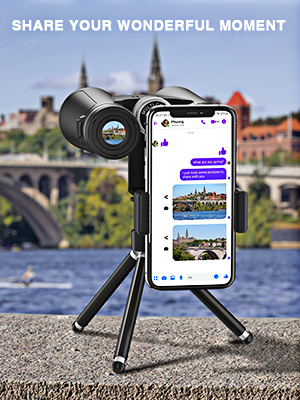 Magnification: 12x
Eyepiece Diameter: 19mm
Objective Lens Diameter: 42mm
Focus System: Center wheel and right eye
Lens Coating: Fully multi - coated
Type of Prism: BAK4
Field of View: 328ft/1000yds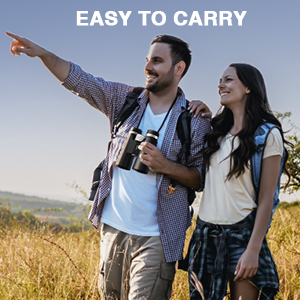 The binocular strap will be the best friend during your trips or other outdoor activities. It is easy to carry, making your hands relax and preventing it from dropping as the rubber handle is non-slip.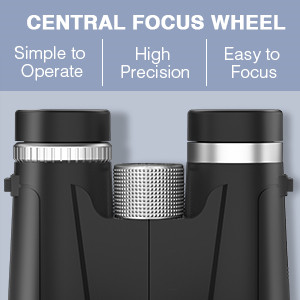 Binoculars can easily make the focus operation more accurate and effortless, and quickly focus and observe fast-moving objects, seeing a perfectly true-color, clearer and more detailed image.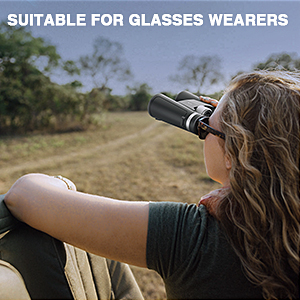 If you wear glasses, you can adjust the right eyepiece focus ring counterclockwise to get a clear image. Our binoculars are specially designed the diopter for users with myopia and two eyes with different vision.


All Reviews
Image

All Star

5 Star

4 Star

3 Star

2 Star

1 Star
Great binoculars at a great price
This is the best binoculars I have bought for such a great price. Vision: I took two photos of the beach for reference. One with the iPhone 11 directly, another was taken with the Scope. You can see the vision is pretty clear even at such a great distance. Package: The scope comes with a nice bag. All lenses have been covered with a silicone sleeve that connects to the scope. In general, the scope is beyond my expectation.
29/03/2023
Excellent binoculars for the price
Surprisingly good build quality, fit and finish for $30! Looks and feels like it costs 2-3x as much. Sure, there's a bit of chromatic aberration, but for the price, come on. I suspect it will serve most people's purposes well. It would be great for a beginning enthusiast or a child/teen. It's lightweight, easy to hold, comes with protective caps and a soft pouch. The phone attachment works but is a bit fiddly and gimmicky; I was at least able to take the attached pictures, if not a bit precariously. Good IPD range (inter-pupillary distance) even for my narrow set eyes, 63mm, only 1mm less than average according to the web (I've struggled with other binoculars being too wide in the past). Overall very happy! 4/5 stars
27/03/2023
Wonderful for the price
Some time ago we bought some very reasonably priced binoculars, about the same price as these after trying to make a limited reviews choice and based entirely on budget. The ones that have proven to be a total disappointment and I think they were either thrown away or given to a local thrift store. Based on our experience with these great value binoculars we were hesitant to receive these but I have to tell you what a pleasant surprise! Overall, these are quick and easy to use for any member of our family who picked them up! These have all the basic adjustments you would expect in a product like this, like individually adjustable eyepieces, a center focal ring, and the pivoting adjustment to adjust the width between your eyes as needed. It didn't take very long for even my nine-year-old to figure out how to adapt and use them successfully. What I've noticed is that even in low light, the image is fairly clear - these binoculars are adaptable over many conditions. A small nylon carrying case is included. Mine didn't come with any type of cell phone adapter as referenced in the product description...but I've had it for several months now so maybe that's a newer feature. I don't have binoculars that cost hundreds of dollars to compare these, but I can't imagine you'll find anything quite the same for the price. Five stars for price and five stars for ease of use.
26/03/2023
High quality, affordable 12 x 42 binoculars
These are nice, compact, well made and thought out binoculars. The fixed 12x42 zoom gives you a close-up view in most situations. The high-quality coated lenses deliver a razor-sharp, detailed image. (I don't know why they show the lenses green in the product shot: they look like "regular" coated lenses). The binoculars are lightweight and feel good in your hands. The front lenses and rear eyepieces have soft rubber caps. It's handy that you can peel off the front ones and leave them hanging while you watch - they don't get lost that way. The rear eyepieces surrender, giving you space between your eyes and the lenses. That's convenient. As usual, you can focus on your left eye with the knurled knob, then close this and turn the ring on the right eyepiece until both sides are clearly in focus. These are not really "night vision". They do a decent job in low light, dusk or dawn and that's down to the quality of the lenses. They say they are "waterproof" and I take their word for it. You will receive a lanyard for the binoculars and a carrying case with a shoulder strap. The entire setup comes in a full color branded box, making it suitable for gifting. These are compact, lightweight, easy to use, with quality lenses and...recommended.
25/03/2023
It's worth the price.
These binoculars are lightweight and powerful They appear to be well made and affordable.
23/03/2023
Perfect for your price.
It's more than I expected for its price. The binoculars are perfect to start bird watching without having to spend a lot of money. It is used by young trainees; it comes with case and strap, the only thing it doesn't have is the cell phone adapter as shown in the pictures.
22/03/2023
Pretty nice binoculars
These are surprisingly similar to my Celestron NatureDX binoculars, just not as clear. They appear to be fully multi-coated due to the color and clarity of the color. The focus wheel is smooth, the eye relief cups are smooth. Not bad for the price.
21/03/2023
Mobile phone holder not included
We actually got this with hopes of having this phone holder as mentioned. But even after returning it and replacing it with a new one, it still doesn't have the phone holder. It would have been nice to have. Give this one 4 stars because: 1) Magnification is good and easy to use. 2) The quality of the product is a bit robust. 3) Your customer service is just amazing and had the replacement the following day. I just hope they can correct the listing details or check their stocks for availability of this product or not at all.
20/03/2023
They work!
Easy to adjust and durable — my first pair for birding.
19/03/2023
Pretty good binoculars
For the price these are great. Pretty good optics, although I didn't notice much of a difference in low light and/or at night. Still at the price really can't go wrong if they zoom in ok.
18/03/2023
There are no faqs for this product.