720P 4.5" HD Display ABM200S Video Baby Monitor with Night Vision and 12Hrs Batteries
Free shipping to eligible country

Brand:

KENTFAITH

Buy KENTFAITH 720p 4.5" hd display abm200s video baby monitor with night vision and 12hrs batteries online, worldwide free shipping and 30 days return guarantee.

GW50.0027US

SKU:

GW50.0027US

96.99

https://www.kentfaith.com/GW50.0027US_abm200s-video-baby-monitor-with-camera-and-audio-no-wifi-720p-4-5-quot-hd-display-night-vision-4x-zoom-20hrs-battery-1000ft-range-2-way-audio-temperature-sensor-lullaby
Description
* Observe your baby clearly and carefully-The large 4.5-inch color screen and clear 720p HD resolution allow you to observe your baby more clearly. Need to take a closer look? Get the baby essentials you need. The 2x to 4x zoom function allows you to observe your baby up close.
* Don't worry about the night-the automatic night vision function provides black and white images on the video baby monitor at night, allowing you to see your child clearly even in a dark room. The red dot or red light emitted by the camera will not cause any interference to your baby.
* View the entire baby room-the baby camera monitor lens can be panned 355° to capture all corners of the space, and tilted 120° to view floor to ceiling. If your baby escapes from the crib, you will be able to see all this happen. Use the buttons on the LCD screen to easily move the baby camera.
* Real-time sound detection for instant alarms-thanks to the sensitive and clear microphone, when your baby is crying, you will immediately receive an alarm on the LCD display. Use a baby monitor with camera and audio to cook, clean, study, work or rest in another room of your home without worry.
* Up to 1,000 feet of range-Sometimes all your baby needs is to hear the sound of your voice. Comfort your infant from any room with the built-in intercom on the portable parent unit.Stay connected to your baby from another room or even from the yard. Go about your day with up to 1,000 feet of range.
Shipping
Free shipping to eligible country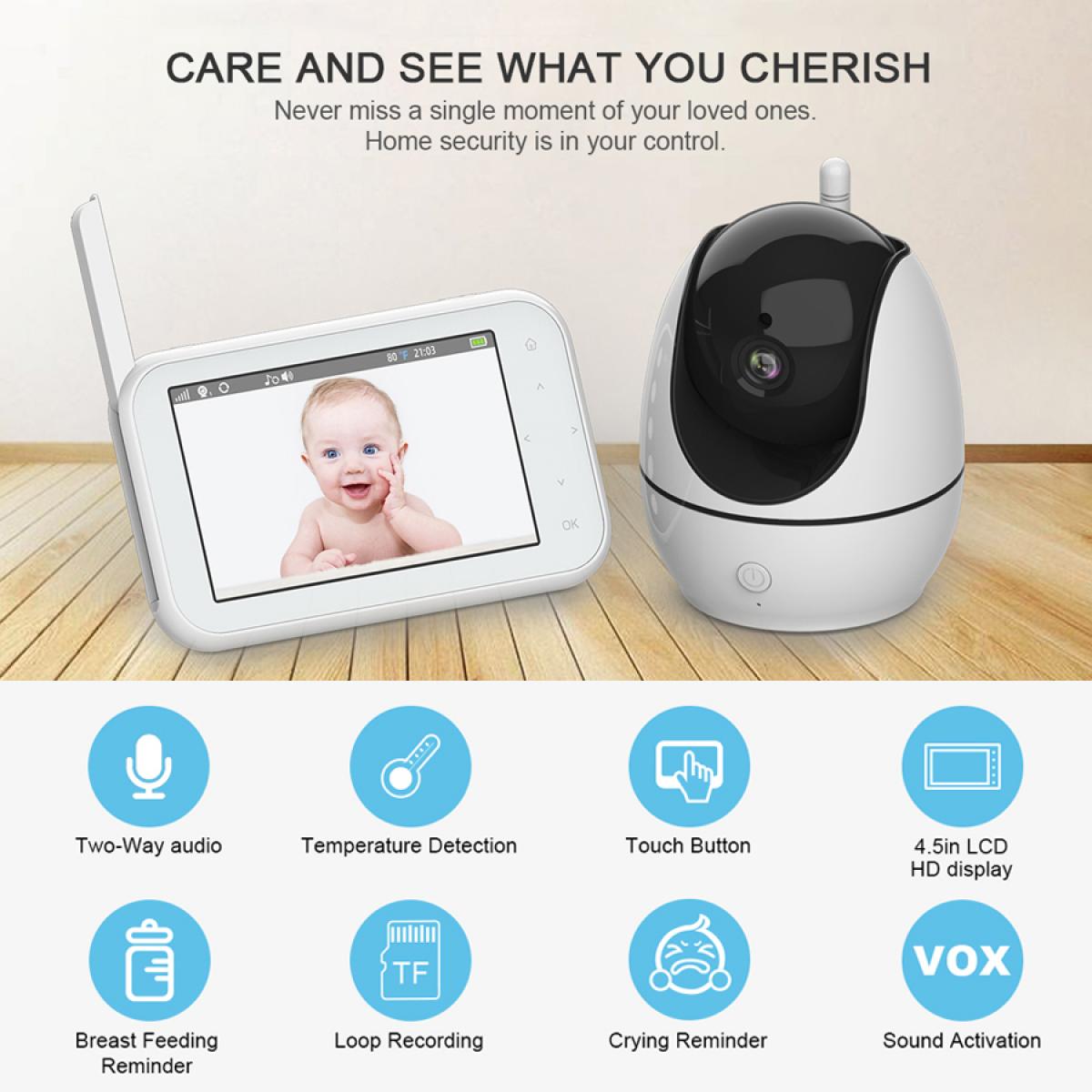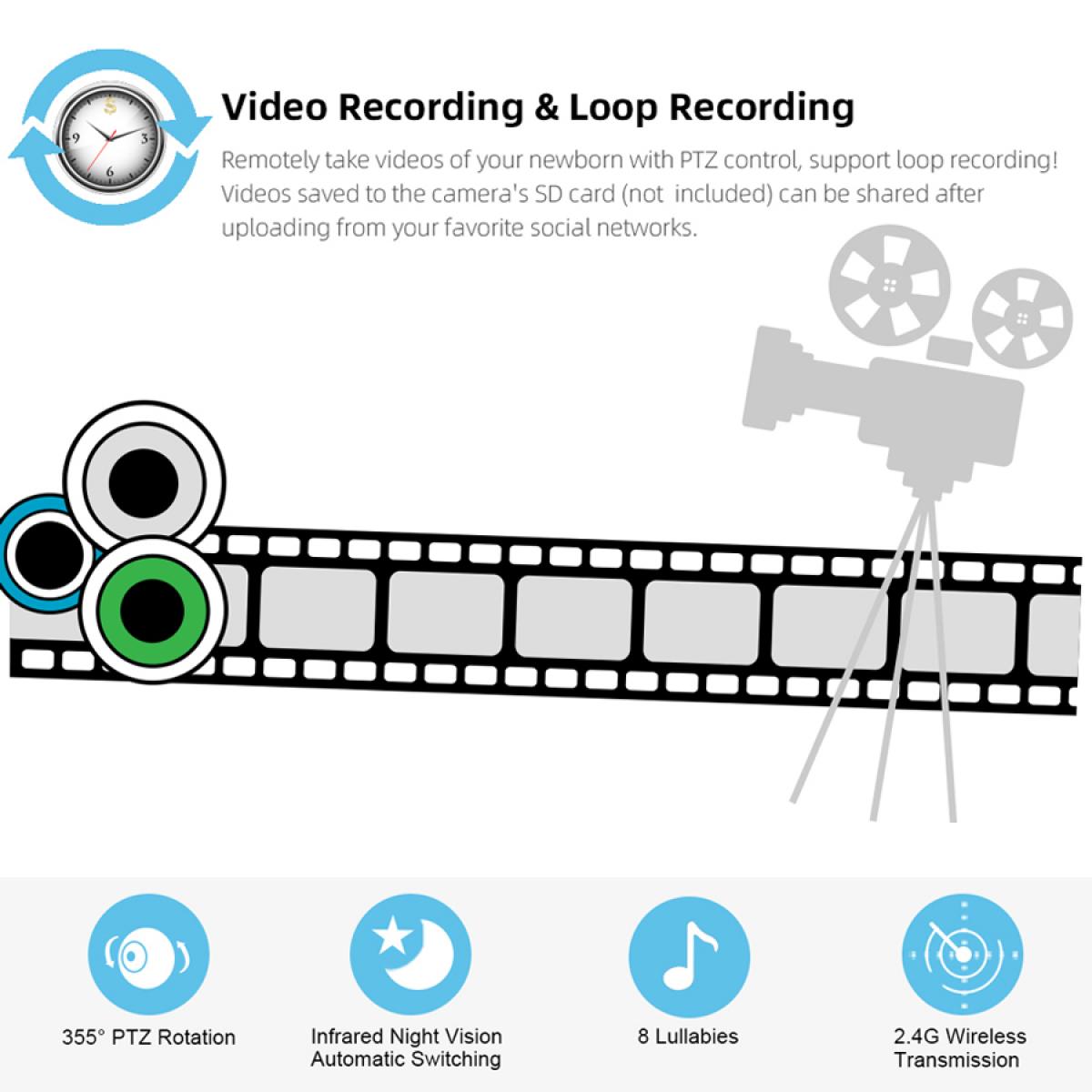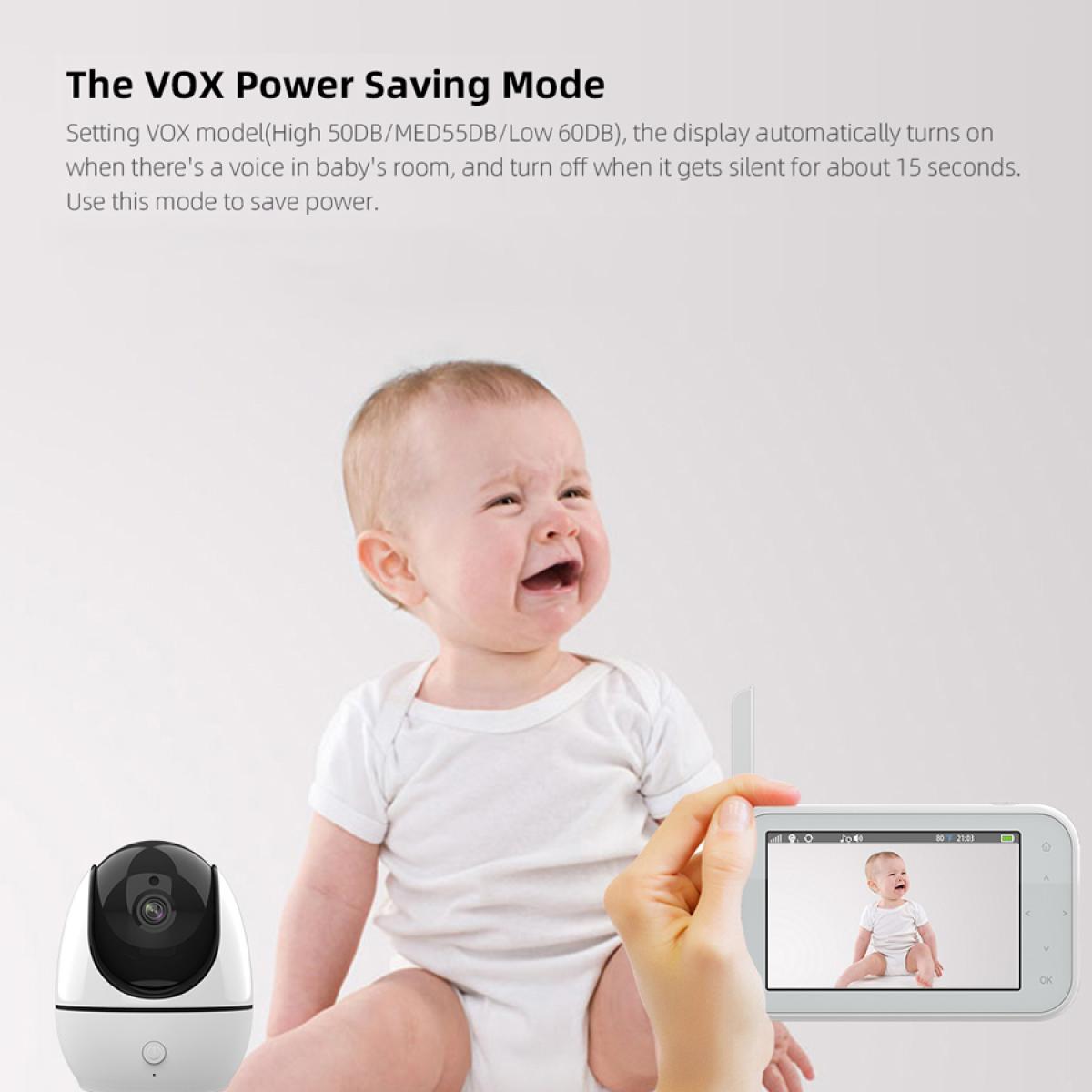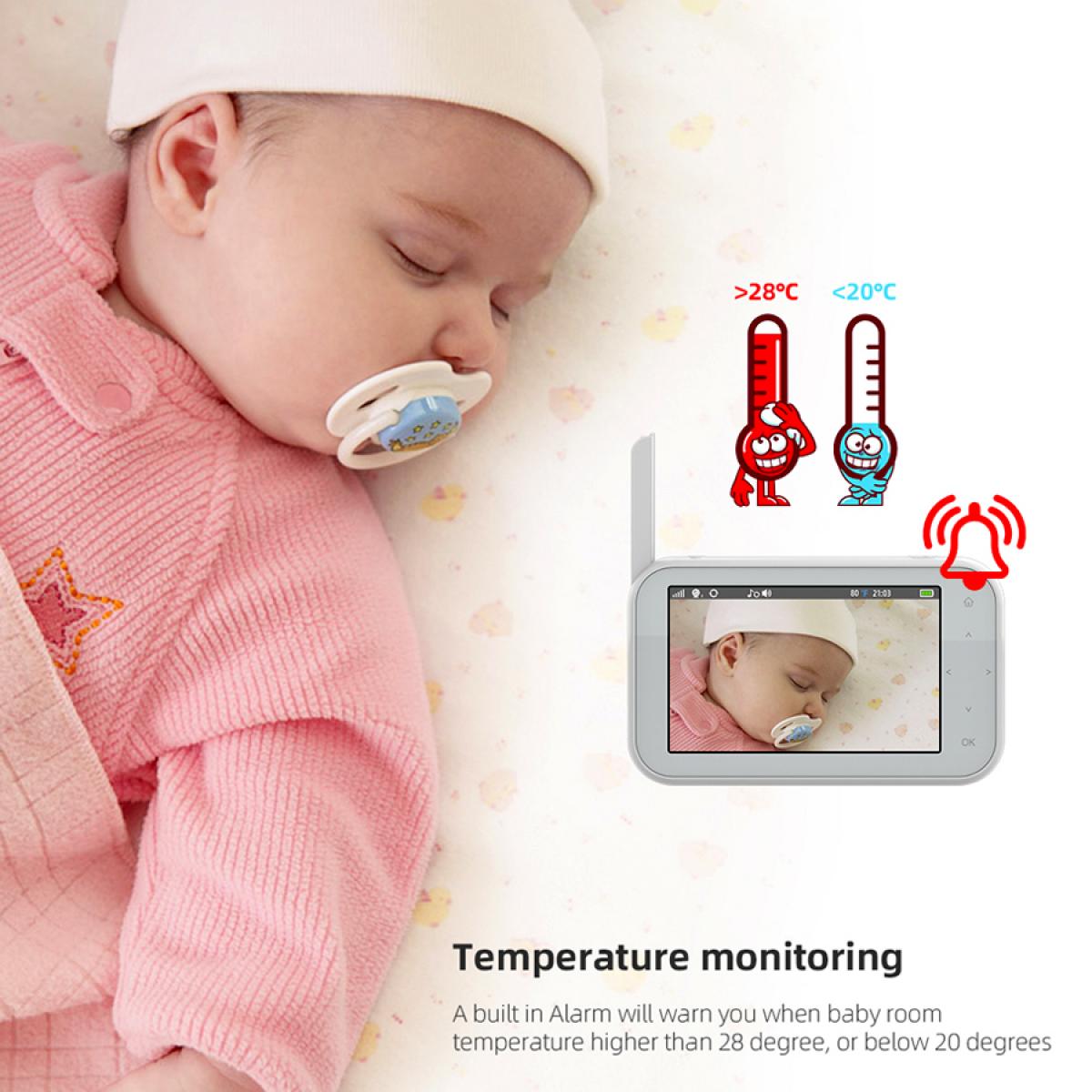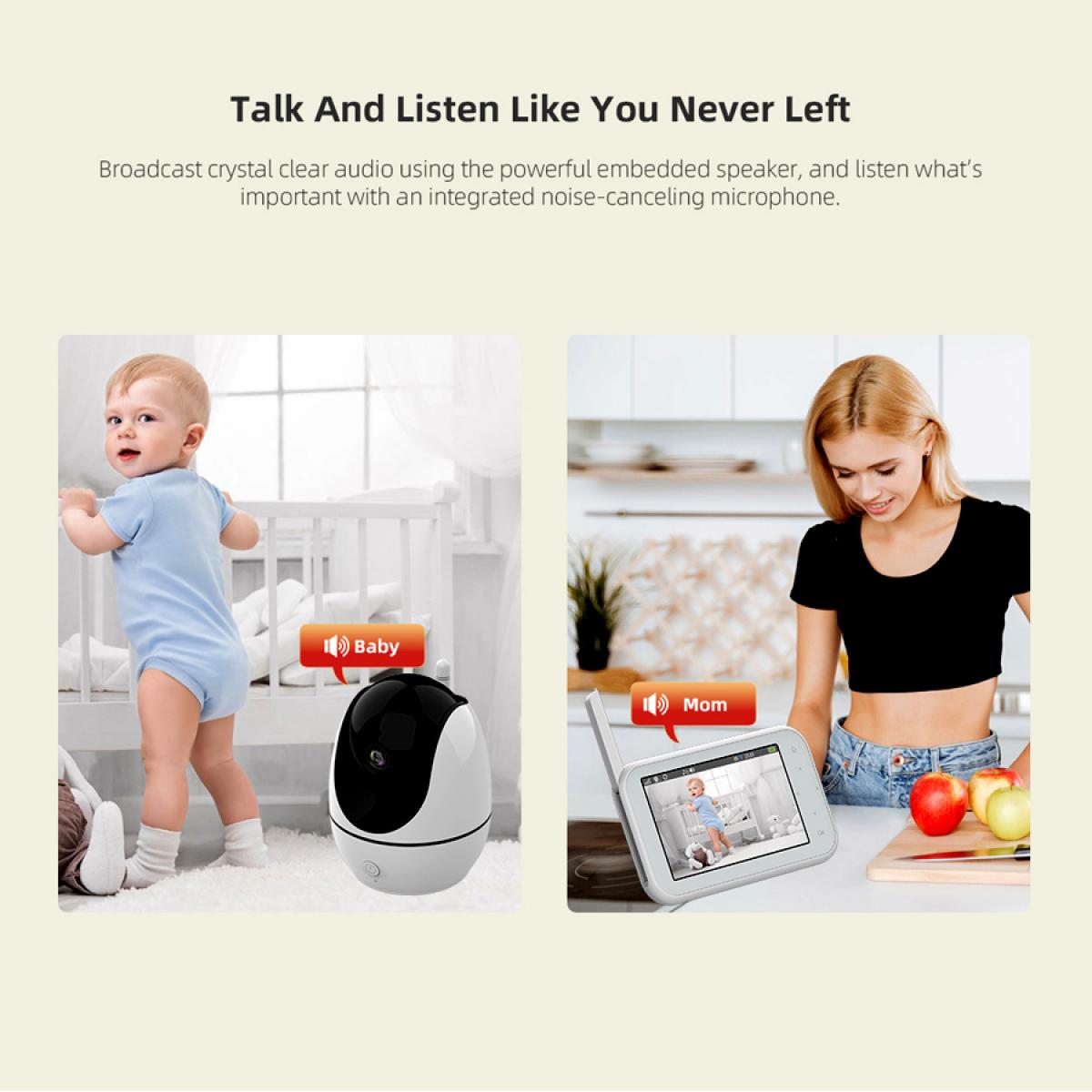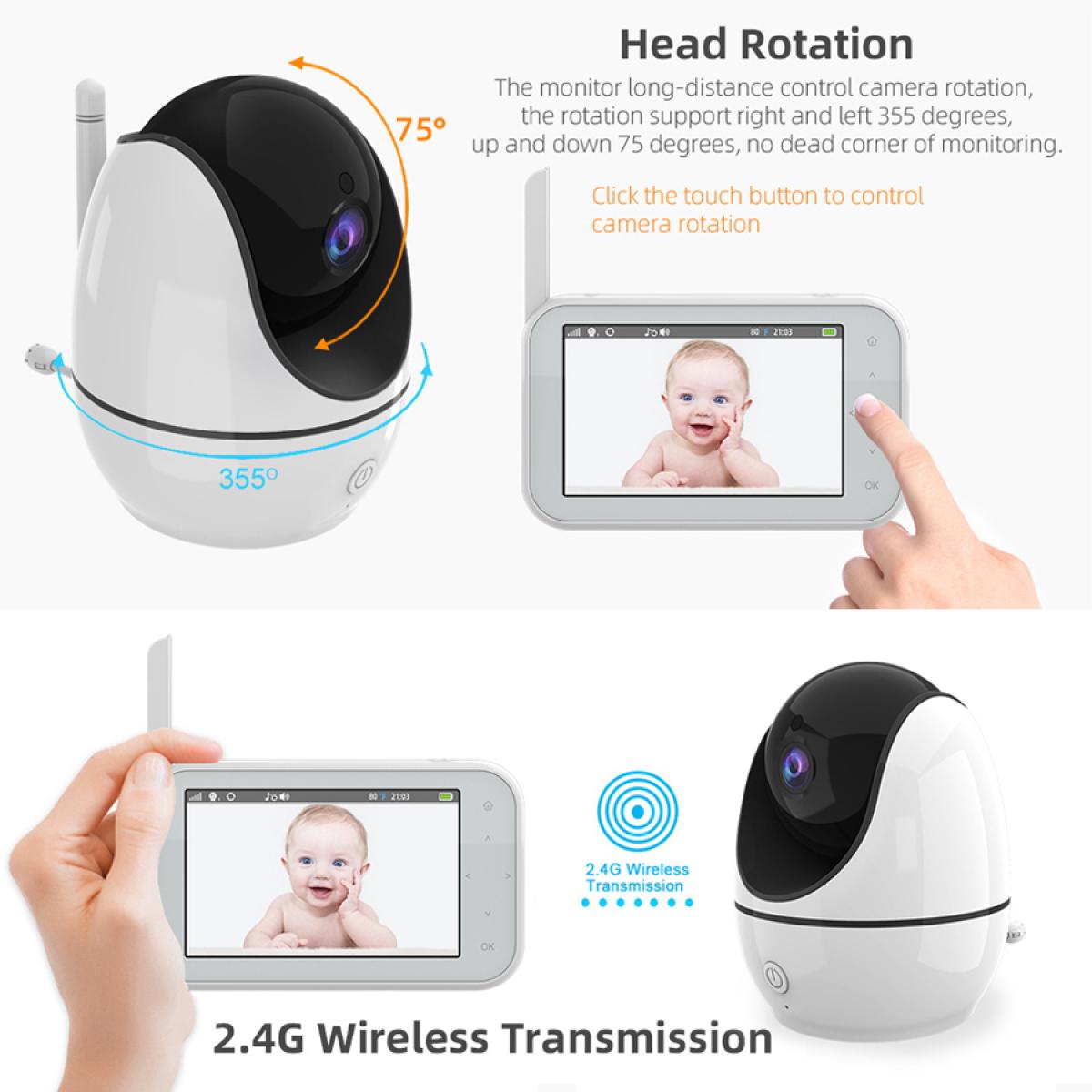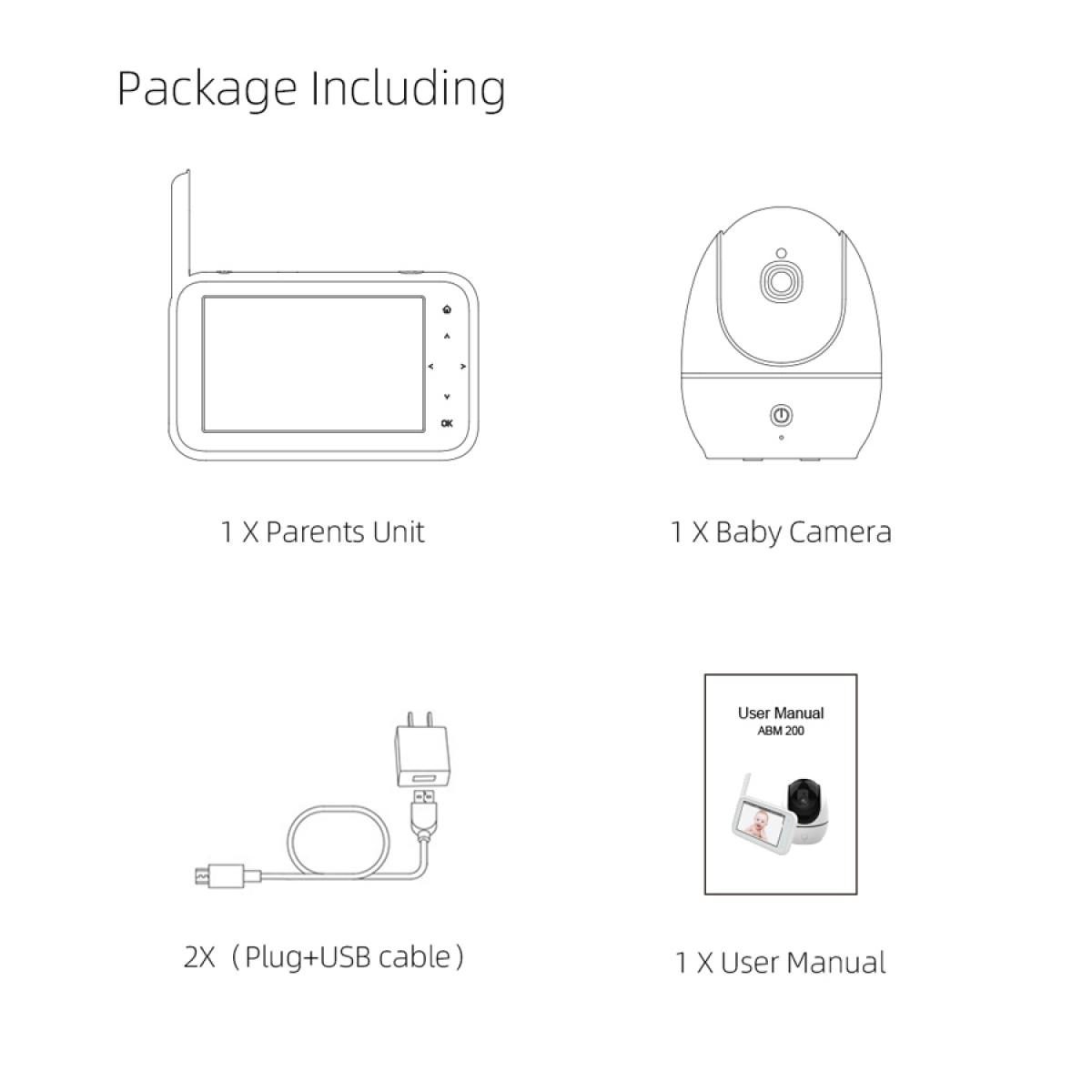 | | |
| --- | --- |
| model | ABM200S |
| Camera resolution | 1280*720 |
| screen size | 4.5 inch |
| Screen material | IPS |
| transfer method | 2.4G FHSS |
| Night vision | support |
| Night vision distance | 5M |
| Two-way intercom | support |
| Crying detection | support |
| Regular breastfeeding | support |
| temperature check | support |
| Lullaby | 8 songs |
| Transmission distance | Outdoor 300M, indoor 30M |
| Camera shaking head angle | X-axis 355°, Y-axis 120° |
| battery capacity | 2600mAh |
| Battery life | 8-12H |
| product weight | 120g |
| Package weight | 620g |
| Product Size | 10*8*8cm |
| Package Size | 15.5*10*11cm |
| Package Contents | Camera*1, receiver*1, power supply*2, English manual*1, installation kit*1 |
| | | | |
| --- | --- | --- | --- |
| | | | |
| | | | |
| | | | |
| Rating | 378 reviews. | 68 reviews. | 447 reviews. |
| Price | $96.99 | $129.99 | $106.99 |
| Model | GW50.0027US | GW50.0031US | GW50.0032US |
| Screen Size | 4.5" | 5" | 4.3" |
| Video Resolution | 1280*720 | 1280*720 | 800*480 |
| Battery | 2300mAh | 2000mAh | 2600mAh |
| Pan Tilt | √ | √ | √ |
| Zoom | 1 | 4 | 4 |
| Infrared Night Vision | √(invisible) | √(invisible) | √(invisible) |
| Connect Up To | 2 | 4 | 2 |
| Night Light | × | × | √ |
| Lullaby | 8 | 5 | 5 |
| Temperature Sensor | √ | √ | √ |
Very clear picture
The night vision is very good. It has a very clear picture and the two way communication is wonderful was surprised how far it worked outside of the house
15/08/2021
Highly recommend!
I love that this doesn't require WiFi! I also like that I can control the camera view by moving the camera from the monitor and not having to enter the room.
15/08/2021
So far so good!
We like it so far. The sound is very clear, picture is clear and it rotates well. Only thing that would make it better is if there were separate volume buttons. You have to go into the settings everytime you want to change the brightness or volume. If you want to use the lullabies, the sound drowns out the baby. Otherwise, it works great!
13/08/2021
Great product
Works really well and serve its purpose. We've been using it for almost a week now and haven't had any issued.
13/08/2021
BUY THIS CAMERA!!
After having a wifi camera that connected to my phone, I really needed something that was good quality video but would allow me the freedom to use my phone without having to close the baby monitor app (not to mention issues of wifi disconnecting in the middle of the night, etc). I tried another brand before purchasing this one and the night vision was AWFUL!While this one is a bit more pricey, I think it's 100% worth it. The video quality is excellent and night vision very clear from a good distance away (would be a good option if you're planning to mount up on the wall). The monitor is a good size, but not overly large/bulky to carry around. From across the room, the camera picks up the faintest sound so baby doesn't need to be in full on cry mode for you to be alerted.The monitor screen can be turned off at night, and only set to turn on when baby wakes/makes noises. I also really like the room temperature feature as our nursery tends to run warm.Overall I can see this lasting a good while and honestly wish I had this camera from the very beginning!
12/08/2021
Life saver!
I told myself don't be that mom that is extra and gets a camera monitor but once my son was big enough to move to his crib in his room I just had too!! There are so many choices and as a new mom I was lost! I could not be happier that I choose this one!!! If you are reading this, go ahead and add it to your cart!!
12/08/2021
So perfect,you can move the camera around
Perfect for any thing
10/08/2021
Love this monitor!
I love this monitor. It has a clear picture, you can adjust the camera from the monitor, and it was super easy to install.
10/08/2021
Don't Hesitate!!!
I can't say enough good things about this camera. We purchased two a long time ago in early 2020. One for our house and one for our daughter. We've have been using them in both places for a good year and a half now and ZERO problems with them. Very pleased with our purchases and would definitely buy from them again. Not just a great product, but excellent communication from the seller as well.
10/08/2021
Awesome monitor!
Very clear image. Easy to set up. Overall great product!
09/08/2021
There are no faqs for this product.
Baby Monitor
Screen Size
4.5"
Video Resolution
1280*720
Battery
2300mAh
Pan Tilt
√
Zoom
1
Infrared Night Vision
√(invisible)
Connect Up To
2
Night Light
×
Lullaby
8
Temperature Sensor
√