WiFi and USB Digital Microscope, 1000X Zoom, 1080P Full HD, with Height Adjustable Stand, Mini Microscope for Kids with 8 LED Lights, for Mobile Phone, Android, PC Windows, iPhone, iOS, Mac
Buy WiFi and USB Digital Microscope online as Christmas gift for your kids with black friday best price. KentFaith offers 30 day no reason return and 1 year warranty.

GW45.0014

SKU:

GW45.0014

29.99

https://www.kentfaith.com/GW45.0014_wifi-and-usb-digital-microscope-1000x-zoom-1080p-full-hd-with-height-adjustable-stand-mini-microscope-for-kids-with-8-led-lights-for-mobile-phone-android-pc-windows-iphone-ios-mac
Description
* 【WiFi&USB two connection methods】Built-in WiFi, you can easily connect Android or iOS mobile phone without USB cable. Thanks to WiFi connection technology, you can enjoy iPhone/Android phone image viewing, high-definition image transmission, photo and video, and simple observation, and the WLAN connection range is about 10 m;
* 【HD Camera】The microscope full HD is equipped with a 2 million pixel 1080p HD camera, providing you with a great experience of exploring the micro world through clear pictures and videos, the best distance between the camera and the object is 3-60mm;
* 【Built-in 8 LED lights】Equipped with 8 adjustable LED lights, you can observe clearly even in low-light places. 50X and 1000X zoom in and zoom out buttons can meet your needs to explore the micro world;
* 【Equipped with Upgrade Stand】Equipped with a height-adjustable tripod, multi-angle adjustment, stable at every angle, it is a complete solution for students, children, engineers, inventors and others who want to explore the natural and microscopic world. Small operating space trouble;
* 【Highly Compatible】This wireless WiFi inspection microscope is not only suitable for Android devices and iOS systems, but also supports USB connection to a computer, so you can use the connected computer to observe the microscopic world like Windows and Mac. #2023 Best Christmas gift for your kids.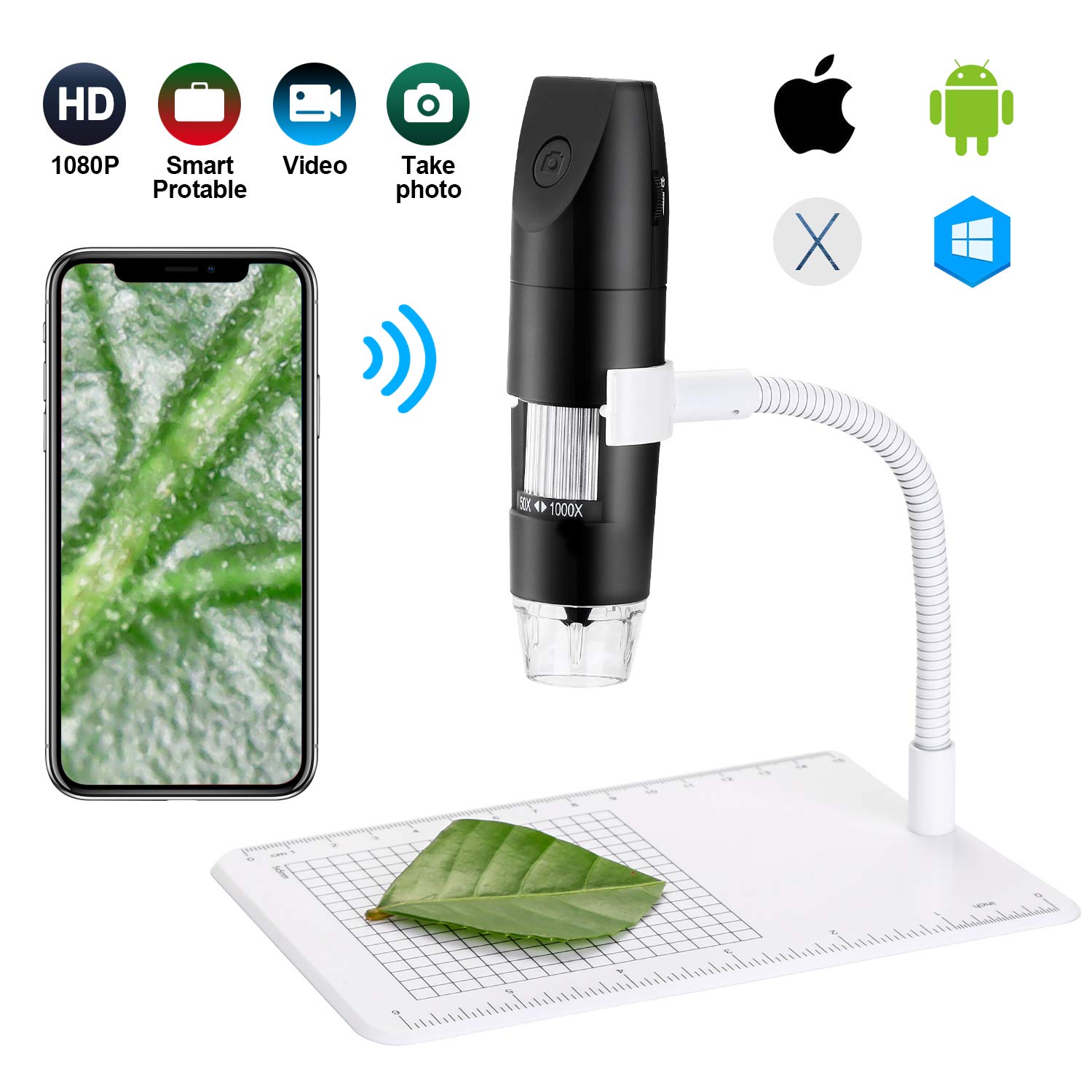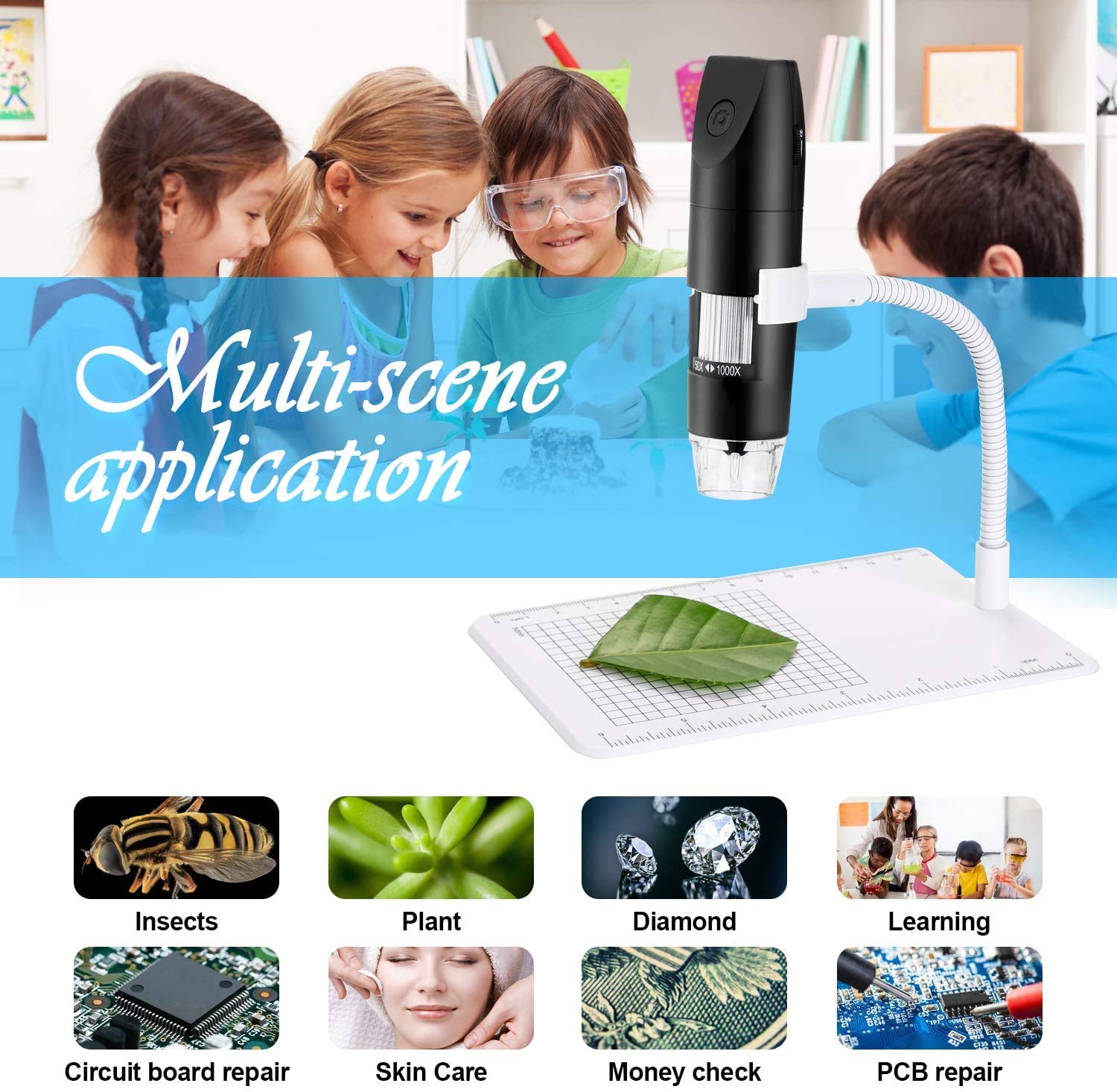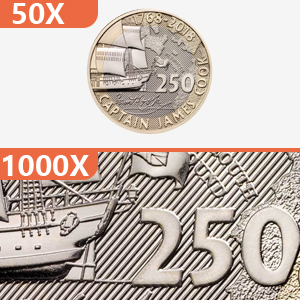 Specifications:
Resolution: 2 Megapixel
Focal length: Manual focusing (0-40mm)
50x to 100x magnification.
Light source: 8 LED lights (adjustable with steering wheel)
PC port: USB 2.0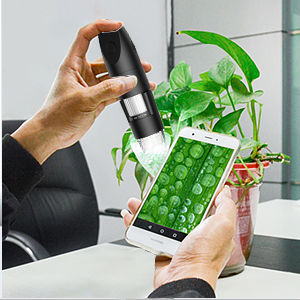 Caution:
It is normal if the Wi-Fi connection is slightly delayed.
It is not suitable for bacterial and cellular examinations.
Please do not enclose the product to the computer to charge it.
To use it on PC, first move the button "WiFi PC" to the position PC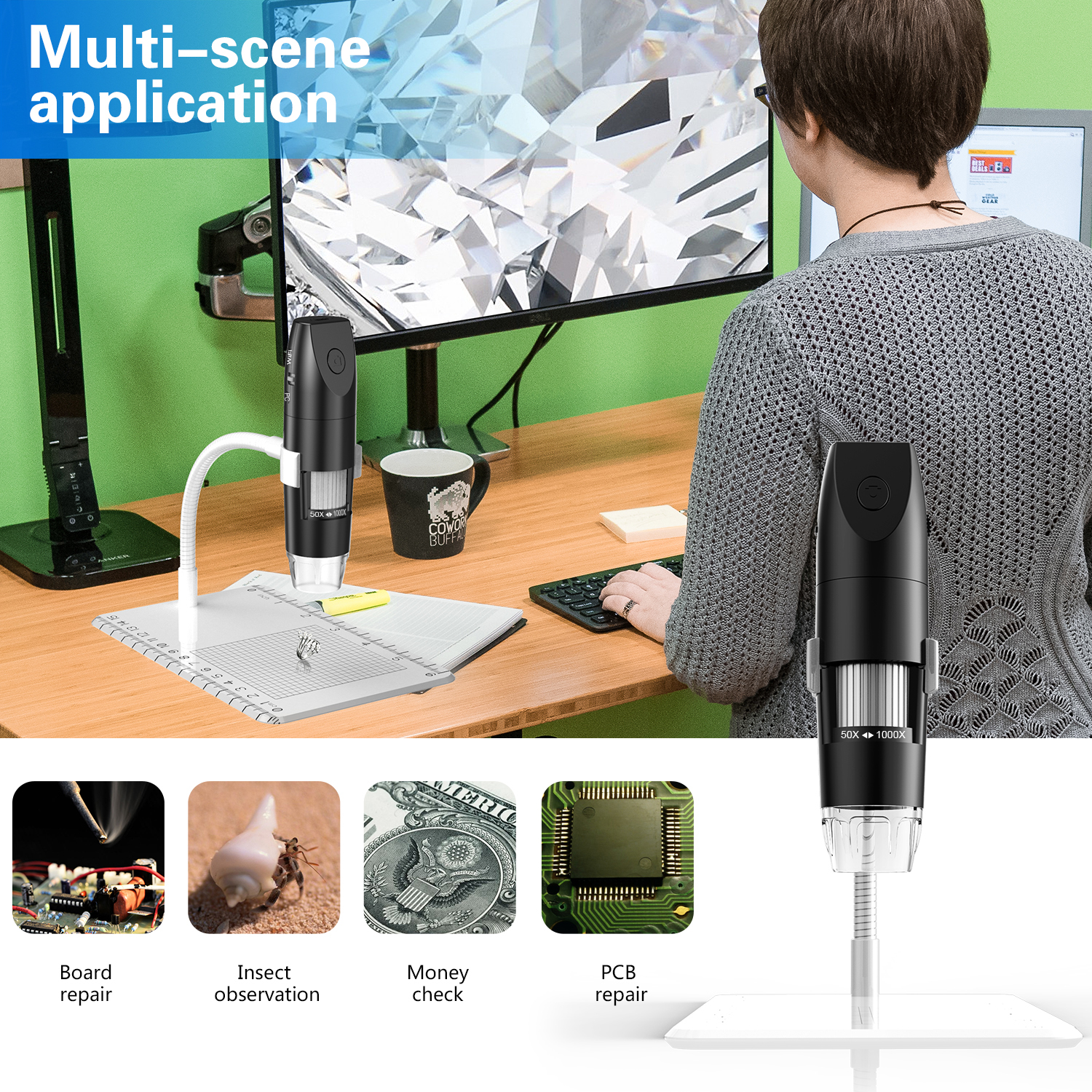 Connection to PC or laptop with
USB cable:
For more detailed operating steps, refer to the user manual.
All Reviews
Image

All Star

5 Star

4 Star

3 Star

2 Star

1 Star
And I looked the aphid in the eye ...
Nice little pocket microscope. The connection with the mobile phone works without any problems, the photos are also nice to look at. Nobody expects that this will start a career in science. But a pleasurable look into the world of small creatures is possible.

I sometimes take the microscope with me on a bike tour. Unbeatable that you can also take photos. I lost it on a tour and ... bought it again. The ugly tick I caught was also immortalized in front of the entrance to the eternal hunting grounds. I would also like to mention that I found it almost difficult to get rid of the lice on my rose after looking one in the eye.

Another attached picture shows a section of the front page of a magazine about one square millimeter in size. The snail shell was empty and stayed where I found it.

The battery has not disappointed me so far. All in all, a great toy for kids... and adults.
01/02/2023
I'm very satisfied.
Works flawlessly. Connection with the iPhone without problems. The focus can be adjusted very finely and pin-sharp. The magnification results from the distance to the lens and can be adjusted using the rotary wheel. Even the digital zoom, which is an additional enlargement in 0.2 steps up to 2x, does not degrade the image quality. The possibility of dimming the lighting down to zero is also very helpful. Especially with shiny surfaces. The tripod is a bit fiddly, but still within limits for the price.
A plastic surface from a mouse pad can be seen in the photos.
26/01/2023
We are excited
We are excited
We are very satisfied!
1. Value for money is optimal.
2. Simple and logical operation - my 6-year-old daughter and her friends operate it entirely by themselves. Experimenting with different eyesight and lighting conditions is a lot of fun. My daughter took the photos below.
3. One of the few devices that can also be easily connected to Apple tablets and cell phones via WiFi.

We recommend it to everyone who is curious and keen to experiment :-)
13/01/2023
Wifi microscope for little money
So you shouldn't expect a high-end device for the price.
It does what it's supposed to do. Connect to your phone and you're good to go
04/01/2023
Excellent
I'm positively surprised, magnification is good, image quality too, app installed with wifi connection and worked immediately with no time difference.
The brightness of the LED is adjustable, I can't say anything about the battery life and longevity yet, in the app itself you can still set the resolution (picture and video function, worked for me without hesitation) tested on iPhone 8. So as a gimmick and for the
hobby I can recommend the part (I can't judge whether it's really enlarged 50-100 times without a reference)
23/12/2022
More than expected.
A thread counter in your pocket for 35 years. printing trade.
I highly recommend this device. I'm really very positively surprised. Great for my purposes. Documentation of print results. All wireless. Easy to connect with mobile phone.
Goodbye thread counters.
14/12/2022
I saw the mole I was interested in.
The picture quality is very good for the price and it is very easy to use. I look at different things and play with them. You can also see if hair, pimples and white clothes have been thoroughly cleaned of dirt after washing. I have recommended it to others ♪
22/11/2022
Perfect, easy to use hobby microscope
I purchased this microscope primarily to view the leaves, flowers, pollen etc in my garden and the critters that live in and on them.
Firstly, the order arrived the next day, less than 24 hours after the order was first placed & I was able to use it right out of the box after downloading the app.
The image quality is very nice and sharp and, importantly, you can capture images directly from the app without touching the microscope that would cause the image to be blurry.
The eight LEDs are very helpful in darker areas and you can adjust the brightness from your smartphone too.
It's easy to use, captures nice quality images and is very versatile. Very pleased overall.
30/10/2022
Much better than expected
I am very positively surprised, it works amazingly well and easily. We recommend
29/10/2022
For what it costs, he does more than his duty!
PACKAGING The product is well protected from millebole in a box divided into two compartments.
LINKS. It connects easily to iPhone and iPad over WiFi, and connects just as easily to a Windows 10 PC and a Mac with the included USB cable. You can't connect it to a PC on WiFi, or at least I couldn't.
ENLARGES. This tool has great magnification as it can focus infinity and be used as a regular webcam, but can be up to about 3mm from the subject for noticeable maximum magnification. Unfortunately, as is always the case with instruments of this genre, it is misleading to quantify magnification as with an optical microscope, so I'll give a practical example. I connected this instrument to a Mac and photographed a precision micrometric grating for microscopes with an overall length of 1mm. I have a 2160 x 1440 resolution image where the grid is 1098 pixels long and the 10 micron gradation is perfectly readable. On PC and mobile, the maximum resolution for both photos and videos is 1920x1080.
IMAGE QUALITY. The quality is discreet, especially at the core. It tends to deteriorate visibly around the edges. Unfortunately, it only registers in JPG format and the compression artifacts are quite noticeable. But when photographing inanimate subjects (coins, stamps, etc.), you can achieve remarkable results simply by repeating the shot a dozen times and then taking the arithmetic mean of the images in Photoshop.
FLEXIBILITY AND EASE OF USE. If you do not have excessive demands, this small tool is suitable for all kinds of applications: electronics, entomology, botany, philately, numismatics...
It does not require a computer or power adapter, so it can work anywhere conveniently outdoors with just a cellphone to view pictures.
DEFECTSES On the iPad and iPhone 6, the real-time preview appears slightly squashed, but the photos and movies have the correct aspect ratio. All right instead of on computers.
17/09/2022
There are no faqs for this product.