10-300×40 Continuous Zoom Monocular HD Metal Telescopes with Phone Holder & Tripod for Bird Watching Hunting Camping
Free shipping to eligible country
Free Shipping. 30 Day No Reason Return.high-power high-definition military metal telescopes, with smart phone holder and tripod, used for bird watching, hunting, camping

KF33.028

SKU:

KF33.028

28.99

https://www.kentfaith.com/GW01.0430_10-300-40-continuous-zoom-monoculars-high-power-high-definition-military-metal-telescopes-with-smart-phone-holder-and-tripod-waterproof-ultra-telephoto-zoom-monoculars-used-for-bird-watching-hunting-camping
Description
* Made of all-optical glass, it has very strong transparency, and is coated with ultra-clear multi-layer FMC broadband green film, the color is bright and transparent, and the matting design on the edge can effectively reduce the fatigue of the glasses; the all-optical glass lens is used, and the eyepieces are coated with multiple layers Blue film, good light transmittance, no chromatic aberration, so that the image is bright, clear and sharp;
* Convex and non-slip design is adopted, which is not easy to slip. Rotate the hand wheel to adjust the sharpness and achieve accurate focus. The operation is very convenient;
* Adjustable range of 10-30 times, adopting free-stretching and focusing design, the field of view can be zoomed in and out; BAK4 prism, the exit pupil is round and the light spot has a very high transmittance, clear and bright;
* The telescope is equipped with a hand strap. When using it, hang the strap on your hand, which can reduce the inconvenience of hanging for a long time and avoid accidental loss of hand and damage to the telescope;
* Equipped with the latest fast-aligning mobile phone stand and high-quality tripod. Very suitable for i-Phone X/ i-Phone 8/8 plus, 7/7 plus, 6/6s plus, Sam-play GA-LAXY S9/S9 Edge, S8/S8 Edge, S7/S7 Edge and other almost all on the market Smartphone.
Shipping
Free shipping to eligible country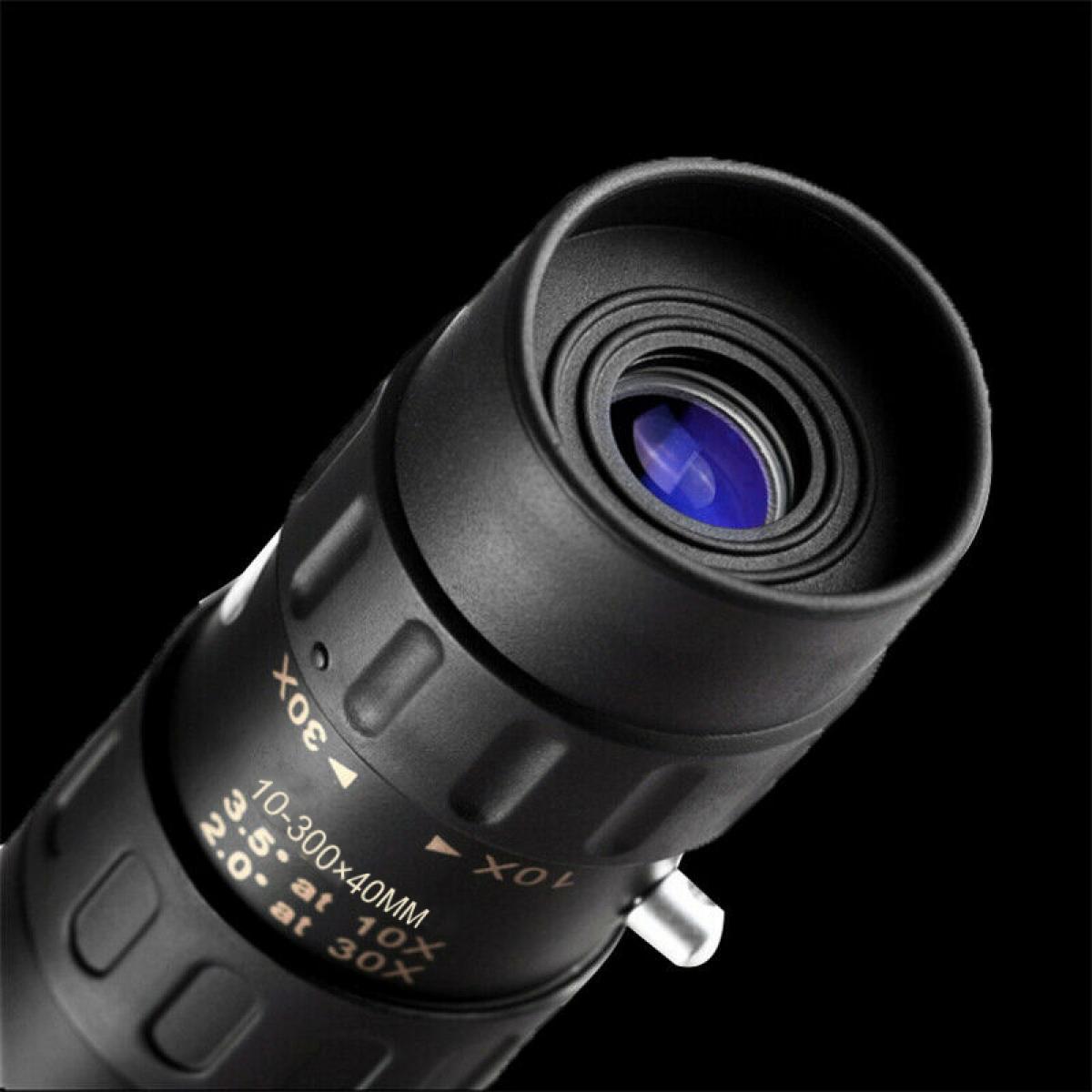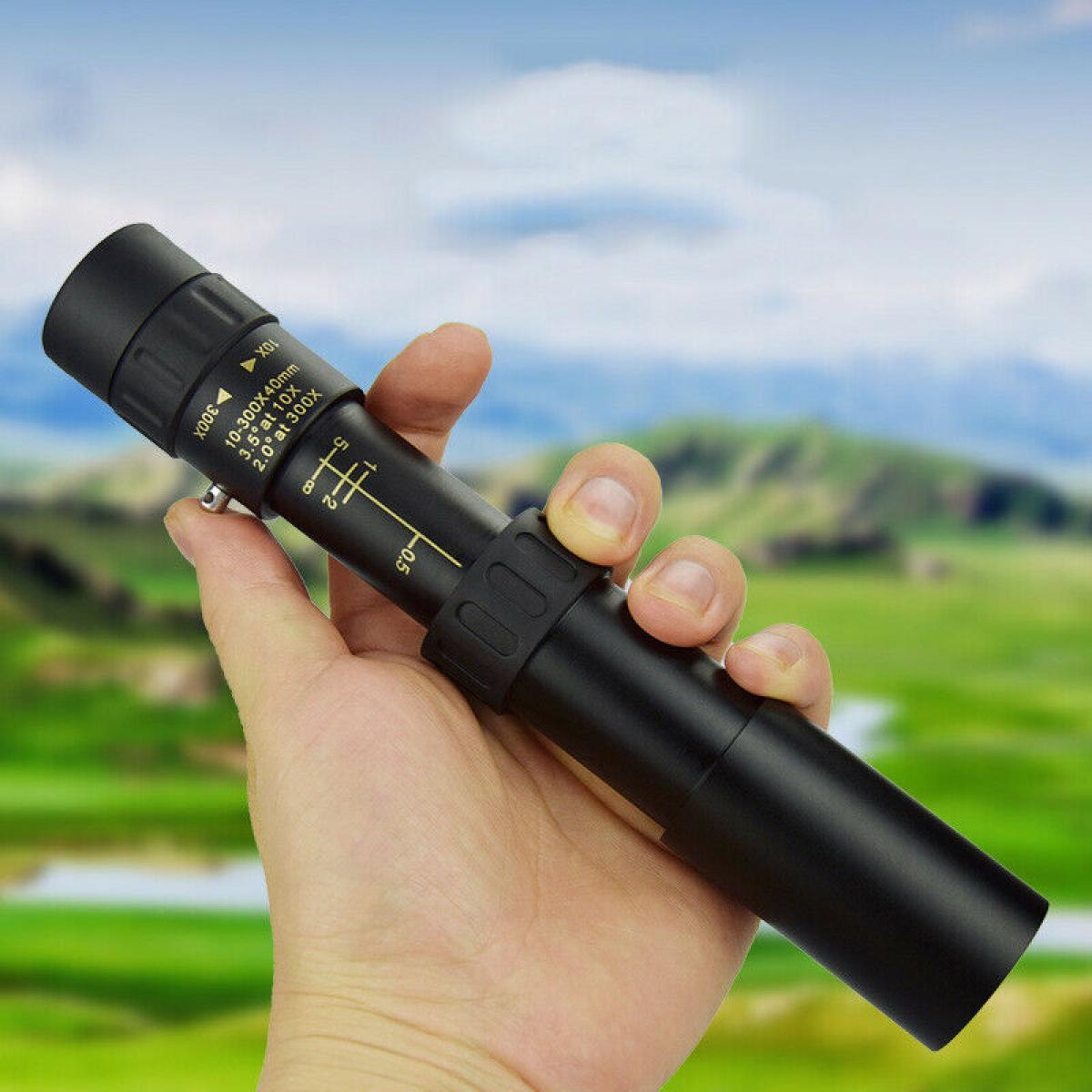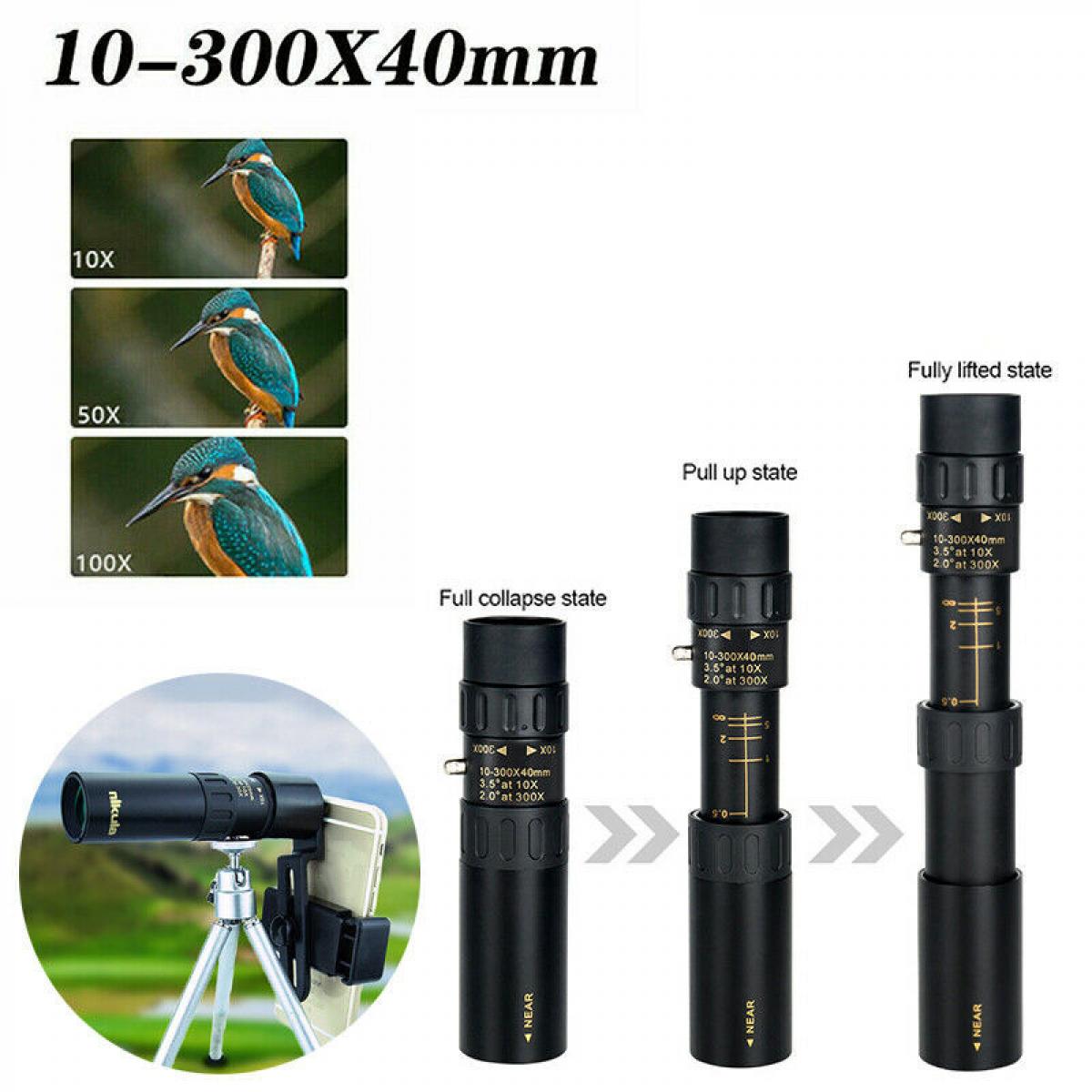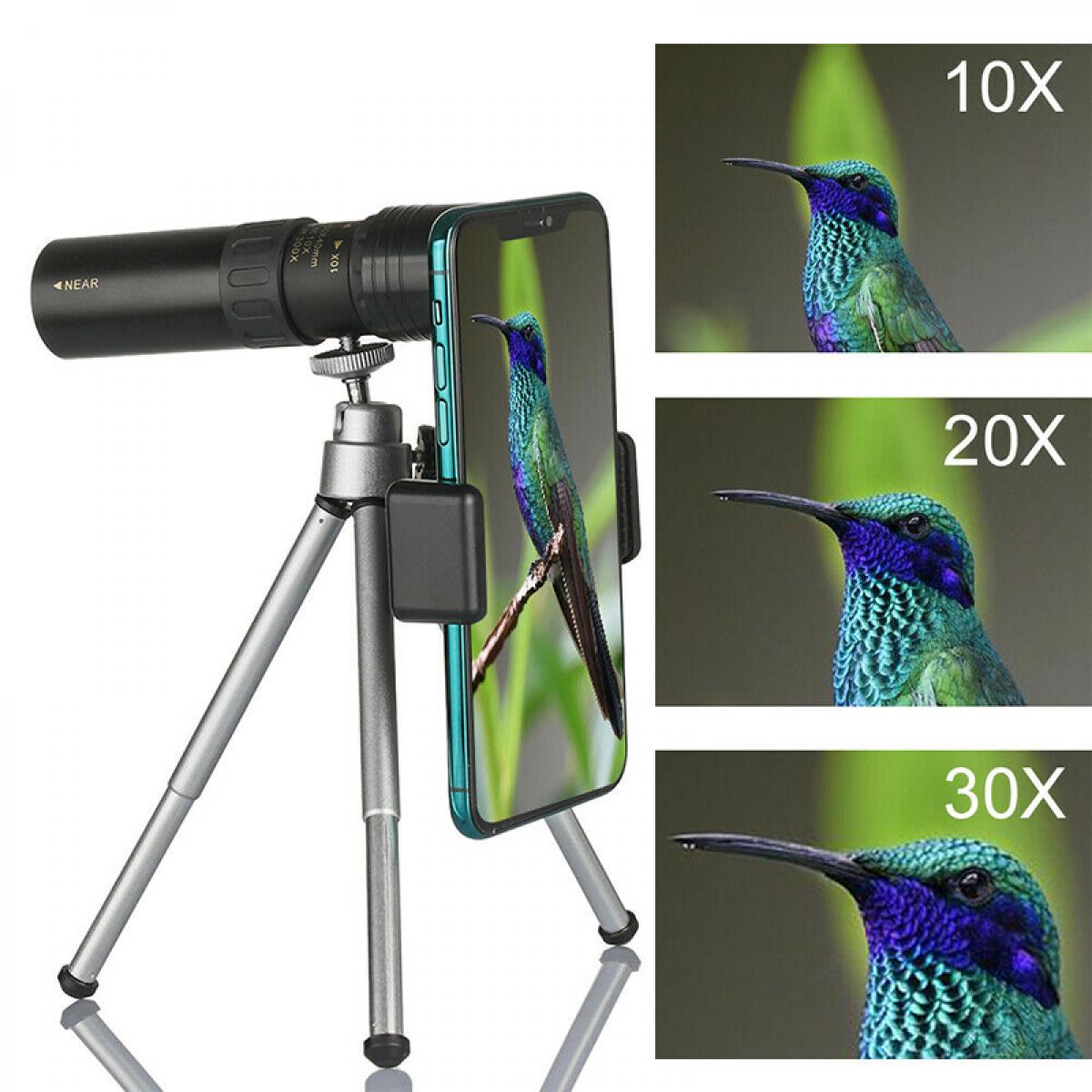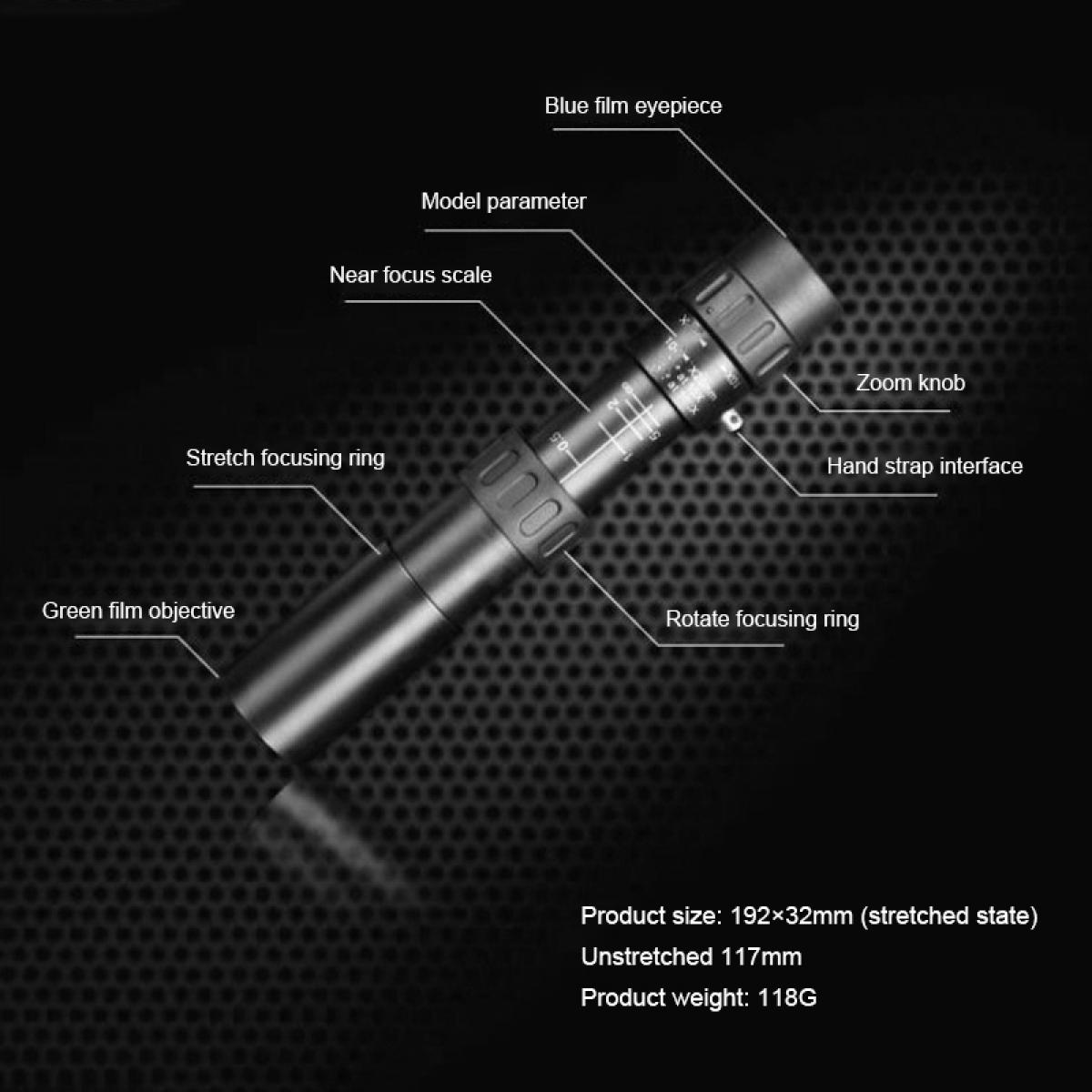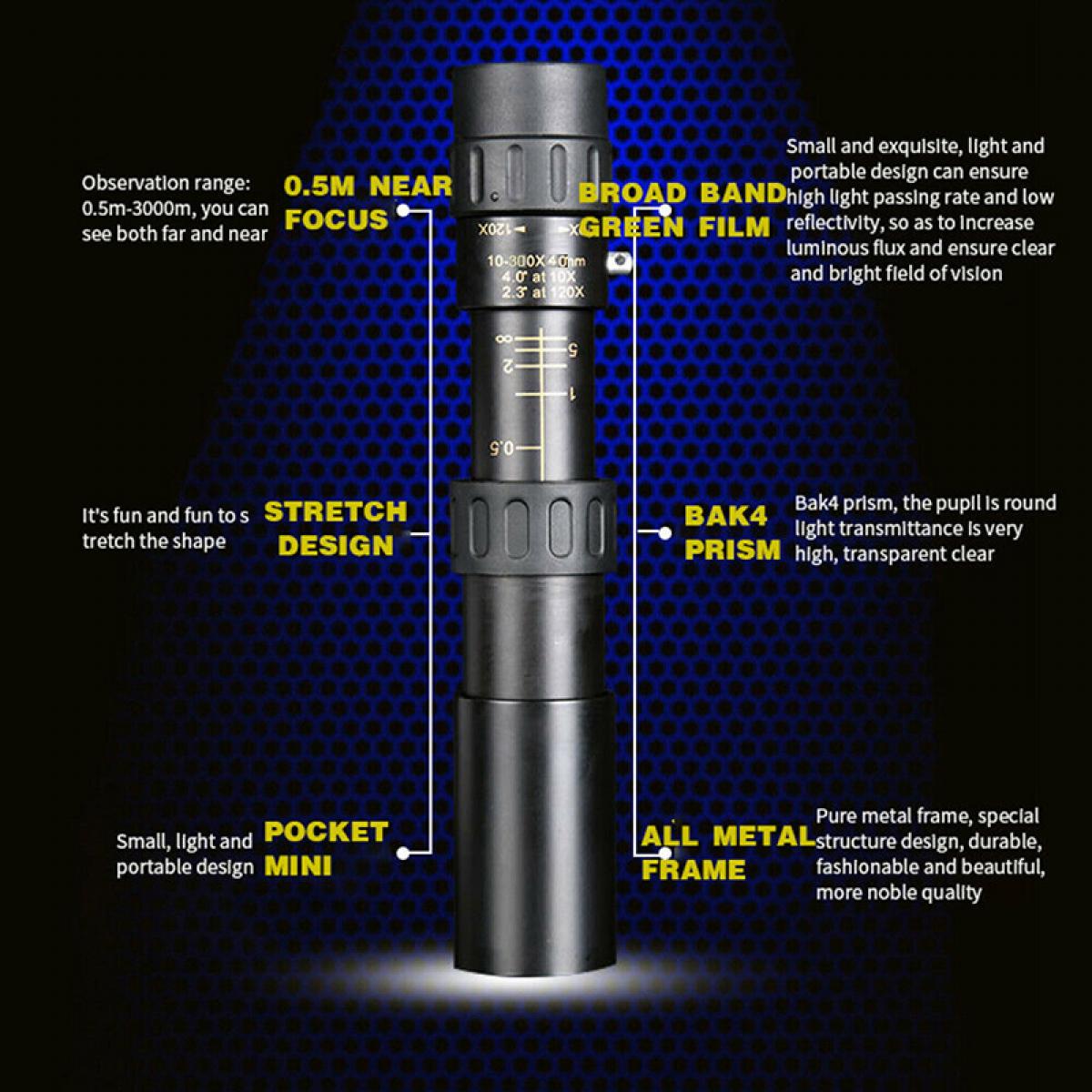 | | |
| --- | --- |
| model | 10-30x25 |
| Magnification | 10-30 times |
| Objective lens diameter | 25mm |
| Eyepiece diameter | 12mm |
| Lens coating | Objective FMC Broadband Green Film/Eyepiece Blue Film |
| Focusing method | Rotate focus/stretch focus |
| Prism material | BAK4 |
| Comfortable distance | 0.5-3000m (can be viewed far and near) |
| Prism system | Roof system |
| Tripod interface | stand by |
| product material | All metal |
| Product color | black |
| Product Size | 12.5*3*2.5cm |
| product weight | 95g |
| Package dimensions | 17*6.5*7cm |
| Package weight | 220g |
| packing list | Telescope*1, lens cleaning cloth*1, manual,*1, phone holder*1, bracket*1, cloth bag,*1, color box*1, |
Great item
Great product and kids love it and can use it for watering birds or far away items , very nice.
27/07/2021
Telescopes
Small and convenient telescope! Very easy to carry and come with a travel case. We took it to Yellowstone National park to watch animals. Highly recommended! The price is good to and you don't need to worry about lost it!
23/07/2021
Love it
First time buy this kind of product. It is really not heavy and I can take it anywhere when I have a travel. I like it's function that I can use it to connect my phone to get a better product experience.
22/07/2021
Great glass!
I really love this monocular. I have bad vision and my eyes are different enough that I have never done well with binoculars. So I decided to try a monocular. I bow hunt and my family bird watches. This has been excellent for us. I love the compact size. So I can keep it around my neck and it does not weigh a lot. It's easy to bring up to see my shots. We also just keep it by the window so we can see any birds that come into our backyard. I would not hesitate to buy this again. You can use your phone and take pictures through it too.
20/07/2021
Nice scope!
Bought it for Yellowstone. It's small but works! So exciting when seeing a grizzly walking down a mountain far far away with this !
20/07/2021
Clear and adjustable
Pretty decent quality materials. Worked as advertised out the box, hope to give this monocular good use in the future.Packaging was great and delivery was fast.
19/07/2021
Good deal
I ordered this telescope for watching wide animals, I really enjoy traveling to the nation parks and watching the wide animals, taking pictures. This one can hold by one hand, very easy to use and watch. Very well packed and with useful accessories. Nice choice for me.
19/07/2021
Decent quality monocular telescope
This is my first monocular. So far I have enjoyed almost daily. This purchase was to enjoy watching hummingbird's and birds in my backyard. It gives such sharp detail and so easy to adjust all in one hand. Great product!
18/07/2021
Great for wide animal watching.
If you are not obsessed with taking quality photos, you are going to have a lot of fun with the monocular itself. In fact, I already had a binocular and I was happy with that. I bought this monocular to take some photos using it. So, having a quality tripod is essential.
17/07/2021
Excellent monocular!
My children love hiking they are very curious about many things in the forest, they often take pictures of a small specimen but when looking back on the computer the image is not clear. When I gave them this product, they were very excited and happy. The kids love this product, thank you very much.
17/07/2021
There are no faqs for this product.