Wireless Outdoor Security Camera Solar Power 2-way talk PTZ Security Intercom Video Camera, 1080P Full-colour Night Vision CCTV Surveillance Camera
New customer gift package
Free shipping to eligible country
Brand:

KENTFAITH

Free Shipping. 30 Day No Reason Return. K&F wireless outdoor security camera features wire-free, two way talk, 3MP night vision, solar power.

GW50.0005

SKU:

GW50.0005

79.99

https://www.kentfaith.com/GW01.0220_low-power-solar-wifi-ball-machine
Description
* 【100% Wireless】 - K&F wireless outdoor security camera is equipped with a 18650 rechargeable battery (Not included) and 8W solar panel, no need to worry about battery life and power shortage, low power consumption ensures long time usage for 100 % wireless outdoor security.
* 【360° Full View]】- The wireless surveillance system is specially designed with 120° vertical rotation and 355° horizontal rotation of the camera, you can also control the monitoring angle via mobile app tuya.
* 【HD Video and Full-Colour 】 - The outdoor surveillance security camera is 1080p Full HD with 2 IR LEDs and 4 white LEDs that can be activated by motion detection for spotlight colour night vision to capture clear colour video at night. The night vision range is up to 49ft/15m.
* 【Motion Activation & Bright Light Warning】 - Solar-powered security camera with smart radar sensing and precise motion detection, can set bright light warning (with white LED), record every security event and push alerts on the app tuya.
* 【Data Storage & IP66 Waterproof】 - The outdoor security camera can record video to an SD card or to the cloud and send alerts to your phone when the outdoor camera triggers motion. Equipped with IP66 waterproof housing, making it is able to withstand extreme weather (-15℃~60℃).
Shipping
Free shipping to eligible country
Frequently Bought Together
Wire-free Security Camera
Easy to achieve real-time remote viewing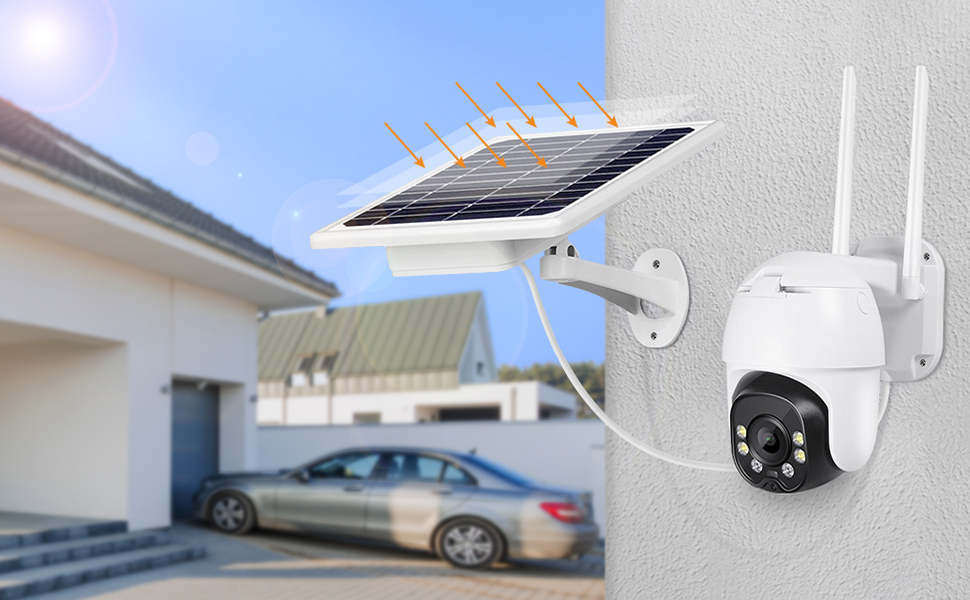 100% wireless solar security surveillance camera
·Connect the camera to the solar panel and it will work all day. The angle of the 8W high-efficiency solar panel is adjustable, and you can easily place the solar panel to maximize exposure to the sun.
·The camera can be controlled horizontally 355° and vertical 120° pan and tilt on the mobile phone to ensure 360° monitoring

1080P Full HD and color night vision
The outdoor security camera has a 1080P high-definition resolution in the white LED mode, and the full-color night vision is activated when the motion is triggered, so that a clearer full-color picture can be seen. In addition, you can only see black and white pictures and videos in infrared LED mode to save power.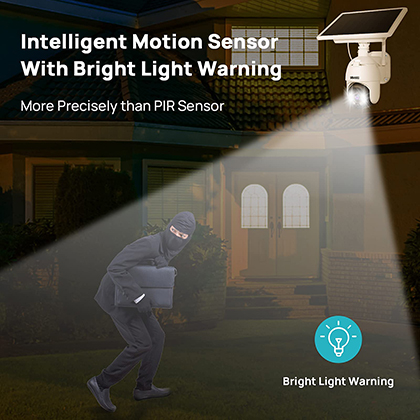 Glare warning
When a moving object is detected, the camera immediately activates a strong light alarm to scare away the malicious people, and promptly pushes an alarm message to the APP tuya.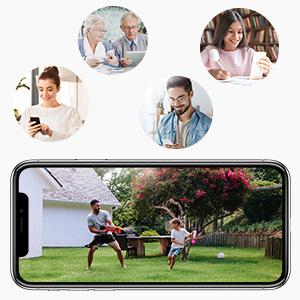 Share with family
CMultiple users of outdoor security cameras view video at the same time. Share the wifi camera with your family and enjoy happy time.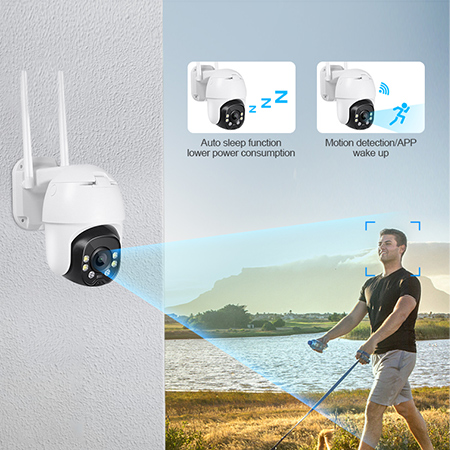 Accurate motion detection
With sensitive radar detection, when an object moves, the camera will be immediately awakened, and an alarm message will be sent to you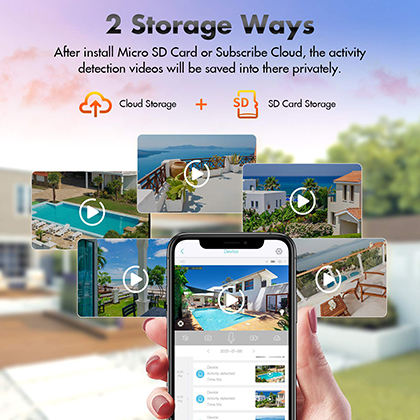 SD card storage and cloud storage
Support SD card storage, up to 128G (not included), cloud storage (optional)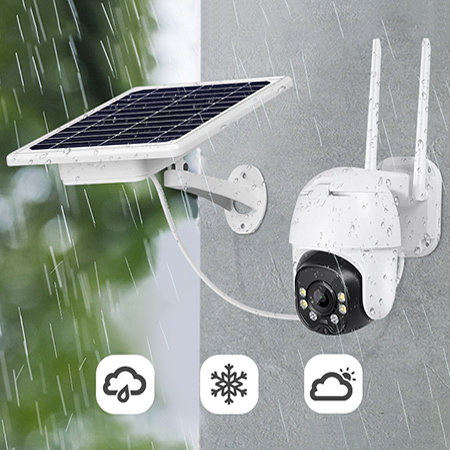 IP66 Waterproof Grade
Waterproof, dustproof and hard shell, suitable for wild and hot weather without fear of heavy rain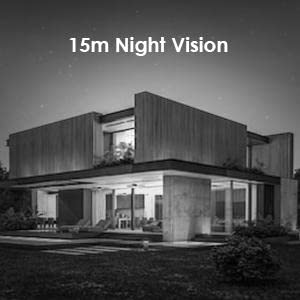 HD Night Vision
Which provides excellent night vision up to 49ft/15m. See everything in real-time in any dark environment with full HD.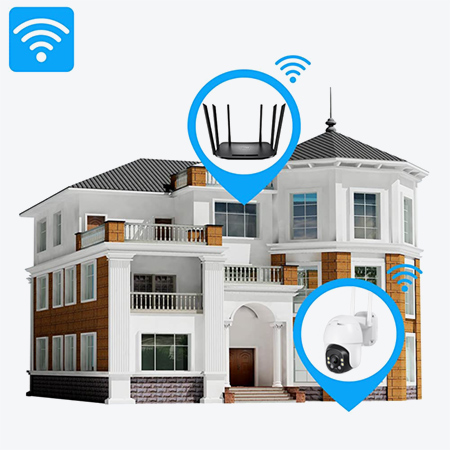 100% Wire-Free
The outdoor wireless security camera is 100% wireless and cordless super easy to install you don't need special tools.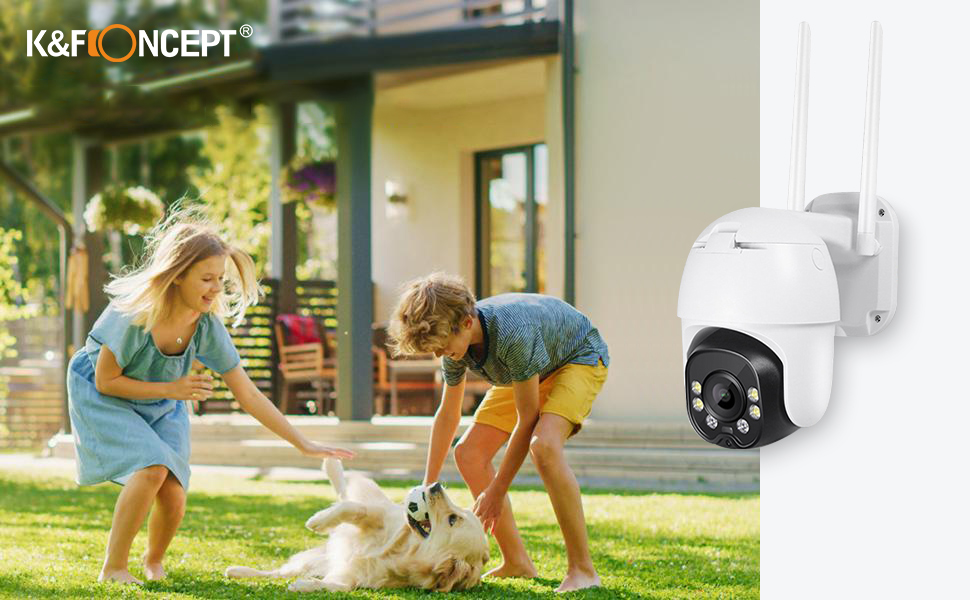 Suitable for farm monitoring/home safety/field detection, etc.
All Reviews
Image

All Star

5 Star

4 Star

3 Star

2 Star

1 Star
Easier to set up than I assumed
I thought setting this up to my wifi would be complicated but actually I was able to do it in a reasonable amount of time the app you use is called ubox. Which I installed on my iPad and on my Android phone picture is very clear I like it. Camera can pan out I can get the whole street in both directions so I can see any cars that pass by super convenient no wires I'm going to buy another one to put in my backyard where I don't have any electricity you can buy a card to put in it sold separately or save it up to iCloud
29/08/2021
This is definitely worth it
Was very easy to hook up the pictures were great and love the movement that I can control with my phone . Now still haven't found how to share the info with my spouse phone yet still working on that
29/08/2021
This product is a MUST.
I brought this camera straight after seeing the reviews. I'm so glad I did. This is a very great quality product for the price you pay. The best thing about this product is the night vision mode. Guys go for it before , it's out of stock. MUST HAVE!!
22/08/2021
Solar Camera
Great protection and works with no electricity. Security in the home and not wire needed. Always working.
20/08/2021
Great Solar Security Camera
This is the first from this company, I find that is works as well as the more expensive ones at $30 less.So far, I haven't had any problems and don't expect to with their warranty. I have 2 other cameras from another seller the also work on the Ubox app and find the operation very easy between the different cameras.
20/08/2021
best one I have found yet
I had a different brand and it was junk so I tried a replacement and it was worse..this one is waaaay beter and pretty easy to get up and running
15/08/2021
Good cameras and good price, but don't count on tech support.
The set up was not easy and their customer service response very lacking.We waited over 20 minutes for help and when an agent finally answered the call, there was language barrier: he apparently didn't understand our questions and we couldn't understand his instructions. He put us on hold and disconnected our call after 15 minutes. It's taken 3 weeks of attempting to set up the cameras, but we're finally successful without the mfg's support. The cameras are great-nice picture and the camera is movable remotely. Good price point too.
14/08/2021
Good support
Chris p thank you for your help and you did an awesome job .
12/08/2021
Great Camera to protecting your property
I liked the idea of not having to wire a camera and allowing the wireless and solar service doe the work for me
11/08/2021
Verry good product
This is a wonderful product. It was a rainy day the first day and solar charger charged from 70% to 100% very fast I will buy this camera again
10/08/2021
Surveillance Cameras
Video Resolution
1080P
Power Supply Method
Solar / 18650 Battery(battery not included)
Built-in Battery Capacity
4800mAh
Storage
SD memory card (up to 128G/cloud storage)
Pan Tilt
Horizontal 355°/Vertical 120°
Motion Detection
PIR
Motion Detection Range
12m/39.4ft
Waterproof IP Rating
IP66
Night Vision
Color Night Vision (optional)
Night Vision Range
15m/49.2ft
Alarm Method
/
Two-way Talk
√
Connection Method
2.4GHz wifi
App
tuya